From frozen egg rolls to french fries, and chicken nuggets to frozen pizza, you may have a hard time deciding what to make from this collection of quick, easy and tasty air fryer frozen foods. Frozen foods are my favorite foods to make in the air fryer because they cook fast and turn out super crisp.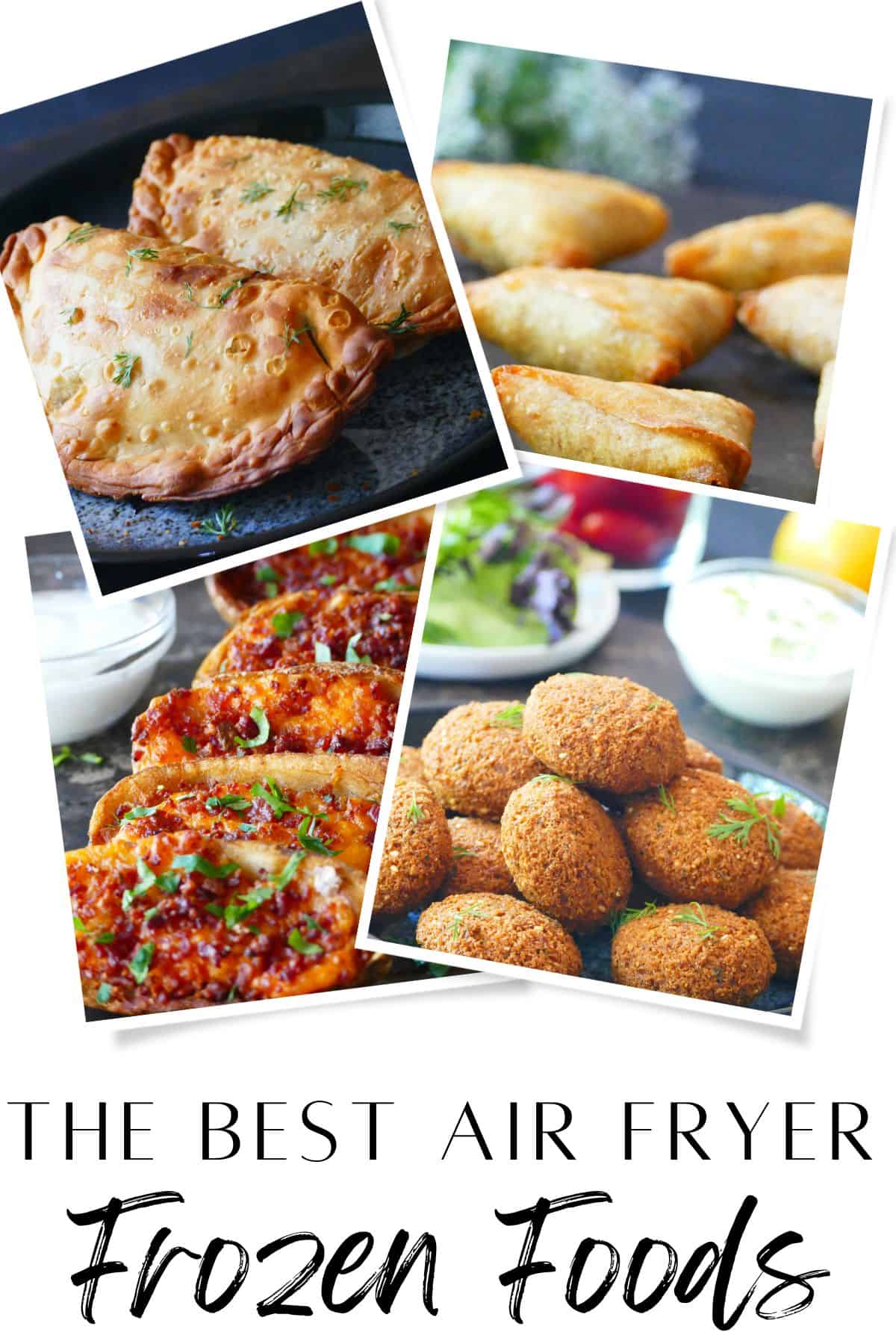 The air fryer is a great invention that allows you to cook your favorite foods in a healthier way by avoiding the use of a deep fryer. It's also a good option when you want to bake smaller quantities of food but don't want to heat up the oven.
The air fryer is great for cooking all kinds of recipes. But can you put frozen food in an air fryer? Well, by far, my favorite reason to use the air fryer is to cook frozen foods.
The air fryer is so good at heating up a frozen tasty snack or easy meal. The food comes out crispier and cooks faster than in a conventional oven.
The circulation of hot air throughout the compartment helps the air fryer frozen foods to cook evenly and super fast. The air fryer mimics the technology of a convection oven but in a small space.
Whether you're using the Instant Pot air fryer lid, Cosori, or Ninja Foodi, frozen foods are ideal for beginners to learn how to use their air fryer.
Tips For How to Cook Air Frozen Foods
Keep foods frozen until ready to air fry.
Preheat the air fryer before putting the frozen food in air fryer basket.
For best results, don't overcrowd the basket and do leave enough room around the food for the air to circulate.
If the food is breaded and bite-sized, it can be stacked. Otherwise you'll have better results if the food is placed in the air fryer basket in a single layer.
In general, it's not necessary to spray foods that are breaded or battered but you probably need to use oil spray for other foods. If you find the frozen food sticking to the bottom of the basket, next time use a little oil spray to coat the basket and the food. Don't use grocery store cooking spray in a can because it can ruin the surface of the air fryer basket.
If using aluminum foil or parchment paper, make sure they have holes in them to allow air to circulate. In general, using a liner will impede air circulation.
Turn the food or shake the basket about halfway through the cooking process.
Measure the internal temperature of meats with a food thermometer to ensure food safety.
If you can't find air fryer cook times for frozen foods, adjust the oven instructions by reducing the temperature by 25 degrees and the cook time by 20%.
In general, when I don't have air fryer instructions, I use a high heat (temperature 400 degrees F) and cook time of 8 to 10 minutes, and turn the food at the 4 minute mark. Then, I add more time as needed. The next time I make the food, I adjust the temperature and time if I need to.
Favorite Frozen Foods for Air Frying
Here are some of the best frozen food for the air fryer that can be cooked quickly and easily. They include fries, hash browns, tater tots, Trader Joe's snacks like samosa and gyoza, chicken snacks like popcorn chicken and nuggets, egg rolls, and kid-friendly snacks like pizza rolls.
Air fryer frozen fries
Air fryer potatoes
Trader Joe's Air Fryer
Air Fryer Frozen Chicken Nuggets and Fish
Air Fryer Frozen Appetizers and Side Dishes
Air Fryer Frozen Snacks for Kids
If you loved this recipe collection, please share it on social media using the social media share buttons at the top and bottom of this post. Thank you so much!