Air fryer frozen corn dogs have a crispy cornbread exterior with a tender and juicy hot dog on the inside. Make corn dogs in the air fryer in a fraction of the time that it takes to bake them in the oven or deep-fry them. You can air fry corn dogs for an easy snack!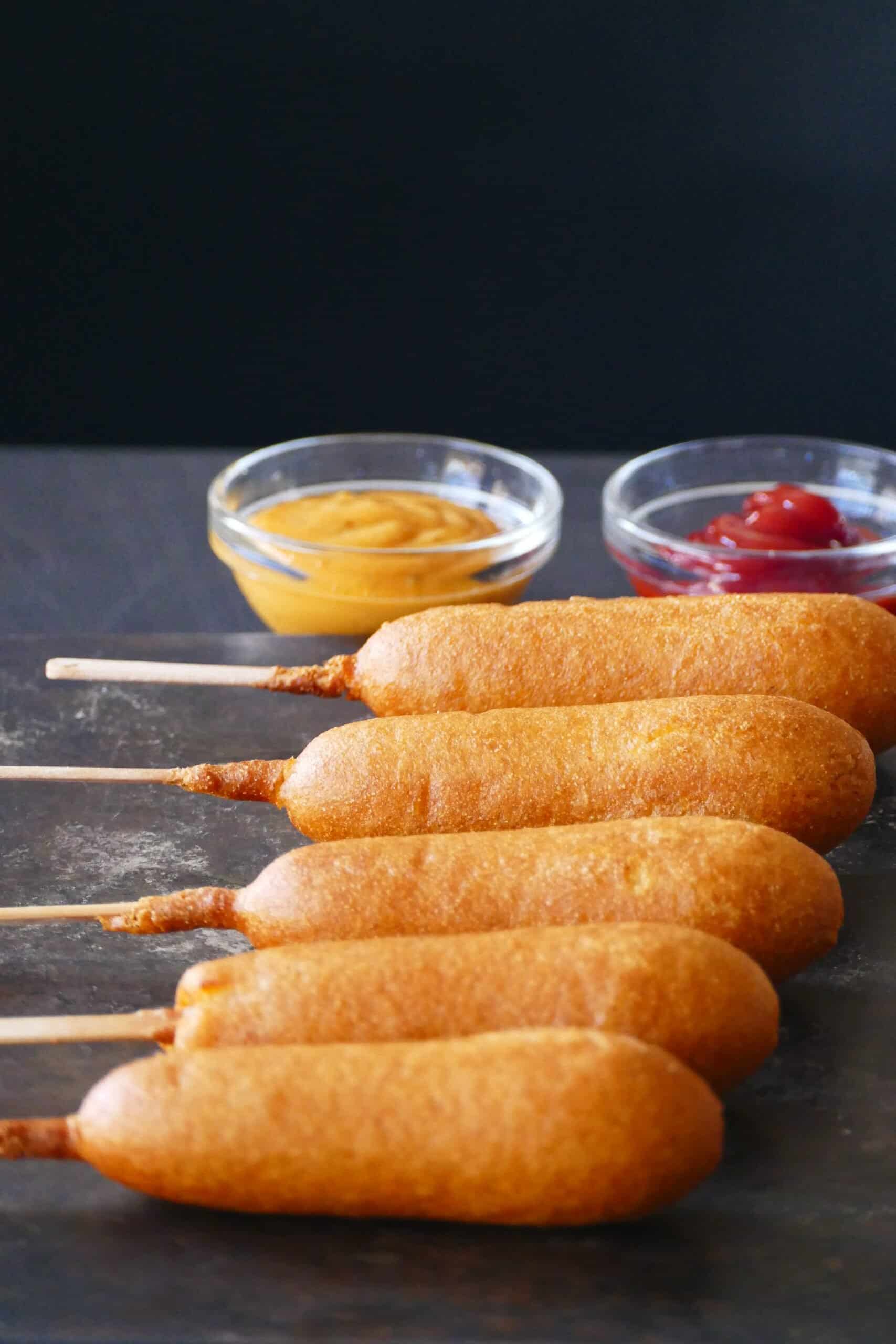 This post contains affiliate links. As an Amazon Associate, I earn from qualifying purchases. Please read the disclosure.
I've come to the conclusion that the air fryer is the best way to heat up frozen foods. It's definitely healthier than deep frying and it's faster than the oven, plus food comes out crispier due to the constantly circulating air in an enclosed space.
You can air fry all kinds of foods like frozen air fryer tater tots, mozzarella sticks, fish sticks, and popcorn chicken.
Air Fryer Frozen Foods
With air fryer snacks from egg rolls to french fries, and chicken nuggets to frozen pizza, you may have a hard time deciding what to make from this collection of quick and easy air fryer recipes.
GET RECIPE DETAILS
A corn dog is a hot dog on a stick that's dipped in a slightly sweet cornbread batter and then deep fried. It's a classic all-American street food traditionally sold at state fairs, boardwalks, and amusement parks.
Corn dogs are a fast food favorite that kids love! You can make frozen corn dogs in the air fryer as an afternoon snack or easy meal for the kids.
Mini corn dogs are a smaller version of regular corn dogs, generally without the stick, and popular on kids menus. They're also called corn dog nuggets, corn dog bites, or corn puppies.
You can cook air fryer corn dogs and mini corn dogs in less than 10 minutes and they turn out crispy and delicious.
Be sure to check out my post that has all the air fryer cook times, organized by type of food.
Tips for Making Air Fryer Corn Dogs
---
Preheat the air fryer before putting the corn dogs in.
Until you are ready to cook frozen corn dogs, keep them in the freezer. They taste best when cooked from frozen.
Every air fryer will vary. The first time you make this recipe, monitor the corn dogs and check on them 2 minutes before the cooking time is up. Adjust cooking time as needed.
Don't overcrowd the air fryer basket. For best results, place the corn dogs in a single layer, without stacking them so they crisp up evenly. The amount of corn dogs you can fit depends on the size of the air fryer. If you have a smaller air fryer, cook in batches.
Use the same temperature for corn dogs and mini corn dogs. However, mini corn dogs may take a little less time.
Shake the basket or flip the corn dogs halfway through the air frying.
Serve air fryer corn dogs with your favorite dipping sauce (ketchup, bbq sauce, honey mustard) for an easy party appetizer.
FAQS
---
Do I need to coat the air fryer basket with cooking spray?
You don't need to use any oil in this recipe. I've never had the corn dogs stick to the bottom.
How long do you air fry corn dogs?
Cook regular-sized corn dogs for about 7 to 8 minutes at 370 degrees Fahrenheit, turning them halfway through. Cook mini-sized corn dogs for a minute less.
What brand of corn dogs was used in this recipe?
I used Kroger frozen corn dogs but also I've used different brands such as Foster Farms. Just keep an eye on the corn dogs and check on them two minutes before the cook time is up.
What model of air fryer was this air fryer frozen corn dogs recipe tested with?
This recipe was tested using Cosori air fryer.
What should I do if the air fried frozen corn dogs aren't crispy?
Air fry the hot dogs for 2 to 3 extra minutes. If you wish, increase the temp to 400 degrees F for crispy corn dogs.
Can I reheat the corn dogs in an air fryer?
Yes, leftover corn dogs can be stored in an airtight container in the fridge for 2 to 3 days. Reheat the corn dogs by cooking them for 2 to 3 minutes in the air fryer at 350 degrees Fahrenheit.
How to Make Frozen Corn Dogs in Air Fryer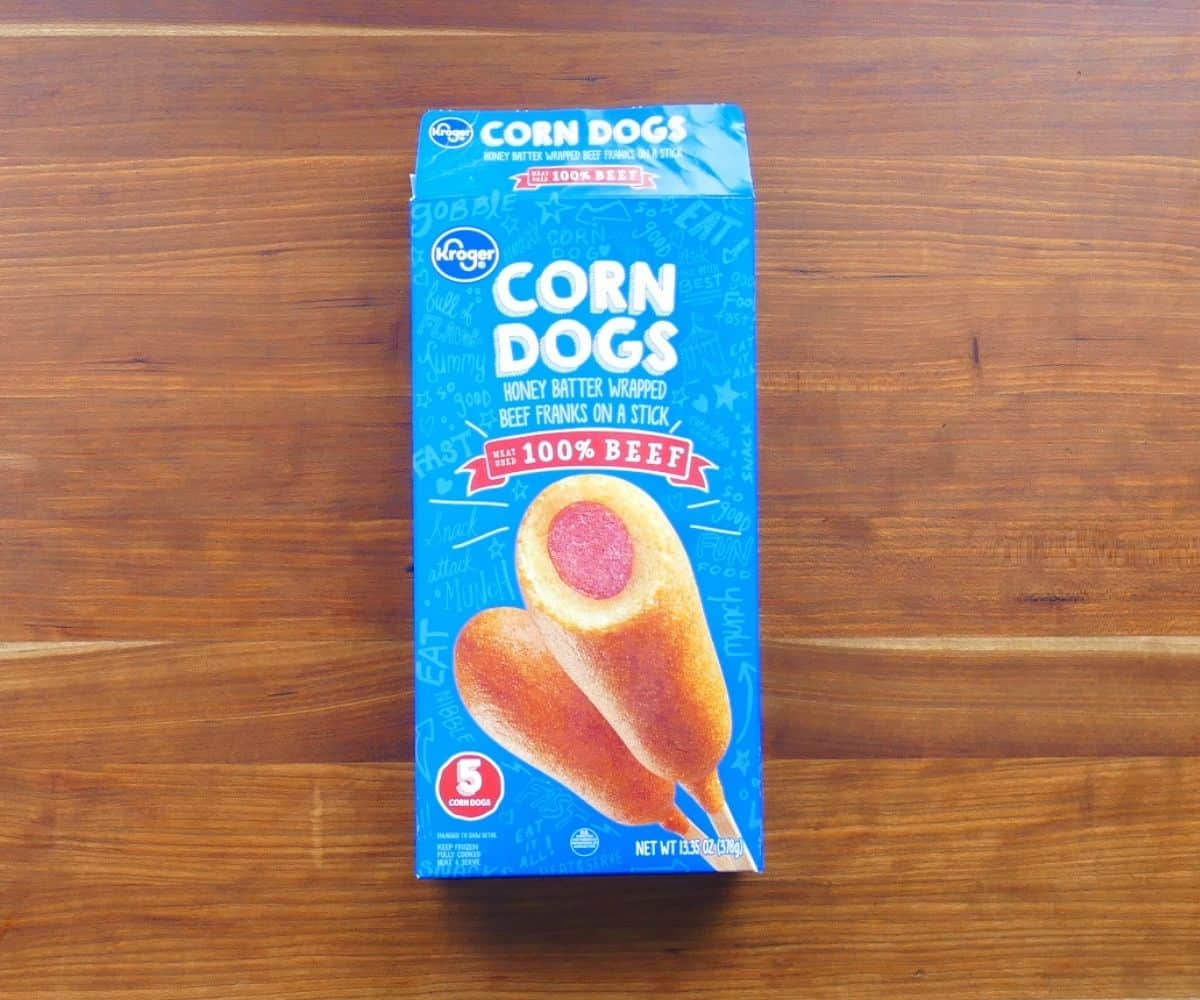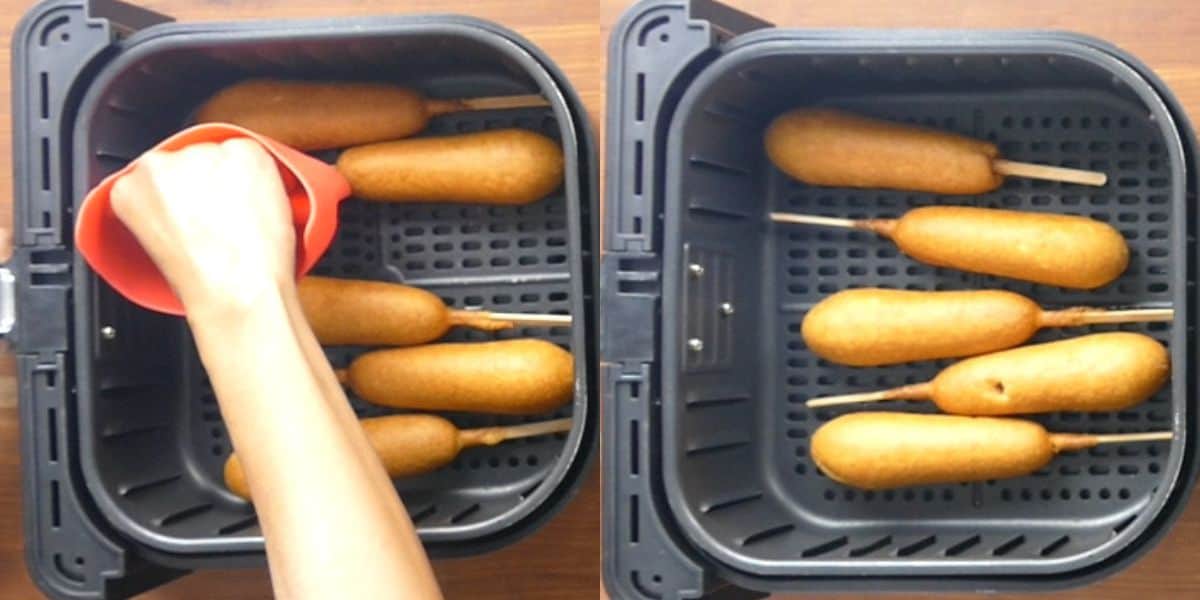 There's no need to thaw; keep the corn dogs frozen until ready to use
Preheat air fryer
Place corn dog sticks in the air fryer
Air fry and flip the corn dogs halfway through the cooking process
Serve air-fried corn dogs with your favorite sauce and sides such as corn on the cob, onion rings, or french fries.
✅ MY FAVORITE AIR FRYER ACCESSORIES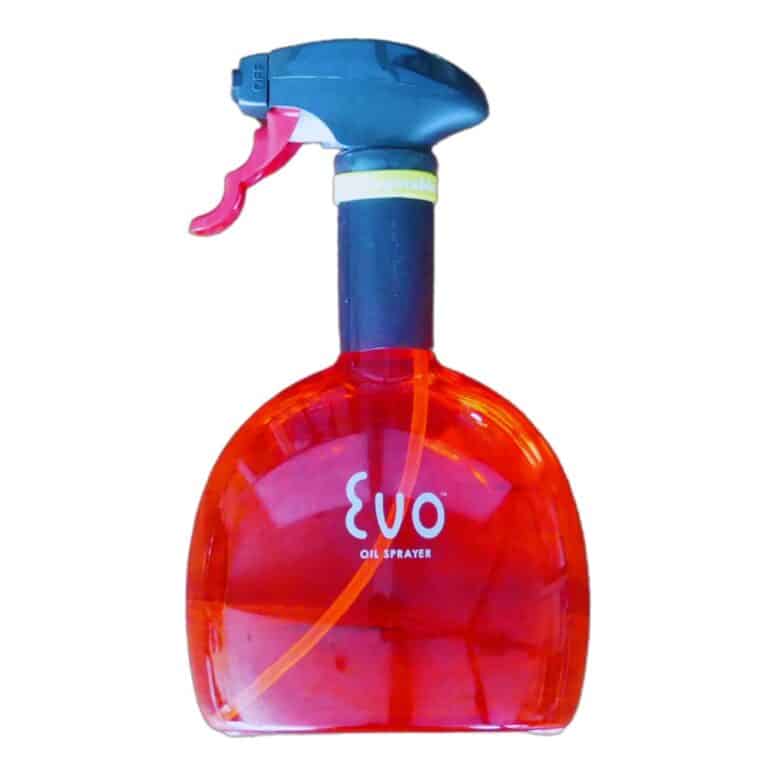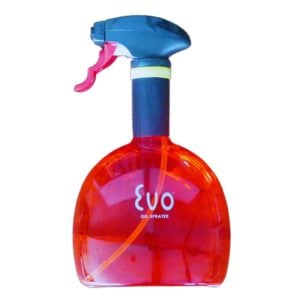 EVO oil sprayer is great for spraying oil on food. This is the best I've tried.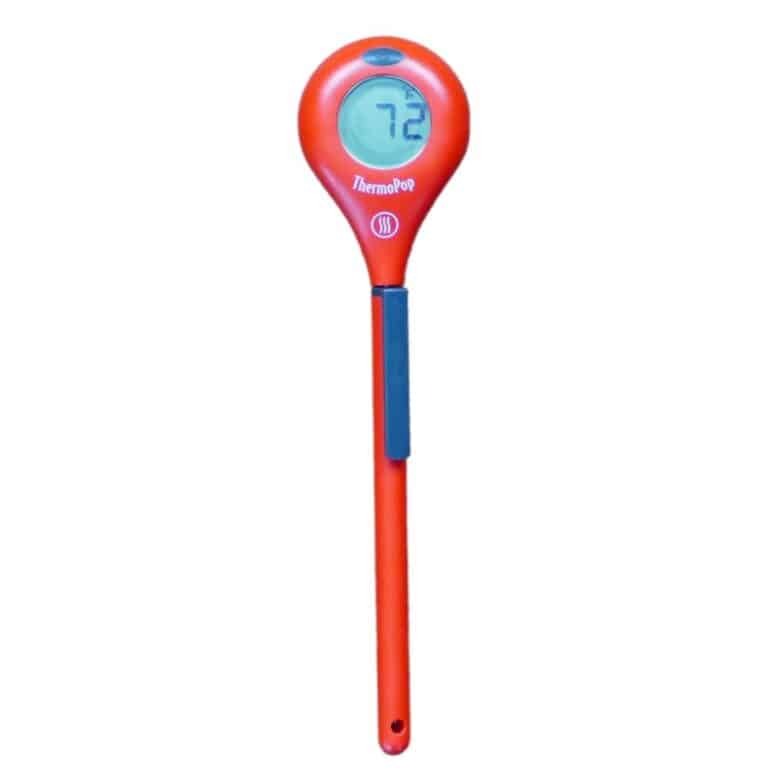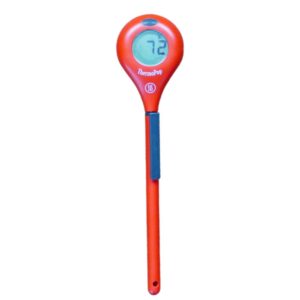 An instant-read thermometer is invaluable when air frying meats or frozen foods.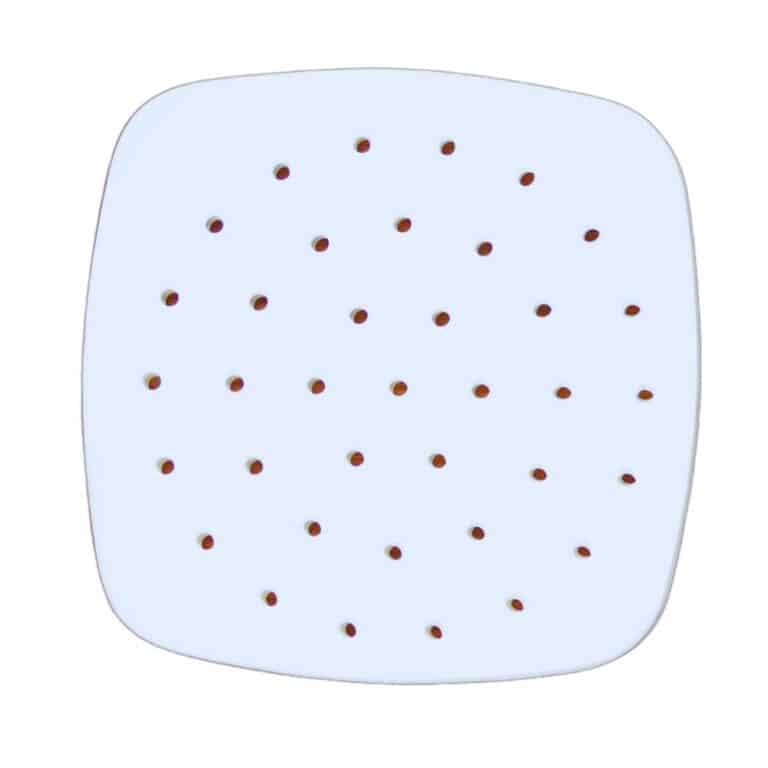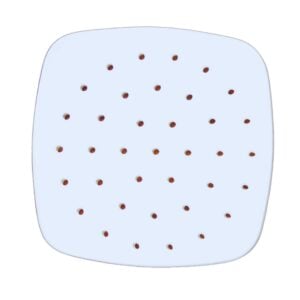 Perforated parchment sheets come in handy when making messy foods.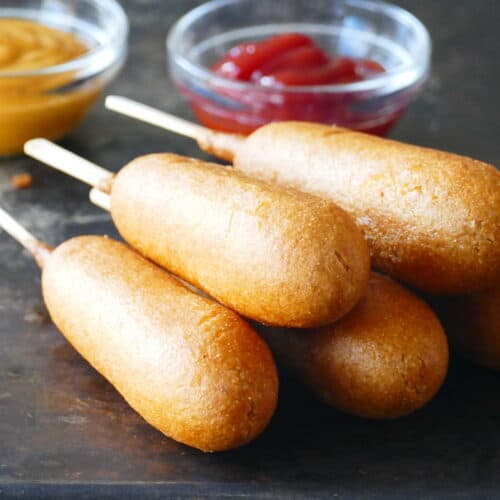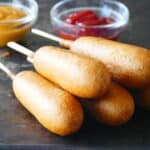 Frozen Corn Dogs in Air Fryer
Air fryer frozen corn dogs are a quick and delicious snack or meal that can be ready in just minutes, with the added bonus of being healthier than traditional deep-fried corn dogs. Frozen corn dogs in the air fryer are a perfect kid-friendly snack.
Ingredients
6

corn dogs

or however many will fit in the basket without overcrowding *
Instructions
Preheat the air fryer for 3 minutes at 370 degrees F.

Add the frozen corn dogs to the air fryer basket and make sure they're evenly spread out and in one layer.

Close the air fryer and air fry for 7 to 8 minutes at

370

°F

At the halfway mark, open the air fryer and use tongs to turn the corn dogs. Close the air fryer and continue cooking.

When the cooking time is up, open the air fryer and check to make sure the corn dogs are cooked through. If they're not crisp enough, increase the temperature to 400 degrees and air fry for another 1 to 2 minutes, if desired.
Notes
* Foster Farms and Kroger corn dogs were used in this air fryer recipe. Nutrition facts are for Foster Farms corn dogs.
Every air fryer is different. Check on the corn dogs 1 to 2 minutes before time is up.
See the blog post for more detailed recipe tips.
Nutrition
Serving:
1
piece
|
Calories:
180
kcal
|
Carbohydrates:
18
g
|
Protein:
7
g
|
Fat:
9
g
|
Saturated Fat:
2.5
g
|
Cholesterol:
30
mg
|
Sodium:
470
mg
|
Fiber:
1
g
|
Sugar:
6
g
Thank you for visiting Paint the Kitchen Red. All photos and content are copyright protected. Please don't use any content without prior written permission. If you've made this recipe and would like to share it with your friends, please link back to this recipe. Thank you!
I am not a certified nutritionist. I provide my best estimate of nutritional information merely as a courtesy to my readers. If you depend on nutritional information for dietary or health reasons, I suggest using your favorite online nutrition calculator to confirm the nutritional value of this recipe based on the actual ingredients that you use.
Did you know that the best way to support your favorite bloggers is to comment and rate recipes, and share on social media? If you loved this recipe, please comment and give it a five ⭐ rating in the comment section below. If you're a pinner, pin this post using the Pin buttons at the top and bottom of this post and in the recipe card above. Thank you for your support!
Easy Air Fryer Recipes
Air Fryer Pizza Rolls
When you need a quick snack for a crowd or a bunch of hungry kids, there's nothing that's more of a crowd-pleaser than pizza rolls. These air fryer frozen pizza rolls are so convenient and easy!
GET RECIPE DETAILS
Air Fryer Frozen Fish Fillets
Making frozen fish fillets in the air fryer is a game changer. You can get crispy, perfectly cooked fish that can be used in a variety of recipes, without having to deep fry the fish. Delicate fish coated in a crisp coating can be cooked in less than 15 minutes in the air fryer. Use these fish fillets in fish tacos (recipe included.)
GET RECIPE DETAILS
Air Fryer Frozen Dino Nuggets
Air fryer dinosaur nuggets cook up perfectly crisp on the outside and tender on the inside. And you can make them in less time than it takes to bake them in the oven or deep-fry them. Air fryer Tyson fun nuggets are kid friendly chicken nuggets in dinosaur shapes that are an easy snack for picky eaters.
GET RECIPE DETAILS