This air fryer pizza rolls recipe is so convenient and easy! When you need a quick after school snack for a bunch of hungry kids, there's nothing that's more of a crowd-pleaser than air fryer pizza rolls.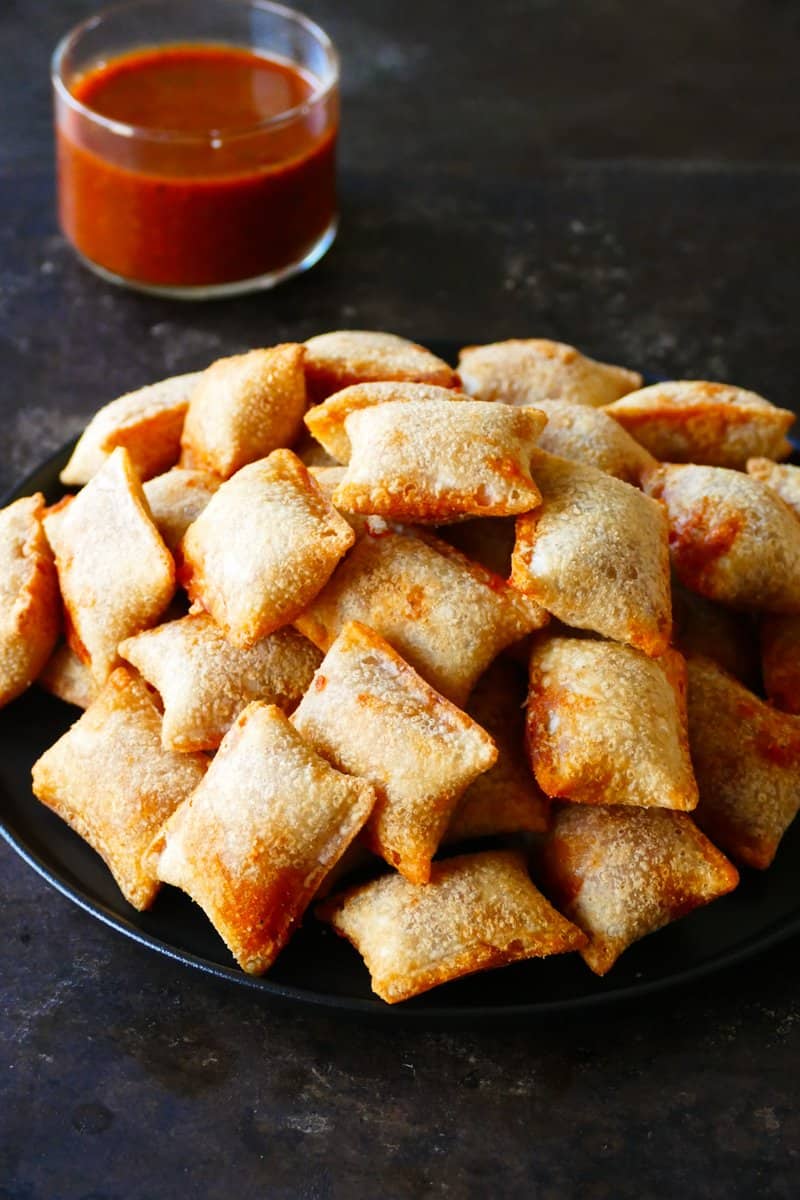 This post contains affiliate links. As an Amazon Associate, I earn from qualifying purchases. Please read the disclosure.
When I was a kid, I remember eating Jeno's pizza rolls as a snack. We loved those little pizza bites bursting with pizza sauce and mozzarella cheese. If you remember Jeno's and were wondering why you can't find them anymore, it's because it was sold to General Mills and was renamed Totino's pizza rolls.
My fondness for pizza rolls didn't last into adulthood but when my kids were younger, I would make pizza rolls as a special treat, for Superbowl or New Year's eve. And I can't lie – I may have taste-tested a pizza roll or two!
Since I got my air fryer, I've been making lots of easy air fryer recipes, from air fryer brussel sprouts, to thawed chicken wings to frozen chicken wings to frozen french fries. I've even baked a delicious pound cake in the air fryer.
I've found that the air fryer is the perfect way to heat up frozen foods, like air fryer potato skins, taquitos, and chicken nuggets.
Using the air fryer is an easy way to get crispy pizza rolls that get done fast when you want an easy snack.
Best Air Fryer Frozen Foods
From frozen egg rolls to french fries, and chicken nuggets to frozen pizza, you may have a hard time deciding what to make from this collection of quick, easy and tasty air fryer frozen foods. Frozen foods are my favorite foods to make in the air fryer because they cook fast and turn out super crisp.
GET RECIPE DETAILS
Tips for Success
---
Preheat the air fryer for a couple of minutes if the air fryer doesn't have a built-in preheat functionality. Some air fryers preheat before starting to count down. e.g. the Instant Pot Duo Crisp and Cosori.
---
For best results, don't thaw before air frying pizza rolls.
---
You don't need to place the pizza rolls in a single layer in the air fryer. You can stack them but don't overcrowd the basket, which would prevent the hot air from circulating. I like to limit each batch to half of a (50 count) bag of pizza rolls.
If you need to make a larger quantity, do it in multiple batches. You can reheat the prior batches for 1-2 minutes at 350 degrees Fahrenheit if they cool down too much.
---
Serve the pizza rolls alone or with your favorite dipping sauce. Here are some suggestions:
---
Every air fryer will vary. The first time you make pizza rolls in the air fryer, monitor and check on them 2 minutes before the cooking time is up. Adjust the recipe as needed in the future.
FAQS
---
Do I need to coat the air fryer basket with oil?
You shouldn't need to use oil in this recipe. I haven't had any issues with sticking. If you wish to spray some olive oil to coat the basket, that's perfectly okay.
How long to air fry pizza rolls?
The cook time is about 8 minutes at 380 degrees Fahrenheit. Shake them halfway through.
Can I use the Instant Pot Air Fryer Lid accessory or Duo Crisp to make this recipe?
Yes, you can use the same timing and temperature to make these pizza rolls using the Instant Pot air fryer lid, Duo Crisp or Pro Crisp.
What brand of frozen pizza rolls was used in this recipe?
I used Totino's pizza rolls because they are the most widely available. There are different brands available including generic brands and Michelina's.
What brand of air fryer was this recipe tested with?
This recipe was tested using the Duo Crisp and Cosori air fryer.
Why do the pizza rolls burst when they cook?
It's kind of difficult to avoid burst pizza rolls. They burst because steam builds up inside and the pressure causes them to explode and the pizza roll filling escapes. The best way to reduce the bursting is to take them out when they start bursting.

Check on them periodically during the cooking process after 6 minutes. I find that they taste just as good, if not better when they burst and the tomato sauce and cheese ooze out!
What if the pizza rolls aren't crispy and golden brown?
If you find that the pizza rolls are undercooked, add an extra minute or two to the air frying time.
What can I do with leftover pizza rolls?
Store leftover pizza rolls in an airtight container. They can be reheated by air frying them for 2 to 3 minutes at 350 degrees Fahrenheit.
Can I double the quantity?
If you need to air fry double the quantity, you can do it in two batches. The second batch may take less time to cook because the air fryer is hot.
How to cook pizza rolls in air fryer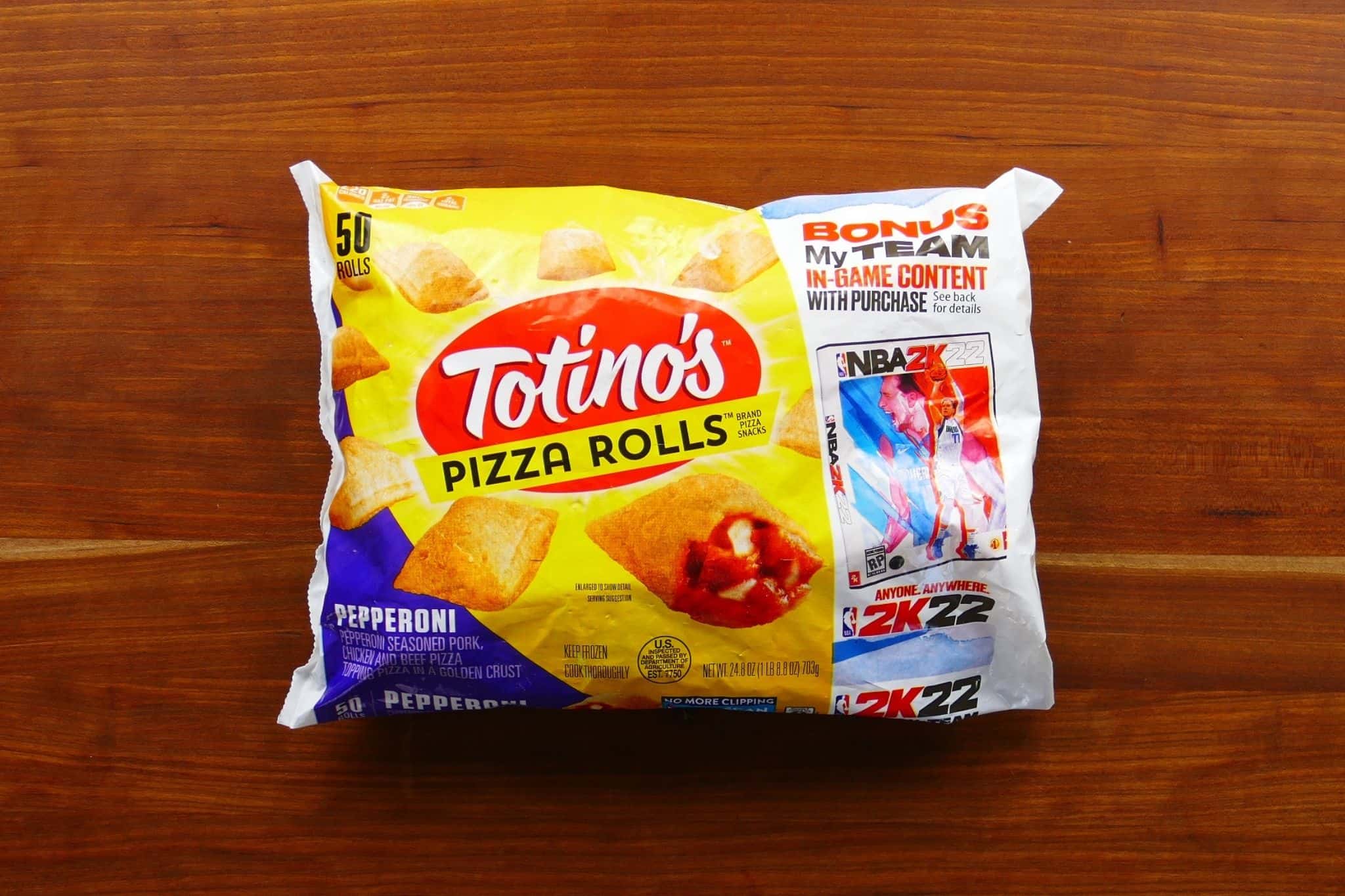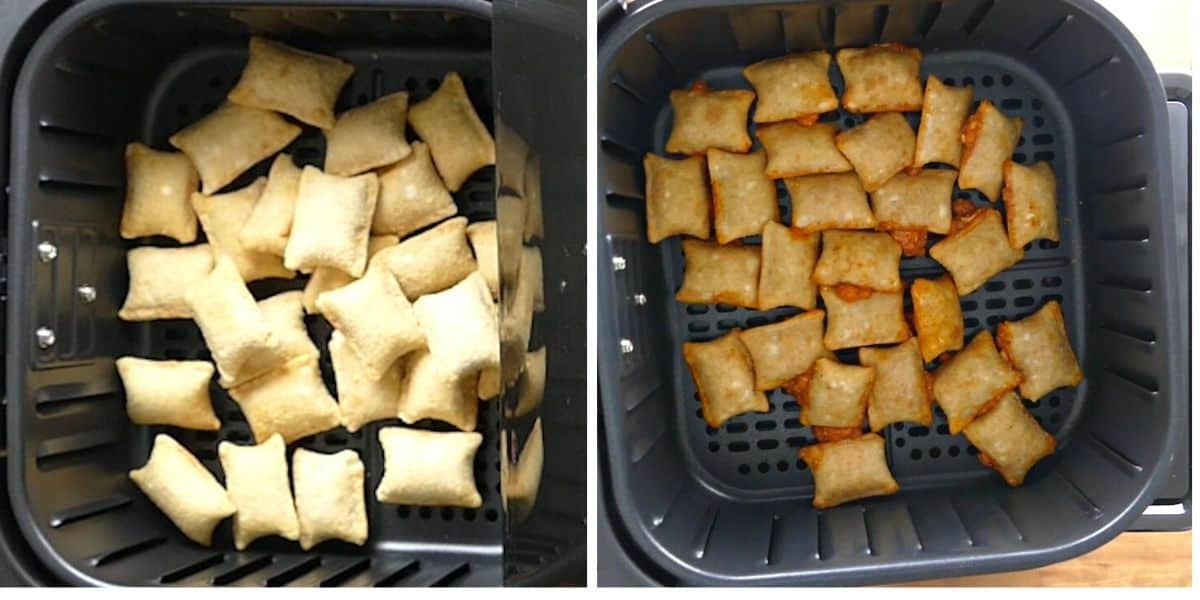 Keep pizza rolls frozen until ready to use
Place frozen pizza rolls in air fryer basket
Air fry pizza rolls
Transfer pizza rolls to serving platter
Serve with dipping sauce if desired
See recipe details below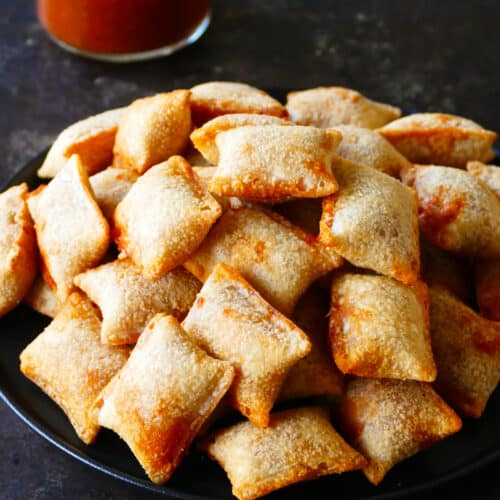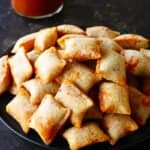 Air Fryer Pizza Rolls
When you need a quick snack for a crowd or a bunch of hungry kids, there's nothing that's more of a crowd-pleaser than pizza rolls. These air fryer frozen pizza rolls are so convenient and easy!
Instructions
Air Fryer Instructions
Place the empty air fryer basket in the air fryer and preheat at 380 degrees Fahrenheit for 5 minutes. **

Add the frozen pizza rolls to the air fryer basket.

Air fry for 8 minutes at 380 degrees Fahrenheit, turning them over with tongs or shaking the basket at the 4 minute mark.

Transfer the pizza rolls to a serving platter and serve with a dipping sauce if desired e.g. ranch dressing, sriracha sauce, marinara sauce, salsa.
Notes
* Totino's brand pizza rolls were used in this recipe. Nutrition information is for Totino's pepperoni pizza rolls.
Don't thaw the pizza rolls before air frying them.
** Preheat the air fryer if the air fryer doesn't have a built-in preheat functionality.
Every air fryer will vary. The first time you make this recipe, monitor the pizza rolls and adjust the air frying time as needed.
Nutrition
Serving:
6
pieces
|
Calories:
220
kcal
|
Carbohydrates:
30
g
|
Protein:
6
g
|
Fat:
8
g
|
Saturated Fat:
2
g
|
Cholesterol:
5
mg
|
Sodium:
380
mg
|
Fiber:
1
g
|
Sugar:
2
g
Thank you for visiting Paint the Kitchen Red. All photos and content are copyright protected. Please don't use any content without prior written permission. If you've made this recipe and would like to share it with your friends, please link back to this recipe. Thank you!
I am not a certified nutritionist. I provide my best estimate of nutritional information merely as a courtesy to my readers. If you depend on nutritional information for dietary or health reasons, I suggest using your favorite online nutrition calculator to confirm the nutritional value of this recipe based on the actual ingredients that you use.
Did you know that the best way to support your favorite bloggers is to comment and rate recipes, and share on social media? If you loved this recipe, please comment and give it a five ⭐ rating in the comment section below. If you're a pinner, pin this post using the Pin buttons at the top and bottom of this post and in the recipe card above. Thank you for your support!