You're ready to buy an Instant Pot but the sheer number of models and sizes can make it hard to decide which one to buy. Find out the Instant Pot size that's just right for you.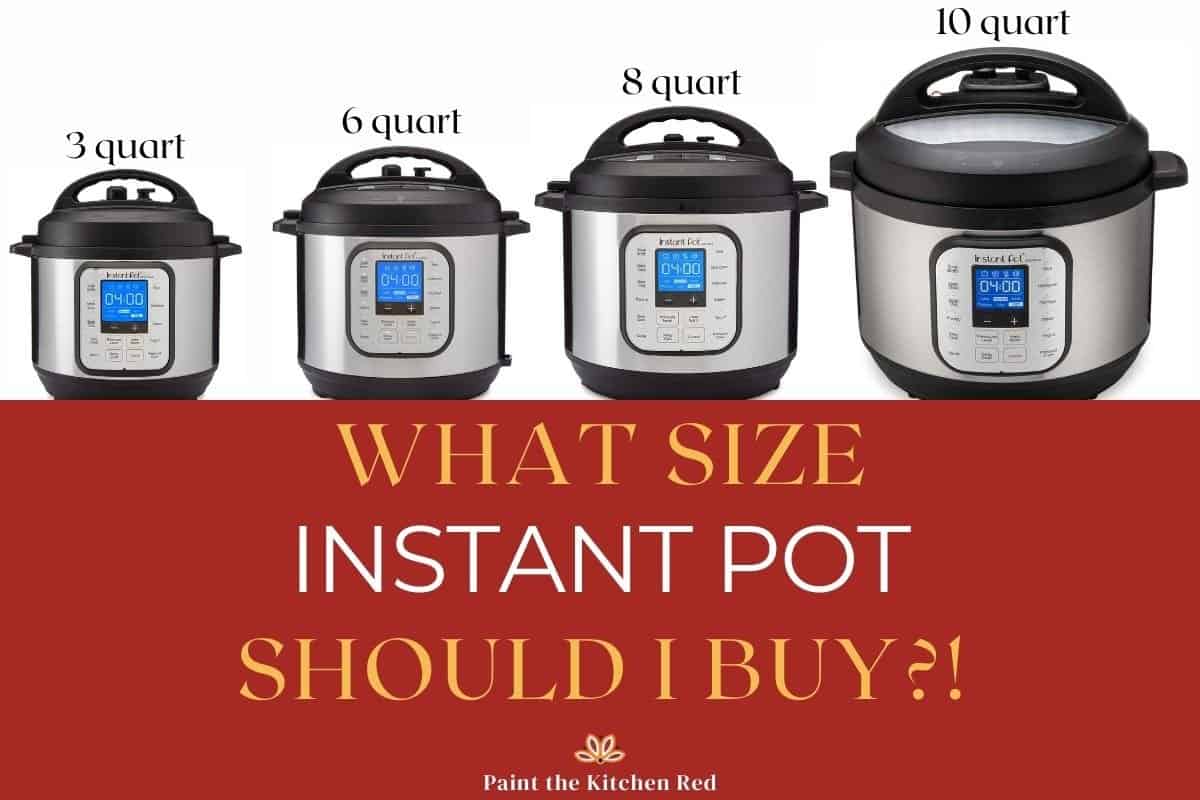 This post contains affiliate links. As an Amazon Associate, I earn from qualifying purchases. Please read the disclosure.
Introduction
When Instant Brands first came out with the Instant Pot multi-cooker, there were a handful of models so you didn't have a lot of choices. In the years since that initial introduction, they've put out many new models and sizes and discontinued a few.
You're probably here because you've decided you want a new Instant Pot and are having trouble deciding on a size. There are so many models and sizes of Instant Pot that it's perfectly understandable why you might be confused.
In this article, I'll tell you about all the Instant Pot sizes and the differences between them. To help you decide on which model to get, please read my guide on which Instant Pot to buy.
---
What is an Instant Pot?
Instant Pot is a multi-cooker from Instant Brands. A multi-cooker is an appliance that has many functions including pressure cooker, rice cooker, slow cooker, yogurt maker, steamer, etc.
The functions that are offered in each model can vary. Some models have additional functions such as air fryer and/or sous vide. All these functions are also known as smart programs.
Also mistakenly referred to as Insta pot, Instant Pot has become so popular in recent years that the word Instant Pot is used as a generic name for pressure cookers of any brand.
Although the Instant Pot multicooker has many different functions, the most commonly used is the Pressure Cook function. Pressure cooking allows you to cook foods in a fraction of the time it would take in a pan or in an oven.
If you're new to the Instant Pot and aren't familiar with how to use it, here are my guides on how to use some popular Instant Pot models:
---
Instant Pot sizes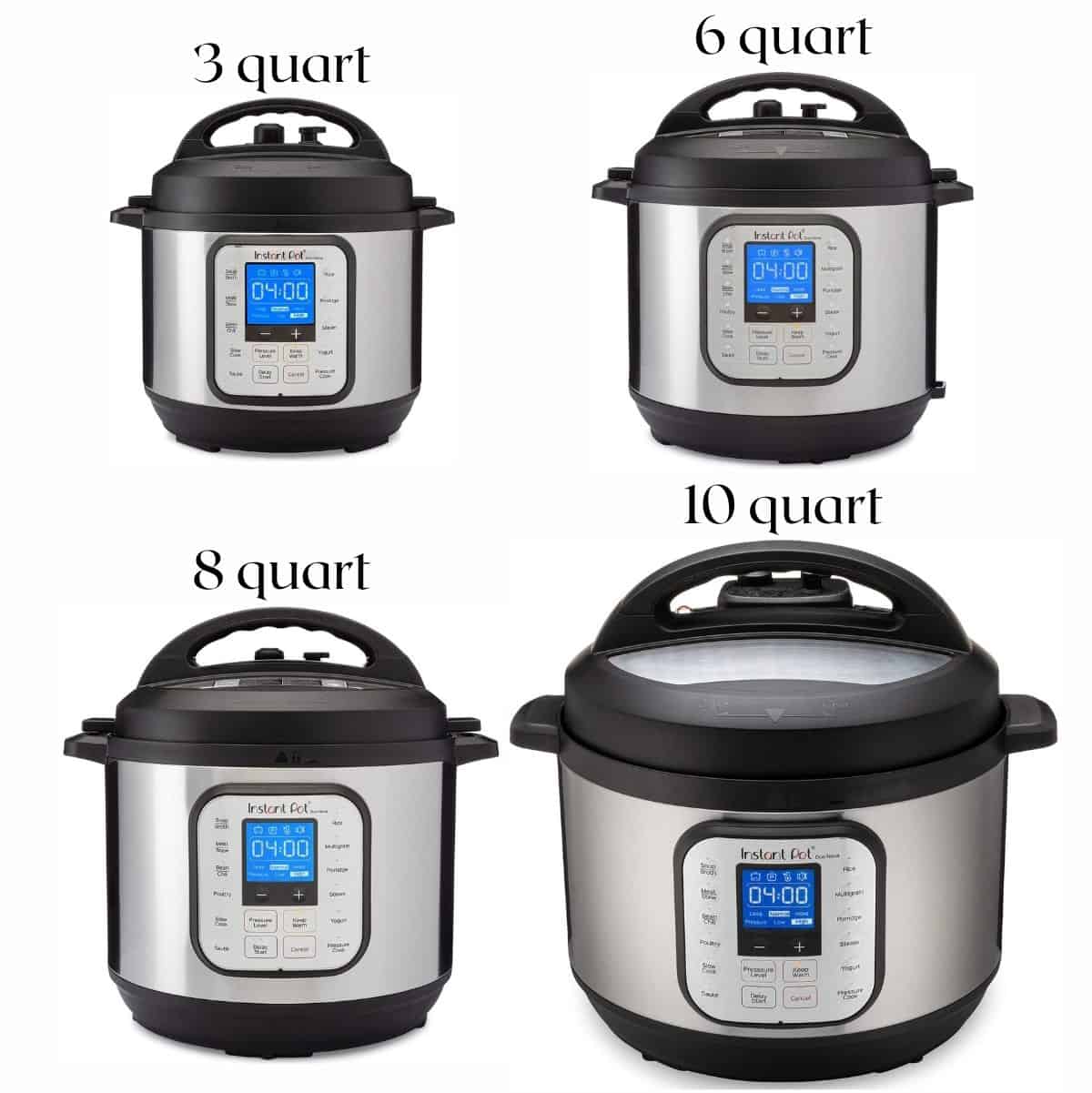 The Instant Pot comes in 4 different sizes: The 3 qt is the Instant Pot smallest size. The 6 qt is the most popular size, the 8 qt is the next size up and finally, the 10 qt is the Instant Pot largest size. The Instant Pot 5 qt model is no longer being manufactured.
The sizes that are available vary by model. For example, some models have a 10 quart available and some models only come in a 6 quart.
Some of the sizes (especially the 3 quart and 10 quart) don't have all the features that the other sizes have. For example, the 10 quart doesn't have the ability to prop the lid open. The 3 quart has fewer smart programs or functions than the larger sizes.
---
What sizes are available in each model?
Instant Brands is continuously introducing new models of the Instant Pot and discontinuing other models. I try to keep the information current but the information below is subject to change.
---
What are the specifications of each size?
The dimensions and specifications in the Instant Pot size chart below are courtesy of Instant Brands. Get more detailed information about Instant Pot dimensions, including inner pot dimensions, space required to store the Instant Pot and accessories that will fit the in each Instant Pot.
MODEL
DIMENSIONS *
with
pressure
cooker lid
DIMENSIONS *
with
air fryer
lid
TOTAL
WEIGHT
3 Quart **
11.4 x 10 x 11.2
_
8.6 lbs
6 Quart **
13 x 12.2 x 12.6
_
14.8 lbs
8 Quart **
14.8 x 13.3 x 14.2
_
18 lbs
10 Quart
16.8 x 15.3 x 16.3
_
25 lbs
DUO CRISP
6 Quart
13.6 x 13.6 x 13
_
23.6 lbs
DUO EVO PLUS
or PRO
6 Quart
13 × 12.7 × 12.8
_
13 lbs
DUO EVO PLUS
or PRO
8 Quart
14.4 × 13.9 × 14.2
_
15.8 lbs
DUO CRISP
6 Quart
13.6 x 13.6 x 13
13.6 x 13.6 x 14
19.6 lbs
DUO CRISP
8 Quart
14.8 x 13.6 x 14.2

14.8 x 13.6 x 15.3
22.2 lbs
PRO CRISP
8 Quart

14.8 x 14.2 x 14.2

14.8 × 14.2 × 15.4

26.1 lbs
* Length x Width x Height in inches
** Includes most models, unless listed separately
---
What size Instant Pot do I need?
Below you'll find out the pros and cons of each size and for whom each size is best.
3 Quart (Mini)
Best for:
One or two people with minimum to no leftovers.
Limited kitchen space e.g. dorm rooms and RVs.
Traveling or vacationing and you don't want leftovers.
If you find that you're halving recipes regularly.
Use as a second Instant Pot for those who already own a 6 or 8 quart. Bonus: the inner pot fits in the 6 or 8 quart Instant Pot so you can use it for Pot-in-Pot cooking.
Pros:
Takes up much less room than the larger sizes.
Great for making side dishes when your larger Instant Pot is already being used for a main dish.
Portable and easy to lift.
Great for entertaining e.g. warming foods such as dips.
Good for making small quantities of food, such as yogurt or oatmeal.
Cons:
Can't fit larger pieces of food in the mini, such as corn on the cob, ribs, whole chicken, cheesecakes or a roast.
Can't use the air fryer lid accessory with this size.
Difficult to do pot in pot cooking (eg. lasagna, cheesecake) due to the size. Accessories that fit into the mini are harder to find.
Some buttons that are on the 6 and 8 quart may be missing from the 3 quart. But this is not that big a deal because you can just use the Pressure Cook button instead.
Can be just as expensive as a 6 quart.
Recipes may need to be adjusted.
Most recipes are written with the 6 quart in mind. A 3 quart might require modification of some recipes including the quantity of liquid and the pressure cooking time. Minimum liquid requirement: 1 cup
---
6 Quart
Best for:
Anyone who has enough counter space.
Families of 3 to 5 people – the 6 qt. is the most popular size of Instant Pot and is a good fit for most families.
Smaller families who like having leftovers and easy meals for the next day.
Those who entertain often.
Pros:
Takes up less room than the larger sizes.
Versatile size that meets most people's needs.
The most popular size and most recipes are tested on 6 quarts, so you can usually follow a recipe without needing modifications.
You can use the air fryer lid accessory with this size.
Cons:
It takes up more room than the 3 quart.
You can't fit very large food such as a 6 lb chicken, large roast or ham.
I own numerous 6 quarts and love this size. For my family of five, this size is large enough to cook a whole meal with some leftovers. It's the size I recommend for most people provided they have the space to store it. I keep mine on my countertop. Minimum liquid requirement: 1 ½ cup
---
8 Quart
Best for:
Families or groups of 5 to 8 people.
Family of big eaters (aka growing teens!)
Those who entertain often.
Smaller families who like to have leftovers.
Meal prep and freezer meals.
Pros:
May not need to buy new accessories since the diameter may accommodate regular sized dishes (about 8 inches) that you already own.
Great for making bone broth.
Will easily fit a whole chicken, multiple slabs of ribs or a large roast.
Can easily cook two dishes at once using pot in pot method (PIP) eg. jasmine rice on the bottom and red curry on top.
Great for freezer meals such as a large pot of chili.
The larger capacity allows you to sous vide more food.
Cons:
As of now, you can't use the air fryer lid accessory with this size (but you can purchase the Duo Crisp 8 quart which comes with an air fryer lid.)
I do find that cooking some foods in the 8 quart requires some modification of the recipe e.g. cooking rice using the pot in pot method.
This size is quite a bit bulkier and heavier than the 6 quart size. This is especially true with the models that have an air fryer lid.
The cord is not detachable as it is with many 3 quart and 6 quart models.
I own an 8 quart and I find it's most useful when I want to double or triple a recipe. It also comes in handy when I'm cooking for guests or during the holidays. It easily fits larger food like a whole chicken or roast. If you're debating between a 6 quart and 8 quart and you're cooking for 5 or more, you may want to go with the 8 quart. Minimum liquid requirement: 2 cups
---
10 Quart
Best for:
Large families of 9 or more, entertaining large groups.
Batch cooking – great for large meal prep or freezer meals.
Large pieces of meat such as whole chicken.
If you'll frequently cook using the Pot in Pot method. You'll find this to be a great size because it accommodates larger pans.
Pros:
Has a very large capacity and accommodates a large whole chicken or a smaller turkey, large ham or roast, whole chicken or turkey, a full-size cheesecake, multiple racks of ribs.
Cons:
Very heavy!
Takes longer to come to pressure due to the increased capacity.
It's only available with the Instant Pot Duo Nova model. The Duo Nova 10 quart model may be discontinued. No word yet on a replacement model.
The lid cannot be propped open like with the other sizes.
Spare parts aren't easily available because it's a rare size.
There aren't any special accessories for this size Instant Pot, including trivets. You need to use 8 quart accessories.
Most Instant Pot recipes are written with the 6 quart in mind so you will need to tweak recipes for the 10 quart since it requires more liquid. Getting this size for everyday needs for a smaller family may be excessive. Minimum liquid requirement: 2 ½ cups
The Bottom Line
The 3 quart is right for you If you're short on space and only cooking for 1 or 2 people or you want an extra Instant Pot.
The 6 quart is best if you're cooking for 5 people or fewer or you want to be able to follow online recipes without having to modify them too much.
The 8 quart will work for you if you have a family of 6 to 8 people.
The 10 quart is for you if you are cooking for very large groups.
If you're looking to do meal prep or freeze, buy one size up. You can always make a lesser quantity in a larger size Instant Pot but you can't make more in a smaller capacity Instant Pot.