Instant Pot Jasmine Rice is the perfect complement to Thai curries. This recipe gives you perfectly cooked rice every time, quick and easy. You'll never go back to regular long-grain rice, especially with Thai food! This recipe can also be cooked using the Pot in Pot method.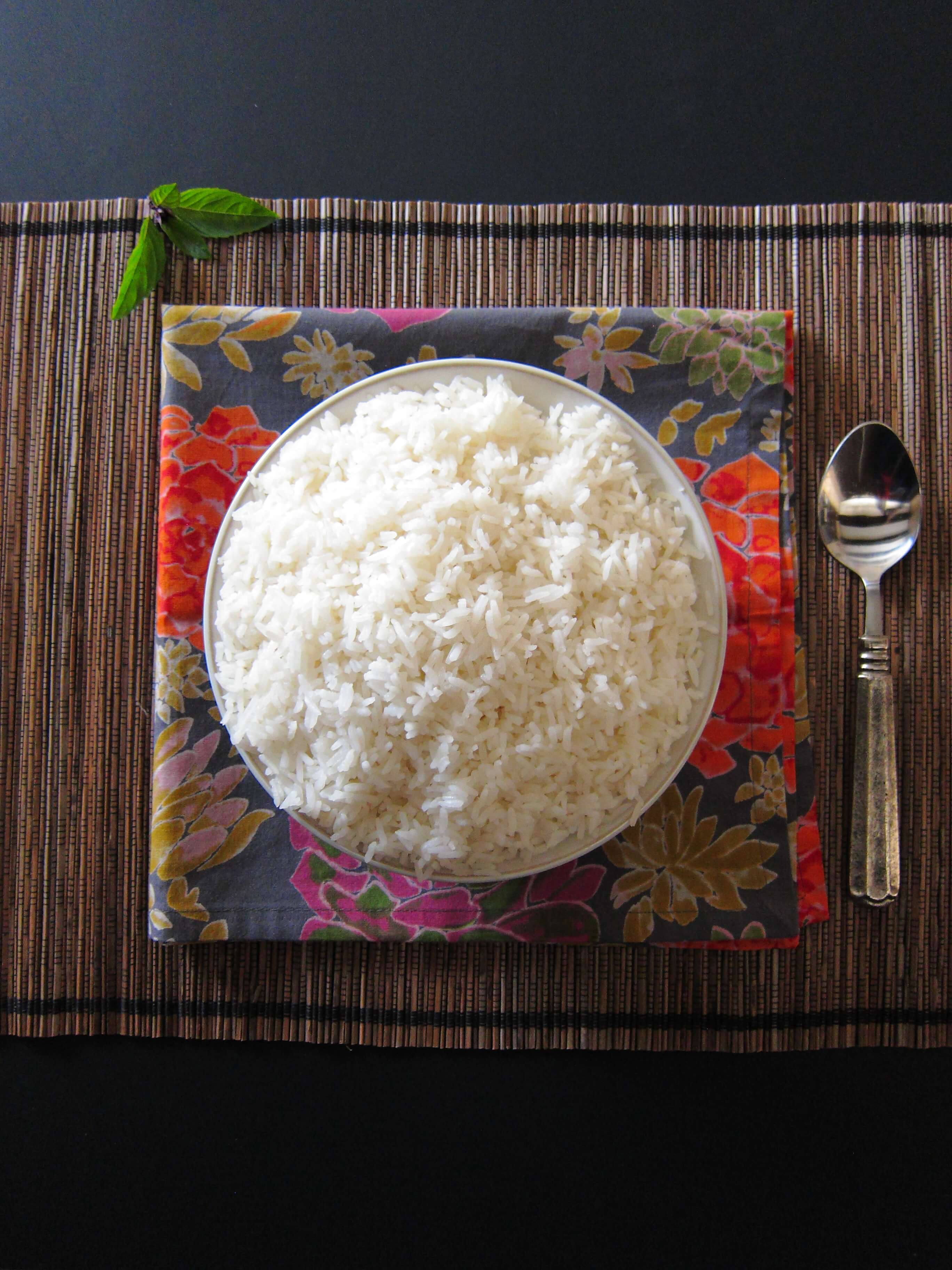 This post contains affiliate links. As an Amazon Associate, I earn from qualifying purchases. Please read the disclosure.
ℹ️ Introduction
What is Jasmine Rice?
Jasmine rice is a long-grain white rice that's from Thailand. It gets its name from the jasmine flower because of the floral aroma.
Jasmine rice is sticky when cooked. The grains are also shorter and plumper than other types of rice, like basmati.
Jasmine rice is widely used in Thai cuisine as well as Southeast and South Asian cuisines. It's particularly well suited for absorbing spices and flavors in dishes like curries.
Making jasmine rice in the Instant Pot results in fluffy rice every single time. There's no need to use your rice cooker or the stove top to make rice anymore!
Cooking rice in a rice cooker works well, but I haven't used one in years because the Instant Pot makes perfect rice and it's one less appliance I have to get out.
The Instant Pot is the perfect way to cook foolproof rice every time. The rice cooks evenly and thoroughly under pressure, so you get tender grains with a bite, but no crunchy or hard pieces.
Learn more about your Instant Pot…
How Do you Cook Jasmine Rice in Instant Pot?
There are two ways to make white jasmine rice in the Instant Pot electric pressure cooker.
Pot in Pot Method
One is the pot-in-pot method, where you pour water into the inner pot, have a separate bowl in which you put rice and cold water, and place that on a trivet in the inner pot. I have a recipe for regular white rice (e.g. basmati rice) that uses the pot in pot method.
With pot-in-pot, I can store the rice in the same dish that I cook it in, and I don't have a messy inner pot to clean.
Directly in Inner Pot Method
The second method of cooking Instant Pot rice is to cook it directly in the inner pot. This allows you to cook larger quantities of rice than the pot-in-pot method allows for. And that is what I'm going to be showing you in this Instant Pot jasmine rice recipe.
Although the Instant Pot pressure cooker has a Rice button, I prefer to use the Pressure Cook setting (also known as Manual setting). The rice setting uses low pressure for 12 minutes whereas my method uses high pressure and the rice is done in 4 minutes.
Cooking jasmine rice on the stove can be inconsistent because the burner can distribute heat unevenly, leading to hot and cool spots.
This causes parts of the rice to be undercooked while other parts end up mushy. Evaporation also makes it harder for the rice to say hydrated.
❤️ WHY SHOULD YOU MAKE RICE IN THE INSTANT POT?
The Instant Pot allows you to just set it and forget it – no need to constantly watch the stove. This gives you consistent results every single time.
The sealed environment of the pressure cooker retains more of the natural nutrients in the rice that can be lost through steaming on the stove.
Making rice on the stovetop can cause the water to overflow. The Instant Pot doesn't have this issue, which makes cleanup easy.
The Keep Warm setting is perfect for keeping the rice ready to serve if your meal is not quite ready yet.
You can cook big batches for meal prep throughout the week. This recipe for Instant Pot jasmine rice can be easily doubled or tripled, depending on the capacity of your Instant Pot.
💡 Tips for Instant Pot Jasmine Rice
---
How to get light and fluffy grains
Rinsed rice doesn't have excess surface starch and will be less sticky, which will result in perfect pressure cooker rice every time.
I recommend that you rinse the rice thoroughly before you pressure cook it. I like to put the rice in a fine mesh strainer and run it under the faucet till the water runs clear.
Stir the rice with a fork to fluff it, after opening the lid, to separate the grains while it rests. I usually like to use the rice paddle that came with the Instant Pot.
---
How to prevent sticking
Spritzing the pot with oil before adding the rice helps prevent it from sticking.
Using a nonstick inner pot is also very effective.
Letting the pressure release naturally for 10 minutes gives time for the rice to settle before you vent the remaining steam.
---
Storage tips
Refrigerate unused rice immediately or within 2 hours. Leftover rice should be stored in an airtight container in the fridge for up to 5 days. I use leftover rice to make fried rice.
---
Using the Pot in Pot Method
Cooking rice in a separate bowl placed directly in the Instant Pot is great for smaller batches or easier cleanup. See my pot-in-pot rice recipe for step-by-step instructions.
---
Change the Quantity
This recipe is for 3 cups of jasmine rice and makes about 9 cups of cooked rice. You can adjust the quantities, but keep the same cook time and keep the rice to water ratio at 1:1.25. For 1 cup of rice, use 1 ¼ cup of water.
Use the same dry measuring cup to measure the rice and the water.
Instant Pot Jasmine Rice Quantity Cheat Sheet

| DRY RICE (cups) | WATER (cups) |
| --- | --- |
| 2 | 2 ½ |
| 2 ½ | 3 ⅛ |
| 3 | 3 ¾ |
| 3 ½ | 4 ⅓ |
| 4 | 5 |
---
Flavor
You can change the recipe up and add more flavor by doing any of the following:
---
How to Release Presssure
Once pressure cooking has completed, you can either wait 10 minutes and release pressure OR you can allow for a natural pressure release. I do either, depending on how much time I have.
---
---
❓ FAQS
---
Why did my rice turn out mushy?
If you soak it ahead of time, you could end up with sticky and mushy rice. For this recipe, you just need to rinse your rice. It's also possible that you need to add a little less water.
How long does it take to cook jasmine rice in the Instant Pot?
The Instant Pot takes about 10 minutes to come to pressure, another 4 minutes to pressure cook the rice, and another 15 minutes for natural release. This brings the total time to about 29 minutes.
What is the best way to store leftover rice?
Leftover jasmine rice can be stored in the fridge in an airtight container for 3 to 4 days. Refrigerate the leftover rice immediately.
Can I substitute other liquids for the water?
You can use chicken or vegetable broth instead of water for more flavor.
🧂 Instant Pot Jasmine Rice Ingredients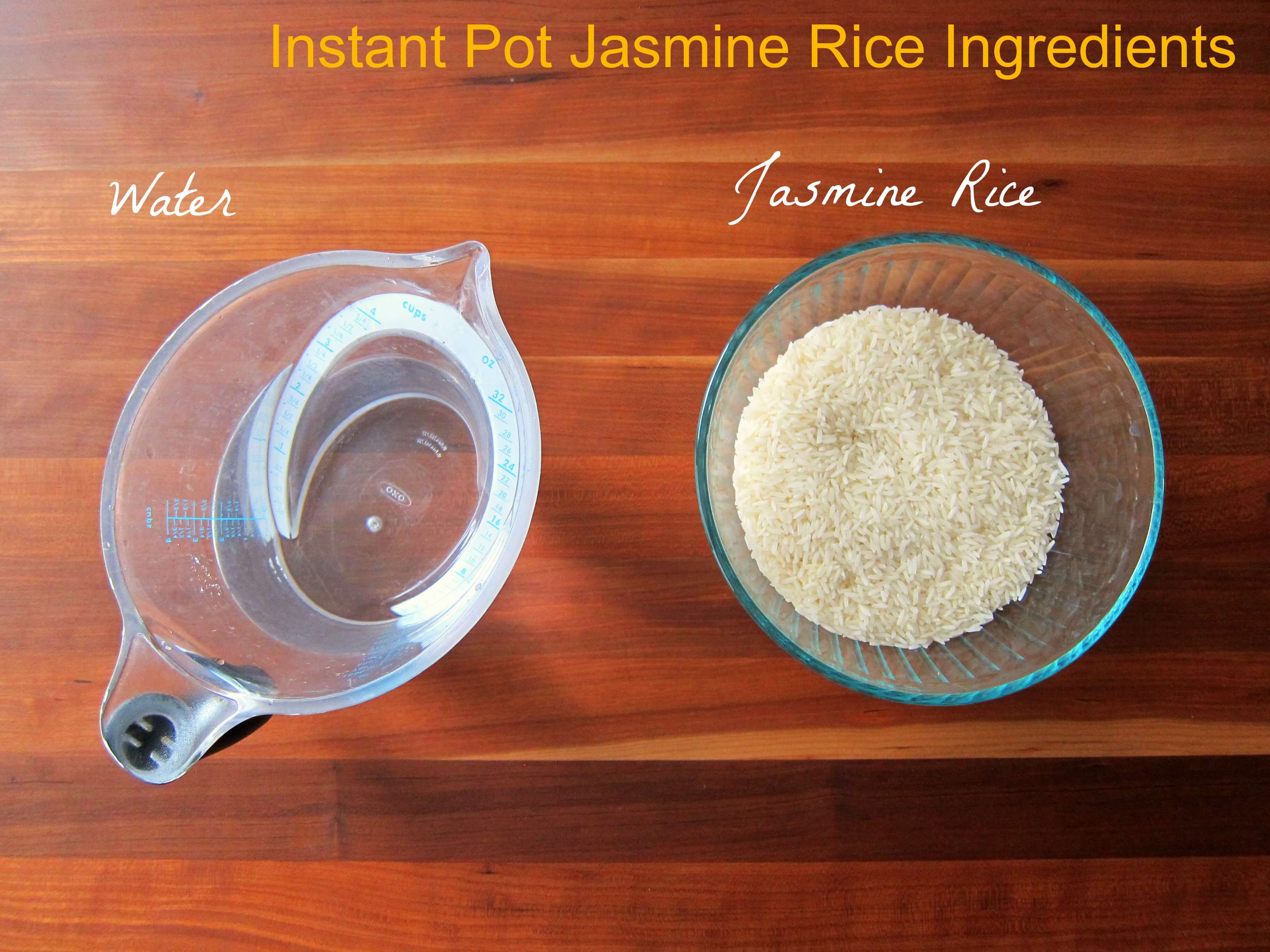 Quantities provided in the recipe card at the bottom of this post
📝 How to Cook Jasmine Rice in the Instant Pot Pressure Cooker
Add rice and water to the Instant Pot
Pressure cook the rice and release pressure
Fluff the rice
Add Rice and Water to Instant Pot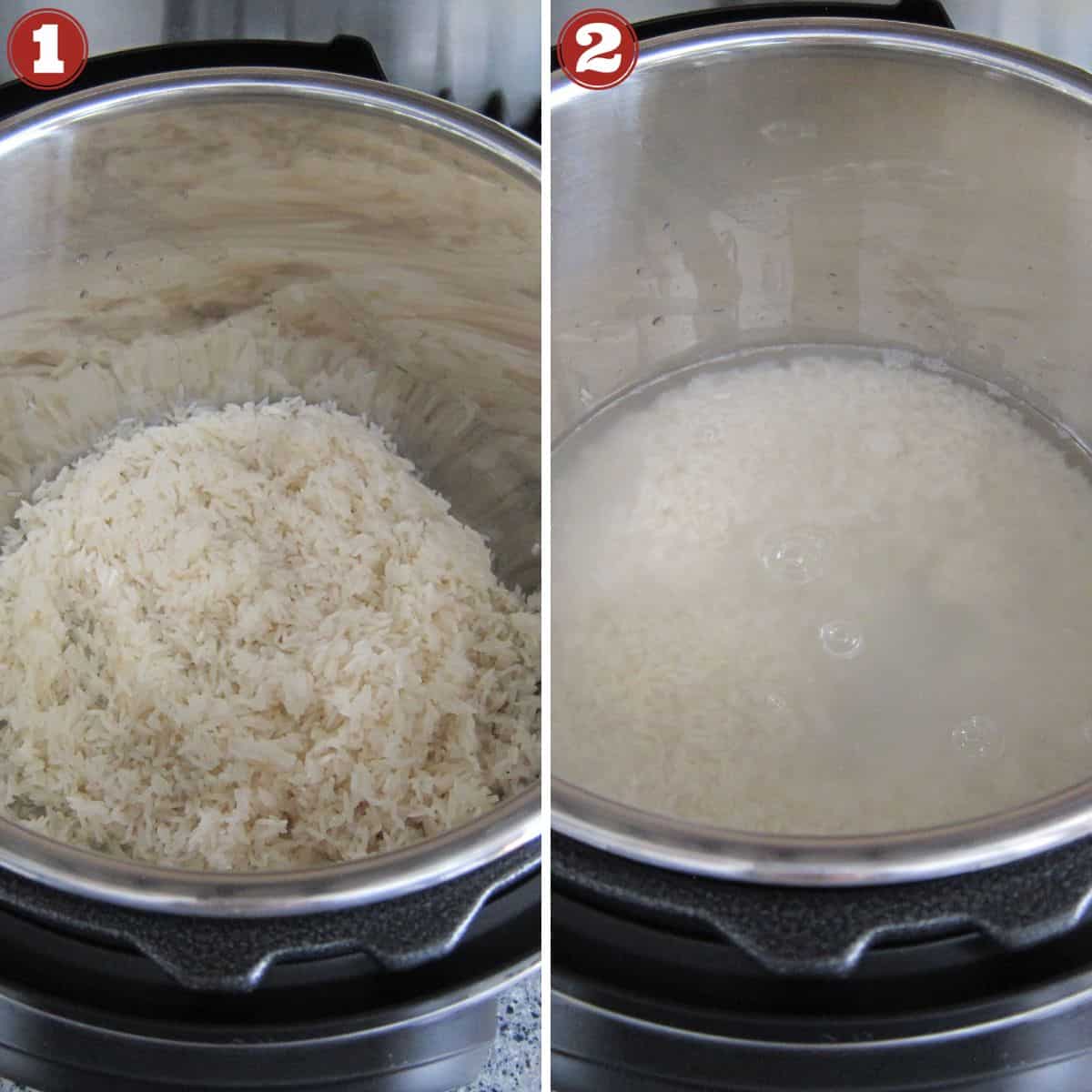 Wash the rice and place the rinsed rice in the Instant Pot.
Add water to the Instant Pot.
Program the Instant Pot and release pressure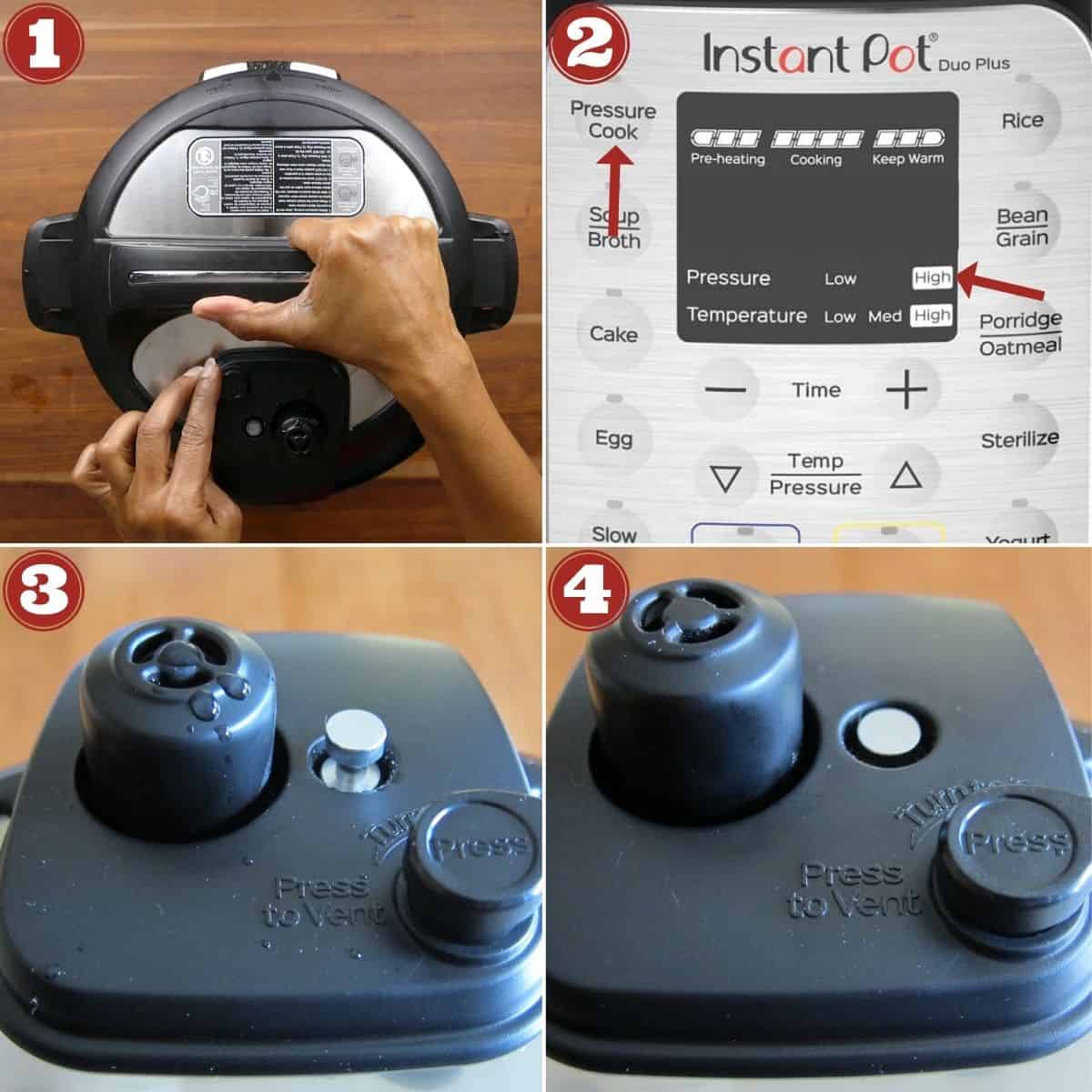 Close the lid.
Program the Instant Pot to pressure cook on high pressure for 22 minutes.
The display will go from On to 22:00. The float valve will go up after a few minutes. The display will count down to 00:00.
Do a 15 minute natural release of pressure. Wait 15 minutes and release any remaining pressure. Once the float valve goes down, the lid can be opened.
Fluff the Rice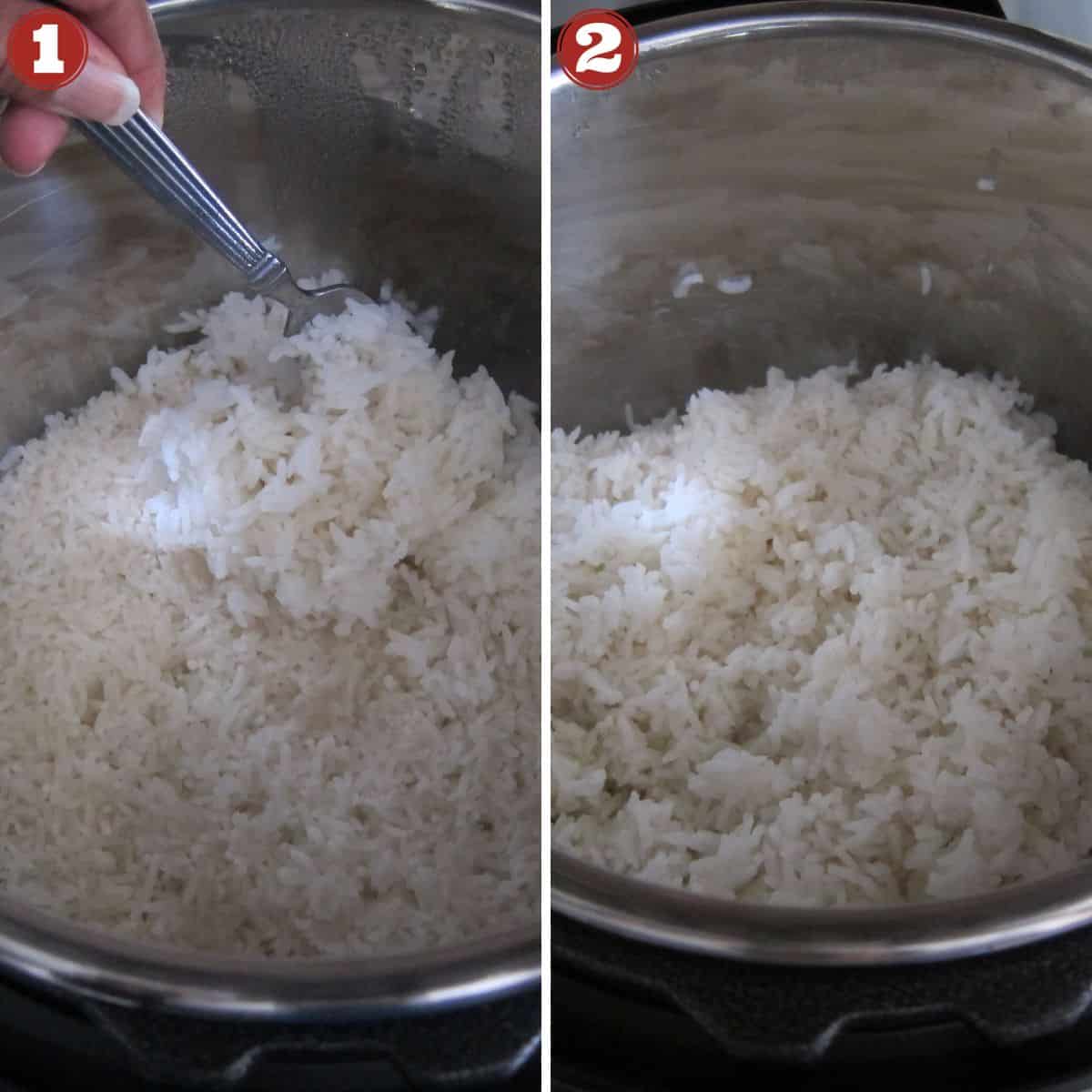 Once the rice is cooked, it may appear sticky or wet.
Fluff up the cooked rice with a rice paddle or fork. Let the rice rest for a few minutes for perfect Instant Pot fragrant jasmine rice. The rice paddle that comes with some Instant Pots is very useful!
Instant Pot Tips and Tricks
Delay Start
Learn about how to use the Delay Start feature, which allows you to begin pressure cooking at a future time.
More Instant Pot Rice Recipes
Instant Pot basmati rice is another white rice that's aromatic and fragrant. This recipe can be used for other long grain white rice varieties too.
Try making pot in pot brown rice using the PIP method for smaller quantities of rice and easy cleanup.
Arroz con Pollo a Latin chicken and rice easy recipe that comes out perfect every time.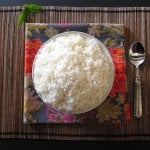 Instant Pot Jasmine Rice
A step by step guide that shows you how to make Instant Pot Jasmine Rice. You can use an Instant Pot to get perfect rice every time!
Instructions
Cook Directly in Inner Pot
Rinse out Jasmine rice in a fine-mesh strainer and drain.

Place rice and water in Instant Pot inner pot. Stir to combine.

Close the lid and pressure cook on High Pressure for 4 minutes.

Once pressure cooking is complete, do a 10-minute natural release (i.e. let the rice stay in Keep Warm mode for 10 minutes after cooking is complete. Release remaining steam to depressurize Instant Pot), or allow pressure to release naturally. Open the lid. [Read More: The Different Pressure Release Methods]

Open Instant Pot and fluff rice with a fork before serving.
Use Pot in Pot Method *
Rinse out 2 cups of Jasmine rice in a fine-mesh sieve and drain.

Transfer rinsed rice and 2½ cups of water to a 1.75 quart or larger oven-safe medium bowl.

Pour 2 cups water into the Instant Pot's main compartment (inner pot) and place a trivet in the water.

Place rice bowl on trivet and close the Instant Pot.

Close the lid and pressure cook on High Pressure for 4 minutes.

Open Instant Pot and fluff rice with fork and allow it to rest for a few minutes before serving.
Notes
* To use the pot in pot method, the recipe has been adjusted to use 2 cups of rice.
To adjust the quantities, keep the ratio of rice to water at 1:1.25.
Be sure to use the same cup for measuring both rice and water.
See the blog post for more detailed recipe #tips. You don't want to miss any!
* Do not overfill your pot with rice, i.e. past ½ mark.
Nutrition
Serving:
1
cup
|
Calories:
205
kcal
|
Carbohydrates:
44.5
g
|
Protein:
4.3
g
|
Fat:
1
g
|
Sodium:
1.6
mg
|
Fiber:
0.5
g
Thank you for visiting Paint the Kitchen Red. All photos and content are copyright protected. Please don't use any content without prior written permission. If you've made this recipe and would like to share it with your friends, please link back to this recipe. Thank you!
I am not a certified nutritionist. I provide my best estimate of nutritional information merely as a courtesy to my readers. If you depend on nutritional information for dietary or health reasons, I suggest using your favorite online nutrition calculator to confirm the nutritional value of this recipe based on the actual ingredients that you use.
Did you know that the best way to support your favorite bloggers is to comment and rate recipes, and share on social media? If you loved this recipe, please comment and give it a five ⭐ rating in the comment section below. If you're a pinner, pin this post using the Pin buttons at the top and bottom of this post and in the recipe card above. Thank you for your support!
Instant Pot Recipes to Serve with Jasmine Rice
1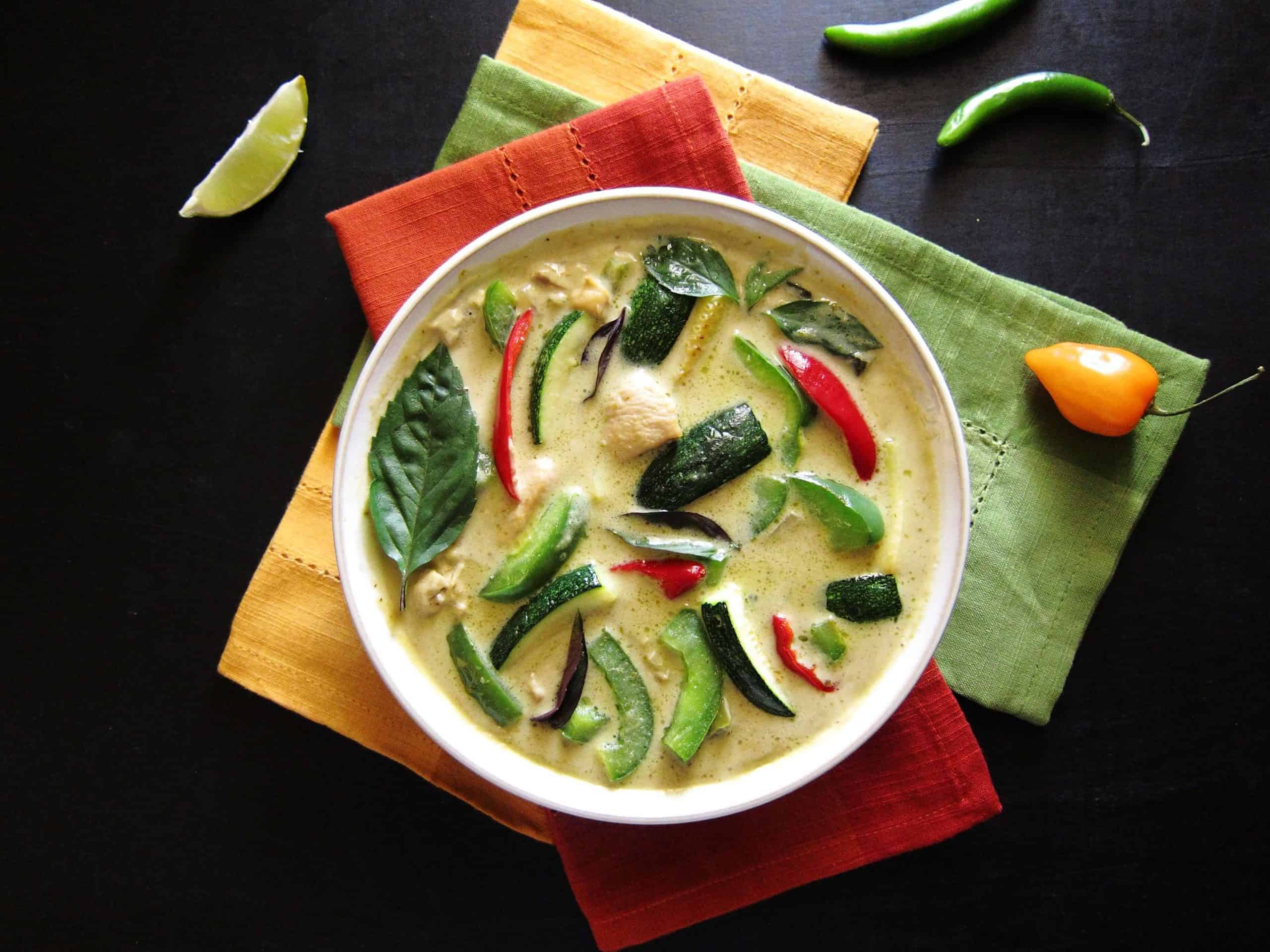 Instant Pot Thai Green Curry with Chicken
Instant Pot Thai Green Curry is a creamy coconut curry with the flavors of green chilies, Thai Basil, lime, coriander, cumin. This spicy curry will rival your favorite Thai takeout green curry but is so easy that it can be ready in less than 20 minutes.
INSTANT POT THAI GREEN CURRY
2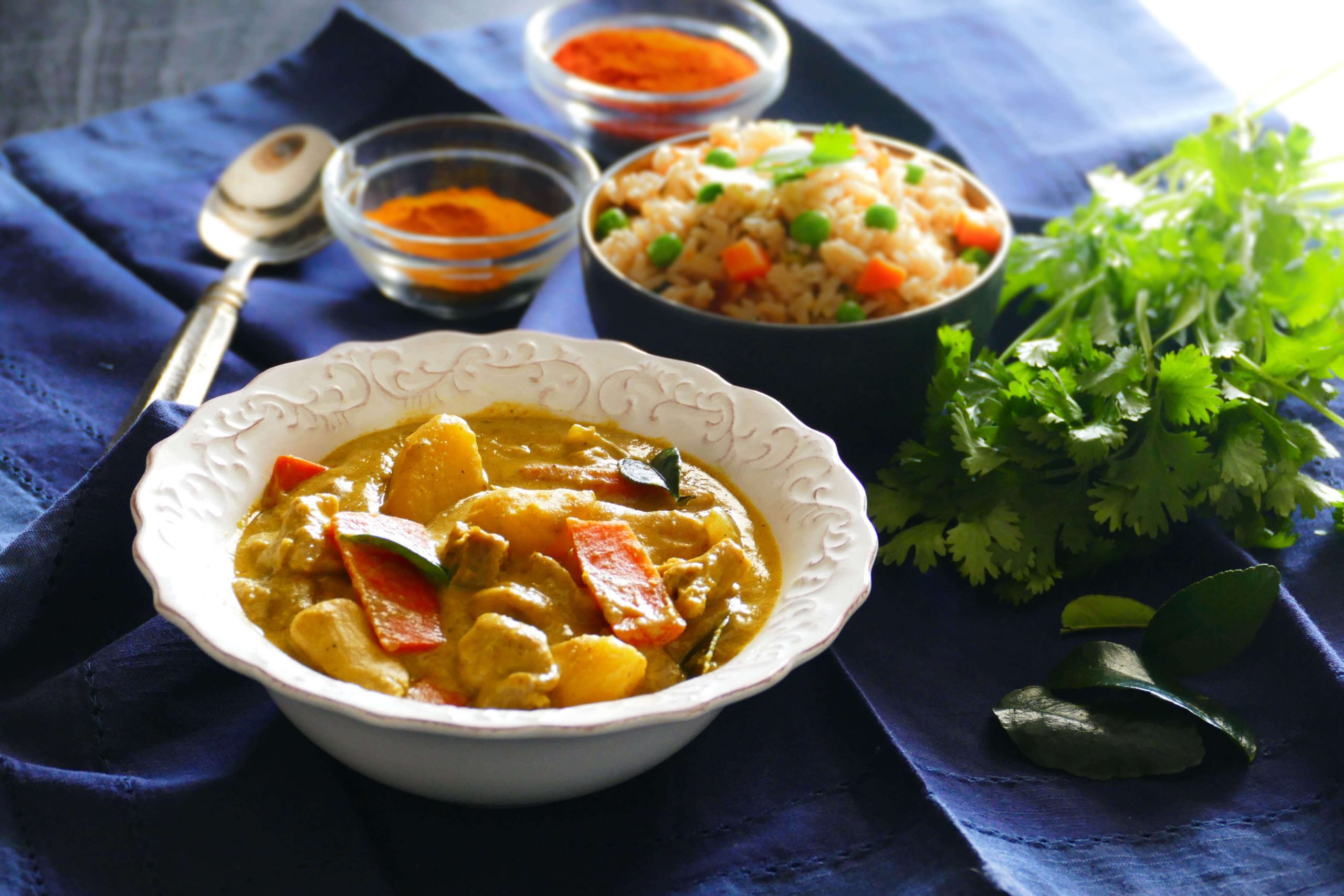 Thai Instant Pot Yellow Curry with Chicken
This Instant Pot Thai Yellow Curry with Chicken has the perfect combination of flavors: creamy coconut milk, Thai yellow curry paste, chicken, and vegetables. To top it off, curry powder gives this Thai yellow curry its unique taste. This curry is soul-satisfying comfort food perfect for any time of year.
INSTANT POT YELLOW CURRY
3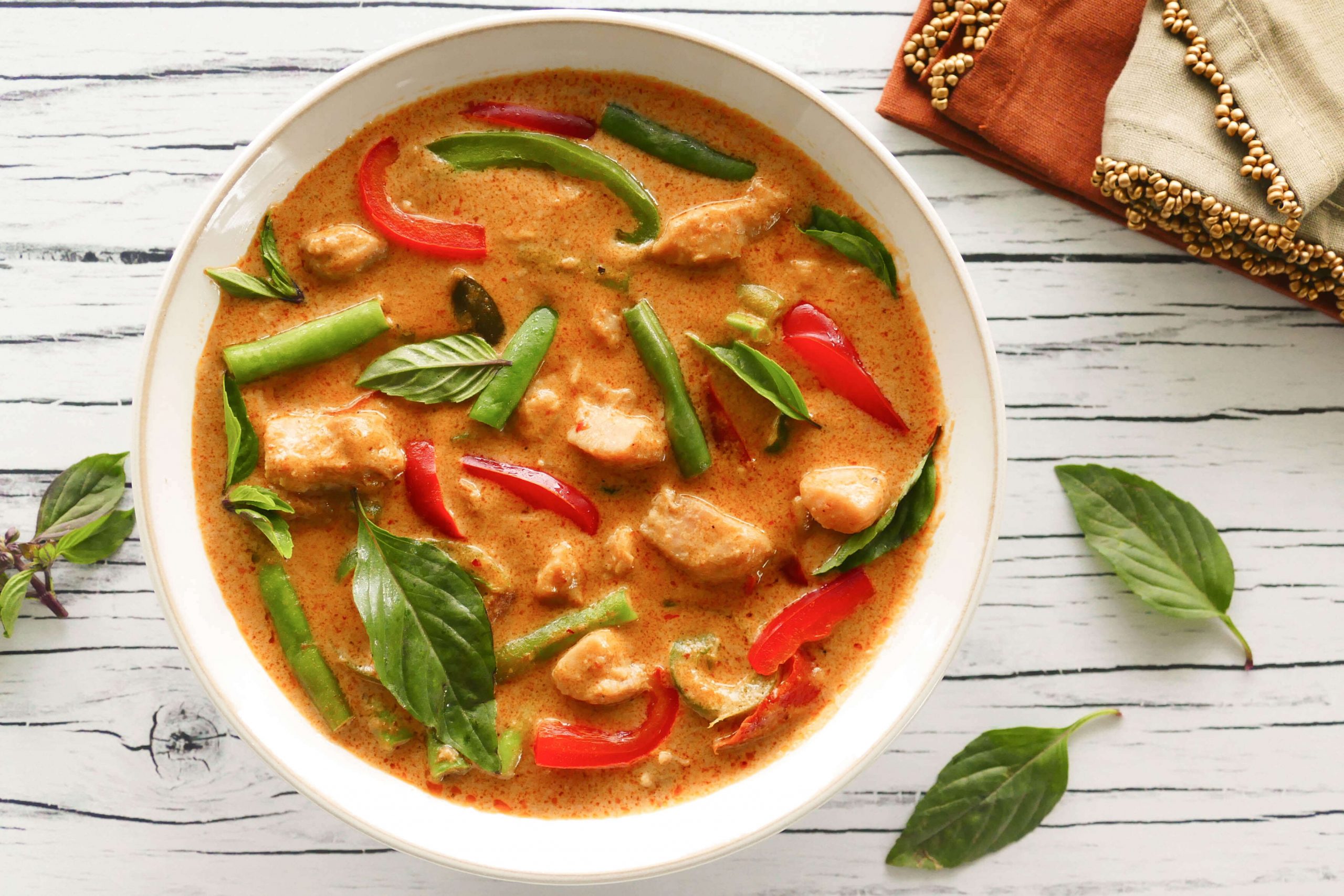 Thai Instant Pot Panang Curry with Chicken
This Instant Pot Thai Panang Curry with Chicken tastes amazing! It's quick and easy enough to make on a weeknight and tastes like you got if from a Thai restaurant. Creamy coconut milk, Panang curry paste, chicken, vegetables, and spices come together to make a delicious curry that tastes great with jasmine rice.
INSTANT POT PANANG CURRY