This Instant Pot brown basmati rice recipe is a quick and easy way to cook healthy whole grain rice. The Instant Pot allows you to cook brown rice in a fraction of the time it takes to cook it on the stovetop, without sacrificing flavor or texture. Learn how to make perfect brown basmati rice every single time.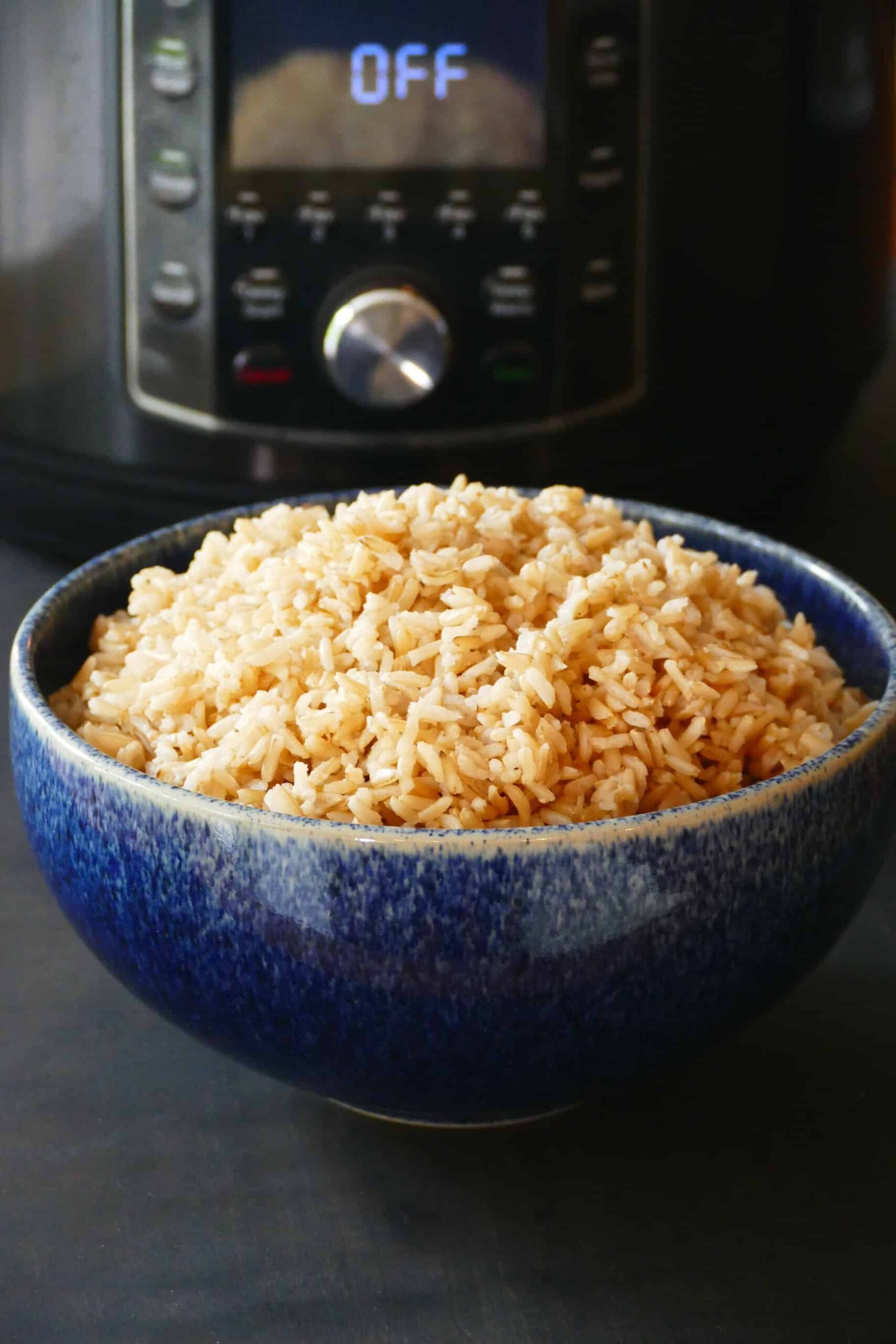 This post contains affiliate links. As an Amazon Associate, I earn from qualifying purchases. Please read the disclosure.
ℹ️ Introduction
What is Brown Basmati Rice?
Basmati rice is an aromatic, long-grain rice typically grown in the foothills of the Himalayas in India. Both white and brown basmati rice have a distinct aroma and nutty flavor.
When rice is first milled, the outer layer or husk is removed. What remains is brown rice. Brown rice is a whole grain version of white rice, which means it contains bran and germ.
If the rice grain is further processed and the bran and germ are removed, what's left is the starchy endosperm which is white rice.
Long grain brown rice has a denser, chewier texture than white rice. It is rich in fiber, vitamins, and minerals and is a good source of antioxidants.
Basmati brown rice helps you feel full longer and improves digestion. Due to its low glycemic index, it doesn't increase your blood sugar as quickly as white basmati rice can.
All in all, due to the health benefits, brown rice is a better choice than white rice for overall health.
Learn more about your Instant Pot…
Why Cook Basmati Brown Rice in Instant Pot?
You can have mixed results when you cook brown basmati on the stove top. Many people (including myself) get inconsistent results where some grains are cooked more than others.
When you cook rice in the Instant Pot pressure cooker, you don't have to worry about any of this. Here are some reasons the Instant Pot is better:
You don't have to constantly babysit the stove or keep a watchful eye on the water so it doesn't boil over. The Instant Pot allows you to set it and forget it!
The rice cooks up evenly without parts that are undercooked or overcooked. This produces consistent results every time.
The Instant Pot takes less time to cook the brown basmati rice than the stove top does.
The pressure cooker's sealed cooking environment helps seal in and retain the intrinsic nutrients present in brown rice by preventing excessive evaporation.
Making rice on the stove top can cause spills from water overflowing. The Instant Pot doesn't have this issue, which makes cleanup easy.
The Instant Pot has a Keep Warm mode, which allows you to keep the rice warm until you're ready to serve it.
You can cook a large batch of rice at a time, which makes it great for meal prep.
More Instant Pot Rice Recipes
💡 Tips for Instant Pot Brown Basmati Rice
---
How to Get Fluffier Rice
Rinse the rice before adding it to the pressure cooker. This washes away the starches which can make the rice clumpy.
Fluff the rice with a fork after you open the lid. This separates the grains while the rice rests for a few minutes.
How to Keep the Rice from Sticking
---
Using the Pot in Pot Method
Sometimes you may want to cook a small quantity of rice or you might want less cleanup. Use my Instant Pot pot-in-pot brown rice recipe for detailed step-by-step instructions on how to cook brown rice in the Instant Pot in a separate container.
---
Flavorings
You can increase the flavor of brown basmati rice by adding any of the following ingredients to the rice when it's being pressure cooked:
---
❓ FAQS
---
Why did my rice turn out mushy?
If you soaked the rice ahead of time, you may end up with mushy and sticky rice. For this recipe, you just need to rinse the rice. It's also possible that you need to add a little less water.
Can this recipe be doubled?
Yes, you can double the recipe. Use 4 cups of rice and 8 ½ cups of water. Just make sure you don't go over the ½ full mark. Keep the cooking time the same.
Can this recipe be halved?
You can halve the recipe by using one cup of brown basmati rice and one cup of water + two tablespoons.
Do I have to rinse the rice before cooking it?
I highly recommend rinsing the rice out to get rid of excess starch, which can cause the rice to be clumpy or sticky.
🧂 Instant Pot Brown Basmati Rice – Ingredients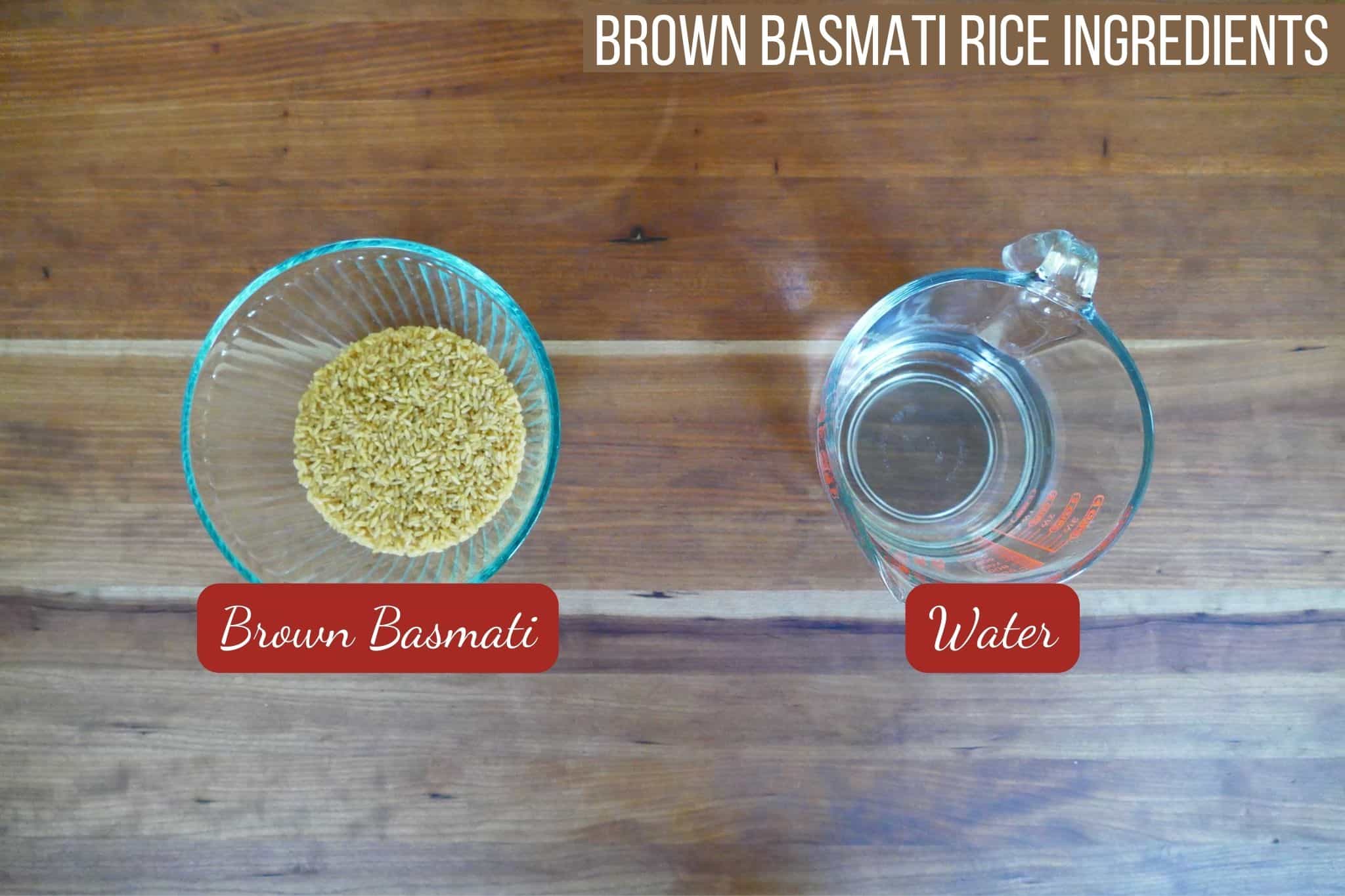 Quantity provided in the recipe card at the bottom of this post
📝 How to Cook Brown Basmati Rice in the Instant Pot Pressure Cooker
Add rice and water to the Instant Pot
Pressure cook and release pressure
Fluff the rice
Add Rice and Water to Instant Pot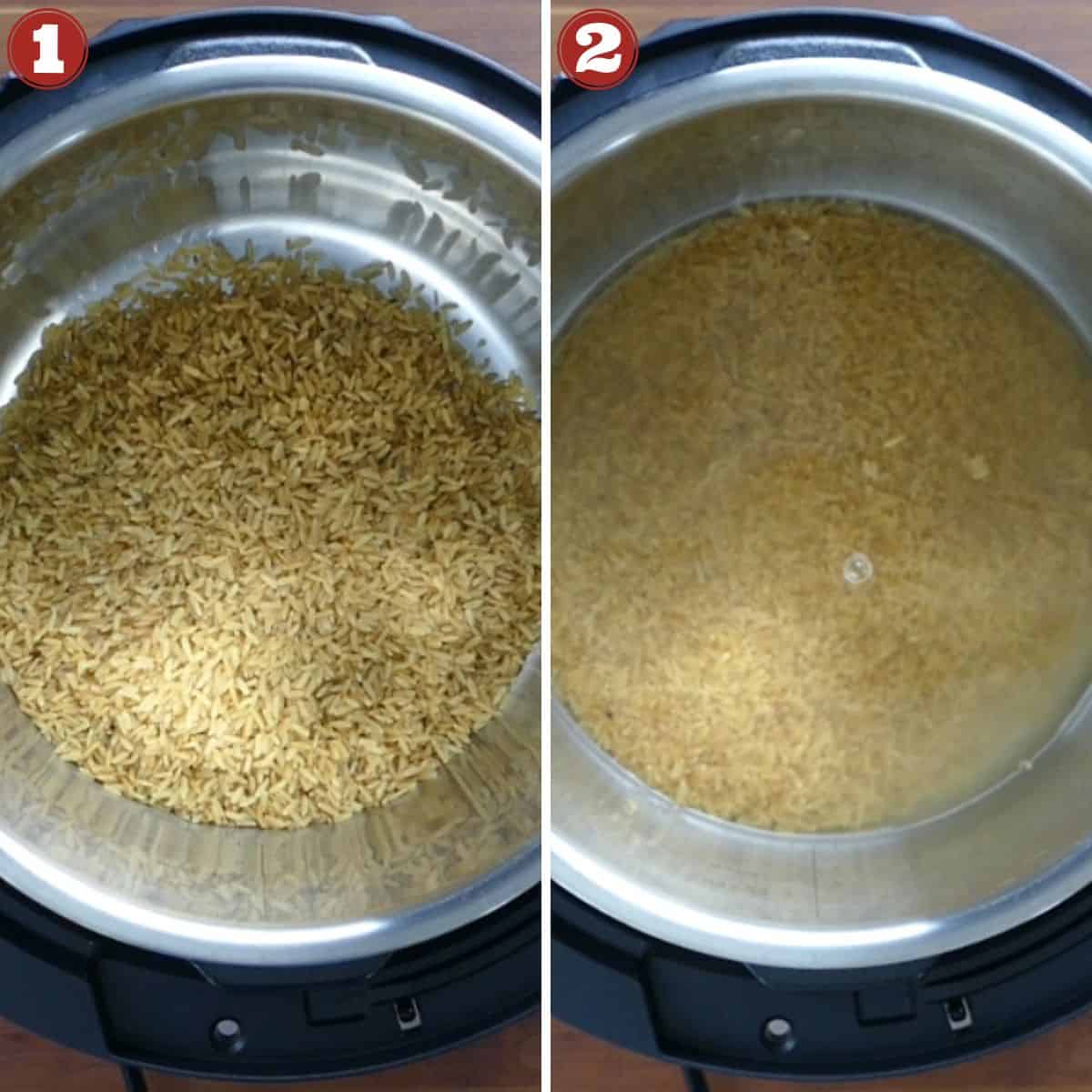 Place the rinsed rice in the Instant Pot.
Add water to the Instant Pot.
Program the Instant Pot and release pressure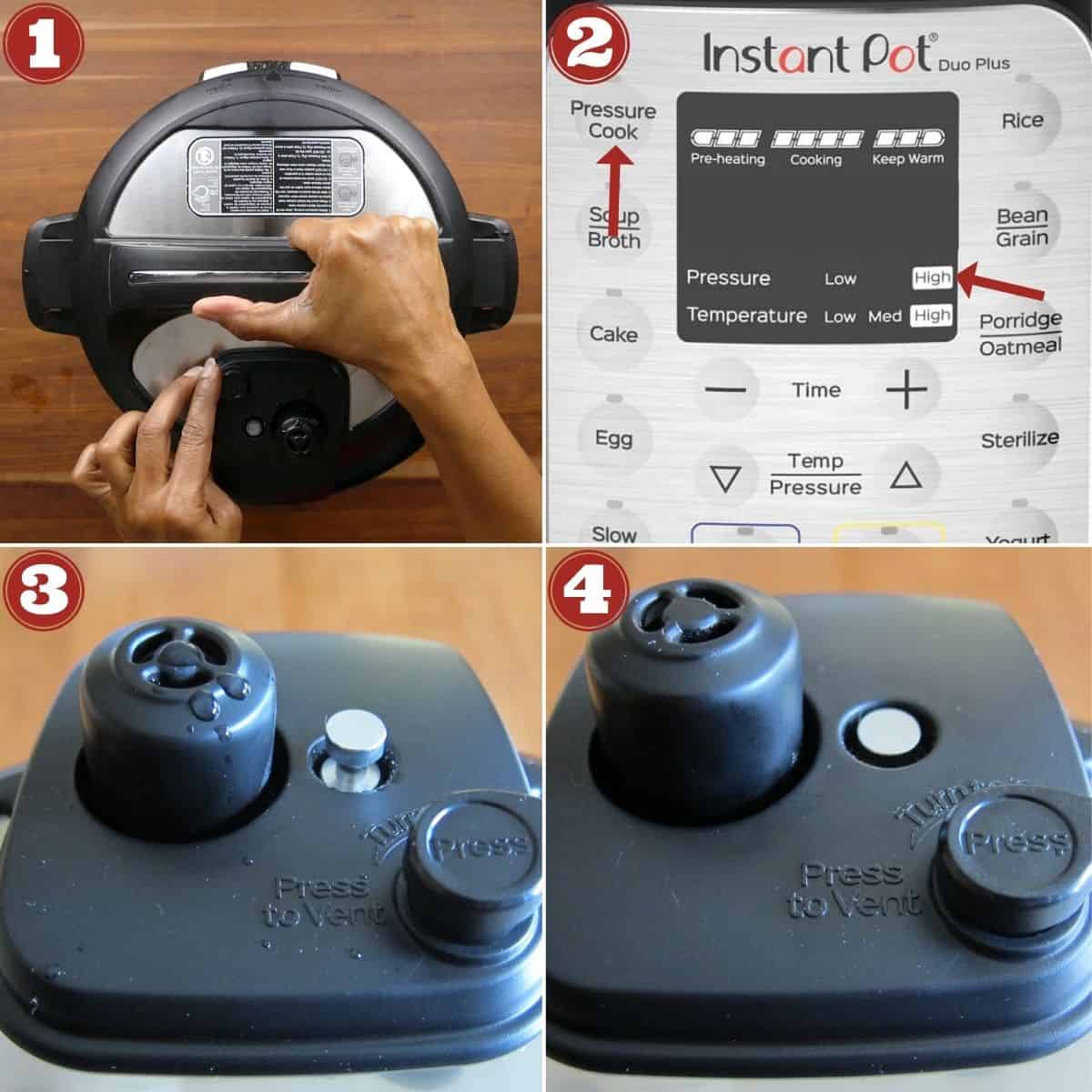 Close the lid.
Program the Instant Pot to pressure cook on high pressure for 22 minutes.
The display will go from On to 22:00. The float valve will go up after a few minutes. The display will count down to 00:00.
Do a 15 minute natural release of pressure. Wait 15 minutes and release any remaining pressure. Once the float valve goes down, the lid can be opened.
If you're new to the Instant Pot and aren't familiar with how to use it, you might find it helpful to first read one of the following guides and then come back here to learn how to make this recipe.
Fluff the Rice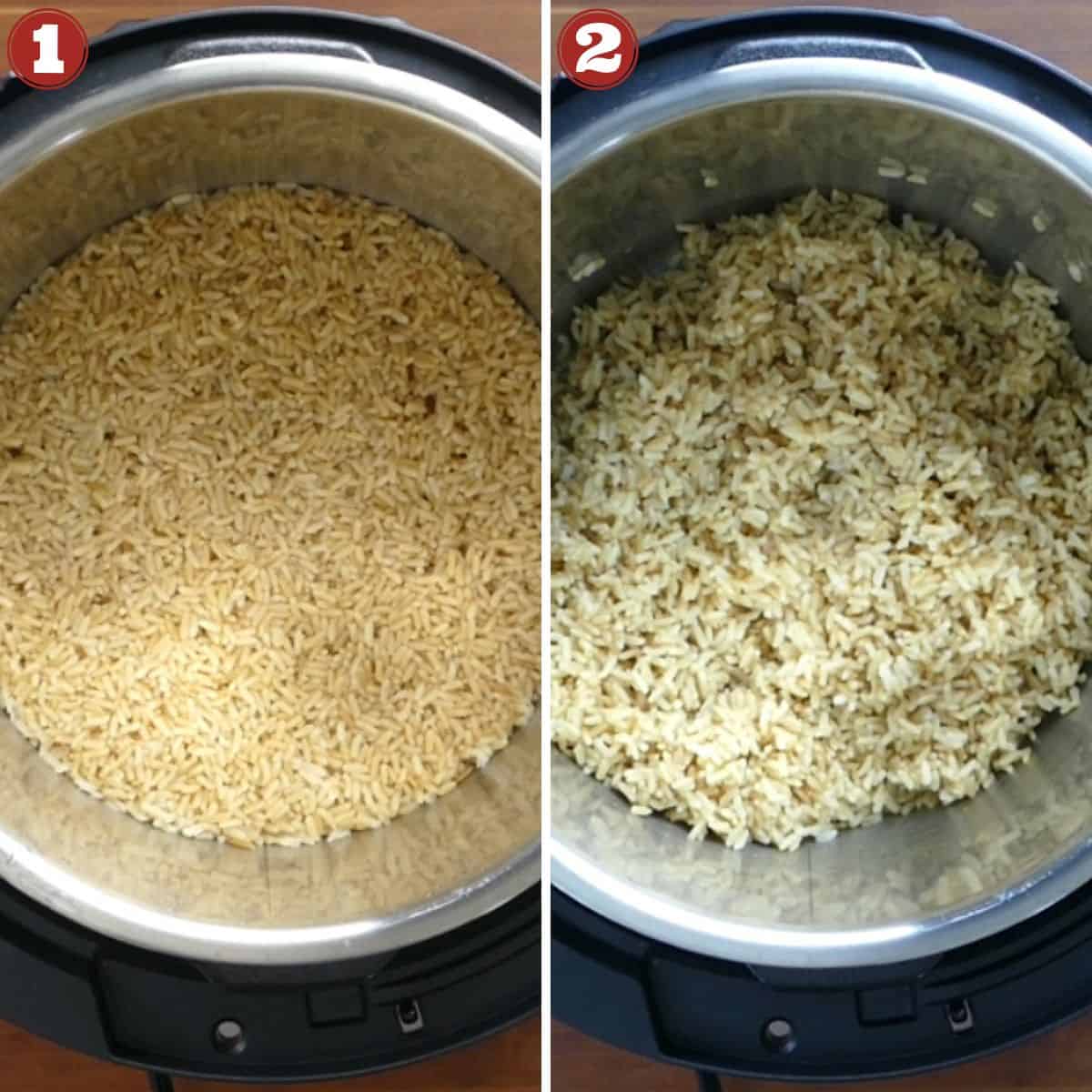 Once the rice is cooked, it may appear sticky or wet.
Fluff up the cooked rice with a rice paddle or fork. Let the rice rest for a few minutes for perfect Instant Pot brown rice. The rice paddle that comes with some Instant Pots is super useful!
Instant Pot Tips and Tricks
Delay Start
Learn about how to use the Delay Start feature, which allows you to begin pressure cooking at a future time.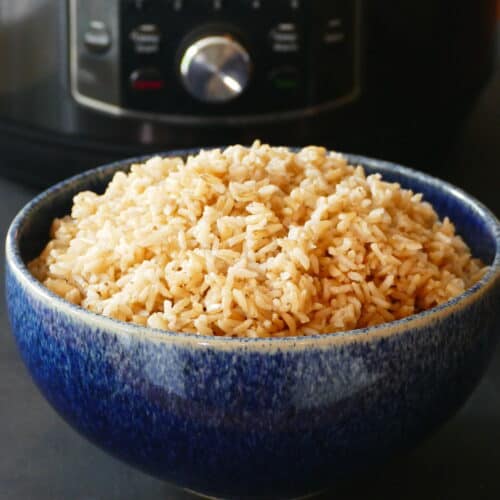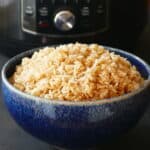 Brown Basmati Rice in Instant Pot
This brown basmati rice Instant Pot recipe has step by step instructions for how to make Instant Pot Brown Basmati Rice. This recipe gives you perfectly cooked brown rice every time, quick and easy.
Instructions
Rinse rice thoroughly till water runs clear. There's no need to soak rice.

Place rice and water in the Instant Pot inner pot. Add ghee and salt if using. Stir to combine and close the lid.

Pressure cook on High Pressure for 22 minutes. **

Once pressure cooking is complete, do a natural pressure release (NPR) or a 15-minute natural release if you're short on time. Open the lid. [Read More: The Different Pressure Release Methods]

Open the Instant Pot and fluff the brown basmati rice with a fork and let the rice rest for a few minutes before serving.
Notes
* You can add between ½ and 1 teaspoon of salt per cup of dry rice.
** If you want the rice to be more al dente or chewy, decrease the pressure cooking time to 21 minutes.
For 1 cup of rice, use 1 cup + 2 tablespoon of water.
Increase pressure cooking time by 1 minute for softer rice.
Different brands of rice may need a bit more water. I use Royal.
See the blog post for more detailed recipe tips. You don't want to miss any!
* Do not overfill your pot with rice, i.e. past ½ mark.
Nutrition
Serving:
1
cup cooked brown rice
|
Calories:
215
kcal
|
Carbohydrates:
40
g
|
Protein:
5
g
|
Fat:
2
g
|
Saturated Fat:
0.5
g
|
Polyunsaturated Fat:
0.5
g
|
Monounsaturated Fat:
0.5
g
|
Sodium:
10
mg
|
Fiber:
3
g
|
Sugar:
0.5
g
Thank you for visiting Paint the Kitchen Red. All photos and content are copyright protected. Please don't use any content without prior written permission. If you've made this recipe and would like to share it with your friends, please link back to this recipe. Thank you!
I am not a certified nutritionist. I provide my best estimate of nutritional information merely as a courtesy to my readers. If you depend on nutritional information for dietary or health reasons, I suggest using your favorite online nutrition calculator to confirm the nutritional value of this recipe based on the actual ingredients that you use.
Did you know that the best way to support your favorite bloggers is to comment and rate recipes, and share on social media? If you loved this recipe, please comment and give it a five ⭐ rating in the comment section below. If you're a pinner, pin this post using the Pin buttons at the top and bottom of this post and in the recipe card above. Thank you for your support!
Recipes to Serve with Instant Pot Brown Rice
Instant Pot Chicken Korma
Instant Pot Chicken Korma is a mildly spiced coconut chicken curry that's delicious enough to impress guests but easy enough to make on a weeknight. Put away the jar of store-bought korma sauce and make this curry from scratch with little effort.
GET RECIPE DETAILS
Authentic Instant Pot Red Beans and Rice Recipe
Instant Pot Red Beans and Rice is an authentic New Orleans recipe that will be very popular at your next gathering. It tastes as though you've cooked it for hours, and tastes even better the next day. Perfect for feeding a crowd, this recipe is so simple. I've given instructions for using dried beans if you don't have time to soak.
GET RECIPE DETAILS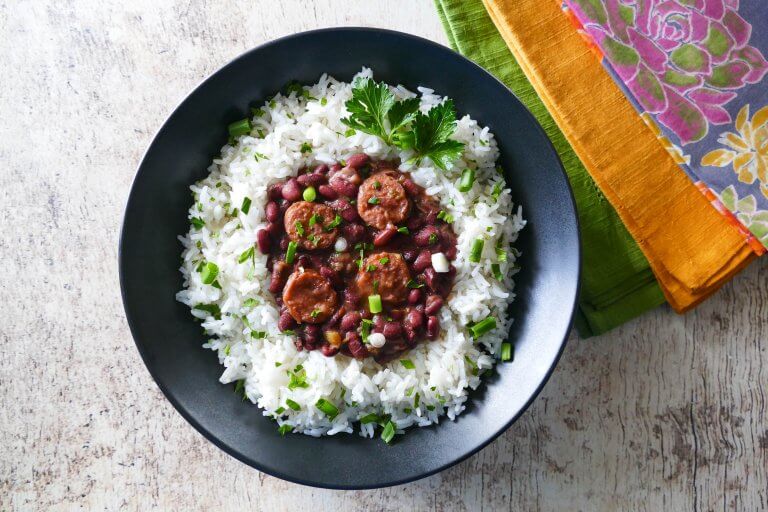 Instant Pot Thai Red Curry with Chicken
This Instant Pot Thai Red Curry with Chicken is delightful (and addicting!) It makes a perfect meal when paired with Jasmine Rice, and comes together so quickly in the Instant Pot. Perfect for a busy weeknight meal.
GET RECIPE DETAILS