Instant Pot Parboiled Rice (converted rice) produces perfect rice every time. Healthier than regular white rice, parboiled rice grains are firm and tend to be less sticky or clumpy. Learn how to cook Instant Pot parboiled white rice and parboiled brown rice.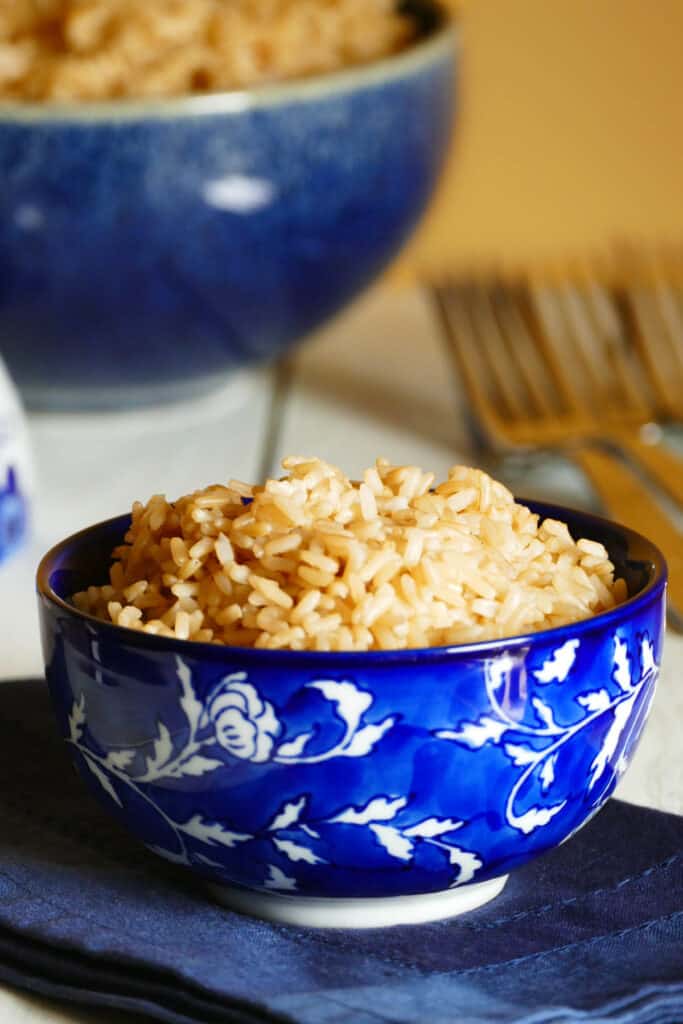 This post contains affiliate links. As an Amazon Associate, I earn from qualifying purchases. Please read the disclosure.
Introduction
I've had a few questions from readers about parboiled rice and thought it would be helpful to post a recipe on how to cook Instant Pot Parboiled Rice. Parboiled rice is also referred to as converted rice. A commonly available brand of parboiled rice is Uncle Ben's Rice, also known as Ben's Original Rice.
If you've ever had rice pilaf at restaurants where every grain is separate and the rice isn't sticky, you may have been eating parboiled rice.
In order to understand what parboiled rice is and why you might want to use parboiled rice, you'll need a quick lesson on the parts of the rice grain.
Parts of the Rice Grain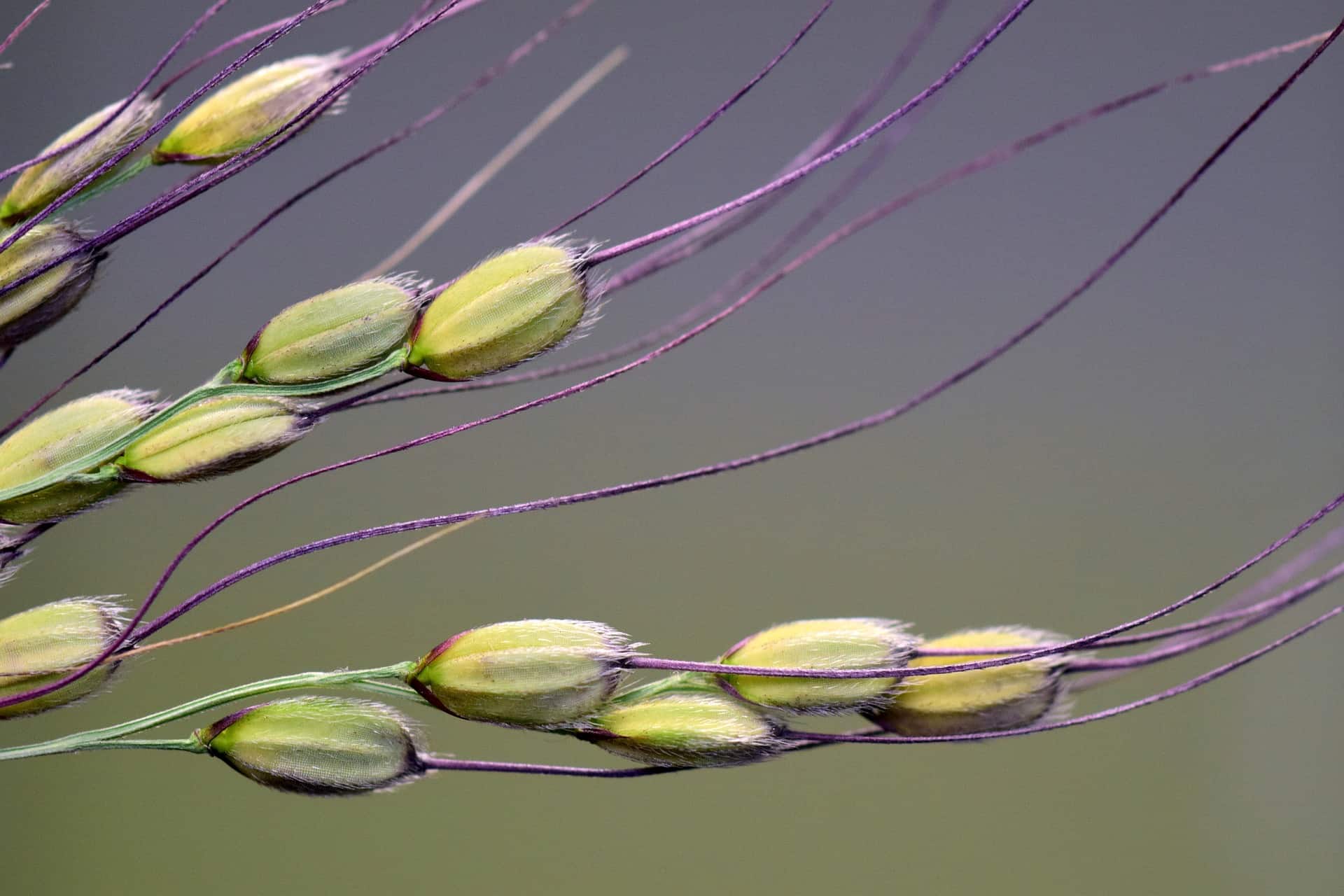 The rice grain has four parts:
The husk or hull is the hard, inedible outer layer.
The bran is the next layer and contains fiber, vitamins, and iron.
Contained within the bran is the endosperm and it's the largest part of the rice kernel. It contains carbohydrates, vitamins, and protein.
The embryo or germ is also within the bran and is the nutrient and fiber-rich core of the rice grain.
The Difference Between Brown Rice and White Rice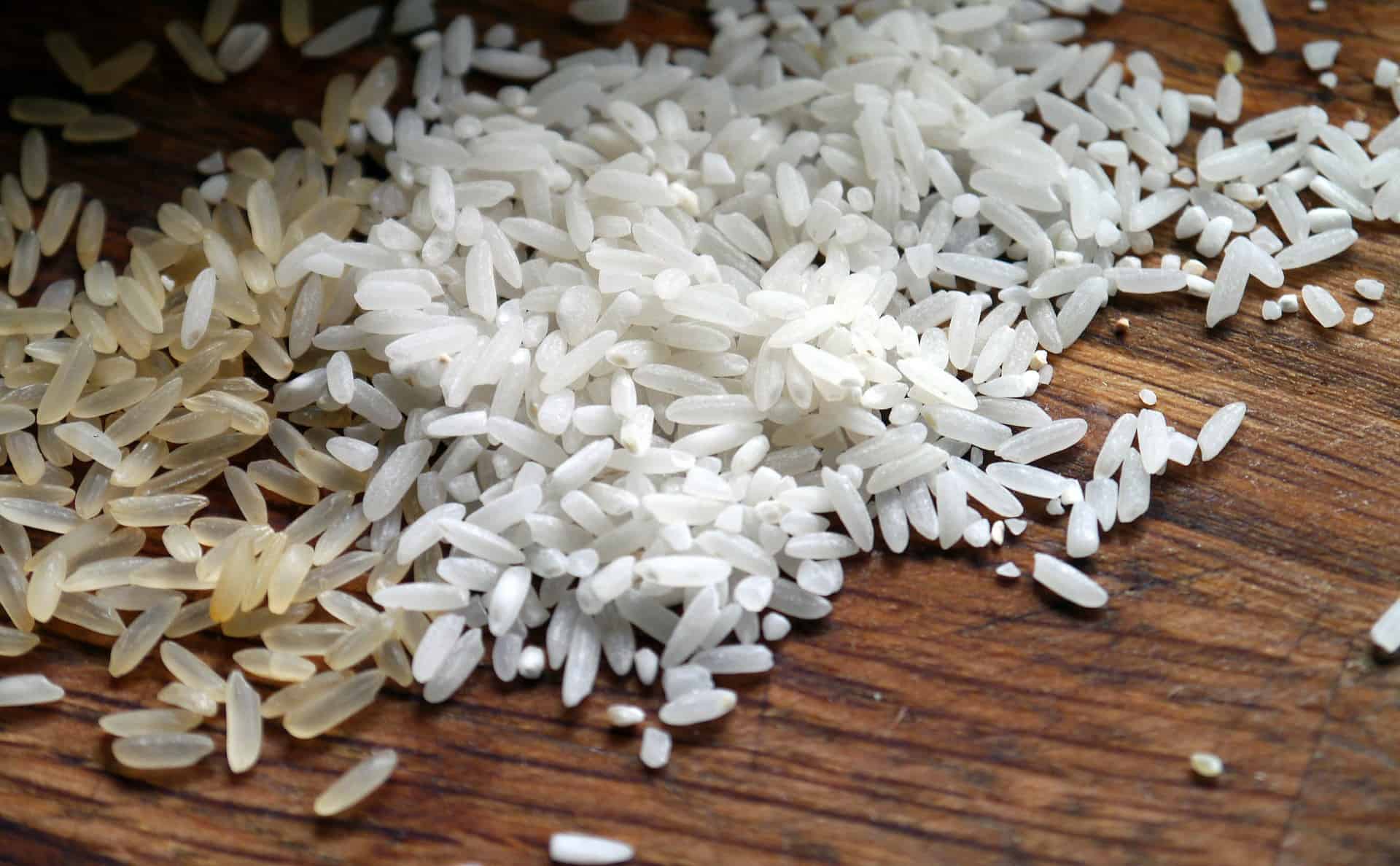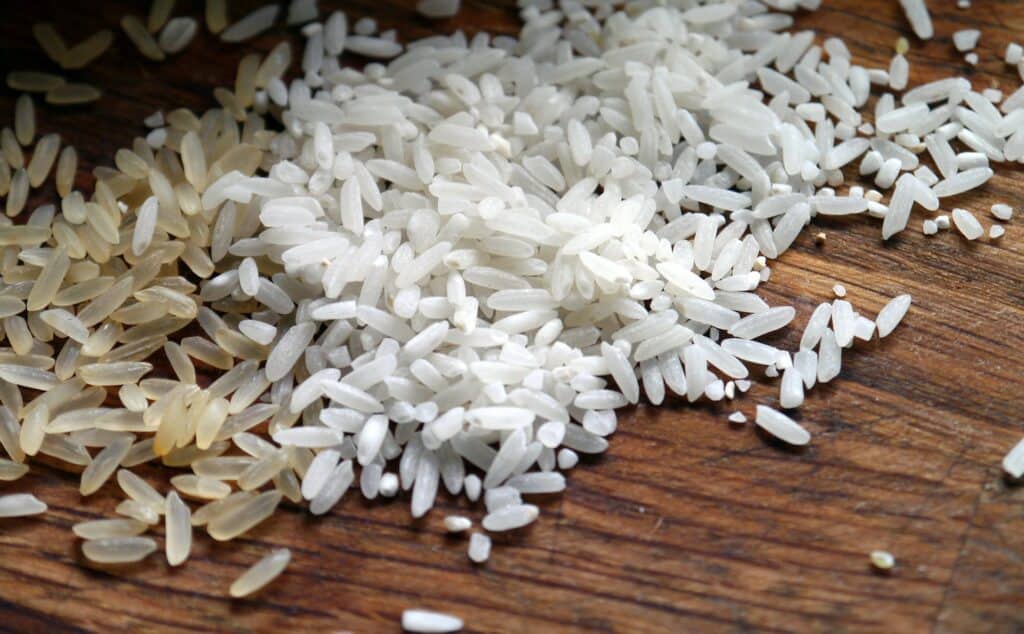 During the milling process, the outer layer or husk is removed. What remains is pretty much brown rice. If the rice grain is further processed and the bran and germ are removed, what's left is the starchy endosperm which is white rice.
What is Parboiled Rice?
Parboiling happens before the rice is milled i.e. before the inedible outer layer or husk is removed. The rice with the hull is soaked, partially cooked, cooled, and then dried again.
Once the hull is removed, you have parboiled brown rice. If you further remove the bran and germ, you're left with parboiled white rice.
Parboiling allows nutrients from the husk, bran, and germ to make their way into the grains of rice. Therefore, parboiled rice (brown or white) is a better source of fiber, vitamins, and other nutrients than regular white rice. However, regular brown rice is nutritionally superior to parboiled brown rice because parboiling causes some loss of nutrients.
Brown rice is better for you because it retains the bran and germ, which are high in fiber, nutrients, and antioxidants. Here's a ranking in order of healthiest to least healthy:
Brown rice
Parboiled brown rice
Parboiled white rice
White rice
Parboiling also produces rice that's less sticky and yields separate kernels once cooked.
Here are some rice recipes you can make in the Instant Pot:
– Instant Pot Brown Basmati Rice
– Instant Pot Brown Rice using Pot in Pot Method
– Instant Pot Jasmine Rice
– Instant Pot Basmati Rice using Pot in Pot Method
Tips and Substitutions
---
Pot in Pot
You can use the pot-in-pot method to cook a smaller quantity of parboiled rice, but use the ratios and timings from this recipe (Rice : Water = 1 : 1).
[Read More: Instant Pot Rice Using Pot in Pot]
---
Rinsing the Rice
Although I generally do rinse regular (non-parboiled) rice before I cook it, I don't rinse parboiled rice since it's already been soaked and steamed beforehand.
---
Flavor
You can add more flavor by doing any of the following:
---
Doneness
The recipe, as written, produces rice that has a chewy texture. In general, parboiled rice has a chewy quality to it. So if you want a softer rice, you'll need to increase the pressure cooking time by 1 or 2 minutes. Give it a try as written and the next time you make it, you can change the pressure cooking time.
Brands of Parboiled Rice
One of the most common brands of parboiled rice in U.S. grocery stores is Uncle Ben's (also known as Ben's Original). Available in bags or boxes, Uncle Ben's makes parboiled white rice or parboiled brown rice (whole grain). Zatarian's and Iberia are two other brands that are commonly available.
Uncle Ben's also sells Ready Rice, which is pre-cooked rice also know as instant rice, and it's not the same as parboiled rice. So don't use it in this recipe.
---
Minute Rice
Minute Rice is a brand of rice that's commonly available in the United States. It's instant rice, not parboiled. Instant rice is rice that's been completely cooked and dried. So you just have to rehydrate it. It's very easy to cook on the stovetop but if you want to use an Instant Pot here's what you need to do:
How to make Instant Pot Minute Rice white rice:
Add equal parts rice and water to the inner pot
Pressure cook on High Pressure for 1 minute
Do a quick release of pressure.
How to make Instant Pot Minute Rice brown rice:
Add equal parts rice and water to the inner pot
Pressure cook on High Pressure for 5 minutes
Do a quick release of pressure.
---
Releasing Pressure
Once pressure cooking has completed, you can either wait 15 minutes and release pressure OR you can allow the pressure to release naturally. I do either, depending on how much time I have.
[Read More: Instant Pot Natural Release vs Quick Release]
---
Final Touches
Once the rice has cooked and you open the lid, fluff the rice with a fork. This helps separate the grains of rice.
If you're new to the Instant Pot and aren't familiar with how to use it, you might find it helpful to first read one of the following guides and then come back here to learn how to make this recipe.
Instant Pot Parboiled Rice – Ingredients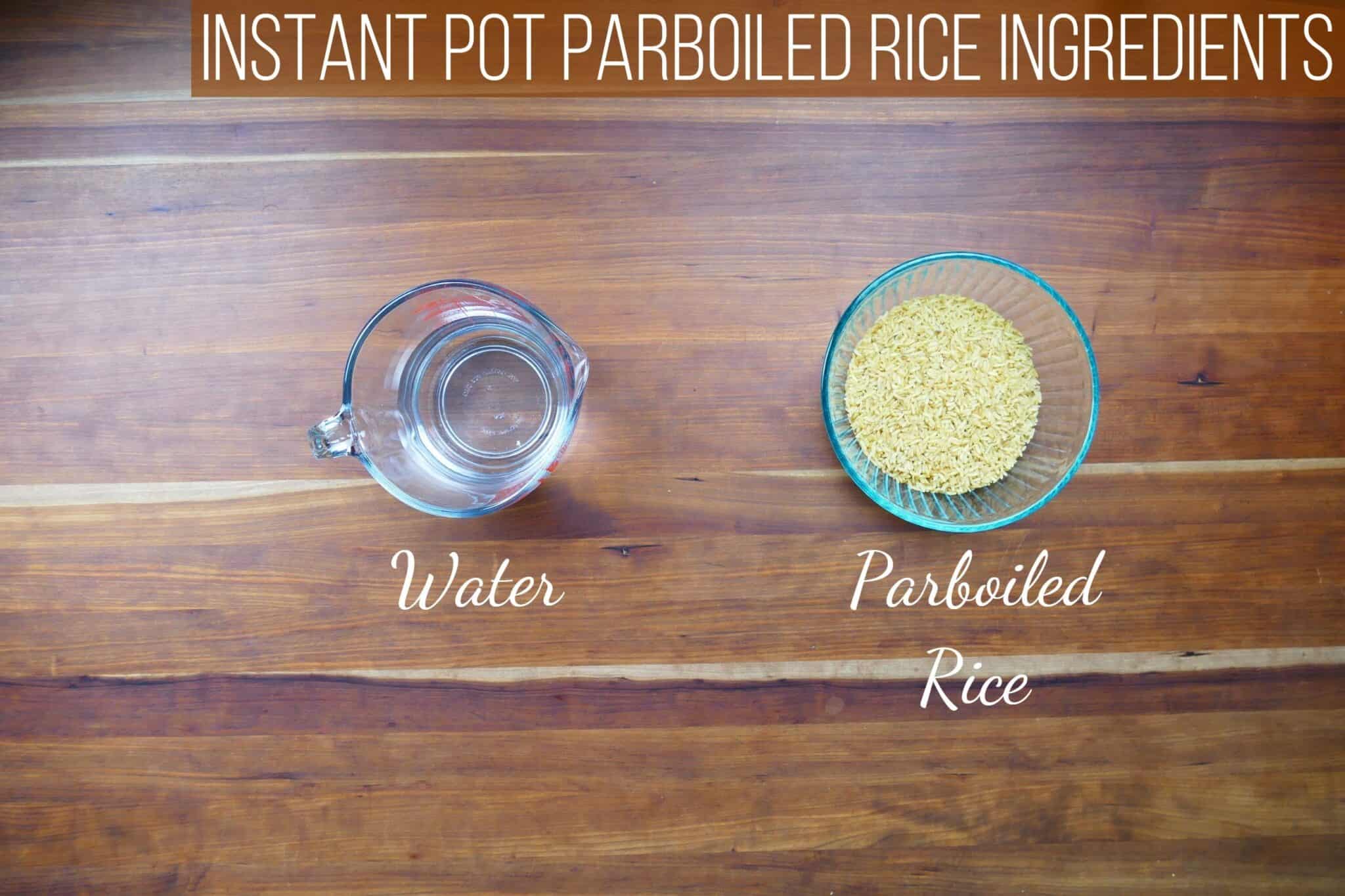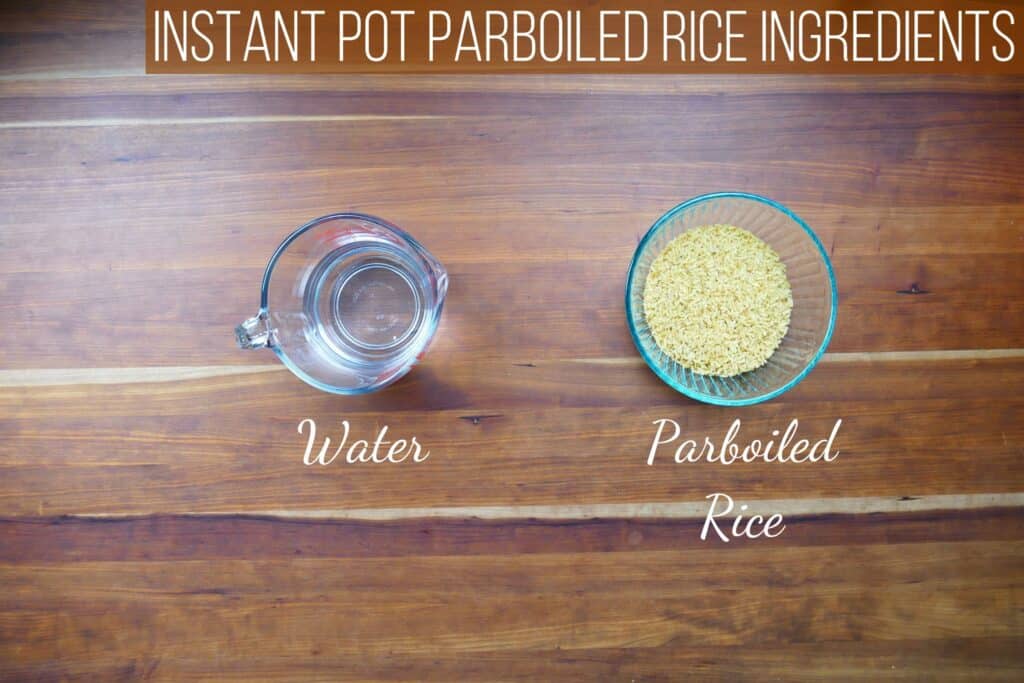 How to Make Parboiled Rice in the Instant Pot (Step by Step Instructions)
Stir together rice and water.
Pressure cook.
Release pressure.
Fluff rice and serve.
Stir Together Rice and Water

Add rice to inner pot.
Add water or broth to rice and stir both together.
Instant Pot Duo Pressure Cook 8 minutes

Close the lid and make sure the steam release handle is in the Sealing position.
Press 'Manual' (or Pressure Cook) and + or – until the display reads 8 (8 minutes).
Instant Pot Ultra Pressure Cook 8 minutes

Close the lid.
Select Pressure Cook mode and adjust the time to 8 minutes (00:08).
Press Start.
Pressure Cooking Process (Duo and Ultra)


Instant Pot display will change to On.
Once the Instant Pot is pressurized, the float valve will go up.
The display will count down to 0; it will then switch to Keep Warm mode and display L0:00 or 00 00 and begin to count up the number of minutes since pressure cooking completed.
How to Naturally Release Pressure (NPR) on the DUO and ULTRA


Fluff Rice and Serve


Use a fork to fluff the rice.
Serve into individual bowls or a serving dish.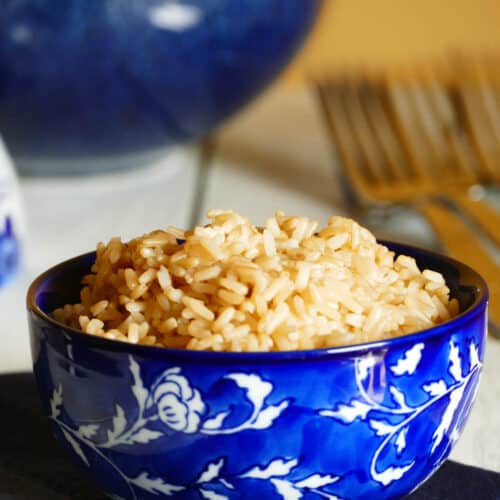 Instant Pot Parboiled Rice (White and Brown) | Instant Pot Converted Rice
A step by step guide that shows you how to make Instant Pot Parboiled Rice. This recipe gives you perfectly cooked parboiled rice every time, quick and easy. Stovetop directions included.
Instructions
Place rice and water in Instant Pot inner pot. Stir to combine.

Parboiled White Rice: pressure cook on High Pressure for 6 minutes.

Parboiled Brown Rice: Pressure cook on High Pressure for 8 minutes.

Once pressure cooking is complete, do a natural pressure release (NPR) or a 15-minute natural release if you're short on time. Open the lid. [Read More: The Different Pressure Release Methods]

Open Instant Pot and fluff rice with a fork before serving.
Notes
To adjust the quantities, keep the rice to water ratio of 1:1.
Increase pressure cooking time by 1 minute for softer rice.
Be sure to use the same cup for measuring both rice and water.
See the blog post for more detailed recipe tips. You don't want to miss any!
* Do not overfill your pot with rice, i.e. past ½ mark.
Nutrition
Serving:
1
cup cooked brown rice
|
Calories:
180
kcal
|
Carbohydrates:
36
g
|
Protein:
4
g
|
Fat:
1.5
g
|
Fiber:
2
g
Thank you for visiting Paint the Kitchen Red. All photos and content are copyright protected. Please don't use any content without prior written permission. If you've made this recipe and would like to share it with your friends, please link back to this recipe. Thank you!
I am not a certified nutritionist. I provide my best estimate of nutritional information merely as a courtesy to my readers. If you depend on nutritional information for dietary or health reasons, I suggest using your favorite online nutrition calculator to confirm the nutritional value of this recipe based on the actual ingredients that you use.
Did you know that the best way to support your favorite bloggers is to comment and rate recipes, and share on social media? If you loved this recipe, please comment and give it a five ⭐ rating in the comment section below. If you're a pinner, pin this post using the Pin buttons at the top and bottom of this post and in the recipe card above. Thank you for your support!
Recipes You Might Also Like
Healthy Chinese Style Instant Pot Brown Rice and Vegetables
This Instant Pot Brown Fried Rice is a healthier version of Instant Pot Chinese Fried Rice because it uses brown rice. The recipe is a great way to add flavor to plain brown rice with minimal effort. To make the recipe non-vegetarian, stir in ham, rotisserie chicken and/or a fried egg to the cooked rice.
GET RECIPE DETAILS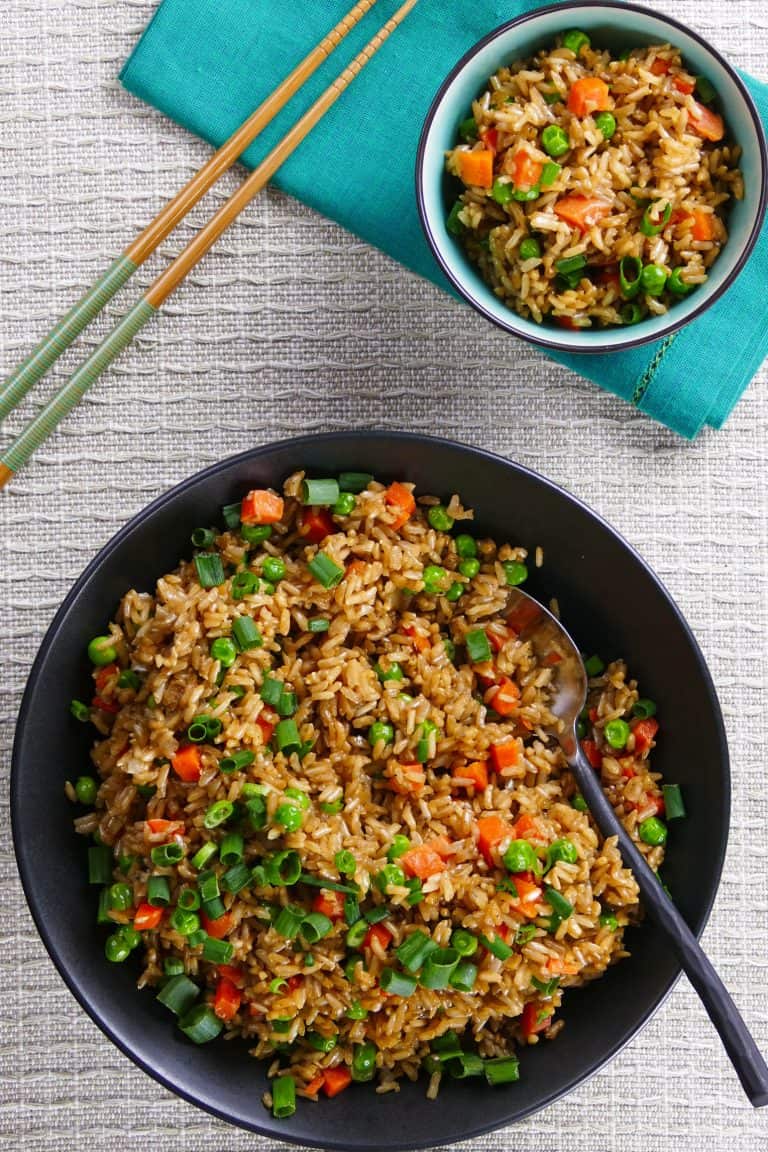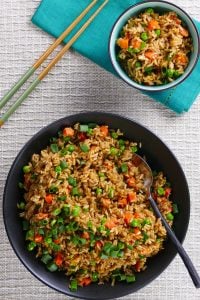 Authentic Instant Pot Red Beans and Rice Recipe
Instant Pot Red Beans and Rice is an authentic New Orleans recipe that will be very popular at your next gathering. It tastes as though you've cooked it for hours, and tastes even better the next day. Perfect for feeding a crowd, this recipe is so simple. I've given instructions for using dried beans if you don't have time to soak.
GET RECIPE DETAILS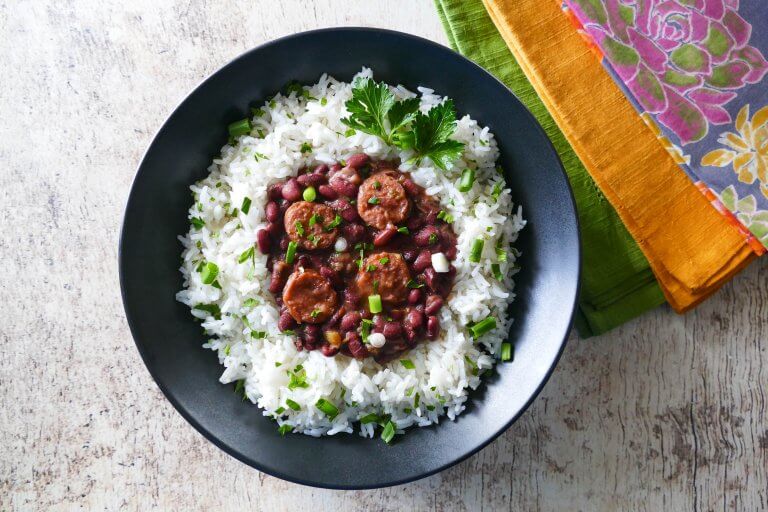 Instant Pot Arroz Con Pollo | Chicken and Rice
Instant Pot Arroz con Pollo is a Latin-inspired pressure cooker chicken and rice recipe that's a great weeknight option because it's an easy one-pot meal. The selection of spices in this recipe gives the rice a vibrant flavor and appetizing color.
GET RECIPE DETAILS