Instant Pot brown jasmine rice is a flavorful and nutritious whole grain that's the perfect accompaniment to curries, stir-fries, and more. In about 30 minutes, you can make the perfect Instant Pot brown rice using this simple recipe.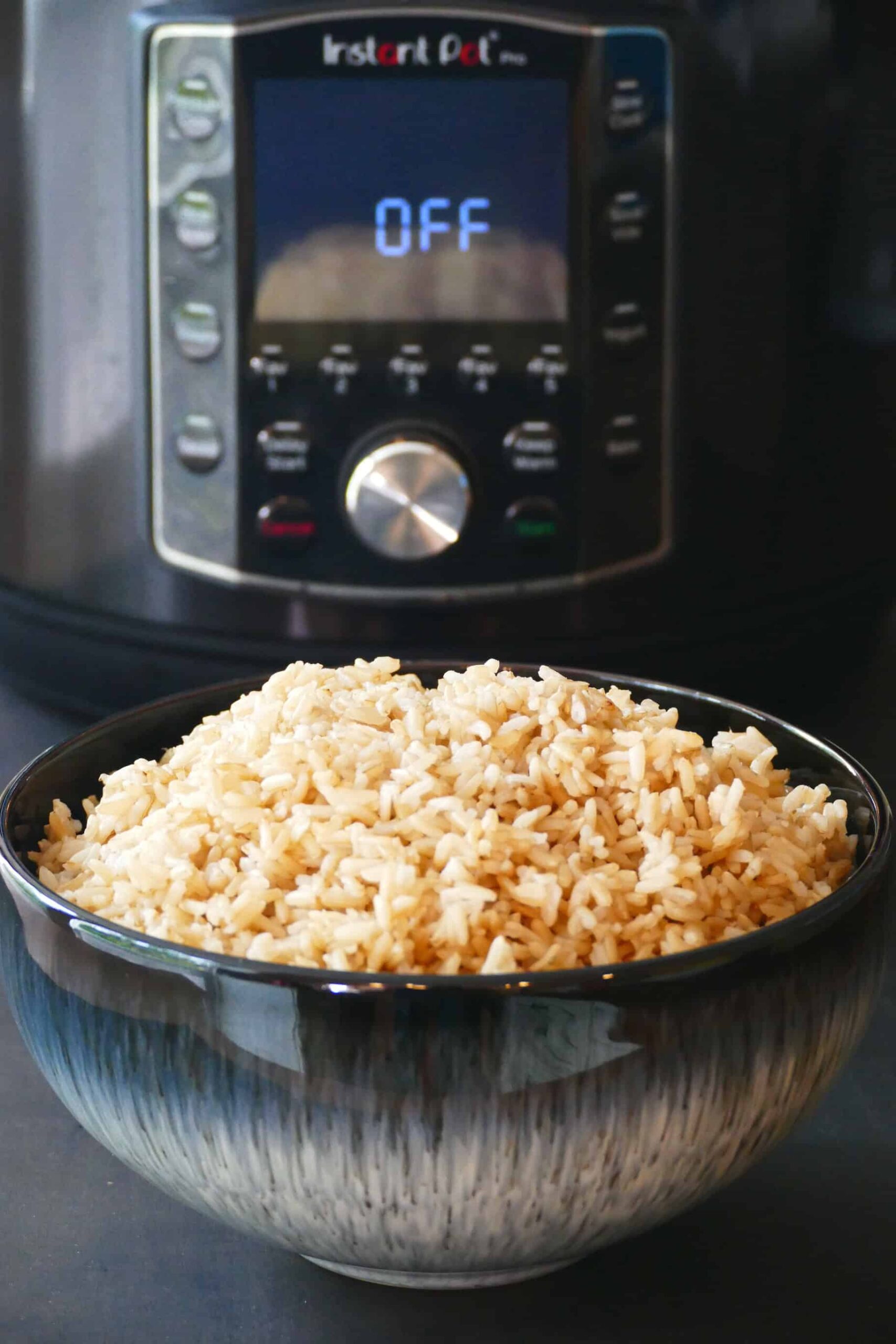 This post contains affiliate links. As an Amazon Associate, I earn from qualifying purchases. Please read the disclosure.
ℹ️ Introduction
What is Brown Jasmine Rice?
Jasmine brown rice is an unpolished, whole-grain version of white jasmine rice. It has a special nutty flavor and chewy texture while retaining the aroma that jasmine rice is known for.
Jasmine brown rice is more nutritious than white rice since it contains bran and germ which provide fiber, vitamins, and minerals. Brown rice is great for serving with curries, stir-fries, and more.
Learn more about your Instant Pot…
Why Cook Jasmine Brown Rice in Instant Pot?
Cooking jasmine brown rice on the stove can be inconsistent because the burner can distribute heat unevenly, leading to hot and cool spots.
This causes parts of the rice to be undercooked while other parts end up mushy. Evaporation also makes it harder for the rice to say hydrated.
Cooking rice in a rice cooker works well, but I haven't used one in years because the Instant Pot makes perfect rice and it's one less appliance I have to get out.
The Instant Pot is the perfect way to cook foolproof brown rice every time. The rice cooks evenly and thoroughly under pressure, so you get tender grains with a bite, but no crunchy or hard pieces.
❤️ WHY USE THE INSTANT POT TO MAKE BROWN JASMINE RICE?
The Instant Pot allows you to just set it and forget it – no need to constantly watch the stove. This gives you consistent results every single time.
Cooking brown rice is much quicker in the Instant Pot than on the stovetop.
The sealed environment of the pressure cooker retains more of the natural nutrients in the brown rice that can be lost through steaming on the stove.
Making rice on the stovetop can cause the water to overflow. The Instant Pot doesn't have this issue, which makes cleanup easy.
The Keep Warm setting is perfect for keeping the rice ready to serve if your meal is not quite ready yet.
You can cook big batches for meal prep throughout the week. This brown jasmine rice recipe can be easily doubled or tripled, depending on the capacity of your Instant Pot.
💡 Tips for Instant Pot Brown Jasmine Rice
---
How to get light and fluffy grains
Giving the rice a good rinse before cooking removes excess starches that can make it heavy and clumpy.
Fluffing it with a fork after opening the lid separates the grains as it rests.
---
How to prevent sticking
Spritzing the pot with oil before adding the rice helps prevent it from sticking.
Using a nonstick inner pot is also very effective.
Letting the pressure release naturally for 10 minutes gives time for the rice to settle before you vent the remaining steam.
---
Storage tips
Refrigerate unused rice immediately or within 2 hours. Leftover rice should be stored in an airtight container in the fridge for up to 5 days.
---
Using the Pot in Pot Method
Cooking brown rice in a separate bowl placed directly in the Instant Pot is great for smaller batches or easier cleanup. See my pot-in-pot brown rice recipe for step-by-step instructions.
---
Add more flavor
You can increase the flavor by adding any of the following ingredients to the rice when it's being pressure cooked:
---
❓ FAQS
---
Why did my rice turn out mushy?
If you soaked the rice ahead of time, it may end up mushy and sticky. For this recipe, you just need to rinse the rice. It's also possible that you need to add a little less water.
Can this recipe be doubled or halved?
To double the recipe, use 4 cups of rice and 5 cups of water. Just make sure you don't go over the ½ full mark. Keep the cooking time the same.

You can halve the recipe by using one cup of rice and 1 ¼ cups of water. Keep the cooking time the same.
Should I rinse the rice first?
Yes, rinsing removes excess starch and prevents the grains from clumping together.
Can I substitute other liquids for the water?
You can use chicken or vegetable broth instead of water for more flavor.
🧂 Instant Pot Brown Jasmine Rice Ingredients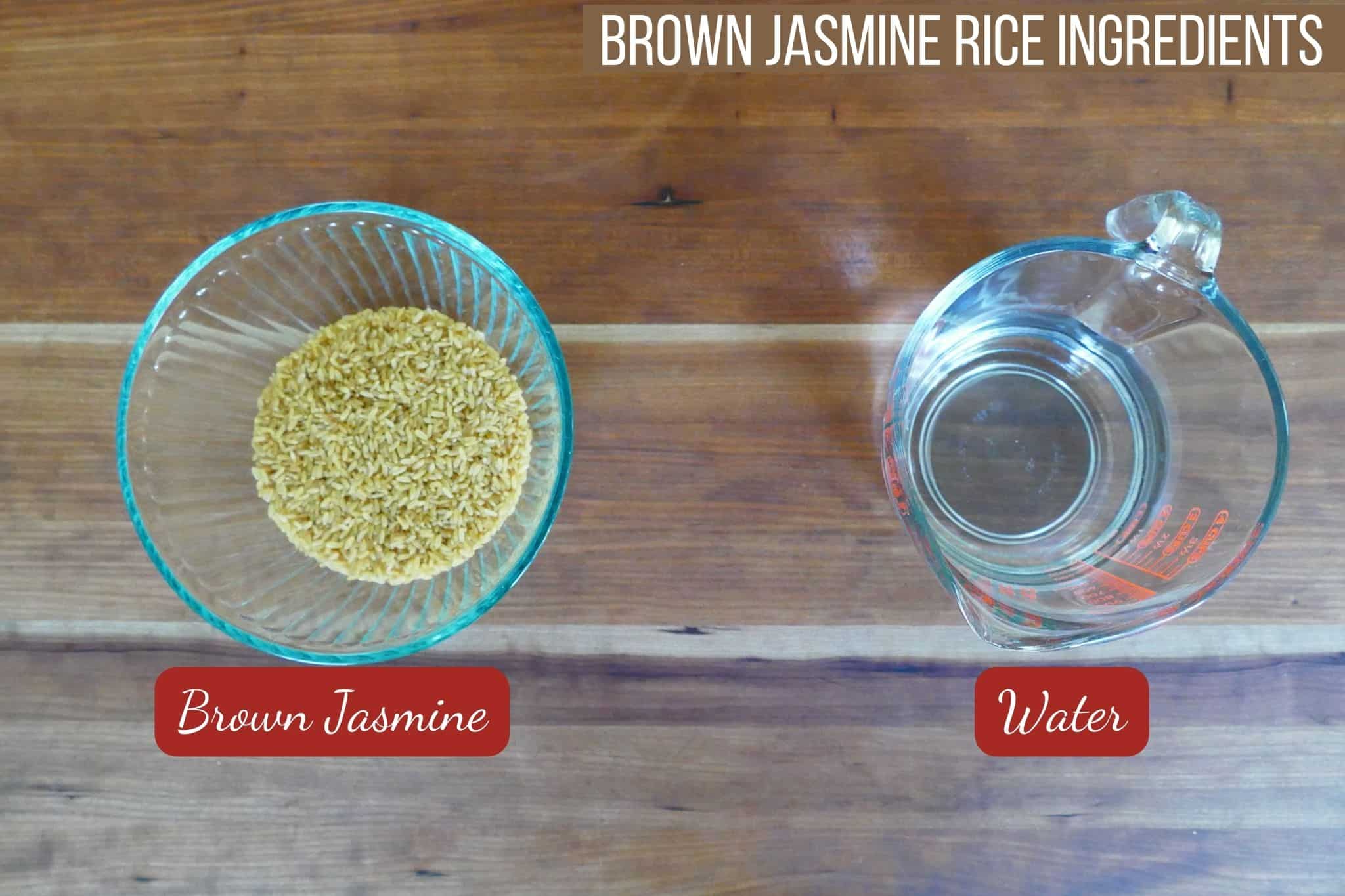 Quantities provided in the recipe card at the bottom of this post
📝 How to Cook Brown Jasmine Rice in the Instant Pot Pressure Cooker
Add rice and water to the Instant Pot
Pressure cook the rice and release pressure
Fluff the rice
Add Rice and Water to Instant Pot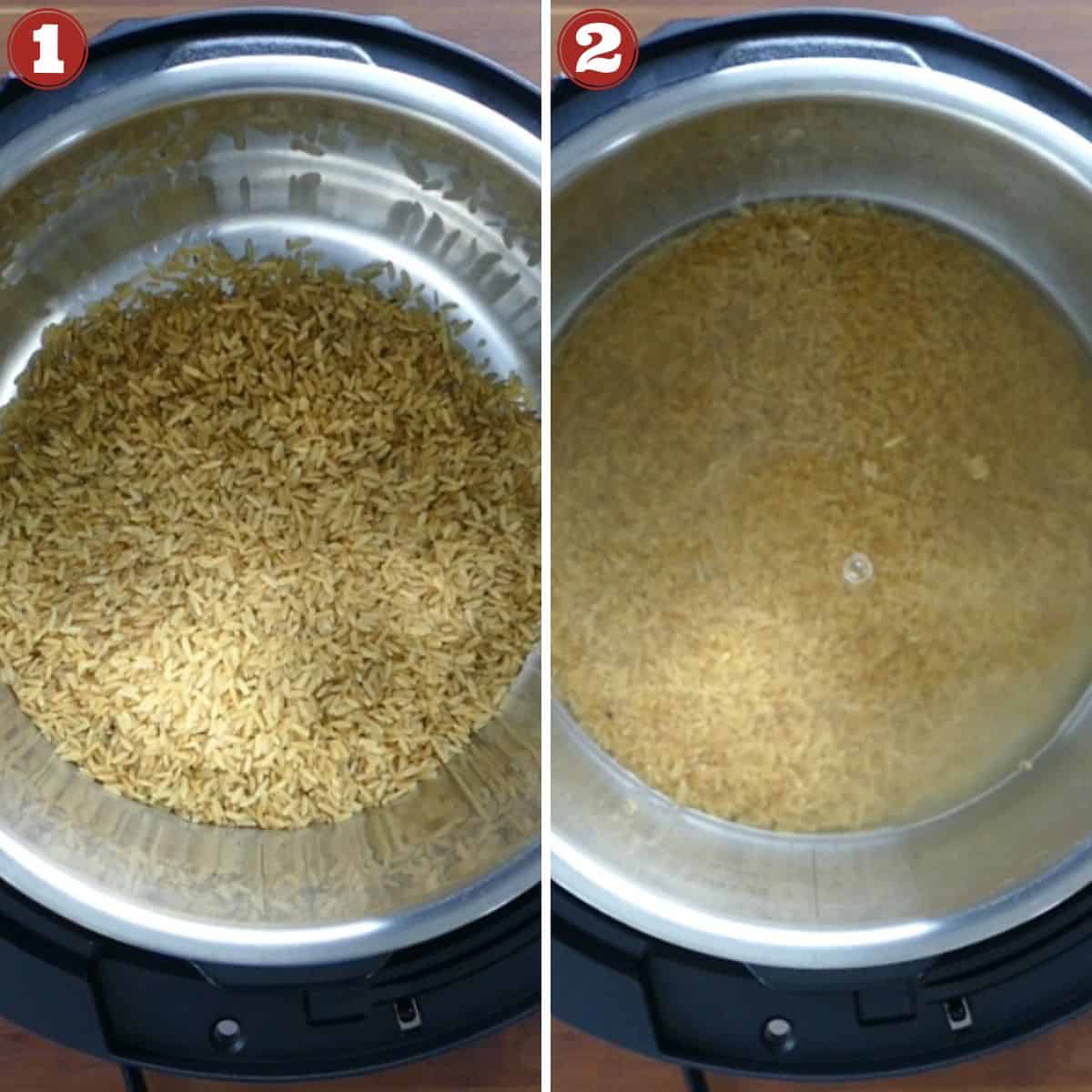 Place the rinsed rice in the Instant Pot.
Add water to the Instant Pot.
Program the Instant Pot and release pressure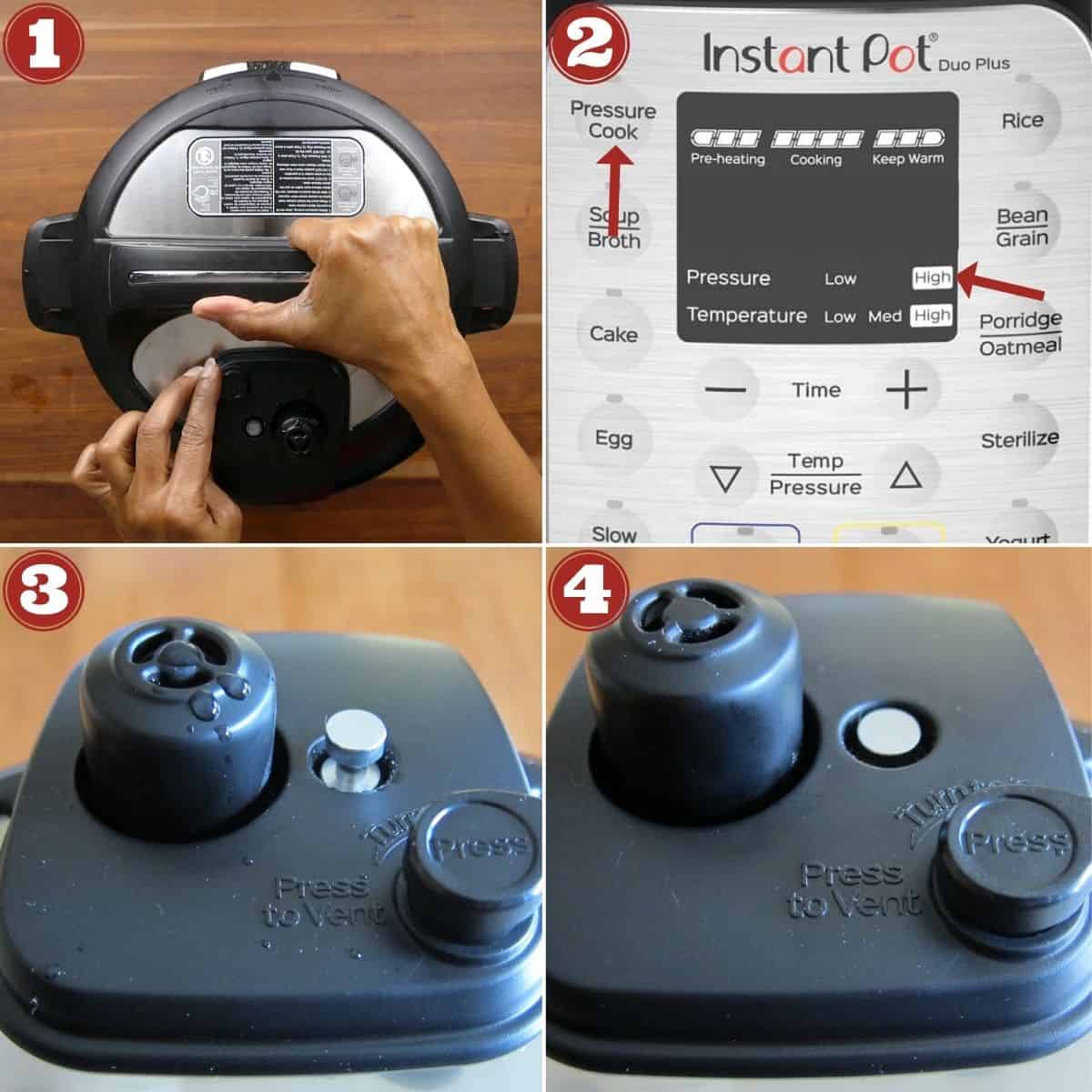 Close the lid.
Program the Instant Pot to pressure cook on high pressure for 22 minutes.
The display will go from On to 22:00. The float valve will go up after a few minutes. The display will count down to 00:00.
Do a 15 minute natural release of pressure. Wait 15 minutes and release any remaining pressure. Once the float valve goes down, the lid can be opened.
Fluff the Rice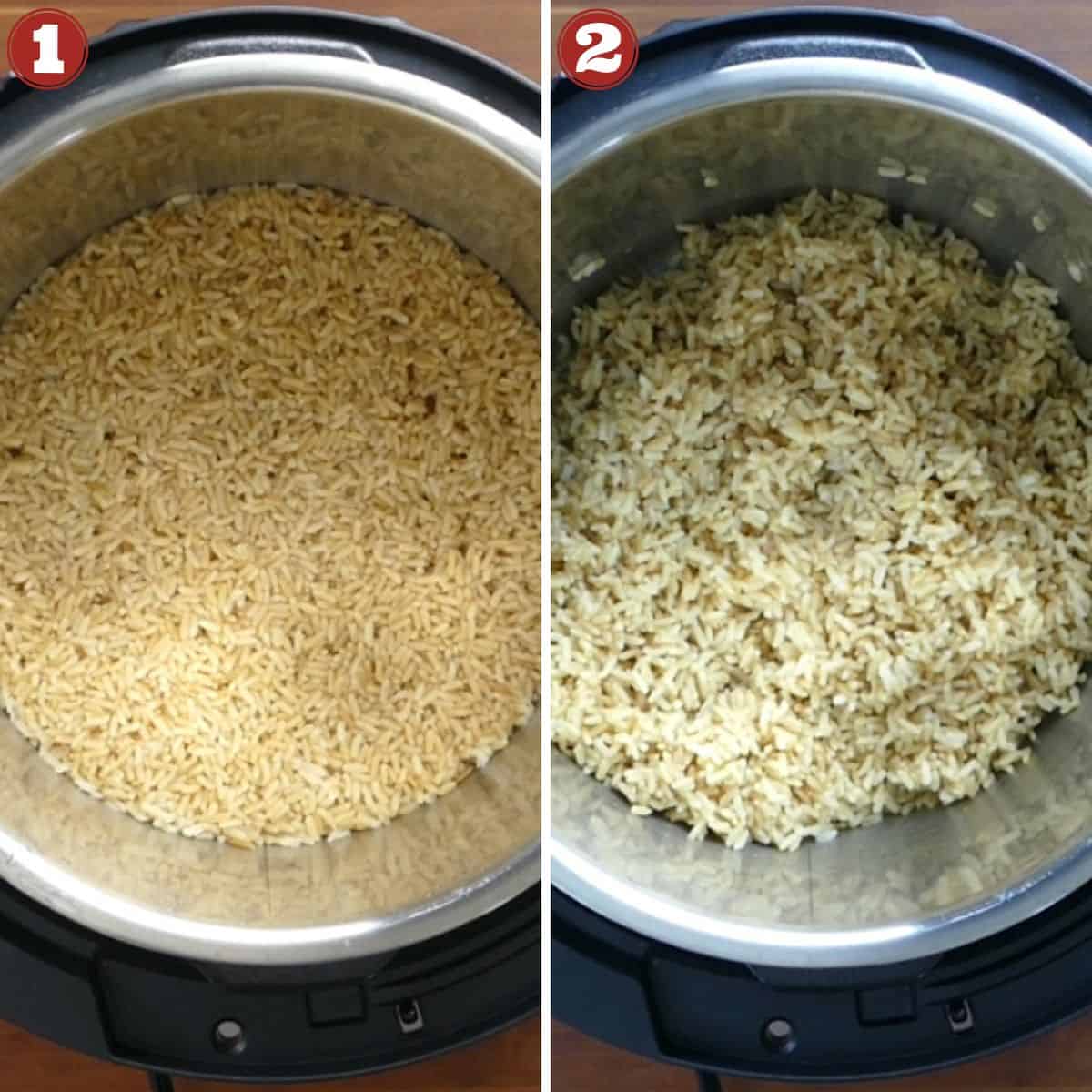 Once the rice is cooked, it may appear sticky or wet.
Fluff up the cooked rice with a rice paddle or fork. Let the rice rest for a few minutes for perfect Instant Pot brown jasmine rice. The rice paddle that comes with some Instant Pots is very useful!
Instant Pot Tips and Tricks
Delay Start
Learn about how to use the Delay Start feature, which allows you to begin pressure cooking at a future time.
More Instant Pot Rice Recipes
Instant Pot brown basmati rice is another brown rice that's a great substitute for its counterpart, white basmati rice. This recipe can be used for other long grain brown rice varieties too.
Try making pot in pot brown rice using the PIP method for smaller quantities of rice and easy cleanup.
The pot in pot rice technique for white rice is convenient and comes out perfect every time.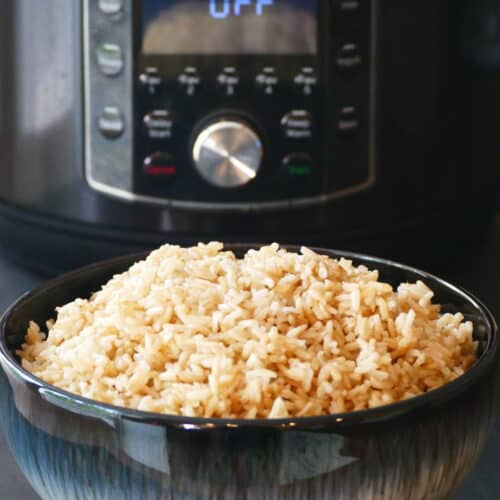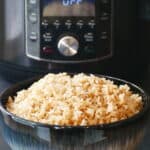 Brown Jasmine Rice in Instant Pot
This brown jasmine rice Instant Pot recipe has step by step instructions to help you make perfectly cooked brown rice every time, quick and easy.
Instructions
Rinse rice thoroughly till water runs clear. There's no need to soak rice.

Place rice and water in the Instant Pot inner pot. Add salt and ghee if using. Stir to combine and close the lid.

Pressure cook on High Pressure for 22 minutes. **

Once pressure cooking is complete, allow the Instant Pot to do a natural pressure release (NPR) or a 15-minute natural release if you're short on time. Open the lid. [Read More: The Different Pressure Release Methods]

Open the Instant Pot and fluff the rice with a fork and let the rice rest for a few minutes before serving.
Notes
* You can add between ½ and 1 teaspoon of salt per cup of dry rice.
** If you want the rice to be more al dente or chewy, decrease the pressure cooking time to 21 minutes. Increase pressure cooking time by 1 minute for softer rice.
For 1 cup of rice, use 1 ¼ cup of water.
Different brands of rice may need a bit more water. I use Dynasty rice.
See the blog post for more detailed recipe tips. You don't want to miss any!
* Do not overfill your pot with rice, i.e. past ½ mark.
Nutrition
Serving:
1
cup cooked brown rice
|
Calories:
215
kcal
|
Carbohydrates:
40
g
|
Protein:
5
g
|
Fat:
2
g
|
Saturated Fat:
0.5
g
|
Polyunsaturated Fat:
0.5
g
|
Monounsaturated Fat:
0.5
g
|
Sodium:
10
mg
|
Fiber:
3
g
|
Sugar:
0.5
g
Thank you for visiting Paint the Kitchen Red. All photos and content are copyright protected. Please don't use any content without prior written permission. If you've made this recipe and would like to share it with your friends, please link back to this recipe. Thank you!
I am not a certified nutritionist. I provide my best estimate of nutritional information merely as a courtesy to my readers. If you depend on nutritional information for dietary or health reasons, I suggest using your favorite online nutrition calculator to confirm the nutritional value of this recipe based on the actual ingredients that you use.
Did you know that the best way to support your favorite bloggers is to comment and rate recipes, and share on social media? If you loved this recipe, please comment and give it a five ⭐ rating in the comment section below. If you're a pinner, pin this post using the Pin buttons at the top and bottom of this post and in the recipe card above. Thank you for your support!
Instant Pot Recipes to Serve with Brown Jasmine Rice
Asian Pulled Pork Instant Pot Recipe
This versatile and easy Asian pulled pork recipe can be used to make rice bowls, Asian pork tacos, sliders, or sandwiches. Tender pieces of pork are spiced to perfection with the Asian flavors of soy sauce and chili paste, making every flavor-packed bite worth savoring. The Instant Pot makes cooking the pork easy and the pork cooks perfectly every time.
INSTANT POT ASIAN PULLED PORK
Instant Pot Korean Chicken with Gochujang
In this crowd-pleasing flavor-packed recipe, bone-in chicken is marinated in a vibrant Korean-spiced sauce made with gochujang chile paste. Serve the chicken and sauce as part of a rice bowl with sauteed vegetables or grill the chicken and serve the sauce on the side, for dipping!
INSTANT POT KOREAN CHICKEN
Lamb Curry – Rogan Josh (Instant Pot and Stovetop)
This lamb curry is a signature North Indian Kashmiri lamb curry that can also be made with beef. Tender morsels of lamb are pressure cooked to perfection in a vibrant aromatic sauce. Fragrant whole spices such as cloves, cinnamon, and cardamom combine with ground Indian spices such as coriander, cumin, and Kashmiri chili powder to create a flavor-packed combination. Stovetop and Instant Pot instructions included.
INSTANT POT LAMB CURRY