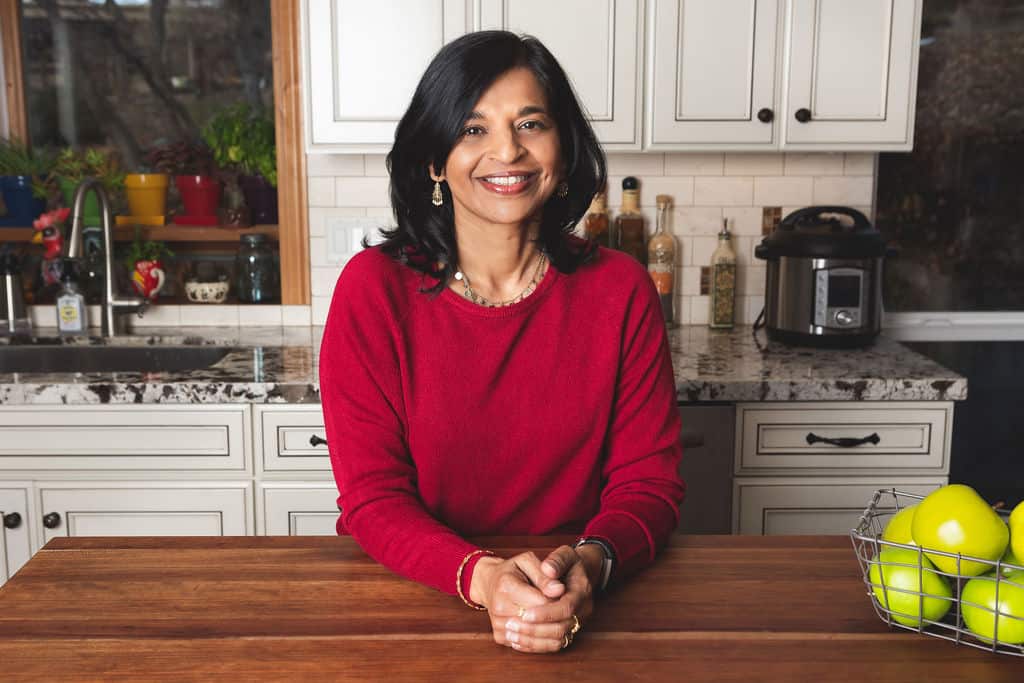 Welcome to Paint the Kitchen Red! I'm Neena and I create Instant Pot how-to guides and recipes with flavors from around the world. I live in Salt Lake City and love the beauty of the west!
I've been using a pressure cooker my entire adult life, and I grew up with the sound of a pressure cooker whistling away in the kitchen. Pressure cookers have come a long way from those days. No more whistling and loud shrieky sounds!
Today's electric pressure cookers are quiet, convenient and safe to use. And best of all, you don't need to babysit them. You can leave them to do the work while you go about getting other stuff done!
I use the Instant Pot brand of pressure cooker and I own five six a lot of them!  I got my first one over 5 years ago and I've made it a goal to take every recipe that my family loves and try to convert it to an Instant Pot recipe.  Some make the cut, and others don't. If you're looking for tried and tested, flavorful, crowd-pleasing Instant Pot recipes, you've come to the right place.
I am a very detail-oriented person who is also a perfectionist. Sometimes this can be a great combination, but sometimes not so much. Just ask my family!
My personality definitely shows through in my recipes and how-to guides. What this means for you is that you get very detailed instructions with step-by-step photographs.
Every recipe is tested many times, and will only make it onto the blog if my ever-patient family gives it two emphatic thumbs up. I won't compromise on flavor. If my family deems a recipe to be "okay" or "not bad", it won't make it on the blog!
My story
This blog started out as a personal project. My blog story begins when I left my corporate information technology job to become a full-time stay-at-home mom.
Twenty years and three kids later, I was at a crucial stage where I didn't know what I was going to do once all my children left the house. What was I qualified for? Technology had changed so much in the intervening years. The internet wasn't even a thing back when I was working full time!
I finally decided that I would learn how to create blogs for other people. In order to learn the technology, I would need to create my own blog and so I needed a practical topic.
After many years of cooking for my family (with many failures along the way), I had binders full of family-favorite recipes. My kids were going to be cooking for themselves very soon and my husband suggested that sharing my recipes would be a great project to practice with.
But something funny happened along the way. Much to my amazement and delight, my Instant Pot recipes and how-to guides resonated with people other than my family!
I've been featured in articles on websites such as HuffPost, Brides, MSN, NBCNews, CNBC, Buzzfeed and PopSugar. I never did end up creating another blog, but instead took this one from its infancy to where it is today.
I've truly found my passion. I love what I do and hearing from my readers keeps me going every single day!
I hope you enjoy the recipes I share and are inspired to try them out. Let me know how they turn out – I'd love to hear from you! Tag @paintthekitchenred on Instagram to share photographs of recipes you've tried. You can watch videos of recipes and tips on my Youtube channel. You can find me on Facebook and Pinterest too. And of course, you can always email me through my Contact page.
About the Instant Pot Recipes
Every Instant Pot recipe has detailed step-by-step instructions with accompanying photographs, followed by a more concise (printable) recipe card. I hope this allows both beginner and advanced Instant Pot cooks to be able to make the recipe.
If you don't wish to read the step-by-step photo instructions, I provide a table of contents that allows you to go directly to the recipe card
Make sure you read the Tips section that's on every recipe.
Please note that I follow the recipe writing convention where the preparation time does not include steps that are already accounted for in the ingredients. i.e. if the ingredients list "1 cup onions, finely chopped", the prep time will not account for chopping the onions. Please keep this in mind as you plan for making a recipe.
Unless otherwise stated, pressure cooking is at high pressure.
Whenever I refer to the Saute function, it will be on the mid-level setting i.e. Medium or Normal (depending on your Instant Pot model).
All recipes have been tested in either a 6-quart DUO, ULTRA or DUO EVO PLUS. If you have a different model, you may need to make minor adjustments based on your experience. The 8-quart, in particular, may require some more liquid.
I do my best to provide directions for recipes where all steps can be accomplished in the Instant Pot. I have readers who may not have access to an oven or stove (e.g. dorms, hotels, camping). Feel free to do any of the steps (especially the 'Saute' mode) on a stovetop or in an oven, if you feel that the flavor would be better.
If you're using the Saute function of the Instant Pot, please make sure you do a good job of deglazing the pot before you start pressure cooking. I try to mention this in each of my recipes, but I'm saying it here for emphasis.
Where to Begin
If you're new to the Instant Pot world, I suggest you check out the various tips and guides I've written. Visit my Instant Pot Recipes page and narrow down by Cuisine, Course or Main Ingredient to find a recipe to suit your needs.
The photographs on this blog are all taken by me, and I request that you ask permission to use them and please link back to the original post.