Thai red curry and green curry are two of the most popular Thai curries. Both are made with a creamy coconut milk base and spicy curry paste. Find out the key differences between Thai red curry vs green curry, as well as the best way to choose which one is right for you.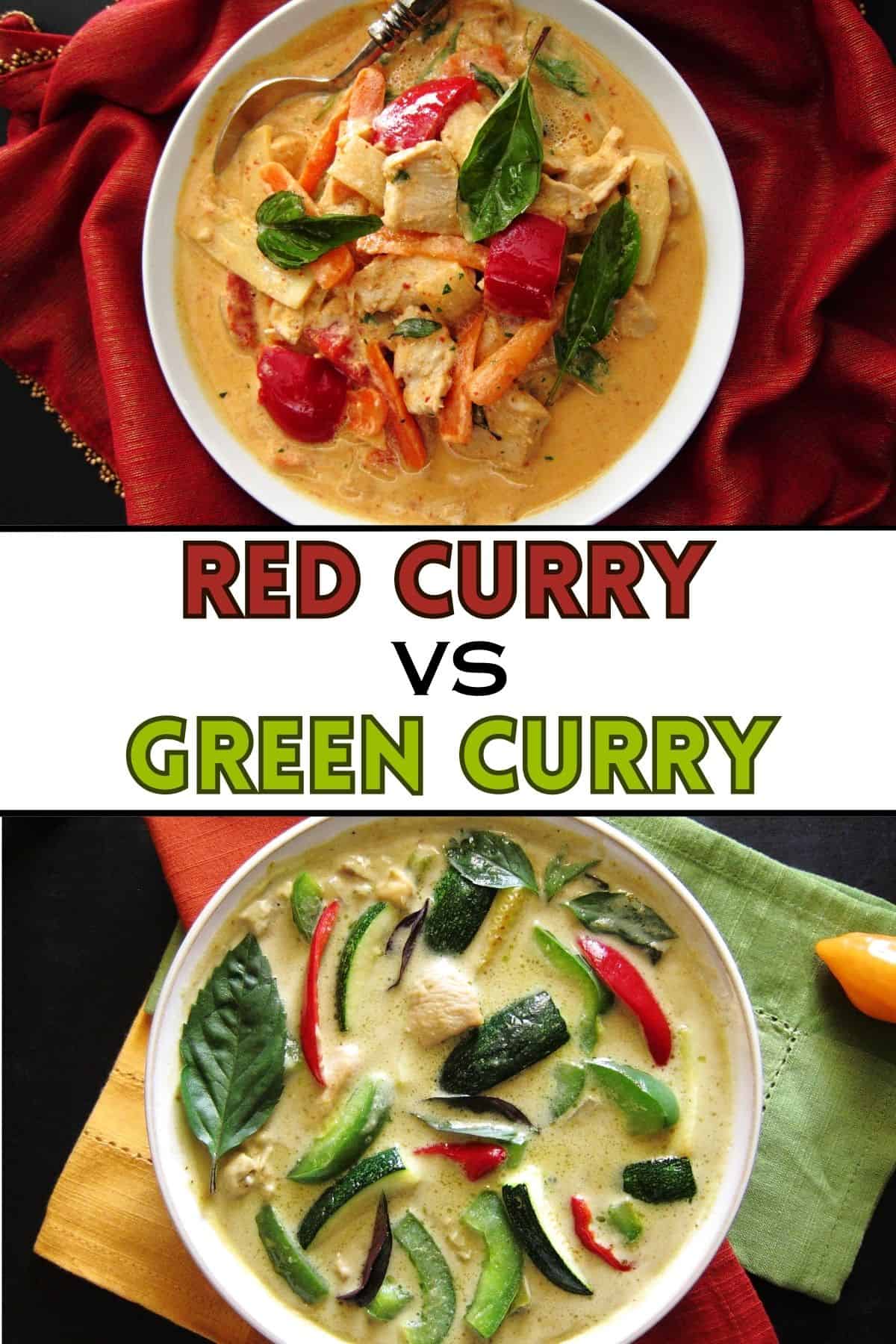 This post contains affiliate links. As an Amazon Associate, I earn from qualifying purchases. Please read the disclosure.
Find out the differences between panang curry vs massaman curry.
Thai food is popular all over the world. Thai curries are known for their aromatic blend of spices, rich flavors, and creamy textures.
There are many types of Thai curries including red, yellow, green, panang, massaman, choo chee, and jungle curries. Red and green are two popular curries.
Although both Thai red curry and green curry come from Thailand and share some similarities, they also have their own unique flavor profiles.
The main difference between the two is the type of chilies used. We'll get into that in a bit.
Red curry has become one of the iconic dishes of Thai cuisine, enjoyed both locally and internationally for its bold flavors and rich spiciness.
Green curry is slightly less popular in the West, but equally tasty. Let's explore the two types of Thai curry.
Introduction to Red Curry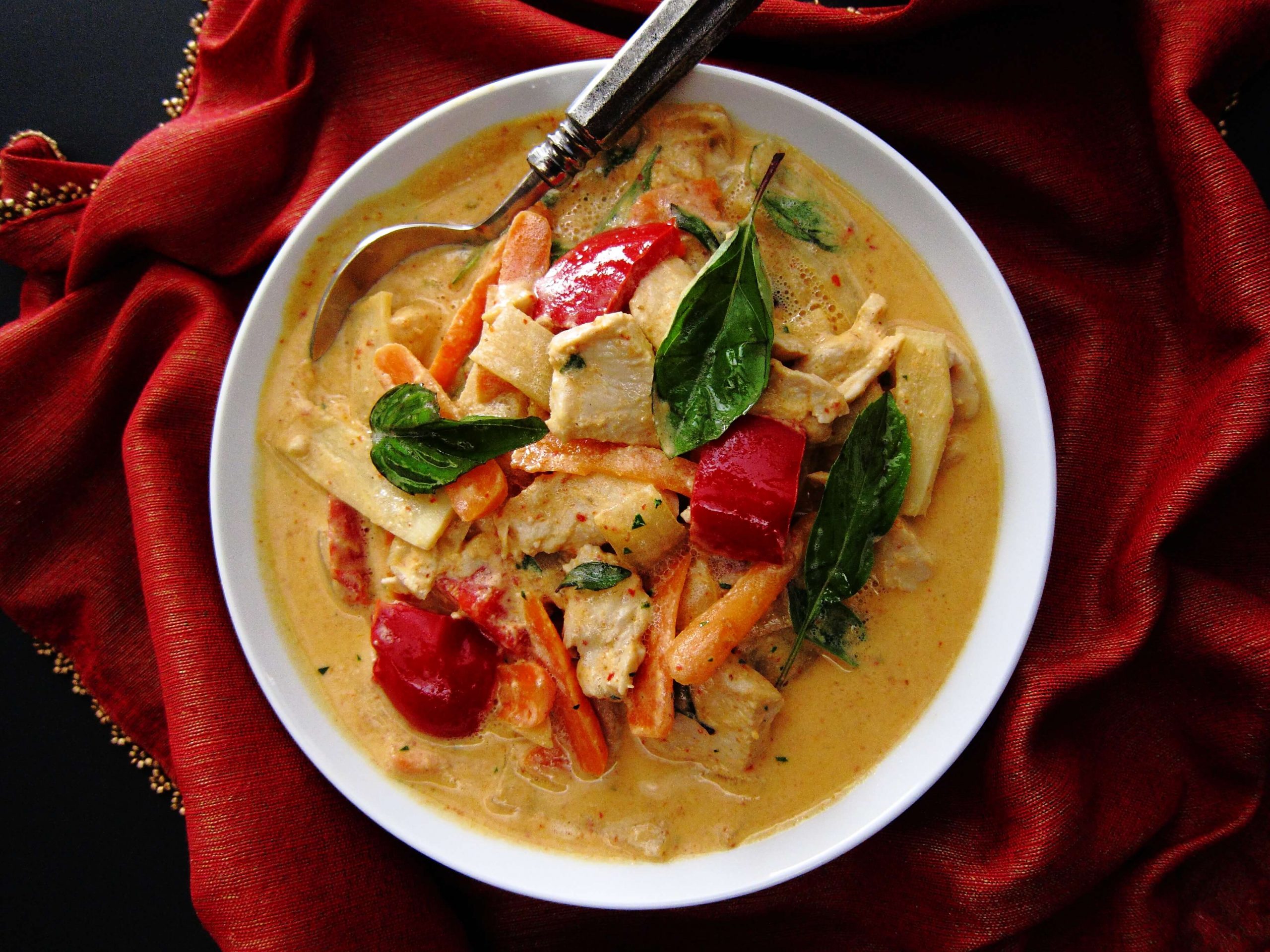 Red curry is also known as kaeng phet. The word kaeng means curry, and phet means spicy. So, red curry literally translates to "spicy curry".
It's called red curry because of the red chillies used to make the curry paste. It has a creamy yellowish-red color and a rich, slightly sweet, and spicy flavor.
Red curry's origins can be traced back to central Thailand. This Thai dish is thought to have been influenced by Indian curries and Chinese cuisine, as well as local Thai flavors.
In Thailand, red curry is a thin curry that's more like a soup and it's not that spicy. It's made with big dried red chillies that are not as spicy as fresh green chillies. It's commonly made with chicken, pork, or beef.
Red curry paste is a versatile paste that can also be used to make soups, sauces, dips, and of course, curry.
Introduction to Green Curry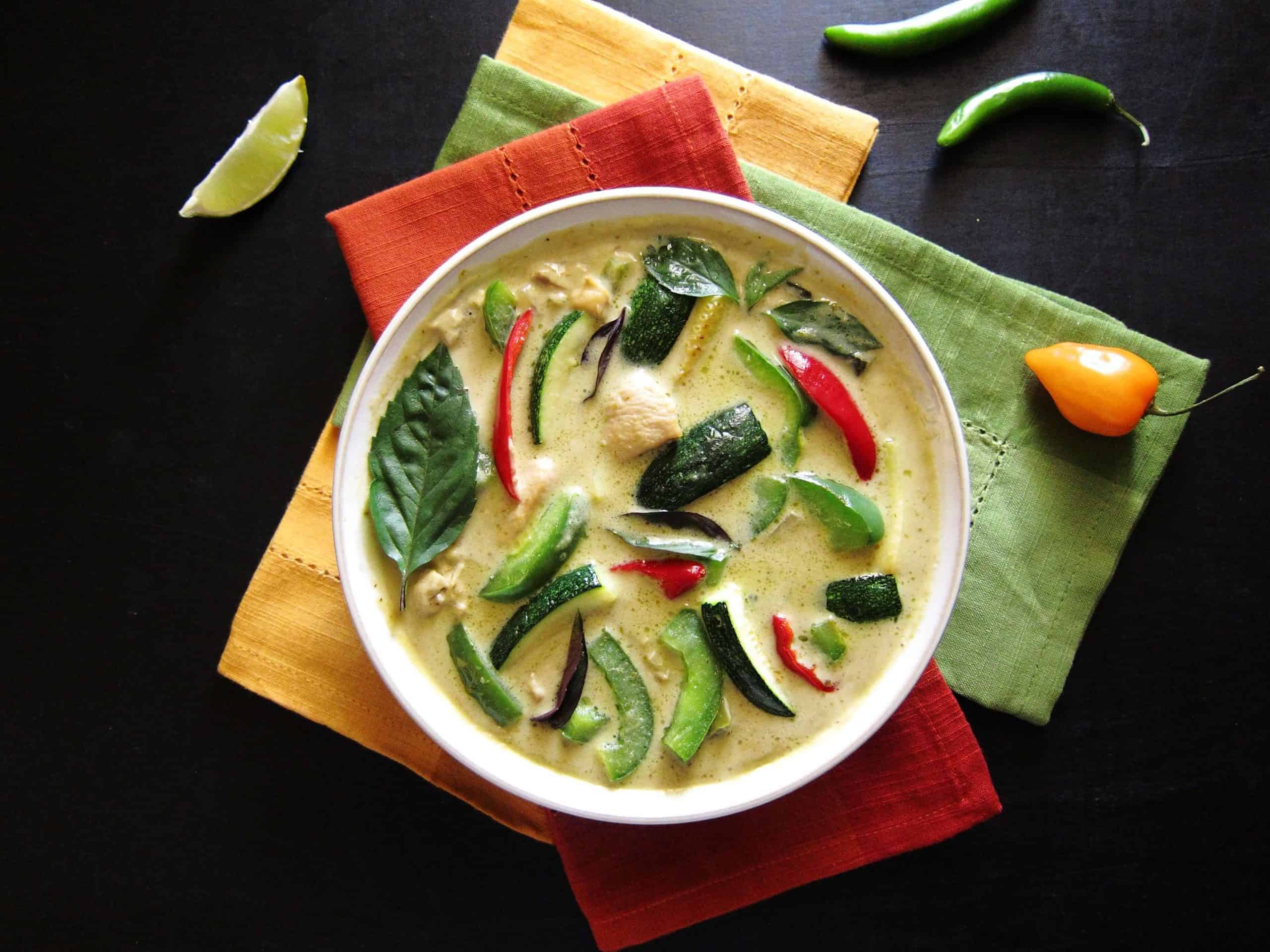 Green curry is called kaeng khiao wan in Thai and it is literally translated as sweet green soup. However, the curry is more spicy than sweet.
Green curry is one of the most popular dishes in Thailand and is generally made with chicken or beef.
Thai green curry is considered to be the spiciest of Thai curries, but this isn't always the case. The spiciness of the chilies used determines the spiciness of the curry.
Thai green pastes purchased from an Asian grocery store are the spiciest of Thai curry pastes.
Main Ingredients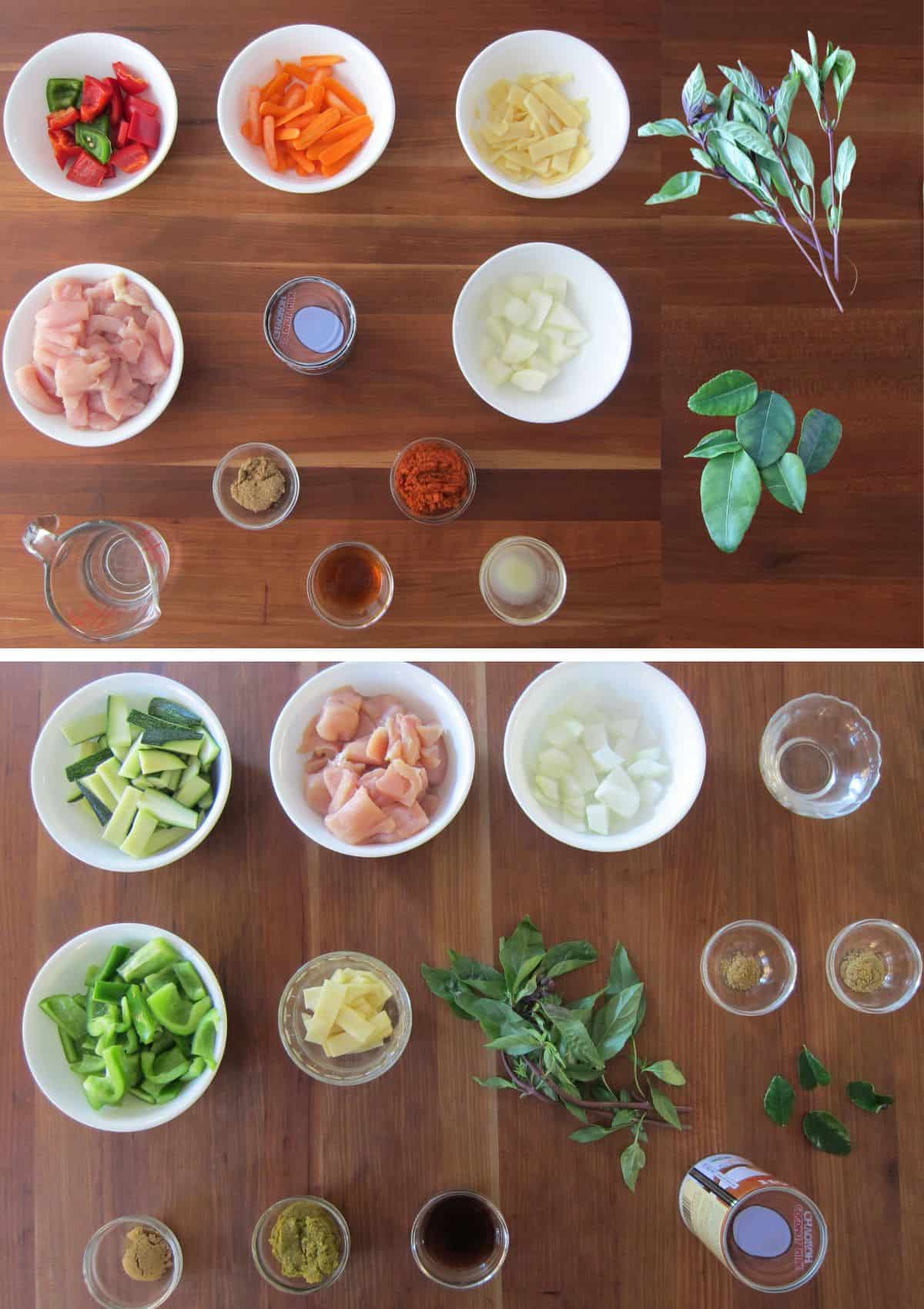 Red Curry Ingredients
You make red curry with a base of red Thai curry paste, coconut milk, and chicken, beef, or tofu.
The red paste is available in cans or resealable containers.
My favorite brands are Mae Ploy or Maesri brand, depending on what's available. If you're trying to find a paste that's on the spicier side, Mae Ploy may be the one for you.
Green Curry Ingredients
You make green curry with a base of green curry paste and coconut milk with your choice of protein and vegetables.
Beef or chicken is simmered in creamy coconut milk and a paste made with fresh green chilies and other spices. You can use other proteins such as tofu.
Green Thai paste is available at Asian stores or online. Once again, my favorite brands are Maesri and Mae Ploy.
Flavors
The two curries have many ingredients in common. The flavor of both curries is a complex blend of spicy, sweet, sour, and savory notes.
Chili peppers give the curries heat, while the palm sugar gives the curries a hint of sweetness.
The shrimp paste adds a savory umami quality and coconut milk adds a creamy texture to the dish. It also balances out the heat of the chili peppers.
Lemongrass and galangal give the curries an herbal quality.
Differences Between Red and Green Curry
Color
Red curry is made with a paste made of red chili peppers. This gives it a signature deep red color.
Green curry, on the other hand, is made with a paste that includes green chili peppers, kaffir lime zest, and cilantro/coriander roots. This gives the dish its bright green color and more herbal flavors.
Flavor Profile
Red Curry has bold, sweet, and tangy flavors. On the other hand, its green cousin has a spicier, more herbal flavor.
Spice Level
In traditional Thai recipes, green curry is usually hotter than red curry because fresh green chillies are spicier than dried red chilies used for red curry. However, the spiciness of each can vary based on the type of paste, chili peppers, and quantity of spices. If you make your own curry paste, some recipes call for fresh red chilies, which is why some say red curry is hotter.
Key Ingredients
Red and green curries have many common ingredients, but they are also quite different. Here are a few key differences between the two:
Green Curry has green chilis while red curry has dried red chilis.
Green curry incorporates distinctive ingredients such as cilantro root, cardamom, white pepper, and lime zest, which red curry does not.
Green curry uses green and white vegetables while red curry uses any veggies.
Similarities
When comparing red vs green curry, here are a few key similarities between the two:
Both curries are authentic Thai recipes.
They include common ingredients such as garlic, chili, lemongrass, galangal, and lime leaf.
Green and red curry both use coconut milk.
Both can be adapted to be made with beef, chicken, pork, lamb, tofu, or shrimp.
They are traditionally served over rice.
Both curries are soupy in nature, with lots of curry sauce or liquid.
Both red and green curry can be made with a variety of different vegetables.
Which of These Thai Curries Should You Try
Both green and red curry have their own unique characteristics and are equally delicious Thai curry dishes.
So, which Thai dish should you try? Whether to go with red or green Thai curry depends on your personal preferences.
If you like a spicy dish with a bright herbal flavor from cilantro and other fresh herbs, then green curry is a good option.
If you prefer a balance of spiciness and sweetness and something that is not too spicy, go with the red curry.
Ultimately, the best way to decide which one you like best is to try both so you can experience the distinct flavors each curry has to offer.
Don't be scared away from the green curry due to the spice. You can always add more coconut milk until the heat level is just right for you! It's definitely worth trying.