What's the difference between Panang curry vs Massaman curry? Let's compare the two and find out more by exploring their origins, flavors, and key ingredients to help you decide which one you might like best.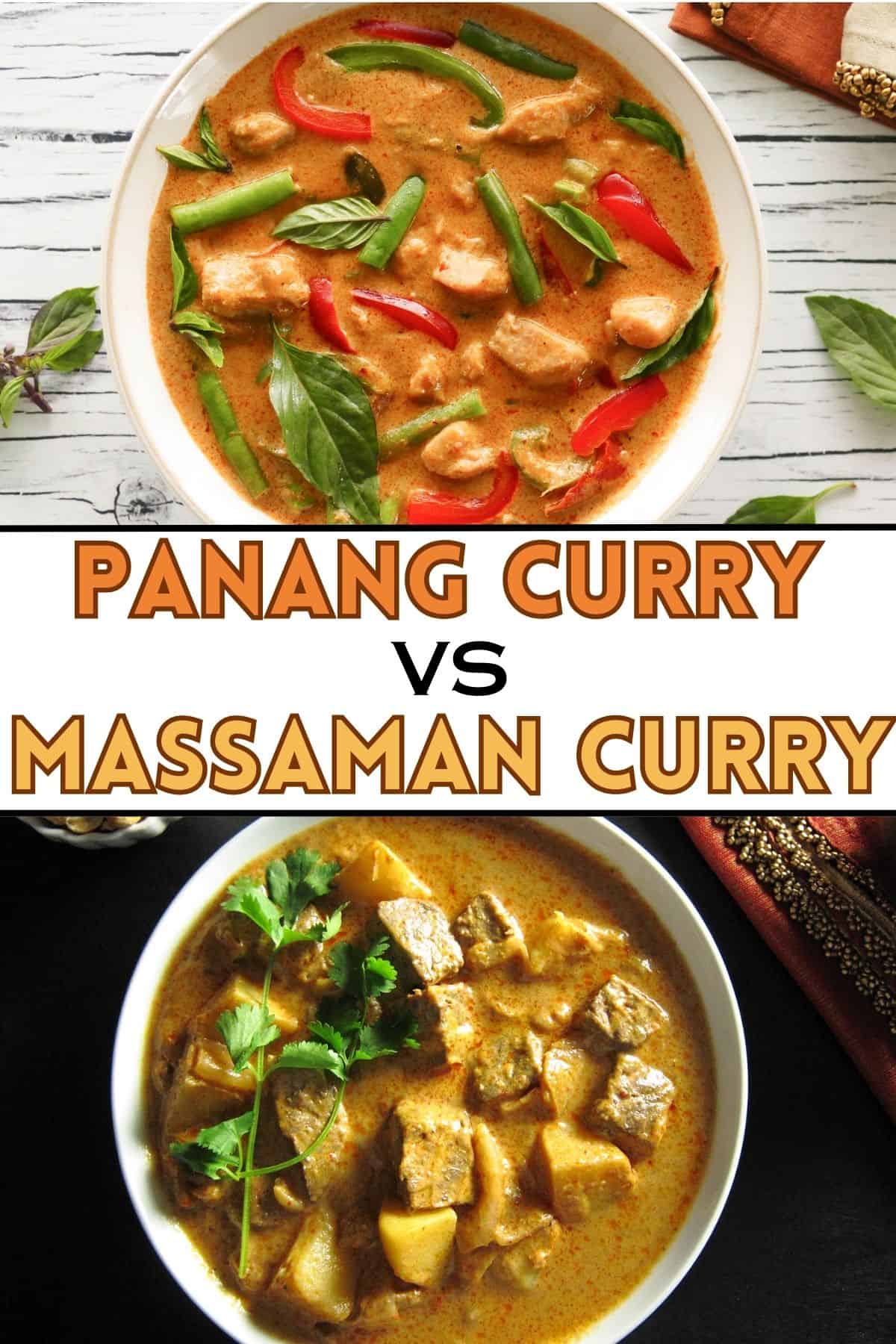 This post contains affiliate links. As an Amazon Associate, I earn from qualifying purchases. Please read the disclosure.
Learn how to make restaurant-quality Thai Panang curry and Massaman curry.
If you're a fan of Thai food, you probably love Thai curry. Thai curries have an aromatic blend of spices, rich flavors, and creamy textures that appeal to just about anyone!
Massaman curry and panang curry are two of the more popular curries in Thai cuisine. While both panang and massaman curry come from Thailand and share some similarities, they each have a unique flavor.
In this article, you'll learn the main difference between panang curry and massaman curry, what the similarities are, and which one you should try first.
Thai Curry Recipes to Try
Green Curry is popular in Thai restaurants. It's a delicious and spicy curry with creamy coconut milk, tender chicken, and bold spices.
Thai Red Curry is a coconut chicken curry with vegetables. Fresh Thai Basil and lime add amazing flavor.
Yellow Curry is a chicken and potato curry recipe with creamy coconut milk and bold spices that is amazing when served over jasmine rice!
Introduction to Panang Curry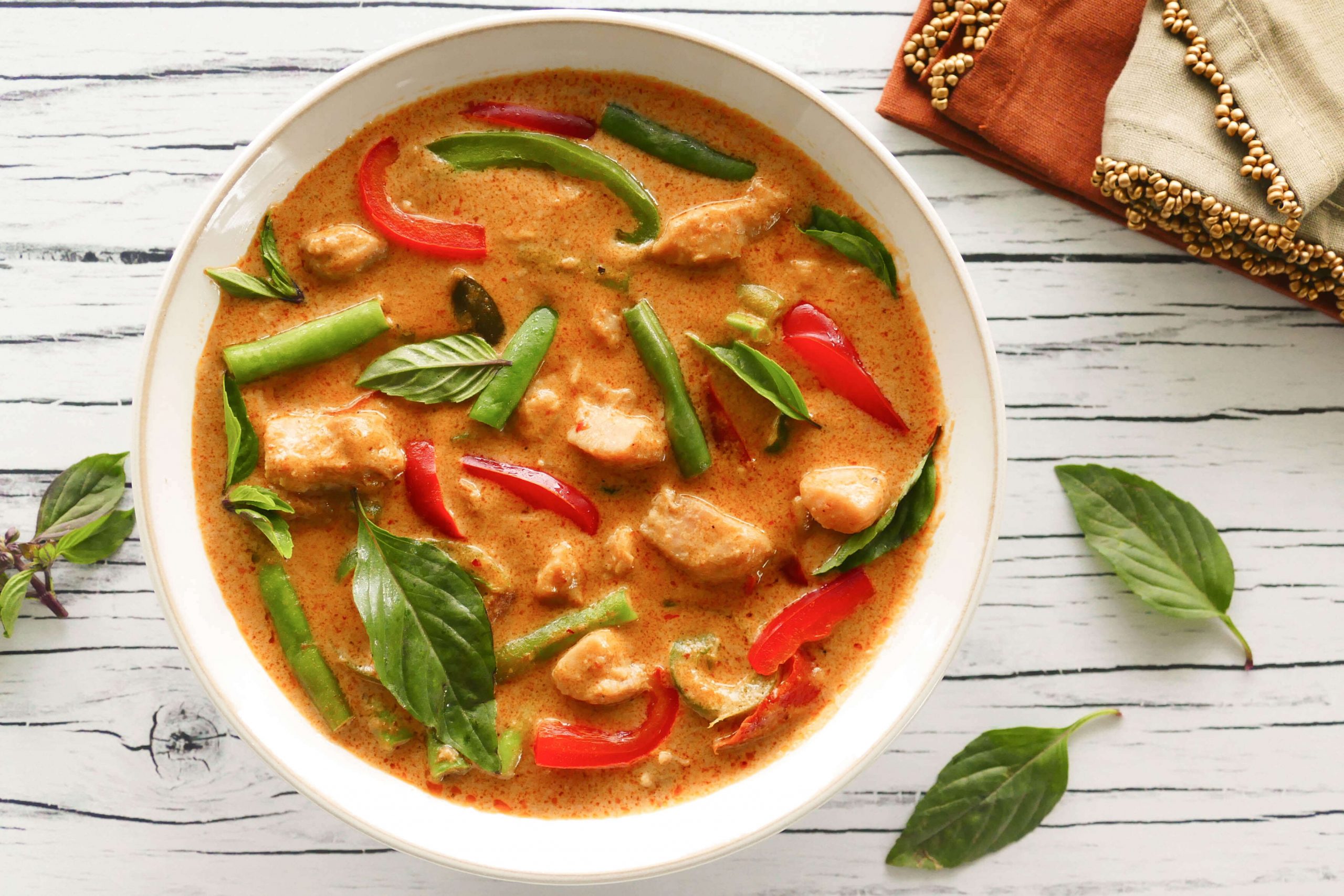 Panang curry is a type of red curry dish and that's also known as kaeng phanaeng or penang. It has a creamy orange-red color and a rich, slightly sweet, and spicy peanut flavor. It's an aromatic, bold coconut curry that's usually served over rice.
There is some controversy about the origins of Panang curry. Some claim that it originated in central Thailand, while some claim that it originated in northern Thailand.
Yet others insist that panang (penang) curry originated on the Malaysian island of Penang.
Whatever the origin story, panang curry most definitely has Indian, Malay, Indonesian, and Thai influences due to the historical trade and cultural exchanges between these regions.
In Thailand, panang curries are most commonly made with beef and don't include any vegetables (except for some thinly sliced red peppers as a garnish).
These authentic panang curries are drier and less soupy. Peanuts are a common ingredient too.
Western adaptations use not only beef, but chicken, pork, or tofu. Vegetables such as bell peppers are a popular addition.
In the West, panang curry has more sauce and is more soupy than traditional panang. Peanut butter is sometimes used instead of peanuts in some recipes.
Introduction to Massaman Curry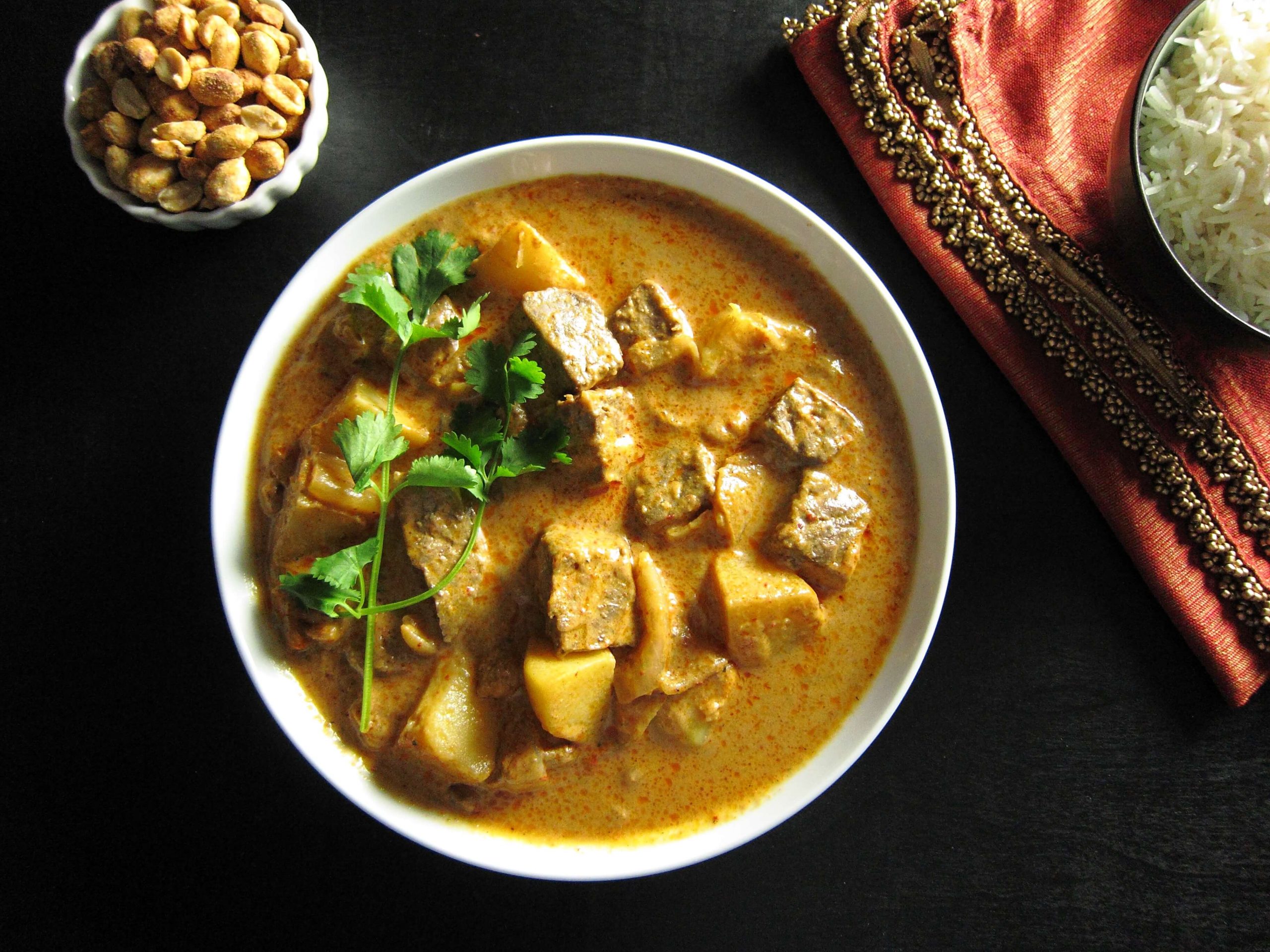 Massaman curry (prik gaeng massaman), on the other hand, is a variant of yellow curry that is milder and more like a beef and potato stew.
Beef or lamb is simmered in creamy coconut milk and a curry paste made with roasted spices. Chicken can also be used.
Massaman curry has its roots in Persia via India and Malaysia. It's a curry that was introduced by Muslim traders from Persia.
As a matter of fact, the word massaman is derived from musalman which is an archaic Persian word used for muslim.
Main Ingredients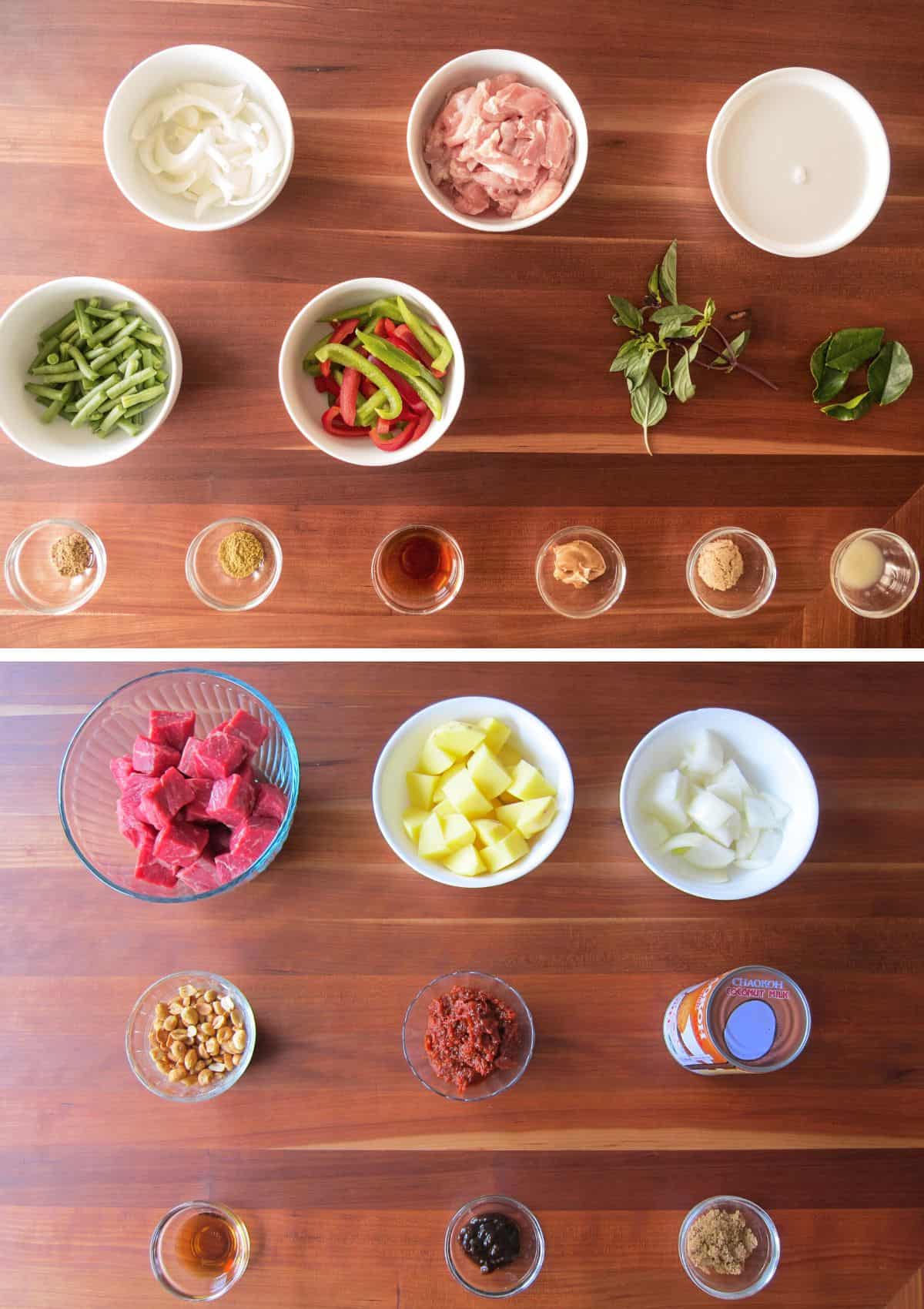 Panang Curry Ingredients
You make panang curry with a base of panang curry paste, coconut milk, and chicken, beef, or tofu.
Panang Thai curry paste is available in cans or resealable containers. If you can't find panang paste, use red curry paste as a substitute.
My favorite brand is either Mae Ploy or Maesri brand, depending on what's available. If you're trying to find a curry paste that's on the spicier side, Mae Ploy may be the one for you.
PANANG CURRY PASTE INGREDIENTS
PANANG CURRY INGREDIENTS
Vegetables
Peanuts (peanut butter is often used in the West)
Massaman Curry Ingredients
You make massaman curry with a base of massaman curry paste and coconut milk with beef, lamb, or chicken and potatoes.
Massaman Thai curry paste is available at Asian stores or online. Once again, my favorite brands are Maesri and Mae Ploy.
Massaman paste recipes have more ingredients than other Thai curry pastes. They have Indian and Thai flavors.
The Indian influence comes from ingredients that are present in the Indian spice mix garam masala, such as cinnamon, cardamom, nutmeg, and cloves.
The Thai influence comes from lemongrass, galangal, and lime leaves (aka makrut or kaffir lime leaves).
Massaman paste is slightly more labor intensive because the spices need to be roasted before being ground.
MASSAMAN CURRY PASTE INGREDIENTS
MASSAMAN CURRY INGREDIENTS
Flavors
Panang Curry Flavors
Panang curry is made with meat that's stewed with coconut milk, spice paste, makrut leaves, fish sauce, and palm sugar. Thai basil is added to panang curry at the end, which gives it a savory licorice-like flavor.
The citrus undertones come from the lemongrass and lime leaves. Some recipes use lime juice.
The taste of panang curry is also described as spicy, but it's not supposed to be overly hot. You can customize the heat by adjusting the quantity of curry paste used.
The creaminess from the coconut milk helps to mellow the spiciness and adds a subtle sweet taste. To make the curry a thicker consistency, some recipes add coconut cream to the panang, rather than coconut milk.
Massaman Curry Flavors
Massaman curry is mellow and fragrant and has a creamy texture. It's generally less spicy compared to other Thai curries such as green, panang, or red curry. The taste of Massaman curry is a combination of spicy, salty, sour, and sweet.
Shrimp paste and fish sauce in the curry give it saltiness. Massaman curry has a sweet undertone, which comes from coconut milk and palm sugar.
Tamarind used in massaman curry gives it a tanginess and balances out the flavors. The roasted peanuts add a nutty flavor to the curry. And spiciness comes from red chilies.
Differences Between Massaman Curry and Panang Curry
When comparing massaman curry vs panang curry there are many similarities but there are some key differences.
Flavor Profile
Panang Curry has bold and tangy flavors. It has a vibrant and intense taste, with a hint of sweetness. On the other hand, massaman curry has a more complex flavor profile. It has a sweet, salty, and slightly spicy flavor, with a hint of tartness.
Spice Level
While both curries can be customized to your taste buds, panang curry is quite a bit spicier, while massaman curry is milder with a gentle warmth from spices like cinnamon, cardamom, and nutmeg.
Key Ingredients
Panang and Massaman curries have many common ingredients, but they are also quite different. Here are a few key differences between the two:
Panang Curry has kaffir leaves and Thai basil, which contribute to its strong aromatic flavor. Traditional massaman has neither ingredient.
Massaman Curry, on the other hand, incorporates distinctive ingredients such as tamarind paste, cinnamon, cloves, and cardamom.
The spices in massaman curry are roasted before being ground.
Massaman curry uses potatoes which panang curry does not.
Similarities
The two curries share some similarities. Here are a few key similarities between the two:
Both curries are authentic Thai recipes.
They include common ingredients such as garlic, chili, lemongrass, galangal, and lime leaves.
Panang curry and massaman curry both use coconut milk.
Both can be adapted to be made with beef, chicken, tofu, or shrimp.
They are traditionally served over rice.
Both curries are traditionally made drier and thicker, with less sauce. However, westernized recipes are more saucy.
Massaman and panang curries are the only two Thai curries that have peanuts, whether crushed peanuts or peanut butter.
Which of These Thai Curries Should You Try
Both Panang and Massaman curries have their own unique characteristics and are equally delicious.
So, which curry should you try? The type of curry dish that's right for you depends on your individual taste. If you like your curry spicy, with a strong flavor and a hint of sweetness, then panang curry is the way to go.
If you prefer a mildly spicy curry with sweet, savory, and sour notes, then massaman curry is a better choice. Massaman is perfect for you if you enjoy beef stews and comfort foods.
One more thing to consider is the ability to make it vegetarian. Generally, panang curry can be made with vegetarian options such as tofu or just veggies.
Massaman curry is generally made with meat, although you can certainly request a vegetarian version at restaurants.
✏️ MY PERSONAL FAVORITE
I love both curries, but the one I make more often is panang curry because of the bold flavors and spiciness that my family loves. I love making massaman curry when I'm craving comfort food on a cold wintry evening!
I hope you'll consider trying both at some point so you can experience the distinct flavors each curry has to offer.