Chicken korma vs butter chicken – what's the difference? They are two classic Indian curry dishes that are creamy, fragrant, and delicious. Whether you prefer mild chicken korma or rich, creamy butter chicken, I'll show you the key differences between these two curries and help you determine which recipe best suits your tastes and which delicious curry to make for your next meal.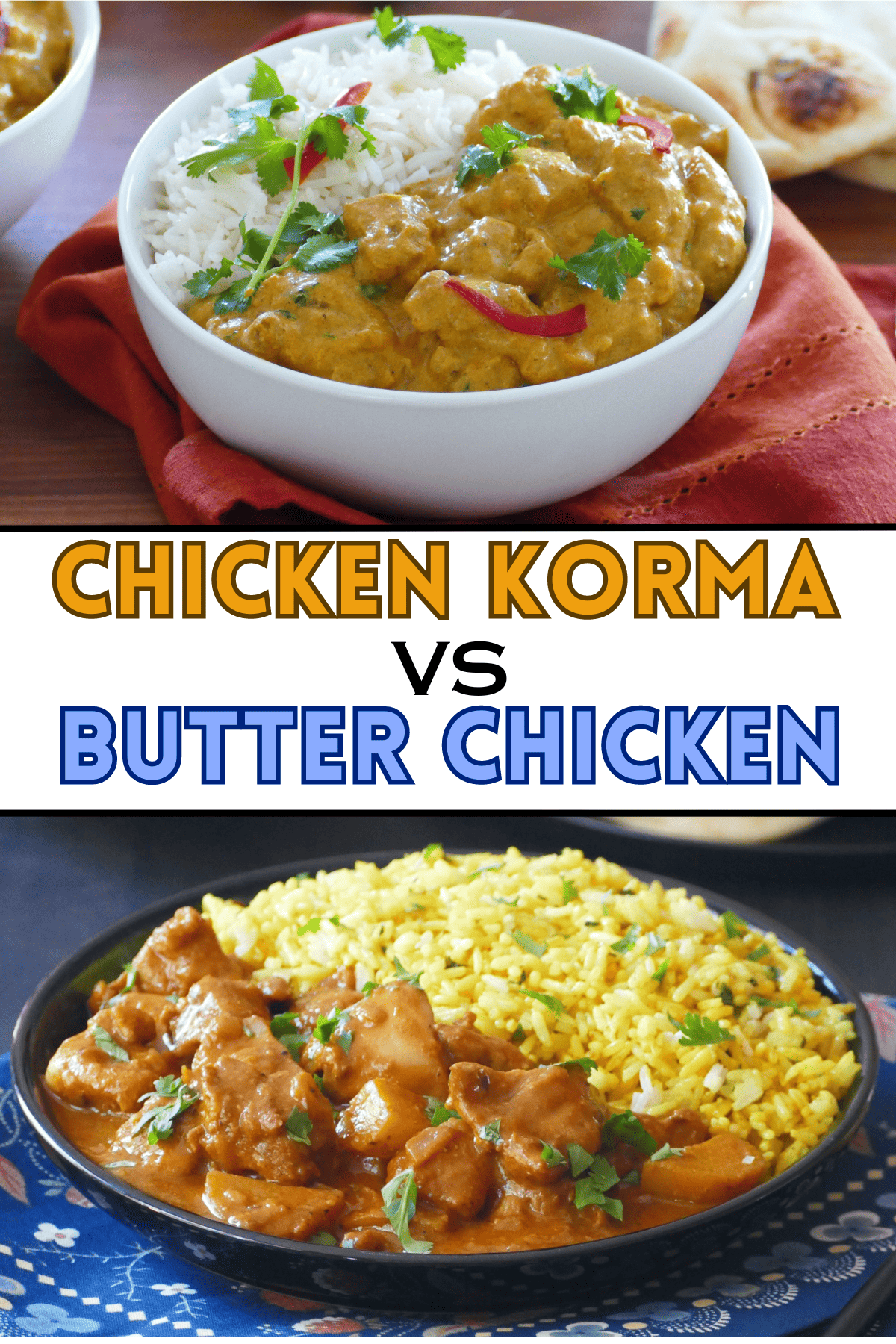 This post contains affiliate links. As an Amazon Associate, I earn from qualifying purchases. Please read the disclosure.
Learn how to make a restaurant-quality Coconut Chicken Korma at home.
Indian curries are known for their rich flavors and fragrant spices. Every Indian curry has a unique combination of spices that lend flavor to the dish.
Butter chicken and chicken korma are two popular curries at restaurants worldwide. Both chicken dishes are curries simmered in a creamy sauce.
But each has its distinct blend of spices, textures, and aromas. Korma has a creaminess from coconut milk, yogurt, seeds, and nuts, with spices like coriander and turmeric that add depth.
Butter chicken is a tomato-based curry made with grilled marinated chicken simmered in a creamy, spicy gravy.
So, although the curries share some similarities, butter chicken offers a more robust, tangy flavor than korma's milder, subtler spice profile.
In this article, you'll learn the main difference between chicken korma vs butter chicken, the similarities, and which one you should try first.
Indian Curry Recipes to Try
Kerala chicken curry is a delicious South Indian chicken curry made with potatoes.
Chicken tikka masala is a popular Indian dish of boneless chicken pieces marinated in yogurt and spices and then cooked in a tomato-cream sauce to yield a flavorful, aromatic curry.
Kerala beef stew is an Indian beef curry similar to a stew. It's a hearty South Indian dish made by braising chunks of beef in a sauce of sautéed onions, aromatic spices, and coconut milk.
Find out the difference between red curry vs green curry and panang curry vs massaman curry.
Introduction to Chicken Korma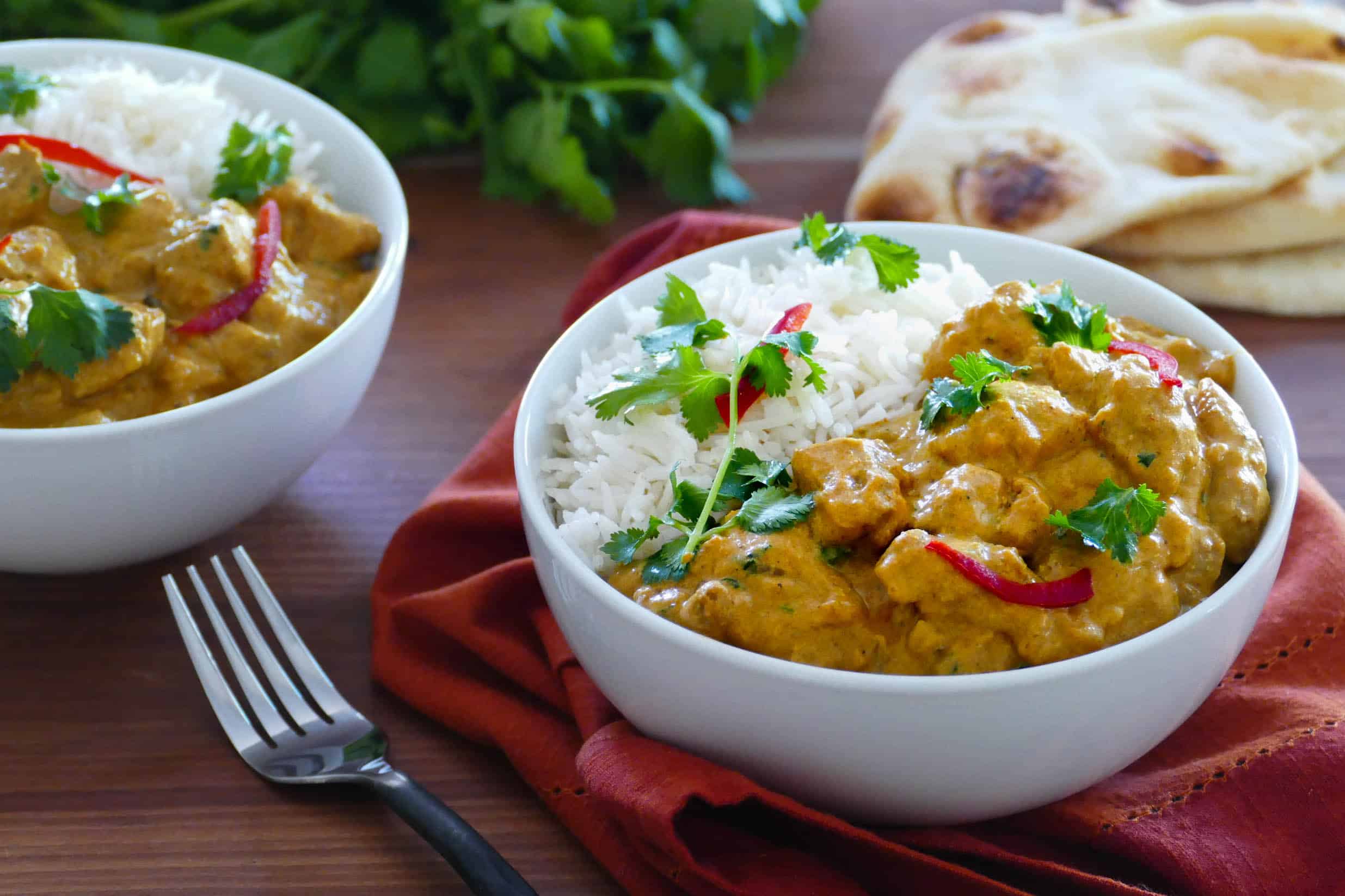 Chicken korma is relatively mild compared to many Indian dishes. It's a creamy curry that originated in North India. However, its roots lie in Persian and Turkish cooking styles imported to India early during the Mughal Empire.
The word 'korma' comes from the Urdu word 'qorma,' which means to braise or pan-fry.
Many variations of korma have evolved through the years. You can make it with yogurt, nuts (peanut, cashew, or almond), seeds (fennel, poppy seeds, or sesame seeds), coconut milk, or cream, depending on the region of India.
Korma recipes in northern India use cashews, almonds, and yogurt and can be made with meats like lamb or beef. In South India, where I'm from, korma typically contains coconut milk, cashews, chicken, or vegetables and is called 'kurma.'
Korma was adapted to Western tastes when India was a British colony. Today, it remains one of the most popular Indian restaurant curries. It's known for its creamy texture rather than heat.
Introduction to Butter Chicken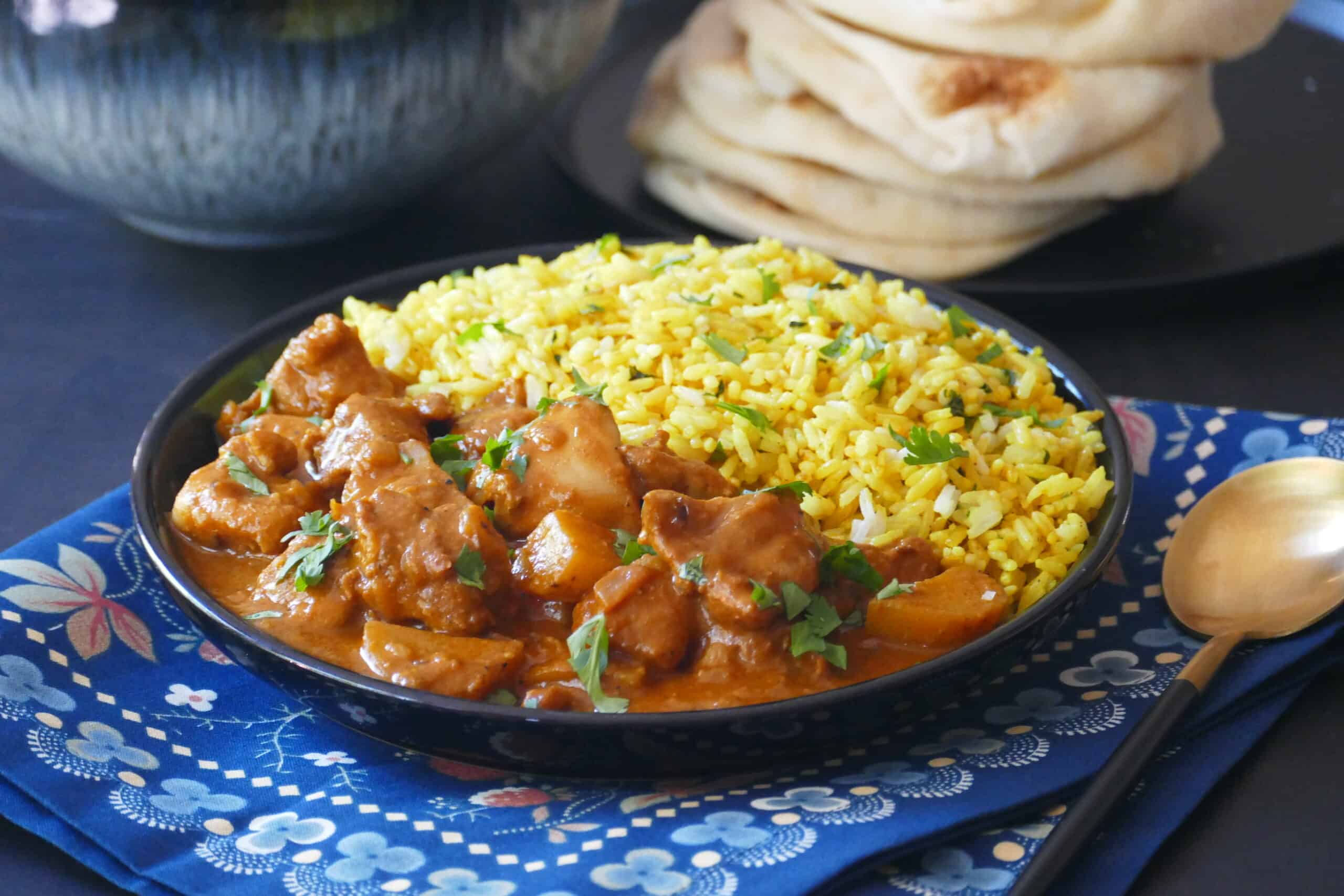 Butter chicken is a dairy-based dish made with grilled chicken cooked in a spicy curry sauce. It is known as 'murgh makhani' (literally translated as 'butter chicken') in Hindi.
It was created by happenstance at a Delhi restaurant in the 1950s when someone had the ingenious idea to cook leftover tandoori chicken in a buttery, creamy tomato sauce.
Although butter chicken has minor regional variations across different parts of India, they all share the essence of the classic butter chicken preparation method and flavor profile at the core.
Butter chicken is one of the most popular Indian foods in North America and Europe. Western versions tend to add more cream and butter to suit local tastes.
Main Ingredients and Spices
Chicken Korma Ingredients
As I mentioned, chicken korma recipes have many variations. Here are some common ingredients in the various types of kormas.
Butter Chicken Ingredients
Some butter chicken recipes use onions, but most do not. You can make butter chicken with prepared tandoori chicken to reduce prep time.
Bone-in chicken pieces or boneless chicken thighs. You can use chicken breast, but it tends to dry out easier.
Ginger and garlic impart a fresh, spicy flavor.
A mixture of yogurt and a variety of spices to marinate the chicken to tenderize it and add tanginess. Grill the marinated chicken before adding it to the sauce.
Tomatoes contribute color and tanginess. You can use tomato paste, tomato sauce, or crushed tomatoes. If using canned diced tomatoes or fresh tomatoes, pulse them in a food processor.
Lemon juice adds tanginess.
Ghee (clarified butter) adds rich flavor and a silky texture.
Heavy cream also adds richness and creaminess.
Spices include red chili powder, salt, cloves, cardamom, and bay leaves.
Dried fenugreek leaves impart a smoky, earthy flavor.
Honey helps to balance the tanginess of the tomatoes.
Flavors
Chicken Korma Flavors
Chicken korma's flavors are a reflection of the ingredients used. It has a creamy flavor from yogurt, cashew or almond paste, coconut milk, or cream.
Golden fried onions cooked in oil or ghee are the foundation of a good korma. The onions are cooked until soft and golden brown to bring out their natural sweetness before adding other ingredients.
Korma can be slightly sour from yogurt, if used. Smoothly blended nuts can give the curry a creamy, nutty flavor.
Butter Chicken Flavors
Butter chicken tastes silky and rich from the cream and butter. It has a medium heat level that's moderated by the cream.
The classic flavors of butter chicken are rich, creamy, sweet, and tangy. The hint of sweetness comes from the honey, with a zesty undertone from the tomatoes and yogurt.
Dried fenugreek leaves give the korma an herbaceous, earthy flavor.
These flavor combinations create an indulgent, comforting, and perpetually crowd-pleasing dish.
The Difference Between Chicken Korma vs Butter Chicken
History
Korma has its roots in ancient Mughlai cuisine.
Butter chicken originated in more recent times.
Flavor Profile
Korma typically has a mild creamy flavor from yogurt or coconut.
Butter chicken uses flavor-forward ingredients like tomato, fenugreek, and rich silkiness from butter and cream.
Spice Level
Korma is cooked with nuts or coconut and is more creamy, so it has less heat.
Butter chicken is a spicier curry, although the cream tones it down quite a bit.
Color
Chicken korma is typically lighter and creamier in color due to coconut milk and fewer tomatoes.
Butter chicken has a rich, deep color from the chili powder and tomatoes.
Key Ingredients
Korma is typically made with a deep caramelized onion base and frequently has nuts and coconut milk. Korma doesn't contain fenugreek but may have cilantro.
Traditional butter chicken does not contain onions and does contain fenugreek leaves. It has generous amounts of butter and cream.
Preparation
Korma is made with chicken that's cooked in the gravy.
Butter chicken is made with grilled tandoori chicken. The cooked chicken is added to the tomato-based sauce.
Similarities
Butter chicken is similar to chicken korma in a few different ways.
Both curries are Indian in origin.
Both butter chicken and chicken korma have a creamy sauce, although korma gravy is thicker.
You can eat both curries with naan bread or rice.
They are popular restaurant dishes.
Butter chicken and chicken korma are fairly mild dishes and not too spicy.
Both are very popular in the West and loved by those new to Indian cuisine.
Which of These Indian Curries You Should You Try
Both chicken korma and butter chicken have their unique characteristics and are equally delicious.
So, which curry should you try? The type of curry dish that's right for you depends on your individual taste.
Both are tasty dishes that cater to different tastes and moods. Go for the korma for milder creaminess, and try butter chicken for savory tomato richness.
One more thing to consider is the ability to make it vegetarian. Generally, you can make korma vegetarian by using vegetables instead of chicken. Butter chicken has tandoori chicken at its core, and that's hard to replicate with veggies, although you could use paneer (Indian cheese).
✏️ MY PERSONAL FAVORITE
I love both curries, but I make chicken korma more often for guests. I like it because of the subtle flavors that everyone loves. I also like that it's healthier than butter chicken. Each serving of chicken korma can have 100 to 200 fewer calories than a serving of butter chicken.
I like making butter chicken when I want to make a special occasion dish, and I'm not as worried about the calories. If you're going to make butter chicken, you need to go all the way and use ghee or butter and cream!
Which one you like better will depend on personal preference. Still, I encourage you to try both to experience each curry's distinct flavors.