There are so many Instant Pot models and sizes that deciding which Instant Pot to buy can be a daunting task. This Instant Pot Comparison Guide will help you make the right choice on the best Instant Pot model for you. Most importantly, this is a no holds barred honest summary of the Instant Pot product line, without the hype.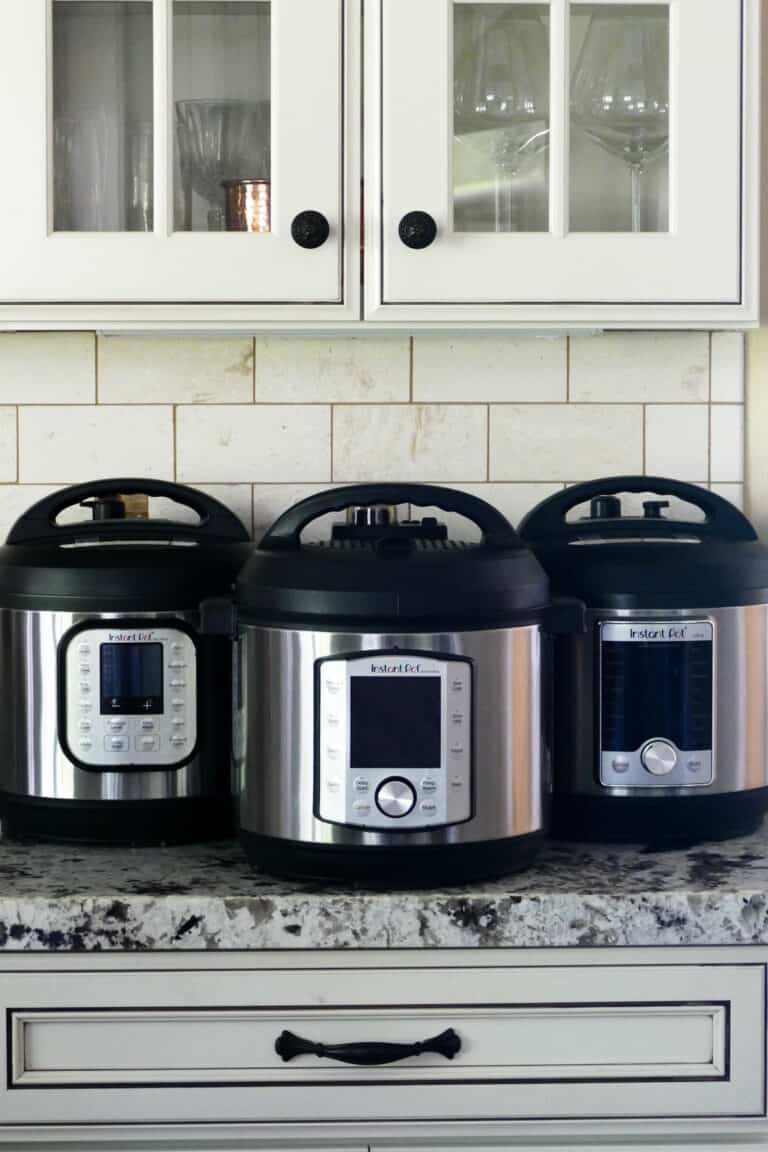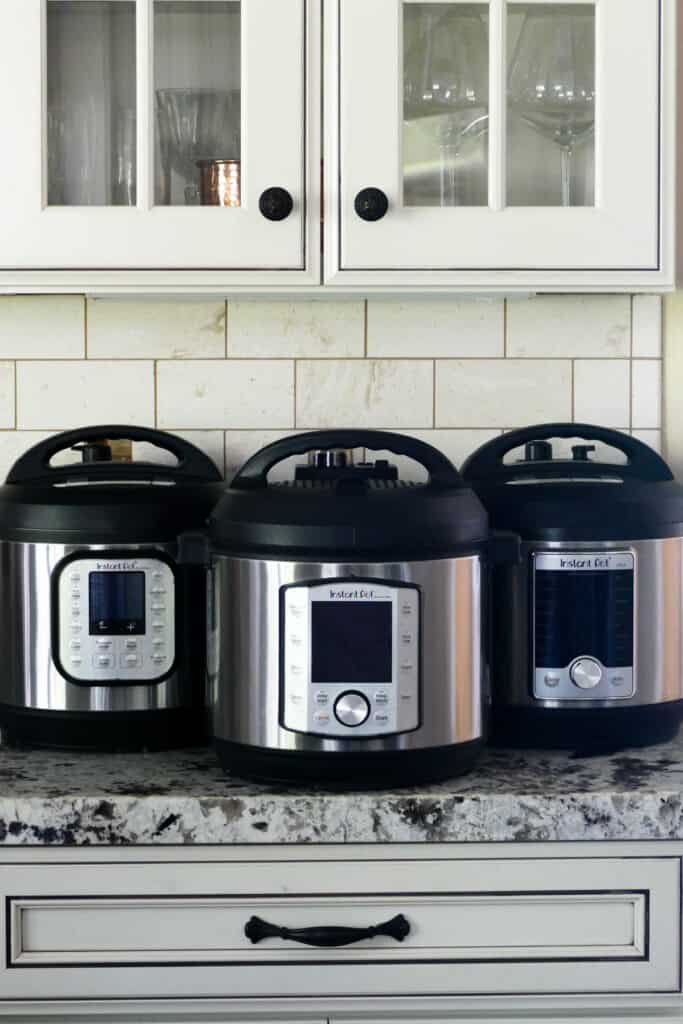 [Note: This post was updated in October 2020 with the latest information available including models and sizes.]
Introduction
Even an experienced Instant Pot user like me can get confused when comparing different Instant Pot models. There's the 3 quart vs 6 quart vs 8 quart… The Duo, the Lux, the Max…. And on top of that, there are many discontinued models and sizes!
So I can imagine that someone completely new to the Instant Pot would be even more baffled about which Instant Pot to buy.
Much of the information I present here comes from the Instant Pot company's website and from personal experience. I've tried to weed out what's not pertinent to your decision.
Most importantly, I don't recommend any model that I personally wouldn't buy for myself or my family. All opinions are mine based on my personal experience or from talking to other Instant Pot owners. I'm telling you what I would tell my friends, family, and readers who ask for my opinion.
---
What to Know Before you Buy
Total cooking time = time to come to pressure + time to pressure cook + time to release pressure.
e.g. Jasmine rice pressure cooks in 4 minutes, but it takes 10 minutes to come to pressure and another 10 minutes to release pressure for a total of 24 minutes. You need to know this before buying an Instant Pot so you're not disappointed that your rice didn't cook in 4 minutes. I hear from many readers about how they were blindsided by this.
It's great for cooking fatty cuts of meat but not that great at cooking lean meats like pork chops, chicken breast, etc.
There is a learning curve with pressure cooking e.g. avoiding the Burn message. You'll need to take some time to learn how to cook in new way. I have lots of tips and manuals that are very easy to understand. You can also visit the Instant Pot Facebook group where there's a treasure trove of information and help.
The Instant Pot requires a minimum quantity of liquid to come to pressure. This means that you will have to modify your recipes if they don't have a lot of liquid.
Don't decide on a particular model solely based on how many buttons it has. A 7-in-1 model may be able to accomplish all the things that a 10-in-1 does because many of the buttons are just presets or pre-programmed settings. The Pressure Cook button may be able to accomplish the same thing as a button on another model e.g. Steam.
The Instant Pot cannot crisp up food unless you purchase a model that includes an air fryer lid. The Instant Pot uses steam and pressure to cook the food. That's what makes meats so tender.
Finally, it is completely safe. It has numerous built-in safety features that prevent you from making major mistakes – it will just shut down if you do.
Model Differences
What is the difference between Instant Pot models? In this section, I talk about the features and options that differentiate the various models of the Instant Pot. Some of the following might be important factors in your decision-making and others might not:
Smart programs
Pressure levels
Sealing and steam release methods
Price
Miscellaneous features
Smart Programs

The smart programs are pre-programmed pressure cooking functions (e.g. Egg, Meat/Stew, Rice) that are similar to pre-programmed buttons on a microwave. They allow you to conveniently press one button and begin pressure cooking without having to set the cooking time, temperature, and pressure level.
Each Instant Pot model has a set of available smart programs. Some models have fewer available programs than others. Most smart programs can be duplicated using the Pressure Cook function (with a few exceptions).
For example, the Egg function is pre-programmed to pressure cook on high pressure for 5 minutes. However, if you don't have the Egg function, you can use the Pressure Cook function and program it for 5 minutes and high pressure.
My Two Cents: Frankly, I wouldn't choose a particular model solely based on the available pre-programmed functions. This is because you can always duplicate those missing smart programs by using the Pressure Cook function.
The only exceptions are the Yogurt, Sous Vide, and Air Fryer smart programs. If you plan to make yogurt or do sous vide, you should get a model with those smart programs. Actually, you can even get around not having the Yogurt function if you have Sous Vide. Read my post on how to make cold start yogurt for more details.
Pressure Levels
There are three pressure levels: High, Low, and None. The available pressure levels vary depending on the model and are an important consideration when choosing the model.
High Pressure is the most commonly used pressure level but Low Pressure comes in handy when cooking fish or vegetables. No Pressure comes in handy for sous vide cooking.
My Two Cents: The availability of Low Pressure is an important consideration when choosing the Instant Pot model.
Sealing and Steam Release Methods


How you seal the Instant Pot and release pressure depends on the lid design. Some of the designs are more user friendly and easier to use than others. Here are the most common lid designs:
Steam Release Handle (manual seal and pressure release)
The steam release handle needs to be manually moved from Venting to Sealing in order for the Instant Pot to seal. To release steam, the steam release handle needs to be manually moved from Sealing to Venting.
It is easy to forget to move the steam release handle from Venting to Sealing, and that can cause the Instant Pot to have sealing issues and keep it from building up pressure.
Steam Release Button (auto-seal and easy pressure release)
When you close the lid, the Instant Pot is automatically sealed. Steam release requires an easy push of a button on the lid.
Steam Release Switch (auto-seal and easy pressure release)
When you close the lid, the Instant Pot is automatically sealed. Steam release requires an easy flip of a switch on the lid.
Programmable Steam Release (auto-seal and easy pressure release)
When you close the lid it's automatically sealed. Steam release is programmed using the display panel. Some models have an additional diffused steam release feature. [Image not shown above.]
My Two Cents: The availability of the auto-seal feature and convenience of a button/switch type of steam release is an important factor in deciding which Instant Pot model to buy.
Price
Instant Pot prices vary greatly with list prices ranging from $60 to $400. But they do get discounted quite often. If you wait till Black Friday, Prime Day, or holiday sales, you're likely to get a very good deal.
My Two Cents: Stores like Kohl's, Target, Walmart, Williams-Sonoma and Costco have frequent sales throughout the year. To be able to buy the exact model you want, you'll need to watch for these special discounts.
Miscellaneous Features
Some features are available on a limited number of models. You'll want to select a model that has your desired features.
Diffused steam release
Inner pot with handles
Sous Vide function
Prop open lid
Yogurt function
Cooking progress bar
Cooking status icons
Detachable power cord
Mini mitts (you can purchase mini mitts at a reasonable price)
Extra sealing ring (you can easily purchase a separate sealing ring at a reasonable price)
Display panel aesthetics (only important if you have issues with seeing the red lettering on a black background)
Quick cool lid (nice to have, but not used very frequently)
Fully customizable temperature and pressure settings (nice to have but not used very frequently)
My Two Cents: The diffused steam release, inner pot with handles, sous vide, prop open lid, Yogurt function, cooking progress bar and status icons are features worth considering when deciding which Instant Pot to buy. The other features may not be as important in your decision-making, although I do like the detachable power cord!
---
Instant Pot Sizes
The Instant Pot comes in 4 different sizes: 3 qt, 6 qt, 8 qt and 10 qt. The 5 quart model is no longer being manufactured and the 10 quart may soon be discontinued. Read my comprehensive post to get complete details about the different Instant Pot sizes and find out what size you should buy.
If you need information about the exact dimensions of each model, read my article about Instant Pot dimensions.
---
Compare Instant Pots
Some of the models are pretty similar to each other but others are unique. Below I cover each model, the pros and cons, and my personal opinion of the model. I show you the list price as of the publish date of this article and the historical low price based on prior sales, just you get an idea of how low it can go. Current prices will vary.
---
Which Instant Pot Should you Buy?
So after all that information, are you scratching your head wondering which Instant Pot you should buy?
Best Instant Pot Size
The answer depends on how many people you're cooking for.
If you're short on counter space and only cooking for 1 or 2 people or you want an extra Instant Pot, the 3 quart might work best for you.
If you're cooking for 5 people or fewer, you can't go wrong with a 6 quart.
If you want to freeze meals and meal prep or you have a family of 6 to 8 people, an 8 quart might work better for you.
If you are cooking for very large groups, a 10 quart would work best.
Best Instant Pot Models
Which Instant Pot model to buy is a personal choice based on your needs. I recommend that you go onto the Instant Pot store website, Amazon, Kohl's and other retailers and read the reviews before you make your choice. Here are my recommendations based on my own experience.