Instant Pot 6 quart vs 8 quart. Which is better? There is no "right" answer because it depends on how you plan to use your Instant Pot. The 6 quart and 8 quart are the two most common and popular models. This article will help you compare these two Instant Pot sizes.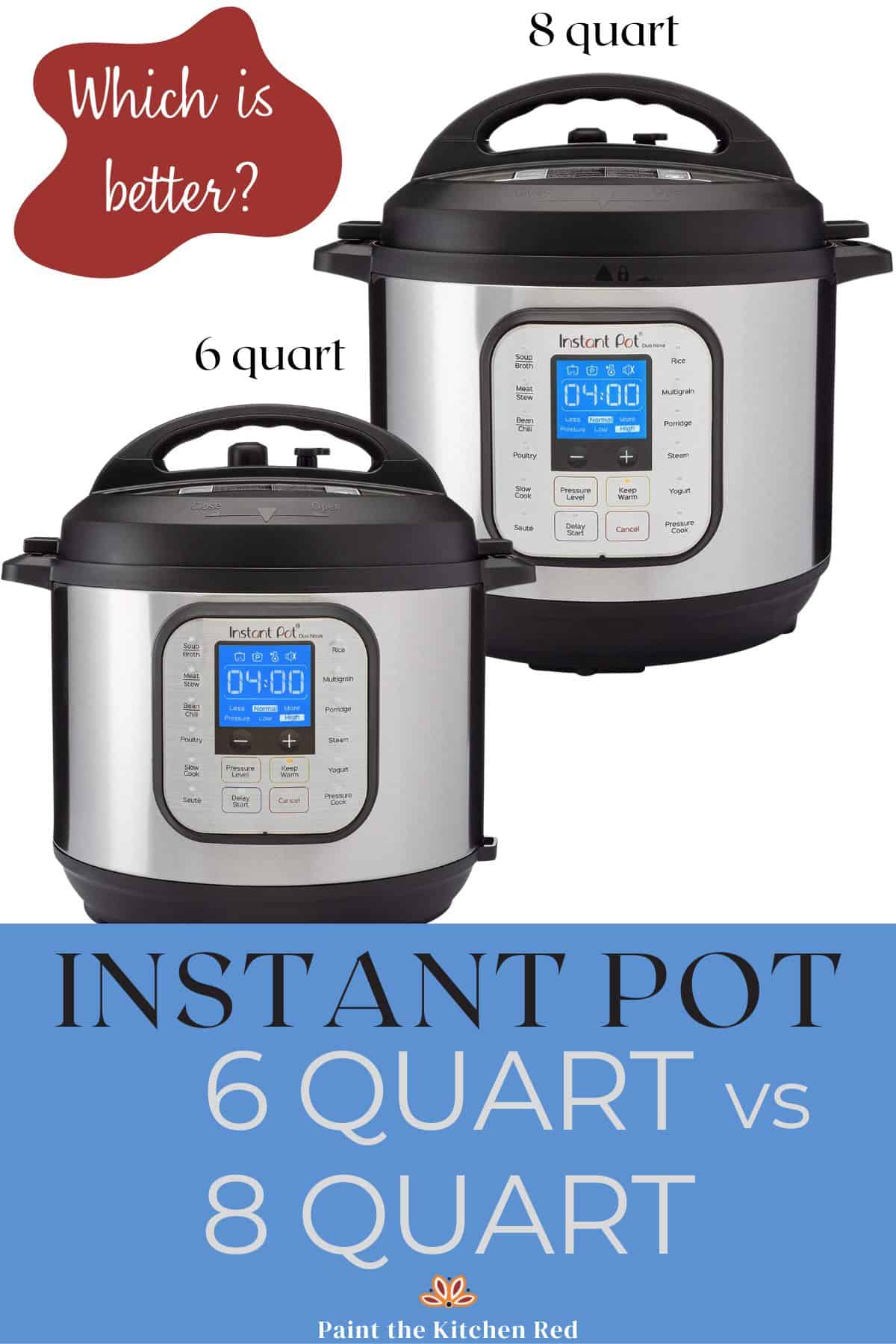 Introduction
You're probably here because you're looking to buy a new Instant Pot, and are considering either a 6 quart or 8 quart since they are the most popular Instant Pot sizes.
If you want to learn more about the 6 quart and 8 quart Instant Pots, the pros and cons, and how to choose the right size, you're in the right place.
The Instant Pot electric pressure cooker comes in 4 different sizes: The 3 qt Instant Pot is the smallest size. The 6 qt is the most popular size, the 8 qt Instant Pot is the next size up, and finally, the large Instant Pot 10 quart, which has recently been discontinued.
Not all models come in all sizes. Some models only have one or two sizes available.
But in this article, I'll focus on the 6 quart and 8 quart sizes of Instant Pot, the differences between them, and help you decide between the two sizes.
---
What is an Instant Pot?
Instant Pot is a multi-cooker from Instant Brands. A multi-cooker is an appliance that has many functions including pressure cooker, rice cooker, slow cooker, yogurt maker, steamer, etc.
The functions that are offered in the different models can vary. Some models have additional functions such as air fryer and/or sous vide. All these smart functions are also known as smart programs.
The Instant Pot also has many built-in safety features that make it a worry-free appliance.
Learn more about your Instant Pot…
Also mistakenly referred to as Insta pot, Instant Pot has become so popular in recent years that the word Instant Pot is used as a generic name for pressure cookers of any brand.
Although the Instant Pot multicooker has many different functions, the most commonly used is the Pressure Cook function. Pressure cooking allows the cook time to be a fraction of the time it would take in a pan or in an oven.
If you're new to the Instant Pot and aren't familiar with how to use it, here are my guides on how to use some popular Instant Pot models:
---
What are the important factors to consider?
Before deciding on what size to get, there are a few factors to consider:
Compare Instant Pot Models...
How big is the 8 quart compared to the 6 quart?
The 8 quart Instant Pot is approximately 1.5 inches wider, 1.5 inches taller, and 3 lbs heavier than the 6 quart. I use the word "approximately" because the Instant Pot size varies from model to model.
The models with an air fryer lid are slightly taller (by about 1 inch) and quite a bit heavier (about 5 to 10 lbs heavier) than the dedicated pressure cooker models.
The chart below gives you a general idea of the dimensions. Since every model is slightly different, to get exact measurements for each model, read my article on Instant Pot dimensions, which also tells you the dimensions of the inner pot.
SIZE
WEIGHT
DIMENSIONS *
6 Quart
(Pressure cooker only)
14.8 lbs
6.7 kg
13.2 x 12.2 x 12.5 in
(33.5 x 31 x 31.7 cm)
8 Quart
(Pressure cooker only)
18 lbs
(8.2 kg)
14.8 x 13.3 x 14.2 in
(37.6 x 33.8 x 36.1 cm)
6 Quart
(w/ Air fryer lid)
19.6 lbs
(8.9 kg)
13.5 × 13.5 × 13.9 in.
(34.5 x 34.5 x 35.5 cm)
8 Quart
(w/ Air fryer lid)
22.1 lbs
(10.0 kg)
14.7 × 13.5 × 15.2 in.
(37.5 × 34.5 × 38.8 cm)
* Length x Width x Height
(Length is the wider part of the base unit, with handles)
What is the Capacity of the 6 qt vs the 8 qt?
✏️ Helpful Information
1 quart = .94 Liters = 2 Pints = 4 Cups.
Generally speaking, each quart serves approximately one person.
Max fill line is labeled on the inner pot as "PC MAX – 2/3" and is the maximum level up to which you can fill the Instant Pot.
The 6-quart model has a capacity of 6 quarts but its max fill line is at about 4 quarts. The 6 quart Instant Pot serves about 4 to 6 people.
The 8-quart model has a capacity of 8 quarts, but you can only fill it up to the max fill line which is about 6 quarts of liquid. The larger pot allows you to cook more food and serves about 6 to 8 people.
---
Do the 6-quart Instant Pot and 8-quart have different features?
When comparing the 3 quart vs 6 quart, the 3 quart version is missing a few smart programs that the 6 quart has. However, when comparing the 6-quart and 8-quart Instant Pots, they have virtually identical smart programs (within the same Instant model). However, here are some things to consider:
For some models, the 6 quart size has a detachable power cord but the 8 quart counterpart has an attached cord.
The standalone air fryer lid is only available for the 6 quart Instant Pots (whose inner pot doesn't have handles).
Most Instant Pot-specific accessories fit both the 6-quart and 8-quart, but the 8-quart Instant Pot also accommodates larger accessories with larger capacity, including some you may already use for oven baking.
The 6 quart has a minimum liquid requirement of 1 1/2 cups and the 8 quart has a minimum requirement of 2 cups.
---
What is the price difference between the 6 quart and 8 quart?
The price difference between the two sizes is about $20 (based on the list price). However, there are always sales going on at amazon or other retailers, so you can always find a deal for either size. Below are some samplings of the different models.
Popular Instant Pot models
PRO 6 QT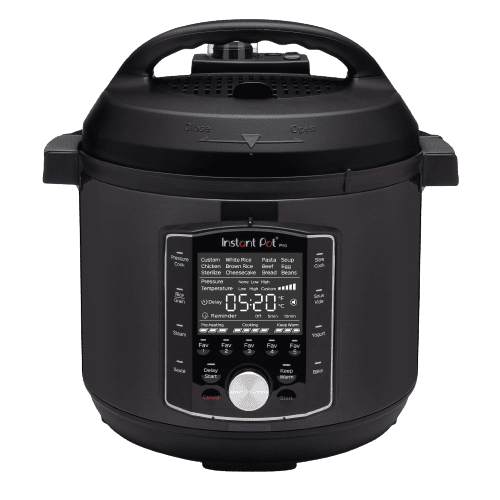 DUO CRISP 6 QT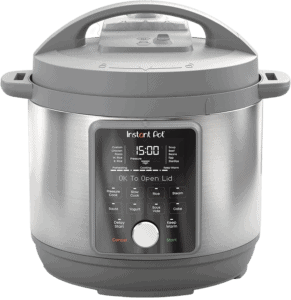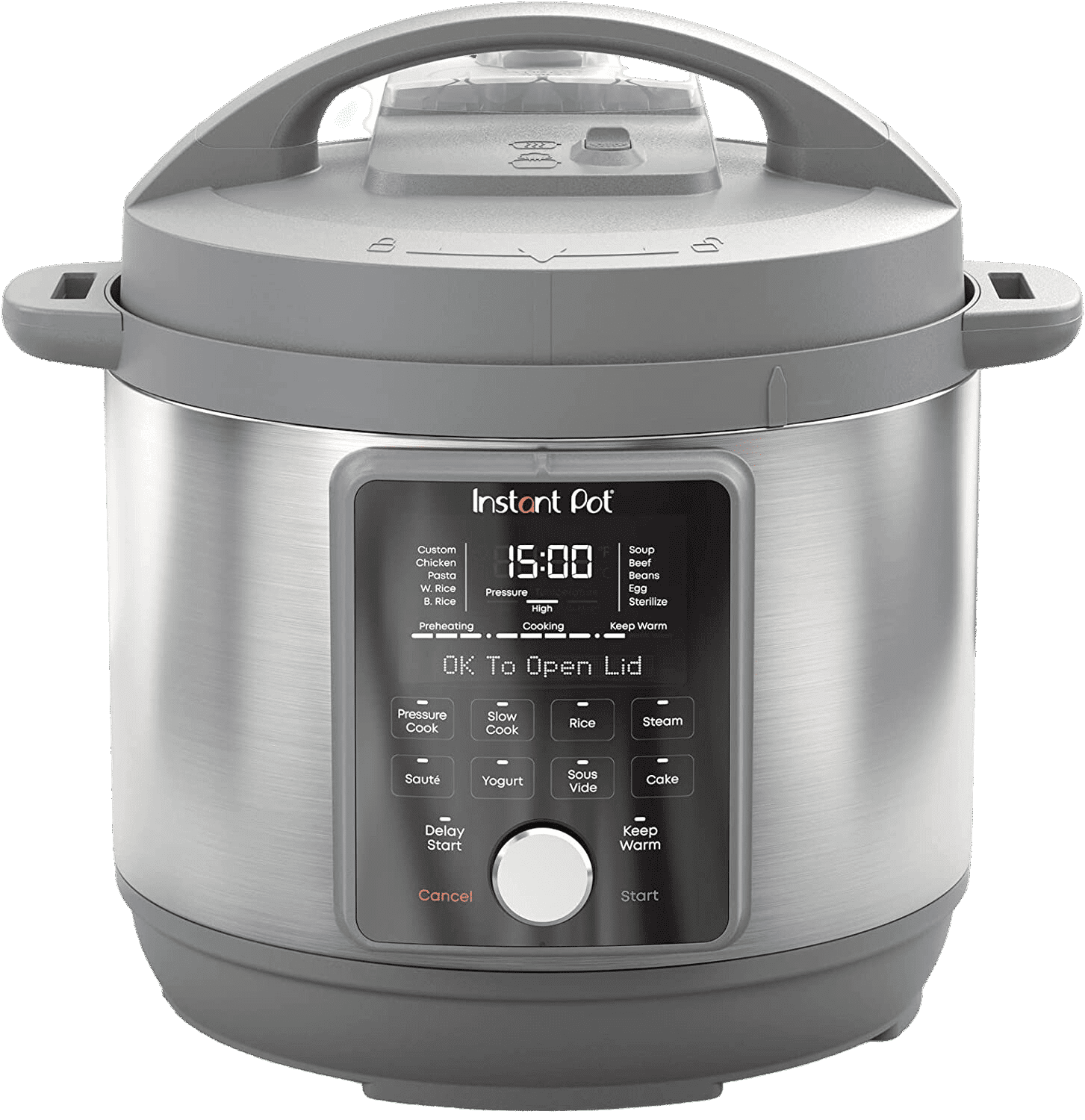 PRO CRISP 8 QT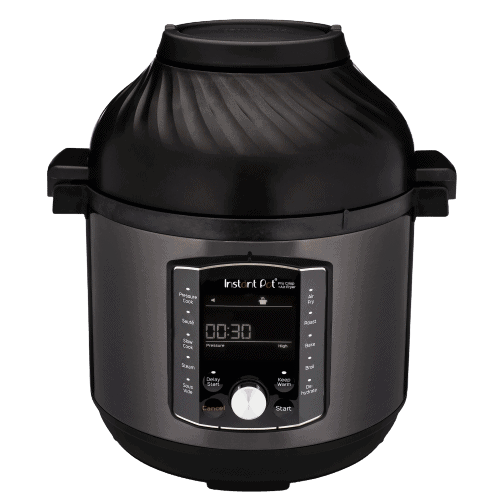 Is there a difference in cooking time?
I own two different sizes of the same model of Instant Pot. I tested them by pressure cooking the same quantity of water (2 cups) in each one.
When the Instant Pot starts building pressure, first the float valve comes up, then the display changes from On and begins a countdown to zero.
The 8 quart took 15 seconds less time to come to pressure and to start counting down than the 6 quart did.
This is because there's a larger surface area at the bottom of the bigger pot and so the water heats up faster, making the cooking time slightly less.
I don't see this as noticeable enough to make a difference in your decision-making.
Should I Buy the 6 Qt or 8 Qt?
The choice between the two sizes is a personal decision based on your lifestyle. I have a family of 5 and almost always use my 6 quart. I do like to have leftovers for the next day and the 6 quart usually allows for that.
I use my 8 quart when I have guests or if I'll be hosting a large group. I also use the 8 quart when I want to make a whole chicken or large piece of meat. A whole chicken will fit in the 6 quart but if it's a larger chicken, it can be a tight squeeze.
6 Quart
Best For:
Those who have limited counter space – the smaller footprint takes up a bit less space.
Families of 3 to 5 people who don't need a lot of leftovers – the 6 qt. is the most popular size of Instant Pot and is a good fit for most families.
Families of 1 to 2 people who want leftovers or who entertain often.
Pros:
Most Instant Pot recipes are tested on the 6-quart Instant Pot, so there should be no modifications required.
Takes up less room than the larger size.
A versatile size that meets most people's needs.
You can use the air fryer lid accessory with this size.
Cons:
You can't fit very large food such as a 6 lb chicken, or a large roast or ham.
I own numerous 6 quarts and love this size. For my family of five, this size is large enough to cook a whole meal with some leftovers. It's the size I recommend for most people. I keep mine on my countertop. Minimum liquid requirement: 1 1/2 cup
---
8 Quart
Best For:
Larger families of 6 or more people.
Families with big eaters (we're talking about those growing teens!)
Families of 3 to 5 people who like to have leftovers or who entertain often.
Those who like to do meal prep, freezer meals, and batch cooking.
Pros:
May not need to buy new accessories since the diameter may accommodate regular-sized dishes (about 8 inches) that you already own.
Great for making bone broth to freeze.
Perfect size for doubling and tripling recipes.
Will easily fit larger food items such as a whole chicken, multiple slabs of ribs or a large roast.
Can easily cook two dishes at once using pot in pot method (PIP) eg. jasmine rice on the bottom and red curry on top.
Great for freezer meals such as a large pot of chili.
The larger Instant Pot allows you to sous vide more food.
Cons:
As of now, you can't use the air fryer lid accessory with this size (but you can purchase the Duo Crisp 8 qt model which comes with an air fryer lid.)
Some accessories are made for both the 6 qt and 8 qt sizes. e.g. the air fryer basket that comes with the 8 quart fits the 6 quart too. It would be nice to have a slightly larger basket to accommodate more food.
8 quart recipes may require some modification of the recipe e.g. increase the liquid, especially when the liquid quantity in the recipe is less than a cup.
This size is quite a bit bulkier and heavier than the 6-quart size. This is especially true with the models that have an air fryer lid.
The cord is not detachable as it is with some 3-quart and 6-quart models.
I own a couple of 8 quarts and I find it's most useful when I want to double or triple a recipe. It also comes in handy when I'm cooking for guests or during the holidays. It easily fits larger food like a whole chicken or roast. If you're debating between a 6 qt model and 8 qt and you're cooking for 5 or more, you probably want to go with the 8 quart. Minimum liquid requirement: 2 cups
---
The Bottom Line
The 6 quart is best if you're cooking for 5 people or fewer or you want to be able to follow online recipes without having to modify them too much.
The 8 quart will work for you if you have a family of 6 to 8 people.
If you like to have lots of leftovers, buy the 8 quart.
If you're looking to batch cook and freeze meals, buy the 8 quart. You can always make a smaller quantity in a larger-sized Instant Pot but you can't make more in a smaller size Instant Pot!
If you have any questions that I haven't answered in this article, please comment and I will be sure to respond!