Are you seeing an Instant Pot burn message?  It's a common problem that many Instant Pot users come across!  Find out why you're getting the Instant Pot burn error message, how to avoid the problem in the future, and how to recover from a burn error and salvage your meal.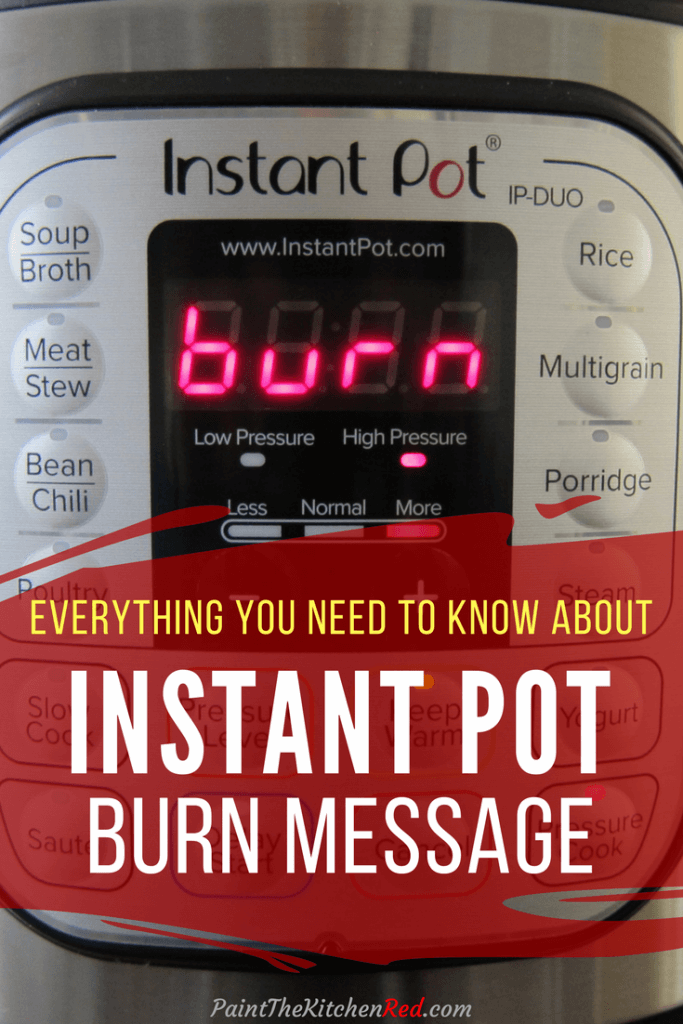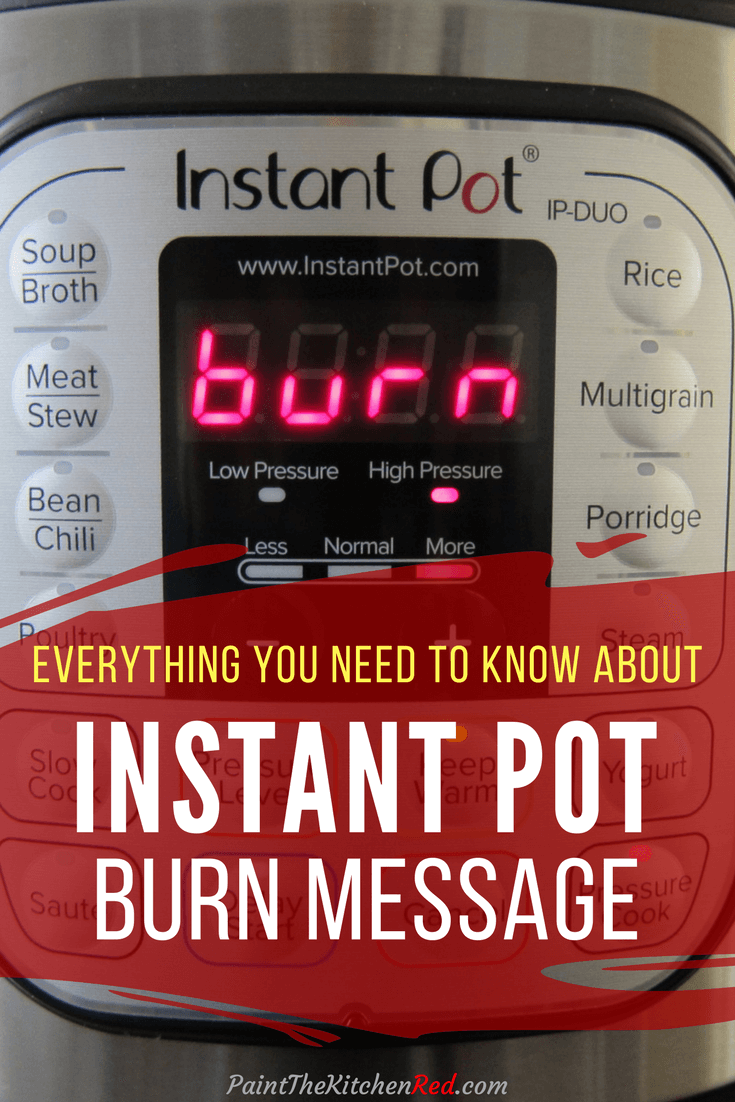 Lately I've been seeing a trickle of complaints about two of my tried and tested recipes: Instant Pot Penne with Sausage and Instant Pot Jambalaya. People are asking me why they're getting a burn error and what it means when the Instant Pot display says burn.
I own two Instant Pots, and I never see the burn message.  I know other bloggers who are also facing this issue with some of their recipes.  Their readers are having issues with rice, pasta, and chili recipes in particular. So I did some digging to find out what's going on.
The Instant Pot has a burn-protection sensor that monitors temperature. According to the Instant Pot website, when a high temperature is detected at the bottom of the inner pot, the burn-protection sensor suspends heating.  On prior Instant Pot models the warning 'ovHt' (overheat) is displayed.  This message has been changed to 'burn' on newer Instant Pot models.
Some people who own multiple models tell me that they see the Instant Pot burn message more frequently on the newer Instant Pots than they do the ovHt message on the older Instant Pots.  They also say that the newer models seem to be reaching a higher temperature than previous models.  Some even notice certain 'hot spots'  on the bottom of the inner pot, where food tends to scorch.
Getting the burn alert doesn't mean that there's something wrong with your Instant Pot.  It just means that your Instant Pot works differently from previous models and so recipes written for older models may not work as written, and you'll need to make a few modifications and  follow some tried and tested pressure cooking techniques.
It appears that the burn alert happens more often with the newer 8-quart Instant Pots.  Both Instant Pots I own are older model 6 quarts, so I borrowed an older model and newer model 8 quart from a couple of friends.  I tested the above-mentioned recipes in both Instant Pots numerous times, and made a few discoveries.
If you're seeing the Instant Pot burn message, the following sections tell you why this may be happening, how to avoid it in the future, and how to fix it when it happens to you.
Thanks to the members of the Facebook groups run by Two Sleevers and Simply Happy Foodie for sharing some of their experiences with the Instant Pot burn error.  Thanks also to Monica and Kim for parting with their Instant Pots for a few days!
[Read: 16 Reasons Why your Instant Pot is not Sealing]
---
Common Reasons for Instant Pot Burn Message and How to Avoid It
1. Sealing Ring Issues
If your sealing ring is not installed properly or if it's missing, your Instant Pot will leak steam, and that will cause the food at the bottom to scorch and your Instant Pot display will say burn.
SOLUTION:  You need to make sure that the sealing ring is pushed into the sealing ring rack all the way in and all around.  Clean the sealing ring after use and don't forget to put it back in place when you begin pressure cooking.  Sealing rings can also get worn out or stretched out over time, requiring replacement.
2. Steam Release is Venting

If your steam release handle is in the Venting position or the steam release button is accidentally stuck in the down position (Ultra model), your Instant Pot will leak steam, and that will cause the contents to burn.
SOLUTION:  Verify that the steam release handle or button is in the Sealing position.
3. Not Enough Liquid
Pressure cookers work by building pressure from steam generated in the pot, which in turn cooks food at high temperatures.  This steam cannot be created if there isn't enough liquid in the Instant Pot.
SOLUTION: According to the Instant Pot company, your Instant Pot pressure cooker requires 2 cups of liquid.  If you're just starting out, you can prevent the burn notice by always using the minimum recommended quantity of liquid.
Through trial and error, I make recipes with less liquid, even as little as 1/2 cup.  To figure out what your minimum quantity of liquid is, you can experiment by doing the water test or initial test run with different quantities of water.  According to Jill Nussinow of The Veggie Queen, and author of Vegan Under Pressure cookbook, start with 1/4 to 1/2 cup, and increase the quantity with each subsequent test until you're able to get the Instant Pot to come to pressure and stay under pressure for 5 minutes.
Keep in mind that many foods (e.g. vegetables, meats) release liquid and that counts toward the minimum liquid requirement.  Canned tomato products and thick sauces don't count toward the quantity of liquid because they are too dense.
Note: When you're adding liquid, make sure it gets underneath any food that's already in the inner pot.  This prevents the food from scorching and creates steam.
4. Inner Pot not Deglazed
If you're using the Saute function, food can get stuck on the bottom of the Instant Pot.  This can block the heat sensor and trigger the Instant Pot burn warning when you start pressure cooking.
SOLUTION: After sauteing and before pressure cooking you need to deglaze the inner pot.  Deglazing involves adding a thin liquid like wine, water or broth to the hot surface and scraping the bottom with a silicone scraper or wooden spatula to remove the caramelized and brown bits that are stuck.
Deglazing adds wonderful flavor to your dish, but more importantly, it cleans the inner pot.  So any liquid that you add will make full contact with the bottom of the inner pot and that allows the sensor in the Instant Pot to properly register temperature and pressure.
5. Recipe Contains Tomato Products or Prepared Sauces
Recipes containing products like tomato paste, tomato puree, tomato sauce, cream of chicken, cream of mushroom and alfredo sauce tend to scorch on the bottom while the Instant Pot is coming to pressure.   These ingredients are not thin enough to build steam and some contain fillers like corn starch, flour or cheese which tend to scorch.  I see lots of complaints about chili recipes causing the burn notice.
SOLUTION: One pressure cooker technique that's commonly used to prevent foods from burning and sticking to the bottom is to layer the ingredients in the Instant Pot. If the recipe you're using tells you to mix all ingredients together before pressure cooking, but you have issues with the burn error, next time adapt the recipe by doing the following:
Add the dense and starchy ingredients last: e.g. tomato-based or thick sauces
Don't stir
Cover and pressure cook as directed
Another option is to use the Pot-in-Pot (PIP) cooking method to cook dishes that have thick sauces.  You don't ever have to worry about the burn message when you use the PIP technique.
6. Recipe Contains Starch (Pasta, Rice)
Stirring in and incorporating pasta and rice with all the other ingredients may give you a burn message.
SOLUTION: The layering technique described in the above section can also be used for starchy ingredients.  Instead of stirring them in, add them at the end, right on top.  The pasta or rice needs to be submerged in liquid, so push down on it with a large spoon or spatula to make sure it's covered in liquid.
7. Instant Pot Too Hot After Sauteing
If you use the Saute function immediately before pressure cooking, especially if you're using high heat, it's possible you'll get an Instant Pot burn message.
SOLUTION: Use medium temperature for sauteing and turn off and cool down the Instant Pot after sauteing and deglazing.  You can cool it down quicker if you remove the inner pot from the unit and set it on a hot pad or cooling rack.
Alternately, you can saute on the stovetop and transfer the sauteed food to the Instant Pot to pressure cook.
Note: I find that allowing the Instant Pot to cool down after sauteing is one of the best ways to avoid the burn error.
8. Recipe Tested with Different Instant Pot Size
If the recipe was written for the 6 quart Instant Pot, and you are using an 8 quart, it's possible that there may not be enough liquid for the 8 quart to come to pressure.
SOLUTION:  Either double the recipe or add an extra 1/2 to 1 cup of liquid.  Keep the cooking time the same.
---
What to do when you get an Instant Pot burn message
Sometimes the Instant Pot says 'burn' and then changes to 'On'.  If this happens to you, just say 'thank you' and let it keep cooking.  You'll probably have some food stuck on the bottom, but you should be able to salvage most of it.
In some rare cases, the scorched/burnt taste may penetrate the entire dish and you may need to start over.  But in most cases, it's possible to salvage your meal when you get the burn error, by doing the following:
1. Press Cancel to Turn Off the Instant Pot 
2. Do a Quick Release of Pressure (QR)
3. Open the Lid
4. If there's nothing stuck to the bottom:
Let the Instant Pot cool down.
Most likely, the original liquid may have partially evaporated.  Add enough liquid to replace the original liquid that evaporated, plus an additional 1/2 to 1 cup.  Lift the food with a spatula to allow the liquid to reach the bottom of the inner pot.
Resume pressure cooking the dish.
5. If there's food stuck to the bottom:
Transfer contents that are not stuck to the bottom to a separate bowl.
Scrape and clean out the inner pot so there's nothing stuck on the bottom. * See tip below
Allow the Instant Pot unit to cool down.
Most likely, the original liquid may have fully or partially evaporated.  Add enough liquid to replace the original liquid that evaporated, plus an additional 1/2 to 1 cup.
Resume pressure cooking.
* Tip: How to Clean Burnt Food from Inner Pot
---

Select Saute mode and allow the Instant Pot to get hot.
Add 1/2 cup of water to deglaze.
Scrape the bottom of the inner pot until the food gets unstuck, adding more water as needed.
Turn off the Instant Pot.
Empty out the inner pot, wash, and dry.
 6. If necessary, reduce the liquid to desired thickness
If you added extra liquid to allow the Instant Pot to come to pressure, you might find that the dish is too watery after pressure cooking is complete.  In this case, after opening the Instant Pot, select the Saute function to reduce or cook out the liquid.  Another option is to add a mixture of corn starch and cold water to thicken the dish.
 7. Optional: use the Pot-in-Pot (PIP) method to finish cooking the dish
Check out my comprehensive guide to using the Pot-in-Pot (PIP) pressure cooking method.  This is a great alternative if you want to avoid any further hassles with the Instant Pot burn error. Just transfer all ingredients to a separate oven-proof dish that will fit in your inner pot and use PIP to finish pressure cooking.
---
** Bonus Tip **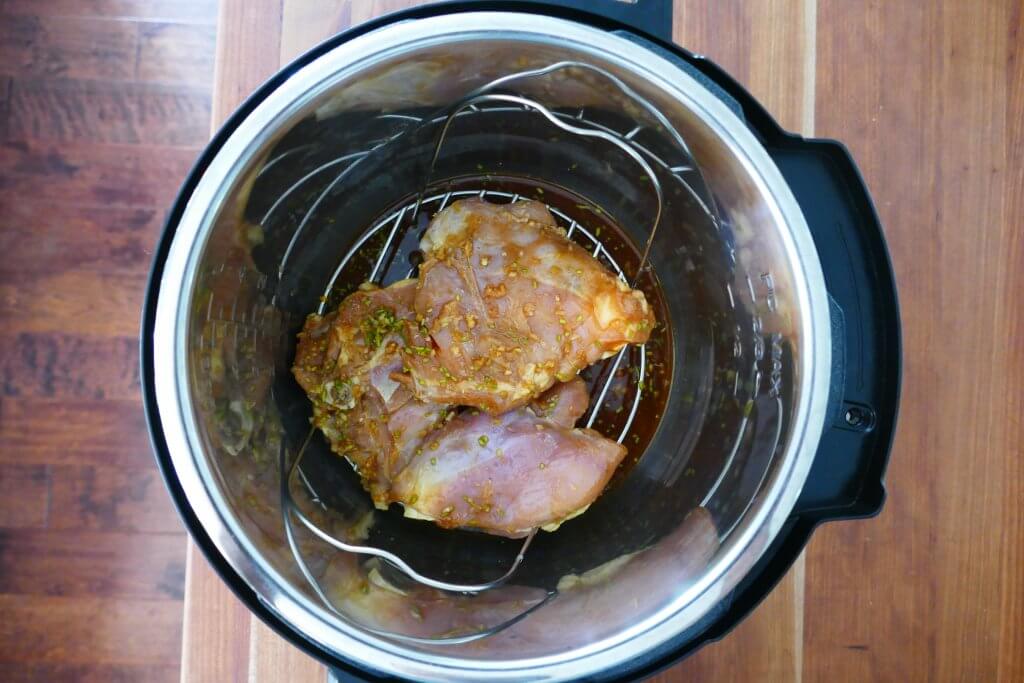 I frequently put my meat on a trivet to raise it up a bit so that the liquid can cover the bottom of the inner pot;  this works really well when the quantity of liquid in my recipe is minimal.
---
I hope this article has helped you learn about the Instant Pot burn message and how you can avoid it and fix the problem.  Please share on social media using the links at the top and bottom of this article.  Thanks so much!
You might also find these helpful: