You may see recipe instructions telling you to deglaze your Instant Pot. What does it mean to deglaze a pan, why should you do it and how do you deglaze? Deglazing adds flavor to your recipes but more importantly, it keeps away the burn message! Find out everything you need to know about deglazing and get step by step instructions.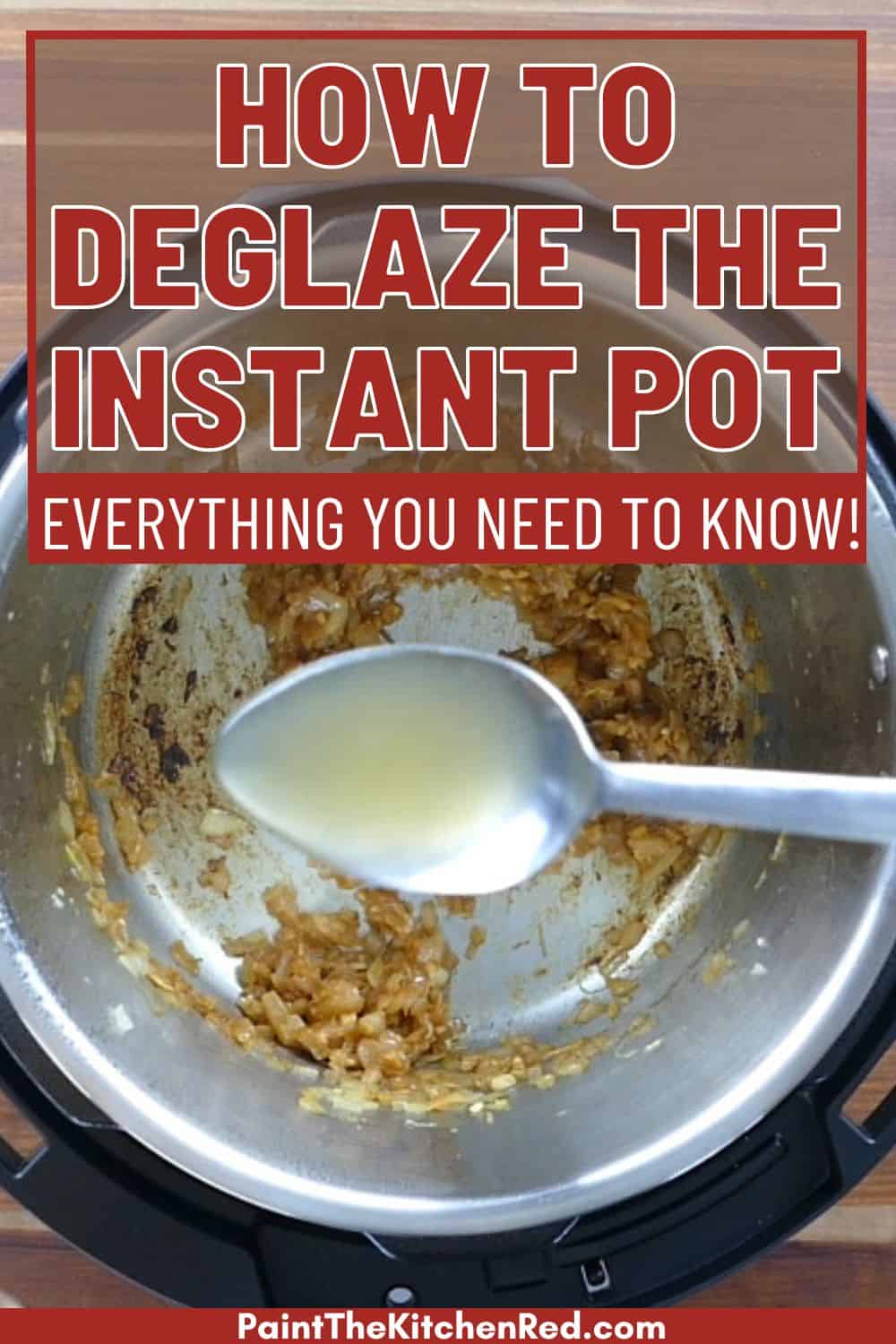 This post contains affiliate links. As an Amazon Associate, I earn from qualifying purchases. Please read the disclosure.
Read more about why your Instant Pot shows "burn" and Instant Pot sealing issues.
What does it mean to deglaze the pot?
Deglazing is a commonly used cooking technique for the stovetop and Instant Pot. Deglazing is the process of removing the browned bits of food stuck to the bottom of the pan by adding thin liquid to a hot pan.
These brown bits are full of flavor (as long they're not burned bits!) and deglazing allows you to dissolve them into the cooking liquid, which adds depth and richness to your dish.
Instant Pot Recipes that Use the Deglaze Technique
Why deglaze your Instant Pot pressure cooker?
Deglazing is an important part of the cooking process when you use an Instant Pot.
Deglazing not only adds wonderful flavor to your dish but more importantly, it cleans the inner pot.
So any liquid that you add will make full contact with the bottom of the inner pot and that allows the sensor in the Instant Pot electric pressure cooker to properly register temperature and pressure.
The most important reason to deglaze an Instant Pot is to avoid the dreaded Burn message. Stuck food can create a barrier between the inside of the pot and the heat sensor, and this can cause the Instant Pot food burn notice. This is why it's essential to deglaze after using the Saute button if any food is stuck to the pot.
Deglazing also helps add flavor to the dish. When you use the Saute function for foods (such as ground beef, chicken, or onions), the food browns and releases its natural juices. This food sticks to the bottom to form a crust. Deglazing incorporates this browned crust into the dish, and that adds depth and richness to your recipe.
Deglazing allows you to keep your Instant Pot clean. After you've used the Instant Pot to brown meat or other foods, deglaze to make cleanup easier. By adding hot thin liquid to the inner pot, all the bits of food stuck get loosened much easier. Deglazing is also a great way to clean out an Instant Pot with burnt food pieces stuck to the pot.
Instant Pot Tips and Tricks
Delay Start
Learn about how to use the Delay Start feature, which allows you to begin pressure cooking at a future time.
Deglazing after sauteing (step by step instructions)
After sauteing and before pressure cooking you need to deglaze the pot in order to avoid the burn warning.
After you've sauteed the food, add ¼ cup of broth, wine, or water to the hot inner pot. Add a little liquid at a time, about one tablespoon at a time.
Use a silicone spatula or wooden spatula to scrape the bottom of your Instant pot, loosening any caramelized or brown bits that are stuck. There should be nothing stuck when you're done deglazing.
In Sauté mode, reduce the liquid until mostly evaporated.
How to deglaze an Instant Pot when you get the burn message
When your Instant Pot says burn and you open the lid, you'll most likely find that the bottom of your pot is covered in a burnt layer of food. It can be difficult to remove this layer even by forcefully scrubbing the pot. I've found a pretty easy way to clean it when this happens:

Do a quick release by moving the pressure valve to the venting position if the Instant Pot is under pressure.
Transfer food to a large bowl.
Select the Sauté function and allow the Instant Pot to get really hot.
Add water to the pot (I prefer to use boiling hot water).
When the liquid comes to a boil, scrape the bottom of the inner cooking pot until the food gets unstuck, adding more hot water as needed.
Press Cancel.
Empty out the pot, wash, and dry.
Continue cooking, and for best results, make sure you add enough liquid.
✏️ IMPORTANT INFORMATION
If you are getting the burn notice, there are easy steps you need to follow to avoid it. See my detailed Instant Pot burn message step by step guide on how to recover from a burn error and how to avoid it in the first place.
Tips and tricks
Here are some additional tips for deglazing your Instant Pot:
Use a wooden spoon to scrape the bottom of the pot. Metal utensils can scratch the pot's surface.
If you overcrowd the pot when sautéing or searing food, the food can stick to the bottom and scorch.
If the food is really stuck and not coming loose, you can use a little vinegar or lemon juice to help loosen it.
It's preferable to deglaze with beef broth, chicken broth, red wine, or white wine because they add flavor to your dish compared to water.
✅ Why Trust Neena at Paint the Kitchen Red?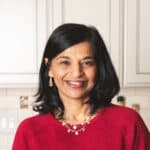 Neena has extensive knowledge and lifelong experience in using pressure cookers. The years of practice have honed her skills in maximizing the potential of a pressure cooker, resulting in consistently delicious and well-cooked meals. Her Instant Pot expertise enables her to provide valuable insights, troubleshooting advice, and innovative recipe ideas, making her a reliable source for all things Instant Pot!