Air fryer frozen chicken tenders cook up crispy on the outside and tender and juicy on the inside. Make chicken strips in the air fryer in a fraction of the time that it takes to bake them in the oven or deep-fry them. Air fry chicken tenders for a delicious snack!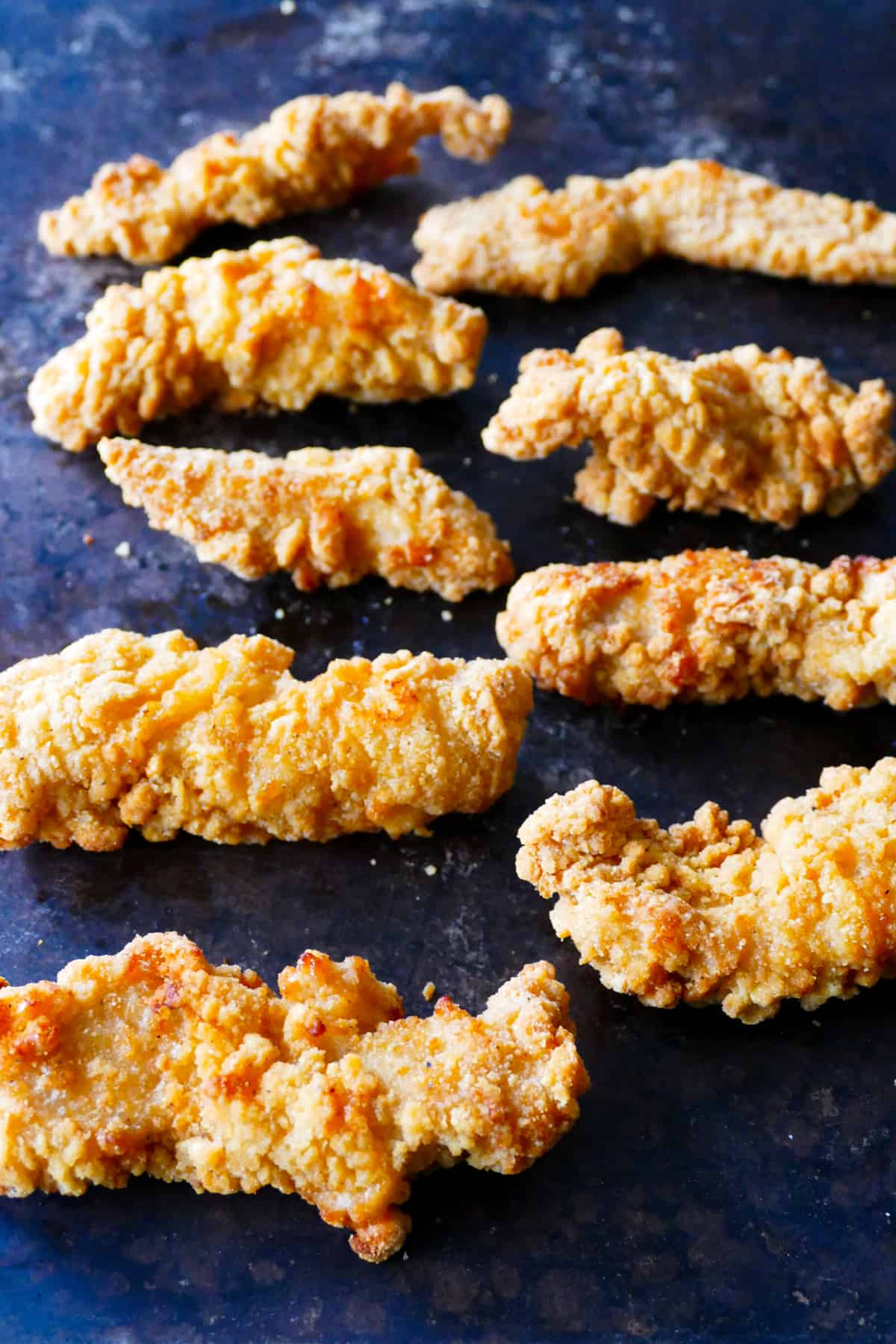 This post contains affiliate links. As an Amazon Associate, I earn from qualifying purchases. Please read the disclosure.
I've come to believe that the air fryer is the best way to heat up frozen foods. It's definitely healthier than deep frying and it's faster than the oven, plus food comes out crispier due to the constantly circulating air in an enclosed space.
You can air fry all kinds of foods like frozen chicken wings, taquitos, fish fillets, tater tots, chicken nuggets, and chicken tenders. You can even air fry frozen broccoli!
Air Fryer Frozen Foods
With air fryer snacks from egg rolls to french fries, and chicken nuggets to frozen pizza, you may have a hard time deciding what to make from this collection of quick and easy air fryer recipes.
GET RECIPE DETAILS
Chicken tenders are a fast food favorite and the frozen tenders can be a quick and easy kid-friendly afterschool snack, lunch, or dinner. You can make crispy, crunchy chicken tenders in the air fryer, from frozen, in less than 20 minutes.
Chicken tenders are breaded chicken strips that are also referred to as chicken fingers. They're a great snack, especially for a hungry crowd.
Be sure to check out my post that has all the cooking times for the air fryer, organized by type of food, including frozen foods.
💡DID YOU KNOW?
Although the terms chicken tenders and chicken strips are used interchangeably, technically the chicken tender comes from the chicken tenderloin which is a separate part of the breast meat. And chicken strips are strips of white meat chicken breast.
Here are some more easy Air Fryer Recipes you might enjoy:
– Air fryer salmon
– Air fryer cauliflower
– Air fryer brussel sprouts
Tips for Making Air Fryer Frozen Chicken Strips
---
Preheat the air fryer before putting the tenders in.
Until you are ready to cook frozen chicken tenders, keep them in the freezer. There's no need to thaw the chicken strips.
Every air fryer will vary. The first time you make this recipe, monitor the chicken and check on it 2 minutes before the cooking time is up. Adjust the recipe as needed.
Chicken strips or tenders tend to come in all sizes and larger pieces may take longer to cook. Some pieces can have more heavy breading. Adjust the recipe accordingly. Remove smaller pieces from the air fryer earlier, to prevent them from overcooking.
Don't overcrowd the basket. It's best to place the chicken pieces in a single layer, without stacking them so they crisp evenly.
Shake the basket or turn the chicken tenders halfway through air frying.
Measure the internal temperature of the largest piece with a digital meat thermometer. The general guideline is that it's ready when the temperature reaches 165 degrees F.
Serve air fryer chicken strips with your favorite dipping sauce (ketchup, bbq sauce, honey mustard) for an easy party appetizer.
FAQS
---
Do I need to coat the air fryer basket with oil spray?
You don't need to use any oil in this recipe. I've never had the chicken strips stick to the bottom.
How long do you air fry chicken strips?
Cook frozen chicken strips for about 12-14 minutes at 380 degrees Fahrenheit, shaking the basket once at 5 minutes.
What brand of frozen chicken strips was used in this recipe?
I used Tyson frozen chicken strips but also I've used Foster Farms and Perdue chicken breast strips. You can also use store brand chicken tenders from your grocery store. Just keep an eye on the chicken and check on it two minutes before the cook time is up.
What brand of air fryer was this recipe tested with?
This recipe was tested using Cosori air fryer.
What should I do if the air fryer frozen chicken strips aren't crispy?
Air fry the chicken for another 2 to 3 minutes, increasing the temp to 400 degrees F.
Can I reheat the chicken strips in the air fryer?
Yes, leftover chicken can be stored in an airtight container in the fridge for 2 to 3 days. Reheat the chicken strips by air frying them for 2 to 3 minutes at 350 degrees Fahrenheit.
How to Make Frozen Chicken Tenders in Air Fryer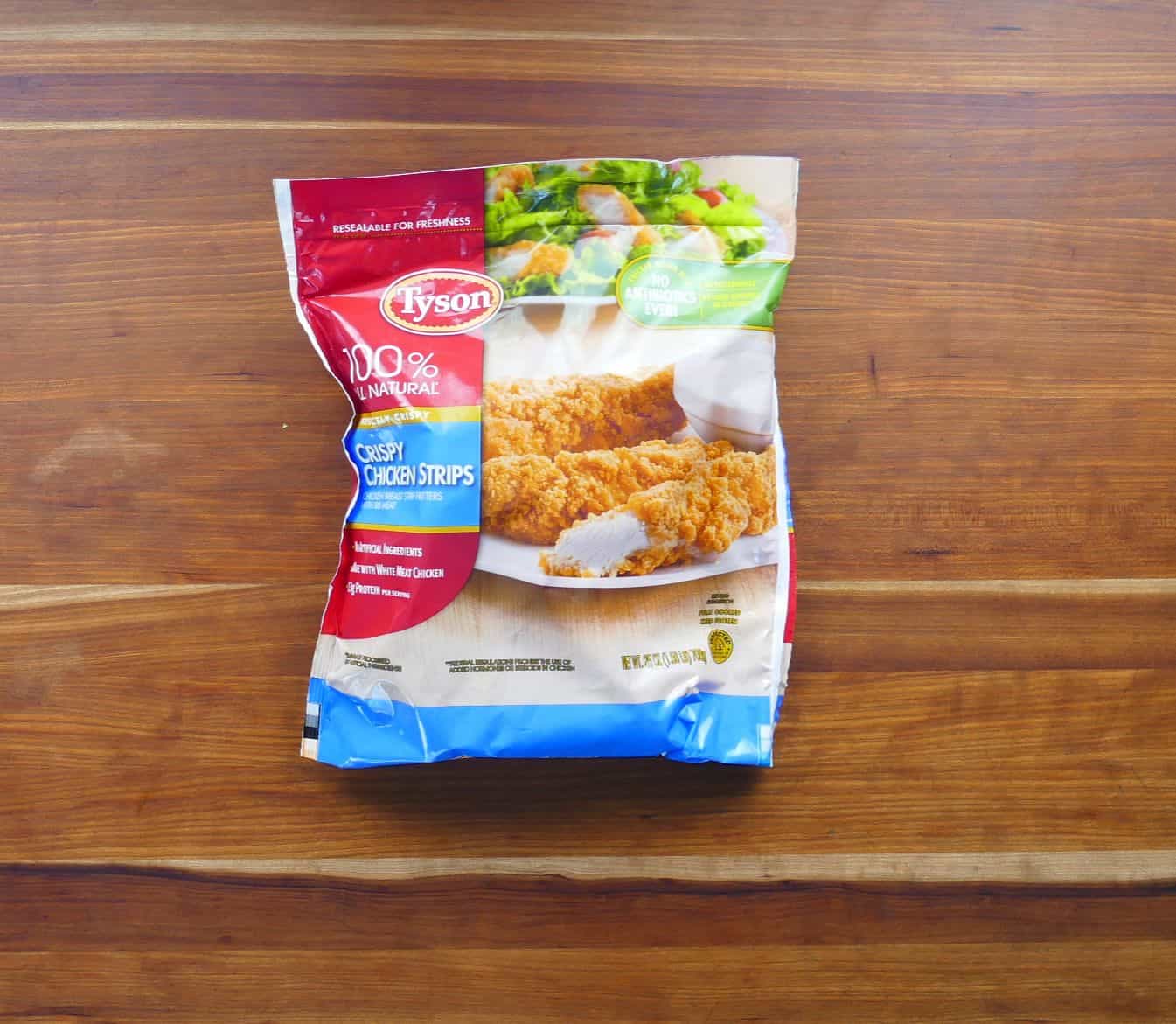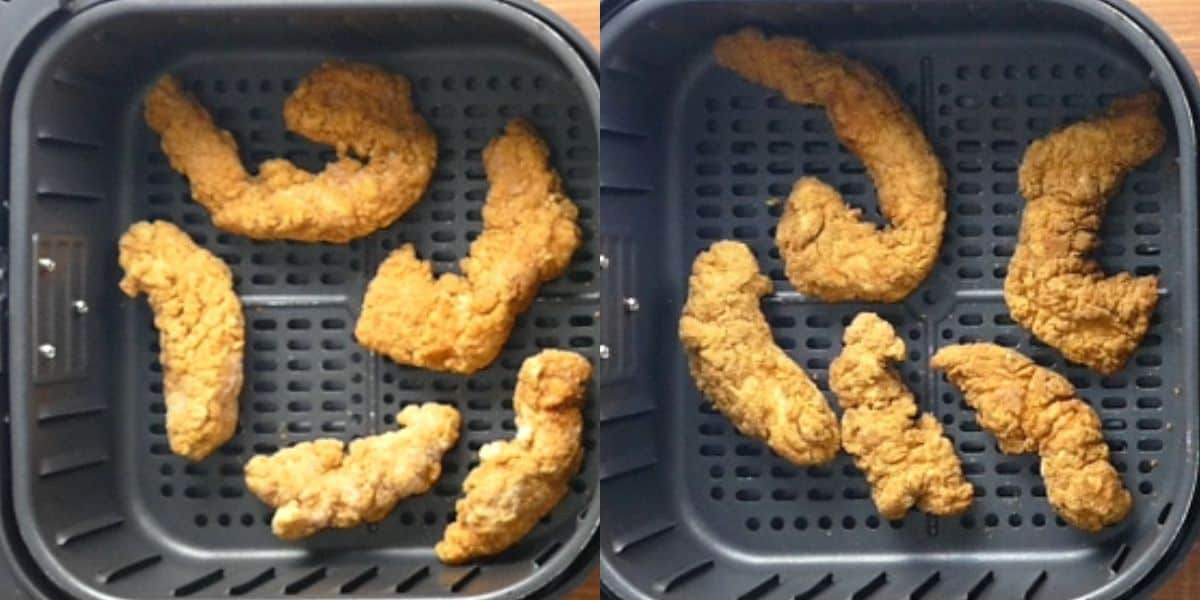 Don't thaw; keep the chicken tenders frozen until ready to use
Preheat air fryer
Place tenders in the air fryer
Air fry
Serve crispy air fried chicken tenders with your favorite sauce and frozen sweet potato fries or french fries.
✅ MY FAVORITE AIR FRYER ACCESSORIES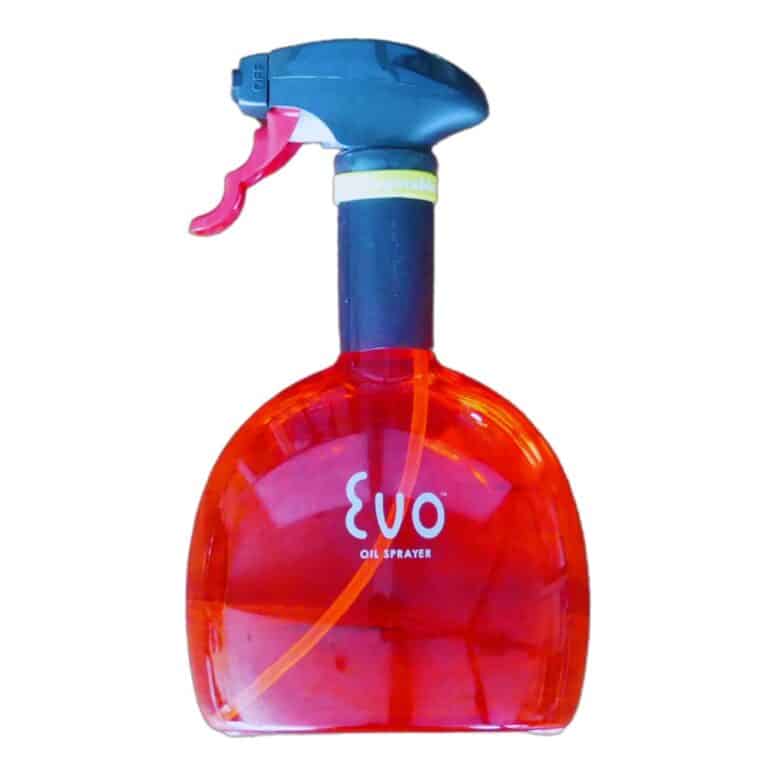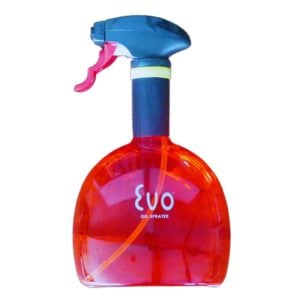 EVO oil sprayer is great for spraying oil on food. This is the best I've tried.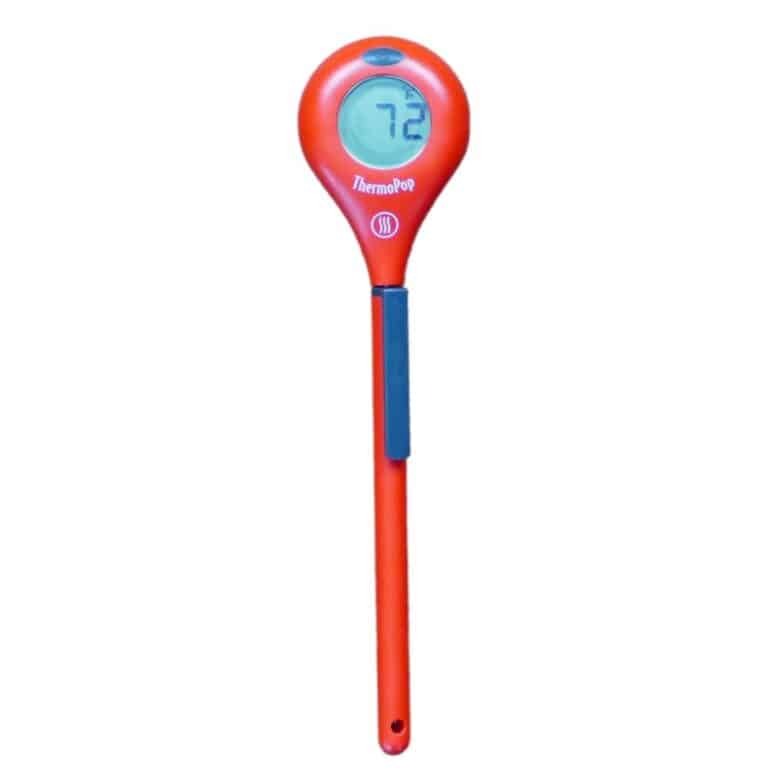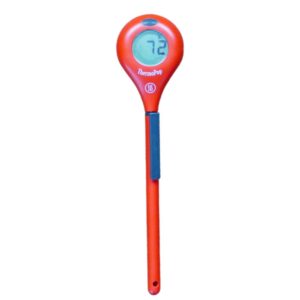 An instant-read thermometer is invaluable when air frying meats or frozen foods.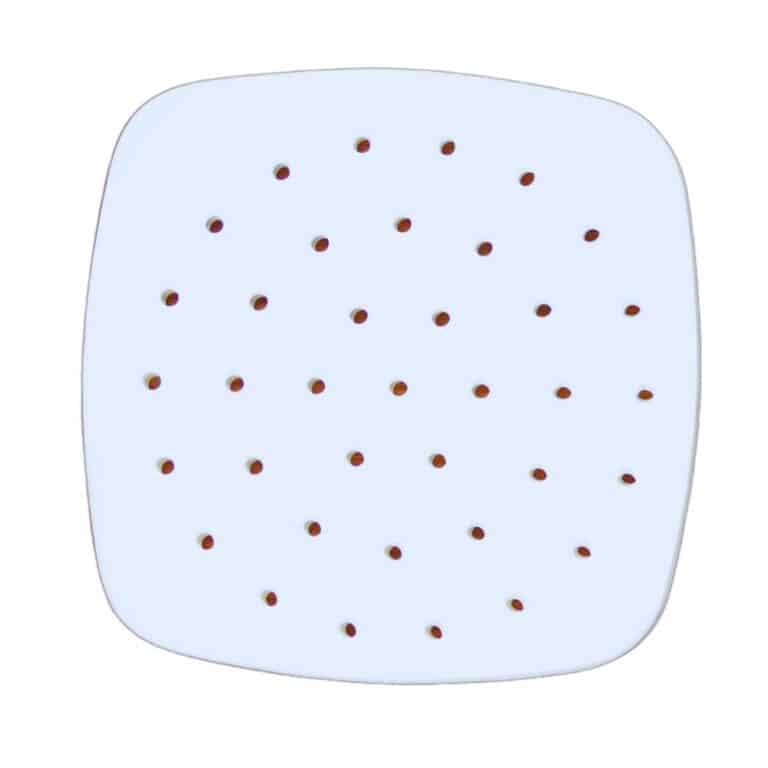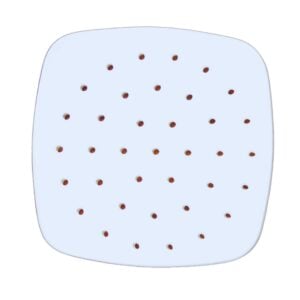 Perforated parchment sheets come in handy when making messy foods.
Air Fryer Frozen Chicken Tenders
Air fryer chicken tenders cook up perfectly crisp on the outside and tender on the inside. And you can make them in less time than it takes to bake them in the oven or deep-fry them.
Instructions
Air Fryer Instructions
Place the empty air fryer basket in the air fryer and preheat at 380 degrees Fahrenheit for 4 minutes.

Add the frozen chicken tenders to the air fryer basket. Do not stack or overcrowd. Cook in batches if necessary.

Air fry for 12-14 minutes at 380 degrees Fahrenheit, turning them over with tongs or shaking the basket at the 6 minute mark.

Transfer the chicken tenders to a serving platter and serve with a dipping sauce.
Notes
* Tyson crispy chicken strips were used in this recipe. Nutrition information is for Tyson Chicken Tenders. However the same timings can be used for any brand.
Don't thaw the frozen chicken before air frying.
Every air fryer will vary. The first time you make this recipe, monitor the chicken and adjust the air frying time as needed.
Nutrition
Serving:
3
oz.
|
Calories:
210
kcal
|
Carbohydrates:
17
g
|
Protein:
12
g
|
Fat:
9
g
|
Saturated Fat:
2
g
|
Polyunsaturated Fat:
6
g
|
Monounsaturated Fat:
2
g
|
Cholesterol:
30
mg
|
Sodium:
500
mg
|
Sugar:
1
g
Thank you for visiting Paint the Kitchen Red. All photos and content are copyright protected. Please don't use any content without prior written permission. If you've made this recipe and would like to share it with your friends, please link back to this recipe. Thank you!
I am not a certified nutritionist. I provide my best estimate of nutritional information merely as a courtesy to my readers. If you depend on nutritional information for dietary or health reasons, I suggest using your favorite online nutrition calculator to confirm the nutritional value of this recipe based on the actual ingredients that you use.
Did you know that the best way to support your favorite bloggers is to comment and rate recipes, and share on social media? If you loved this recipe, please comment and give it a five ⭐ rating in the comment section below. If you're a pinner, pin this post using the Pin buttons at the top and bottom of this post and in the recipe card above. Thank you for your support!