Air fryer frozen potstickers are an easy appetizer or side dish for an Asian meal or as a crowd-pleasing snack. Making gyoza, wontons, dumplings, or potstickers is so easy in the air fryer. Trader Joe's gyoza in the air fryer are particularly delicious!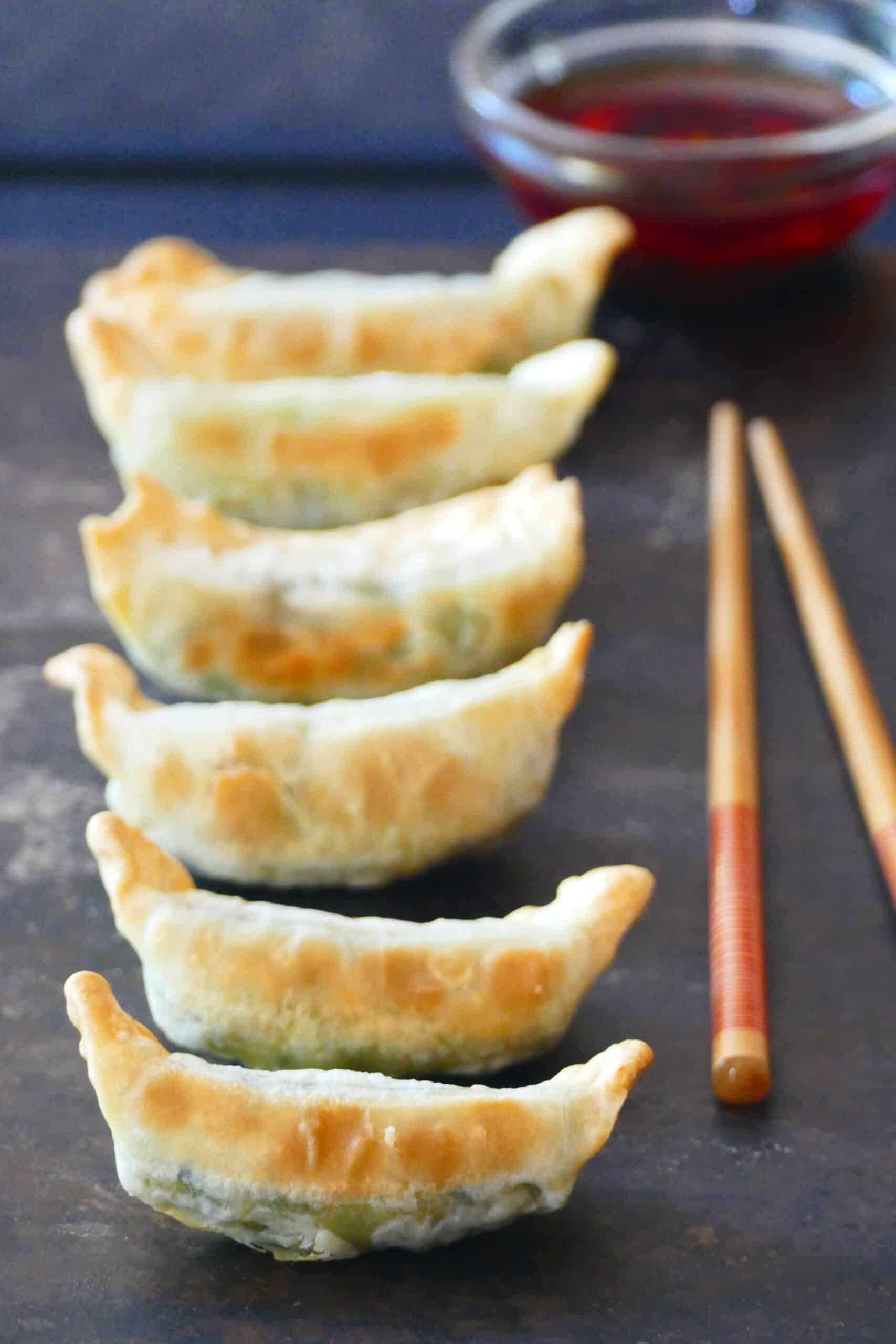 This post contains affiliate links. As an Amazon Associate, I earn from qualifying purchases. Please read the disclosure.
You can have a delicious snack or side dish of air fryer potstickers on the table in less than 15 minutes from start to finish.
Making chicken, pork, shrimp, or vegetable frozen potstickers in the air fryer is the easiest and healthiest way to cook them.
The air fryer is incredibly good at heating up frozen foods. I especially love Trader Joe's freezer aisle. I've tried air frying their frozen samosas, falafel, empanadas, and finally, this easy air fryer recipe for Trader Joe's potstickers.
What's the difference between dumplings, gyoza, potstickers, and wontons?
Potstickers are also commonly called dumplings, gyoza, and wontons. Although these terms are used interchangeably, there are subtle differences.
Dumplings are a generic term for small parcels of dough with a filling. Dumplings are popular in many cultures. For example, in Italy you have ravioli, in Nepal you have momos, Poland's dumplings are pierogies, and Korean dumplings are called mandu.
Jiaozi are China's version of dumplings and are crescent-shaped parcels of dough filled with meat and vegetables. They can be steamed (zhēngjiao), boiled (shuijiao), or pan fried with oil and water (guotie).
Potstickers are the same as pan-fried guotie. While pan frying, caramelization causes the dumplings to stick to the pot, hence the name "pot stickers".
Wontons are also Chinese but are smaller than jaiozi and have a thinner wrapper. They may be served in broth and generally have meat but no vegetables.
Gyoza are Japan's version of dumplings. They are usually made with thinner wrappers than Chinese dumplings (jiaozi), and are usually served pan fried.
Trader Joe's has a few gyoza products and the pork gyoza potstickers are my favorite. The Thai vegetable gyoza and chicken gyoza potstickers are also good.
Or check out the whole collection of my favorite frozen foods in the air fryer including air fryer frozen egg rolls.
Tips for Success
---
For this gyoza potstickers air fryer recipe, I recommend using a spritz of cooking spray or brushing the potstickers and the bottom of the basket until evenly coated with oil. In addition, spray or brush the potstickers again when you flip them over halfway through cooking.
The potstickers can become dry and hard if you don't do this. Don't use a canned oil spray, but rather a spray bottle filled with oil or a brush dipped in oil. You can use avocado oil, olive oil, or vegetable oil. I prefer avocado oil due to the high smoke point.
And although it may seem like a lot of oil, the quantity of oil will still be less than what you would use if you pan-fried the gyoza.
---
I also recommend preheating the air fryer before putting the gyoza in.
Keep the potstickers frozen until you're ready to cook them.
---
Don't crowd the air fryer basket – place the pot stickers in a single layer and leave a little bit of space between the dumplings to allow the hot air to circulate. If you need to, air fry frozen dumplings in multiple batches.
---
Serve air fryer dumplings with your favorite dipping sauce. Here are the best dipping sauces:
---
Every air fryer will vary. The first time you make potstickers in the air fryer, monitor and check on them 2 minutes before the cooking time is up. Adjust the recipe as needed in the future.
FAQS
---
Why are the gyoza sticking to the basket?
I usually have no issues with sticking, but if you find that the gyoza are sticking, line the basket with a piece of parchment paper or some aluminum foil. Poke a few holes in the parchment or foil to allow air to circulate, or purchase perforated parchment rounds or squares.
Do I need to turn the potstickers over halfway through cooking?
Yes, for best results you should turn the potstickers partway through cooking, and spray or brush them with oil after turning them over.
Can I use the Instant Pot Air Fryer Lid accessory or Duo Crisp to make this recipe?
Yes, you can use the same timing and temperature to air fry gyoza using the Instant Pot air fryer lid, Duo Crisp or Pro Crisp. You can make the gyoza in a Ninja Foodi too.
What brand of frozen gyoza was used in this recipe?
I used Trader Joe's frozen gyoza for this recipe. I've air fried the vegetarian Thai gyoza, the pork gyoza, and chicken gyoza potstickers. I also buy frozen wontons from Costco.

Grocery stores have other brands including Ling Ling potstickers, Korean Bibigo mandu or Bibigo mini wontons, Siwin, Tai Pei, Pagoda, and Aldi's Fusia Asian potstickers. They should all work with this recipe's approximate times, but keep an eye on them by checking on them about 2 minutes before the time's up. If the mini wontons are much smaller than regular wontons, reduce the cooking time by a couple of minutes.
What brand of air fryer was this recipe tested with?
This recipe was tested using a basket air fryer (Cosori) and Instant Pot air fryer (Duo Crisp).
What should I do if the gyoza potstickers aren't cooked through?
If the gyoza are undercooked, turn them over and add an additional 2 to 3 minutes to the cooking time.
What if the potstickers aren't crispy enough?
If you want really crispy dumplings, increase the temperature to 400 degrees at the end, and air fry frozen potstickers for 2 minutes of cook time.
How to cook frozen potstickers in the air fryer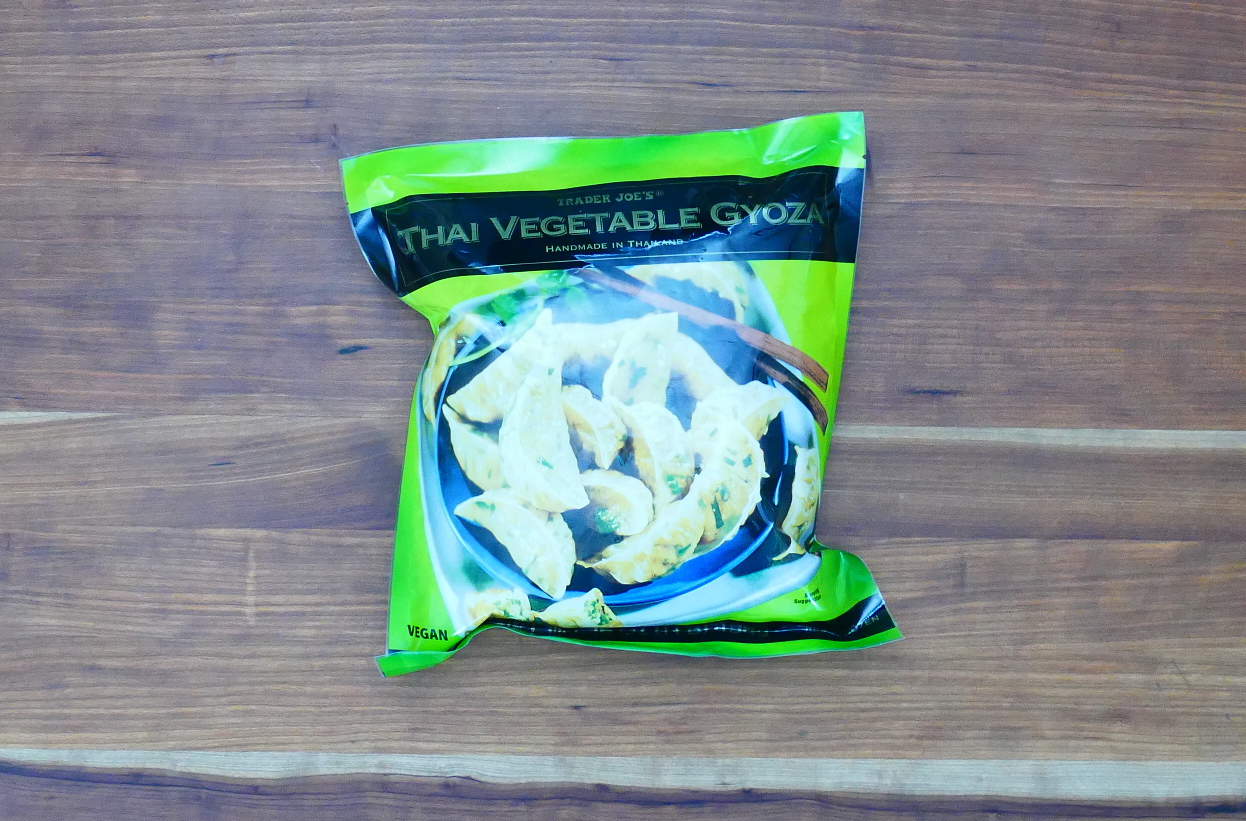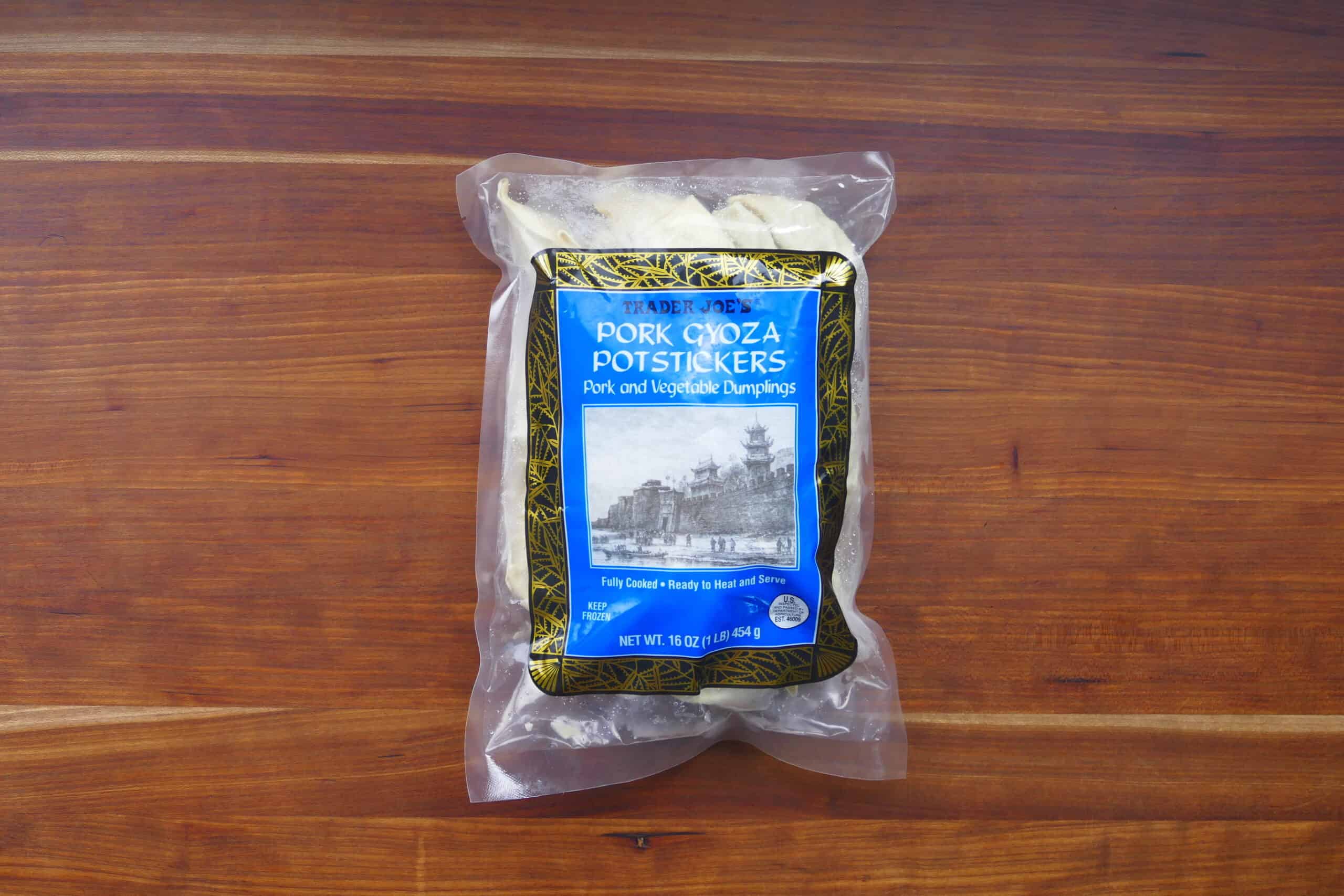 Air fryer gyoza potstickers instructions
Keep gyoza frozen until ready to use
Preheat air fryer
Oil the basket
Place gyoza in the air fryer basket and spray with oil
Air fry gyoza till golden brown, turning once or twice during cooking
Transfer the air fryer gyoza to a serving platter
Serve with your favorite dipping sauce
See the recipe card below on how to make air fryer frozen dumplings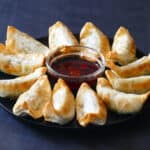 Air Fryer Frozen Potstickers, Gyoza, Dumplings, Wontons
Air fryer frozen potstickers are an easy appetizer or side dish for an Asian meal or as a crowd-pleasing snack. Air frying gyoza, wontons, dumplings, or potstickers is so easy and they become crispy on the outside and tender and perfectly cooked on the inside.
Ingredients
Instructions
Preheat the air fryer for 5 minutes at 380 degrees F.

Spray the basket with spray oil.

Add the frozen gyoza potstickers to the air fryer basket and make sure they're evenly spread out and in one layer, being careful not to overcrowd them.

Spray the potstickers with a spritz of oil spray, which will prevent them from becoming hard and dry.

Close the air fryer and air fry for 12 minutes at 380 degrees Fahrenheit.

At the halfway mark, open the lid and use tongs or nonstick spatula to turn the gyoza. Because they're delicate, be careful when turning them. Liberally, spray the gyoza one more time. Close the lid and continue cooking.

When the cooking time is up, open the air fryer and check to make sure the gyoza are cooked to your liking. If they're not cooked enough, increase the temperature to 400 degrees and air fry for another 2 minutes, if desired.

Serve with a dipping sauce such as sweet and sour sauce, sweet chili sauce, ginger soy sauce, gochujang sauce, or a mixture of soy sauce and vinegar, to taste.
Notes
* Trader Joe's potstickers were used in this recipe. Nutrition information is for Trader Joe's pork gyoza potsticker dumplings, without dipping sauce.
Every air fryer is different. Check on the gyoza 2 minutes before time is up.
See the blog post for more detailed recipe tips.
Nutrition
Serving:
7
pieces
|
Calories:
230
kcal
|
Carbohydrates:
32
g
|
Protein:
10
g
|
Fat:
6
g
|
Saturated Fat:
2
g
|
Cholesterol:
20
mg
|
Sodium:
680
mg
|
Fiber:
2
g
|
Sugar:
3
g
Thank you for visiting Paint the Kitchen Red. All photos and content are copyright protected. Please don't use any content without prior written permission. If you've made this recipe and would like to share it with your friends, please link back to this recipe. Thank you!
I am not a certified nutritionist. I provide my best estimate of nutritional information merely as a courtesy to my readers. If you depend on nutritional information for dietary or health reasons, I suggest using your favorite online nutrition calculator to confirm the nutritional value of this recipe based on the actual ingredients that you use.
Did you know that the best way to support your favorite bloggers is to comment and rate recipes, and share on social media? If you loved this recipe, please comment and give it a five ⭐ rating in the comment section below. If you're a pinner, pin this post using the Pin buttons at the top and bottom of this post and in the recipe card above. Thank you for your support!