This frozen samosa air fryer recipe is an easy appetizer or side dish for Indian food or an all-around great snack. Perfectly crispy, with just the right amount of spice, the delicious samosas are golden brown in just minutes when you make them in the air fryer.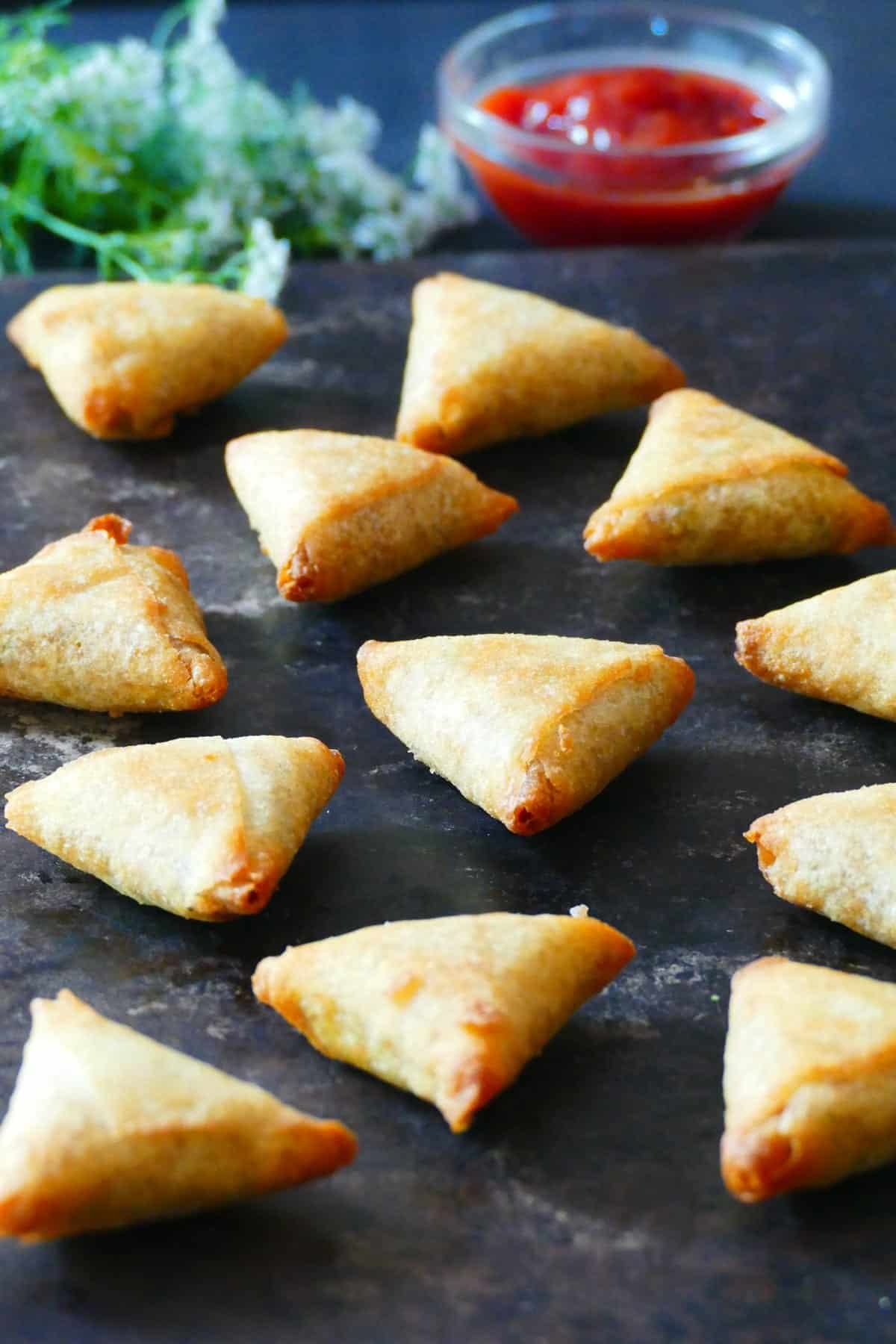 My whole family loves homemade samosas and they are a great appetizer for parties, but they sure can be time-consuming. And I'm not a huge fan of samosas you get in a typical Indian restaurant because I find them to be too doughy.
My next best alternative is to make them from frozen. And one brand I love is Trader Joe's samosas.
My favorite thing about making air fryer samosas is that I can get them on the table in less than 15 minutes from start to finish when my family is looking for a snack that's full of flavor. There's no easier way to make chicken, meat, or veggie samosas.
Air frying samosas gives them a crispy texture without having to use the deep fryer. And air frying definitely beats baking the samosa because it takes less time and the result is as crispy or crispier. This easy recipe shows you exactly how to air fry samosas.
The air fryer is particularly good at heating up frozen food. Some easy air fryer recipes include air fryer frozen egg rolls, onion rings, hot wings, and popcorn chicken.
Or check out the whole collection of my favorite frozen foods in the air fryer including air fryer french fries and tater tots. If you're looking for an air fryer Indian chicken, try out my air fryer tandoori chicken recipe!
Tips for Success
---
For this frozen samosa air fryer recipe, I definitely recommend that you preheat the air fryer. My Cosori has a preheat button that allows me to preheat the air fryer before putting in the food.
---
I do cook many premade foods at 400 degrees F but I like to use a lower temperature for these samosas because cooking them at higher temperatures can result in an overcooked exterior and undercooked interior.
---
Keep the samosas frozen until you're ready to cook them.
---
Don't crowd the air fryer basket – place the samosas in a single layer and leave a little bit of space between the samosas to allow the hot air to circulate. If you need to, air fry the frozen samosas in multiple batches.
---
Serve air fryer frozen samosas with your favorite dipping sauce. Here are the best dipping sauces:
---
Every air fryer will vary. The first time you make samosas in the air fryer, monitor and check on them 2 minutes before the cooking time is up. Adjust the recipe as needed in the future.

FAQS
---
Do I need to oil the air fryer basket?
I don't oil the basket or the samosas and find they're crispy and don't stick, but if you want to spray a little oil you can. Use olive oil, avocado oil, or vegetable oil. I prefer to use avocado oil due to the high smoke point. And I avoid canned cooking spray.
Why are the samosas sticking to the basket?
I usually have no issues with sticking. It could be happening because your brand of samosa isn't precooked enough which causes the samosa dough to stick to the bottom.

If you find that they're sticking, line the basket with a piece of parchment paper or some aluminum foil. Poke a few holes in the parchment or foil to allow air to circulate or buy parchment paper that already has holes. They come in round and square shapes. You can also spray the samosas with some oil.
Do I need to turn the samosas halfway through cooking?
Yes, for best results you should turn the frozen samosas halfway through cooking.
Can I use the Instant Pot Air Fryer Lid accessory or Duo Crisp to make this recipe?
Yes, you can use the same timing and temperature to air fry samosas using the Instant Pot air fryer lid, Duo Crisp or Pro Crisp. You can air fry the samosas in a Ninja Foodi too.
What brand of frozen samosa was used in this recipe?
I used Trader Joe's mini samosas for this recipe because I love the flavors and… well, they're from TJ's and I love pretty much anything from the Trader Joe's freezer aisle! They come in two flavors: Trader Joe's mini vegetable samosas and trader Joe's chicken tikka samosas.

You should also be able to find different brands of samosas in the frozen aisle at Indian grocery stores. One brand I like is Swad. They have Punjabi, cocktail, and vegetable samosas. Haldiram's has cocktail samosas.
What brand of air fryer was this recipe tested with?
This recipe was tested using a basket air fryer (Cosori) and Instant Pot air fryer (Duo Crisp).
What should I do if the samosas aren't cooked through and are still raw in the middle?
If the samosas are still raw, turn them over and add an additional 2 minutes to the cooking time.
What if the samosa isn't crispy enough?
If you want a more crispy samosa, increase the temperature to 400 degrees at the end, and air fry with 2 minutes of cook time.
How to reheat samosa in the airfryer?
You can store leftover samosas in an airtight container. To reheat samosas in the air fryer, air fry them for 3 minutes at 350 degrees.
How to cook frozen samosas in air fryer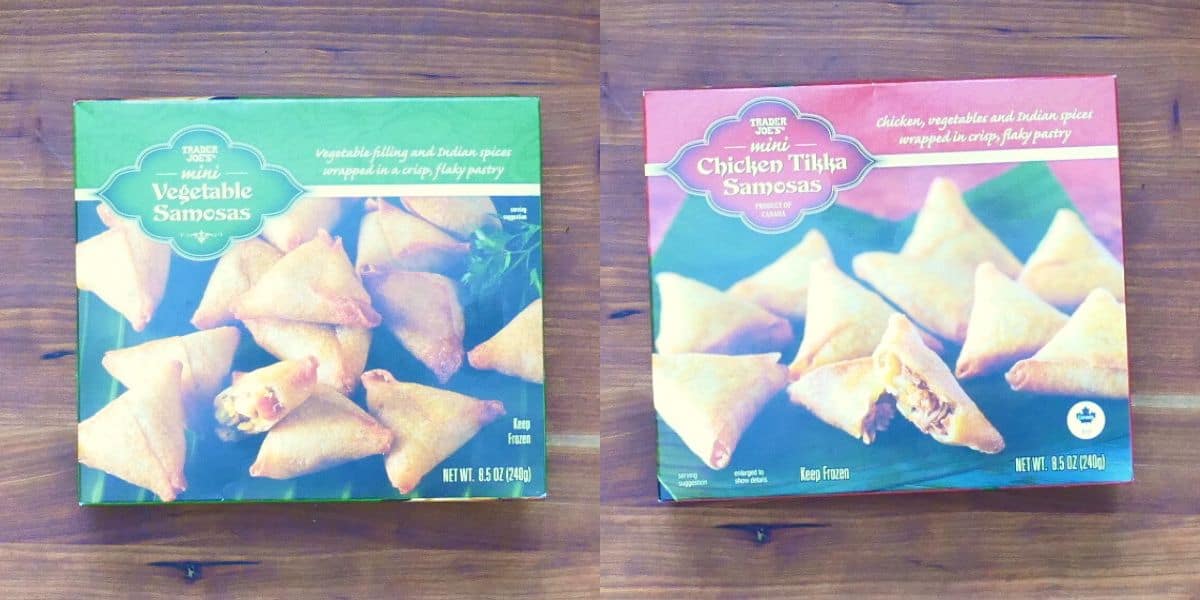 Keep samosas frozen until ready to use
Preheat air fryer
Place samosas in the air fryer basket
Air fry samosas till golden brown, turning halfway through
Transfer the air fryer samosas to a serving platter
Serve with your favorite dipping sauce
See the recipe card below on how to air fry samosas from frozen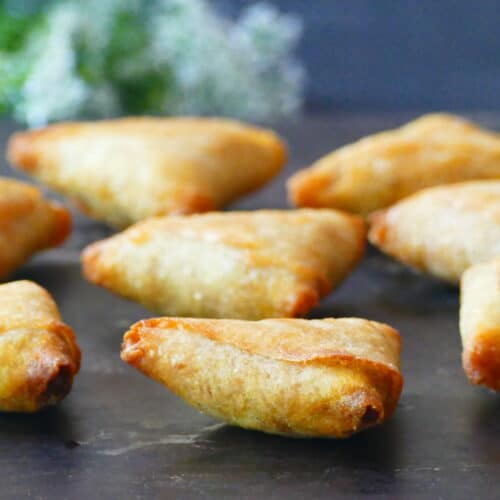 Air Fryer Frozen Samosas
These air fryer frozen samosas are an easy appetizer or side dish for Indian food or an all-around great snack. Perfectly crispy, with just the right amount of spice, the delicious samosas are golden brown in just minutes when you make them in the air fryer. I love Trader Joe's samosas.
Ingredients
1

package

samosas

8 Trader Joe's vegetarian mini samosas (or chicken tikka samosas), or 4 regular samosas (e.g. Swad or Haldiram) *
Instructions
Air Fryer Instructions
Preheat the air fryer for 5 minutes at 380 degrees F.

Add the frozen samosas to the air fryer basket and make sure they're evenly spread out and in one layer. **

Close the air fryer and air fry for 11 minutes at 380 degrees Fahrenheit. ***

At the halfway mark, open the lid and use tongs to turn the samosas, or shake the basket. Close the lid and continue cooking.

When the cooking time is up, open the air fryer and check to make sure the samosas are cooked to your liking. If they're not crisp enough, increase the temperature to 400 degrees and air fry for another 2 minutes, if desired.

Serve with a dipping sauce such as tamarind sauce, cilantro chutney, mango chutney, ketchup or sweet chili sauce.
Notes
* Trader Joe's brand of samosas were used in this recipe. Nutrition information is for Trader Joe's vegetarian samosas, without a dipping sauce.
** To make the samosas more crispy, spray both sides lightly with some oil spray; this is an optional step.
*** Trader Joe's chicken samosas may cook faster than the vegetable ones.
Every air fryer is different. Check on the samosas 2 minutes before time is up.
See the blog post for more detailed recipe tips.
Nutrition
Serving:
4
pieces
|
Calories:
160
kcal
|
Carbohydrates:
20
g
|
Protein:
4
g
|
Fat:
7
g
|
Saturated Fat:
0.5
g
|
Sodium:
260
mg
|
Fiber:
2
g
Thank you for visiting Paint the Kitchen Red. All photos and content are copyright protected. Please don't use any content without prior written permission. If you've made this recipe and would like to share it with your friends, please link back to this recipe. Thank you!
I am not a certified nutritionist. I provide my best estimate of nutritional information merely as a courtesy to my readers. If you depend on nutritional information for dietary or health reasons, I suggest using your favorite online nutrition calculator to confirm the nutritional value of this recipe based on the actual ingredients that you use.
If you loved this recipe, please give it a five ⭐ rating in the comment section below and please share it on social media using the social media share buttons at the top and bottom of this post. Thank you so much!