Make air fryer frozen breaded chicken breast for a quick and easy dinner. The chicken cooks up crispy on the outside and tender and juicy on the inside. You can make these breaded chicken breasts in an air fryer in a fraction of the time that it takes to bake them in the oven or deep-fry them.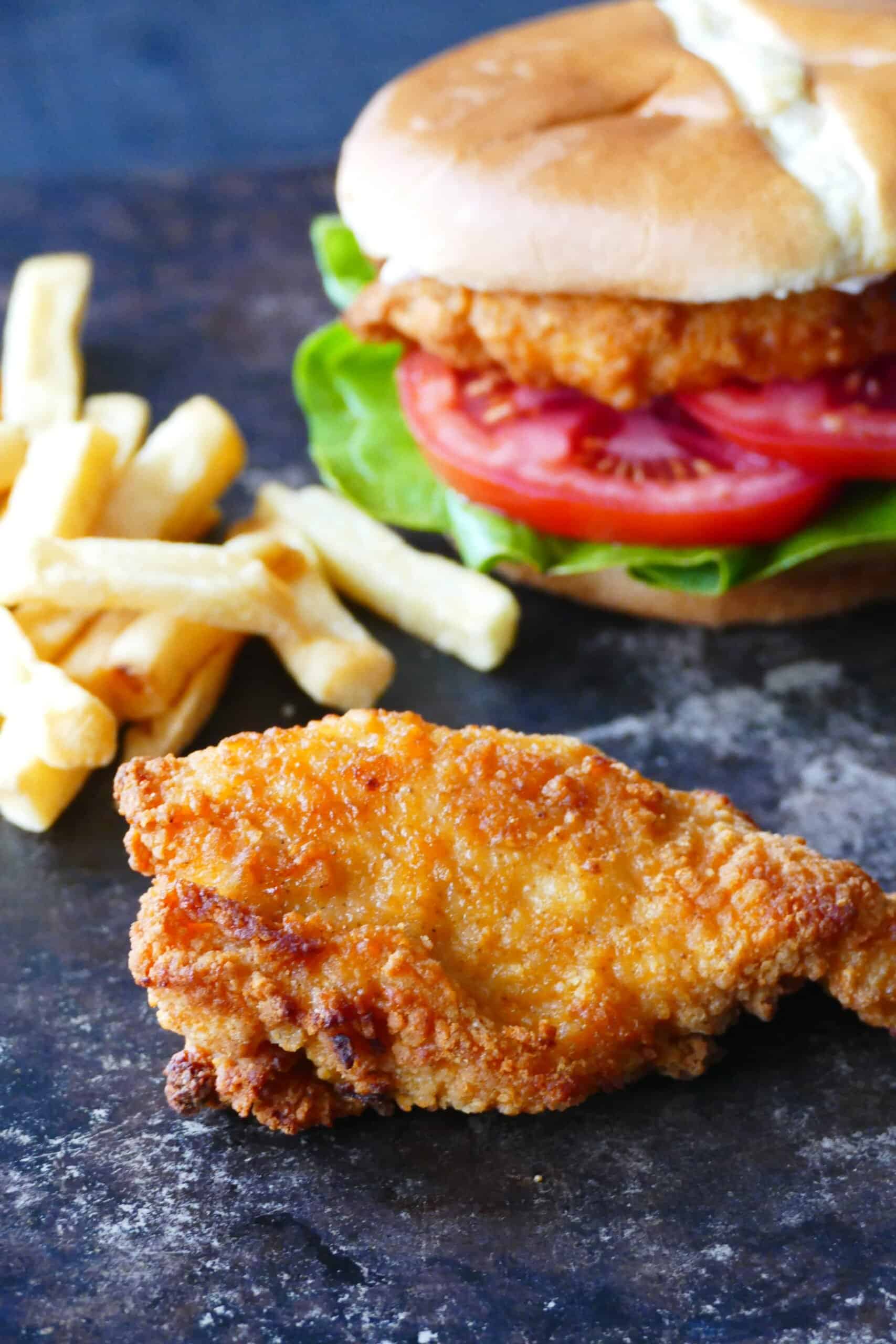 Whether you're short on time and need an easy meal, or simply want a healthier alternative to traditional fried foods, air frying frozen foods is a good option.
Air fryers circulate hot air around food to make it crispy outside and moist inside, without the need for excess oil. This cooking method is especially useful for frozen foods, because it keeps in moisture and prevents the food from becoming overcooked.
You can air fry all kinds of foods like air fryer chicken nuggets, empanadas, egg rolls, air fryer chicken tenders, and more.
Air Fryer Frozen Foods
With air fryer snacks from egg rolls to french fries, and chicken nuggets to frozen pizza, you may have a hard time deciding what to make from this collection of quick and easy air fryer recipes.
GET RECIPE DETAILS
Breaded chicken fillets are a fast food favorite, usually served in a sandwich. Chick Fil A is one of the most popular fast-food restaurants to serve these delicious chicken sandwiches. You can try these chicken breasts in a breakfast biscuit sandwich.
Frozen breaded chicken breast can often turn out dry and flavorless if not cooked correctly. But luckily the air fryer comes to the rescue to help you cook perfect breaded boneless skinless chicken breasts.
I'll show you how to air fry perfectly cooked frozen breaded boneless chicken breast. You can make crispy chicken breasts in the air fryer, from frozen, in less than 20 minutes.
Be sure to check out my post that has all the cooking times for the air fryer, organized by type of food.
Tips for Making Air Fryer Frozen Breaded Chicken Breast
---
Preheat the air fryer before putting the chicken breasts in.
Until you are ready to cook frozen breaded chicken breasts, keep them in the freezer. There's no need to thaw the chicken.
Every air fryer will vary. The first time you make this chicken recipe, monitor the chicken and check on it 2 minutes before the cooking time is up. Adjust the recipe as needed.
Larger or thicker pieces may take longer to cook. Adjust the recipe accordingly.
Don't overcrowd the basket. For best results, place the chicken pieces in a single layer, without stacking them. This will get them to crisp evenly. If you have more chicken than will easily fit in the basket, cook them in a second batch.
Flip the chicken pieces halfway through air frying.
The chicken will turn a golden brown when done cooking. Measure the temperature of the largest piece with a digital meat thermometer. The general guideline is that the chicken is cooked when the internal temperature reaches 165 degrees F.

FAQS
---
Do I need to coat the air fryer basket with cooking spray?
You don't need to use any oil in this recipe. I've never had the chicken breasts stick to the bottom.
How long do you air fry breaded chicken breast?
Cook frozen chicken breast for about 16 to 19 minutes at 380 degrees Fahrenheit, shaking the basket once at 8 minutes.
What brand of frozen breaded chicken was used in this recipe?
I used Just Bare frozen chicken from Costco but also I've used Tyson chicken patties and Aldi red bag chicken breast. You can also use store brand chicken breasts from your grocery store. Just keep an eye on the chicken and check on it two minutes before the cook time is up.
What brand of air fryer was this recipe tested with?
This recipe was tested using Cosori air fryer.
What should I do if the air fryer frozen chicken breast patties aren't crispy?
Air fry the chicken for another 2 to 3 minutes, increasing the temp to 400 degrees F.
Can I reheat the chicken in the air fryer?
Yes, leftover chicken can be stored in an airtight container in the fridge for 2 to 3 days. Reheat the chicken breasts by air frying them for 2 to 3 minutes at 350 degrees Fahrenheit.
How to Make Air Fryer Frozen Chicken Breasts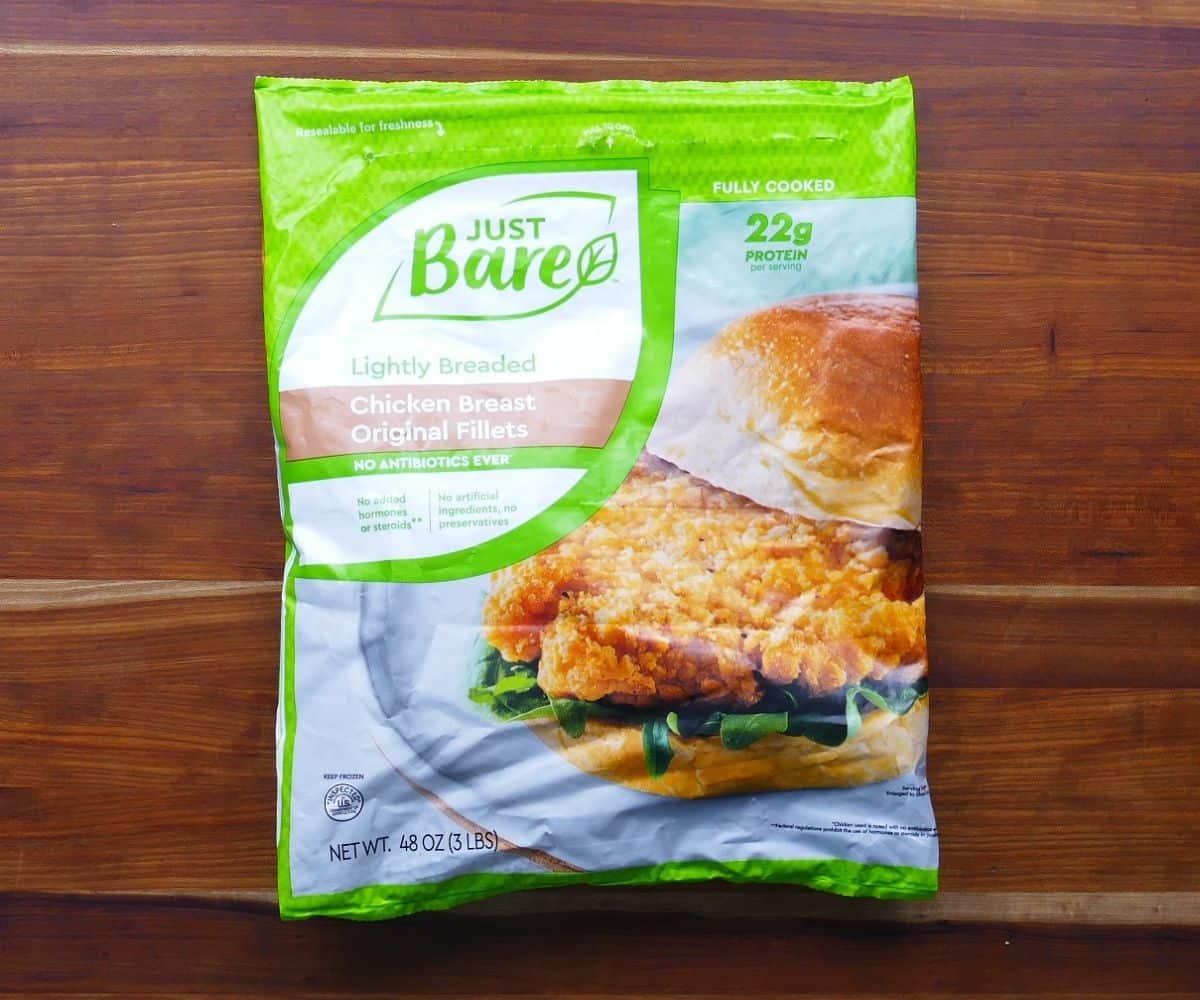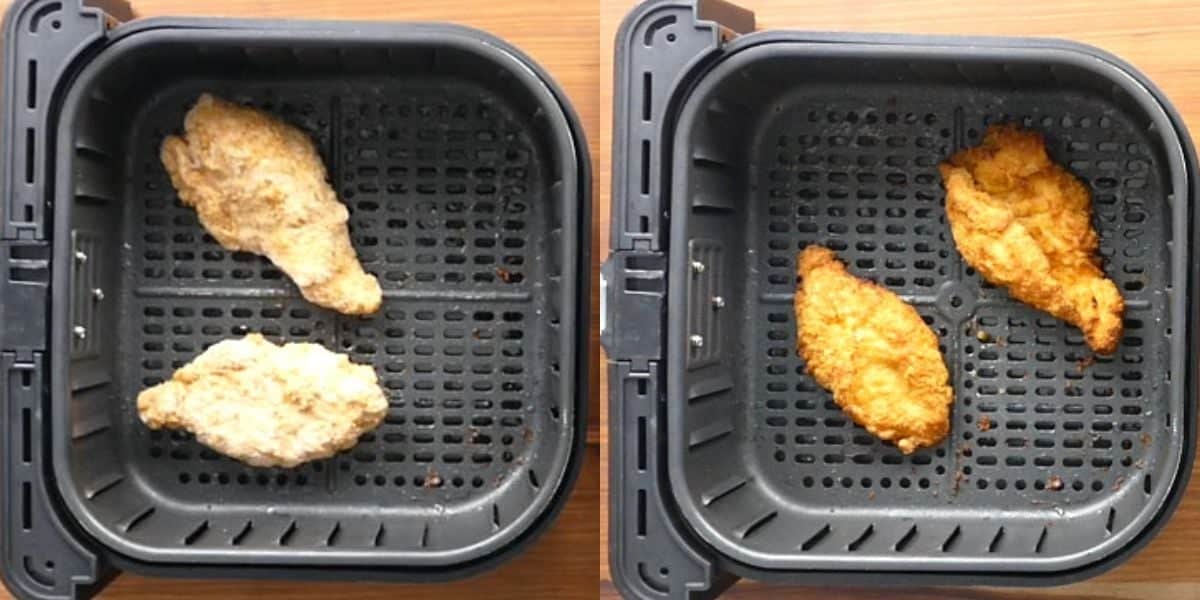 Don't thaw; keep the chicken frozen until ready to use
Pre-heat the air fryer
Place chicken breasts in the air fryer
Cook chicken, flipping once halfway through cooking process
Serve crispy air fried chicken with your favorite sauce and frozen sweet potato fries or french fries.
See recipe card below for details
✅ MY FAVORITE AIR FRYER ACCESSORIES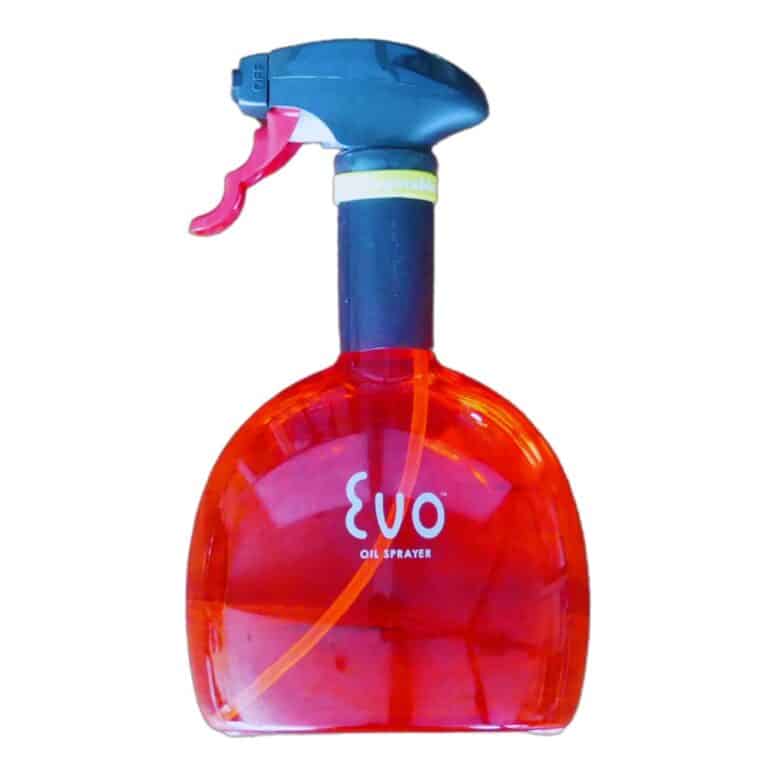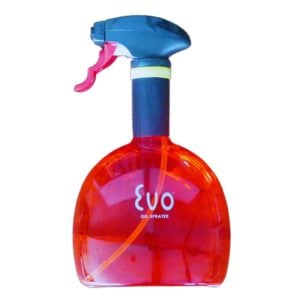 EVO oil sprayer is great for spraying oil on food. This is the best I've tried.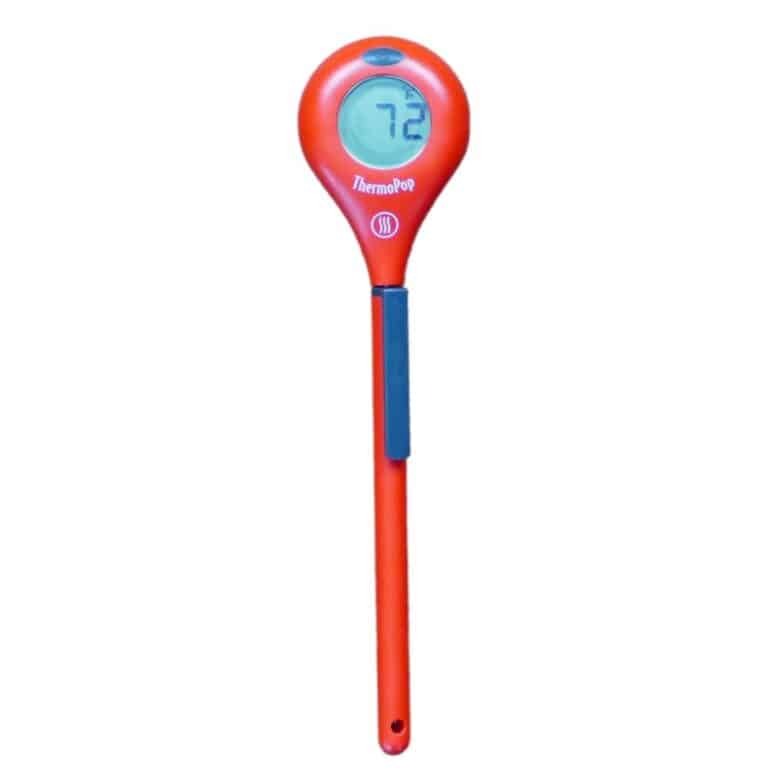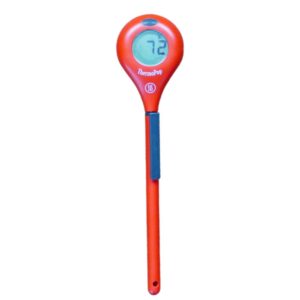 Thermoworks Thermopop thermometer is accurate and good quality.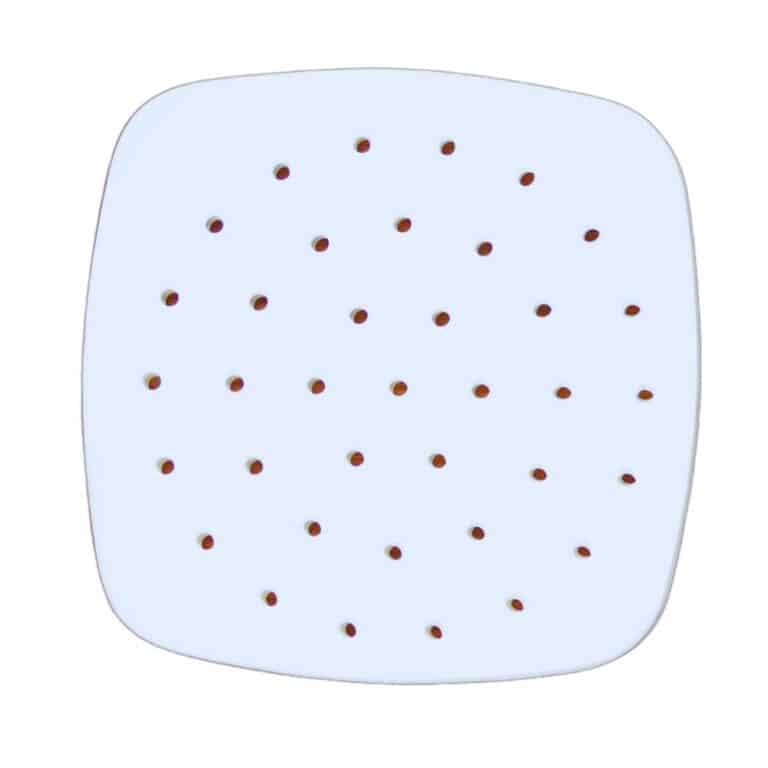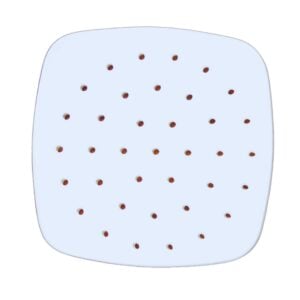 Perforated parchment sheets come in handy when making messy foods.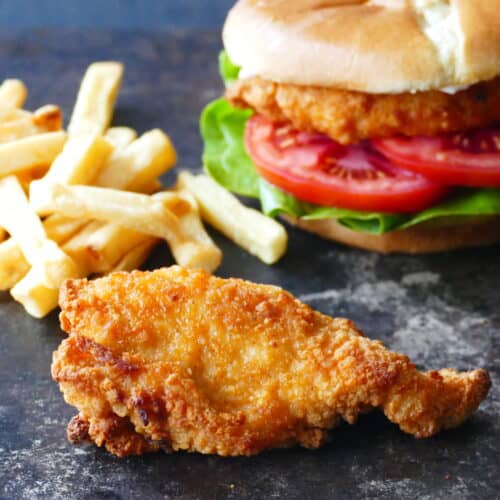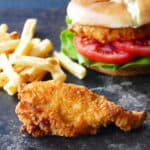 Air Fryer Frozen Chicken Breast
Air fryer frozen chicken breast is quick and easy to make, so you can have a tasty and healthy meal in no time. The chicken has a crispy texture on the outside and is juicy on the inside, giving it a satisfying crunch with every bite. Use the chicken in salads, sandwiches, or wraps.
Instructions
Air Fryer Instructions
Place the empty air fryer basket in the air fryer and preheat at 380 degrees Fahrenheit for 5 minutes. **

Add the frozen chicken to the air fryer basket.

Air fry for 16 to 19 minutes at 380 degrees Fahrenheit, flipping the chicken pieces over with tongs or a spatula at the 8 minute mark.

Transfer the chicken to a serving platter and serve in a sandwich or wrap. Or cut into slices and serve over your favorite salad.
Notes
* Nutrition information is for Just Bare Chicken. However, the same timings can be used for Tyson chicken breasts.
Don't thaw the frozen chicken before air frying.
** Preheat the air fryer if the air fryer doesn't have a built-in preheat functionality.
Every air fryer will vary. The first time you make this recipe, monitor the chicken and adjust the air frying time as needed.
Nutrition
Serving:
1
piece
|
Calories:
206
kcal
|
Carbohydrates:
13
g
|
Protein:
22
g
|
Fat:
8
g
|
Saturated Fat:
1.5
g
|
Polyunsaturated Fat:
4
g
|
Monounsaturated Fat:
1.5
g
|
Cholesterol:
60
mg
|
Sodium:
780
mg
|
Sugar:
2
g
Thank you for visiting Paint the Kitchen Red. All photos and content are copyright protected. Please don't use any content without prior written permission. If you've made this recipe and would like to share it with your friends, please link back to this recipe. Thank you!
I am not a certified nutritionist. I provide my best estimate of nutritional information merely as a courtesy to my readers. If you depend on nutritional information for dietary or health reasons, I suggest using your favorite online nutrition calculator to confirm the nutritional value of this recipe based on the actual ingredients that you use.
Did you know that the best way to support your favorite bloggers is to comment and rate recipes, and share on social media? If you loved this recipe, please comment and give it a five ⭐ rating in the comment section below. If you're a pinner, pin this post using the Pin buttons at the top and bottom of this post and in the recipe card above. Thank you for your support!
Air Fryer Frozen Chicken Recipes
Air Fryer Frozen Chicken Wings
Air Fryer frozen wings are so easy to make! And they're crisp and delicious. Cooking frozen chicken wings in the air fryer gets them crisp on the outside and tender and juicy on the inside. And you can make them in less time than it takes to bake them in the oven or deep-fry them. Instructions provided for raw and precooked frozen wings.
GET RECIPE DETAILS
Air Fryer Frozen Popcorn Chicken
Air fryer frozen popcorn chicken cooks up perfectly crisp on the outside and tender on the inside. And you can make them in less time than it takes to bake them in the oven or deep-fry them. Use a traditional air fryer or an Instant Pot air fryer.
GET RECIPE DETAILS
Air Fryer Chicken Fries
Making these Tyson chicken fries in the air fryer is so easy that you'll find yourself making them again and again. Frozen chicken fries are a kid-friendly snack and a great alternative to chicken fingers or chicken nuggets because kids have so much fun eating them!
GET RECIPE DETAILS