Freshly baked Air Fryer Frozen Biscuits are an easy and delicious treat! Use Pillsbury's ready-to-bake frozen Grands biscuits and you can have piping hot fluffy air fryer biscuits on the table in less than 15 minutes.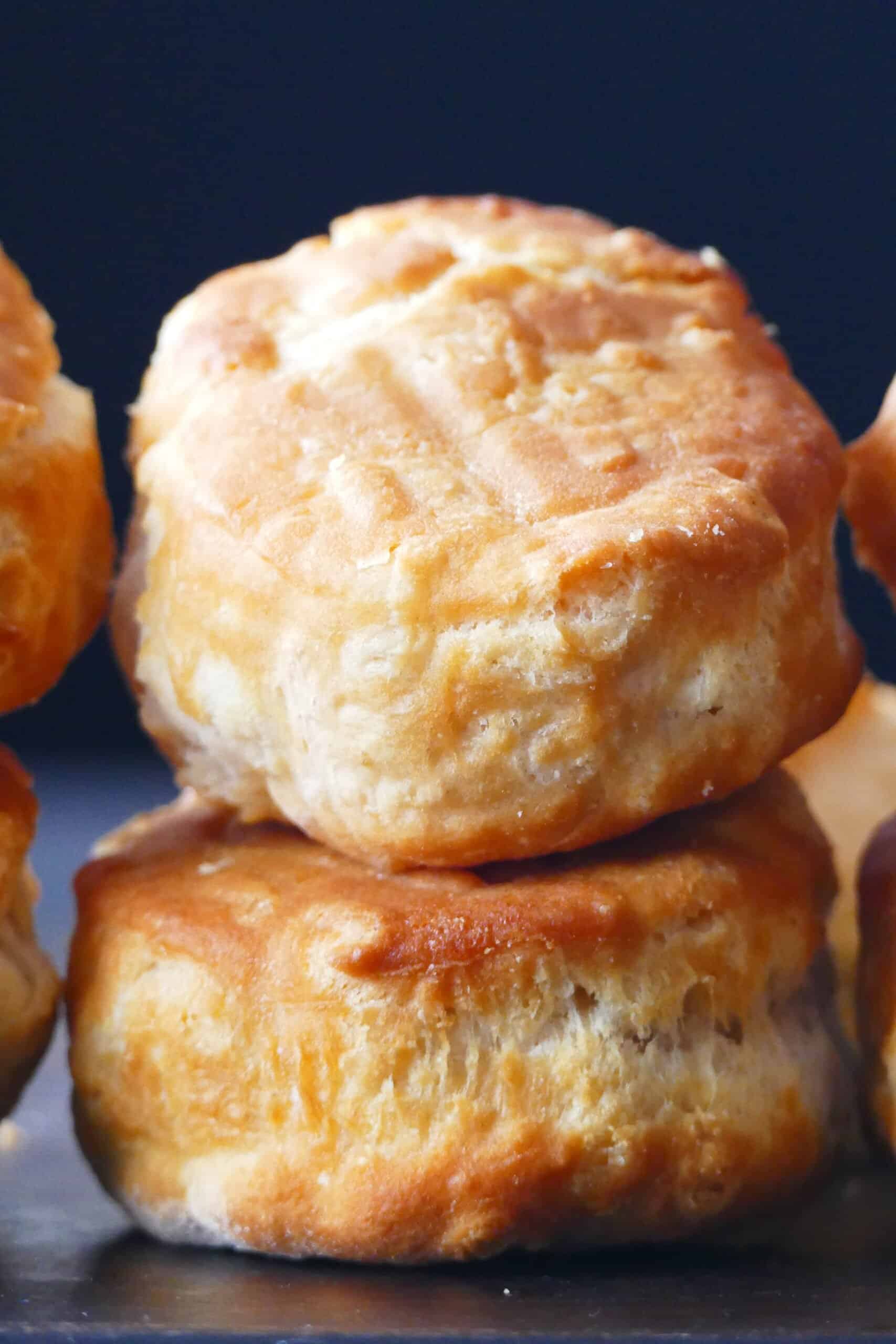 This post contains affiliate links. As an Amazon Associate, I earn from qualifying purchases. Please read the disclosure.
I love making homemade biscuits on weekends. I usually make them from scratch and they disappear in minutes as soon as I put them out!
But as delicious as they are, they're time-consuming to make from scratch. When I'm pressed for time, I like to use this easy recipe for perfect biscuits.
Fluffy biscuits cooked in the air fryer are a game-changer for busy households looking for a quick, easy, and delicious breakfast.
In just minutes, you can enjoy golden-brown, flaky biscuits that taste almost as good as if they were freshly baked.
1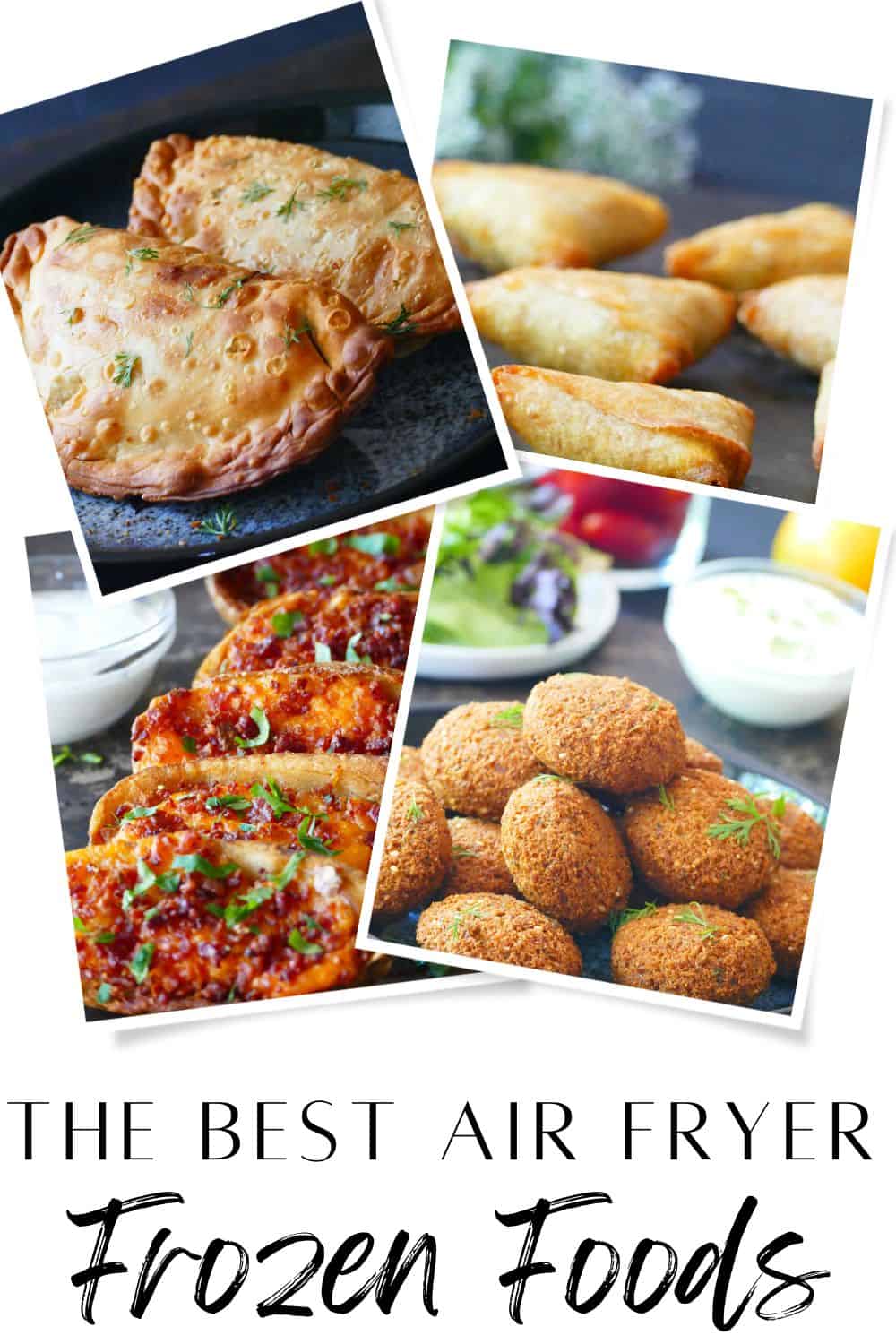 Air Fryer Frozen Foods
With air fryer snacks from egg rolls to french fries, and chicken nuggets to frozen pizza, you may have a hard time deciding what to make from this collection of quick and easy air fryer recipes.
GET RECIPE
One of the best things about using an air fryer is how quickly you can bake the biscuits. The hot air circulates all around the biscuits, cooking them evenly and giving them a crispy exterior that's so satisfying to bite into.
Serve air-fried biscuits with honey or jam. You could also serve them with sausage gravy for a classic Southern-style breakfast.
Other frozen foods to try include air fryer chicken tenders, air fryer empanadas, air fryer frozen meatballs, or no thaw frozen chicken wings.
For more ideas, I have a whole collection of easy air fryer recipes. Also, be sure to check out how to make Pillsbury brand refrigerated cinnamon rolls in the air fryer for a special treat!
Tips for Making Air Fryer Frozen Biscuits
---
Not all recipes require preheating. For this frozen biscuits air fryer recipe, I recommend that you preheat the air fryer. This allows the biscuits to rise properly.
---
There's no need to defrost the biscuit dough. Keep it frozen until you're ready to cook it.
---
Don't overcrowd the air fryer basket. Place the frozen biscuits in your air fryer basket in a single layer. Leave a little bit of space between them to allow the hot air to circulate.
Depending on the size of your air fryer, you may be able to fit 5 to 6 biscuits in the basket. If you need to cook more, air fry them in batches.
---
For oven style air fryers, cook the biscuits on the middle rack only because the biscuits may cook unevenly if distributed on multiple racks.
---
If you want to take your air fried frozen biscuits to the next level, here are some ideas:
---
Every air fryer will vary. The first time you make frozen biscuits in the air fryer, monitor and check on them 2-3 minutes before the cooking time is up.
They should be crispy and golden brown on the outside and flaky and fluffy on the inside. Adjust the recipe as needed in the future.
FAQS
---
Why are the frozen biscuits sticking to the basket?
I usually have no issues with sticking. However, every air fryer is different. If you're having issues, it may be a good idea to spray a little oil in the air fryer basket to prevent the biscuits from sticking to the bottom. Don't use canned nonstick cooking spray.
How long does it take to cook?
Cook frozen biscuits cook in about 11 to 12 minutes.
Do I need to turn the biscuits over halfway through cooking?
For best results, you do need to flip the biscuits partway through the air frying process. Use tongs or a spatula to turn the biscuits.
What brand of refrigerated biscuits was used in this recipe?
I used frozen Pillsbury grands buttermilk biscuits for this recipe since they are the most easily available. You can use any brand like Mary B's or generic store brands. If you're using another brand, you might need to adjust the cooking time and temperature.
What air fryer model was this air fryer biscuits recipe tested with?
This recipe was tested using a basket style air fryer (Cosori). Different air fryers may require a few extra minutes or a bit less time.
What should I do if the biscuits aren't cooked through and are still raw in the middle?
If the biscuits are still raw, turn them over again, and air fry them for an additional couple of minutes. If you're using aluminum foil or parchment paper, there could be reduced circulation of air. Make sure you poke a few holes into the parchment or foil.
How to Cook Frozen Biscuits in the Air Fryer – Pillsbury Grands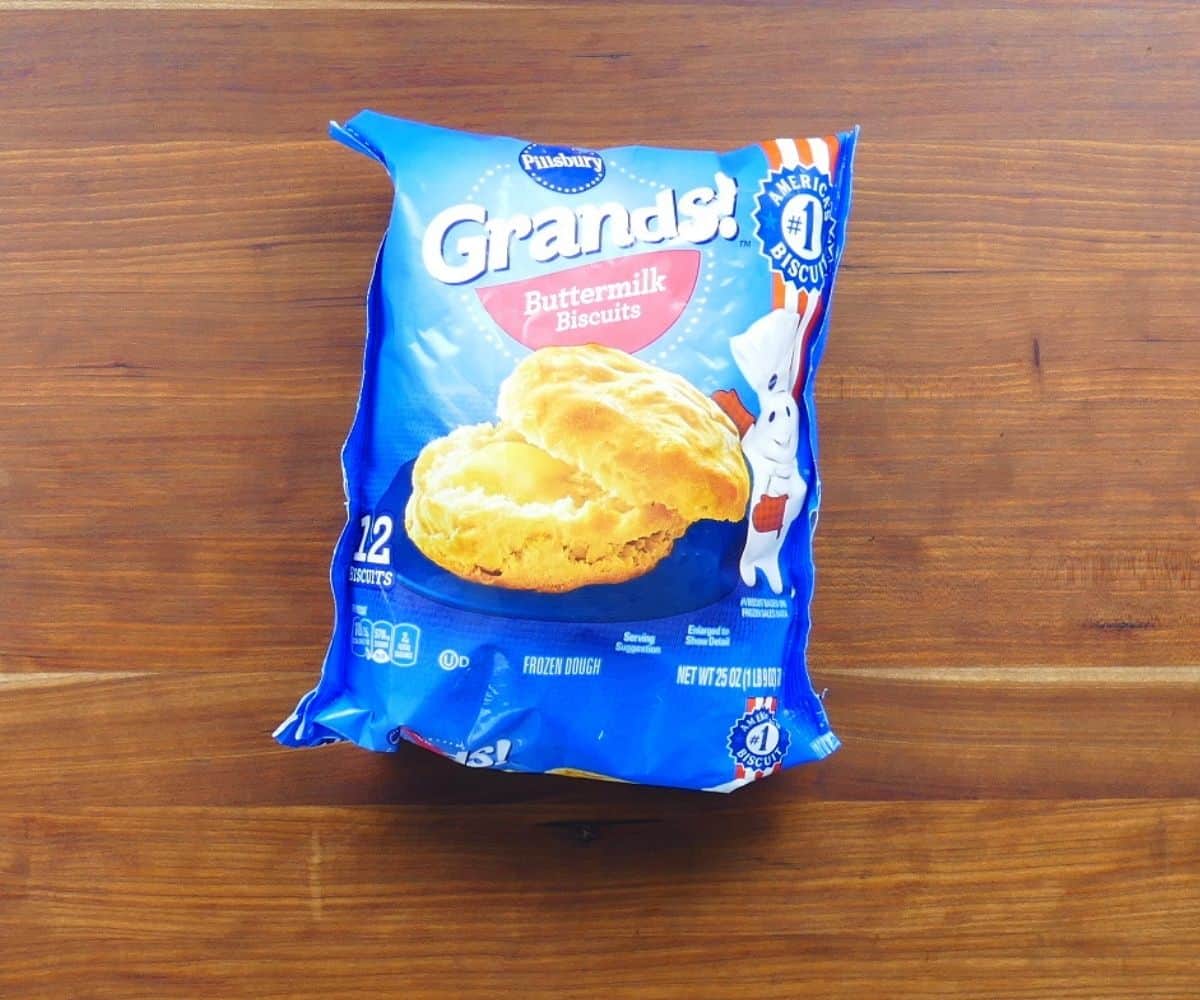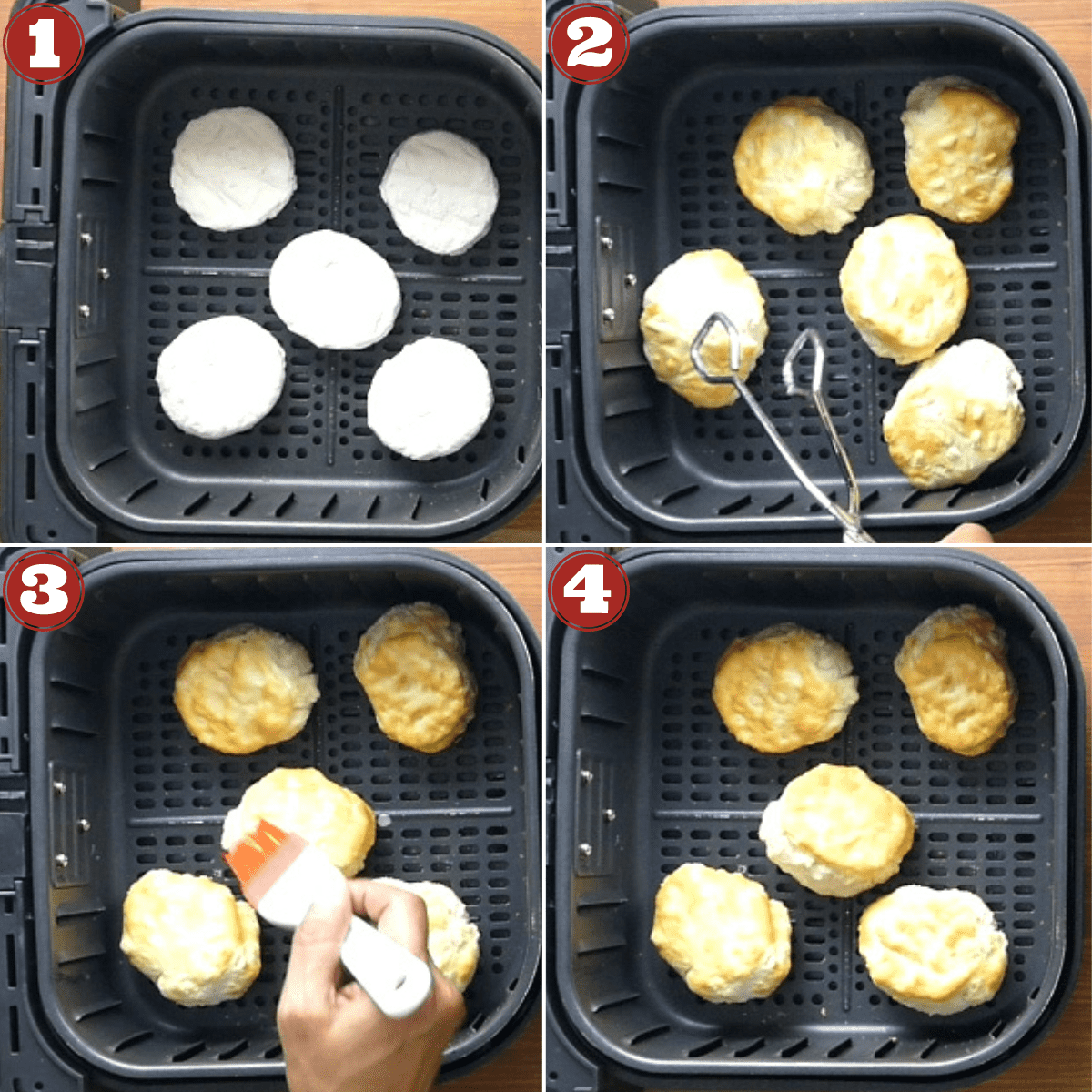 Place frozen biscuits in the air fryer basket

(I use ½ bag of frozen biscuits)
Air fry biscuits till golden brown. Flip halfway through cooking.
Brush the biscuits with melted butter 2 minutes before the time's up.
Transfer the cooked biscuits to a serving platter and serve right away.
See the recipe card below on how to air fry frozen biscuits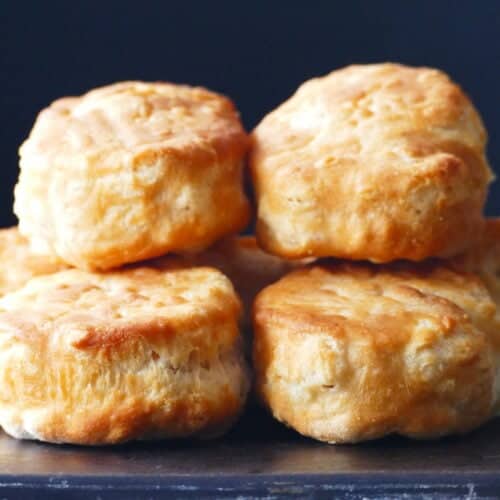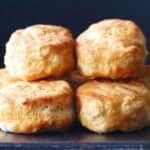 Frozen Biscuits in Air Fryer
Get perfectly crispy and fluffy air fryer biscuits in just minutes! Try cooking your favorite frozen biscuits in the air fryer for a quick and delicious breakfast or snack. They turn out crispy on the outside and soft inside.
Ingredients
Instructions
Air Fryer Instructions
Place the empty air fryer basket in the air fryer and preheat at 320 degrees Fahrenheit for 3 minutes. **

Lightly spray the basket with oil.

Add the biscuits to the air fryer in a single layer, without overcrowding.

Air fry for 12 minutes at 320 degrees Fahrenheit. Turn the biscuits at the halfway mark (at 6 minutes). Brush melted butter on the biscuits about 2 minutes before taking them out.

Transfer the biscuits to a serving platter and serve immediately.
Notes
* Pillsbury Grands frozen biscuits were used in this recipe. However, the same timings can be used for different brands. Nutrition information is for Pillsbury frozen biscuits.
Keep the biscuits frozen until you're ready to air fry.
Every air fryer will vary. The first time you make this recipe, monitor the biscuits and adjust the air frying time as needed. You may need to flip them halfway through the cook time.
Nutrition
Serving:
1
biscuit
|
Calories:
180
kcal
|
Carbohydrates:
24
g
|
Protein:
3
g
|
Fat:
2
g
|
Saturated Fat:
3
g
|
Polyunsaturated Fat:
2
g
|
Monounsaturated Fat:
1
g
|
Sodium:
570
mg
|
Fiber:
1
g
|
Sugar:
2
g
Thank you for visiting Paint the Kitchen Red. All photos and content are copyright protected. Please don't use any content without prior written permission. If you've made this recipe and would like to share it with your friends, please link back to this recipe. Thank you!
I am not a certified nutritionist. I provide my best estimate of nutritional information merely as a courtesy to my readers. If you depend on nutritional information for dietary or health reasons, I suggest using your favorite online nutrition calculator to confirm the nutritional value of this recipe based on the actual ingredients that you use.
Did you know that the best way to support your favorite bloggers is to comment and rate recipes, and share on social media? If you loved this recipe, please comment and give it a five ⭐ rating in the comment section below. If you're a pinner, pin this post using the Pin buttons at the top and bottom of this post and in the recipe card above. Thank you for your support!
More Air Fryer Recipes
2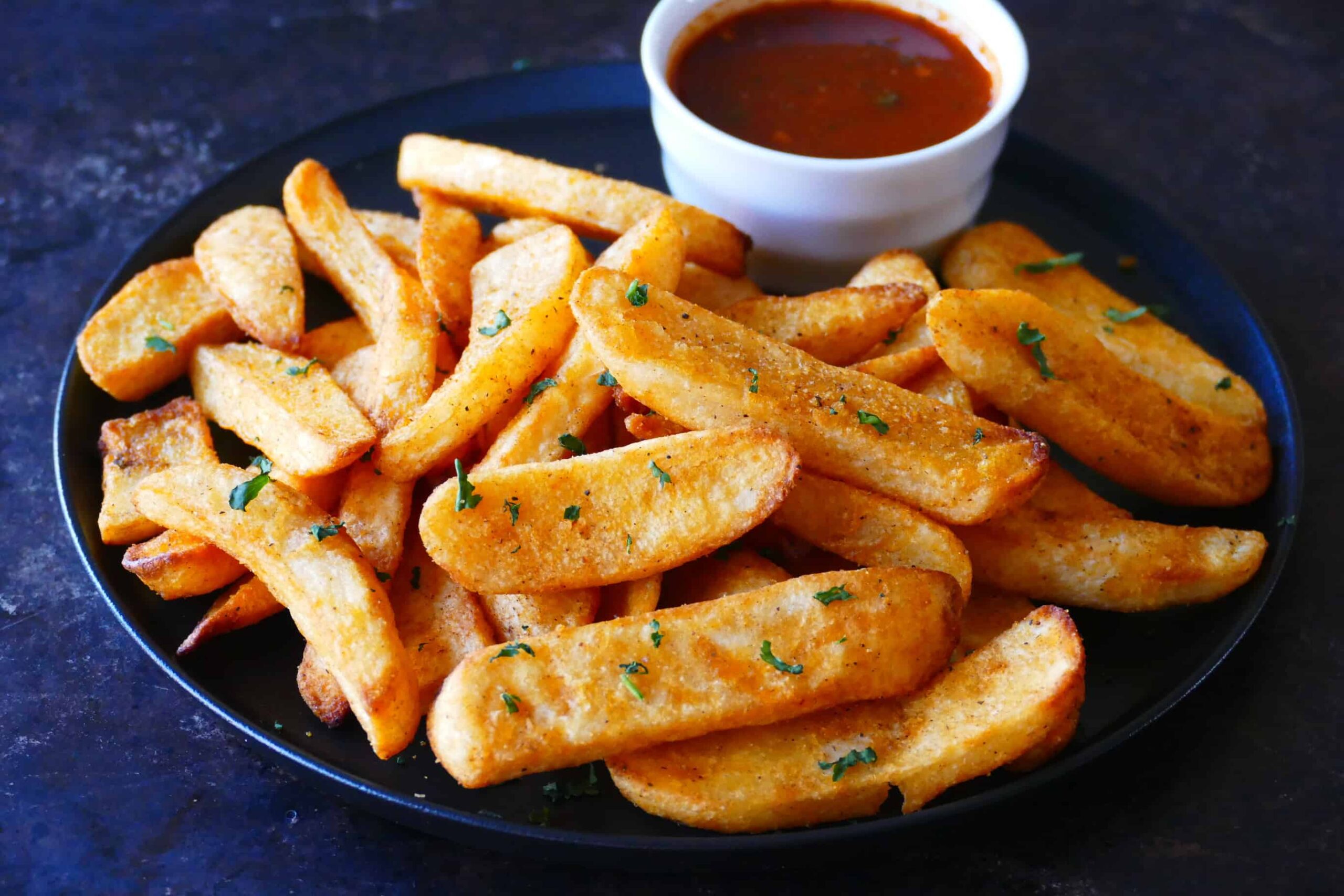 Frozen Steak Fries in Air Fryer
Cooking frozen steak fries in the air fryer gets them crisp on the outside and soft on the inside. And you can make them in less time than it takes to bake them in the oven or deep-fry them. You can use a traditional air fryer or an Instant Pot air fryer.
GET RECIPE
3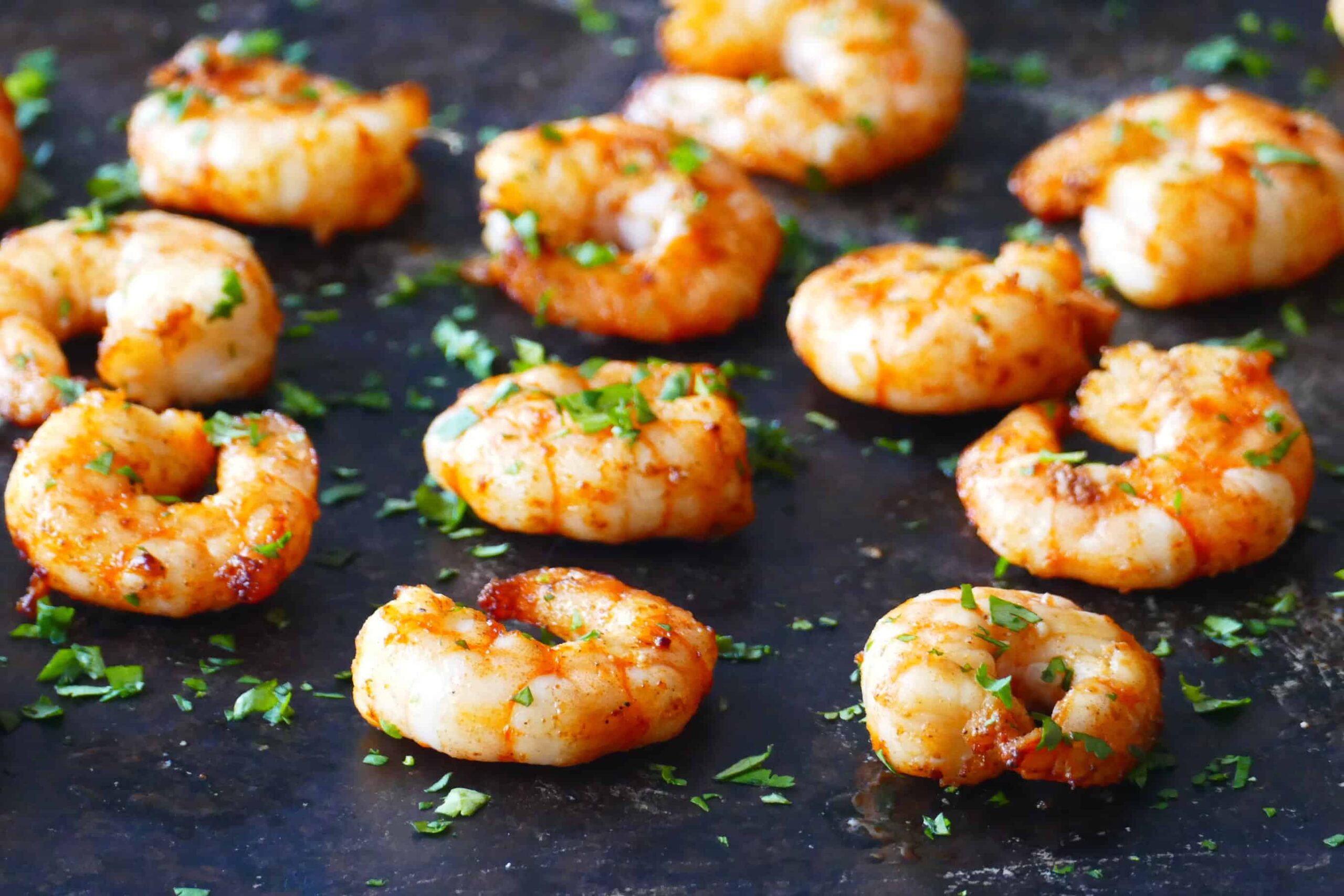 Air Fryer Frozen Shrimp Recipe
Make frozen shrimp in the air fryer! Thaw the shrimp or cook it from frozen using your air fryer. Simply preheat your air fryer, place the frozen shrimp inside, and in just a few minutes you'll have a perfectly cooked shrimp to use in recipes or as an appetizer.
GET RECIPE
4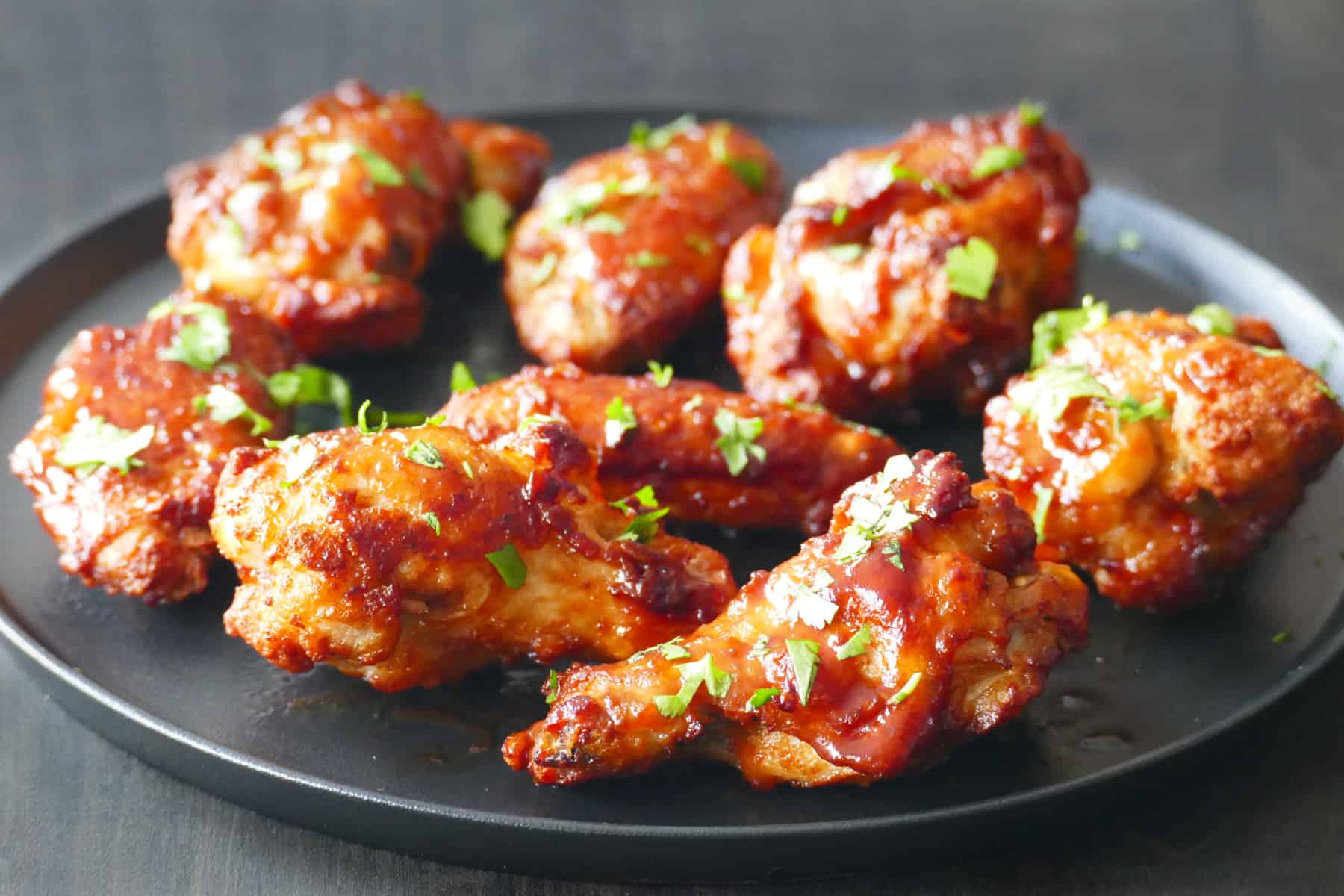 Air Fryer Frozen Chicken Wings
Air Fryer frozen wings are so easy to make! And they're crisp and delicious. Cooking frozen chicken wings in the air fryer gets them crisp on the outside and tender and juicy on the inside. And you can make them in less time than it takes to bake them in the oven or deep-fry them. Instructions provided for raw and precooked frozen wings.
GET RECIPE