This collection of Instant Pot air fryer recipes gives you plenty to choose from. These delicious appetizers, side dishes, main dishes, and dessert recipes will surely please your family and friends. These recipes are perfect for the Instant Pot air fryer lid, the Instant Pot Duo Crisp, Pro Crisp, Instant Pot Pro with Ultimate Lid, or Instant Vortex.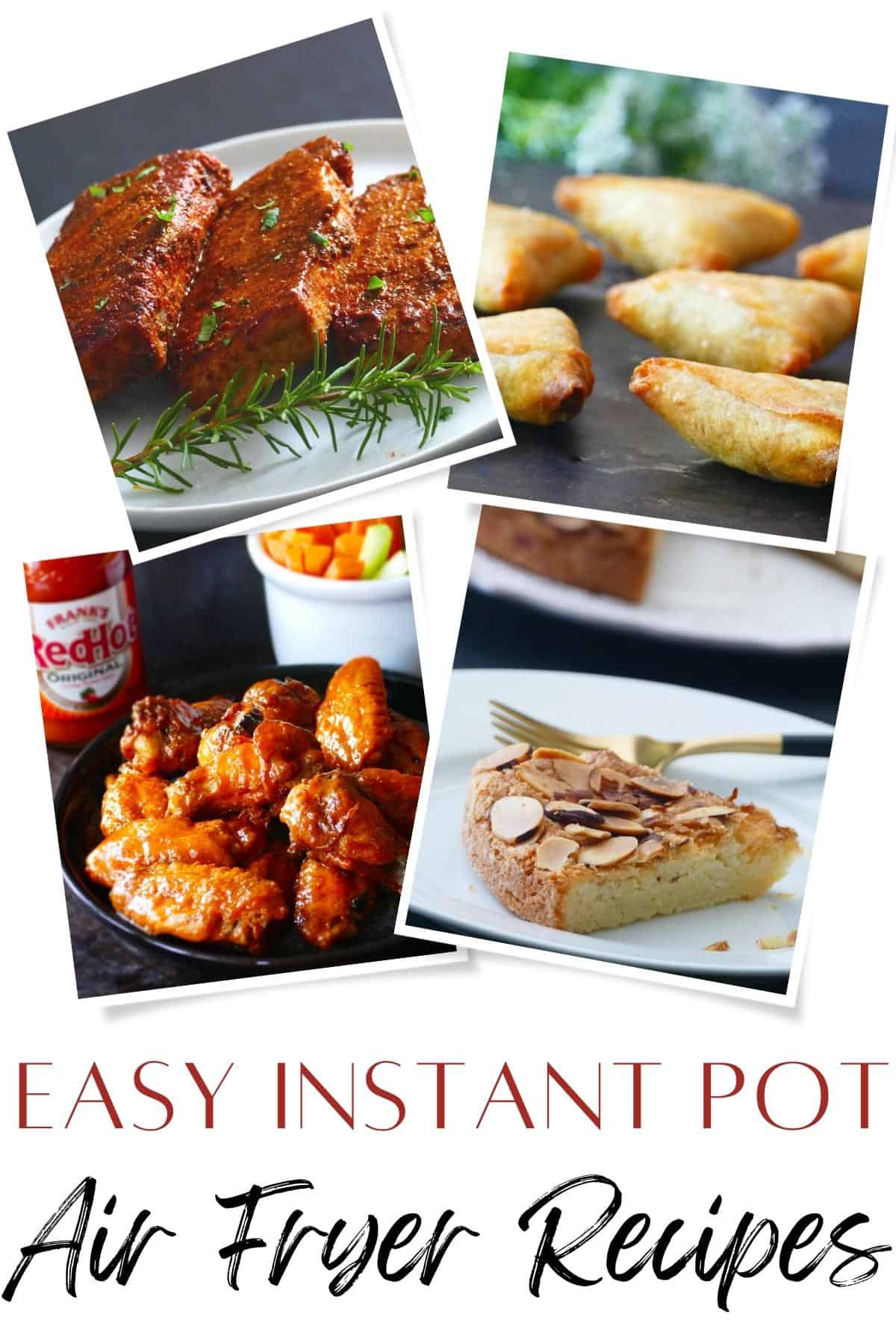 This post contains affiliate links. As an Amazon Associate, I earn from qualifying purchases. Please read the disclosure.
The original, regular Instant Pots (e.g. Instant Pot Duo model) are so convenient for pressure cooking quick meals. However, they lack the ability to make crispy food.
When the Instant Pot company introduced the Instant Pot Duo Crisp, Pro Crisp, and air fryer lid that fit the 6 quart Instant Pot model, the power of the Instant Pot multiplied tenfold! This was a game changer.
If you want to find out more, I've written all about the Instant Pot Duo Crisp and how to use it and I've also compared the Instant Pot Duo Crisp vs Pro Crisp, two of the popular air fryer models. Instant Pot Pro Crisp recipes can follow the same instructions as Duo Crisp air fryer recipes.
I have an Instant Pot air fryer and a regular air fryer. I love the Instant Pot air fryer because it's integrated with the pressure cooker and I only need to have one appliance on my counter.
The only downside is the air fryer basket, which fits in the Instant Pot stainless steel inner pot, is smaller than the traditional air fryer basket. However, Instant brands has the Instant Vortex air fryer which is a stand-alone toaster oven style air fryer and has a larger capacity.
Whatever it is you're looking for, whether it's air fryer recipes for beginners or experienced users, this roundup of Instant air fryer recipes has something to please everyone!
From french fries to chicken tenders, roasted squash to pork chops, there are lots of delicious choices. Also, be sure to check out my collection of the best air fryer frozen foods such as steak fries, samosas, and empanadas.
Instant Pot Air Fryer Appetizers
These Instant Pot air fryer lid recipes are quick and easy. The original Instant Pot models lacked the ability to make crisp recipes. The addition of air frying capability has taken the Instant Pot to new levels. The hot air generated by the air fryer lid attachment crisps up the food in a fraction of the time it would take in the oven. And you only have one pot to clean!
Instant Pot Air Fryer Side Dishes
I love how easy these side dishes are to make in the Instant Pot air fryer. When looking for an easy recipe to round out your menu, this collection of air fryer Instant Pot recipes is the place to find your perfect side dish. If you're a beginner, you'll find these very easy to make.
Instant Pot Air Fryer Breads
One of the things that just did not work for me in the original Instant Pot was baking bread. The Instant Pot air fryer solves this problem and allows you to bake breads and biscuits faster than the oven.
Instant Pot Air Fryer Main Dishes
The star of your dinner table is the main dish. This collection of Instant Pot air fryer main dish recipes has something for everone. There are pork, chicken, fish, beef, and vegetarian recipes. There are sophisticated recipes and kid-friendly recipes.
Instant Pot Air Fryer Desserts
Finally, when you want to end the meal with something sweet, there are some delicious dessert recipes you can make in the Instant Pot air fryer. These are some of my favorite recipes. They're guaranteed to please.
If you loved this recipe collection, please share it on social media using the social media share buttons at the top and bottom of this post. Thank you so much!