Chicken Curry Soup is an Indian curry-flavored creamy chicken soup that's going to have everyone going back for seconds. Serve this curried chicken soup with crusty bread or over rice. If you're a fan of chicken mulligatawny soup, this soup is very similar. [Instant Pot and Stovetop instructions included.]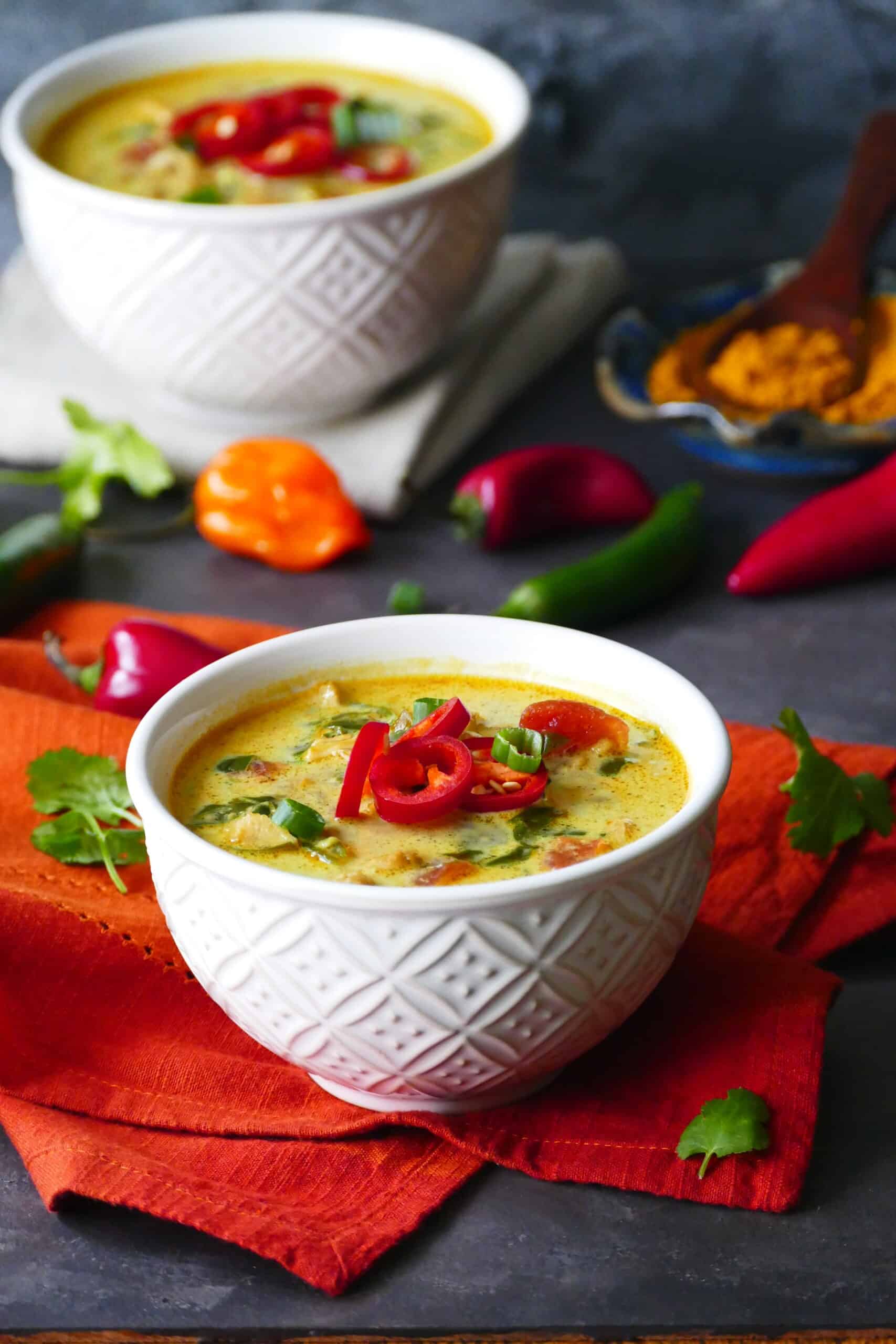 [This post was completely updated in March 2021 with clear instructions and new images.]
This post contains affiliate links. As an Amazon Associate, I earn from qualifying purchases. Please read the disclosure.
Introduction
This is one of my favorite soups. This chicken curry soup is going to be a part of your regular meal rotation if you like the flavor of curry and are looking for a hearty and satisfying curry soup recipe.
This curry chicken soup recipe contains an ingredient that I don't use very often: curry powder. Confession time: I once was a curry powder snob, as in "no one who cooks authentic Indian food would EVER use curry powder!"
But that was before I tried it out in this curry soup, and I realized that there are definitely occasions when curry powder is a great option.
Most Indian cooks don't use curry powder in their cooking, but rather use individual spice flavorings (like coriander, cumin, turmeric, garam masala) or prepared spice mixes (available at Indian grocery stores) that are specifically tailored for each dish.
Curry powder was invented back when India was a British colony and the British prepared it as a spice mix to duplicate the intricate flavorings they liked in Indian cuisine. There are many different brands of curry powder, and you can find one that suits your tastes.
I think you'll agree with me that curry powder is the star of this delicious curry soup recipe! And if you're looking to try an authentic curry, give my Instant Pot chicken curry a try.
Here are some Soup Recipes you might enjoy:
– Thai Coconut Curry Soup Recipe
– Chipotle Shrimp Soup
– Italian Wedding Soup
– Pork and Hatch Chile Soup
Tips and Substitutions
---
Butter
I tend to use either butter or ghee in this recipe. I love the flavors, especially that of homemade ghee. If you wish to avoid the calories, feel free to use vegetable oil instead.
---
Curry Powder
I've tried McCormick, Spice Islands, and Simply Organic curry powder in this chicken soup curry recipe and all have worked out great. If you're using another brand, check the ingredients for salt and adjust the quantity of added salt in this recipe.
The amount of curry powder called for in this recipe can be increased if you want a stronger flavor. If your curry powder has been sitting in your cupboard for a long time, do yourself a favor and get a fresh new bottle; you'll be glad you did!
---
Coconut Milk
I use full-fat coconut milk. I find some coconut milk brands don't do well during pressure cooking, including some brands that are widely available at grocery stores. My two favorite brands are Aroy-D and Chaokoh. Some readers recommend Trader Joe's brand coconut milk.
If you're not a fan of coconut milk, substitute with ½ cup of heavy cream for this curry chicken soup. Many recipes for mulligatawny soup use heavy cream.
---
Spiciness
If you like things spicy, you can add some more jalapeno. Or here's a tip: I frequently use serrano chili peppers instead of jalapenos because they have more heat, and I find their spice to be more consistent.
Some jalapeno peppers can be really hot while others can be milder. And if you don't like a lot of spice, you can omit the jalapeno.
---
Tomatoes
I find that canned diced tomatoes work great in this Indian curry soup recipe, but I do use fresh diced tomatoes on occasion.
---
Chicken
I always prefer to use chicken thighs over chicken breast, especially because the Instant Pot cooks them so well. If you're a fan of chicken breast and wish to use it instead, feel free to do so.
If you're new to the Instant Pot and aren't familiar with how to use it, you might find it helpful to first read one of the following guides and then come back here to learn how to make this recipe.
Curried Chicken Soup – Ingredients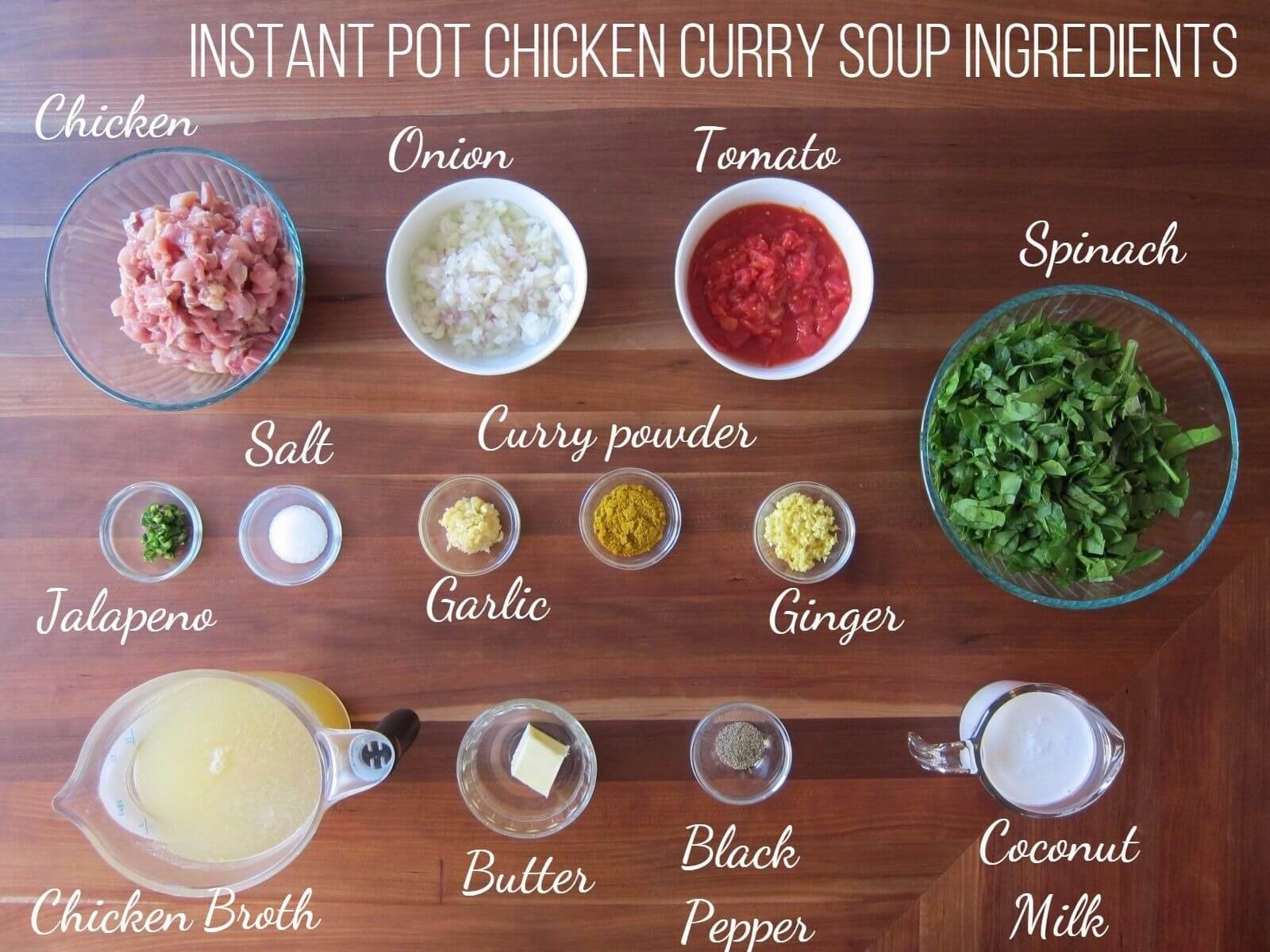 Chicken
Onion
Tomato
Spinach
Jalapeno
Salt
Garlic
Curry powder
Ginger
Chicken broth
Butter
Black pepper
Coconut milk
More details in the recipe card at the bottom of this post
How to Make Chicken Curry Soup in the Instant Pot (Step by Step Instructions)
Turn on Saute Mode.
Saute onion mixture.
Saute spices and deglaze.
Saute chicken and add broth.
Pressure cook.
Release pressure.
Stir in coconut milk.
Sprinkle with cilantro.
How to Turn on Saute Mode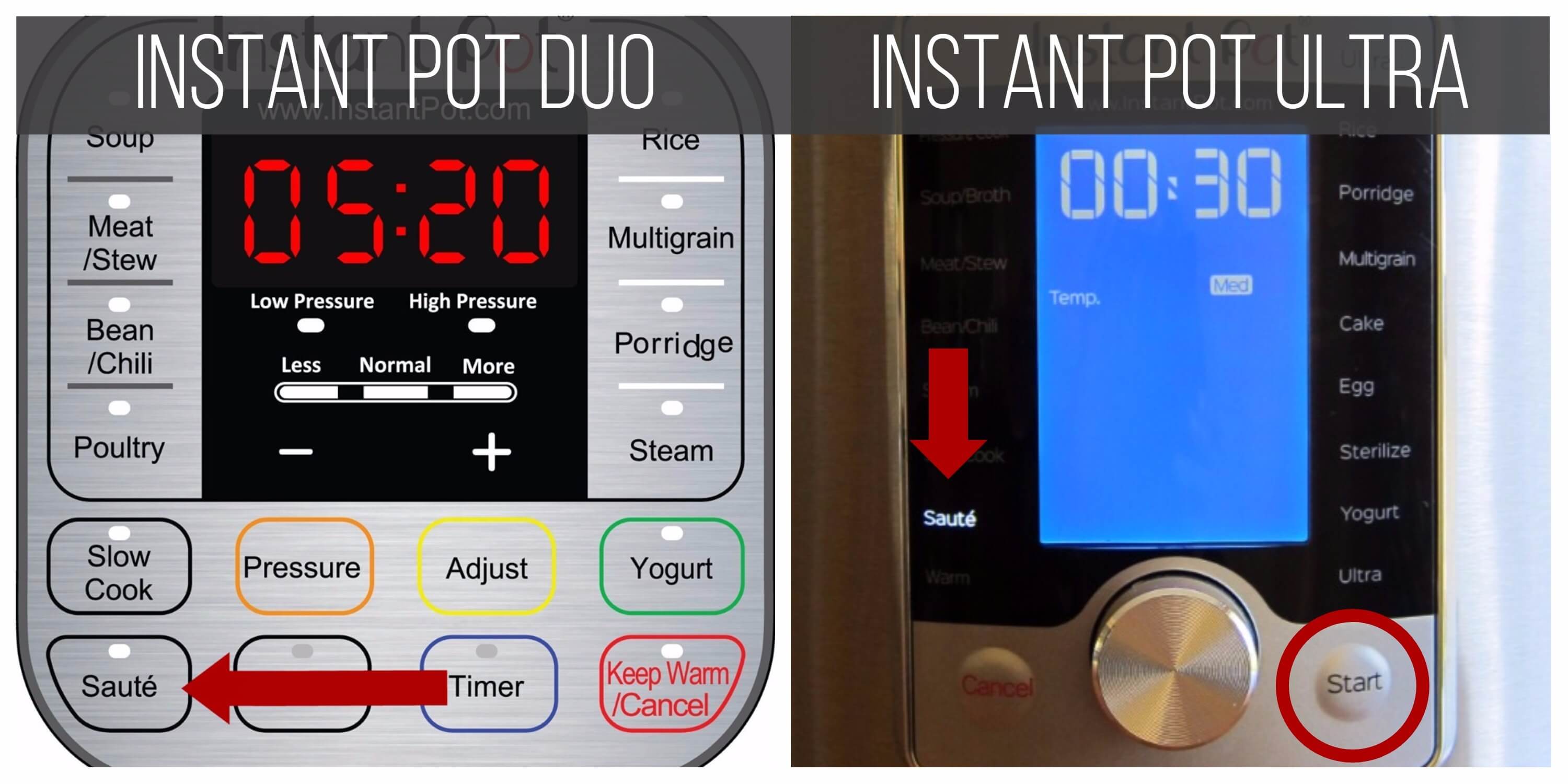 Instant Pot DUO: Select the Saute function.
Instant Pot ULTRA: Select the Saute function and press Start.
Saute Onion Mixture
Once Instant Pot has heated up, melt butter or ghee in the inner pot.
Stir in onion, garlic, ginger, and jalapenos, and saute the onion mixture until onions are light golden brown, about 5 minutes.
Press Cancel. The spices will cook in the residual heat.
Saute Spices and Deglaze
Add curry powder, salt, and pepper; stir till fragrant.
Deglaze with a small amount of broth if you find that the spices are burning or food is sticking to the bottom.
Saute Chicken and Add Broth

Add the chicken and stir to coat with the onion spice mixture.
Deglaze with a small amount of broth and scrape up all the brown bits.
Stir in remaining broth.
Add the tomatoes but don't stir.
Instant Pot Duo Pressure Cook 5 minutes

Close the lid and make sure steam release handle is in Sealing position
Press Manual (or Pressure Cook) and + or – until the display reads '5′ (5 minutes).
Instant Pot Ultra Pressure Cook 5 minutes

Close the lid.
Select Pressure Cook mode and adjust the time to 5 minutes (00:05).
Press Start.
Pressure Cooking Process (Duo and Ultra)


Instant Pot display will change to On.
Once the Instant Pot is pressurized, the float valve will go up.
The display will count down to 0; it will then switch to Keep Warm mode and display 'L0:00' or '00 00′ and begin to count up the number of minutes since pressure cooking completed.
How to Naturally Release Pressure (NPR) on the DUO and ULTRA


Stir in Coconut Milk, Spinach and Cilantro

Stir in Coconut milk and spinach.
Select Saute mode and heat until spinach wilts and soup is heated through.
Press Cancel and stir in cilantro.
Serve soup in individual soup bowls over Instant Pot Rice or with crusty bread.
Stovetop Directions for Chicken Curry Soup
---
To make this recipe on the stovetop:
Saute onion, garlic, ginger, and green chilis.
Saute curry powder.
Stir in broth, tomatoes, and chicken.
Simmer until the chicken is cooked through.
Stir in spinach and coconut milk and heat through.
Garnish with cilantro.
See the recipe card below for detailed instructions.
More Chicken Favorites
Love cooking chicken in the Instant Pot but looking for new recipes? Here are a few of my favorite Instant Pot chicken recipes that are easy, delicious, and fast to make.
For more chicken recipes, be sure to head over to my list of amazing Instant Pot chicken recipes you need to try!
Coconut Chicken Curry Soup
Chicken Curry Soup is an Indian curry-flavored creamy chicken soup that's going to have everyone going back for seconds. Serve this curried chicken soup with crusty bread or over rice. If you're a fan of chicken mulligatawny soup, this soup is very similar. [Instant Pot and Stovetop instructions included.]
Instructions
Instant Pot Pressure Cooker Instructions
Select Saute mode and allow the Instant Pot to heat up. Once the inner pot has heated up, add the butter or ghee.

Once the ghee has heated up, add onions and saute until light golden brown, about 2 to 3 minutes.

Add garlic, ginger, and jalapeno and cook mixture until fragrant, about 1 minute.

Press Cancel. The spices will cook in the residual heat.

Add curry powder, salt and pepper and stir till fragrant, about 30 seconds**

Add chicken and stir to coat with the spice mixture.

Stir in ¼ cup of broth to deglaze. There should be no brown bits stuck to the bottom of the inner pot.

Stir in remaining broth. Add the tomatoes, but don't stir.

Close the Instant Pot lid and pressure cook on High Pressure for 5 minutes.

Press Cancel and open the Instant Pot.

Stir in spinach and coconut milk.

Cook soup in Saute mode until spinach wilts and soup is heated through.

Stir in cilantro and serve soup in individual soup bowls over rice or with crusty bread.
Stovetop Instructions
Heat butter or ghee in a large heavy-bottomed pot over medium-high heat.

Add onion, garlic, ginger, and jalapeños to the pot. Saute for a couple of minutes or until the onion is lightly browned.

Add curry powder, garlic and salt and stir until fragrant, about 30 seconds to a minute.

Stir in chicken broth, tomatoes, and chicken. Bring to a boil and reduce heat to medium. Simmer for 10 minutes or until the chicken is cooked through.

Stir in the coconut milk and heat till the soup thickens.

Add the spinach and heat through till the spinach wilts.
Notes
Prep time does not include steps that are already accounted for in the ingredient list, e.g. chopped onions, minced garlic, diced chicken, etc.
See the blog post for more detailed recipe tips.
* Adjust the quantity of salt based on whether your curry powder already has salt and to suit your taste preference.
** You don't want to burn the spices! If you need to, add a tablespoon of broth to deglaze the inner pot. If the Instant Pot becomes too hot and the ingredients are burning, turn it off to cool it down and turn back on when it's cooler.
Nutrition
Serving:
1.5
cups
|
Calories:
360
kcal
|
Carbohydrates:
10
g
|
Protein:
27
g
|
Fat:
25
g
|
Saturated Fat:
14
g
|
Cholesterol:
152
mg
|
Sodium:
1285
mg
|
Fiber:
3
g
|
Sugar:
3
g
Thank you for visiting Paint the Kitchen Red. All photos and content are copyright protected. Please don't use any content without prior written permission. If you've made this recipe and would like to share it with your friends, please link back to this recipe. Thank you!
I am not a certified nutritionist. I provide my best estimate of nutritional information merely as a courtesy to my readers. If you depend on nutritional information for dietary or health reasons, I suggest using your favorite online nutrition calculator to confirm the nutritional value of this recipe based on the actual ingredients that you use.
Did you know that the best way to support your favorite bloggers is to comment and rate recipes, and share on social media? If you loved this recipe, please comment and give it a five ⭐ rating in the comment section below. If you're a pinner, pin this post using the Pin buttons at the top and bottom of this post and in the recipe card above. Thank you for your support!
Recipes You Might Also Like
1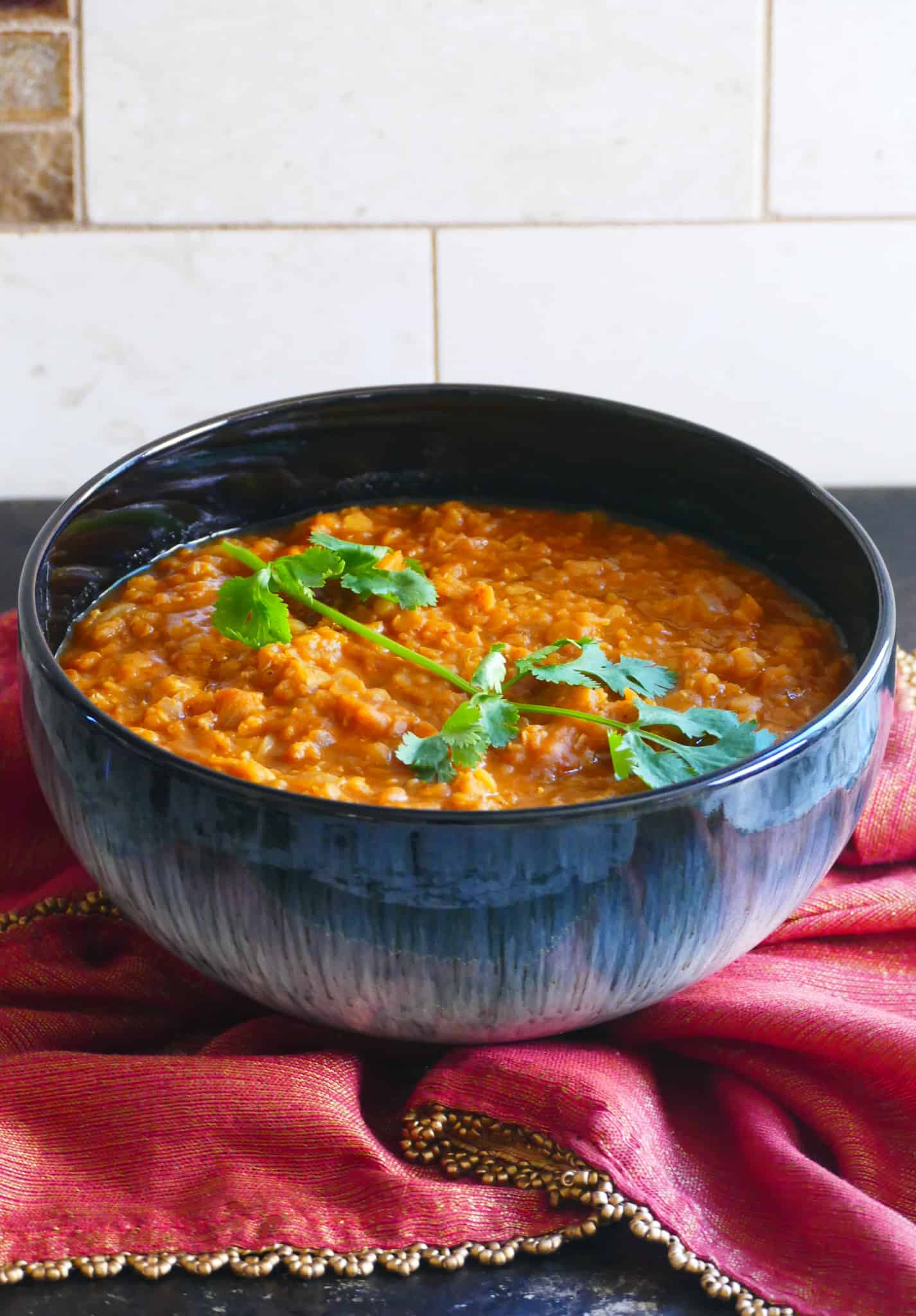 Ethiopian Lentils | Misir Wot (Instant Pot and Stovetop)
This Ethiopian Lentil Stew recipe, also known as Misir Wot, makes for an irresistible vegetarian meal. Made with red lentils cooked to creamy perfection and enhanced by the bright, warming flavors of Berbere spice mix, this is a simple and delicious recipe that can be part of a healthy weeknight meal. Instant Pot and stovetop instructions included.
ETHIOPIAN LENTIL STEW
2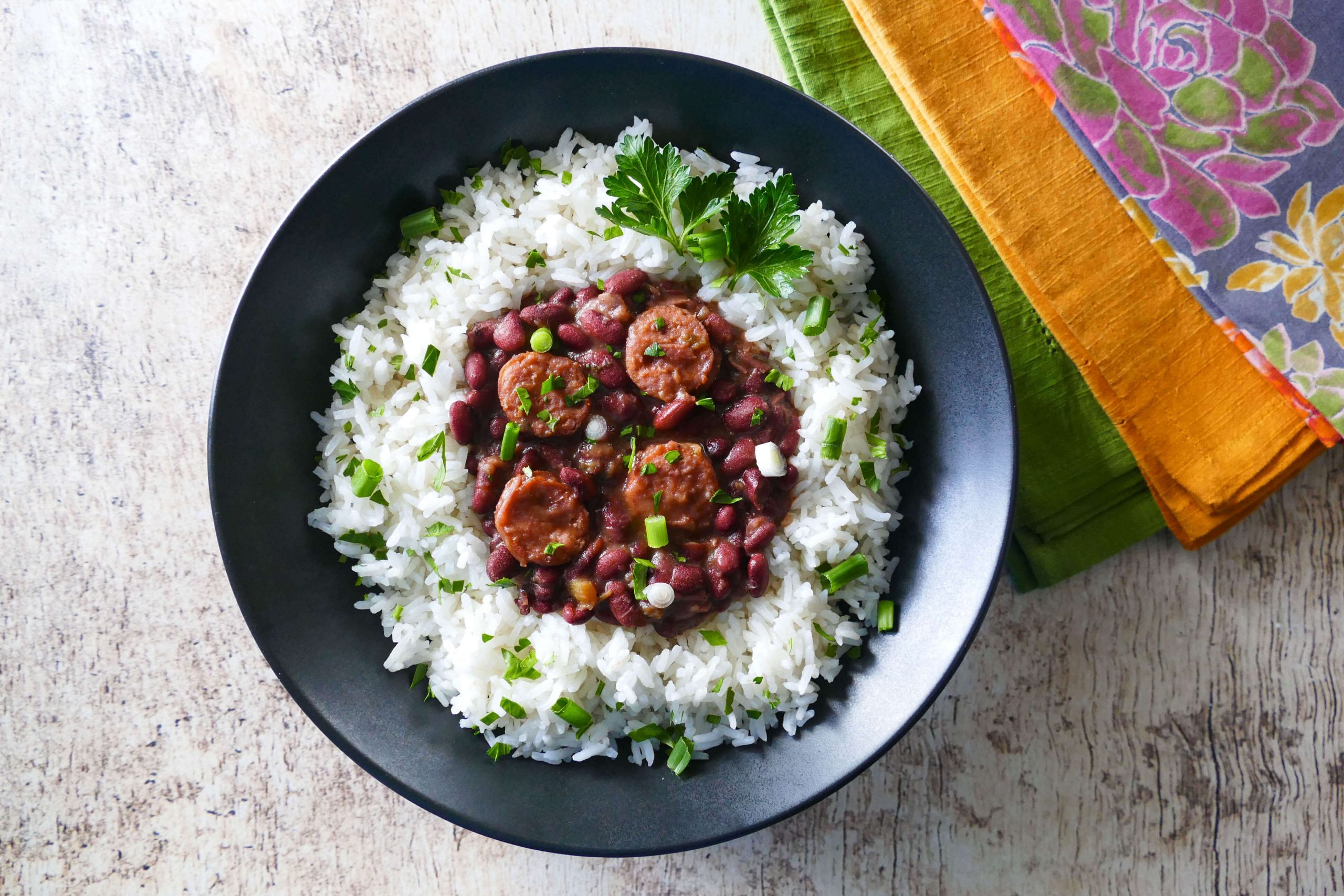 Authentic Instant Pot Red Beans and Rice Recipe
Instant Pot Red Beans and Rice is an authentic New Orleans recipe that will be very popular at your next gathering. It tastes as though you've cooked it for hours, and tastes even better the next day. Perfect for feeding a crowd, this recipe is so simple. I've given instructions for using dried beans if you don't have time to soak.
INSTANT POT RED BEANS AND RICE
3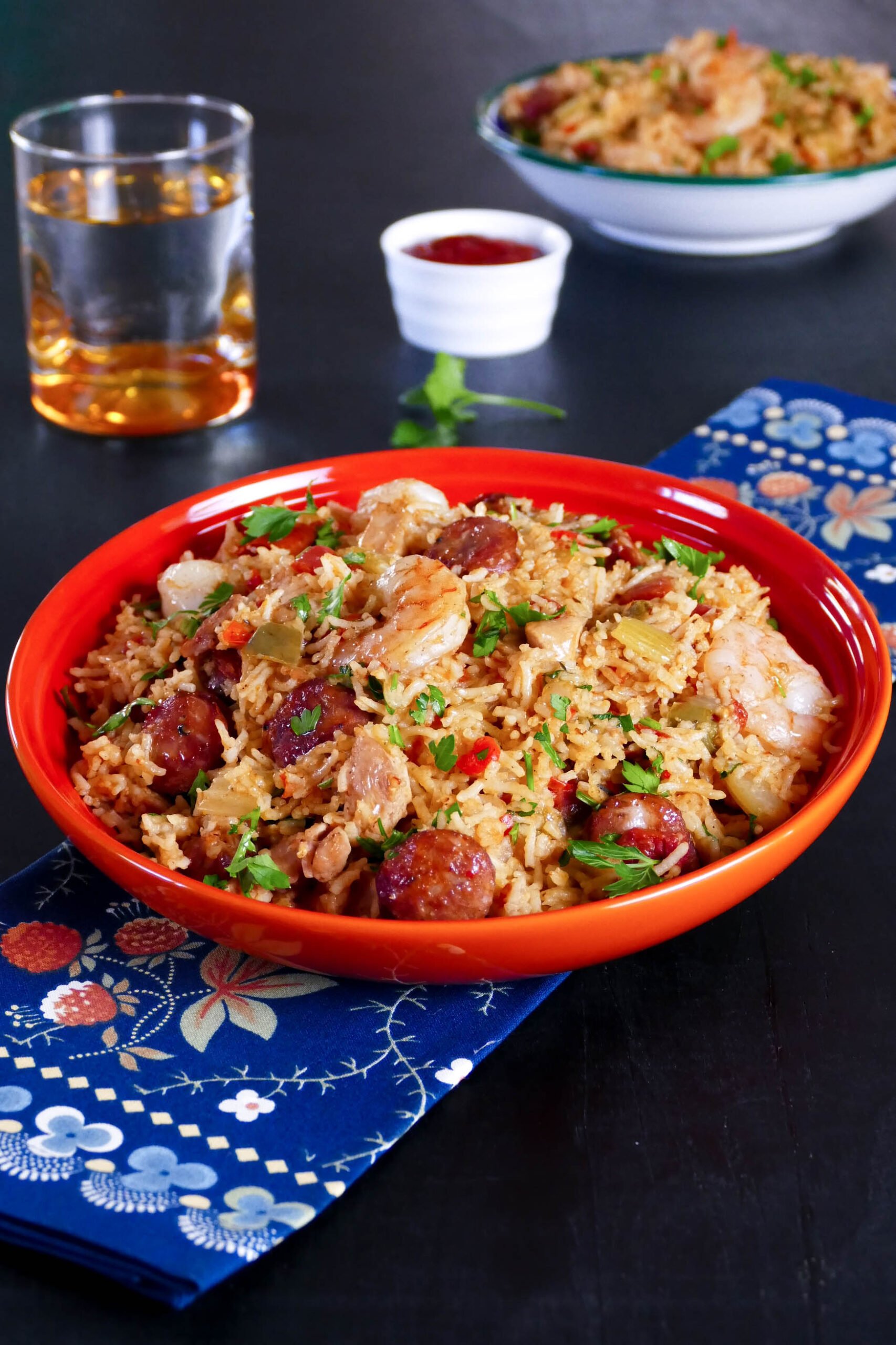 Easy Instant Pot Jambalaya
This Instant Pot Jambalaya was adapted from an authentic Creole Jambalaya recipe and has andouille sausage, chicken and shrimp combined with rice, is flavored with Cajun spices and cooked to perfection.
INSTANT POT JAMBALAYA