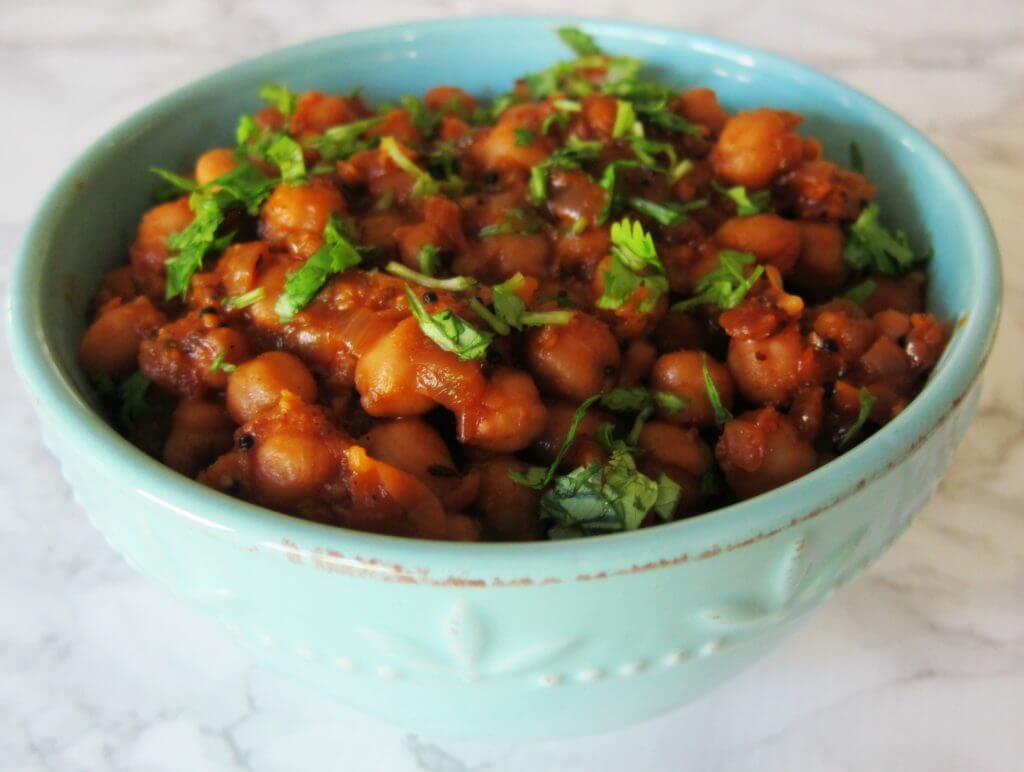 Chana Masala is a very popular dish and is sure to be on every Indian restaurant menu. Chana Masala, which is also known as Chole, is a vegetarian dish made with garbanzos/chickpeas that is more a dry dish than a gravy. It's traditionally a North Indian dish that's also popular as a street food and is served with pooris, chapatis, naan or bhaturas which are different kinds of breads that accompany Indian food. And every region and household probably has its own take on the recipe for Chana Masala. The traditional recipe has a perfect blend of salty, spicy, and sour with a hint of sweetness. Although my momma may not approve, I make my Chana Masala with canned garbanzos. It just makes the dish so quick and easy to make and I can have it on the dinner table in less than 30 minutes. The 'real' way would be to soak the garbanzos overnight, cook them from scratch, and proceed with the recipe.
If you've tried my Indian Chicken Curry recipe, the base of this dish will be familiar to you: Fry mustard and cumin, then onion, garlic, ginger, then tomato paste and and finally the spices. The spices are different here though, because I use a prepared Chana Masala spice mix since that's what I've found gives me that perfect combination of spicy, salty, sour, and sweet flavors each time I make this dish. If you prefer not to use the Chana Masala spice, which will be available at any Indian grocery store or online, check my notes at the end of the recipe to find a substitute using coriander, turmeric, chili powder, etc. One box of the Chana Masala spice mix will last you a while, and so I think it's worth purchasing it if you can. Amchur is another spice that you can purchase at an Indian grocery store. It gives the dish a tangy taste. You can easily substitute lemon juice for the amchur, or if you like your Chana Masala less sour, eliminate it altogether.  The chana masala spice mix has a bit of amchur in it already.  Try it with Fried Potatoes, Kerala Style and with naan and plain yogurt on the side.
Chana Masala / Chole Ingredients
Chana Masala / Chole Stages of Cooking

And finally here's the recipe.  I hope you enjoy it and if you try it out, I'd love to hear back from you!

Chana Masala - Chole
A delicious, quick and easy vegetarian Indian garbanzo dish that is just the right combination of spicy, salty, sour and a hint of sweet.
Print
Rate
Ingredients
2

Tbsp

vegetable oil

1

tsp

black mustard seeds

1/2

tsp

cumin seeds

1 1/2

cups

chopped onions

1

Tbsp

minced garlic

1

Tbsp

minced ginger

1/2

jalapeno pepper

-

chopped finely (or to taste)

1

Tbsp

chana masala spice mix **

1

tsp

coriander powder

1

tsp

salt

1 1/2

Tbsp

tomato paste

1 1/2

tsp

brown sugar

2

tsp

lemon juice or 1/4 tsp Amchur

-

mango powder - optional

2 16-

oz.

cans garbanzo beans

-

drained

¼

cup

cilantro chopped
Instructions
Heat oil over medium-high heat in a medium saucepan.

When oil is very hot, add mustard seeds and immediately cover the pan, allowing the mustard seeds to pop.

Lower heat to medium and remove cover. Add cumin seeds.

Immediately add onion, garlic, ginger and jalapeno; fry well until golden brown, stirring frequently. Lower the heat if necessary, to make sure onions caramelize and don't burn.

Add tomato paste and, stirring frequently, cook until the oil separates and the mixture becomes paste-like, about 5 minutes; Add a teaspoon or two of hot water if the mixture starts sticking to the bottom of the pan.

Stir in spices and salt, fry briefly till fragrant. Add brown sugar and lemon juice / mango powder. Stir for 30 seconds. Add ½ cup water and garbanzo beans; bring to a boil, lower heat and simmer till thickened, about 10 to 15 minutes.

Garnish with cilantro.

Serve with rice or naan.
Notes
** If you don't have a chana masala spice mix, substitute the following: 1 tsp coriander powder, 1/2 tsp black pepper, 1/2 tsp turmeric powder, 1/2 tsp cayenne pepper or Indian chili powder, 1/4 tsp ground fennel seeds