Pot in pot Instant Pot cooking method is a pressure cooking technique that allows you to pressure cook cheesecake, lasagna, and other foods that don't contain liquid. Pot in Pot cooking is useful for making smaller quantities of food. The PIP method also allows you to pressure cook recipes that tend to scorch and to cook multiple dishes at the same time using Instant Pot stackable containers.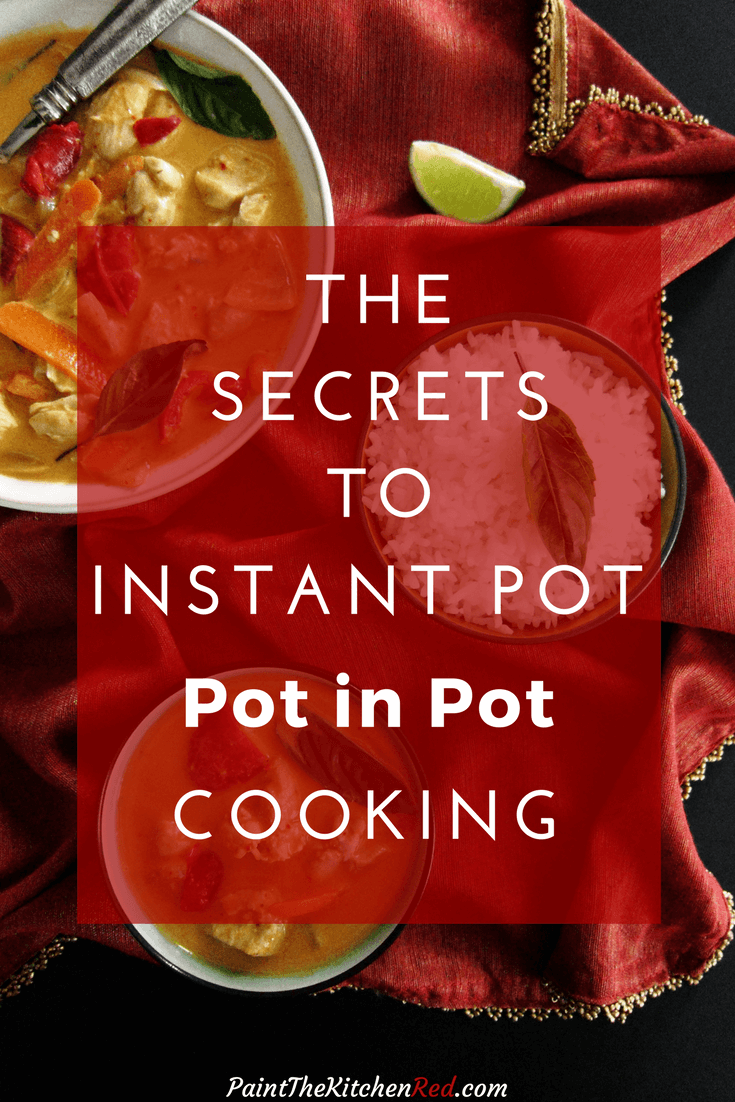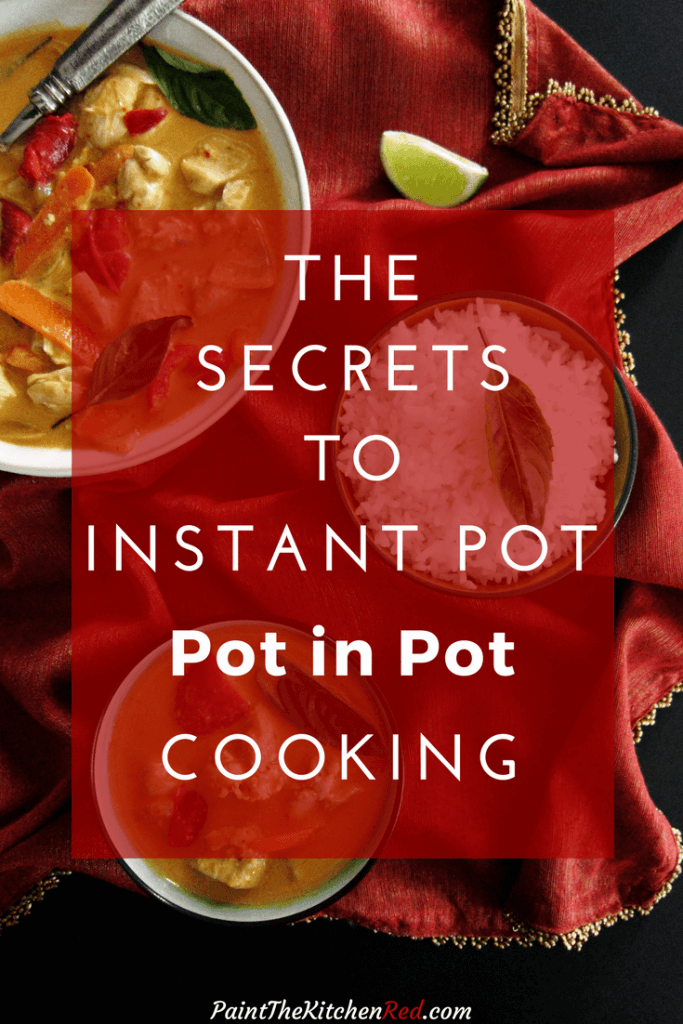 This post contains affiliate links. As an Amazon Associate, I earn from qualifying purchases. Please read the disclosure.
If you're familiar with the Instant Pot, maybe you've heard the term Pot in Pot and wondered what it is. Pot in Pot cooking (also referred to as PIP) is a really useful stovetop pressure cooker technique that can be used with the Instant Pot pressure cooker.
I'll give you a summary of why you'd want to use this technique and walk you through the steps to combine two recipes that you can cook together. By the way, if you've made my Instant Pot Shrimp and Grits recipe, then you've already used the Pot in Pot technique!
Get Started with the Instant Pot with these guides:
– Instant Pot Duo Quick Start Guide
– Instant Pot Ultra Quick Start Guide
– Instant Pot Duo Evo Plus Beginners Manual
---
What is Pot in Pot Pressure Cooking?
The Instant Pot pot in pot method of cooking allows food to cook in a separate smaller pot that's placed on a steam rack in the Instant Pot. Steam generated from liquid below the steam rack is used to build pressure and cook the food.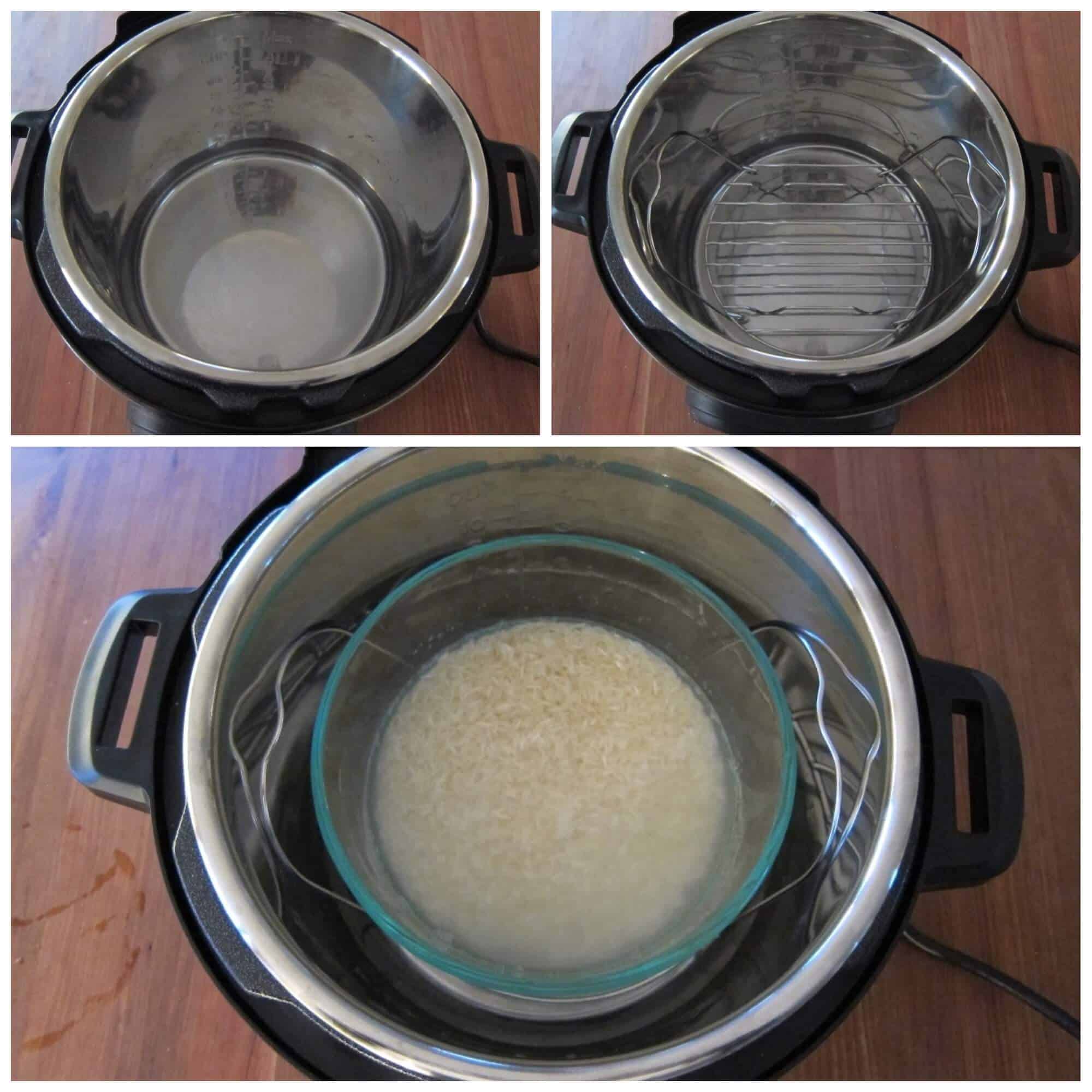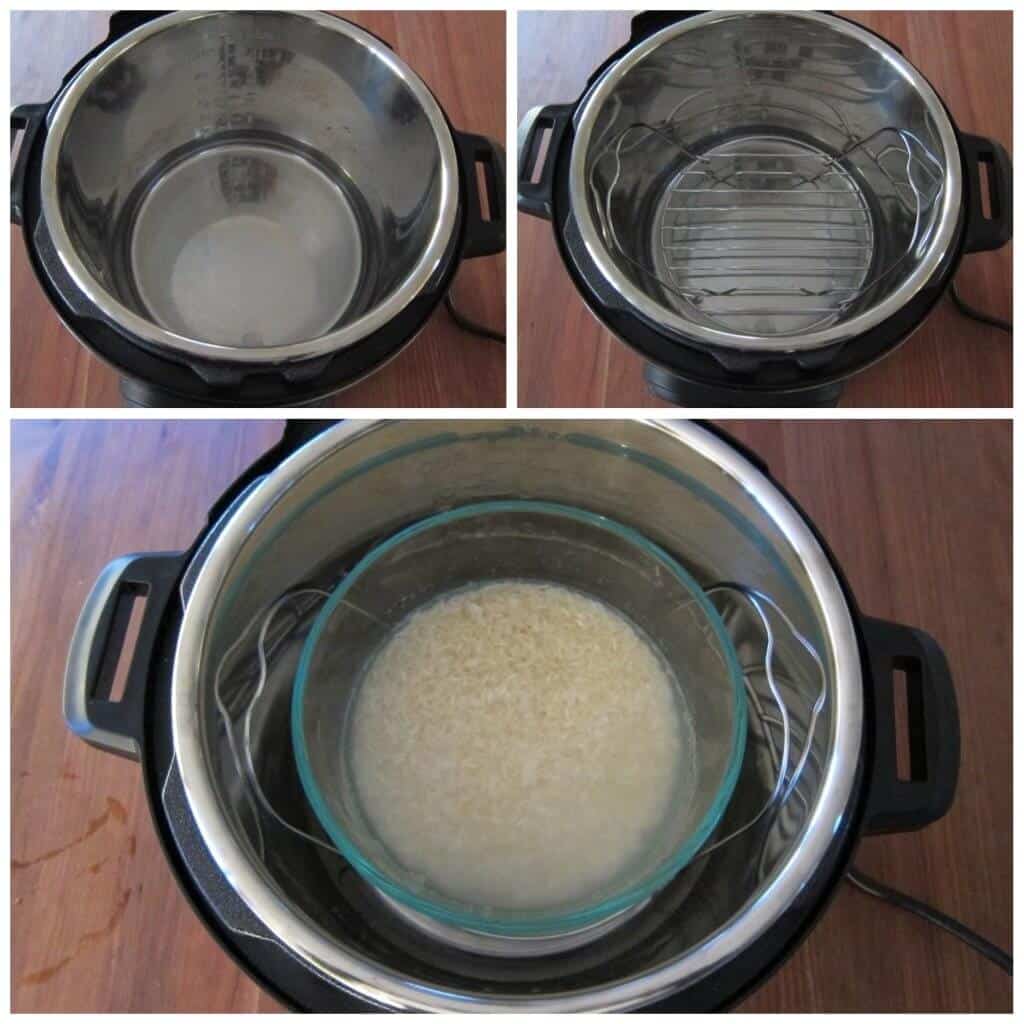 Pot in Pot has many uses and I'll outline them in the sections below, but in its simplest form, here's how you can cook something using the Pot in Pot cooking technique. If you've ever wondered how to use the Instant Pot steam rack or trivet, this is how:
Add 1 cup of water to the bottom of the Instant Pot's inner pot.
Place a metal trivet or steam rack in the bottom of the pot.
Put food in an oven-safe container. This container does not require liquid.
Place the container on the steam rack and close the Instant Pot lid.
Pressure cook the food and do a Natural Pressure Release (NPR) or Quick Release (QR). (You might need to add some additional time to the regular Instant Pot cooking time)
Note: The quantity of food you can cook in a 'Pot in Pot' container will be less than what you can cook directly in the Instant Pot liner (inner pot). You might need to adjust recipe quantities.
[Read all about the Instant Pot trivet types and how to use them.]
---
What Accessories are Used for Pot in Pot Cooking?
1. Essential Instant Pot Accessories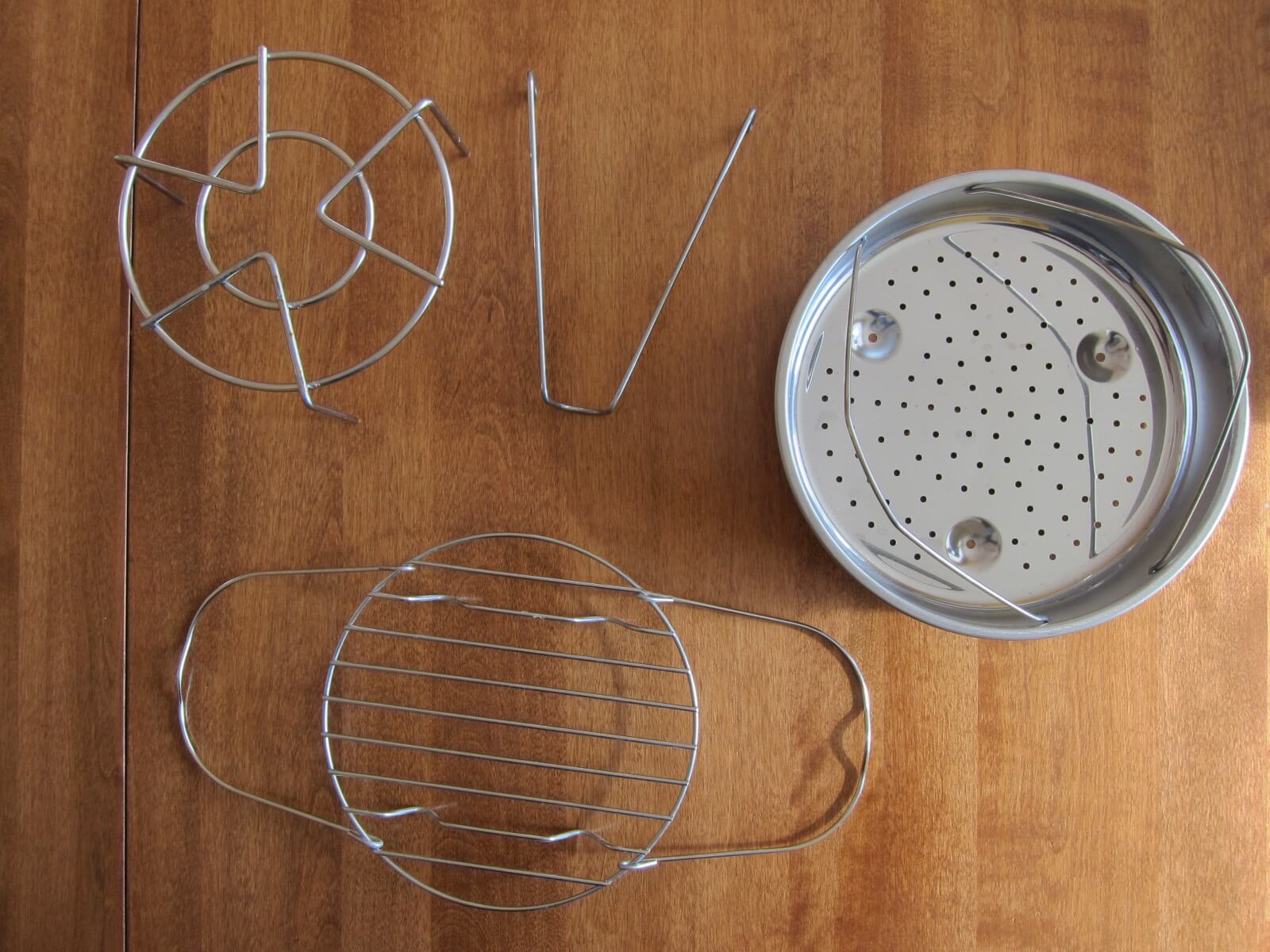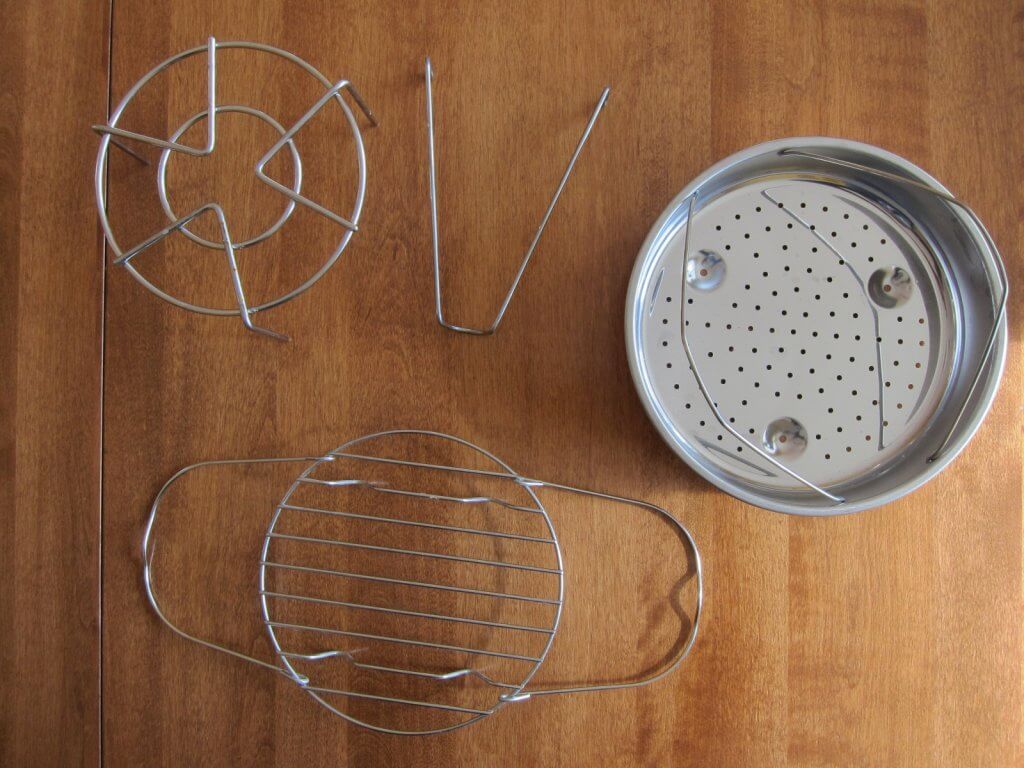 Raised steam rack that is placed in the Instant Pot inner pot. The Instant Pot is shipped with a steam rack, and that works perfectly well. There are many types of racks – as you can see from my collection! Note: the container being used for PIP cooking must be placed on a rack, and not directly in the inner pot.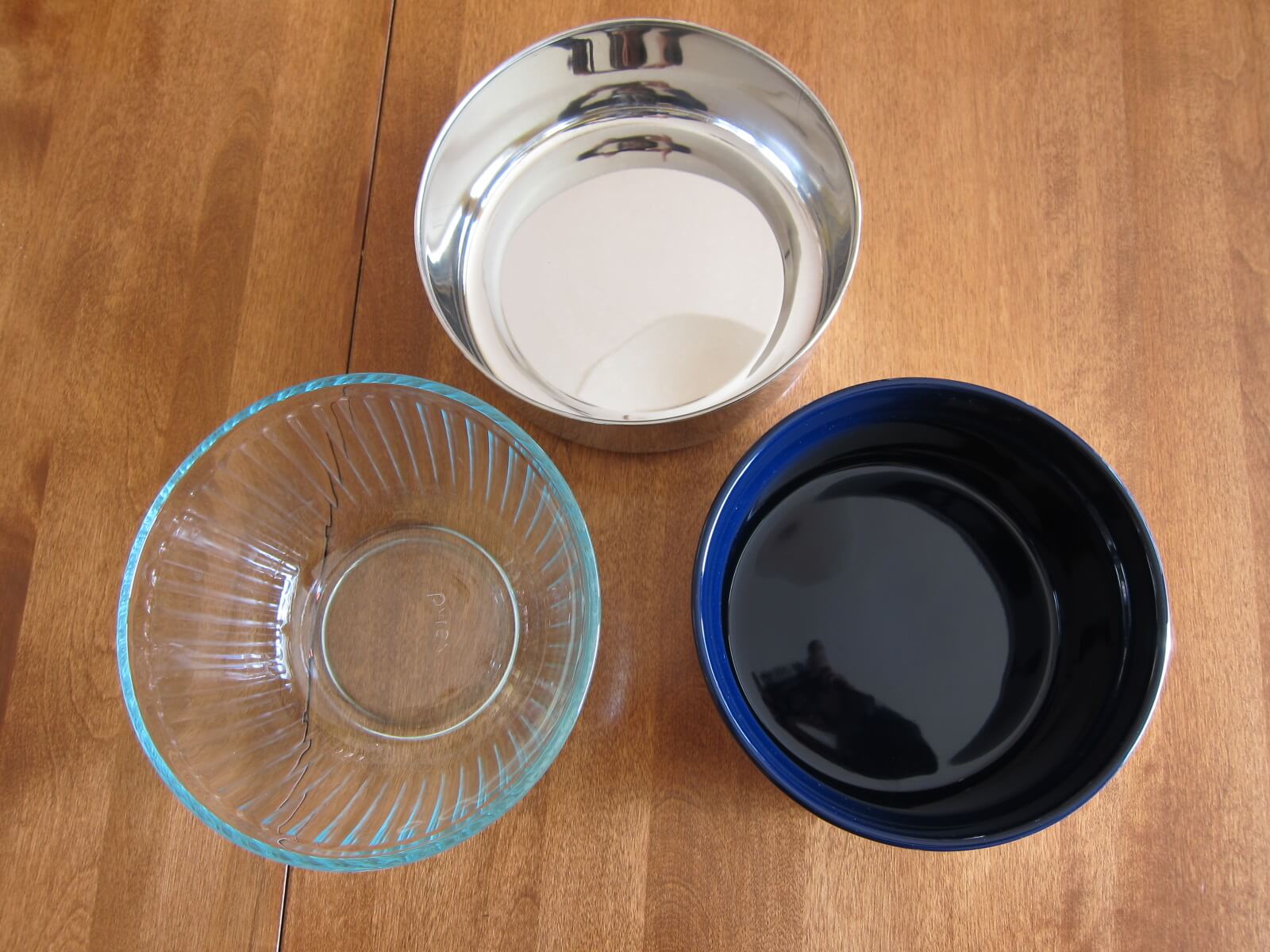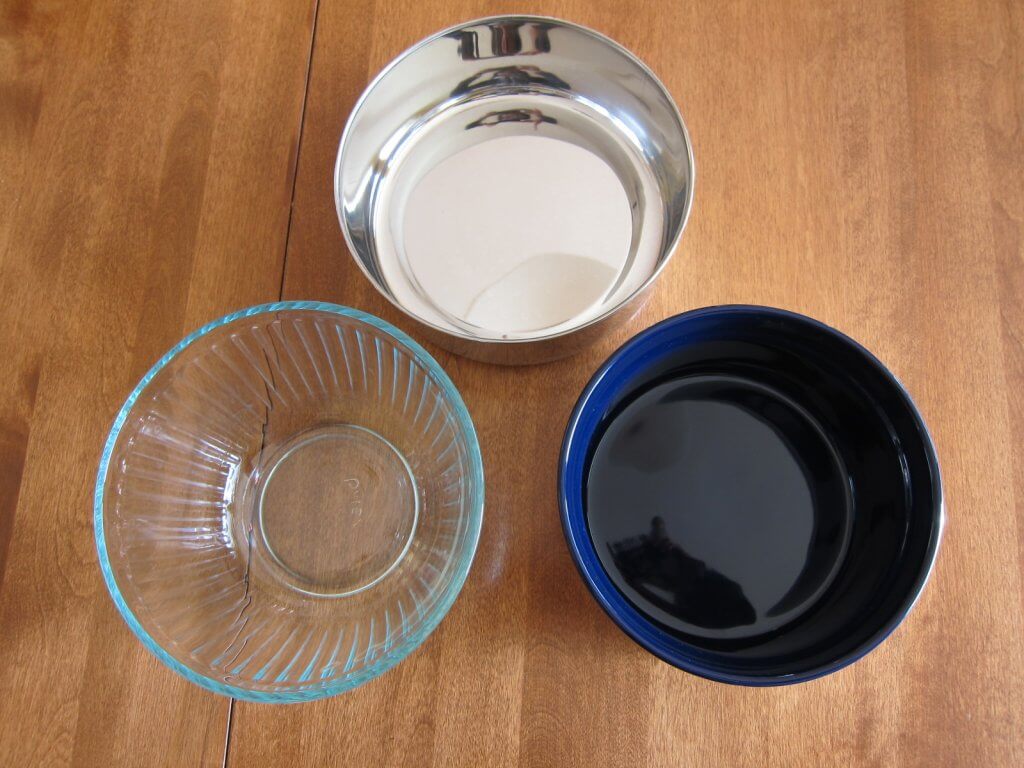 Oven-safe dish made of stainless steel, oven-safe glass, silicone, or ceramic/porcelain. The container shouldn't touch the walls of the inner pot and should allow the Instant Pot lid to be closed easily.
A springform cake pan or push pan works great for pot in pot cooking.
Pro Tip: the inner pot of the 3 quart Instant Pot fits the 6 quart and 8 quart Instant Pots. It's a very handy container to have for pot in pot cooking.
Important Note
I have used Pyrex oven-safe glass dishes in my multiple Instant Pots with no problems. However, I suggest you read the manufacturer's directions for the Instant Pot and the glassware and decide for yourself whether to use a glass dish in the Instant Pot.
2. Optional Instant Pot Accessories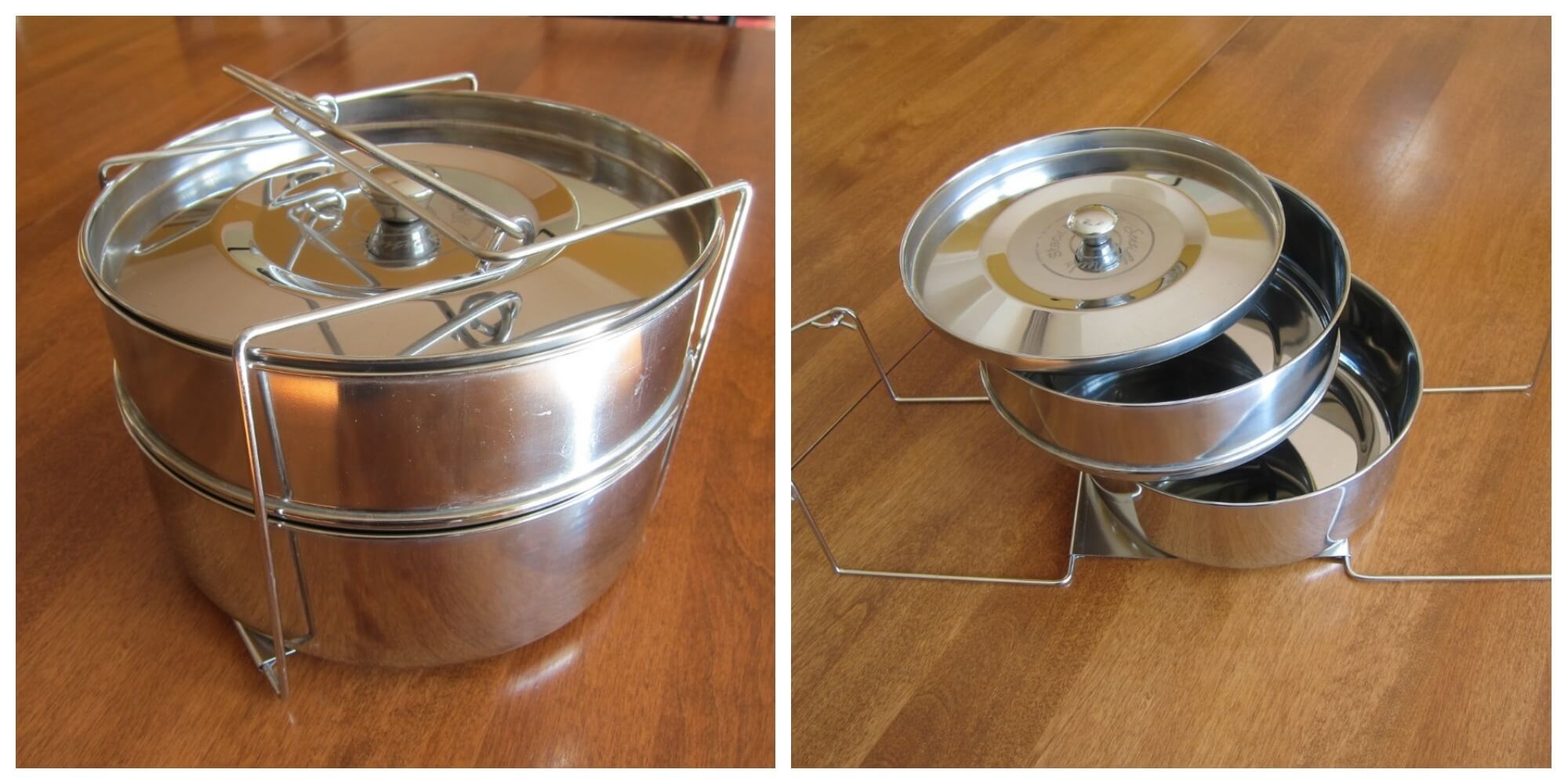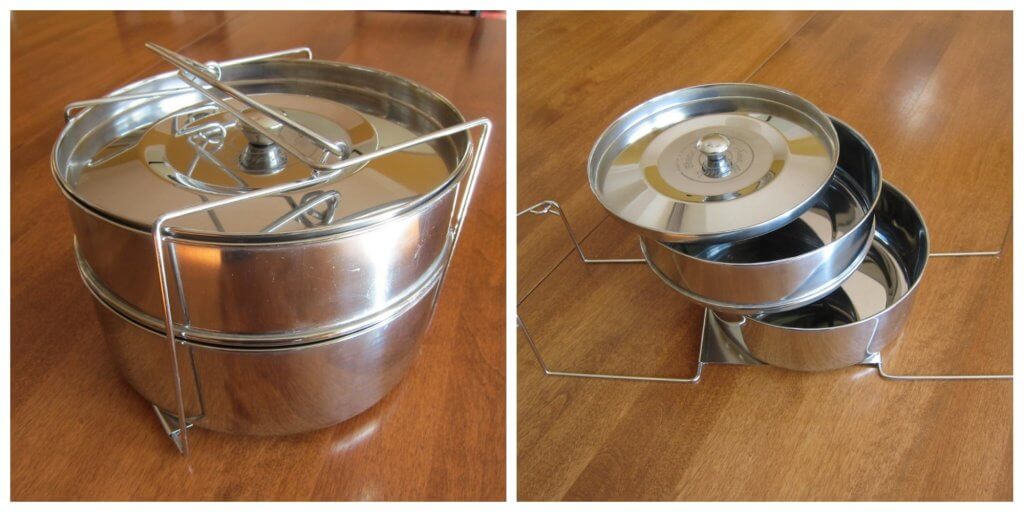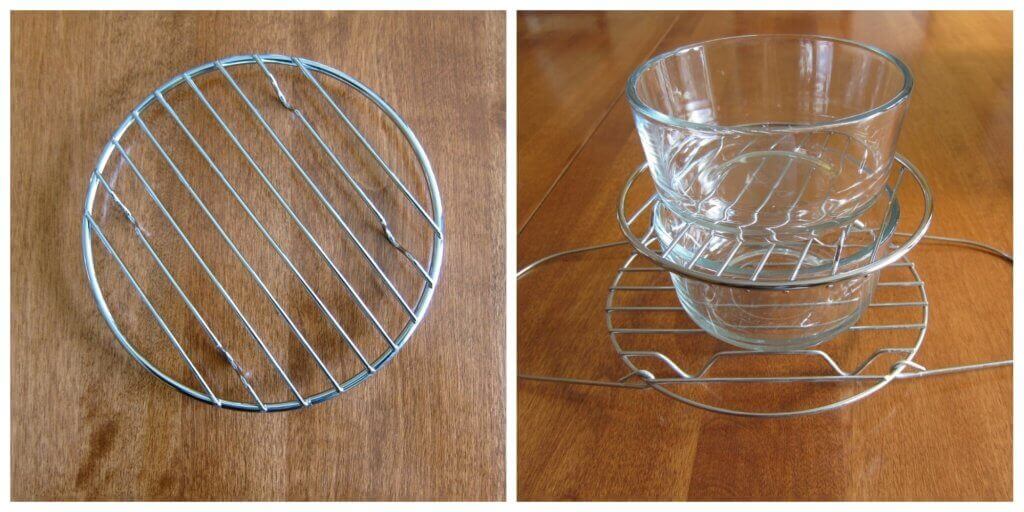 Flat wire rack so you can have separate layers of food by stacking multiple containers if not using the stackable inserts described in the PIP Accessories section above.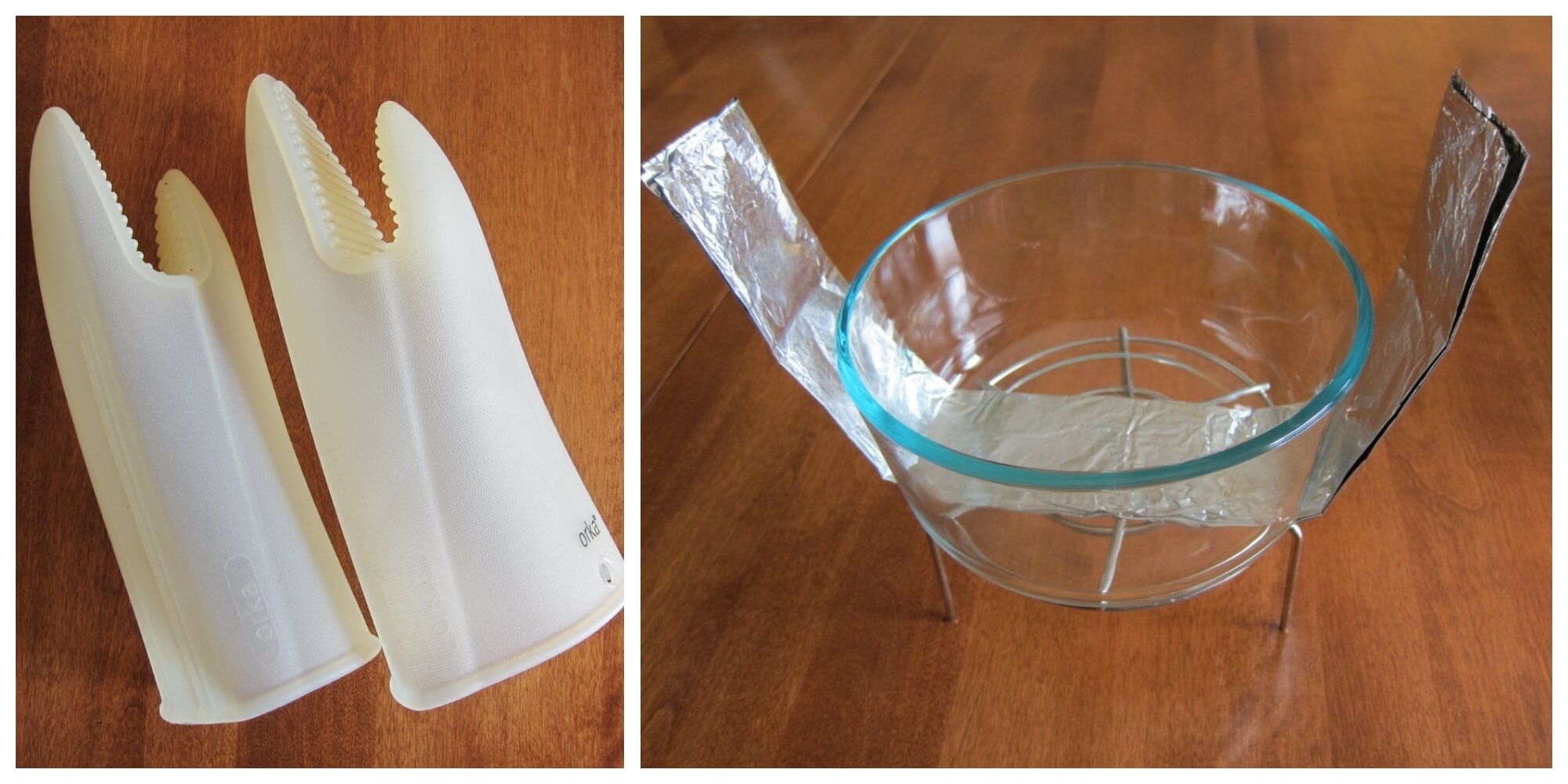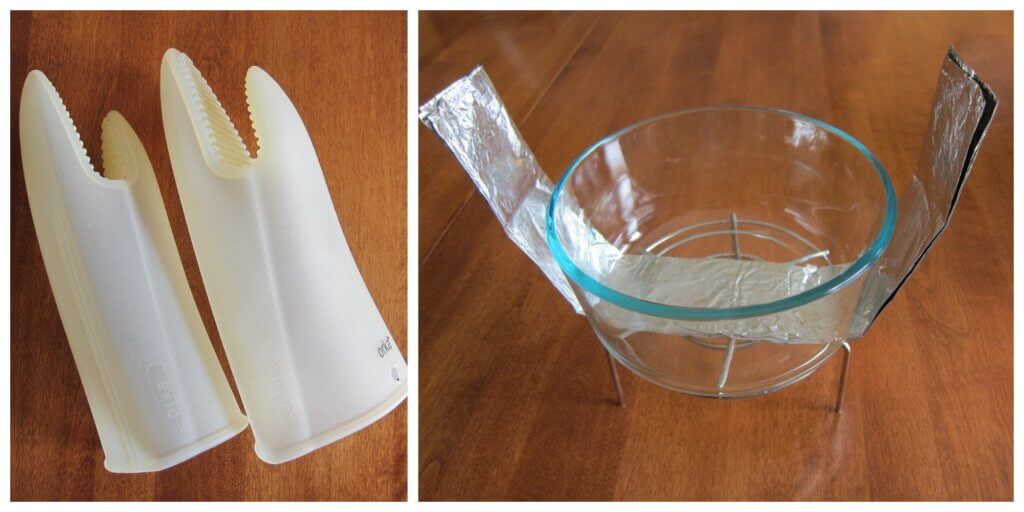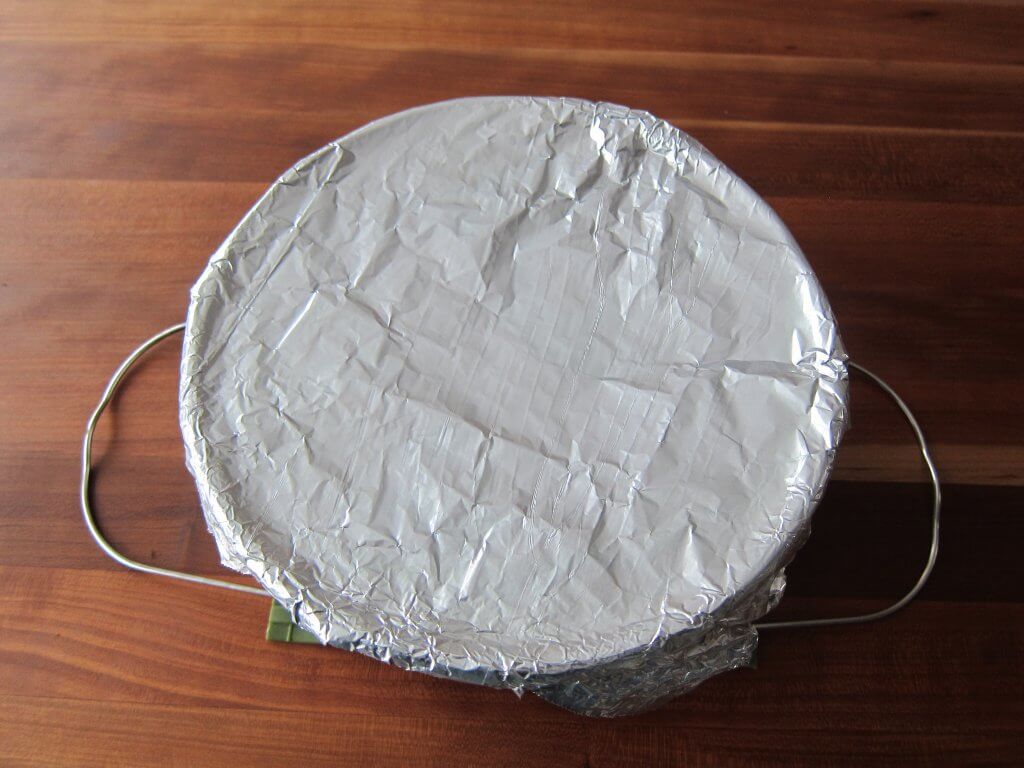 Aluminum foil to cover the container and prevent condensation from dripping in.
---
What are the different uses of PIP Cooking?
1. Recipes that don't require liquid
The Instant Pot requires a cup of liquid or more to build pressure. Casseroles and desserts don't have that minimum quantity of liquid to bring the Instant Pot to pressure. But the Pot in Pot technique is a great choice for these recipes that would normally be baked in the oven.
A springform pan works great for this use. Here are some examples of Pot in Pot recipes from different blogs:
2. Prevent scorching from heavy and dense sauces
I've used the Pot in Pot method to salvage a meal when I get the dreaded burn error and food is scorched on the bottom of the Instant Pot. I empty out the contents of the Instant Pot, clean out the inner pot, and use the Pot in Pot technique to finish up the cooking.
If you're using canned tomato sauces or purchased sauces with ingredients like corn starch or tapioca starch, you can have problems with scorching. And scorching prevents the Instant Pot from reaching pressure. This is when you see the burn notice.
Or you may have a recipe with a thick gravy. Pot in Pot cooking is a great way to cook these types of foods without having to thin the sauce with water or broth.
Another example is oatmeal. Oatmeal cooked directly in the inner pot can be difficult to cook properly and it can also be pretty messy. Pot in Pot works really well for oatmeal.
3. Recipes that require a bain marie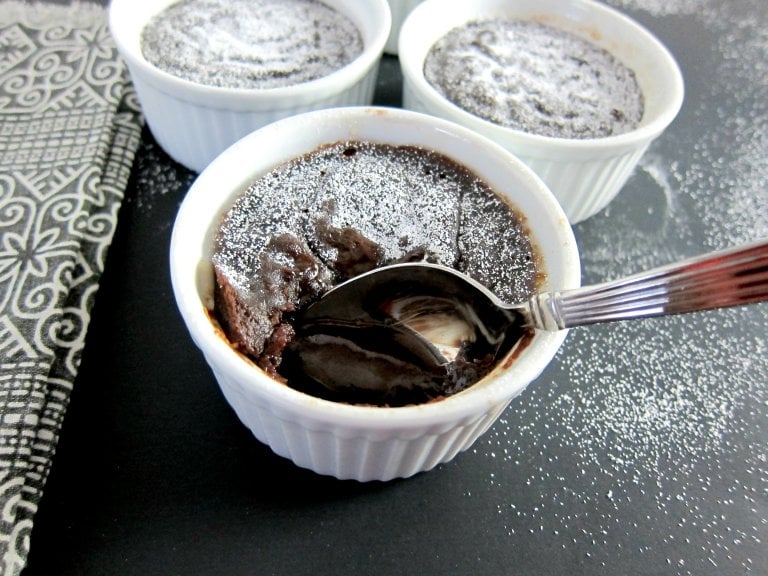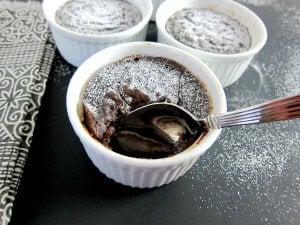 A bain-marie (pronounced 'bahn ma-ree') is a water-bath cooking technique used for delicate desserts that are baked in the oven and serves to slow down cooking by using steam to evenly cook the dish. These recipes are perfect for the Instant Pot!
4. Reheat foods without using the microwave or stovetop
Do you heat up leftovers in the microwave? At our house, by the time five people heat up their food, the first person's food is already cold!
A great solution is to reheat food in the Instant Pot, using the Pot in Pot method. Just store the leftovers in the fridge in oven-safe bowl, and reheat in the Instant Pot using the Pot in Pot technique. Note: Going directly from the freezer to the pressure cooker can cause a glass bowl to crack.
You can stack multiple containers separated by a wire rack, or use the stackable inserts, described in the Pot in Pot Accessories section, that work great in the Instant Pot. Then just use the 'Steam' or 'Pressure Cook' function for 3 to 5 minutes, depending on the type and density of your food.
5. Steam vegetables, seafood, and other delicate foods
I like to pressure cook delicate vegetables (cauliflower, broccoli, peas, etc) or seafood on low pressure. However, your Instant Pot model may not have the low-pressure option, or you may be using a recipe that calls for high pressure.
Cooking these delicate foods directly in the inner pot, even in a steamer basket, can cause them to overcook.
Cooking them in a separate container using PIP helps to slow down the cooking process. Add a few cups of water to the inner pot and place the food in a container on the rack.
I've found that covering the container with a double layer of foil or a lid, also slows down cooking.
6. Quick cleanup, easy storage for smaller quantities of food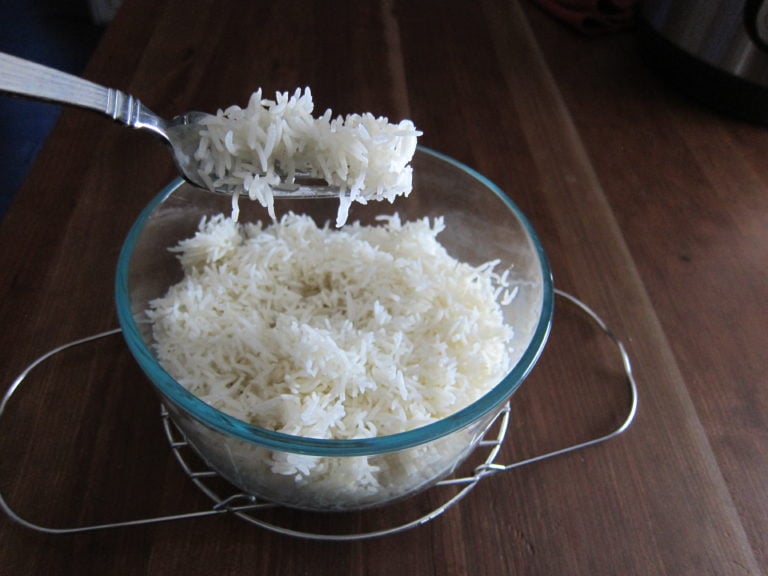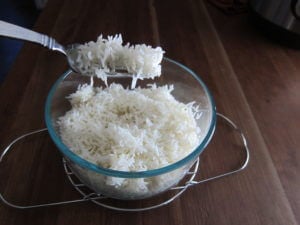 I love the fact that the Instant Pot makes cleanup really easy – only one pot to clean!
If you have a smaller quantity of food to cook, you can make cleanup even easier. Use the Pot in Pot method to cook your food, and serve and store it in the same container.
I do this all the time with Instant Pot Rice. I use a Pyrex dish to pressure cook the rice using the PIP method, and I don't need to clean out the inner pot. Plus I can store leftovers in the same dish – very convenient!
7. Cook multiple dishes together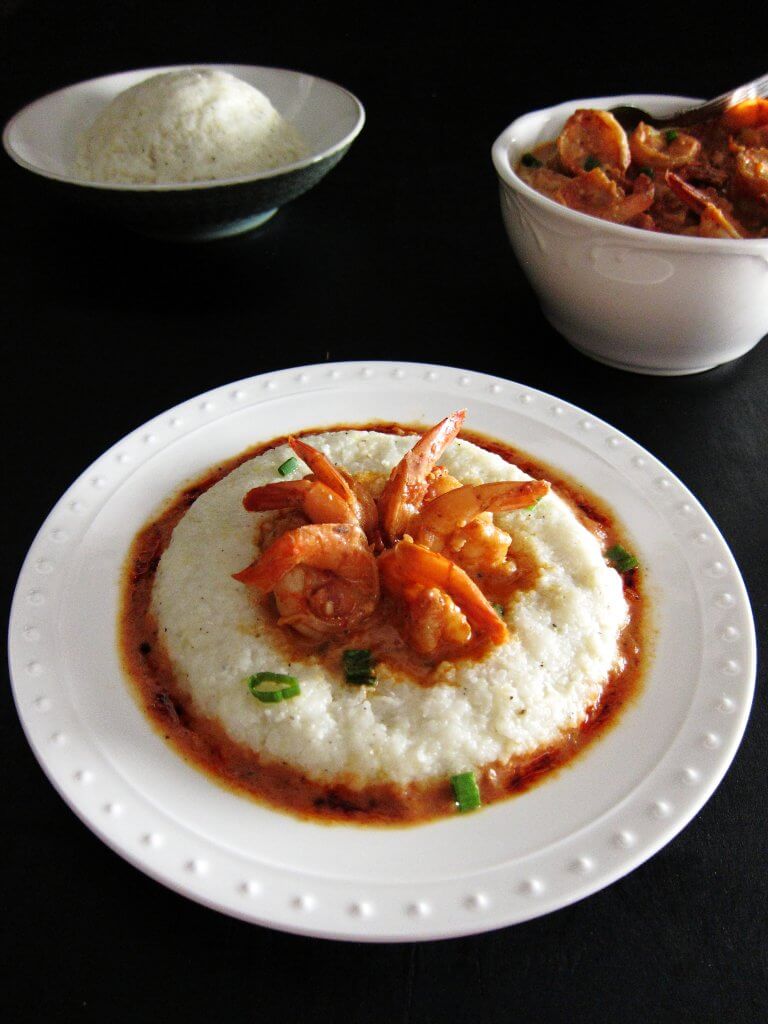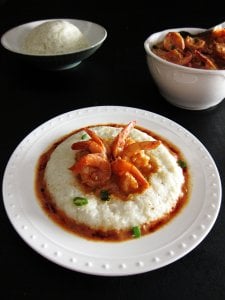 For me, cooking a complete meal altogether is the most exciting use of Pot in Pot. This method of cooking is very common in Indian kitchens and it's something I've grown up with.
As mentioned in the Instant Pot Accessories section above, you can either use metal stackable containers or put the food in individual bowls separated by flat wire racks.
Another option is to cook the main dish (as long as it has enough liquid to bring the Instant Pot to pressure) directly in the inner pot, and place the second item or side dish such as rice in a separate container on a steam rack.
Here are some important factors when cooking two different recipes together. Both recipes should have the same:
Approximate cooking time.
Pressure level (i.e. low or high pressure).
Pressure release method i.e. quick release (QR) or natural pressure release (NPR).
You can use the Pot in Pot cooking method to combine many different types of recipes. The Instant Pot recipe book that came with your Instant Pot has cooking times for different foods. I use the timings as a general guideline for which foods I can pressure cook together, using Pot in Pot. You might need to add some extra time for some recipes.
Possible combinations for Pot in Pot Cooking
Quinoa and rice
Chicken thighs and collard greens
Chicken breasts and white rice
Fish fillet and green beans
Kidney beans (soaked) and brown rice
Ground beef and basmati rice
Basmati rice and dal (Indian lentil curry)
What do you do when the pressure cooking times for the two Pot in Pot recipes are different?
As I mentioned above, the recipes you cook together using Pot in Pot should have similar cooking times. So how can you solve the problem of different cooking times?
Partly cook the longer-cooking item, do a quick release of pressure, add in the second item and continue cooking both items. e.g. if the amount of time to cook item A is 15 minutes and item B has a cook time of 10 minutes, you'll pressure cook item A for 5 minutes, quick release (QR), open the lid, and add in the container for item B (on a rack or stacked), close the lid and pressure cook both for 10 minutes.
Tightly cover the container of the faster-cooking item with a double layer of aluminum foil. The foil slows down the cooking of the contents.
Cut the slower-cooking item (e.g. meat) into smaller pieces so that it takes less time to cook.
Cook the faster-cooking item in a glass, ceramic or silicone container versus a stainless steel pot because that will slow down the cooking time a little bit.
---
Example: How to Use Pot in Pot to Cook Two Recipes Together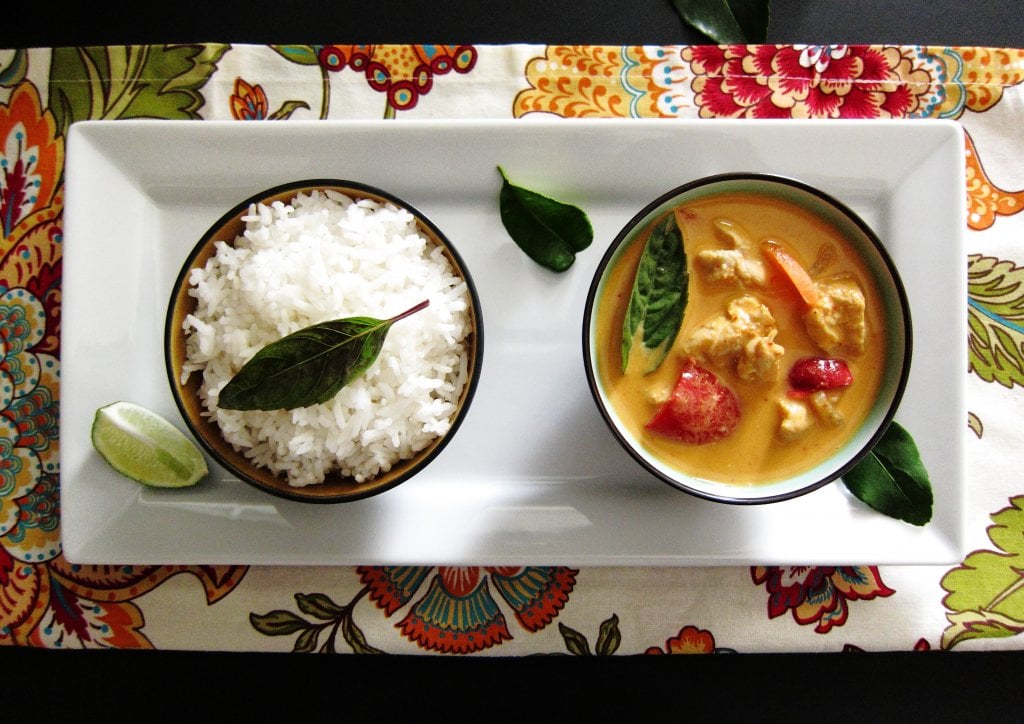 Let's walk through the process of figuring out how to cook two different recipes at the same time. First, take a look at the two individual recipes I'm going to show you how to combine and cook together:
If you were cooking both dishes separately, you'd cook the Thai red curry, empty out the contents into a serving dish, clean the inner pot, and then cook the rice.
I'm going to show you how you can save time and cleanup by using the Pot in Pot method of cooking multiple items together. The chicken curry cooks in the main pot and the rice cooks in a smaller pot, on a trivet.
The recipe states that you need to cook Jasmine rice for 4 minutes. That's perfect because that's how long the chicken in the Thai red curry needs to cook for.
But there's a problem. Remember how I mentioned that they both need to have the same method of pressure release? You'll notice is that the Instant Pot Thai chicken curry recipe calls for quick release of pressure (QR), while the rice calls for 10 minute natural pressure release (NPR).
If you cook the two dishes together and do a quick release, the rice won't be cooked properly. So the only other choice is to do a natural release. Chicken thighs do just fine with natural release, so problem solved!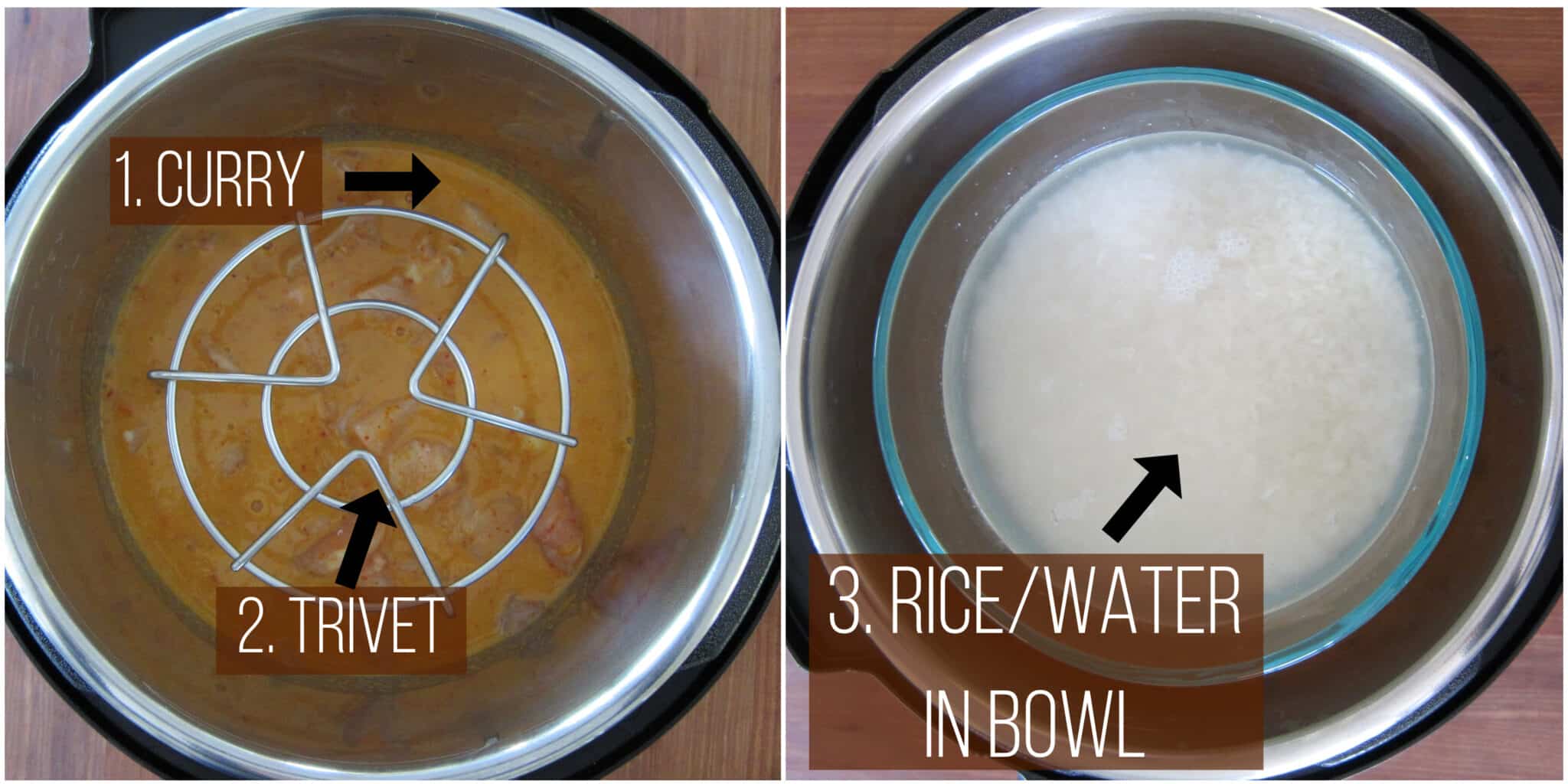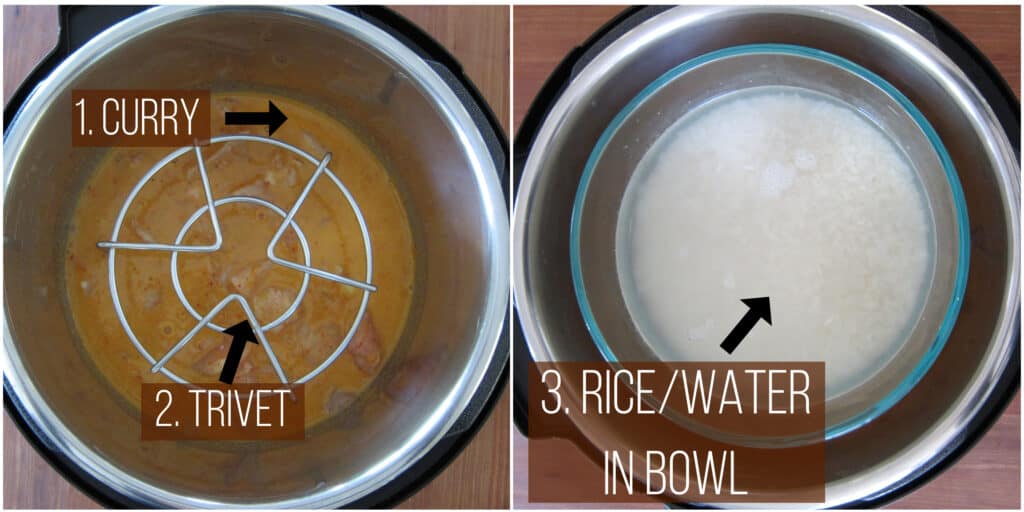 ---
Pot in Pot Recipes For you to Try!
1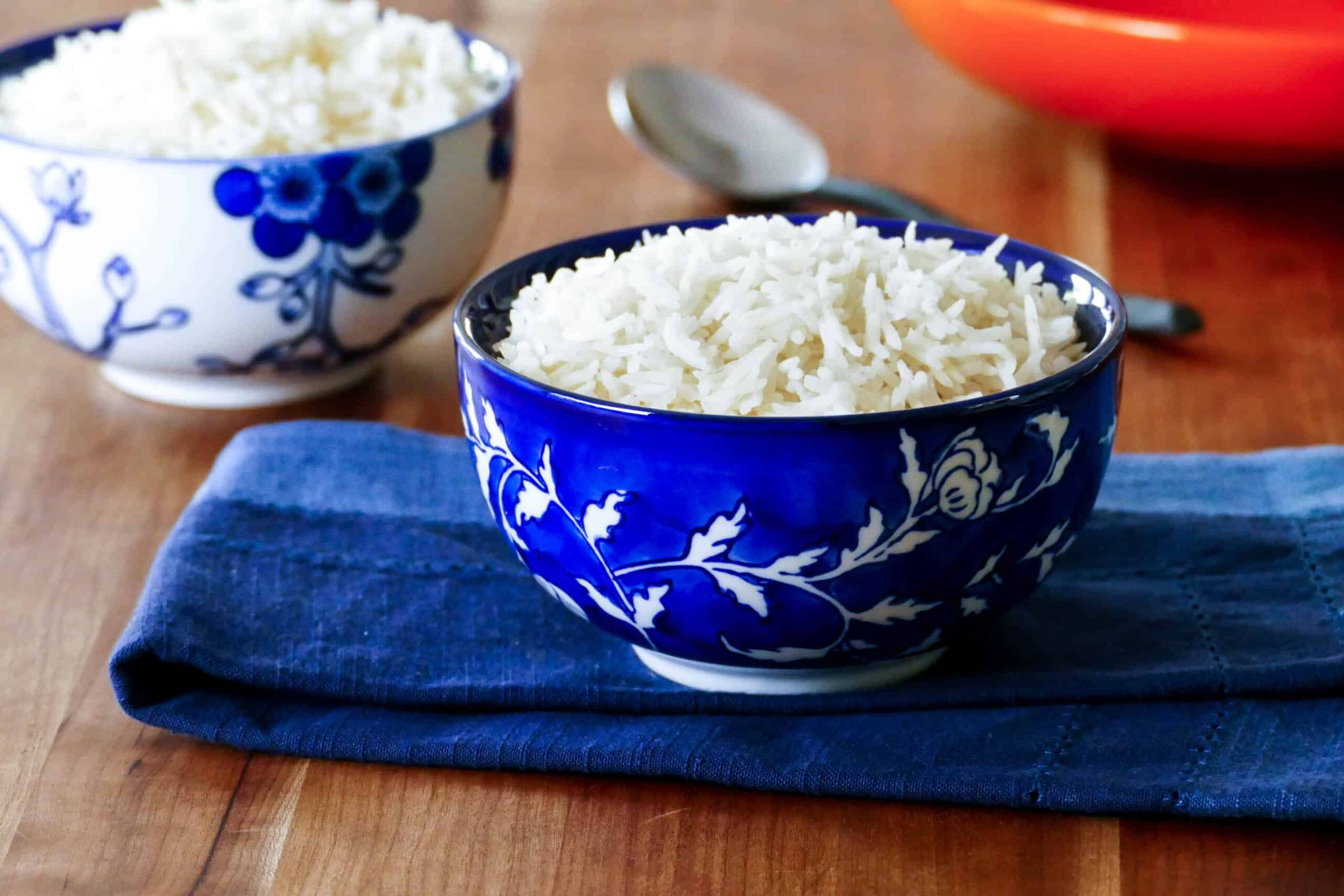 Instant Pot Rice | Pot-in-Pot Method (PIP)
A step by step guide to cooking Instant Pot Pot in Pot (PIP) Rice. Perfectly cooked rice every time, quick and easy.
GET RECIPE
2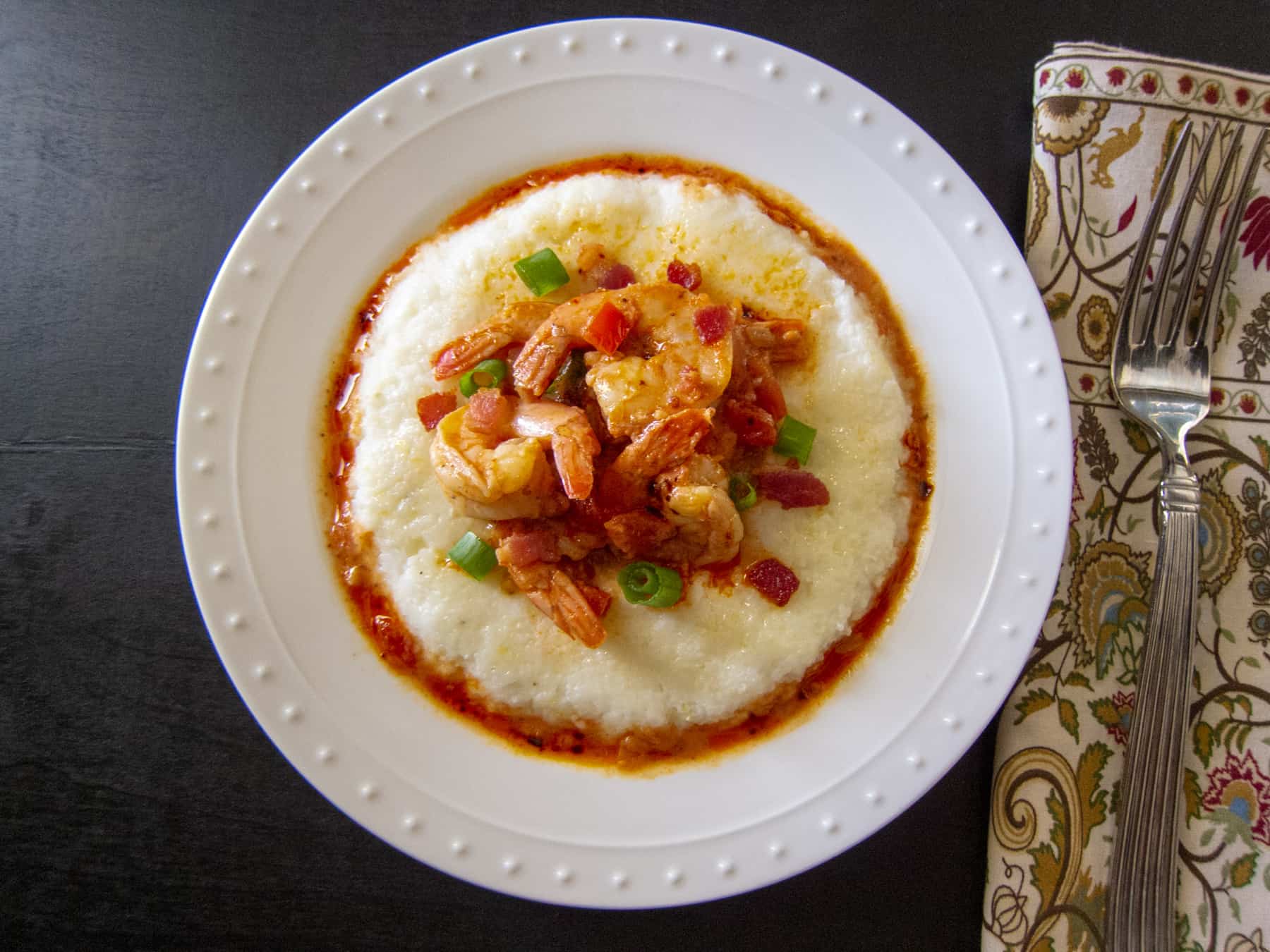 Instant Pot Shrimp and Grits
Instant Pot Shrimp and Grits is a delightful one-pot meal. Tender shrimp and crisp bacon in a spicy tomato sauce combine with creamy grits to create a delicious fusion of flavors.
GET RECIPE
3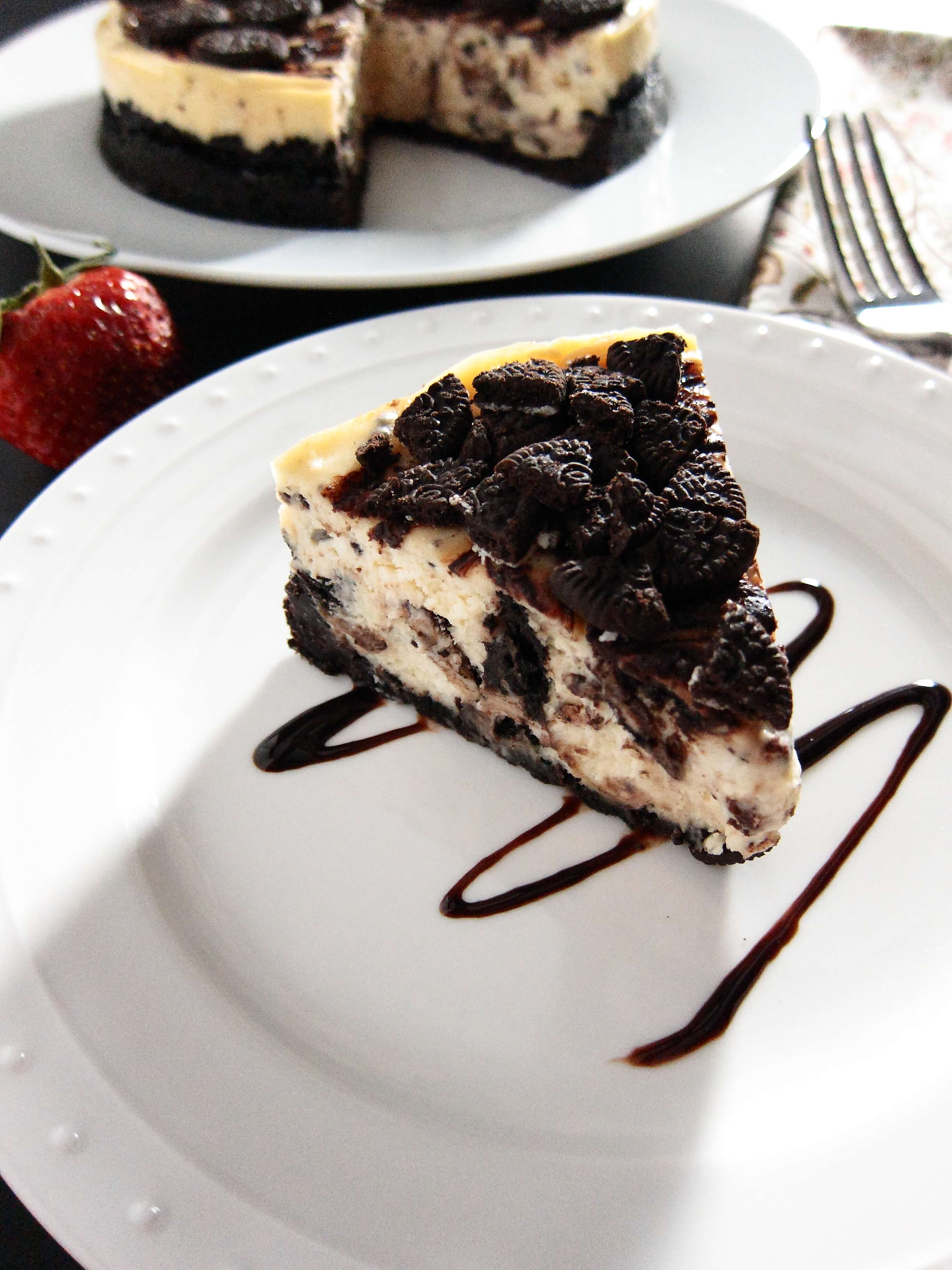 Chocolate Swirl Instant Pot Oreo Cheesecake
This wonderful Chocolate Swirl Instant Pot Oreo Cheesecake has a triple dose of chocolate: a generous Oreo crust, Oreo cookies in the batter and melted chocolate swirled in. It's super easy to prepare, and hard to mess up in the Instant Pot!
GET RECIPE
4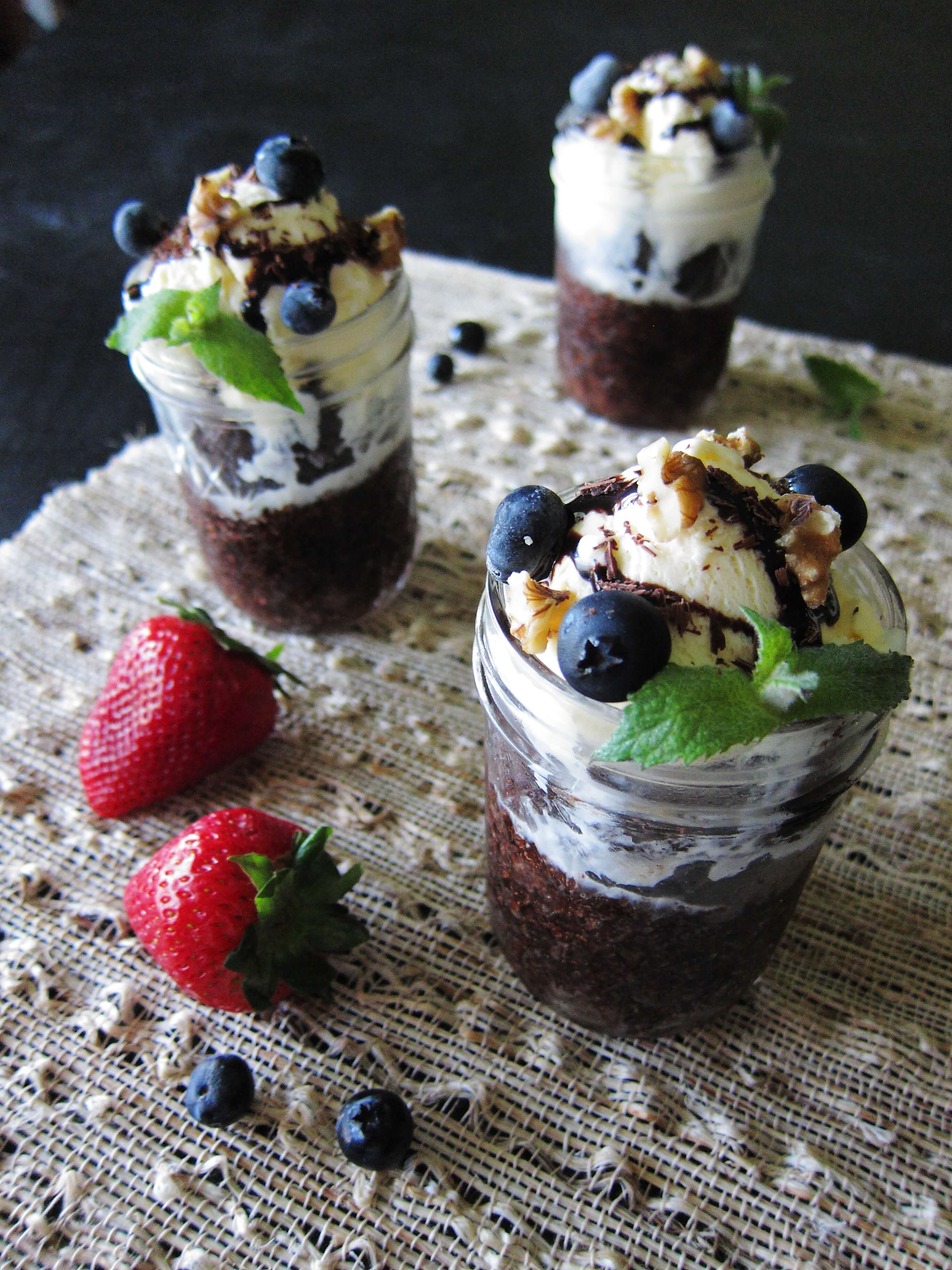 Instant Pot Brownie Sundaes
These delicious Fudgy Instant Pot Brownie Sundaes are a quick and easy individual-sized Instant Pot dessert, sure to satisfy your sweet tooth.
GET RECIPE
5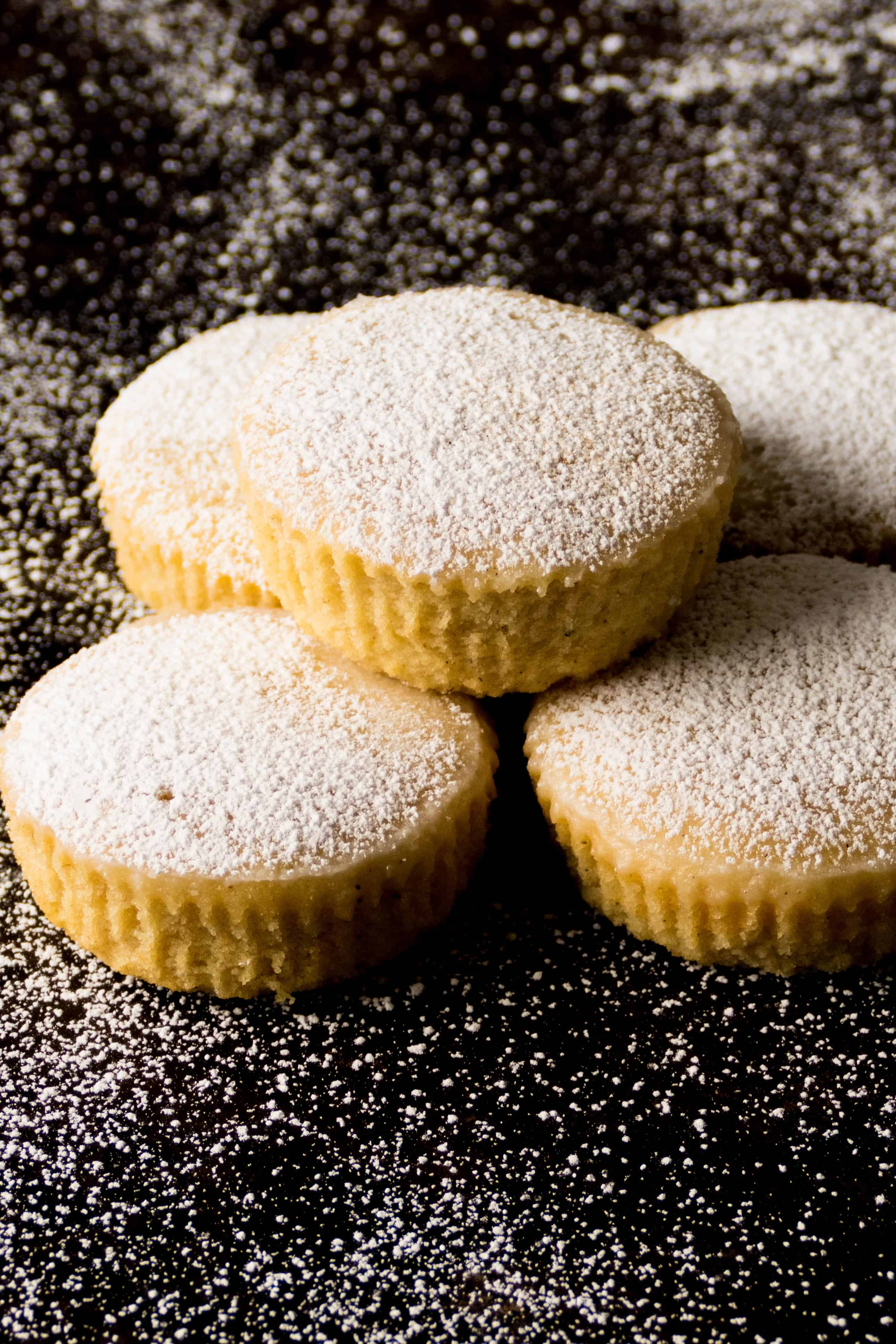 Instant Pot Cupcakes
These Instant Pot Cupcakes are made in the style of a pound cake and they are going to have you swooning as you take each bite! Moist and buttery, these made-from-scratch cupcakes are reminiscent of homemade old-fashioned cakes your grandmother would have made, with simple ingredients. Add vanilla, lemon or cardamom to give them extra flavor.
GET RECIPE
6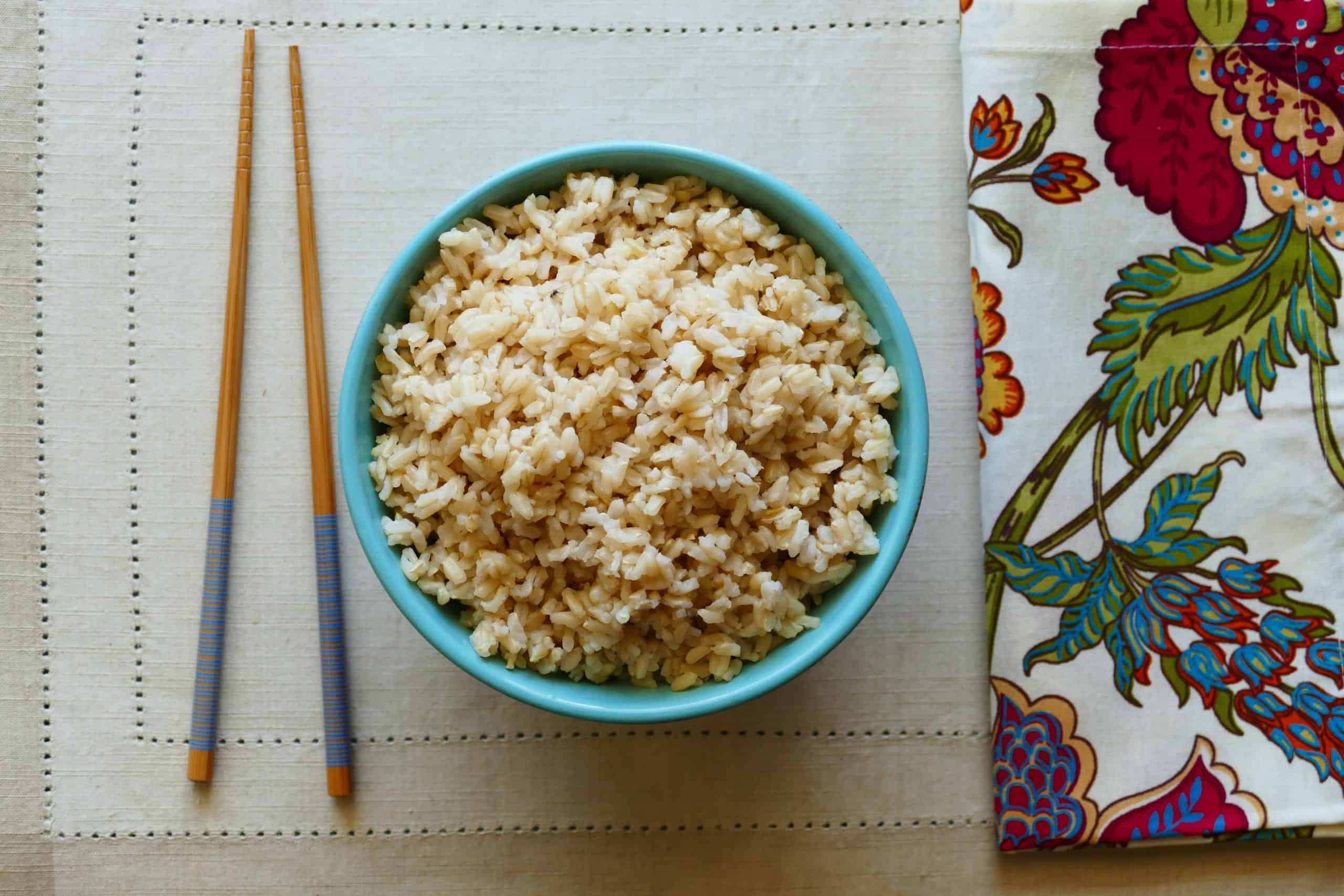 Perfect Instant Pot Brown Rice
A step by step guide on how to cook brown rice in the Instant Pot using the PIP (Pot in Pot) method. The PIP method allows you to cook brown rice in smaller quantities, with minimal cleanup. Perfectly cooked Instant Pot brown rice every time, quick and easy.
GET RECIPE
If you found this article to be helpful, please share it on social media using the social media share buttons at the top and bottom of this post. Thank you so much!