This easy shrimp pasta recipe is a great choice for when you're in the mood for Italian food on a weeknight. I came up with this recipe by combining some favorite pasta recipes that I've made forever: garlic shrimp, pasta primavera, pasta with broccoli…. And the sum really is greater than the parts. I love Italian food and the saucy, cheesy staples like lasagna, canneloni, manicotti. But sometimes I don't really want to eat something so heavy and those dishes do require more prep time. So this pasta recipe fits the bill. I also like to add a side salad to make a great and balanced meal. Oh and garlic bread!
So, my cooking has evolved over the years. Early on, I cooked quick and easy meals that had lots of ready-made elements and processed foods. You know! Those recipes with canned mushroom or chicken soups? Don't get me wrong – I still use convenience foods, but I try to make that a rare occurrence. Once the kids were born, I switched to homemade fresh ingredients and also jumped on the the low-fat bandwagon that we've probably all been on. Recently, about 4 years ago, we decided to avoid meats as much as we could. That lasted for about two years. Now I'm where I want to be: cooking homemade dishes, while avoiding processed ingredients, but using meat and fats in moderation. That's my mantra these days: 'Everything in moderation.' I say all this because this pasta recipe has butter! I've tried making it with just olive oil, and it's still good, but the butter really adds a lot of flavor. Hope you like it!
Garlic Shrimp Pasta Ingredients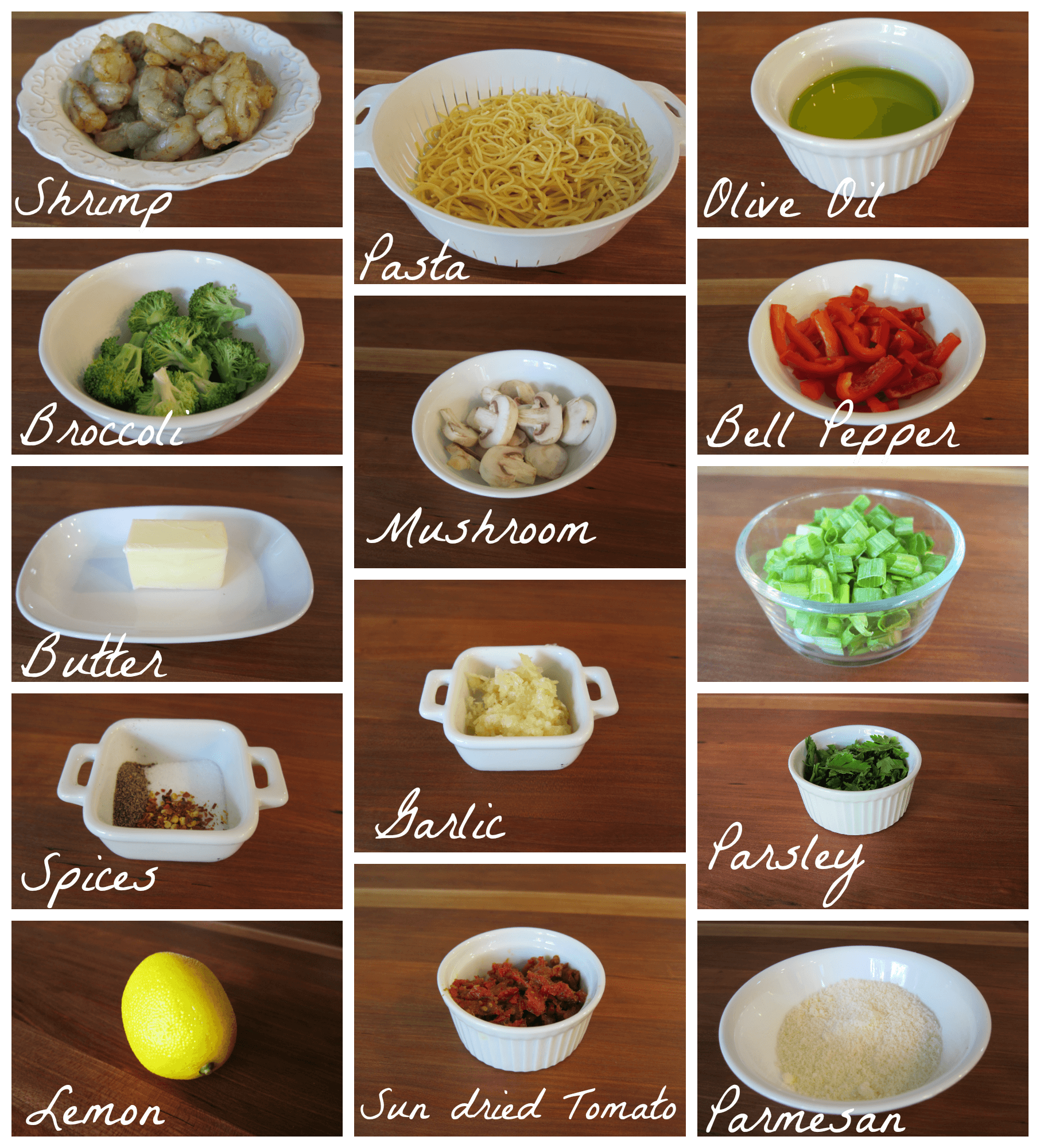 Garlic Shrimp Pasta Stages of Cooking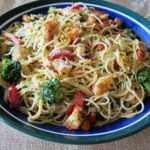 Garlic Shrimp Pasta
This easy dinner recipe for garlic shrimp pasta is great for when you're in the mood for Italian food / pasta, but don't want a very heavy meal.
Instructions
Season shrimp with salt and pepper and set aside.

Cook pasta according to package directions; drain and set aside.

Heat 2 Tbsp olive oil in a large pot over medium heat.

Saute the mushrooms, broccoli and bell peppers. (I prefer to saute each vegetable separately so as not to crowd the pan.) Set aside.

Melt butter and remaining olive oil over medium heat.

Add garlic and saute for 1 minute. Make sure not to burn the garlic.

Add the green onions and saute for 1 minute.

Add shrimp, salt, black pepper and red pepper to the pot. Saute until shrimp turns pink, about 3 minutes.

Add sun dried tomatoes, pasta, and vegetables and toss carefully till heated through, about 2 minutes.

Stir in parsley, lemon zest, lemon juice.

Transfer to serving dish, drizzle with olive oil and sprinkle Parmesan cheese on
Thank you for visiting Paint the Kitchen Red. All photos and content are copyright protected. Please don't use any content without prior written permission. If you've made this recipe and would like to share it with your friends, please link back to this recipe. Thank you!