Instant Pot chickpeas (garbanzo beans) are easy to make and the recipe is hands-off. Make a big batch and freeze them in smaller portions. Use them as you would canned garbanzos. Pressure cooking chickpeas is a healthier way to enjoy them compared to buying the canned version.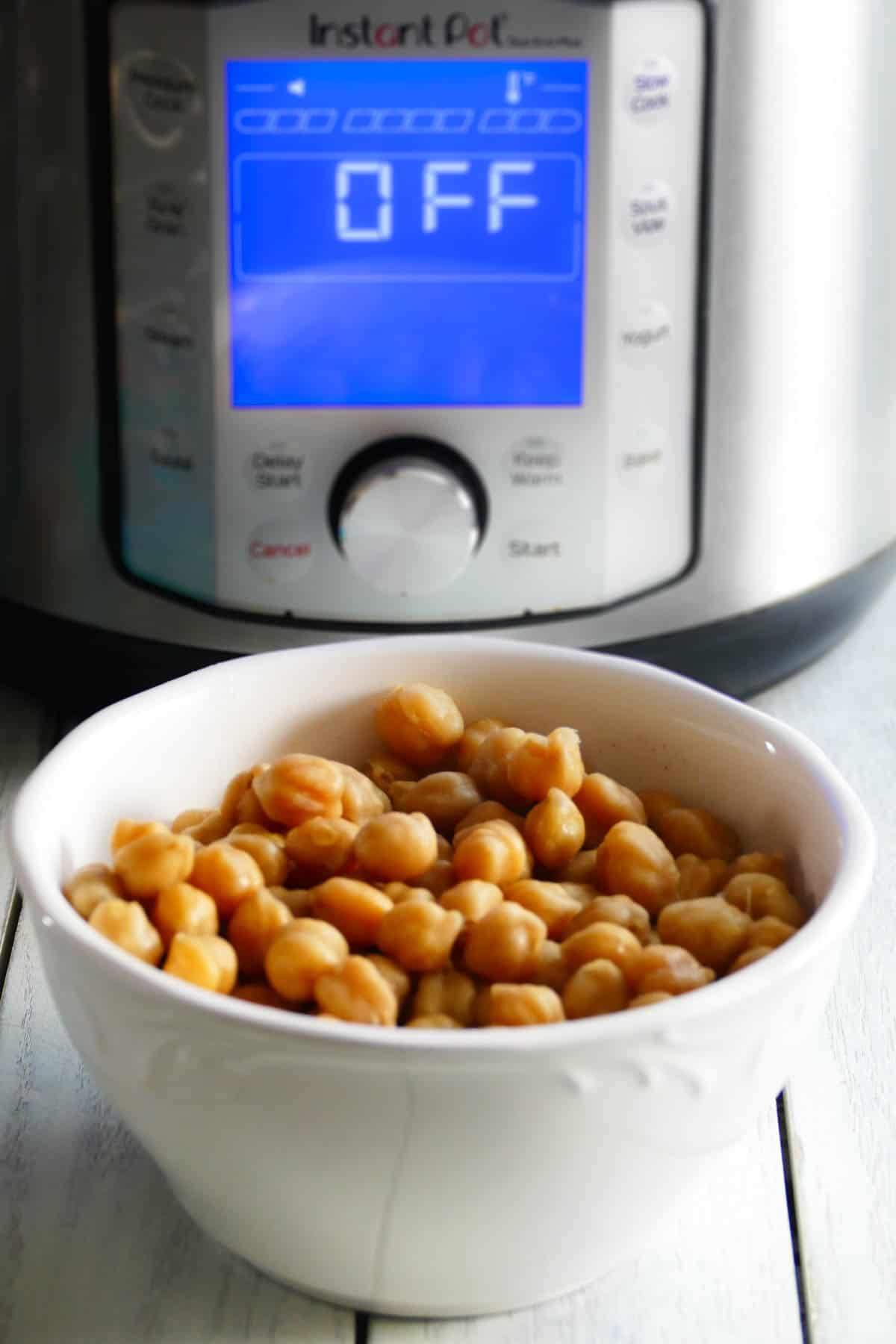 Introduction
Chickpeas are one of the oldest known legumes and are used in recipes all over the world. They are said to have originated in the Middle East, over ten thousand years ago. The word chickpeas evolved from the Latin word Cicer. Here's an interesting tidbit: the famous Roman statesman was named Cicero because his family cultivated chickpeas!
The words Chickpeas and garbanzo beans can be used interchangeably. Garbanzo beans are the same exact legume but with a different name, Spanish in origin. Read more about the history of chickpeas.
Chickpeas are versatile and can be used in many different kinds of recipes. They're used in Indian curries (chana masala), salads (Mediterranean chickpea salad), soups (pasta e ceci), dips (hummus), appetizers (falafel), and snacks (roasted chickpeas).
Chickpea flour (gram flour or besan) is used to make Indian deep-fried appetizers (pakoras). And the garbanzo cooking liquid (aquafaba) is used by vegans in place of egg whites to make whipped desserts.
Garbanzo beans have become particularly popular as people have switched to vegetarian and vegan diets. Garbanzo beans can provide a significant amount of protein to your diet.
I frequently pressure cook chickpeas in the morning and go about my day. When I'm ready to cook dinner, I just drain the Instant Pot chickpeas and add them to whatever recipe I'm making. In other words, cooking your own chickpeas is almost as easy as opening a can!
If you've been using canned garbanzo beans, I hope you'll take this opportunity to make healthy, easy, preservative-free Instant Pot garbanzo beans. I'm going to show you exactly what you need to do.
Here are some bean recipes you can make in the Instant Pot:
– Instant Pot Red Beans and Rice
– Instant Pot Chili with Dried Beans
– Instant Pot Vegetarian Moroccan Stew
Tips and Substitutions
---
Washing the Chickpeas
Why do you need to rinse the chickpeas? Washing beans is important because there can be rocks and other foreign objects in a package of dry beans. Here's what you need to do:
Spread the beans out on a tray or plate and pick over the beans to make sure there are no impurities.
Put the beans in a bowl and fill it with water. Pick out anything that rises to the top.
Soaked Chickpeas vs. No Soak Chickpeas
Should you soak chickpeas or use the no soak method? This is a controversial topic and opinions vary on whether to pre-soak beans or cook them directly. I do both, depending on how organized I am and how much time I have.
Soaking the chickpeas cuts down on the pressure cooking time by almost 50%. Soaking also decreases the splitting that can occur when pressure cooking chickpeas.
The longer you soak the chickpeas, the lower the soaked chickpeas' cooking time. Soaking chickpeas for 10 or more hours allows you to pressure cook the chickpeas in less than 20 minutes!
How do you soak chickpeas? I either soak chickpeas overnight (or for 6 to 8 hours) or I use my quick soak bean method to make quick soak chickpeas. To soak them overnight, combine the chickpeas with double the quantity of water in a bowl large enough to allow for expansion and let it sit on your kitchen counter for 8 hours. Discard the soaking water before cooking.
Read more about soaked vs. no soak legumes. According to this article, no soak chickpeas are better!
Instant Pot soaked chickpeas pressure cooking time varies from 30 to 40 minutes, depending on how well done you want the chickpeas. Try it at 35 minutes, and adjust the time the next time you make it.
---
To Salt or Not to Salt…
Should you add salt to chickpeas while pressure cooking them? This is another hotly debated point. Some claim that salting the water increases the cooking time. I have not had any issues pressure cooking the garbanzos in salted water.
How much salt should you add? I add 1 teaspoon of table salt per cup of garbanzos. If you'd like low-salt garbanzo beans, add 1/2 to 3/4 teaspoon.
---
Canned vs. Dried Garbanzos
Why cook chickpeas from dry instead of using canned chickpeas? Yes, canned garbanzos are convenient. But they also have preservatives and they tend to be a tad overcooked and mushy. By pressure cooking the garbanzos, you can tailor the cooking time to cook them to the right amount of doneness.
Another reason to make Instant Pot garbanzo beans is that you can adjust the sodium level. Many canned goods are high in sodium.
How do you substitute dry chickpeas for canned chickpeas? If your recipe calls for a can of chickpeas, that's equivalent to 1 1/2 cups cooked chickpeas. 1/2 cup dried chickpeas make 1 1/2 cups cooked chickpeas.
Nutrition
Are chickpeas healthy? Chickpeas are high in protein, so they keep you full for longer. They're high in fiber, which is great for the prevention of many illnesses including heart disease. They're a good source of complex carbohydrates, the "good carbs".
Chickpeas are also high in folate, magnesium, potassium, and iron. In other words, they're so good for you!
---
Undercooked Chickpeas
What should you do if the chickpeas are undercooked? If your chickpeas are undercooked or too hard, it could be due to the fact that they are old. Chickpeas (legumes, in general) that have been in storage for too long tend to be harder to cook because dried beans continue to lose moisture the longer they sit on the shelf. If you happen to have a batch that's tough to cook, soaking them might help.
When you open your Instant Pot, if the chickpeas are undercooked, just close the lid again and let the Instant Pot pressure cook for another 5 to 10 minutes and then do a natural release.
---
Instant Pot Chickpeas Cooking Time
How long should you cook chickpeas in the Instant Pot? Cooking chickpeas is not an exact science. Cooking times can vary based on chickpea age, type of pressure cooker, or the type of chickpeas.
Chickpeas are grown in many parts of the world. Different varieties may have slightly different pressure cooking times.
You may need to try out different chickpea pressure cooking times to see what works for that particular bag of chickpeas and your model of Instant Pot. Try it out once with a smaller quantity based on the recipe below and adjust cooking times as needed the next time.
---
Pressure Release
Should you do a quick release or natural release? I've found that doing a quick release of pressure causes the chickpeas to split and have burst skins. It's better to do a natural release or a 15 minutes natural release. [Read More: Instant Pot Natural Release vs Quick Release]
---
Storage
Can pressure cooked chickpeas be stored in the fridge or freezer? I store cooked chickpeas in a container in the fridge for up to 5 days. I freeze chickpeas in freezer bags in smaller portions of 1 1/2 cups (about the quantity in a 15 oz. can). They keep for over 6 months. They don't take long to thaw, but I sometimes add them into my Instant Pot chickpea recipes still frozen.
If you're new to the Instant Pot and aren't familiar with how to use it, you might find it helpful to first read one of the following guides and then come back here to learn how to make this recipe.
Instant Pot Chickpeas – Ingredients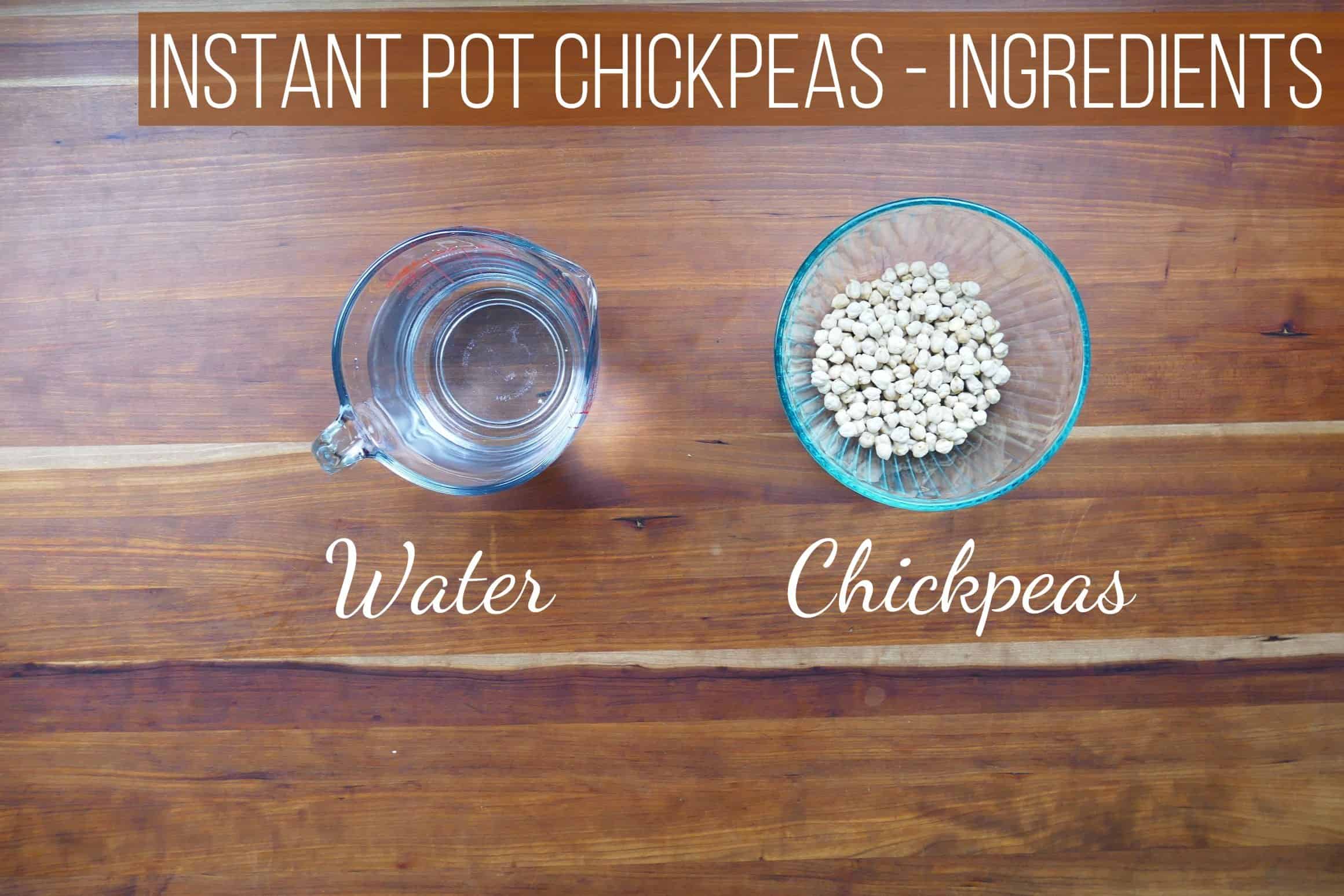 How to Cook Chickpeas in the Pressure Cooker Without Soaking (Step by Step Instructions)
If you wish to make soaked chickpeas in the Instant Pot, change the pressure cooking time to 35 minutes. [Read More: How to quick soak chickpeas.]
Add chickpeas and water to the inner pot.
Pressure cook.
Release pressure.
Drain chickpeas.
Add Chickpeas and Water to Inner Pot

Add washed and drained chickpeas to the inner pot.
Add water to inner pot.
Instant Pot Duo Pressure Cook 60 minutes

Close the lid and make sure the steam release handle is in the Sealing position.
Press Manual (or Pressure Cook) and + or – until the display reads 60 (60 minutes).
Instant Pot Ultra Pressure Cook 60 minutes

Close the lid.
Select Pressure Cook mode and adjust the time to 1 hour (01:00).
Press Start.
Pressure Cooking Process (Duo and Ultra)


Instant Pot display will change to On.
Once the Instant Pot is pressurized, the float valve will go up.
The display will count down to 0; it will then switch to Keep Warm mode and display L0:00 or 00 00 and begin to count up the number of minutes since pressure cooking completed.
I generally pressure cook chickpeas for 55 to 60 minutes. 55 minutes makes them a bit firmer. If you wish, start with 55 minutes and see if the garbanzos are cooked to your liking. Pressure cook for another 5 to 10 minutes if needed.
How to Naturally Release Pressure (NPR) on the DUO and ULTRA


Drain Chickpeas

Place a colander over a medium bowl.
Drain the chickpeas into the colander.
Use chickpeas in recipes or cool them and freeze in a Ziploc bag for future use.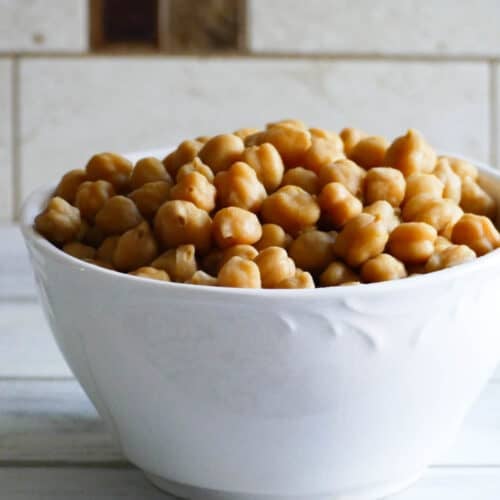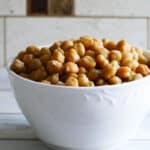 Instant Pot Chickpeas (Garbanzo Beans)
Instant Pot chickpeas (garbanzo beans) are easy to make and the recipe is hands-off. Make a big batch and freeze them in smaller portions. Use them as you would canned garbanzos. Cooking your own chickpeas is a healthier way to enjoy them compared to buying the canned version.
Ingredients
1

cup

dried chickpeas

washed and drained

2

cups

water

(or enough to cover 1 inch above chickpeas)

1

tsp

salt

(or to taste)
Instructions
Add chickpeas, water and salt to the Instant Pot inner pot.

Close the lid and pressure cook on High Pressure for 55 minutes.

Drain the liquid and use the beans in any recipe that calls for cooked chickpeas.
Notes
Please keep in mind that cooking times for beans can vary based on the age of the beans, whether they are organic, what cultivar or variety they are, and the model and size of Instant Pot. So you may need to pressure cook, natural release, check for doneness, and then pressure cook for another 5 to 10 minutes.
This recipe can be doubled or tripled depending on the size of your Instant Pot. Keep in mind that you should not go over the 1/2 mark (including liquid) for foods that expand.
Nutrition
Serving:
0.5
cup, cooked
|
Calories:
134
kcal
|
Carbohydrates:
23
g
|
Protein:
7
g
|
Fat:
2
g
|
Sodium:
471
mg
|
Fiber:
6
g
|
Sugar:
4
g
Thank you for visiting Paint the Kitchen Red. All photos and content are copyright protected. Please don't use any content without prior written permission. If you've made this recipe and would like to share it with your friends, please link back to this recipe. Thank you!
I am not a certified nutritionist. I provide my best estimate of nutritional information merely as a courtesy to my readers. If you depend on nutritional information for dietary or health reasons, I suggest using your favorite online nutrition calculator to confirm the nutritional value of this recipe based on the actual ingredients that you use.
Did you know that the best way to support your favorite bloggers is to comment and rate recipes, and share on social media? If you loved this recipe, please comment and give it a five ⭐ rating in the comment section below. If you're a pinner, pin this post using the Pin buttons at the top and bottom of this post and in the recipe card above. Thank you for your support!
Recipes You Might Also Like
How to Quick Soak Dried Beans in the Instant Pot
Canned beans aren't the only option if you've forgotten to or don't have the time to soak your dried beans before using them in a recipe. You can quick soak dried beans in the Instant Pot in less than 30 minutes.
GET RECIPE DETAILS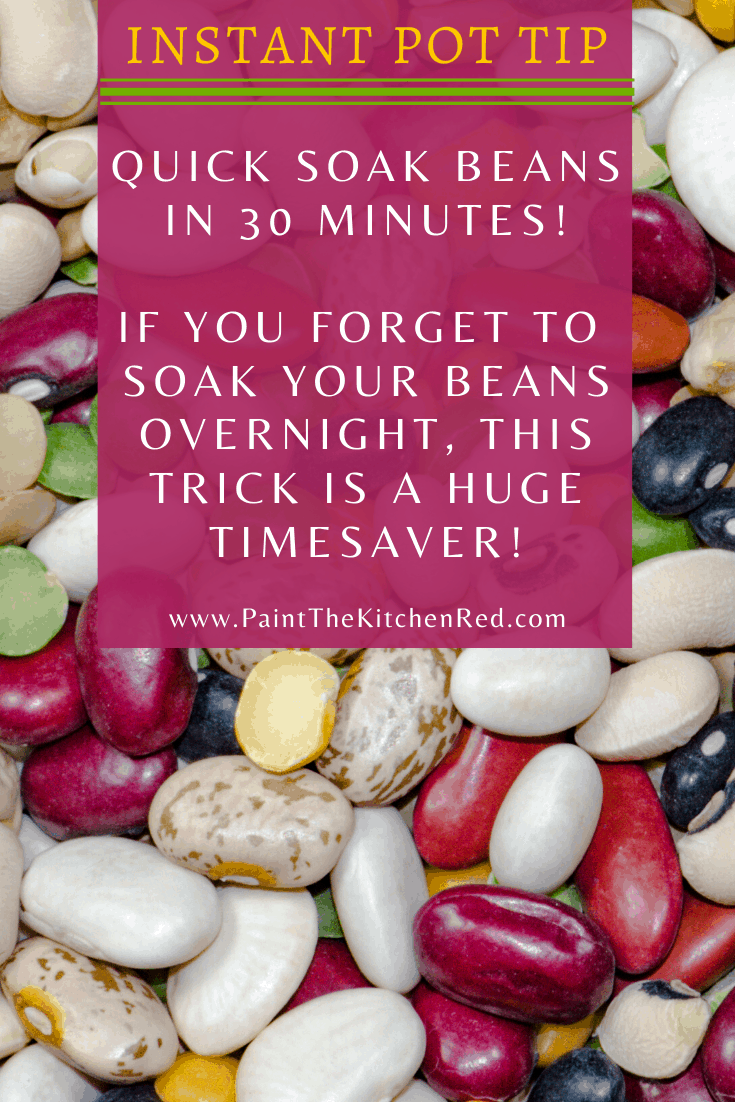 Instant Pot Italian Wedding Soup
Instant Pot Italian Wedding Soup is a hearty, flavor-packed Italian-American favorite. This crowd-pleasing soup has the perfect marriage of flavors that comes from beans, spinach, pasta, spices, Parmesan cheese, and meatballs. Pressure cooking lets you bring this soup to the table in a fraction of the time. [Stovetop Instructions also included.]
GET RECIPE DETAILS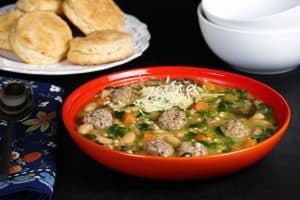 Authentic Instant Pot Red Beans and Rice Recipe
Instant Pot Red Beans and Rice is an authentic New Orleans recipe that will be very popular at your next gathering. It tastes as though you've cooked it for hours, and tastes even better the next day. Perfect for feeding a crowd, this recipe is so simple. I've given instructions for using dried beans if you don't have time to soak.
GET RECIPE DETAILS