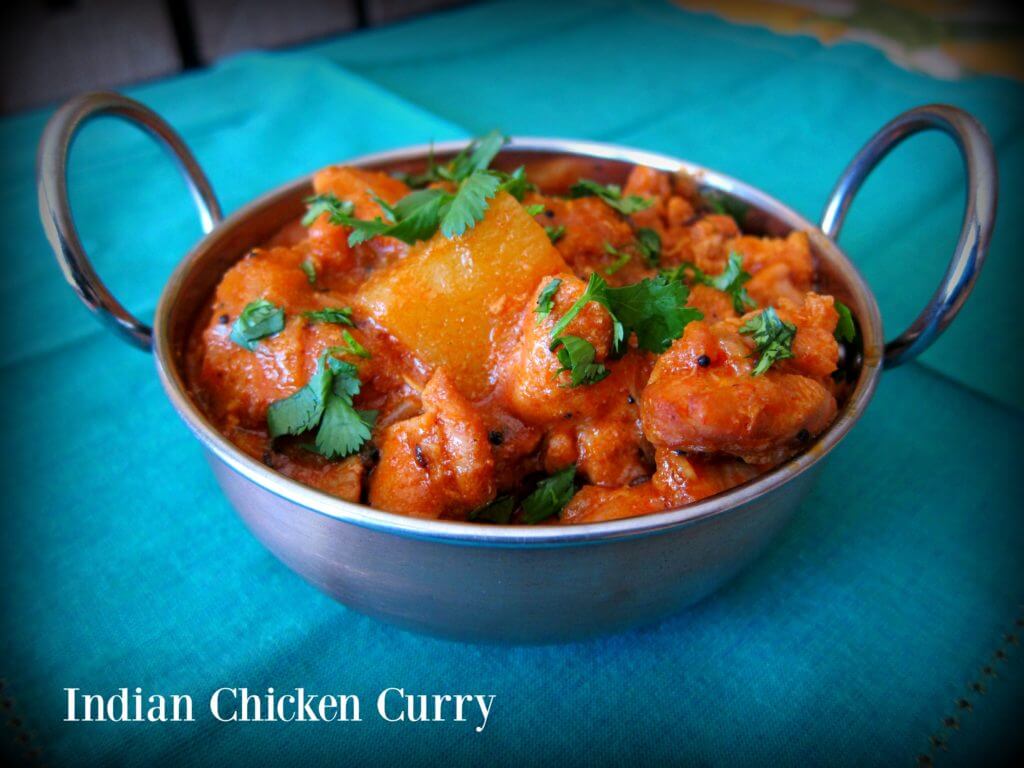 This Indian chicken curry recipe is also called Mom's Chicken Curry in the well-worn binder where I keep all my recipes.  It's a dish that my mom makes and we all love it, including my children. I don't know about your mom, but my mom doesn't use recipes. She can cook pretty much anything without referring to a recipe. So when I first started cooking I would ask her how to make something, she'd say "a little turmeric, a little coriander", etc. Needless to say, I couldn't duplicate the flavors of her dishes! Well, for this recipe I stood beside her, with my little notebook and wrote down every little thing she did.
This, for me, is comfort food. Many people think of chicken curry as having a coconut base or being creamy.  This Indian chicken curry does not use coconut or cream. However, for a change, I do occasionally add a tablespoon or two of cashew paste (just grind up some cashews mixed with a tiny bit of water), or some cream or coconut milk to make the dish more creamy and/or to tone down the spiciness.  Don't be deterred by the long list of ingredients, it's really not a complicated dish to make.  And the ingredients are available at most grocery stores, but if you can find an Indian grocery store you'll probably get them for a better price.
Indian Chicken Curry Ingredients
Here are the ingredients for the Indian chicken curry.  And what's that bowl with two red balls?  That's my two tablespoons of frozen tomato paste. To prevent waste, I freeze tomato paste.
The thing that's a bit time-consuming for this Indian chicken curry is just frying the holy trinity of Indian cooking: onion-garlic-ginger (say it in one breath!)  Don't rush it; allow the onion-garlic-ginger to fry over medium heat until a nice golden brown, stirring occasionally to prevent from sticking to the bottom.  Since this is the base of the curry, if it isn't done right, the taste just won't be the same.  On busy days, I have on occasion cooked the spice paste (up to and including the tomato paste) a day ahead and cooked the rest of the recipe the next day.
Indian Chicken Curry Stages of Cooking
Here's what your onion mixture and curry will look like through the various stages of cooking.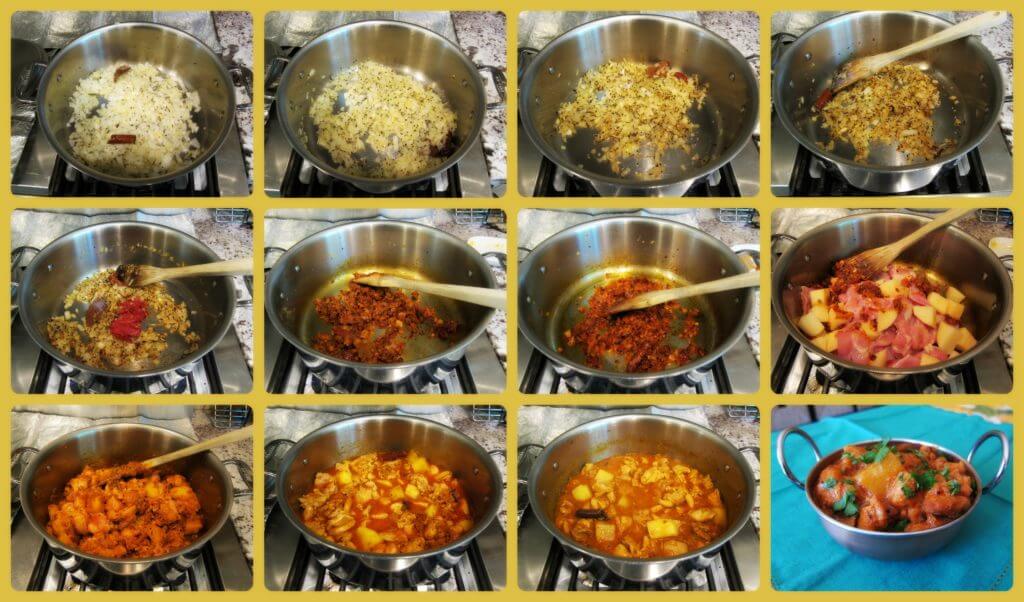 This Indian chicken curry tastes even better the next day. You can also use bone-in chicken. As a matter of fact, I think it tastes better! However, you will have to increase the cooking time and check for doneness.  Let me know what you think!
Serve with Yellow Rice With Peas, chapatis, or naan.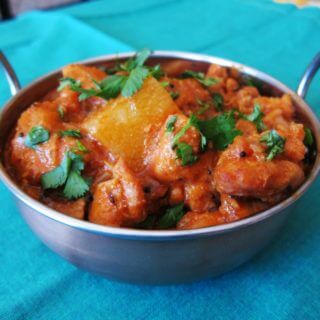 Indian Chicken Curry
An authentic home-style Indian chicken curry that's sure to please the Indian food lover.
Instructions
Heat 2 Tbsp oil over medium-high heat in a large saucepan or dutch oven.

When oil is very hot, add mustard seeds and immediately cover the pan, allowing the mustard seeds to pop.

Lower heat to medium and remove cover. Add bay leaf, cinnamon, cloves and cumin seeds.

Immediately add onion, garlic and ginger; fry well until deep golden brown. Lower the heat if necessary, to make sure onions caramelize and don't burn. Stir frequently. This process can take up to 20 minutes.

Add remaining 1 tbsp oil, then add tomato paste and fry, stirring frequently.

Cook until the oil separates and the mixture becomes paste-like, about 5 minutes; Add a bit of hot water if the mixture starts sticking to the bottom of the pan.

Stir in spices and salt, fry briefly till fragrant.

Increase heat to medium-high and add chicken and potatoes and stir to coat.

Fry until chicken pieces lose their pink color and start to lightly brown.

Stir in hot water and chicken stock, and simmer for 20 minutes or until chicken is cooked and potatoes are soft, stirring occasionally. If curry is too thick or sticks to the bottom of the pan, add some more water as needed.

Stir in garam masala and heat through.

Remove from heat and garnish with chopped cilantro.

Serve with rice or naan.
Thank you for visiting Paint the Kitchen Red. All photos and content are copyright protected. Please don't use any content without prior written permission. If you've made this recipe and would like to share it with your friends, please link back to this recipe. Thank you!