This authentic Kerala chicken curry recipe captures the essence of the popular South Indian dish known as 'nadan kozhi.' This easy curry is made with bone-in or boneless chicken pieces and a medley of spices and is fragrant, mildly spicy, and creamy.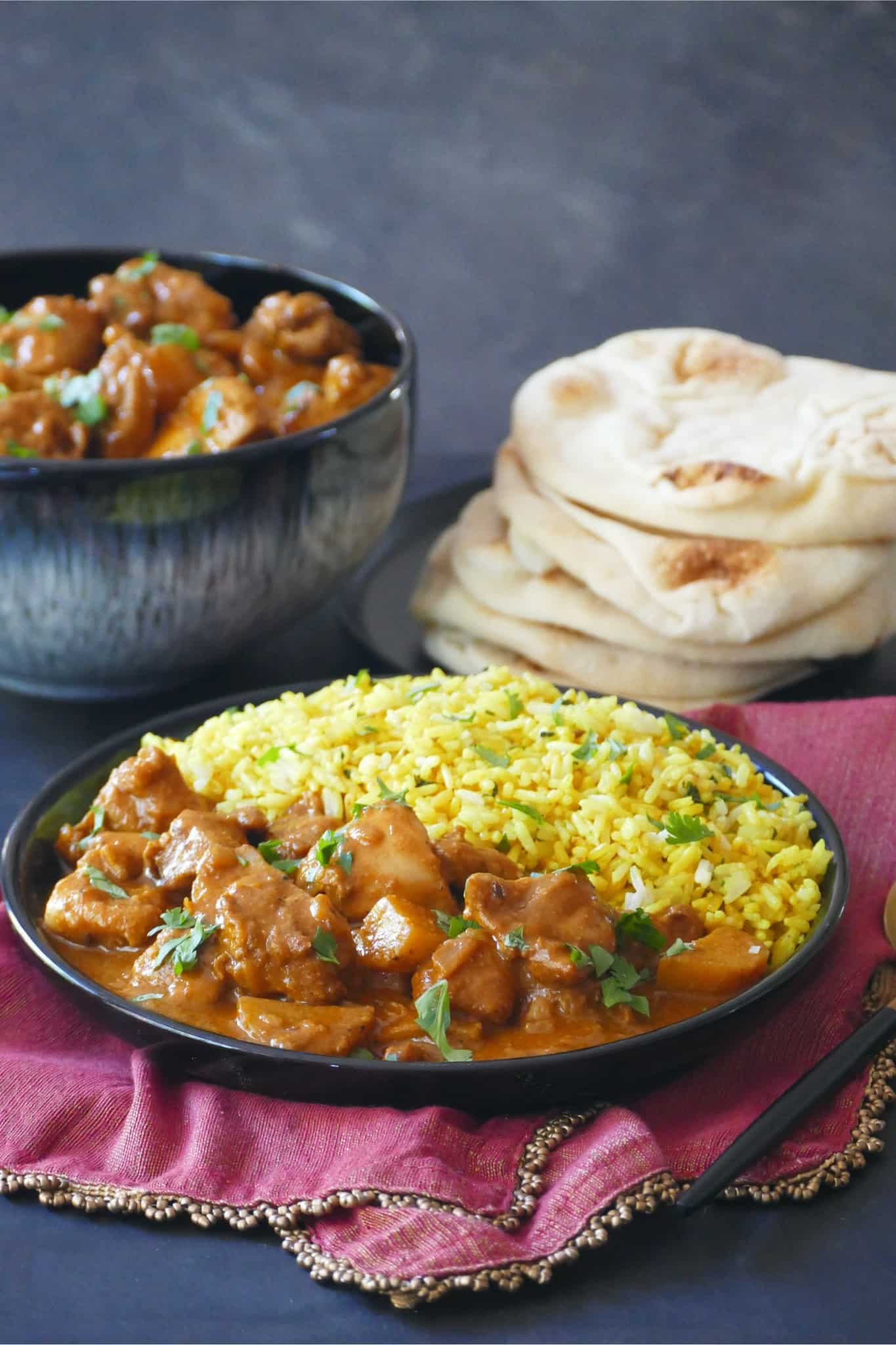 This post contains affiliate links. As an Amazon Associate, I earn from qualifying purchases. Please read the disclosure.
ℹ️ Introduction
What is Kerala Chicken Curry?
Kerala is a state on the Southwestern tip of India that's famous for its beautiful coconut tree-lined backwaters and spice-covered hills. This diverse region is where my family hails from and where I fondly remember spending a portion of my childhood.
Kerala cuisine features flavorful curries made with different blends of spices that create unique recipes. Coconut and fresh curry leaves are common in many recipes. I may be biased, but I think Kerala cooking is the best!
Kerala-style chicken curry is also called 'nadan kozhi'. 'Nadan' (pronounced 'nah-done') means 'from the land (or homeland)' and 'kozhi' (pronounced 'koh-rhee') means 'chicken.'
This recipe I grew up with is one of my favorite recipes. It is my mom's recipe for authentic Kerala style chicken curry. Pretty much anyone who tries it asks her for the recipe.
Every household has its own version of chicken curry. Mom's original recipe is made with bone-in chicken, which tastes amazing, but you can use boneless chicken too.
Traditional Kerala chicken curry has mustard seeds, curry leaves, and fennel seeds, but I occasionally make this curry omitting these ingredients and it still tastes great.
Another optional ingredient is potatoes. I love the heartiness of the curry with the potatoes but you can choose to omit them or add other vegetables of your choice.
This recipe can also be made in the Instant Pot. Try my Instant Pot Chicken Curry recipe!
To complete the meal, serve it with Indian bread (naan), appam (rice pancakes), plain rice, or ghee rice (rice cooked with whole spices and ghee).
❤️ WHY YOU SHOULD TRY THIS KERALA CHICKEN CURRY
This simple chicken curry recipe has been perfected over many generations.
The curry uses individual spices that give it a unique flavor that curry powder just can't replicate.
The chicken curry base is sauteed onions cooked to a deep golden brown, enhancing the curry's flavors.
The Kerala curry is versatile, and you can customize it by changing or omitting hard-to-find ingredients like curry leaves or substituting the potatoes with your choice of vegetable.
💡 Tips for Kerala Style Chicken Curry
---
Here are some tips for getting the best results when making South Indian chicken curry:
Use bone-in chicken instead of boneless – Boneless is quicker but I think bone-in chicken tastes better! Increase the cooking time and check for doneness.
Use good quality, fresh spices – If your spice powders have been sitting in your cabinet for years, do yourself a favor and toss them. Fresh ingredients make a better curry. I toast whole coriander and cumin seeds and grind them in a spice grinder.
Marinate the chicken – If time allows, rub the chicken pieces with the spices for 30 minutes; in other words, after sauteing the tomatoes, add the marinated chicken pieces to the onion and tomato mixture. This allows the flavors to penetrate fully and ensures tender, flavorful meat.
Brown the onions really well – Properly browning the onions caramelizes their natural sugars and adds color and flavor to the base. Cook over medium heat till the onions turn a rich golden brown. If you know you'll be short on time, brown the onions ahead of time and store them in the fridge until you're ready to make the curry.
Simmer the curry slowly – The chicken should be braised and simmered on medium-low to low heat in the sauce to make it tender. Don't rush the cooking process. Allow time for the flavors to meld. The chicken is usually done when the potatoes are done.
Customize spice levels – Adjust the spiciness by varying the amount of chili powder or substituting all or some of the Kashmiri chilli powder with paprika. You can also add chopped green chillies to give the curry more heat.
Add curry leaves – Fried curry leaves are essential to Kerala cooking and are available at many South Asian grocery stores. Sadly, these leaves are not easily accessible to many Western cooks. If you can get fresh ones (don't use dried curry leaves), briefly fry about ten leaves in the hot oil while you're sauteing the whole spices.
Use coconut oil – Substitute vegetable oil with coconut oil to give the curry an authentic Kerala taste. Or drizzle a little coconut oil on top of the cooked curry to give it an extra dose of flavor.
Finish with cashew paste or thick coconut milk – Make chicken curry with coconut milk by adding it right at the end to give the curry a slightly sweet and creamy taste. Or blend cashew nuts with water into a very fine paste and add to the curry. Simmer just until heated through. The curry tastes great even without coconut milk or cashew paste.
Serve with appam, white rice, ghee rice, or naan – The curry is traditionally served with appam (rice pancakes) or rice to soak up the flavorful gravy. Rice dishes like ghee rice or coconut rice complement it well, too.
Let the chicken curry rest for a day – This Indian chicken curry, like many Indian curries, tastes even better the next day.
✅ Why Trust Neena at Paint the Kitchen Red?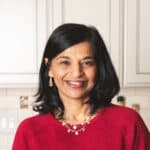 Neena has been perfecting her recipes for over 25 years. The years of practice have honed her skills, resulting in consistently delicious and well-cooked meals. Her expertise enables her to provide valuable insights, troubleshooting advice, and innovative recipe ideas. Every recipe is tested multiple times, so you can be sure that it works the first time!
❓ FAQS
---
Can I use chicken breast instead of chicken thighs?
Chicken thighs have more flavor and are best for Indian cooking, however, you can use chicken breasts if you wish. You need to watch out not to overcook it.
The curry is too spicy. What can I do?
Add coconut milk to the curry to make it less spicy. Start with a couple of tablespoons and add more to taste.
🧂 Kerala Chicken Curry Ingredients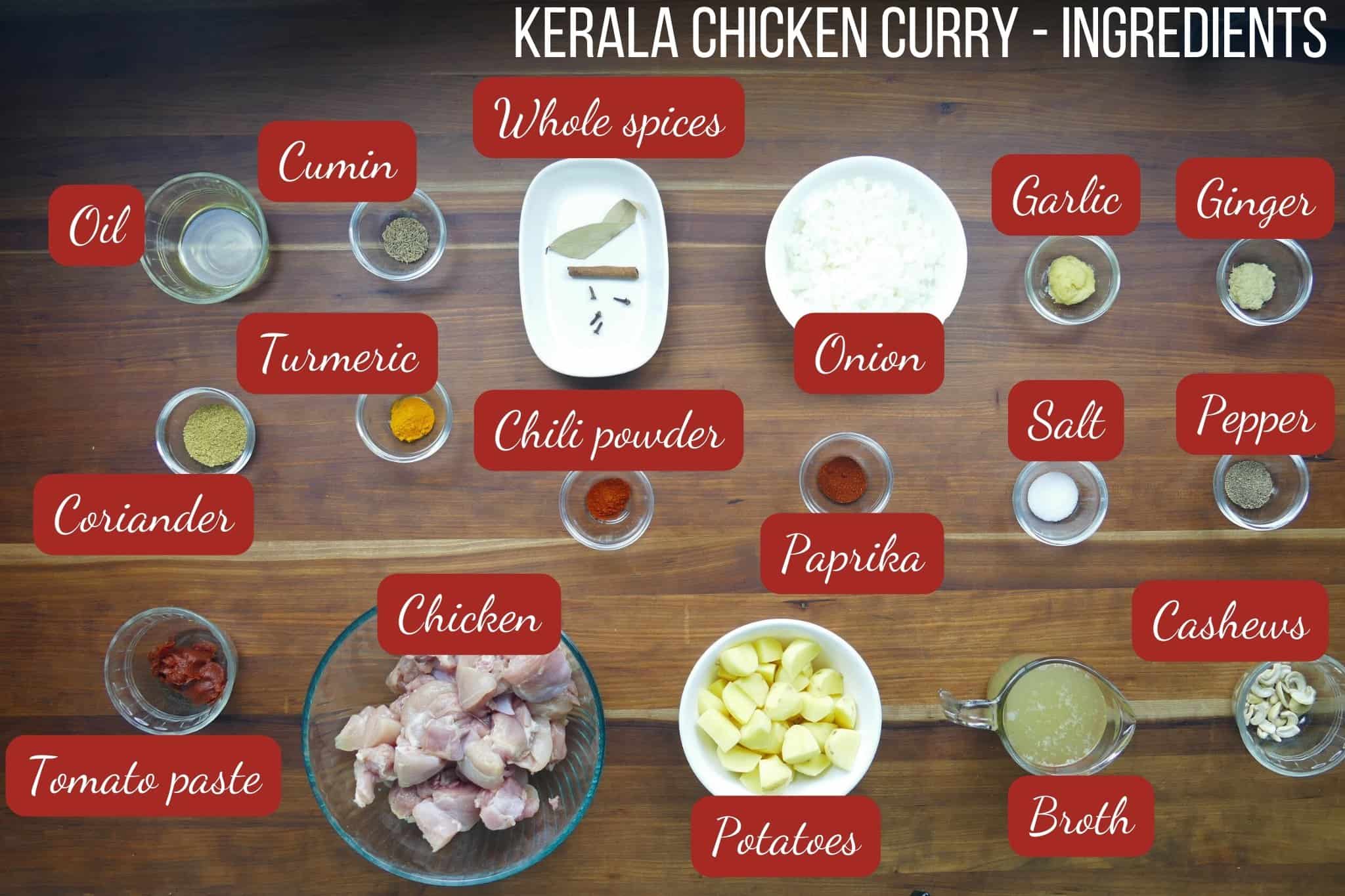 Coconut oil is traditionally used in Kerala cooking, but vegetable oil works well too.
Whole spices are also known as whole garam masala. They can include cinnamon sticks, bay leaves, cloves (not garlic cloves!), and cardamom. The above photo doesn't include cardamom, but you can add them.
Yellow onions or red onions can be used. Red onions have a stronger flavor.
Ginger garlic paste can be used instead of minced ginger and garlic.
Kashmiri chili powder is a milder Indian chili powder. If you want the curry to be even milder, substitute any part of the chili powder with paprika.
Tomato paste can be substituted with two medium finely chopped tomatoes (you can also coarsely blend them). Cook them until they break down.
Potatoes are optional, but I like to include them. They make the curry hearty and increase the food quantity if you're serving a larger group.
Cashew paste is made by grinding a handful of cashew nuts and water into a very fine paste (not grainy). You can also use coconut cream or thick coconut milk to finish the curry. This step is optional.
The following ingredients are optional but add an authentic flavor.
Black mustard seeds are sputtered in hot oil before adding the whole spices.
Fennel seeds are a common spice in Kerala cuisine. Add half a teaspoon with the other spices. You can use whole fennel seeds or fennel powder.
Curry leaves may not be easily available to you, so I've made them optional.
Quantities and details are provided in the recipe card at the bottom of this post
📝 How to Make Nadan Chicken Curry
Saute onions
Saute tomato paste and add the chicken
Thicken the curry
Saute Onions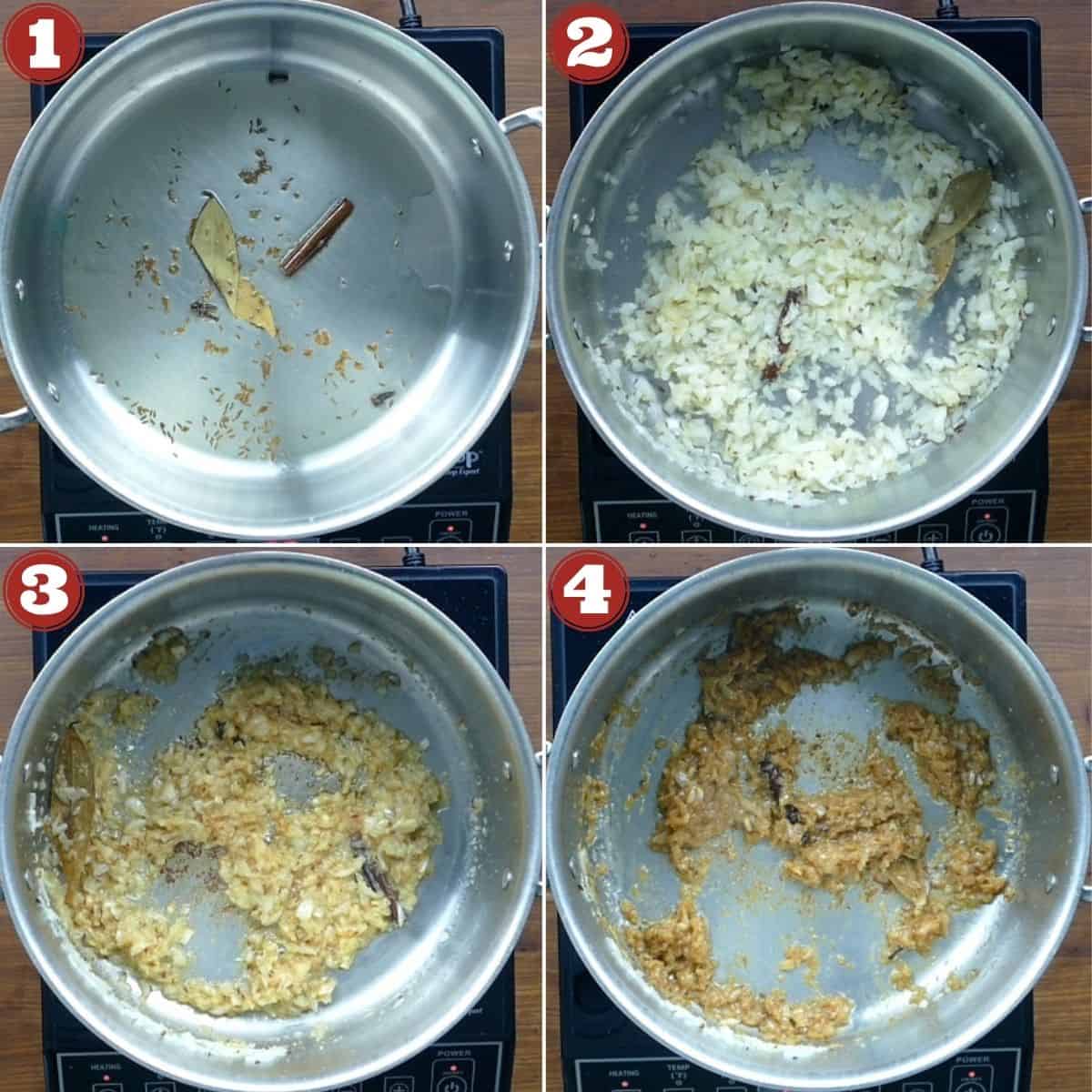 Add two tablespoons of coconut oil or vegetable oil to a large saute pan or dutch oven. Once the oil is hot, add the mustard seeds (if using) and cover. Once the mustard seeds have popped, lower the heat to medium and add bay leaf, cinnamon, cloves, cumin seeds, and curry leaves (if using).
Immediately add onion, garlic, and ginger (or ginger-garlic paste).
Stir frequently. Lower the heat if necessary to ensure onions caramelize and don't burn.
Fry well until deep golden brown. This process can take up to 20 mins. See tip below.
✏️ PRO TIP FOR BROWNING ONIONS QUICKLY
To speed up the browning of the onions, increase the heat to medium-high. When the onions start sticking to the bottom and getting brown, deglaze with a tablespoon or two of water or chicken broth.
Scrape up the brown bits (fond) and incorporate them back into the onion mixture.
Keep doing this until the onions are a deep golden brown but not burnt! You need to watch them closely because they can burn easily at higher temperatures.
Saute tomato paste and add the chicken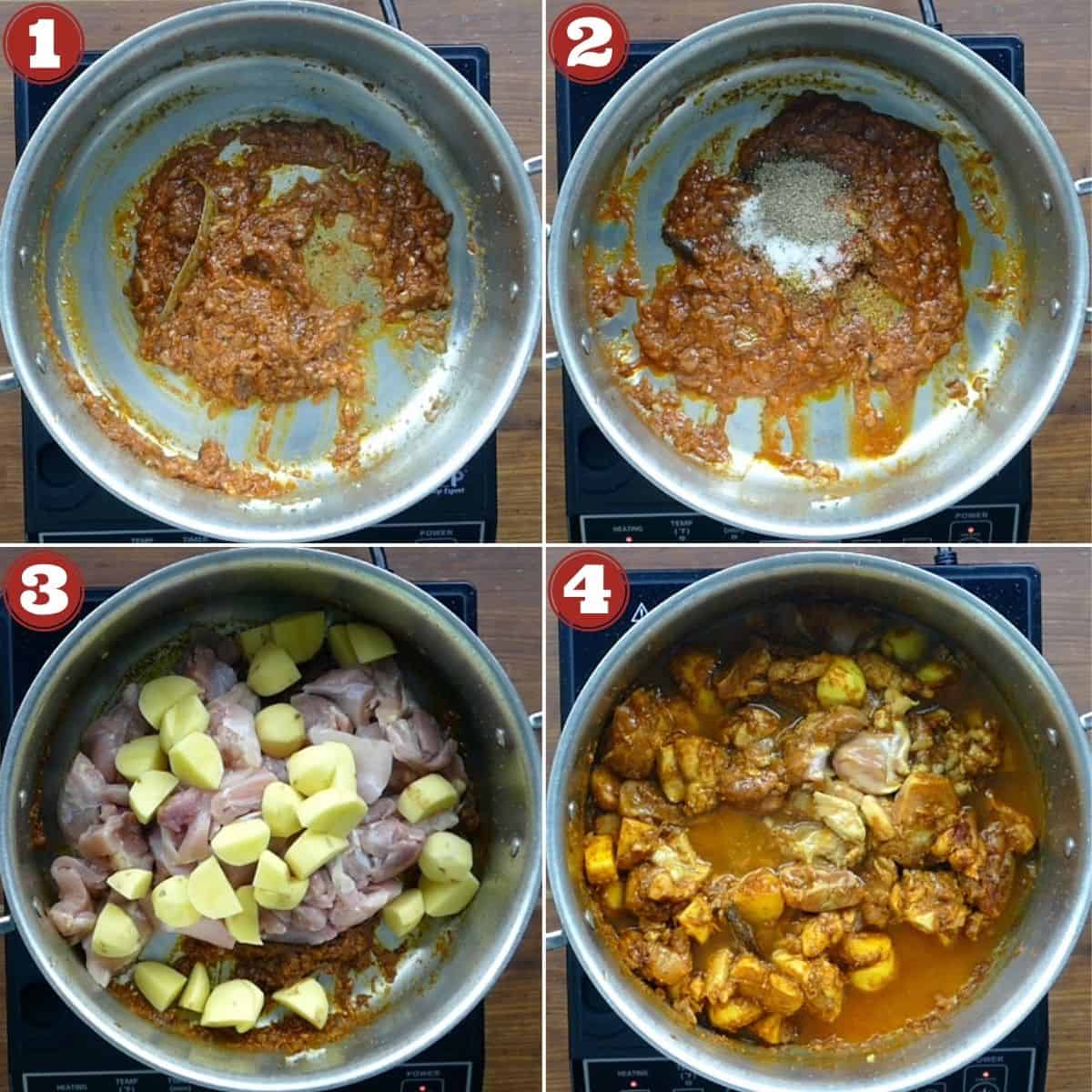 Once the onions are browned, add tomato paste and a tablespoon of hot water. Cook the tomato paste, stirring frequently. Cook until the oil separates, about 5 minutes. Add a few teaspoons of hot water if the mixture starts sticking to the bottom of the pan.
Add the spices and mix well, till fragrant, about 20 to 30 seconds. *
Add the potatoes and chicken and mix to coat with the onion mixture until the chicken begins to lose its pink color and begins to brown.
Stir in hot water and chicken broth. Lower heat to low or medium-low and cover with a lid and cook. Simmer for 20 to 30 minutes or till the chicken is done and the potatoes are soft, stirring occasionally. If the curry is too thick or sticks to the bottom of the pan, add some more water as needed.
* If you have the time, marinate the chicken with the spices for 30 minutes to a few hours and add marinated chicken to the pan instead of adding spices and chicken separately.
Thicken the curry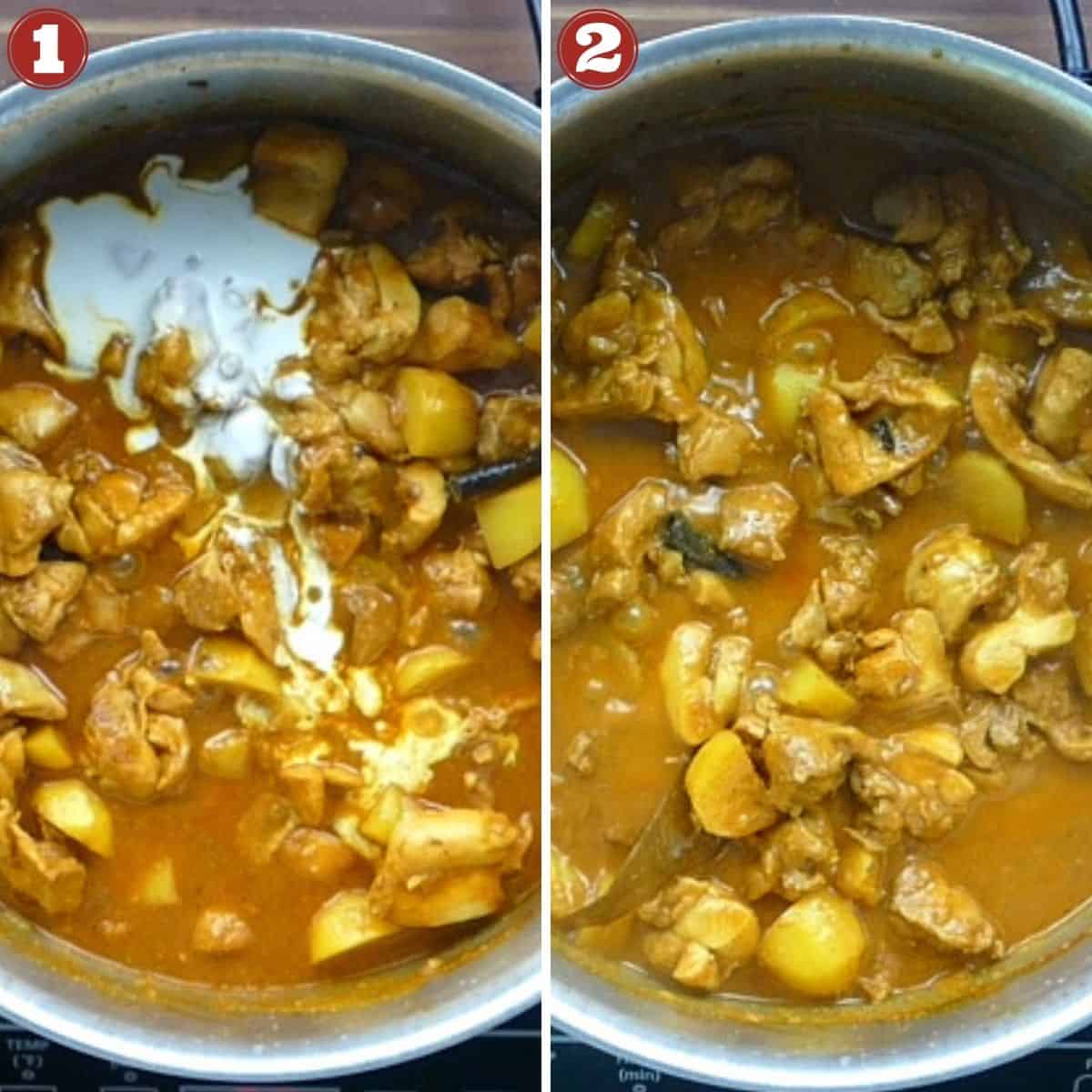 Once the chicken and potatoes are cooked, add some cashew paste or coconut milk to thicken and mellow the curry. This is an optional step – the curry tastes great without it, too.
Sprinkle the chicken with garam masala and heat through.
More Chicken Recipes
Curry pasta is my Indian spin on pasta. The one-pot pasta recipe has the flavors of chicken tikka masala and is a must-try!
Try making pot in pot brown rice using the PIP method for smaller quantities of rice and easy cleanup.
Arroz con Pollo is a Latin chicken and rice easy recipe that always comes out perfect.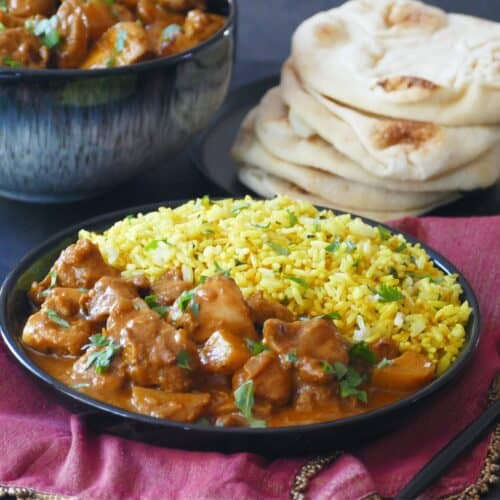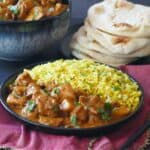 Kerala Chicken Curry
An authentic home-style Indian red curry chicken from Kerala in South India is also known as nadan kozhi curry (pronounced nah-done koh-rhee). This chicken curry is sure to please any Indian food lover.
Instructions
Heat 2 tablespoon oil over medium-high heat in a large saucepan or dutch oven.

When oil is very hot, add mustard seeds and immediately cover the pan, allowing the mustard seeds to pop.

Lower heat to medium and remove cover. Add bay leaf, cinnamon, cloves, cumin seeds, and curry leaves.

Immediately add onion, garlic and ginger; fry well until deep golden brown. Lower the heat if necessary, to make sure onions caramelize and don't burn. Stir frequently. This process can take up to 20 minutes.

Add remaining 1 tablespoon oil, then add tomato paste and fry, stirring frequently.

Cook until the oil separates and the mixture becomes paste-like, about 5 minutes; Add a bit of hot water if the mixture starts sticking to the bottom of the pan.

Stir in coriander, turmeric, black pepper, chili powder, paprika, salt, and fennel seeds (if using). Fry briefly till fragrant, about 20 seconds. **

Increase heat to medium-high and add chicken and potatoes (if using) and stir to coat.

Fry until chicken pieces lose their pink color and start to lightly brown.

Stir in hot water and chicken stock, cover, and cook. Simmer for 20 to 30 minutes or until chicken is cooked and potatoes are soft, stirring occasionally. If curry is too thick or sticks to the bottom of the pan, add some more broth or water as needed.

Stir in garam masala and heat through.

Remove from heat and garnish with chopped cilantro.
Optional
In a separate small frying pan, heat coconut oil. Add curry leaves and fry for a couple of seconds. Drizzle over curry. You may instead drizzle plain coconut oil on the curry for extra flavor.
Notes
Add extra red chili powder or add chopped green chilies to the onion mixture to make the curry spicier. Substitute all or part of the chili powder with paprika to make the curry less spicy.
* Potatoes make this curry go further and add a hearty touch. They are optional.
** If you have the time, coat the chicken with the powdered spices and allow to marinate for 30 minutes to a few hours. Add the marinated chicken to the tomato mixture.
The pressure cooker version is available at Instant Pot chicken curry.
Nutrition
Thank you for visiting Paint the Kitchen Red. All photos and content are copyright protected. Please don't use any content without prior written permission. If you've made this recipe and would like to share it with your friends, please link back to this recipe. Thank you!
I am not a certified nutritionist. I provide my best estimate of nutritional information merely as a courtesy to my readers. If you depend on nutritional information for dietary or health reasons, I suggest using your favorite online nutrition calculator to confirm the nutritional value of this recipe based on the actual ingredients that you use.
Did you know that the best way to support your favorite bloggers is to comment and rate recipes, and share on social media? If you loved this recipe, please comment and give it a five ⭐ rating in the comment section below. If you're a pinner, pin this post using the Pin buttons at the top and bottom of this post and in the recipe card above. Thank you for your support!
More Kerala Recipes
1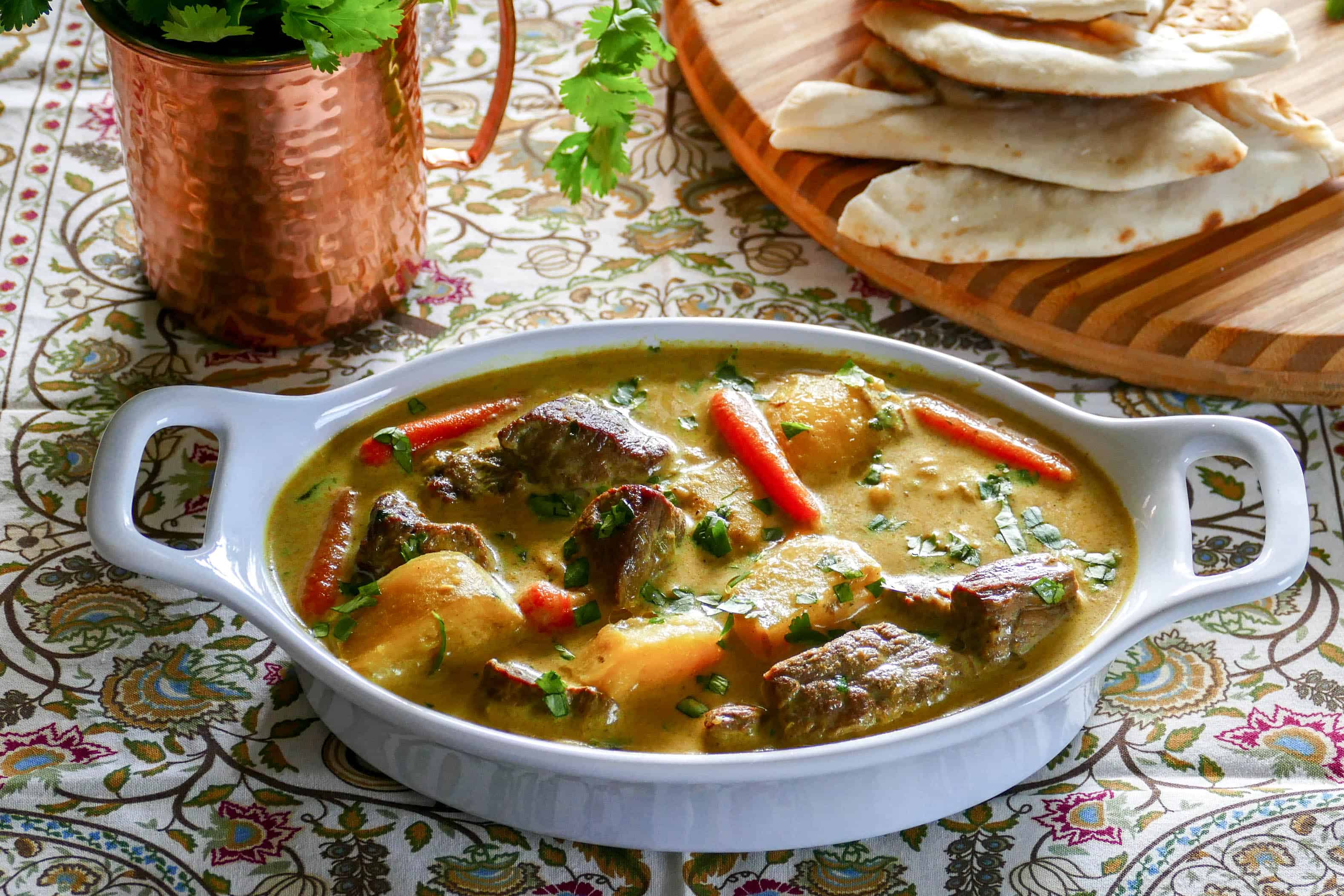 Instant Pot Beef Curry Recipe with Coconut Milk
With hearty beef and turmeric-spiced coconut milk, this delicious Instant Pot Beef Curry recipe is classic comfort food with an Indian twist. Tender bites of beef and vegetables come together in an aromatic curry adapted from the South Indian state of Kerala. This curry can also be served as a beef stew, which is how my family loves it. Make it more or less spicy by varying the quantity of green chili peppers.
COCONUT BEEF STEW
2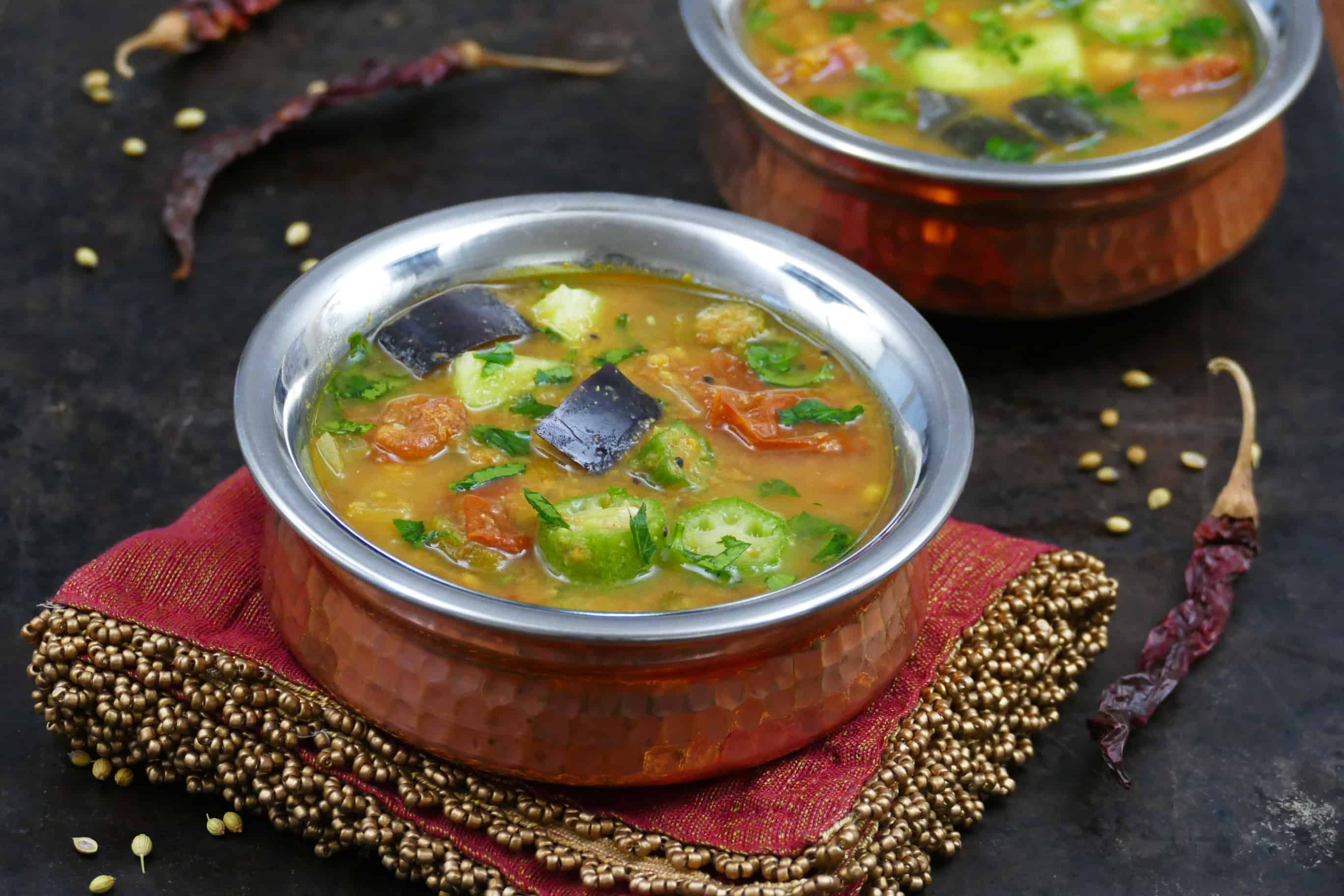 Instant Pot Sambar
This Authentic Instant Pot Sambar recipe is an easy vegetable lentil stew recipe from the South Indian state of Kerala. This boldly flavored sambar is normally eaten with the South Indian staples of idli, dosa, vada, or rice but you could also eat it as a soup or stew. Use your choice of vegetables.
INSTANT POT SAMBAR
3
Instant Pot Chicken Korma
Instant Pot Chicken Korma is a mildly spiced coconut chicken curry that's delicious enough to impress guests but easy enough to make on a weeknight. Put away the jar of store-bought korma sauce and make this curry from scratch with little effort.
COCONUT CHICKEN KORMA