From chicken and rice to shredded chicken, and chicken pot pie to butter chicken, you may have a hard time deciding which Instant Pot chicken recipe to make from this collection of popular Instant Pot Chicken Recipes. Chicken is the most popular meat to cook in the Instant Pot and this collection of recipes gives you so many choices!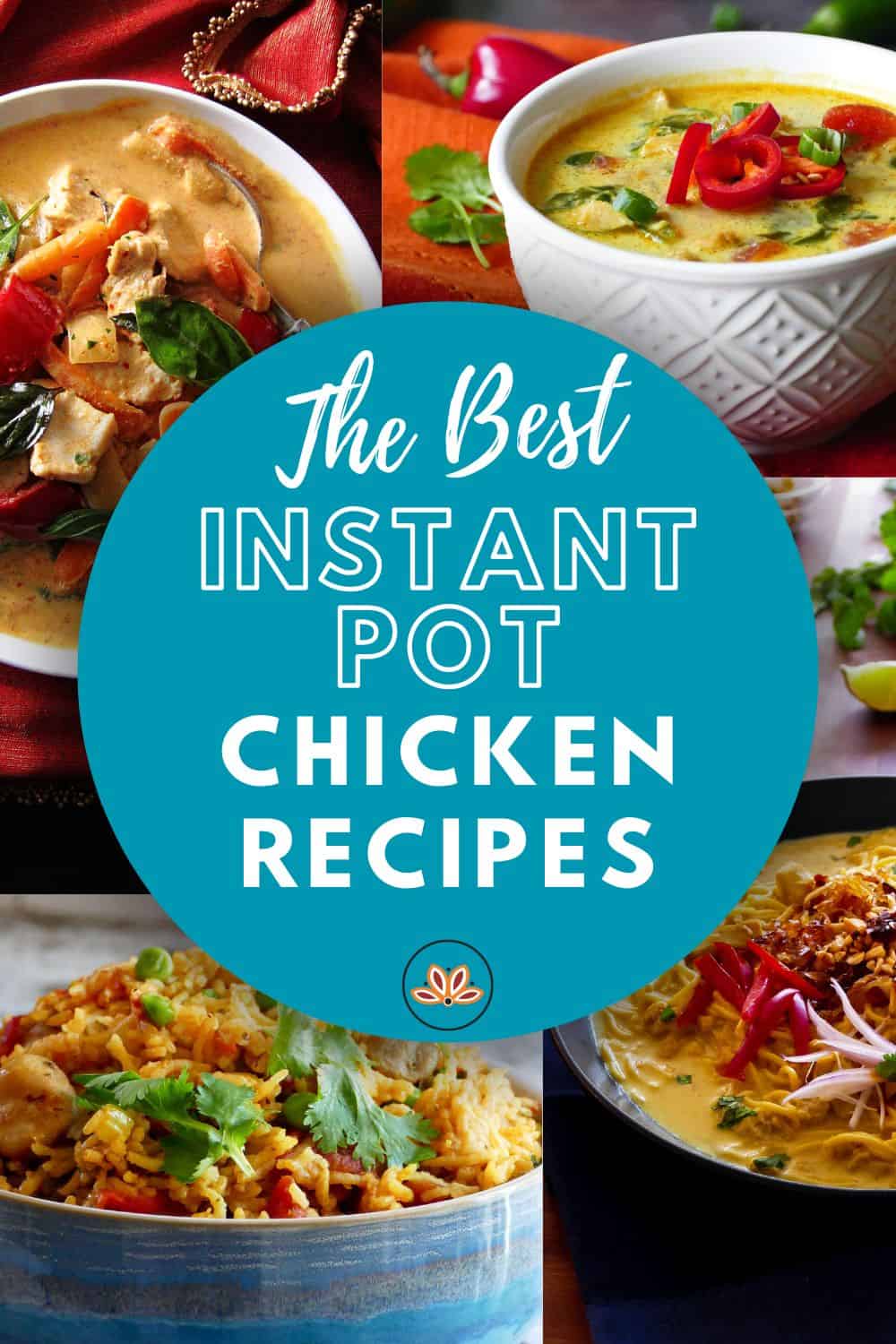 This post contains affiliate links. As an Amazon Associate, I earn from qualifying purchases. Please read the disclosure.
Introduction
The Instant Pot pressure cooker has changed the way I cook because it's such an easy way to make healthy, delicious meals. And there's nothing easier than Instant Pot chicken.
Chicken is one of the most versatile proteins, and you can make Instant Pot chicken in less time than other methods of cooking. Chicken is easy to make in the Instant Pot when you're having a busy day.
In this guide, I provide tips on how to make chicken in your Instant Pot so that it is always tender and flavorful.
I also share some of my favorite Instant Pot chicken recipes from my blog and other blogs including chicken breasts, thighs, legs, wings, and Mexican, Indian, Thai, Asian, Italian, and more!
Tips For How to Cook Instant Pot Chicken
Use chicken pieces that are about the same size or cut the chicken into equally sized pieces in order to cook them evenly in your electric pressure cooker.
Cooking chicken breast can be tricky at times. You can get more juicy chicken breasts by cooking them in broth or cooking liquid. This prevents it from drying out because it's such a lean cut.
Avoid huge pieces of chicken. The smaller pieces just have more flavor.
For tender and juicy chicken, brown larger pieces of chicken using the sauté mode, before pressure cooking. The caramelization from the browning adds another layer of flavor.
Alternatively, you can do a reverse sear and brown the chicken pieces after pressure cooking them.
Pressure cooking can dilute spices, so season the chicken well to make it flavorful.
When sauteing before pressure cooking, deglaze the pot well to prevent the burn message.
Cooking time will vary depending on the cut of the chicken and the thickness of the pieces. Increase pressure cooking time if you're using whole pieces of chicken and the recipe calls from cut up pieces.
Pressure cook chicken on high pressure.
When possible, do a natural release of pressure. Doing a quick release can cause the pressure to drop rapidly in a few minutes. This causes the natural juices to be expelled which can cause the chicken to be dry and stringy. Although a 10-minute resting period is adequate, a full natural pressure release allows the maximum juices to be retained.
In many recipes, you can use fresh or frozen chicken. When cooking frozen chicken, increase the cooking time by 1 to 2 minutes.
Place the chicken on a trivet to prevent the chicken from sticking to the bottom of the pot, and causing a burn notice. This applies to recipes that have less liquid.
If your chicken comes out too dry, cook it again at high pressure for about 10 minutes with a natural release. It might not be as flavorful but it will be moist.
If you have to pick between chicken breasts and thighs, choose thighs because the Instant Pot is best suited for darker meat.
Let the chicken rest for at least 5 minutes before cutting or slicing.
Chicken Cooking Time Chart
The following times are general guides for cooking different cuts of chicken. Actual cooking times can vary based on the thickness of the chicken pieces and the quantity of chicken you're cooking.
Chicken Breast Recipes
Instant Pot chicken breasts are the most popular cut of chicken. Although the best chicken for the Instant Pot is dark meat, chicken breasts can be moist and juicy in the Instant Pot if you avoid overcooking them!
Chicken Leg Recipes
Who doesn't like chicken legs? Cooking drumsticks in the Instant Pot is quick and easy. These easy Instant Pot chicken recipes are perfect for busy weeknights and they're kid-friendly.
The chicken comes out moist and juicy. Since the pressure cooker helps to preserve moisture, the fall-off-the-bone chicken pieces are tender and juicy.
Chicken Thigh Recipes
One of the easiest and foolproof ways to cook chicken thighs is in the Instant Pot. They can be cooked quickly and easily, without worrying about them drying out.
Get creative with your cooking by trying my favorite recipes for Instant Pot chicken thighs. These recipes use a variety of exotic spices and that makes them very flavorful.
Whole Chicken Recipes
Cooking a whole chicken in the Instant Pot is a quick and easy way to have a delicious and healthy meal on the table in no time. The chicken comes out moist and juicy because the Instant Pot locks in the moisture.
So you don't need to worry about it drying out. The best part is that the Instant Pot can cook a whole chicken in around 30 minutes, so it's a great option for busy weeknights.
Mexican Recipes
You can easily cook flavorful and authentic Mexican chicken dishes in your Instant Pot. Chicken tacos are a popular choice, but you may also like to try chickentinga and burrito bowls.
Indian Recipes
You can cook easy homemade authentic Indian chicken dishes in the Instant Pot, so you don't need to order takeout. These easy Instant Pot recipes are my favorite recipes including chicken tikka masala, butter chicken, and chicken biryani. The recipes come with step-by-step instructions and helpful tips.
Thai Chicken
These restaurant-worthy Instant Pot Thai recipes are a great way to enjoy your Thai favorites without spending hours in the kitchen. With just a few ingredients and your Instant Pot, you can have a delicious Thai dish on the table in no time! These delicious recipes right here are my favorite Instant Pot recipes! Serve the curries with white white rice, preferabley jasmine, or brown rice.
Asian Chicken
Whether you love to order orange chicken, teriyaki chicken, or fried rice at your favorite Asian restaurant, this collection of Instant Pot Asian chicken recipes is going to have something for everyone.
Italian
You're going to love these Italian-inspired recipes because they're hearty and comforting. This selection of delicious and easy-to-make Instant Pot chicken dishes is inspired by the flavors of Italy. If you're looking for dinner ideas, try these recipes that pair aromatic Italian seasoning and herbs with flavorful moist chicken.
Soups and Stews
With an instant pot, you can cook soup in a fraction of the time it would take on the stovetop or in the oven. That's why Instant Pot soup recipes are perfect for busy weeknights or when you're short on time.
With the convenience of the Instant Pot, you can effortlessly create soups and stews like cream of chicken, noodle soup, and spicy curry soup.
Chicken Pasta
With an Instant Pot, you can cook chicken in your Instant Pot with pasta, saving you time and cleanup. These recipes for Instant Pot pasta with chicken are so flavorful and quick to make.
Chicken and Rice
Chicken and rice is one of the most popular combinations all over the world. Whether you're looking for Indian biryani, Latin arroz con pollo, or Cajun jambalaya, these comforting chicken and rice recipes have something for everyone.
Appetizers with Chicken
Chicken appetizers are not limited to wings, but they are the most popular. Here are some chicken appetizers you can whip up for your next party or potluck. Some of the recipes can be prepared ahead of time.
Chicken and Vegetables
Make dinner by cooking one of these healthy Instant Pot one-pot chicken and vegetables recipes. These recipes are easy to follow and can be customized to your liking by substituting other vegetables with a similar cooking time.
Spicy Chicken Recipes
If you want to learn how to make some spicy Instant Pot chicken recipes, then this section is for you. Here are some of my favorite spicy chicken recipes that are sure to please everyone. These satisfying dinners have a touch of spice to them but are not too overpowering.
Shredded Chicken
If you like shredded chicken recipes, these versatile recipes can be used in a variety of dishes including rice bowls, salads, and sandwiches.
Creamy Chicken Recipes
Whether you're looking for an Instant Pot creamy chicken pasta dish or a creamy chicken soup, these recipes are comforting and rich. And because the Instant Pot does all the work, you can spend less time in the kitchen and more time enjoying your meal.
Chicken Casseroles
Chicken casseroles are a classic comfort food but take some time to bake in the oven. These recipes can be easily made in the Instant Pot. This section features a variety of delicious and easy-to-make chicken casserole recipes that are sure to please the whole family.
Lemon Chicken
Lemon is a great way to add a touch of brightness and flavor to your Instant Pot meals. The acidity of the lemon juice helps to tenderize the chicken, while the other ingredients in these recipes add layers of flavor that are sure to please.
If you loved this recipe collection, please share it on social media using the social media share buttons at the top and bottom of this post. Thank you so much!