Instant Pot Char Siu is a pressure cooker adaptation of the iconic Chinese pork bbq dish popular at Chinese restaurants. Hoisin, soy sauce, honey, and spices combine to create a sweet, salty, sticky glaze that gives the tender pork bold flavors. Slice the pork and serve with sauteed vegetables in a rice or noodle bowl or shred the pork for Asian-inspired tacos.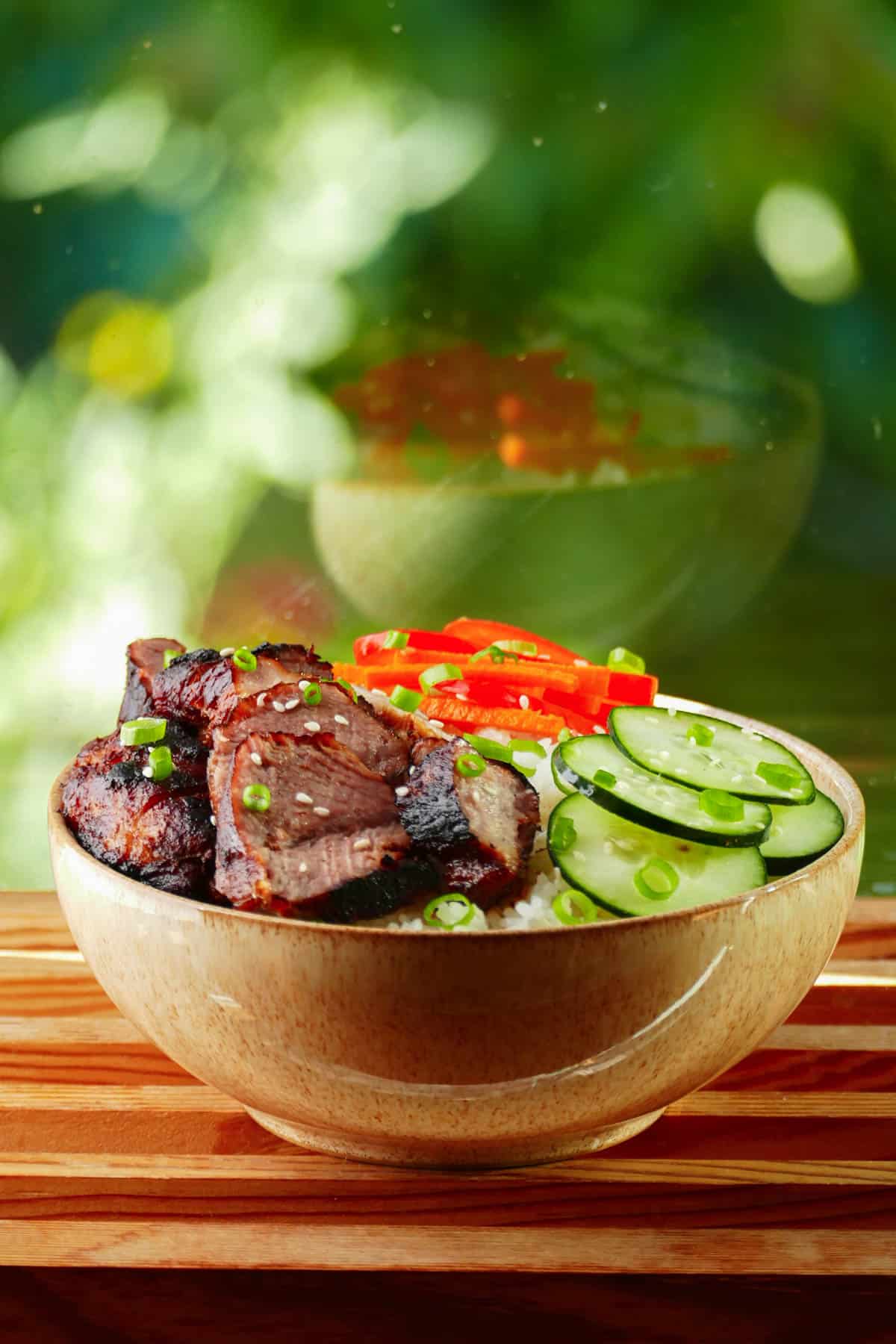 This post contains affiliate links. As an Amazon Associate, I earn from qualifying purchases. Please read the disclosure.
Introduction
Char Siu (also called Xa Xiu or Chashu) is a sticky Chinese bbq pork dish that's very popular at Chinese restaurants. Cantonese in origin, it's referred to as cha siu in Cantonese and cha shao in Mandarin.
Although traditionally made with pork belly, char siu can also be made with pork shoulder or pork butt. And that works out perfectly when you make Instant Pot Char Siu since pork shoulder is the best pork cut to pressure cook in the Instant Pot.
Char siu is translated as "fork roasted", which is the traditional way to make it: strips of seasoned pork are skewered with long forks and cooked in an oven or an open fire.
In this recipe, the pork is pressure cooked first and then finished by searing on a grill, frying pan, or broiler. This allows me to pre-cook the pork and save time before dinner since the final searing is so quick. It's also very helpful when I'm entertaining because I save time by getting most of the work out of the way.
I like to make rice bowls with Chinese bbq pork using brown rice, vegetables (bok choy, carrots, spinach, and/or bell peppers) sauteed in soy sauce and oyster sauce, and a drizzle of the reserved sauce over everything. Sometimes I add pickled cucumbers and carrots. And if I'm in the mood, I top it with a fried egg.
A noodle bowl, ramen, or Asian tacos are also great ways to incorporate char siu pork. See the tips below on how I make Asian tacos with the char siu pork.
The Instant Pot Chinese bbq pork is so aromatic when it's pressure cooking that you need to be prepared for your family to come into the kitchen exclaiming how good it smells and asking you when dinner is – happens to me every time!
Here are some Chinese recipes you might enjoy:
– Instant Pot Chinese Fried Rice
– Instant Pot Chinese Brown Fried Rice
– Instant Pot Beef Lo Mein

Tips and Substitutions
---
Pork
I like to use pork shoulder for this char siu recipe because it's a fattier cut and cooks so well in the Instant Pot. Using a leaner cut of pork such as pork loin or tenderloin just won't give you the same results.
The pork is cut into long strips that are about 2 to 2 ½ inches wide. I like to cut the meat into long pieces rather than large chunks because that allows the flavors to penetrate the pork.
I frequently use boneless country-style ribs, which are strips of meat that come from the pork shoulder too. They are a convenient size that allows you to cook them as is, with no cutting! Be aware that there are also bone-in country-style ribs and I don't like to use them for this recipe.
---
Marinade
If you have the time, I recommend that you marinate the pork overnight in the refrigerator. That will give the Instant Pot Char Siu added flavor and is worth the effort.
If you don't have the time, marinate for as long as you can or skip the marination and pressure cook right away.
---
Red Color
The red color that's traditionally associated with char siu can be achieved in two ways: with red fermented tofu or red food coloring. I've chosen to omit these ingredients in my pressure cooker char siu recipe. Feel free to add either of them if you wish.
---
Chinese Five Spice Powder
Five-spice powder is commonly used in Chinese recipes. A mixture of spices including star anise, fennel seeds, Szechuan peppercorns, cloves, and cinnamon, it's commonly available in the spice aisle of grocery stores.
---
Chinese Rice Wine
There are different kinds of rice wine. Chinese rice wine is called Shaoxing and Japanese rice wine is known as Mirin. It would be best if you get the Shaoxing, but it can be more expensive than the alternatives.
Mirin is sweeter than Shaoxing, so if you use it, you'll need to reduce the honey or sugar quantity. Aji Mirin is similar to mirin but sweeter and is more readily available at grocery stores. Make sure you don't confuse rice wine vinegar with rice wine!
---
Light Soy Sauce
There is a difference between Japanese soy sauce and Chinese soy sauce. When a Chinese recipe calls for soy sauce, it's generally Chinese light soy sauce. Keep in mind it's NOT the same as low sodium soy sauce. If you can't find Chinese light soy sauce, substitute Japanese soy sauce.
This can be confusing! Learn more about Chinese soy sauces.
---
Dark Soy Sauce
Chinese dark soy sauce is slightly thicker and sweeter than Chinese light soy sauce due to the addition of caramel or molasses. It's used to add color and flavor to Chinese dishes.
If you can't get your hands on Chinese dark soy sauce, substitute Chinese light soy sauce or Japanese soy sauce. Add a dash of molasses if you have it.
---
Browning the Meat
The meat is pretty tasty even if you don't brown it after pressure cooking is complete. But browning it gives it that caramelized, shiny look and it does add great flavor.
You can either saute the meat in a frying pan as I mention in the recipe or you can broil the pork in the oven for about 4 minutes per side until browned. I haven't tried grilling it, but that could also be an option.
---
Burn Message
The quantity of liquid in this recipe is enough to bring my Instant Pot to pressure and I tested it on various 6 quart models. If you're using an 8 quart, you may need to increase the marinade quantity by 50%. If your Instant Pot is prone to getting the Burn Message or having sealing issues, go ahead and increase the water to ¼ cup.
---
Asian Pulled Pork Tacos
I like to use the char siu in rice bowls, noodle bowls, ramen and Asian-style pork tacos. Here's how I make the tacos:
After pressure cooking, remove the pork and shred it. Reserve the sauce.
Coat a nonstick frying pan with a tablespoon of oil over medium heat.
Saute the pork to crisp it up, adding reserved sauce one tablespoon at a time to flavor the meat and deglaze the frying pan.
Reserve the remaining sauce for reheating leftovers.
Serve shredded pork on tortillas, with red cabbage, cilantro, pickled daikon and carrots, reserved sauce, and jalapeno or sriracha mayo.
---
If you're new to the Instant Pot and aren't familiar with how to use it, you might find it helpful to first read one of the following guides and then come back here to learn how to make this recipe.
Instant Pot Char Siu – Ingredients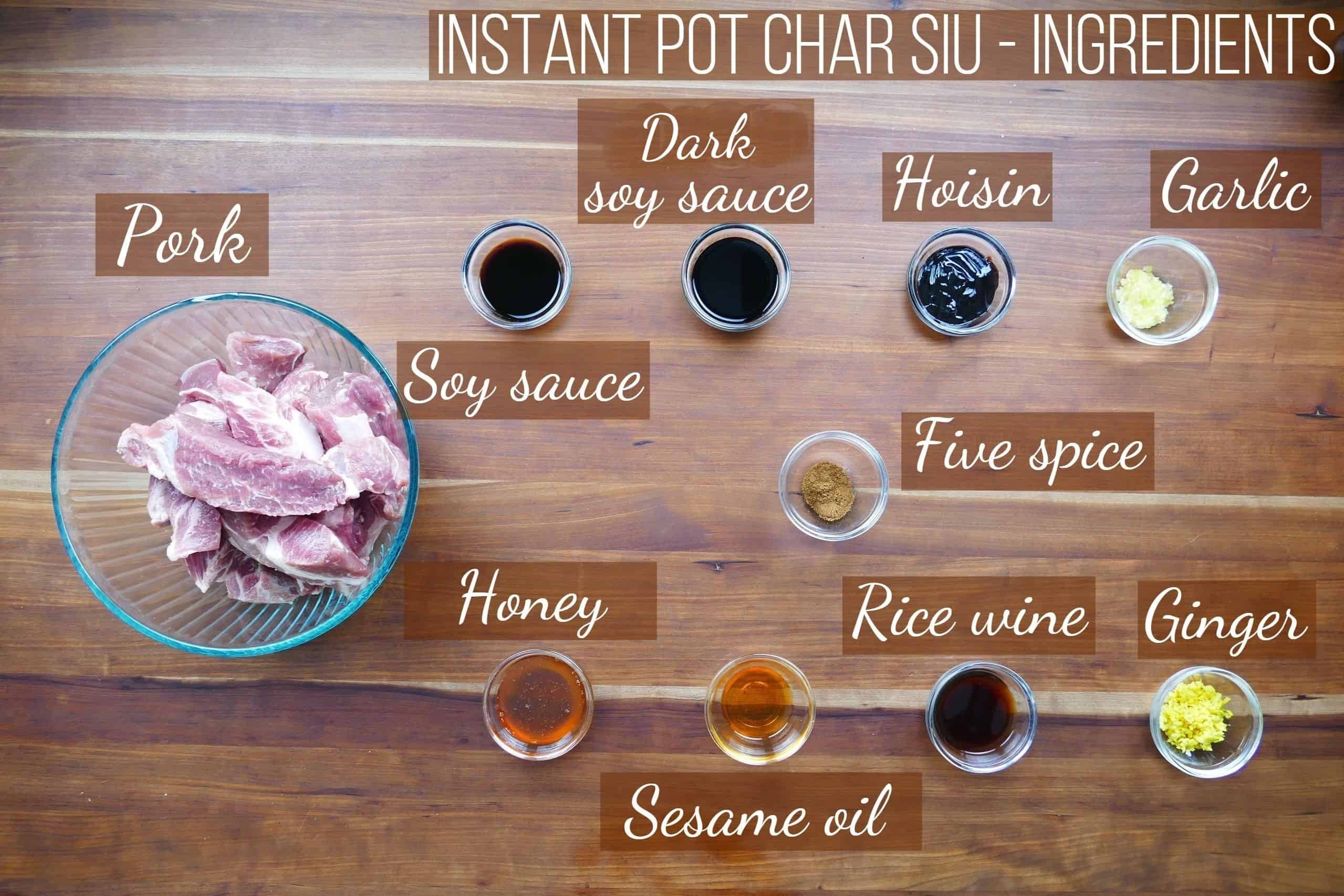 Pork
Soy sauce (Light soy sauce)
Dark soy sauce
Hoisin sauce
Garlic
Five spice powder
Honey
Rice wine
Ginger
Sesame oil
Sesame seeds to garnish (not pictured)
Vegetable oil (not pictured)
Water (not pictured)
How to Make Instant Pot Char Siu (Step by Step Instructions)
Combine sauce and pork
Pressure cook
Do a natural release
Remove pork and reduce the sauce
Saute char siu pork
Combine Sauce and Pork

In a medium bowl, stir together honey, hoisin, dark soy sauce, light soy sauce, sesame oil, rice wine, five-spice powder, ginger, garlic, and water.
Stir together the sauce and pork. If possible, marinate for a couple of hours or overnight.
Transfer the pork and sauce to the Instant Pot.
Instant Pot Duo Pressure Cook 25 minutes

Close the lid and make sure the steam release handle is in the Sealing position.
Press Manual (or Pressure Cook) and + or – until the display reads 25 (25 minutes).
Instant Pot Ultra Pressure Cook 25 minutes

Close the lid.
Select Pressure Cook mode and adjust the time to 25 minutes (00:25).
Press Start.
Pressure Cooking Process (Duo and Ultra)


Instant Pot display will change to On.
Once the Instant Pot is pressurized, the float valve will go up.
The display will count down to 0; it will then switch to Keep Warm mode and display L0:00 or 00 00 and begin to count up the number of minutes since pressure cooking completed.
How to Naturally Release Pressure (NPR) on the DUO and ULTRA


Remove Pork and Reduce Sauce

Carefully transfer pork to a medium bowl.
Heat the sauce in Saute mode to reduce it.
If desired, add a cornstarch slurry to the sauce to thicken it quickly. (To make the cornstarch slurry, combine 1 to 2 tablespoons cornstarch with equal parts water and whisk into a smooth paste).
Simmer the sauce until thickened.
Saute Char Siu Pork

Heat a large nonstick frying pan over medium heat.
Drizzle a teaspoon or two of oil in the frying pan.
In batches, brown the pork on both sides. Don't crowd the pan.
Add some of the reduced sauce as needed to deglaze.
Slice the pork against the grain. Serve over a bowl of rice and sauteed vegetables, drizzling the top with the reserved sauce. Sprinkle with toasted sesame seeds.
I have my eye on a new frying pan from Mealthy! If you're in the market for one, make sure you check out this unbiased review of the Mealthy nonstick frying pan.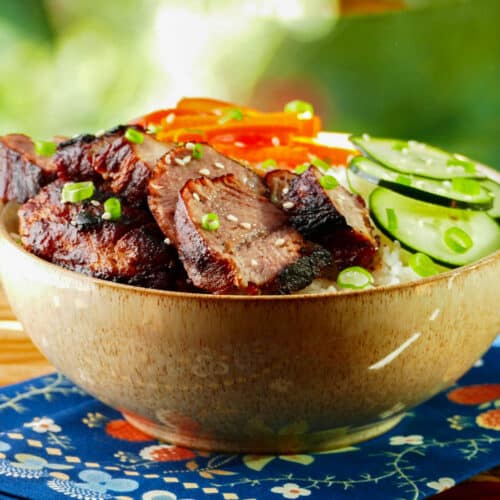 Instant Pot Char Siu | Chinese Pork Bbq
Instant Pot Char Siu is the pressure cooker adaptation of the popular and iconic Chinese pork bbq dish found at Chinese restaurants. Hoisin, soy sauce, honey, and spices combine to create a sweet, salty, sticky glaze that gives the tender pork bold flavors. Slice the pork and serve in a rice or noodle bowl or shred the pork for Asian-inspired tacos.
Instructions
Cut pork into long strips about 3 inches thick .

Mix together honey, hoisin, dark soy sauce, light soy sauce, sesame oil, rice wine, five spice powder, ginger, garlic and water.

If you have the time, marinate the pork in the sauce for 8 hours or overnight.

Transfer the pork and marinade to the Instant Pot.

Close the lid and pressure cook on High Pressure for 25 minutes.

Open the Instant Pot and carefully remove pork from the Instant Pot using a large slotted spoon or tongs, place it in a bowl and let it cool for a few minutes.

Heat some oil in a large nonstick frying pan over medium heat.

Brown the pork, in batches, on both sides until caramelized and browned, about 5 to 8 minutes. If necessary, pour 2 to 3 tablespoon of the sauce from the Instant Pot over the meat to moisten the pork while it's cooking. Make sure it doesn't burn. Transfer pork to a serving dish.

In Saute mode, reduce the sauce in the Instant Pot until thickened. If desired, add a cornstarch slurry to thicken the sauce. To make the cornstarch slurry, combine 1-2 tablespoons of cornstarch with equal parts of water and whisk into a smooth paste. Gradually add the cornstarch to the sauce.

Slice the pork into medallions and serve with vegetables and rice or noodles. Drizzle with reserved sauce and sprinkle with sesame seeds.
Notes
Country-style ribs can be used instead of pork shoulder.
See the blog post for more detailed recipe tips.
Nutrition
Serving:
1
(⅙ of quantity)
|
Calories:
422
kcal
|
Carbohydrates:
11
g
|
Protein:
63
g
|
Fat:
13
g
|
Saturated Fat:
3
g
|
Polyunsaturated Fat:
1
g
|
Monounsaturated Fat:
1
g
|
Cholesterol:
185
mg
|
Sodium:
503
mg
|
Sugar:
9
g
Thank you for visiting Paint the Kitchen Red. All photos and content are copyright protected. Please don't use any content without prior written permission. If you've made this recipe and would like to share it with your friends, please link back to this recipe. Thank you!
I am not a certified nutritionist. I provide my best estimate of nutritional information merely as a courtesy to my readers. If you depend on nutritional information for dietary or health reasons, I suggest using your favorite online nutrition calculator to confirm the nutritional value of this recipe based on the actual ingredients that you use.
Did you know that the best way to support your favorite bloggers is to comment and rate recipes, and share on social media? If you loved this recipe, please comment and give it a five ⭐ rating in the comment section below. If you're a pinner, pin this post using the Pin buttons at the top and bottom of this post and in the recipe card above. Thank you for your support!
Recipes You Might Also Like
1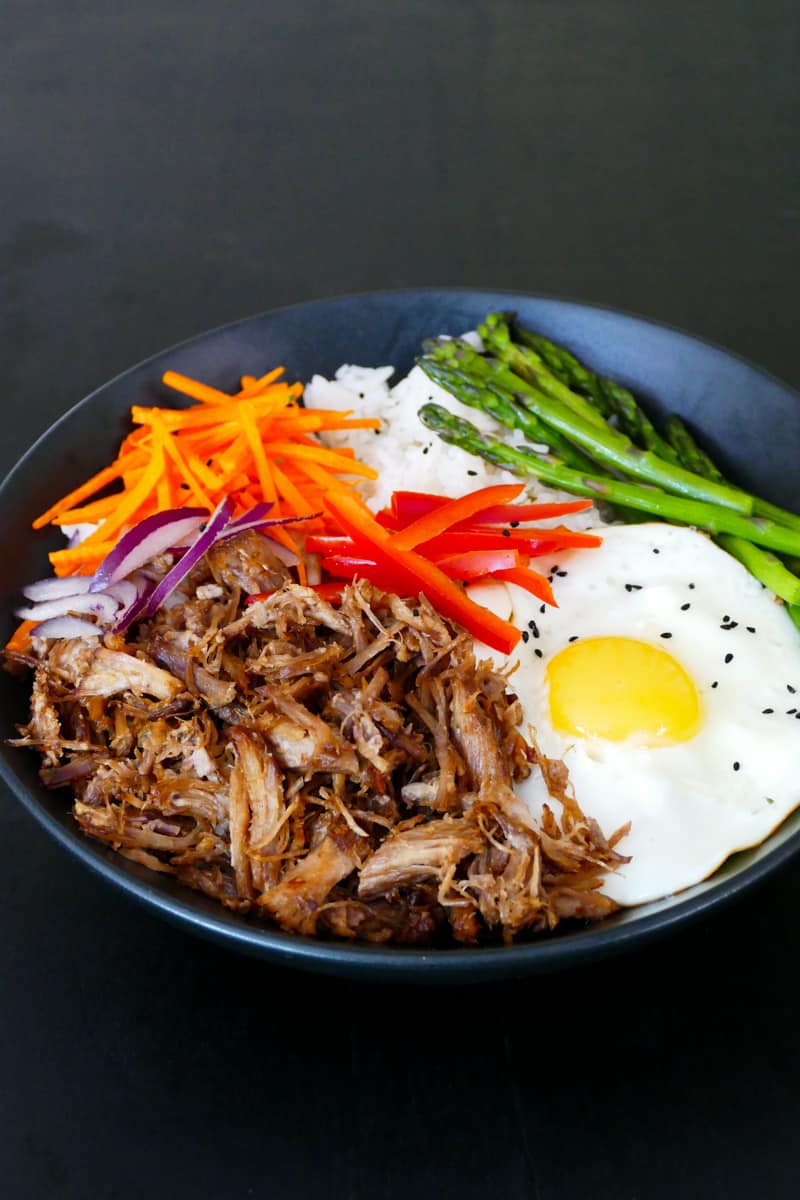 Asian Pulled Pork Instant Pot Recipe
This versatile and easy Asian pulled pork recipe can be used to make rice bowls, Asian pork tacos, sliders, or sandwiches. Tender pieces of pork are spiced to perfection with the Asian flavors of soy sauce and chili paste, making every flavor-packed bite worth savoring. The Instant Pot makes cooking the pork easy and the pork cooks perfectly every time.
GET RECIPE
2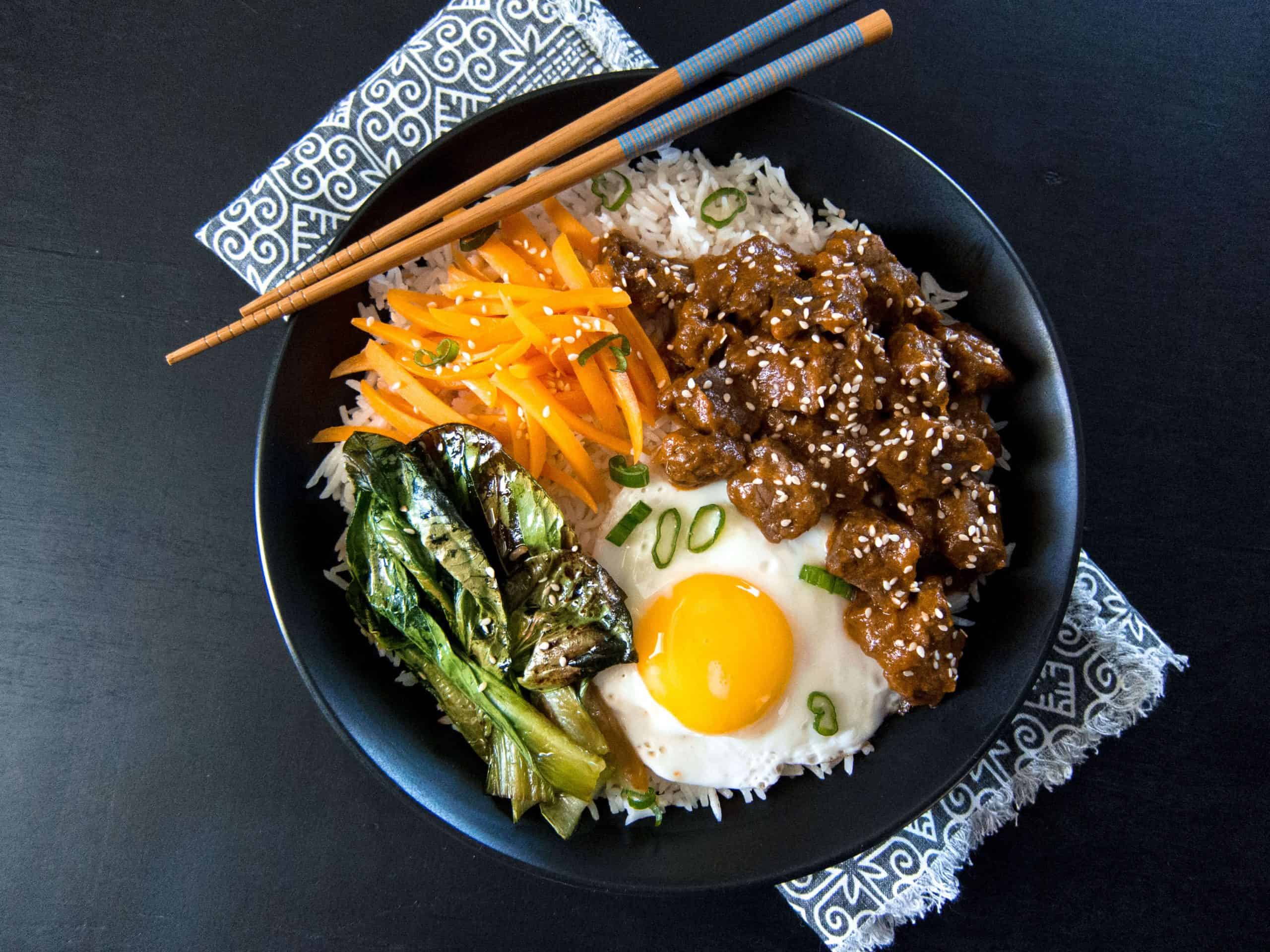 Instant Pot Korean Beef
This streamlined recipe for Instant Pot Korean Beef makes for a quick weeknight dinner that tastes great on a bed of rice or ramen noodles, accompanied by pickled carrots, Kimchi, and a fried egg on top.
GET RECIPE
3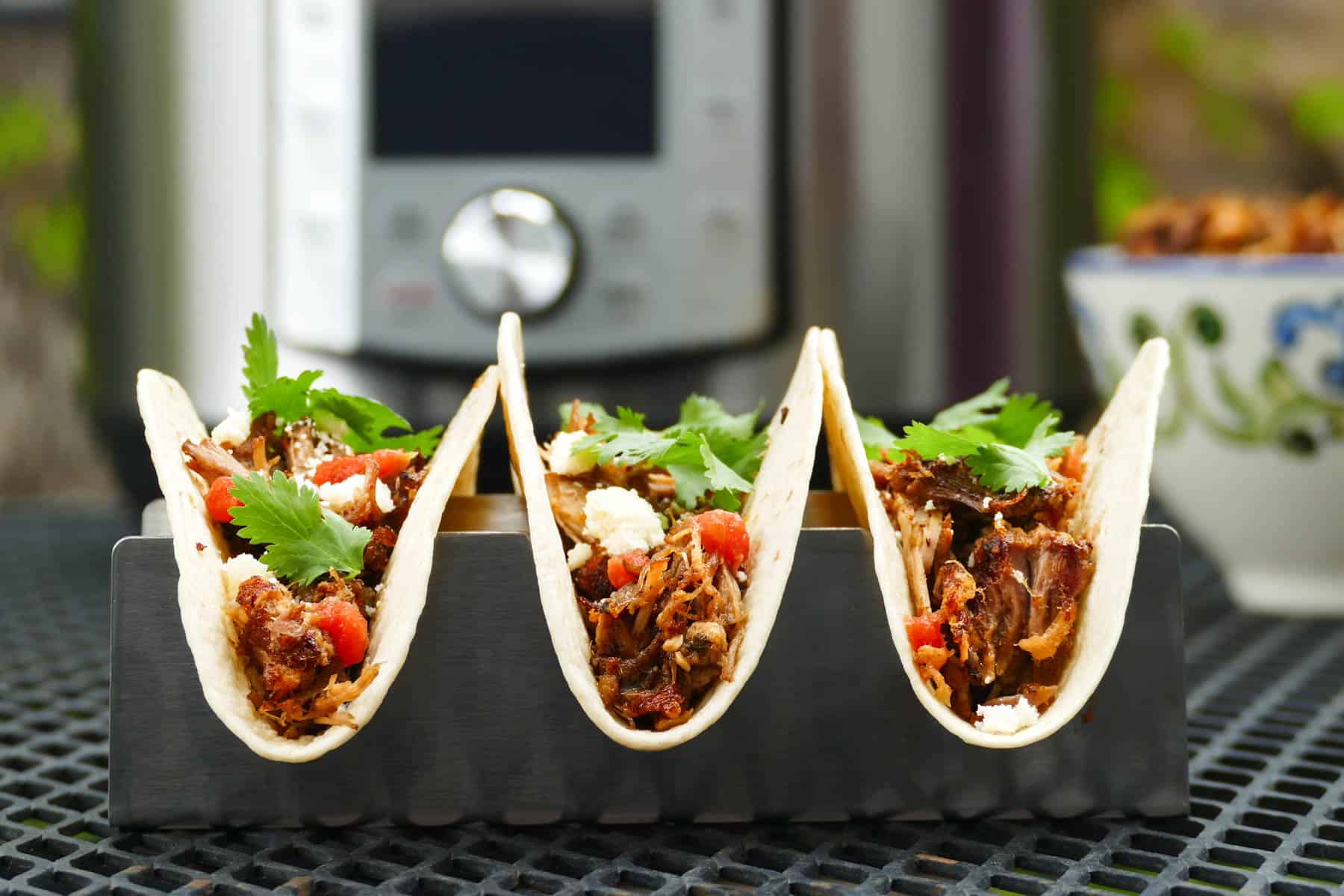 Instant Pot Pork Tacos | Crispy Pork Carnitas
This Instant Pot pork tacos recipe is so delicious and you won't believe how easy it is to make. It's an easy entertaining idea that's a crowd-pleaser. The pulled pork shoulder carnitas can also be used in burritos, fajitas, nachos, or as part of a rice bowl.
GET RECIPE