Vietnamese pickled carrot and daikon is also known as đồ chua and is used in Vietnamese and Asian recipes. The pickled vegetable slaw is easy to make and the julienned carrot and daikon radish tastes great in banh mi sandwiches or rice bowls.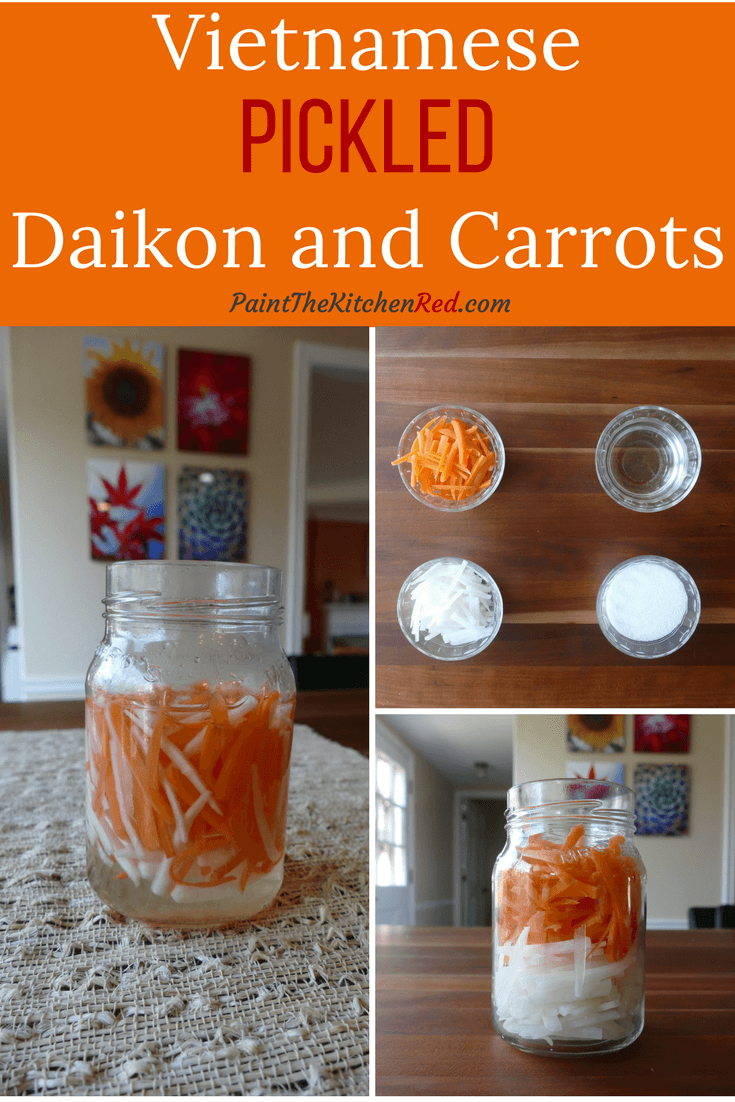 Serve Vietnamese pickled daikon and carrot with a bánh mì sandwich or Korean beef rice bowl.
Introduction
This quick pickle recipe for radishes and carrots (also referred to do chua) is great to use in my easy Vietnamese banh mi sandwiches. Now you can make banh mi just like your favorite Vietnamese restaurant does!
The sandwiches just aren't the same without these Vietnamese pickles! You can also use these pickled veggies in rice vermicelli noodle salads.
Pickled daikon radish isn't just used in Vietnamese cuisine, it's also used in Japanese and Korean cuisine. They taste great as part of Asian noodle salads or rice bowls.
The pickled veggies have a perfectly balanced slightly sweet, tangy, salty flavor from the sugar, vinegar, and salt.
Daikon radishes look kind of like parsnips but are white. They are root vegetables and are crisp, refreshing, and very healthy.
A word of warning – the pickled daikon has a pungent smell when the jar is opened! But it tastes great on sandwiches – make this recipe and you'll see what I mean!
Tips for Quick Pickled Carrots and Daikon
---
Vegetables
Daikon may be available at your local grocery store. If you can't find it, Asian markets carry it. You don't need to cut the vegetables in julienne form; you can make thin slices of daikon and carrot using either a knife or mandoline slicer. If using a mandoline slicer, be very careful because you can easily cut yourself. I have these gloves that are very useful in preventing mishaps!
You can easily modify the ingredients to suit your tastes. Some people add other ingredients to the carrot and daikon pickles e.g. turmeric, ginger, and garlic.
Make Them Ahead of Time
For best results, make đồ chua ahead of time. Let it sit for a few hours before you need to use it in a recipe. This allows the flavors to really develop. I recommend keeping them at least overnight.
Quantity
Feel free to double or triple the recipe. I keep the daikon and carrot pickle in the refrigerator for a couple of weeks with no problem.
The ratio of carrots to daikon can be changed. You can use less of the daikon and more of the carrots. I like to use equal parts of each.
I find that the ratio of vinegar to sugar in this recipe is just the right combination of sweet and tangy. If you prefer a sweeter taste, add a couple more teaspoons of sugar to the brine. If you like a tangy flavor, add some more vinegar.
Vinegar
You can use white vinegar, apple cider vinegar, or rice vinegar.
Storage
You can use a few small canning jars for this recipe or you can use a medium canning jar. But you don't need to use a canning jar. You can use a clean, sterilized bottle. Refrigerate once cooled and remember to use a clean spoon every time you remove the vegetables from the vinegar solution, to prevent the growth of any bacteria.
FAQS
---
What do you eat pickled radish with?
Radish pickle is a standard ingredient in a Vietnamese sandwich. They can also be used in noodle salads or rice bowls.
How long can you keep pickled daikon?
You can keep them refrigerated for about a month. Make sure the pickling solution is covering the vegetables.
Is pickled radish the same as pickled daikon?
There are different varieties of white radish. Japanese radish (daikon) is long and skinny, while Korean radish (mu) is shorter and thicker. The flavor is slightly different. However, you can use the interchangeably.
Can I store it at room temperature?
No, these pickled carrots and daikon radishes need to be stored in the fridge.
Pickled Carrot and Daikon Ingredients
Distilled vinegar or rice vinegar
Sugar
More details in the recipe card at the bottom of this post
How to Make Pickled Carrots and Daikon Radish
Make the pickling liquid

Combine the vegetables and brine and store in jars
Make pickling liquid

Stir together vinegar and sugar in a small saucepan.
Cook until the sugar has dissolved, about 3 minutes, stirring occasionally.
Store in jars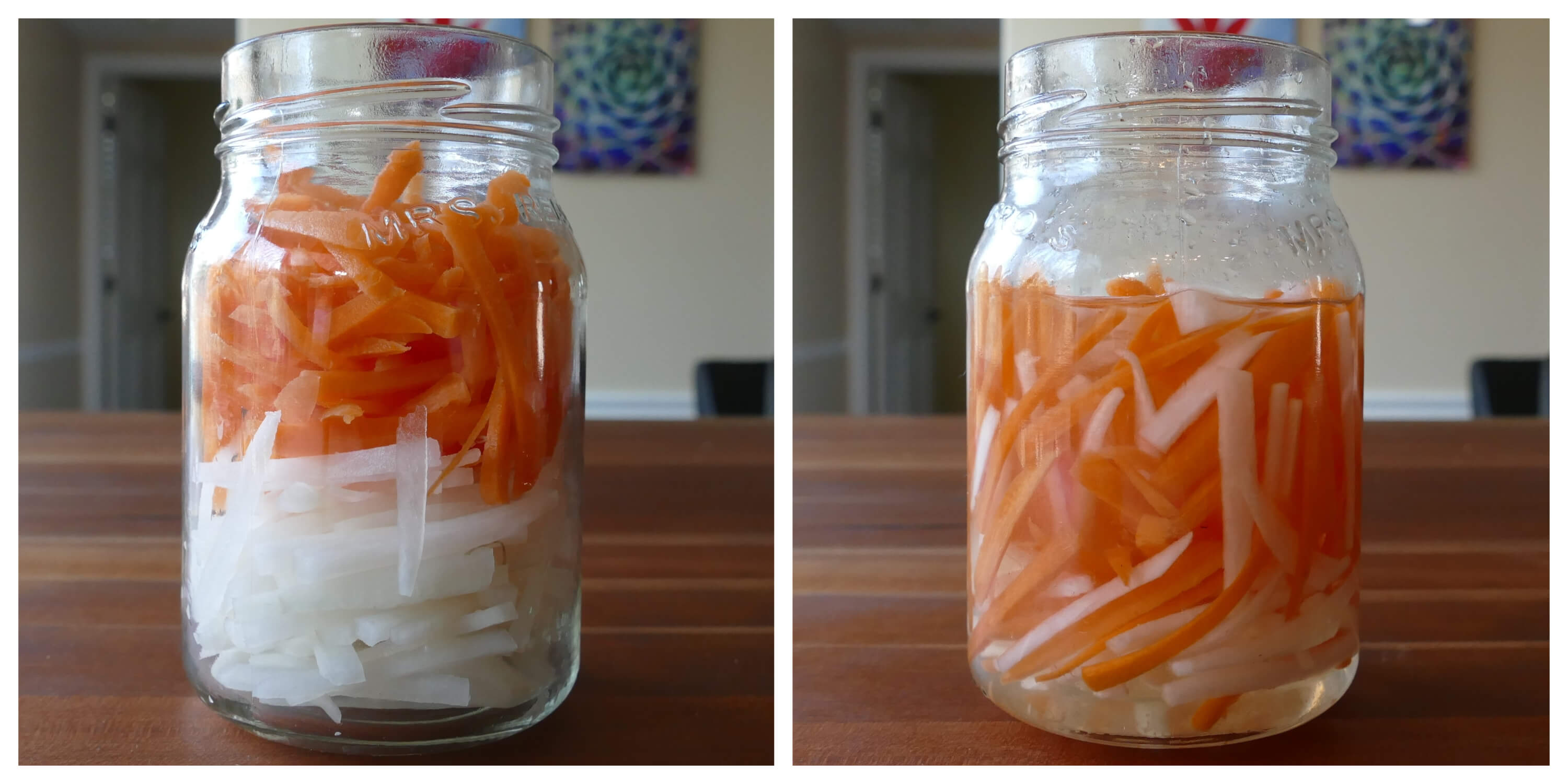 Transfer julienned or sliced vegetables to a medium glass jar.
Add the vinegar and sugar mixture to the jar and stir.
Make sure the pickled veggies are below the level of the brine.
Screw on the lid and cool to room temperature.
Store in refrigerator once cooled.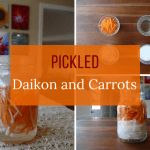 Vietnamese Daikon and Carrots
Pickled Daikon and Carrots are used in Vietnamese and Asian recipes. Served in Banh Mi Vietnamese sandwiches, these pickled vegetables add a crispy texture and delicious sweet and sour flavor. They can also be served as part of Asian rice bowls.
Instructions
Combine sugar and vinegar in a small saucepan.

Cook on medium heat until the sugar has dissolved, about 3 minutes, stirring occasionally.

Combine daikon and carrots in a glass jar.

Pour vinegar mixture into the jar and stir contents. Make sure the vegetables are submerged in the brine. Allow to cool completely.

Refrigerate until ready to use. For best results, wait 6 to 24 hours to allow the flavors to meld.
Notes
The vegetables can be cut into thin slices instead of julienned.
You can vary the ratio of daikon to carrots based on your tastes.
If you like a sweeter pickle, add a little more sugar. If you like tangy flavors, add some more vinegar.
Nutrition
Serving:
1
/4 cup
|
Calories:
41
kcal
|
Carbohydrates:
10
g
|
Sodium:
15
mg
|
Fiber:
1
g
|
Sugar:
9
g
Thank you for visiting Paint the Kitchen Red. All photos and content are copyright protected. Please don't use any content without prior written permission. If you've made this recipe and would like to share it with your friends, please link back to this recipe. Thank you!
I am not a certified nutritionist. I provide my best estimate of nutritional information merely as a courtesy to my readers. If you depend on nutritional information for dietary or health reasons, I suggest using your favorite online nutrition calculator to confirm the nutritional value of this recipe based on the actual ingredients that you use.
Did you know that the best way to support your favorite bloggers is to comment and rate recipes, and share on social media? If you loved this recipe, please comment and give it a five ⭐ rating in the comment section below. If you're a pinner, pin this post using the Pin buttons at the top and bottom of this post and in the recipe card above. Thank you for your support!