This streamlined recipe for Instant Pot Korean beef bulgogi makes for a quick weeknight dinner that tastes great in bibimbap – on a bed of rice, accompanied by sauteed vegetables, pickled carrots, Kimchi, and a fried egg on top. You can also use the beef bulgogi to make Korean tacos.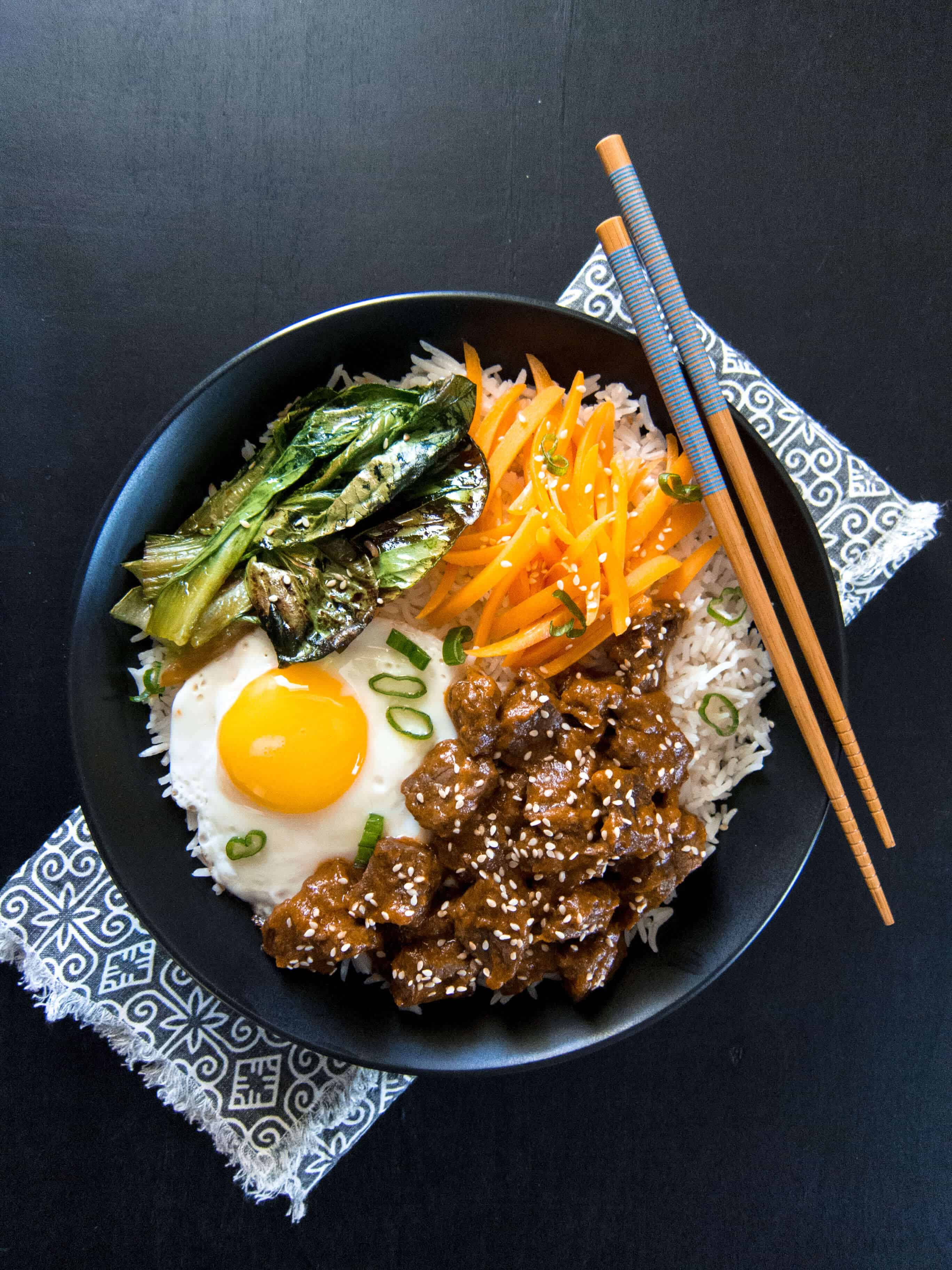 This post contains affiliate links. As an Amazon Associate, I earn from qualifying purchases. Please read the disclosure.
Introduction
Korean food has become very popular in recent years. One of the more common Korean recipes is Korean bulgogi (pronounced 'bool-go-ghee'), which is Korean BBQ: thinly-sliced marinated beef that's grilled or sauteed and served with a wide variety of sides including Kimchi (pickled vegetables), sauteed vegetables and eggs.
Another popular recipe in Korean cuisine is bibimbap (pronounced 'bee-bim-bahp') which is translated as 'mixed rice'. To make these Korean beef bowls, you layer rice on the bottom of a bowl and arrange various side dishes on top and then mix everything together before eating (hence the name!)
There are many options for the side dishes (known as banchan). Korean Bapsang shows you how to make all kinds of vegetable side dishes to go with bibimbap.
Learn more about your Instant Pot…
My easy recipe for Instant Pot Korean beef is a streamlined and quick way to make flavorful Korean beef bulgogi that you can use as part of a Bibimbap rice bowl or to make Korean tacos.
In the regular Korean beef bulgogi recipe, the marinade contains minced garlic and grated Asian pear, and the meat is barbecued, or sauteed on a hot griddle.
In adapting this Korean beef recipe for the Instant Pot pressure cooker, I've taken a page from my Indian cooking experience and blended the ingredients to create a smooth sauce to marinate and pressure cook the meat in.
Here are some other Asian Instant Pot recipes you might like to try out!
– Instant Pot Korean Chicken
– Instant Pot Beef Rendang
– Instant Pot Char Siu
– Instant Pot Asian Pulled Pork
– Instant Pot Thai Grilled Chicken
TIPS AND SUBSTITUTIONS
---
Beef
Tougher cuts of meats work best in the Instant Pot (stew meat, rump roast, shoulder, chuck roast). The beef is trimmed of fat and cut into strips. You can also cut the beef into cubes.
To save time, I like to use pre-cut stew meat, which comes from beef chuck, and further cut each piece into 2 or 3 thin slices.
Pro tip: Place the meat in the freezer for 20 to 30 minutes and that makes it easier to cut the meat thinly.
---
Asian pears
Bulgogi marinade is traditionally made with Asian pears. If you can find them in your grocery store in season, feel free to use them instead of the apples. I find that the Fuji apples are a fine substitute and readily available.
Mirin
Mirin is another ingredient that you may not have on hand. It's a Japanese rice wine that adds a sweet and tangy flavor. Many grocery stores sell 'Aji Mirin' which is close to Mirin.
---
Thickening the sauce
After cooking is complete, you'll be left with a fair amount of delicious sauce. The quickest way to thicken the sauce is with corn starch mixed with water, added directly to the beef and sauce, and that's the method I've detailed in this recipe. However, if you wanted a drier beef with sauce to serve on the side, you can use this alternate method:
Transfer the cooked beef bulgogi from the inner pot to a large frying pan with a slotted spoon.
Saute the beef over medium heat, adding 2 tablespoons of the sauce until evaporated.
Keep adding more sauce, two tablespoons at a time, and continue sauteing the beef until lightly caramelized. You'll add up to 8 tablespoons total.
Thicken the remaining sauce with cornstarch mixed with water and heat through. You can do this on the stovetop or in the Instant Pot on 'Saute' mode.
Serve the sauce on the side.
Marinade
No added liquid is necessary for the beef marinade because the marinade releases enough liquid to bring the Instant Pot to pressure.
If you have the time to marinate the beef overnight, you'll have excellent flavor.
Gochujang
Gochujang is a sweet and spicy Korean fermented red chili paste that tastes amazing! It's available at most regular grocery stores, but if not, you should easily find it at an Asian grocery store or on Amazon.
It comes in two forms: gochujang sauce and gochujang paste. I use the paste in this recipe. You can use the sauce if you want the recipe to be mild.
To make the recipe spicier, you can add more gochujang or red pepper flakes.
Bibimbap is usually served with Gochujang as a condiment, but since you'll have plenty of flavorful sauce from the beef (that already has Gochujang), you may not need to add more Gochujang.
Gluten free
To make this recipe gluten-free, please use coconut aminos instead of soy sauce and choose a gluten-free gochujang paste.
To serve
To assemble the Bibimbap, layer Instant Pot Jasmine Rice or Instant Pot brown rice in a single-serving bowl, and top with the Instant Pot Korean beef and your choice of:
Vegetables sauteed with a dash of soy sauce and garlic (e.g. spinach, cucumbers, radish, cabbage, eggplant). I sometimes use baby bok choy or broccoli, which are not traditional accompaniments.
Kimchi *
Pickled thinly-sliced daikon and carrots or pickled cucumbers
Sunny-side-up fried egg or soft boiled egg
Sliced green onions and toasted sesame seeds for sprinkling on top
Reserved sauce for drizzling over the top
* If you're unfamiliar with Kimchi (Korean fermented vegetables) Maangchi tells you all about it. I just purchase Kimchi at the Asian grocery store, I don't make it from scratch.
Another way to serve the beef is to make Korean beef tacos. Add beef pieces and any of the above accompaniments to a tortilla. You can do the same to make delicious lettuce wraps.
FAQs
---
If I want to double the recipe, what changes do I need to make?
Double all ingredients but keep the cooking time. Make sure the beef is cut into small pieces as the recipe says.
What can you substitute for gochujang?
Gochujang is a Korean chili paste that is spicy and sweet. If you can't find gochujang at your grocery store, it should be available at a local Asian market or online. If you need a substitute, you can make your own substitute following this recipe.

In a pinch, make a mix of red pepper flakes, soy sauce and brown sugar and substitute it for the gochujang.
What can you substitute for mirin?
If you can't find mirin or aji mirin, a sweet marsala wine or dry sherry can be substituted.
When you add the beef to the pot, do you also add the marinade?
Yes, the beef and marinade are added to the inner pot and that is what allows the Instant Pot to come to pressure.
Do I need to marinate the beef?
Marinating the beef for at least a few hours, preferably overnight, is best. But if you don't have the time, you can still make the recipe and it'll taste good!
Can you use another cut of beef, such as sirloin or london broil?
I prefer to use more fatty cuts of beef because the Instant Pot does a great job of cooking those cuts. However, if you choose to use a lean cut, you'll need to reduce the cook time.

Another option is to make ground beef. Saute the beef first and pressure cook for 5 minutes on high pressure.
How can you make shredded beef with this recipe?
To make shredded beef, cut the beef chuck into large chunks (about 3-inch pieces) and pressure cook on high pressure for 40 minutes. Remove the beef and shred while the sauce is being reduced in Saute mode.
Can I make this recipe with chicken?
I have a gochujang chicken recipe that is delicious, which you may want to try out.
I got the burn message. What should I do?
If your Instant Pot is prone to getting the burn message, add ¼ cup of beef broth or water to the beef and marinade before pressure cooking. Also make sure to deglaze the Instant Pot so that no brown bits are stuck to the bottom of the pot before you pressure cook.
If you're new to the Instant Pot and aren't familiar with how to use it, you might find it helpful to first read one of the following guides and then come back here to learn how to make this recipe.
Instant Pot Korean Beef – Ingredients List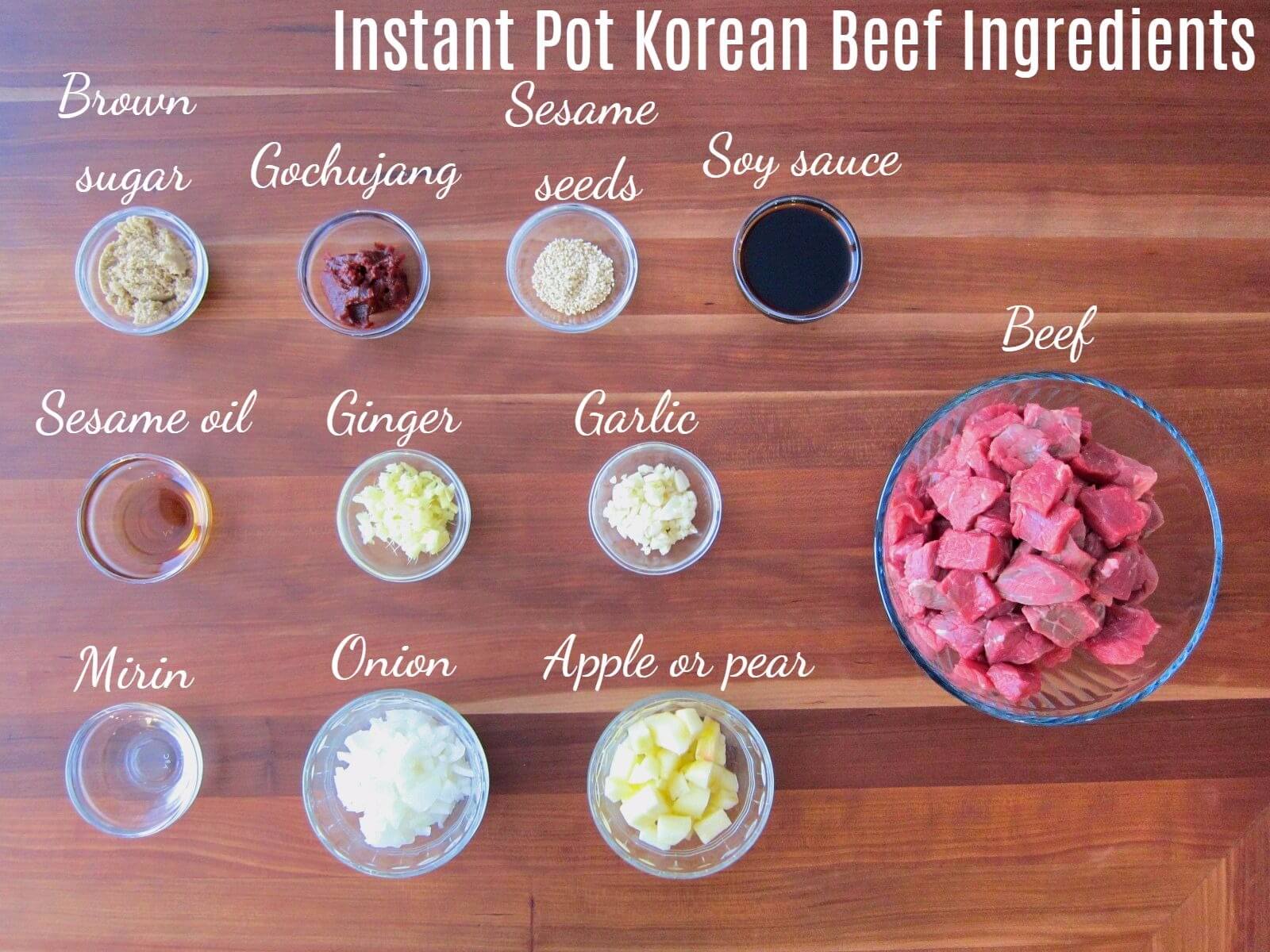 Brown sugar
Gochujang
Sesame seeds
Soy sauce
Sesame oil
Fresh ginger
Fresh garlic
Mirin
Onion
Apple or pear
Beef
More details in the printable recipe card at the bottom of this post
How to Make Korean Beef in the Instant Pot (Step by Step Instructions)
Marinate beef
Turn on Saute mode
Saute onions
Add beef with marinade
Pressure cook
Release pressure
Thicken sauce
Serve with sides
Marinate beef
In a mini blender or food processor, combine ginger, garlic, apple, gochujang, brown sugar, sesame oil, soy sauce, and mirin into a very smooth sauce.
Marinate the beef in the sauce.
Cover and refrigerate for 2 hours to (preferably) overnight.
How to Turn on Saute Mode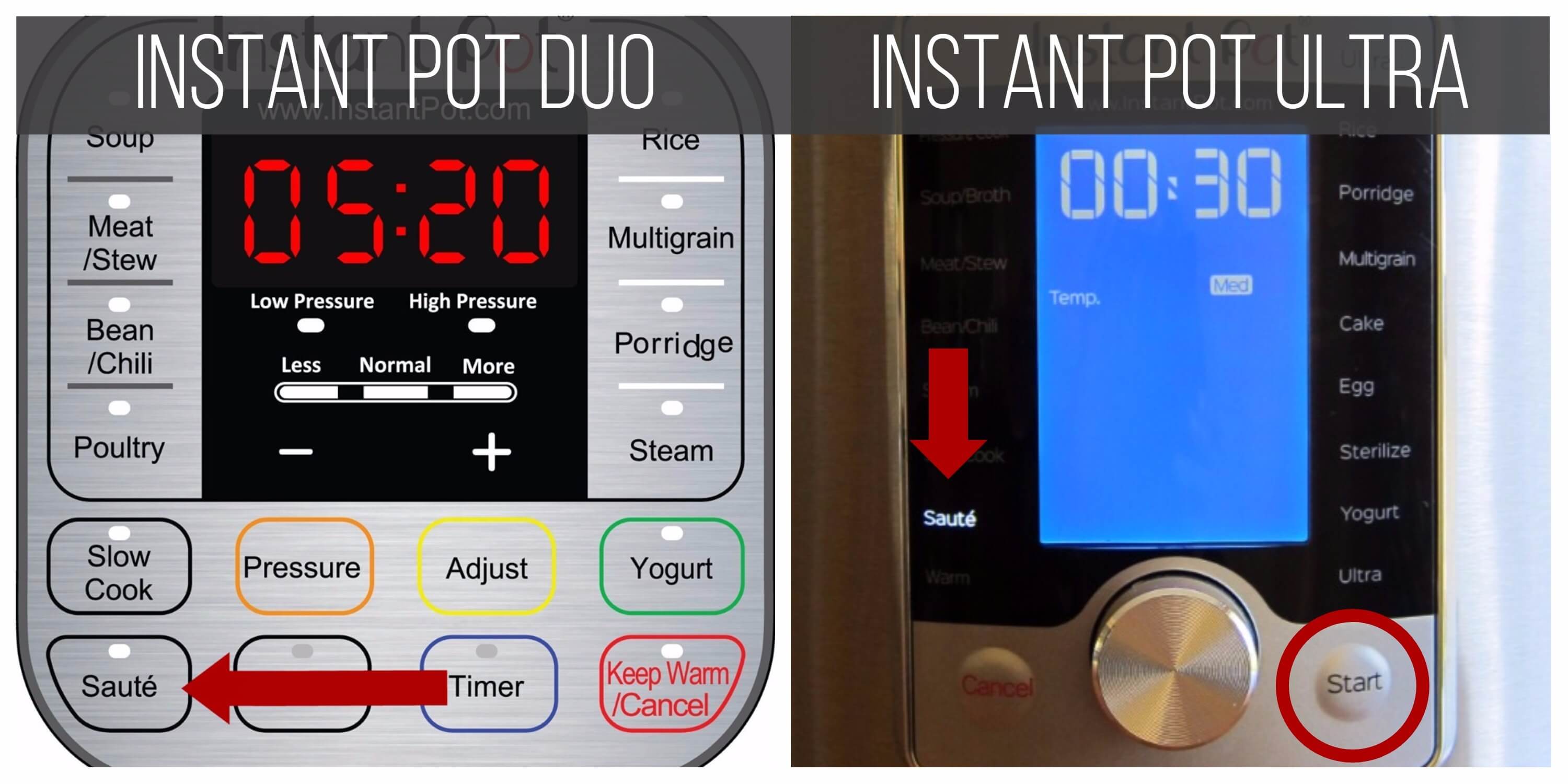 Instant Pot DUO: Select the Saute function.
Instant Pot ULTRA: Select the Saute function and press Start.
Saute onions
Pour vegetable oil in the heated pot.
Add onions and saute till golden brown, about 2 to 3 minutes.
Add beef with marinade
Add marinated beef to Instant Pot.
Stir to combine.
Instant Pot Duo Pressure Cook 10 minutes

Close the lid and make sure the steam release handle is in the Sealing position.
Press Manual (or Pressure Cook) and + or – until the display reads 10 (10 minutes).
Instant Pot Ultra Pressure Cook 10 minutes

Close the lid.
Select Pressure Cook mode and adjust the time to 10 minutes (00:10).
Press Start.
Pressure Cooking Process (Duo and Ultra)


Instant Pot display will change to On.
Once the Instant Pot is pressurized, the float valve will go up.
The display will count down to 0; it will then switch to Keep Warm mode and display L0:00 or 00 00 and begin to count up the number of minutes since pressure cooking completed.
How to Naturally Release Pressure (NPR) on the DUO and ULTRA


Thicken sauce
Stir the beef and sauce.
To thicken, stir in a mixture of corn starch and water, and heat through on Saute mode until thickened.
Serve with sides
While the beef is cooking, saute some vegetables in a frying pan with a dash of soy sauce and garlic. See tips for ideas.
To serve the bibimbap: Place Instant Pot Jasmine Rice in a single-serve bowl. Arrange sauteed vegetables, and your choice of sides including bean sprouts, Korean seaweed, Kimchi, pickled daikon and carrots or pickled cucumbers and sunny-side-up or soft-boiled egg.
Sprinkle green onions and toasted sesame seeds over the top.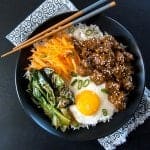 Instant Pot Korean Beef
This streamlined recipe for Instant Pot Korean Beef makes for a quick weeknight dinner that tastes great on a bed of rice or ramen noodles, accompanied by pickled carrots, Kimchi, and a fried egg on top.
Instructions
In a mini blender or food processor, blend the ginger, garlic, apple, gochujang, brown sugar, sesame oil, soy sauce and Mirin into a smooth paste. Marinate the beef in the sauce for 2 hours or preferably overnight.

Select Saute mode and when Instant Pot has heated, add oil to inner pot of the Instant Pot.

Add onions and stir till golden brown, about 2 to 3 minutes.

Add marinated beef to the onions and stir well.

Close the Instant Pot and pressure cook for 10 minutes on High Pressure.

Open the Instant Pot.

Whisk together cornstarch and water to form a smooth mixture.

In Saute mode, bring the beef and sauce to a boil. *

Add the cornstarch mixture, and stir constantly, until sauce has thickened.
To Serve:
Place 1 cup (or more) cooked Jasmine rice in a bowl.

Carefully arrange beef and sides (side-by-side) in the bowl.

Sprinkle with thinly sliced green onions and toasted sesame seeds.
Notes
Prep time does not include steps that are already accounted for in the ingredient list, e.g. chopped onions, minced garlic, diced chicken, etc.
* For a drier beef dish with sauce on the side, remove the cooked beef and saute in a non-stick frying pan, adding a few tablespoons of the sauce at time, till beef is caramelized but not dried out. Thicken remaining sauce with the cornstarch and drizzle on top of the dish or serve on the side.
Reduce quantity of Gochujang for a milder dish.
Optional: drizzle spicy mayo over the top.
See the blog post for more detailed recipe tips.
Nutrition
Serving:
1
serving
|
Calories:
326
kcal
|
Carbohydrates:
15
g
|
Protein:
24
g
|
Fat:
18
g
|
Saturated Fat:
7
g
|
Polyunsaturated Fat:
3
g
|
Cholesterol:
76
mg
|
Sodium:
242
mg
|
Fiber:
1
g
|
Sugar:
11
g
Thank you for visiting Paint the Kitchen Red. All photos and content are copyright protected. Please don't use any content without prior written permission. If you've made this recipe and would like to share it with your friends, please link back to this recipe. Thank you!
I am not a certified nutritionist. I provide my best estimate of nutritional information merely as a courtesy to my readers. If you depend on nutritional information for dietary or health reasons, I suggest using your favorite online nutrition calculator to confirm the nutritional value of this recipe based on the actual ingredients that you use.
Did you know that the best way to support your favorite bloggers is to comment and rate recipes, and share on social media? If you loved this recipe, please comment and give it a five ⭐ rating in the comment section below. If you're a pinner, pin this post using the Pin buttons at the top and bottom of this post and in the recipe card above. Thank you for your support!
More Instant Pot Beef Recipes
1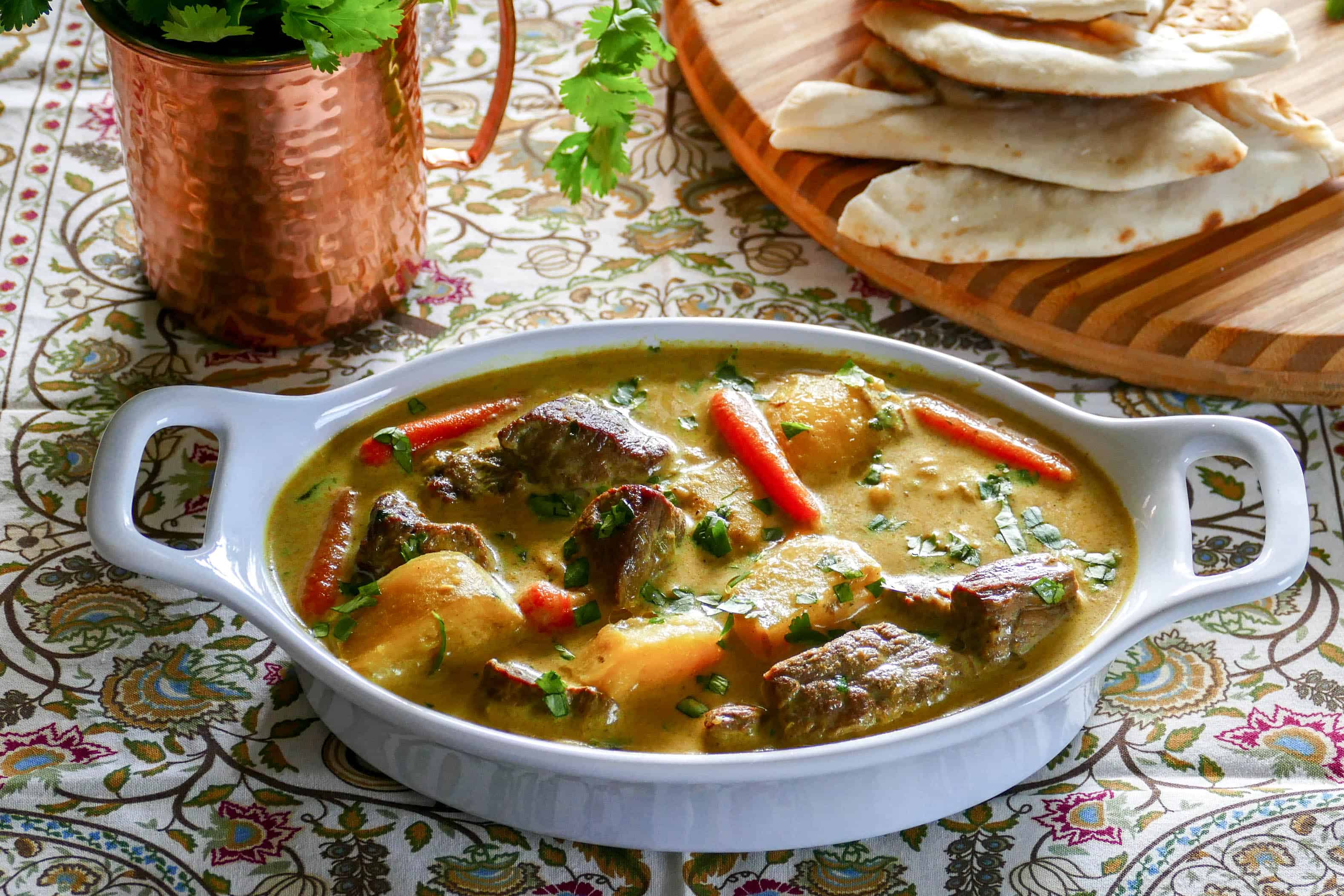 Instant Pot Beef Curry Recipe with Coconut Milk
GET RECIPE
2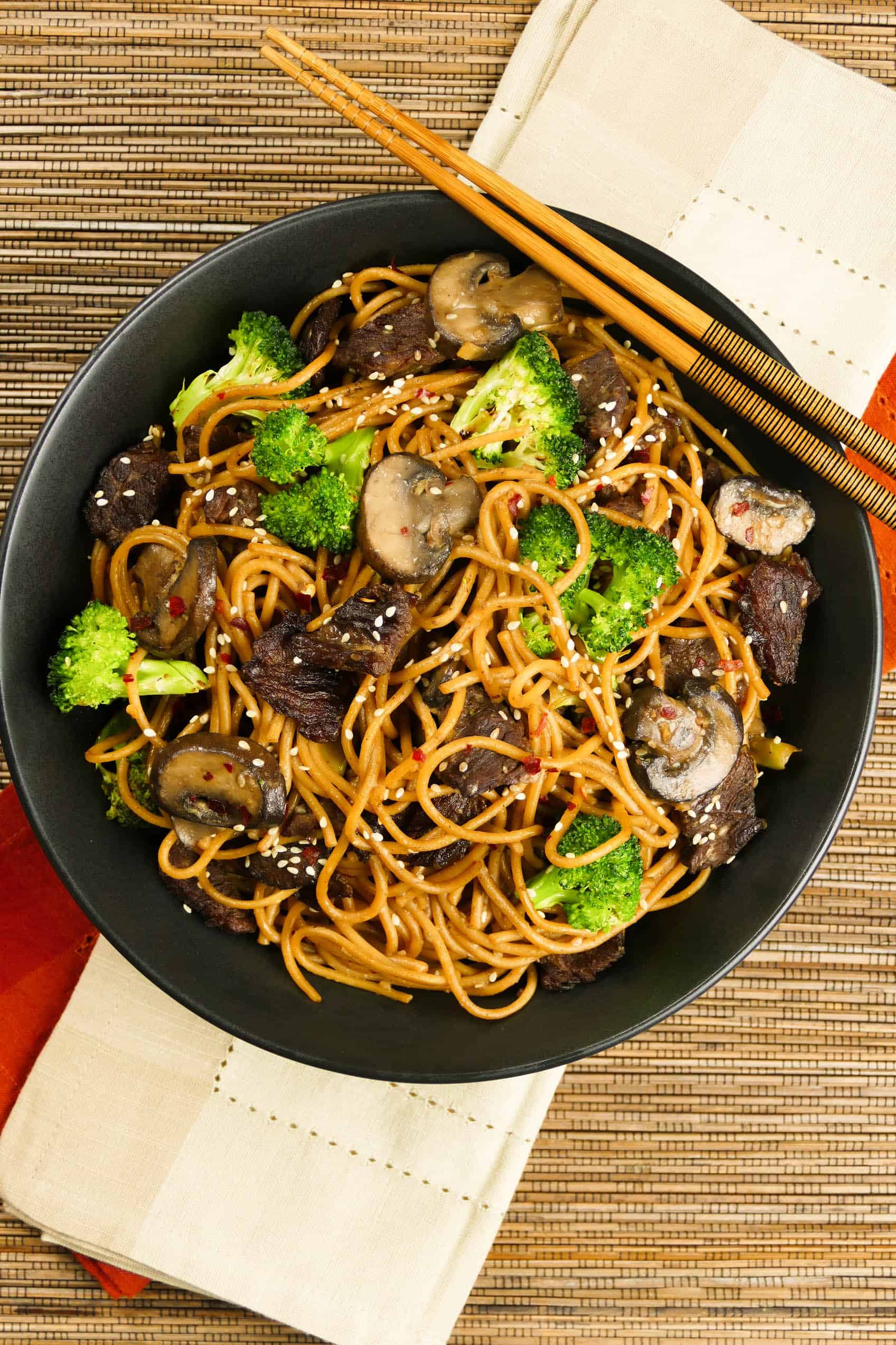 Instant Pot Lo Mein Noodles with Beef and Broccoli
This hearty Chinese-inspired Instant Pot Lo Mein noodles recipe features an umami-rich blend of oyster sauce, soy sauce, sesame oil, and red chili flakes. The tender beef is tossed together with noodles and broccoli to make a healthy one-pot meal that's quick and requires minimal cleanup!
GET RECIPE
3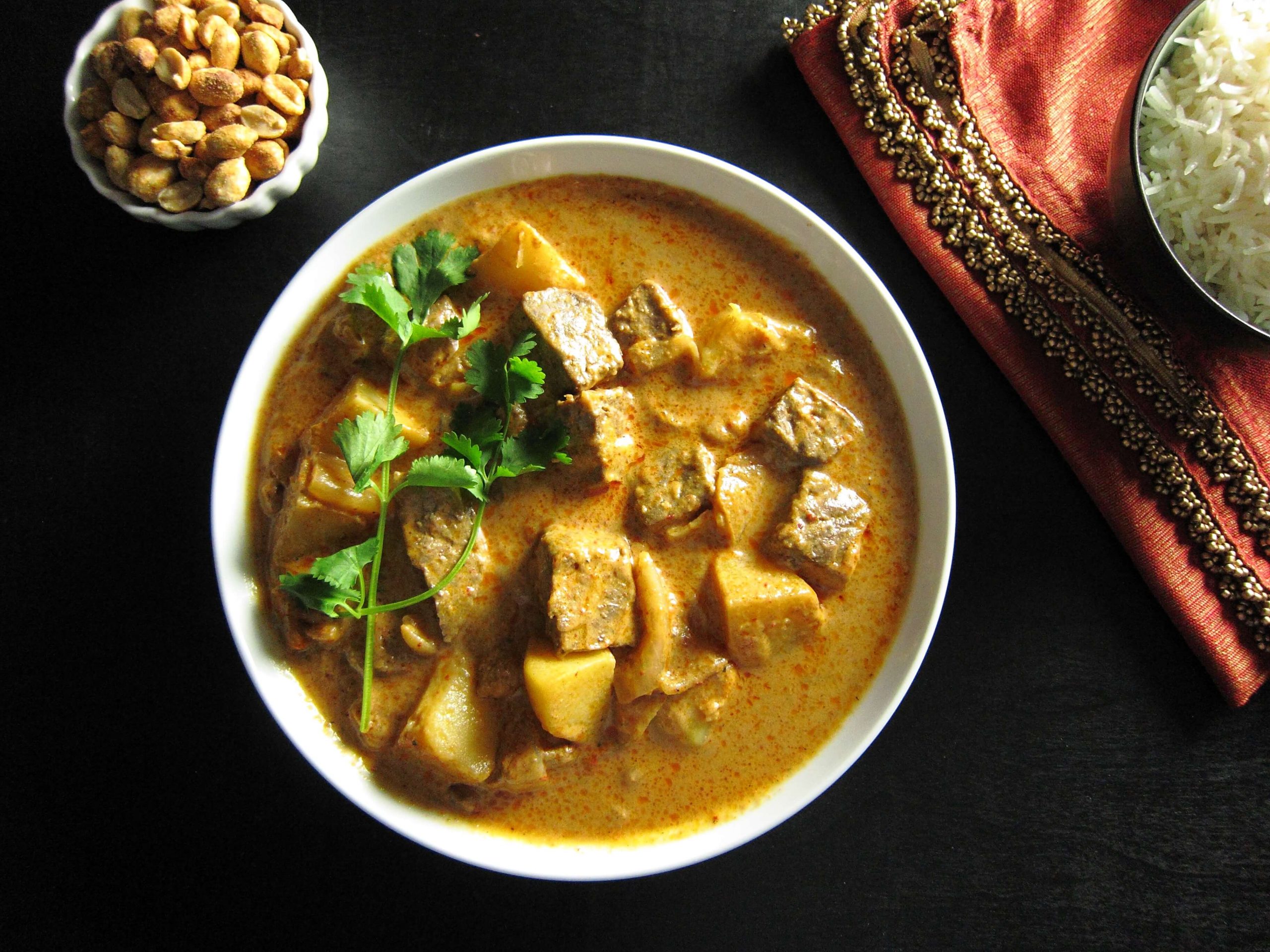 Thai Instant Pot Massaman Curry with Beef
Fragrant and Flavorful Instant Pot Thai Massaman Curry with Beef has creamy coconut, tender beef, potatoes and crunchy peanuts that combine to make this a highly satisfying dish that can be put together quickly for a delicious weeknight meal.
GET RECIPE