Using this Instant Pot Hard Boiled Eggs recipe you can finally make easy-to-peel, perfectly cooked eggs. This 2-minute Instant Pot eggs recipe requires no ice bath and it's the most hands-off way to get hard boiled eggs quickly and easily. Pressure cook a dozen eggs or one egg with the same recipe!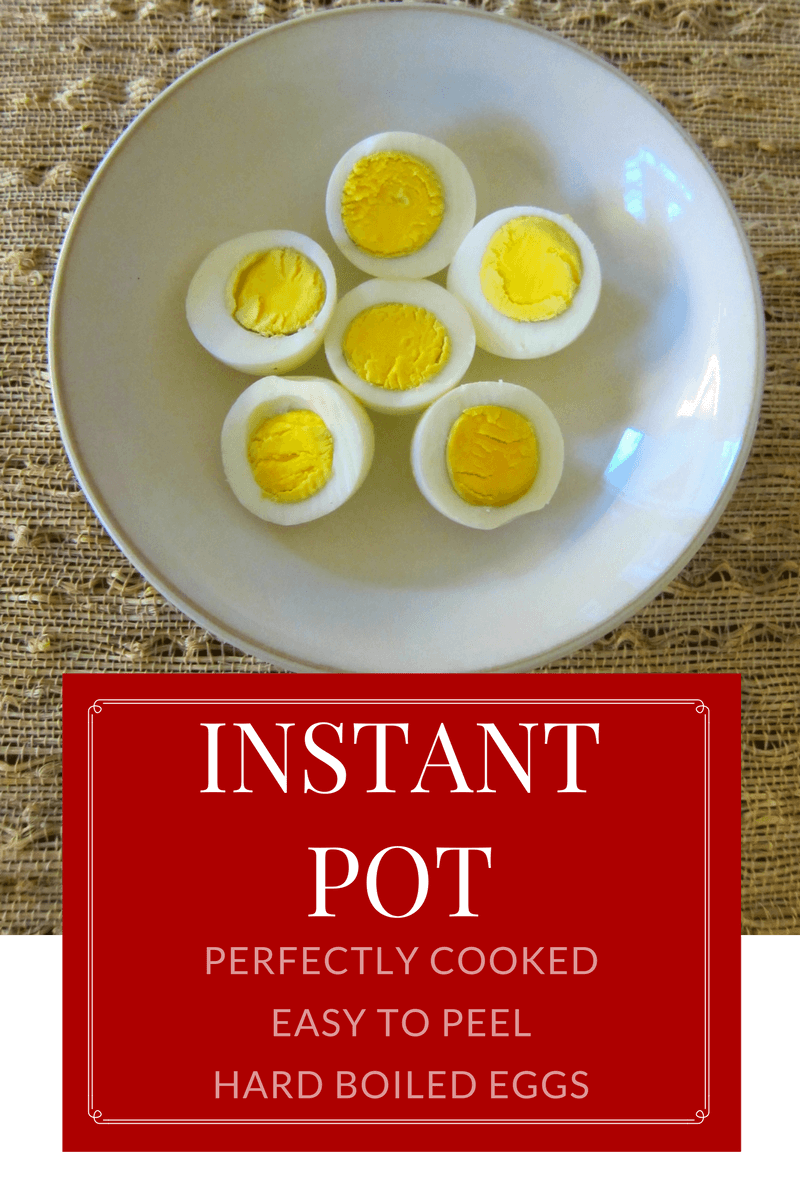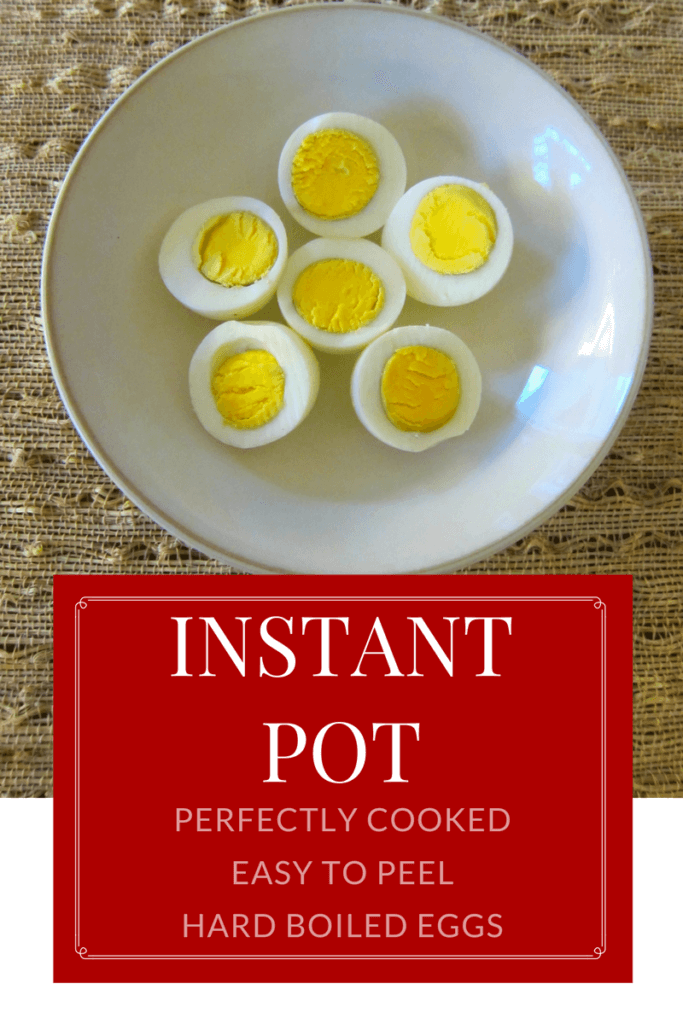 Introduction
Until I started making pressure cooker hard boiled eggs, I had the hardest time getting perfectly cooked, easy-to-peel hard boiled eggs.
I'd have pieces of egg coming off in bits and pieces when I peeled them. I've tried all kinds of tips and tricks including adding baking soda or vinegar to the water, putting cold eggs in boiling water, and sticking the eggs in an ice bath after boiling them..
Then I got my Instant Pot and voila, perfect hard boiled eggs! So here you go, my secret to eggs in the Instant Pot pressure cooker – perfect every single time.
It's an easy and uncomplicated recipe. And here's the best part. The shell practically slides off. I'm serious!
There are many recipes showing you how to steam eggs in the Instant Pot and I've tried them: particularly the 555/5-5-5 method where you cook the eggs for 5 minutes, natural release for 5 minutes, and place the eggs in an ice bath for 5 minutes. But it's pretty hands-on – you need to stick around while the eggs are cooking and cooling down.
Why go through all that when you can do it completely hands-off? This 2-minute Instant Pot boiled eggs method requires no formula, timer, or ice bath. It's so easy!
The inspiration for this recipe is This Old Gal's Instant Pot hard boiled egg recipe. The original recipe had a 10 or 15-minute natural release and I modified it to be a full natural release.
Here are some other simple Instant Pot recipes:
– Instant Pot Jasmine Rice
– Instant Pot Cream of Chicken Soup
– Instant Pot Pork Carnitas Tacos
Tips and Substitutions
---
How Many Eggs Can You Cook at One Time?
I've cooked up to 12 eggs and have had no problems. I've had readers cook up to two dozen eggs, stacked on top of each other with no issues. I've also made just one or two eggs and that's worked out great too. Use the same pressure cook timings.
I frequently cook eggs at the beginning of the week and store them in a container in the fridge. We use the eggs throughout the week and find that they are as easy to peel as when they're first cooked.
---
Accessories
You should already have a trivet or steam rack that ships with the Instant Pot. You can place the eggs directly on the trivet.
Some Instant Pot models don't include the trivet so you can either purchase a trivet or get a tall basket whose bottom sits above the water level.
I like to use the trivet and a collapsible steamer basket on it. However, if I were purchasing one today, I'd get a steamer basket that sits higher so I don't need to use a trivet.
I also love this deep basket that comes as an accessory to the Mealthy CrispLid. I place it on the trivet and it perfectly fits a dozen eggs. It's also easy to remove because of the convenient handles.
[Read More: How to Convert your Instant Pot into an Air Fryer with the Mealthy CrispLid]
---
How to Avoid Cracked Eggs
Although I rarely have cracked eggs, here are some tips if you're getting cracked eggs:
Bring the eggs out of the fridge and let them warm up a bit before cooking them.
Avoid eggs that have hairline cracks. I notice that white eggs have these more often.
Try using low pressure, and do a full NPR (Natural Pressure Release). You may need to increase the cooking time to about 5 minutes.
Try a different brand of eggs.
Try not to use fresh eggs.
Use cold water, not warm or room temperature water.
---
Make Eggs Without a Steamer Rack
My method of cooking eggs is actually steaming the eggs because you're putting the eggs on a rack, trivet, or basket. I have tried pressure cooking eggs without a rack by placing the eggs in enough water to almost cover the eggs (about 1 1/2 to 2 cups of water) and the results were good. I prefer to pressure cook the hard-boiled eggs with a rack.
Using the Egg Setting
Most Instant Pot models (e.g. Duo Plus, Nova, Ultra, Duo Evo Plus) have an Egg setting. * The Egg setting defaults to 5 minutes. I select the Egg function but modify the time to 2 minutes. Many models of Instant Pot remember the last setting and this allows you to use the Egg button even if you don't want to pressure cook for the default 5 minutes.
* The Instant Pot Duo model does not have an Egg button. You need to use the Pressure Cook or Manual button.
---
How to Make Soft Boiled Eggs in the Instant Pot
To make perfectly cooked soft boiled eggs, pressure cook the eggs as directed and do a 1-minute Natural Release (wait 1 minute and do a quick release of pressure) and place the eggs into an ice bath for 3 to 5 minutes or until cool enough to handle.
---
Different Instant Pot Models
You should be able to use this recipe to make eggs in any model or size of Instant Pot. In the Instant Pot Mini (3 quart) model, you'll be able to accommodate fewer eggs.
The 8 quart Instant Pot will be able to accommodate more eggs. You may also need to add a bit more water to the pot to make sure it comes to pressure: about 2 cups.
If you're new to the Instant Pot and aren't familiar with how to use it, you might find it helpful to first read one of the following guides and then come back here to learn how to make this recipe.
Instant Pot Hard Boiled Eggs Ingredients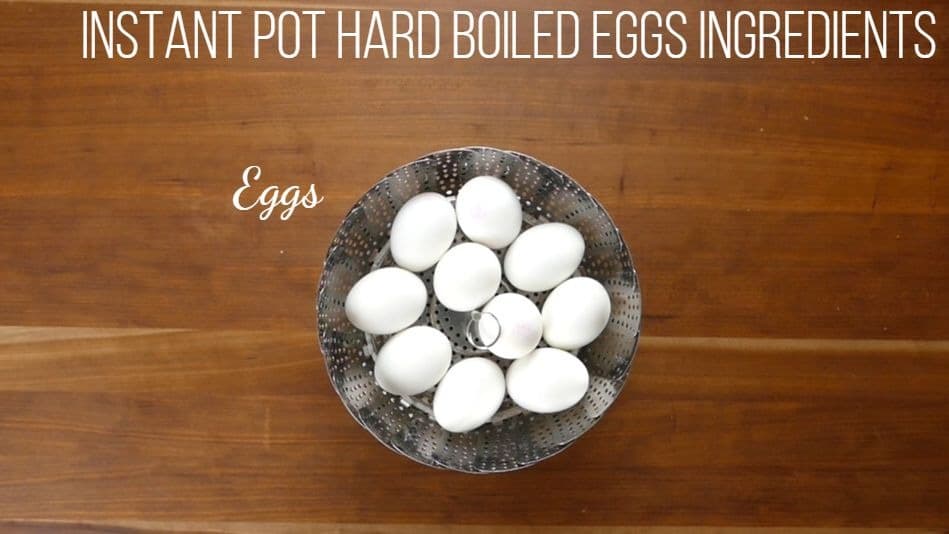 How to Make Hard Boiled Eggs in the Instant Pot (Step by Step Instructions)
Add water and place eggs on trivet or basket
Pressure cook
Natural release
Cool eggs and peel
Add Water and Place Eggs on Trivet

Add water to the inner pot of Instant Pot.
Place trivet or steamer basket in the Instant Pot.
Carefully place eggs on a trivet or steamer basket.
Instant Pot Duo Pressure Cook 2 minutes
Close the lid and make sure steam release handle is in 'Sealing' position
Press Manual or Pressure Cook and + or – until the display reads 2 (2 minutes).
Instant Pot Ultra Pressure Cook 2 minutes
Close the lid.
Select Pressure Cook mode and adjust the time to 2 minutes (00:02).
Press Start.
Pressure Cooking Process (Duo and Ultra)


Instant Pot display will change to On.
Once the Instant Pot is pressurized, the float valve will go up.
The display will count down to 0; it will then switch to Keep Warm mode and display L0:00 or 00 00 and begin to count up the number of minutes since pressure cooking completed.
How to Naturally Release Pressure (NPR) on the DUO and ULTRA


Cool Eggs and Peel

Your Instant Pot eggs should be perfectly cooked.
Carefully remove eggs from Instant Pot. Allow the eggs to cool naturally. Optionally, place them in a bowl of water to cool down faster.
Once eggs are cool enough to handle, peel them.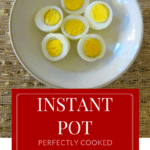 Instant Pot Hard Boiled Eggs
Instant Pot eggs are perfectly cooked and easy to peel. No more messing up hard boiled eggs either by over or under cooking or breaking apart while peeling!
Ingredients
10

eggs

or any quantity *

water

1 ½ cups
Instructions
Add water to the inner pot and place trivet in the Instant Pot.

Place eggs directly on the trivet or in a steamer basket on the trivet. If the steamer basket has tall legs, you won't need a trivet.

Close the lid and pressure cook the eggs on High Pressure for 2 minutes.

Open the Instant Pot and carefully remove the eggs. Cool the eggs naturally. Optionally, place them in a bowl of ice water to cool faster.

Once the eggs are cool enough to handle, peel them.
Notes
* Although you should be able to pressure cook more than a dozen eggs at a time, the first time you use this recipe, try out no more than 6 eggs to make sure you are satisfied with the results.
See the blog post for more detailed recipe tips.
Nutrition
Serving:
1
egg
|
Calories:
78
kcal
|
Carbohydrates:
0.6
g
|
Protein:
6
g
|
Fat:
5
g
|
Saturated Fat:
1.6
g
|
Polyunsaturated Fat:
2.7
g
|
Cholesterol:
187
mg
|
Sodium:
62
mg
|
Sugar:
0.6
g
Thank you for visiting Paint the Kitchen Red. All photos and content are copyright protected. Please don't use any content without prior written permission. If you've made this recipe and would like to share it with your friends, please link back to this recipe. Thank you!
I am not a certified nutritionist. I provide my best estimate of nutritional information merely as a courtesy to my readers. If you depend on nutritional information for dietary or health reasons, I suggest using your favorite online nutrition calculator to confirm the nutritional value of this recipe based on the actual ingredients that you use.
Did you know that the best way to support your favorite bloggers is to comment and rate recipes, and share on social media? If you loved this recipe, please comment and give it a five ⭐ rating in the comment section below. If you're a pinner, pin this post using the Pin buttons at the top and bottom of this post and in the recipe card above. Thank you for your support!
More Instant Pot Recipes
Instant Pot Deviled Eggs with Wasabi
In this Japanese take on a crowd-pleasing recipe, plain deviled eggs get a flavorful kick from wasabi and pickled ginger. The delicious, creamy, wasabi-spiced mayo filling is piped into the eggs and topped with boldly flavored pickled ginger. The perfect easy appetizer to take to any party. And the Instant Pot makes cooking the eggs a breeze!


GET RECIPE DETAILS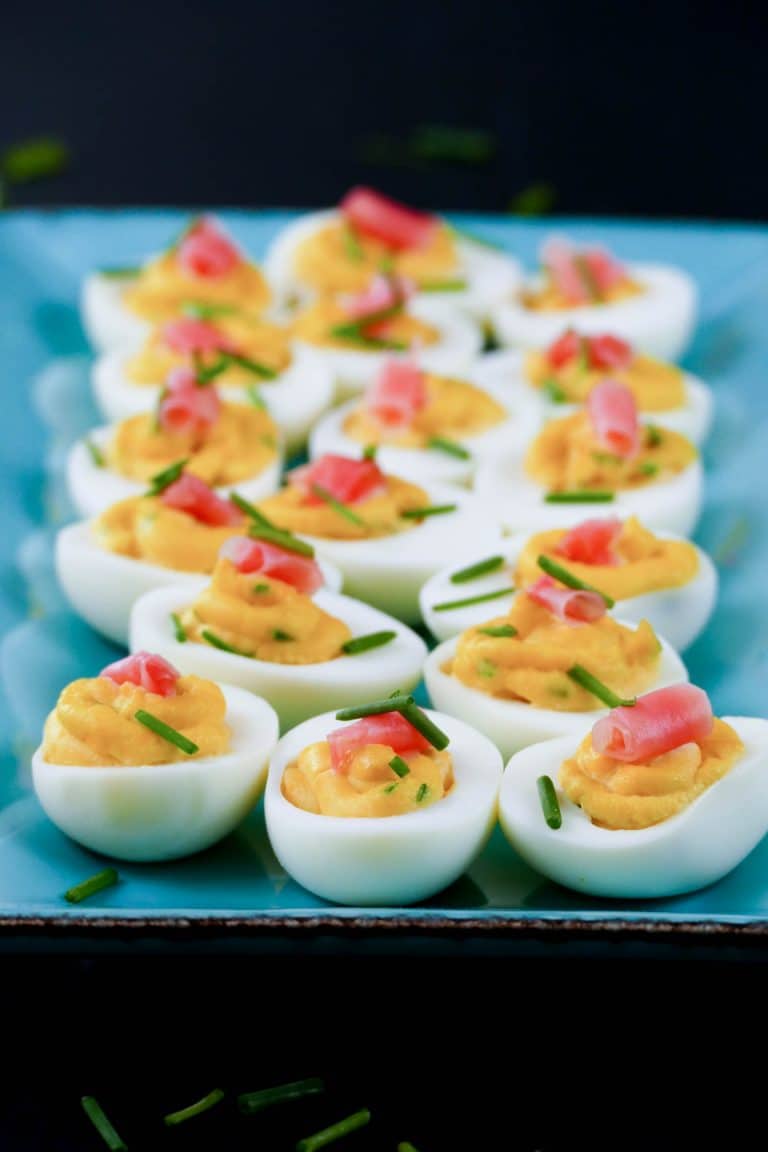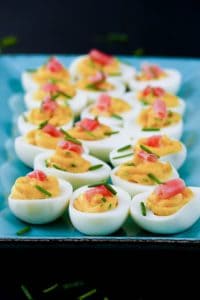 Khow Suey – Burmese Noodles
Khow Suey is the Burmese version of the popular Thai recipe called Khao Soi. This recipe is a one-pot easy version that has all the wonderful flavors of the original. Tender chicken and noodles cooked in creamy coconut curry broth make this a hearty and comforting meal. It can be made in the Instant Pot or stovetop.
GET RECIPE DETAILS
Instant Pot Korean Beef
This streamlined recipe for Instant Pot Korean Beef makes for a quick weeknight dinner that tastes great on a bed of rice or ramen noodles, accompanied by pickled carrots, Kimchi, and a fried egg on top.
GET RECIPE DETAILS