Finally, a solution to hard-to-peel or overcooked eggs. Making Instant Pot hard boiled eggs is a fool-proof way to get easy-to-peel perfectly cooked eggs. This 2 minute Instant Pot hard boiled egg recipe requires no ice bath and it's the most hands-off way to get hard boiled eggs quickly and easily.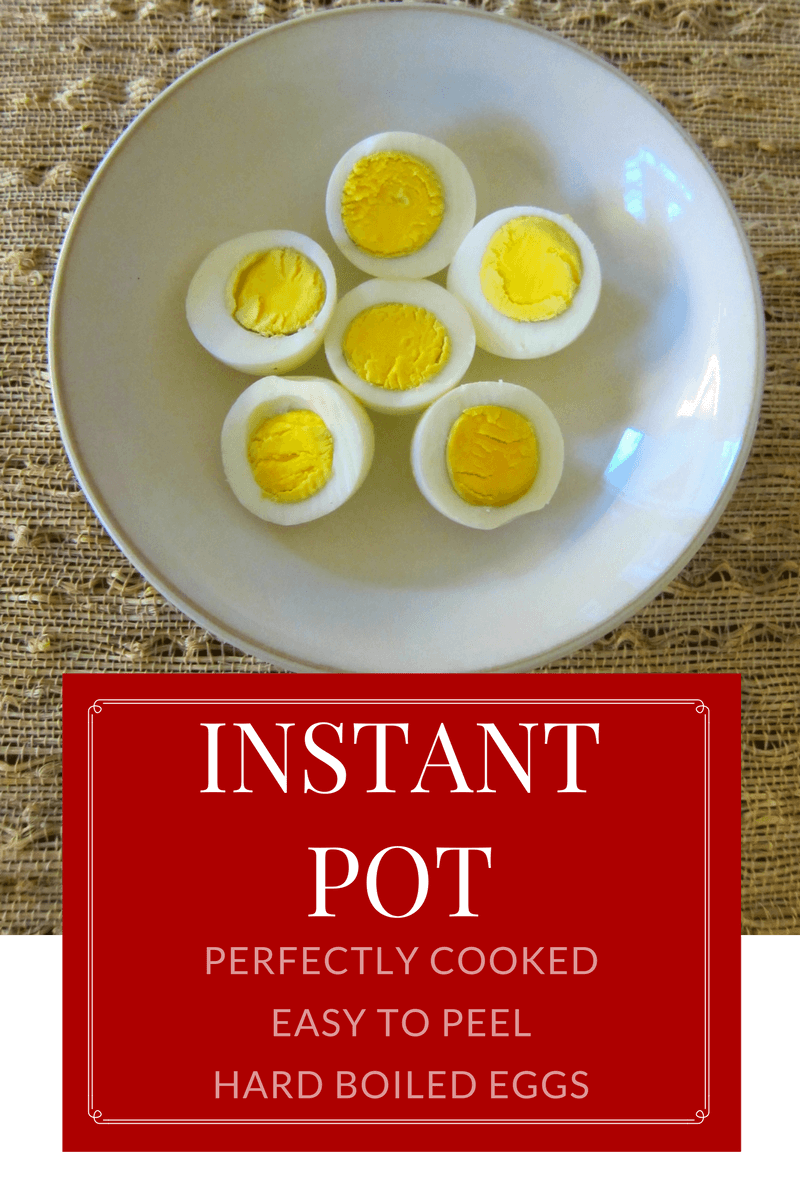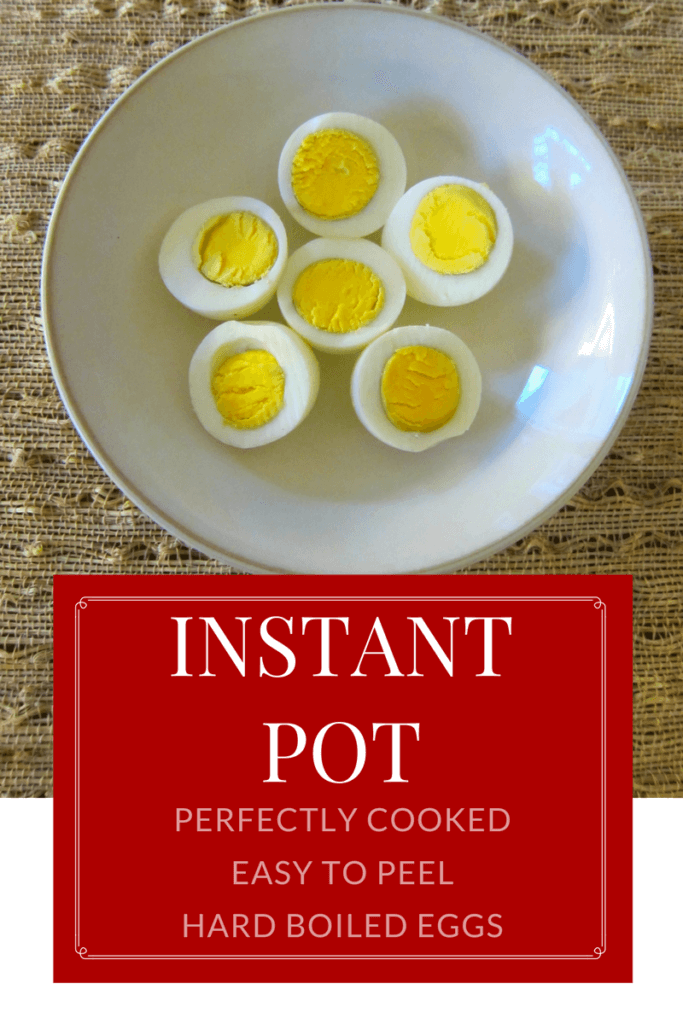 How do you make perfectly cooked, easy-to-peel hard boiled eggs?  You'd think it would be easy enough.  After all, they're just eggs, for Pete's sake.  But let me tell you, I have the hardest time cooking hard boiled eggs that peel easily.
I always have pieces of egg coming off in bits and pieces when I peel them.  I've tried all kinds of tips and tricks including adding baking soda or vinegar to the water, putting cold eggs in boiling water, using an ice bath after boiling…..


It's exhausting, for something that should be simple, right?!  So I'm sharing with you how to make eggs in the Instant Pot pressure cooker – my secret to perfect eggs every time!
I modified her method by releasing the pressure after 15 minutes.  That's it.  But here's the best part.  The shell just comes off, like butter.

There are many recipes showing you how to steam eggs in the Instant Pot and I've tried them: particularly the 555/5-5-5 method which cooks for 5 minutes, natural release for 5 minutes and ice bath for 5 minutes.

But why go through all that when you can do it without any hands-on time?  This 2 minute Instant Pot hard boiled eggs method has no formulas, no ice baths.  So so easy!

This method of cooking eggs is actually steaming the eggs because you're putting the eggs on a rack.  I have tried it without a rack and have had mixed results, so I would suggest using a steamer basket or rack for consistent results.
Tips and Substitutions
---
I've modified the recipe to cook up to a dozen eggs and have had no problems.  I've had readers cook up to two dozen eggs.
---
Although I've rarely had cracked eggs, here are some tips if you're getting cracked eggs:
Bring the eggs out of the fridge and let them warm up a bit before cooking them.
Avoid eggs that have hairline cracks.  I notice that white eggs have these more often.
Try using low pressure, and do a full NPR (Natural Pressure Release).  You may need to increase the cook time though to about 5 minutes.
Try a different brand of eggs.
If you're new to the Instant Pot
and aren't familiar with how to use it, please read the Instant Pot  DUO Beginner's Quick Start Guide or the Instant Pot ULTRA Beginner's Quick Start Guide first and then come back here to learn how to make 2 minute Instant Pot Hard Boiled Eggs.

2 Minute Instant Pot Hard Boiled Eggs Instructions

Press 'Manual' (or 'Pressure Cook') and '+' or '-' until the display reads '2'.
The Instant Pot display will change to 'On'.
Once the Instant Pot is pressurized and the float valve is up, the display will count down from 2 to 0.
The display will read 'L000' and start to count up in 'Keep Warm' mode.
Wait till the count-up timer reads L0:15 (15 minutes.)
Move the steam release handle to 'Venting'. I like to place a folded towel over the steam release handle and move it to the venting position. Remove the towel after turning the knob.
When your Instant Pot is depressurized, the float valve will be in the down position.
It's now safe to open the Instant Pot. (Press 'Cancel' to turn off Instant Pot.)
Your Instant Pot eggs should be perfectly cooked.
Remove eggs from Instant Pot and place them in a bowl of water to cool, or allow to cool naturally.
Once eggs are cool enough to handle, peel them.  I refuse to show a photograph of me peeling the eggs because my hands look awful, especially in the winter (I need a hand model!) But trust me, these Instant Pot eggs peeled so easily!
Instant Pot Hard Boiled Eggs
Instant Pot eggs are perfectly cooked and easy to peel. No more messing up hard boiled eggs either by over or under cooking or breaking apart while peeling!
Print
Rate
Instructions
Place eggs on trivet and close Instant Pot; The steam release handle should be in the 'Sealing' position.

Cook eggs on 'Manual' (or 'Pressure Cook') mode for 2 minutes.

Allow eggs to stay in 'Keep Warm' mode for 15 minutes. Release steam manually to depressurize Instant Pot.

Open Instant Pot and remove eggs; place them in a bowl of water to cool, or allow to cool naturally.

Once eggs are cool enough to handle, peel them.
Notes
See the blog post for more detailed recipe tips.
Nutrition
Serving:
1
egg
|
Calories:
78
kcal
|
Carbohydrates:
0.6
g
|
Protein:
6
g
|
Fat:
5
g
|
Saturated Fat:
1.6
g
|
Polyunsaturated Fat:
2.7
g
|
Cholesterol:
187
mg
|
Sodium:
62
mg
|
Sugar:
0.6
g
I am not a certified nutritionist. I provide my best estimate of nutritional information merely as a courtesy to my readers. If you depend on nutritional information for dietary or health reasons, I suggest using your favorite online nutrition calculator to confirm the nutritional value of this recipe based on the actual ingredients that you use.
If you loved this recipe, please give it a five ⭐ rating in the comment section below and please share it on social media using the social media share buttons at the top and bottom of this post. Thank you so much!
YOU MIGHT ALSO LIKE TO TRY THESE INSTANT POT RECIPES: