This tasty Instant Pot Penne Pasta recipe is a quick and easy recipe perfect for an easy weeknight dinner. The best part about this recipe is that the pasta and sauce are cooked together, from scratch. So there's no need for jar pasta sauce. [Stovetop instructions also provided.]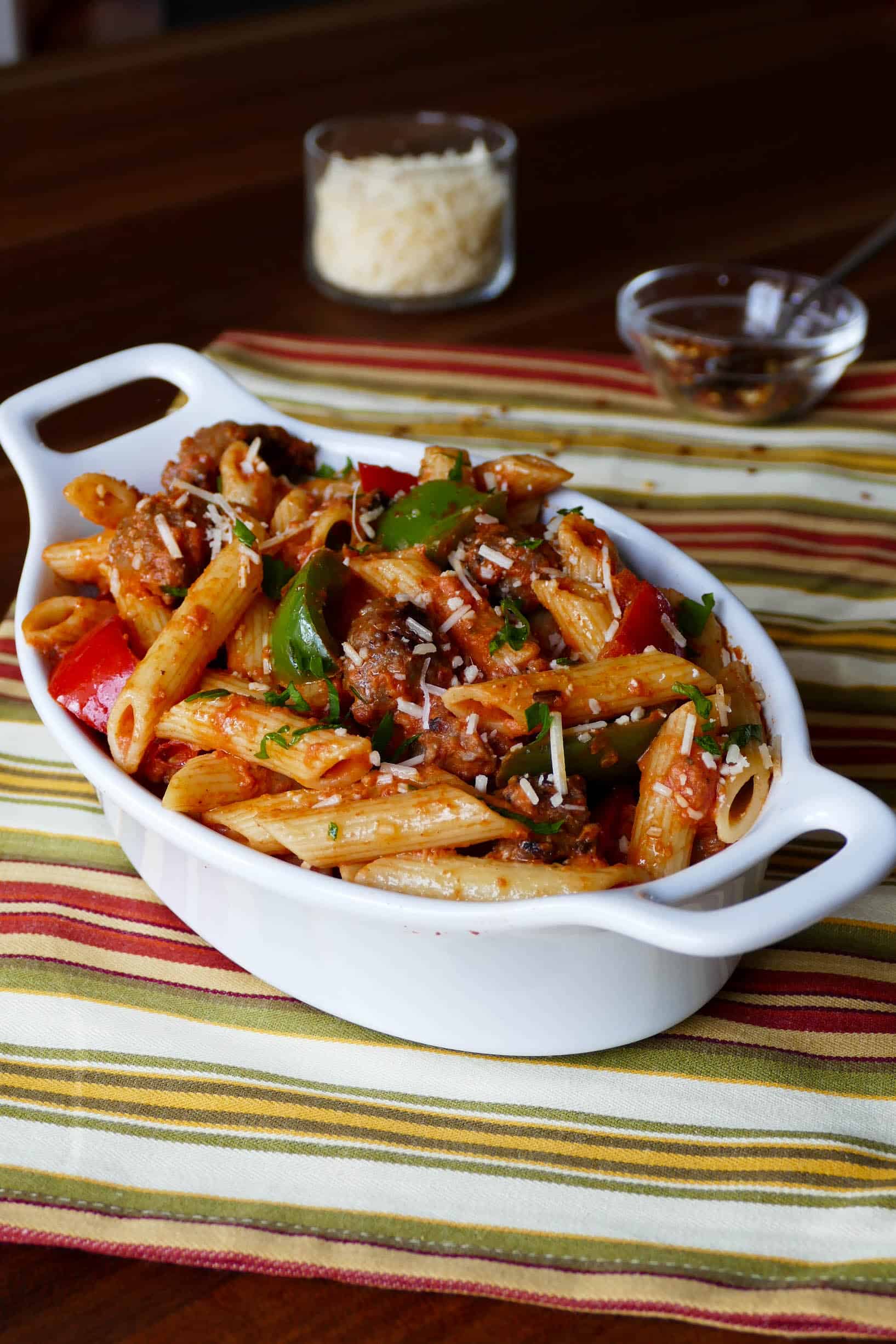 This post contains affiliate links. As an Amazon Associate, I earn from qualifying purchases. Please read the disclosure.
Introduction
Making pasta in the Instant Pot is so convenient because everything gets done in one pot. This delicious pressure cooker pasta recipe is one of the first recipes I developed when I first got my Instant Pot and it's a family favorite.
The really interesting thing about making pasta in an Instant Pot electric pressure cooker is that you don't drain the starchy pasta water. You cook the pasta in the Instant Pot, and the cooking liquid gets absorbed into the dish, making it thick and creamy.
I combined two different stovetop recipes to make Instant Pot sausage pasta: my homemade pasta sauce original recipe and my Italian sausage pasta recipe. The result is perfectly cooked pasta with sausage and veggies.
On a really busy day, you can make Instant Pot creamy sausage pasta within 30 minutes from scratch and the hands-on time is less than about 10 minutes.
I love this easy Instant Pot recipe because it's perfect for a busy weeknight! It feeds my whole family and it's one of the best one-pot meals that I make.
Instant Pot Penne Pasta – Ingredients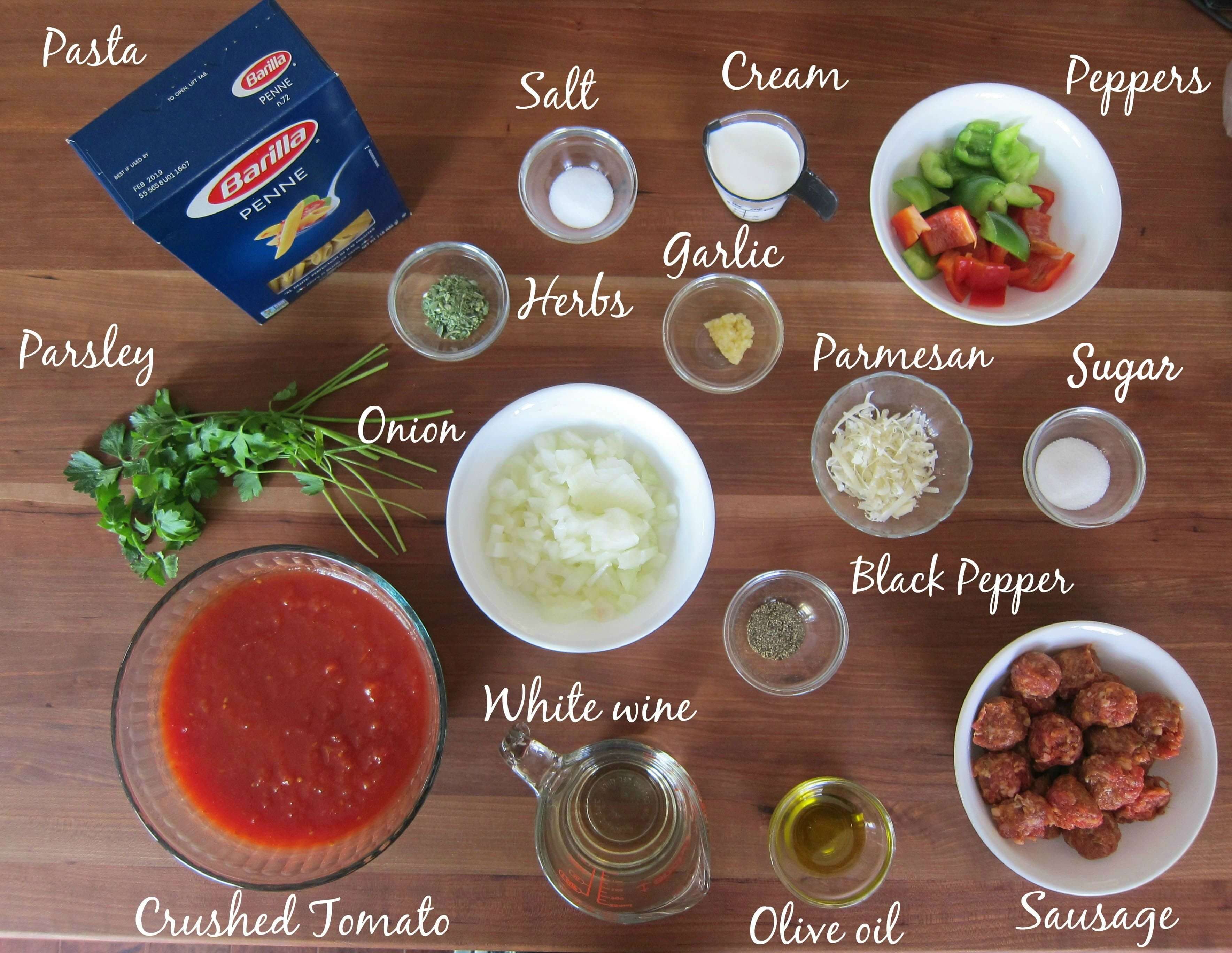 More details in the recipe card at the bottom of this post
How to make Instant Pot Italian Sausage Pasta (Step by Step Instructions)
Saute meat and onions.
Add seasoning and pasta.
Pressure cook pasta.
Stir in cream and garnish with parsley and parmesan.
Saute Meat and Onions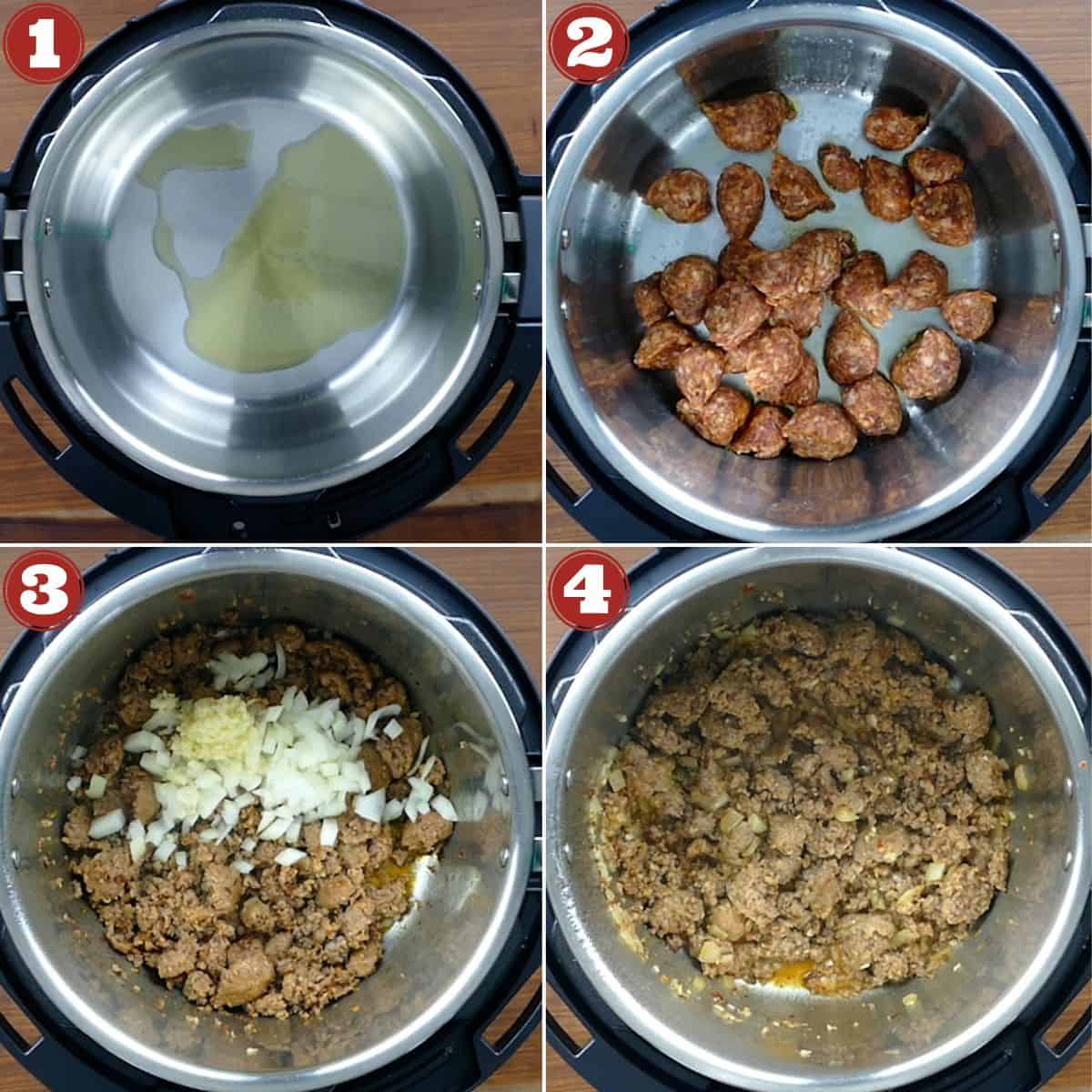 Once the inner pot has preheated, add oil to the inner pot and let it heat up.
Add meat and cook until browned, about 5 minutes. If the meat browns too quickly, press Cancel until the the pot cools down a bit and select Saute again. Deglaze as needed with a tablespoon of broth.
Add onions and garlic.
Stir the onions and garlic and cook on Sauté mode until translucent. Deglaze the bottom of the Instant Pot with white wine, stirring until the liquid has nearly evaporated. Once the sausage and onion mixture has cooked, press Cancel to turn Instant Pot off.
Add Seasoning and Pasta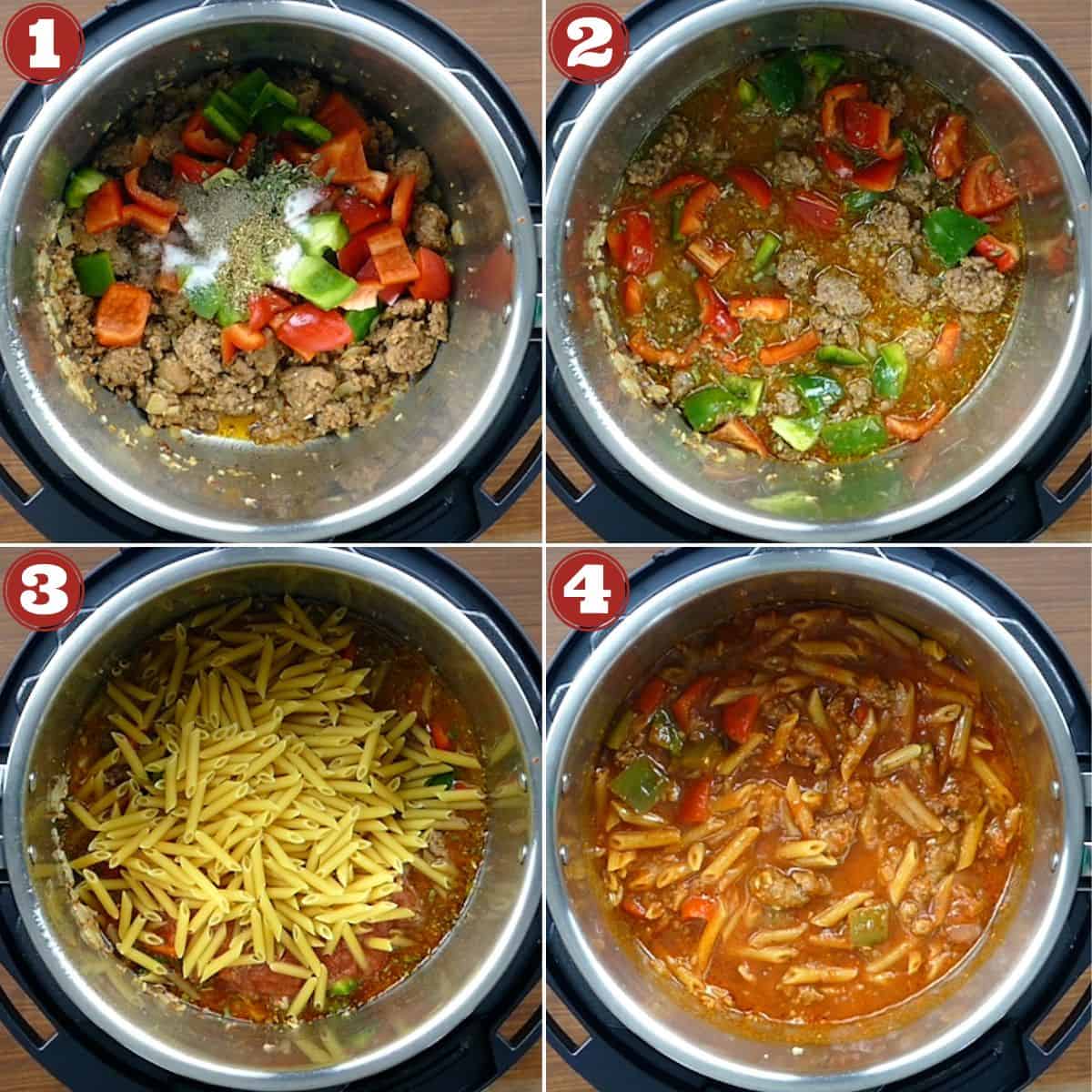 Add bell pepper, sugar, basil, oregano, salt, black pepper.
Add broth or water. Stir to combine.
Add pasta to the pot, but don't stir in. Gently push down with a spatula so the pasta is submerged.
Add the tomato sauce to cover the pasta, but don't stir. Layering ingredients this way helps avoid the Burn message.
Program the Instant Pot and release pressure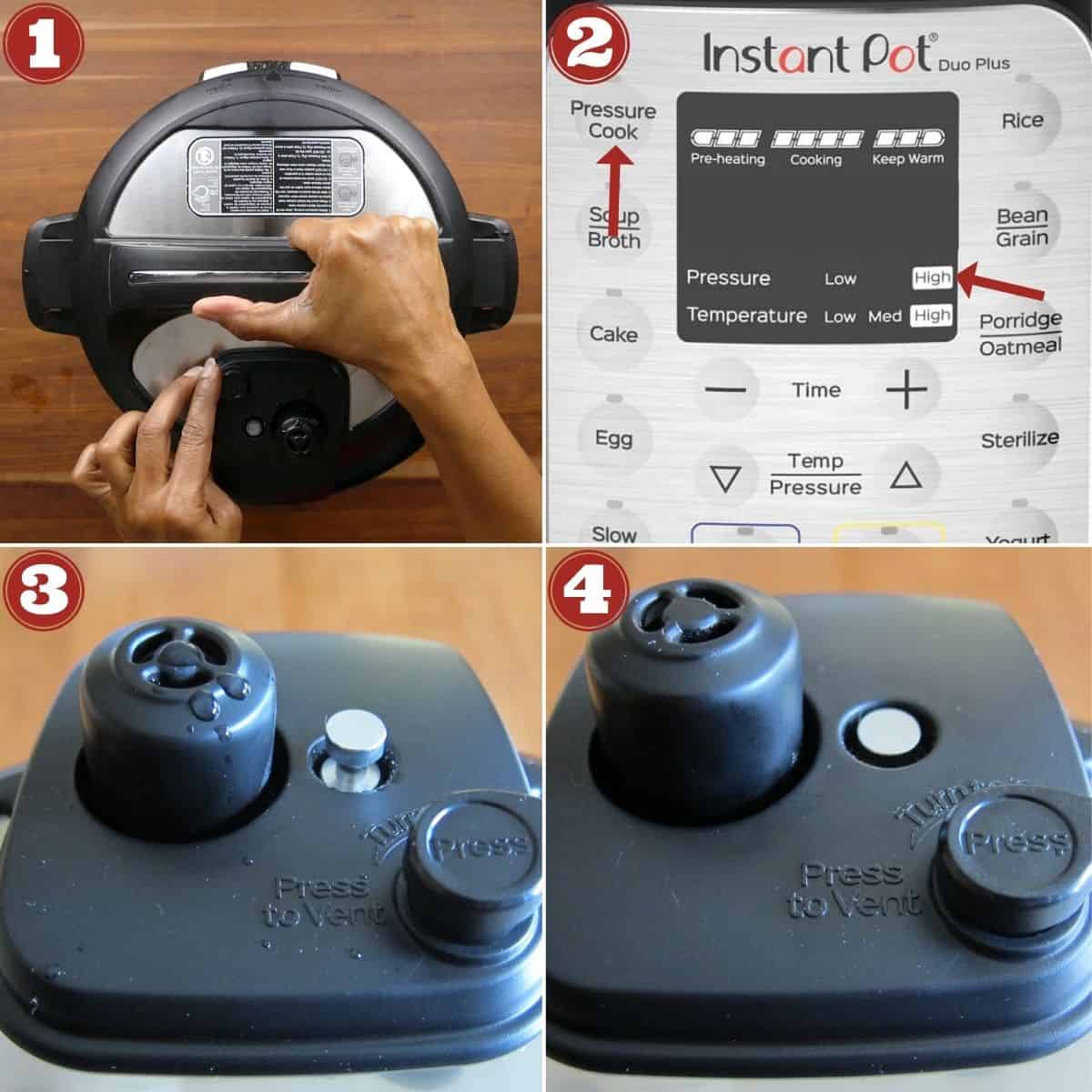 Close the Instant Pot lid.
Program the Instant Pot to Manual or Pressure Cook on high pressure for 5 minutes.
The display will go from On to 5:00. The float valve will go up after a few minutes. The display will count down to 00:00.
Do a quick release of pressure. Once the float valve goes down, the lid can be opened.
Stir in Cream and Garnish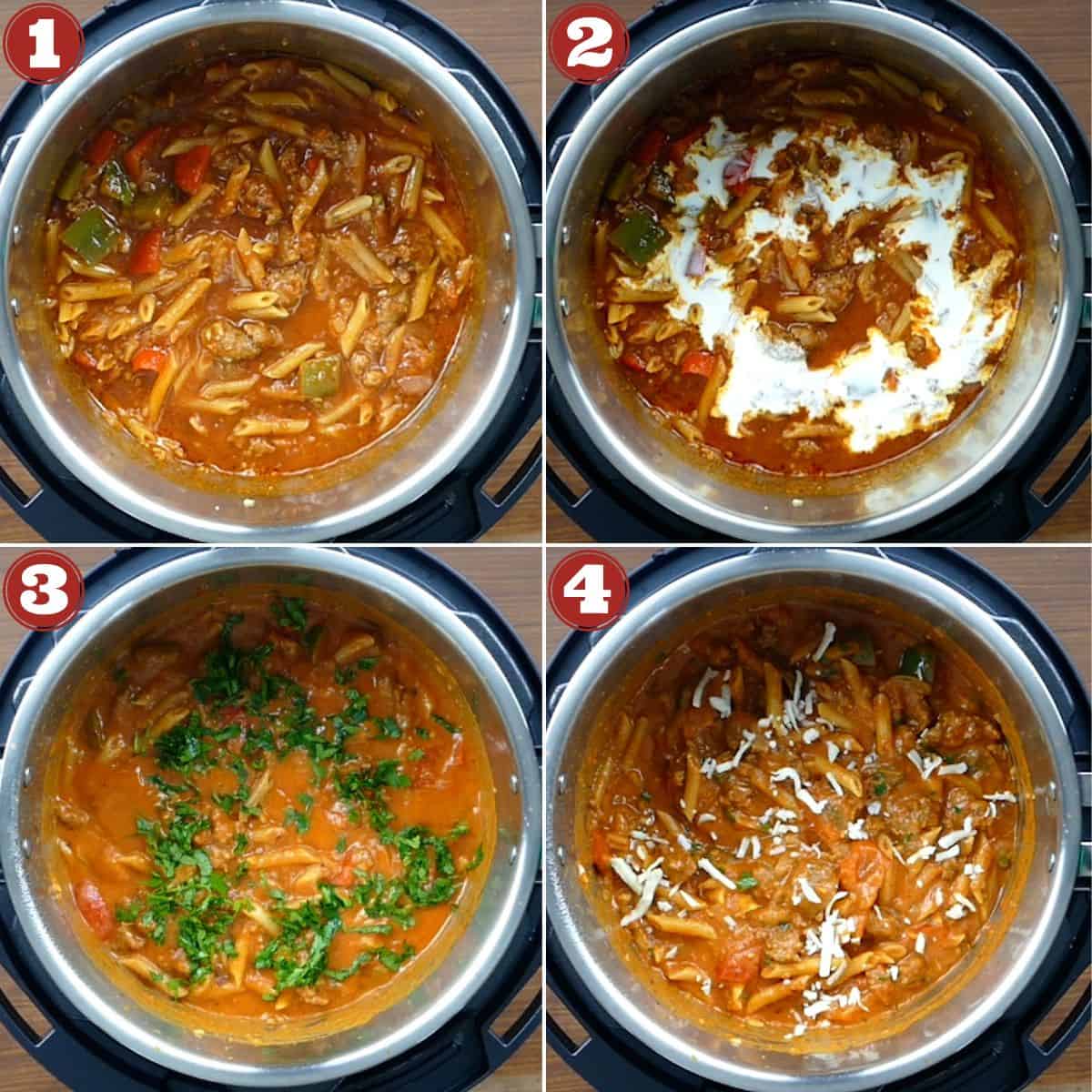 Once you open the lid, there might seem to be more liquid than you'd like, but don't worry, the liquid will get absorbed by the pasta as it rests.
Stir in cream.
Stir in parsley.
Select Saute function and simmer the pasta and sauce for a couple of minutes until heated through. Let the penne rest for a few minutes and it will thicken up. Sprinkle each serving of the creamy Italian sausage pasta with grated parmesan, parsley, and red pepper flakes (if using).
More Instant Pot Recipes using Pasta