From shrimp etouffee to shrimp curry, and classic shrimp scampi to chipotle shrimp soup, this collection of spicy, flavorful, and easy Instant Pot shrimp recipes are must-tries for your Instant Pot pressure cooker.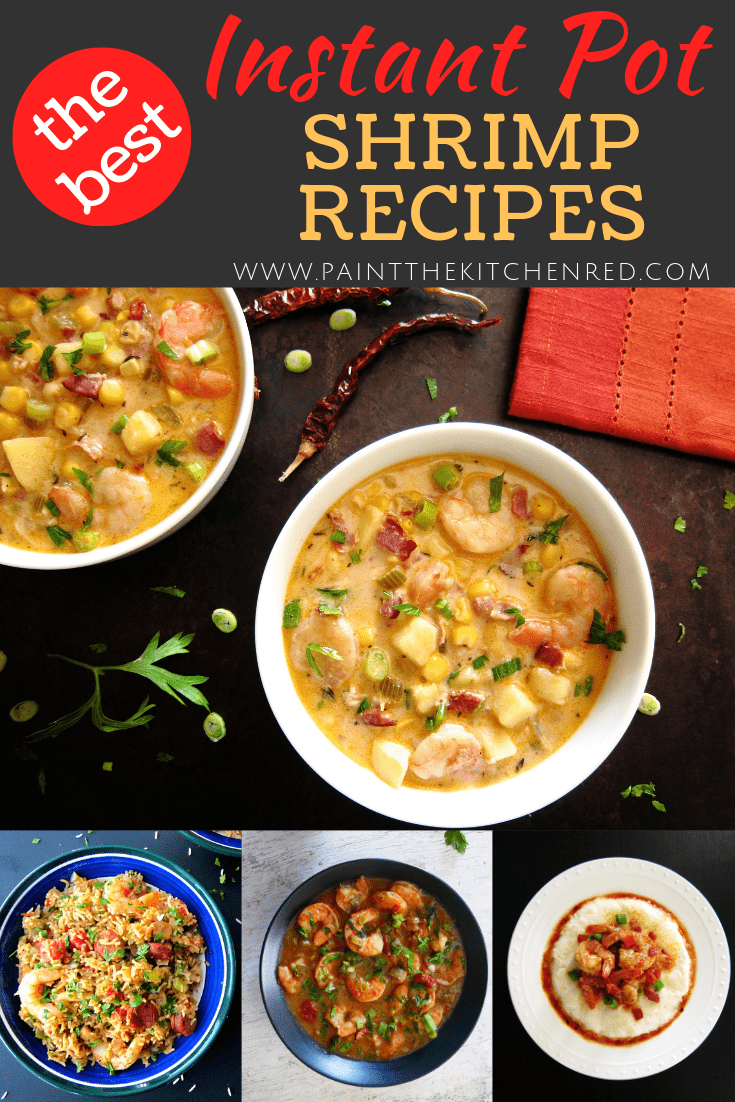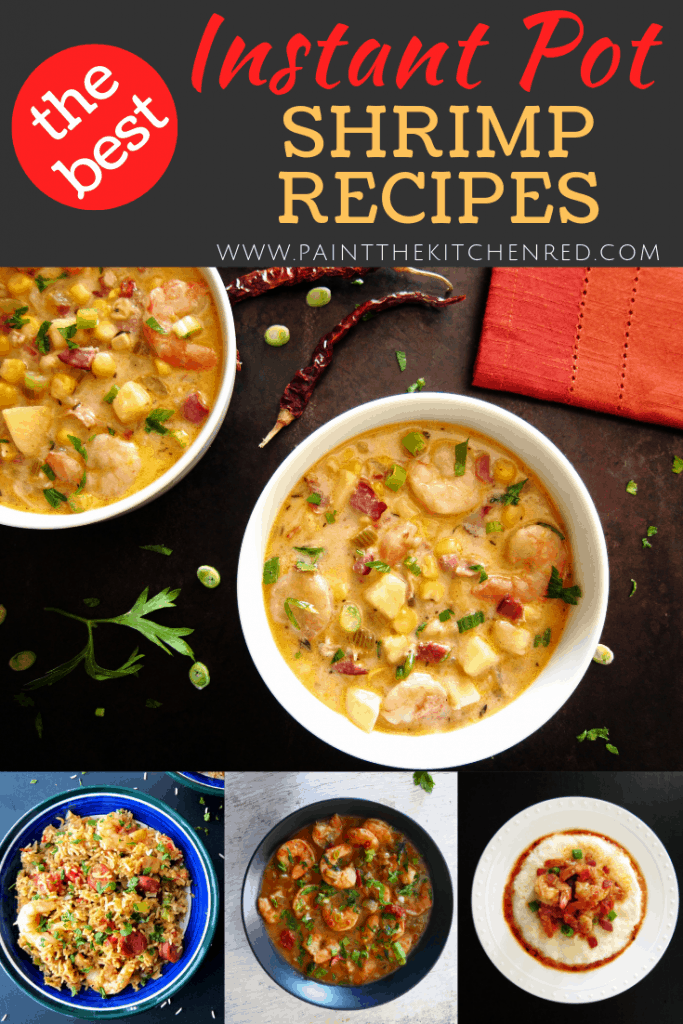 The Instant Pot is so convenient for all kinds of foods, especially proteins. But most people tend to stick to meats and shy away from cooking seafood in the Instant Pot.
If you thought you couldn't successfully cook shrimp in the Instant Pot, think again. You absolutely can cook raw shrimp perfectly in the Instant Pot.
Shrimp is one of my favorite ingredients! I've put together a collection of my favorite Instant Pot shrimp recipes and I've also included some popular recipes from other bloggers.
Most of these easy Instant Pot recipes for shrimp can be made on a weeknight with little fuss. Any of these recipes would make a delicious meal.
Tips For How to Cook Shrimp in the Instant Pot
Pressure Level
Low pressure is a great option if your pressure cooker has that setting available. Cooking shrimp at low pressure keeps it from overcooking. Pressure cooking time varies from 1 to 4 minutes.
High pressure is a bit faster and it's available on all Instant Pots. Pressure cooking time varies from 0 to 2 minutes.
Pressure Release
Once the shrimp is done cooking, release pressure using the quick release method. Since shrimp cooks very fast, using natural release will cause it to overcook and be tough. Read more about the different pressure release methods.
Residual Heat
One of my favorite ways to cook shrimp in the Instant Pot is to use residual heat. For example, if I'm cooking shrimp with rice, I cook the rice and release pressure using the quick release method. Then I add the shrimp into the rice and close the lid.
Here are the steps to cook shrimp with the residual heat:
Pressure cook recipe without the shrimp (e.g. rice, pasta, sauce, etc).
Once the cook time is up, release pressure using the quick release method.
Open the lid and add thawed shrimp. (Work quickly and don't let too much steam escape).
Close the lid for 10 minutes. The shrimp will cook with the heat already in the Instant Pot. If you have trouble closing the lid, place the steam release handle in the Venting position, close the lid, and put the steam release back to Sealing position.
Note: you can't use frozen shrimp with this method because the shrimp won't cook through. Fresh shrimp or thawed frozen shrimp will both work. If using jumbo shrimp, you might need to increase the time by about 5 minutes.
How to Substitute Frozen Shrimp in Recipes
Pressure-Cooked Shrimp Recipes
If you're using a recipe that calls for thawed shrimp to be pressure-cooked, you can substitute frozen shrimp and follow the recipe's original pressure cooking time.
Keep in mind that the Instant Pot will take longer to come to pressure since the contents will take longer to heat up. Also, make sure that the frozen shrimp is not in one big clump!
Instant Pot Shrimp Recipes using Residual Heat
If you're using a recipe that calls for cooking the shrimp in residual heat (like most of my recipes), you'll need to thaw the shrimp because substituting frozen shrimp could result in undercooked shrimp.
Instant Pot Shrimp Soups and Stews
These soups and stew recipes are comforting and hearty. These easy recipes will warm you up on a cold winter night. Use shrimp stock instead of chicken stock in seafood recipes.
Instant Pot Shrimp Pasta Recipes
Making pasta in the Instant Pot is one of my favorite things about using the Instant Pot. These one-pot pasta dishes are simple recipes that are an easy way to feed a large group.
Serve these pasta recipes with garlic bread and a green salad to make it a substantial meal. Sprinkle some fresh parmesan cheese and chopped fresh parsley to complete the recipes.
Spicy Instant Pot Shrimp Recipes
I love combining spice with shrimp. In addition to Cajun and Creole recipes, there are Southern recipes like shrimp and grits that are spicy and full of flavor.
Indian Instant Pot Shrimp Curry Recipes
These delicious Indian curries are packed with flavor and taste amazing with rice! The Indian spices combined with creamy coconut and delectable shrimp will have everyone going for seconds.
Instant Pot Shrimp and Rice Recipes
Combining rice and shrimp together in the Instant Pot makes these meal-in-one recipes very convenient. These crowd-pleasing favorite recipes are a must-try for your Instant Pot.
How to Steam Instant Pot Shrimp
There are times when you just want plain shrimp that can be used in a salad or as an appetizer with cocktail sauce. For extra flavor, brine the shrimp for an hour by soaking the shrimp in 2 cups of water mixed with a tablespoon of salt. Rinse the shrimp before steaming.
If you loved this recipe collection, please share it on social media using the social media share buttons at the top and bottom of this post. Thank you so much!