From shrimp etouffee to shrimp curry, and shrimp scampi to chipotle shrimp soup, this collection of spicy and flavorful Instant Pot shrimp recipes are must-tries for your Instant Pot if you are a fan of shrimp.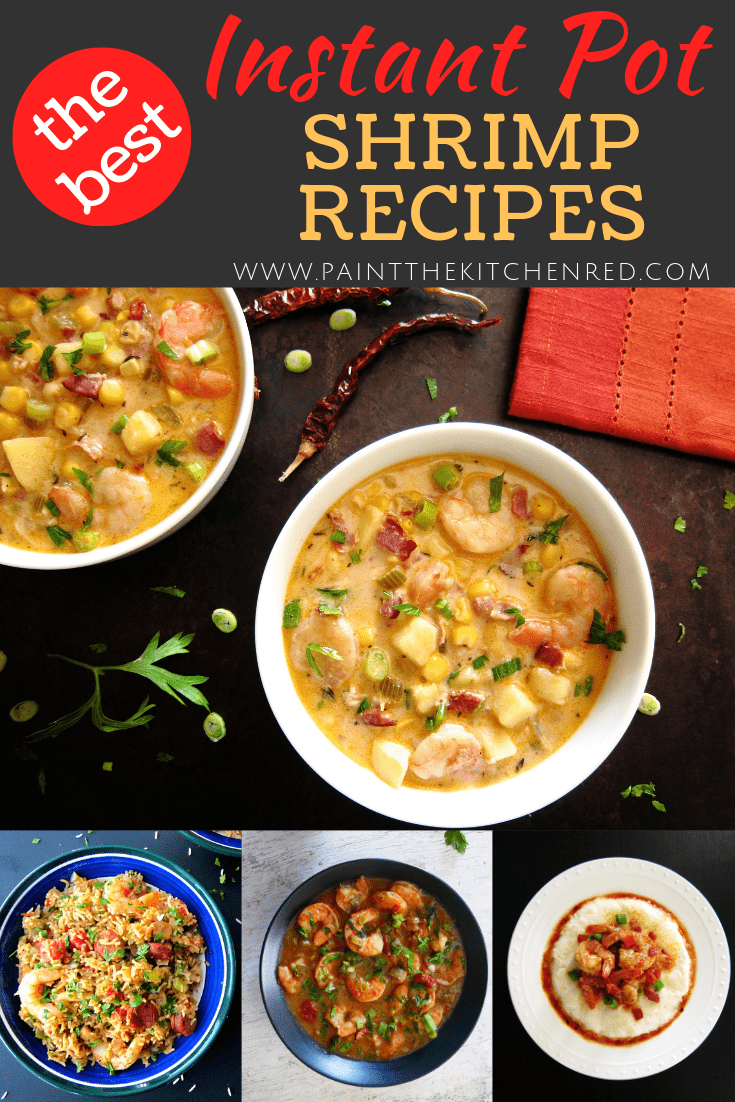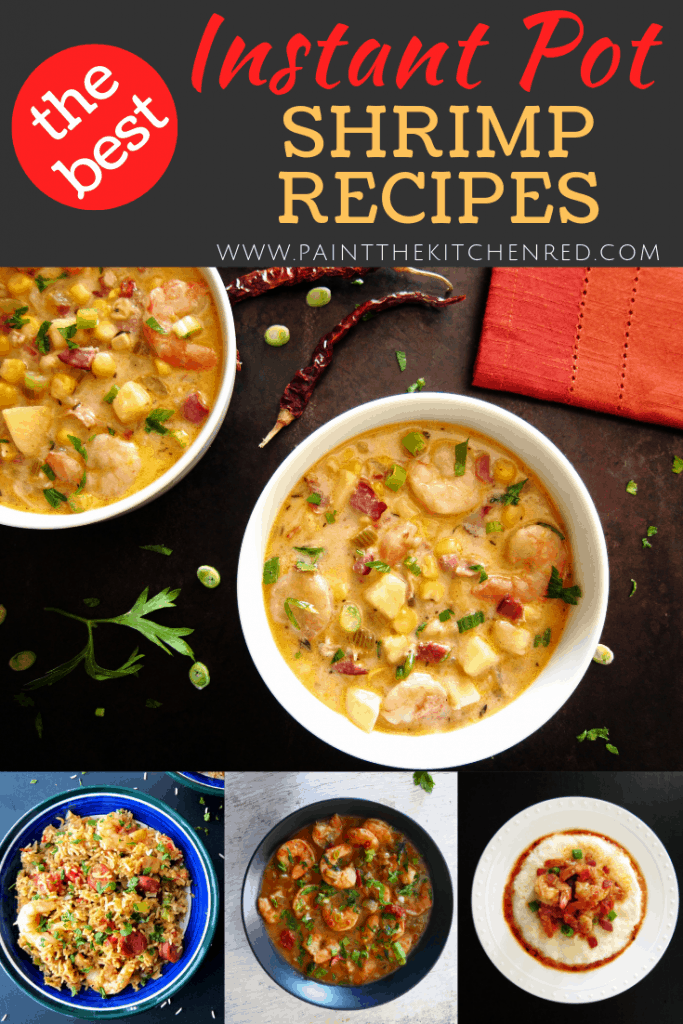 The Instant Pot is so convenient for all kinds of foods, especially proteins. But most people tend to stick to meats and shy away from cooking seafood in the Instant Pot.
If you thought you couldn't successfully cook shrimp in the Instant Pot, think again. You absolutely can cook shrimp perfectly in the Instant Pot.
Shrimp is one of my favorite ingredients! I've put together a collection of my favorite Instant Pot shrimp recipes and I've also included some popular recipes from other bloggers.
Most of these Instant Pot recipes for shrimp are easy and can be made on a weeknight with little fuss. And all of them are so full of flavor!
If you're new to the Instant Pot and aren't familiar with how to use it, please read the Instant Pot DUO Beginner's Quick Start Guide or the Instant Pot ULTRA Beginner's Quick Start Guide.
How to Substitute Frozen Shrimp in Recipes
Pressure-Cooked Shrimp Recipes
If you're using a recipe that calls for thawed shrimp to be pressure-cooked, you can substitute frozen shrimp and follow the recipe's original pressure cooking time.
Keep in mind that the Instant Pot will take longer to come to pressure since the contents will take longer to heat up. Also, make sure that the frozen shrimp is not in one big clump!
Instant Pot Shrimp Recipes using Residual Heat
If you're using a recipe that calls for cooking the shrimp in residual heat (like most of my recipes), you'll need to thaw the shrimp because substituting frozen shrimp could result in undercooked shrimp.
How to Steam Frozen Shrimp in the Instant Pot
How to Make Shrimp Stock in the Instant Pot
I use this Instant Pot shrimp stock in almost all my shrimp or fish recipes that call for broth or water. It's super easy to make: peel the shrimp and pressure cook the shrimp shells with a few vegetables and aromatics.
The shrimp stock adds an extra layer of flavor to all your Instant Pot shrimp and seafood recipes.
A Quick and Easy Instant Pot Shrimp Soup
This is such a delicious and easy recipe that you'll be making it again and again. What I like most about it is that you can get such terrific flavor with so little effort.
The chipotle chiles in adobo sauce add a spicy kick to the soup, so feel free to tone it down. I sometimes make this recipe more like a Shrimp Bisque by adding more cream and mashing up some of the potatoes.
Instant Pot Shrimp Scampi / Pasta
I think of Shrimp Scampi is comfort food. If you're short on time and want to get dinner on the table in no time, this Instant Pot Shrimp Scampi recipe is for you.
Instant Pot Cajun and Creole Shrimp Recipes
Cajun and Creole cuisine from New Orleans are my favorites. These recipes are spicy and full of flavor. Be sure to check out the Instant Pot Jambalaya in the Instant Pot Shrimp and Rice section below!
Instant Pot Shrimp Dishes from the South
These are popular dishes in the southern states of the US and are easy to make and super tasty!
Indian Instant Pot Shrimp Curry Recipes
These shrimp and prawn Indian curries made in the Instant Pot are easy, spicy and delicious!
Instant Pot Shrimp and Rice Recipes
Combining rice and shrimp together in the Instant Pot makes these meal-in-one recipes very convenient. These crowd-pleasing favorite recipes are a must-try for your Instant Pot.
If you loved this recipe collection, please share it on social media using the social media share buttons at the top and bottom of this post. Thank you so much!