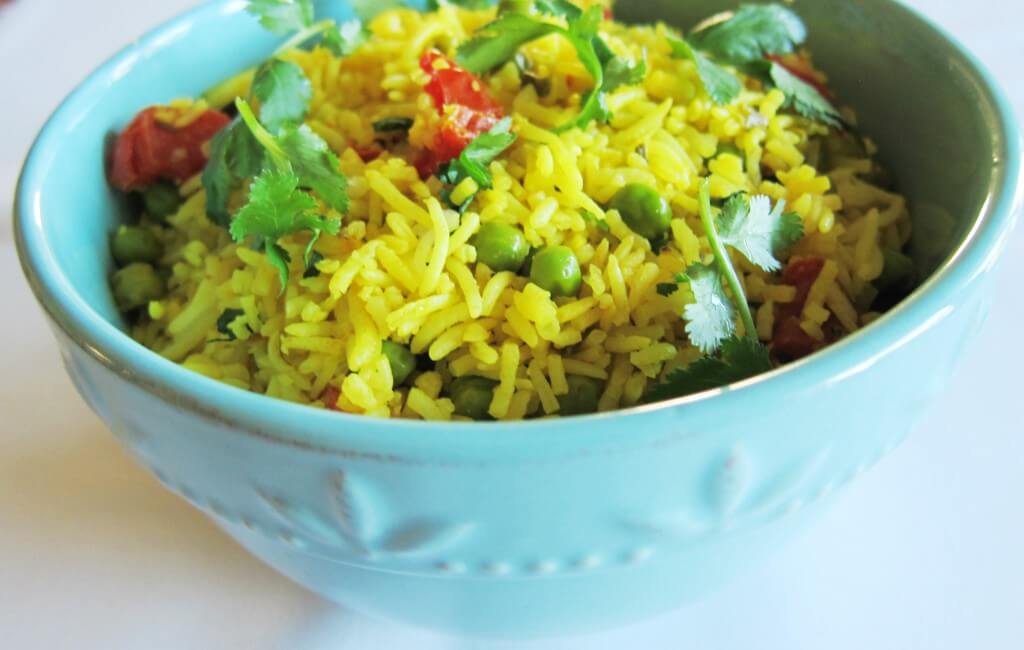 I had a bunch of leftover white rice from a Chinese meal we ate the night before, so I decided to make my mom's yellow rice with peas – so easy, and so colorful. I like to think of it as Indian fried rice. This is my go-to rice when I'm cooking an Indian meal for friends. I always keep a bag of frozen peas in my freezer to throw into Chinese fried rice or this yellow rice. No need to defrost the peas, they cook fast. Feel free to substitute any vegetable you like. You can also add more heat by frying some jalapeno slices with the onions. A great accompaniment to an Indian main dish like Indian Chicken Curry or Shrimp Chili Fry. Enjoy!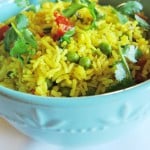 Yellow Rice With Peas
A great way to use up leftover white or brown rice.
Instructions
Heat oil in a nonstick frying pan over medium heat.

Add the cumin seeds and stir for a few seconds till golden. Do not allow them to burn.

Add the white parts of the scallions with the garlic and stir fry for a minute.

Stir in the chopped tomato and fry for 3 to 4 minutes.

Add in the turmeric and salt and stir for 1 minute.

Add the peas and stir fry till no longer frozen.

Add the rice and the green parts of the scallions; gently toss to get the yellow color incorporated, and the rice is heated through.

Add the butter, if using, and incorporate into rice. Remove from heat.

Top with chopped cilantro and sprinkle with lime juice.
Thank you for visiting Paint the Kitchen Red. All photos and content are copyright protected. Please don't use any content without prior written permission. If you've made this recipe and would like to share it with your friends, please link back to this recipe. Thank you!