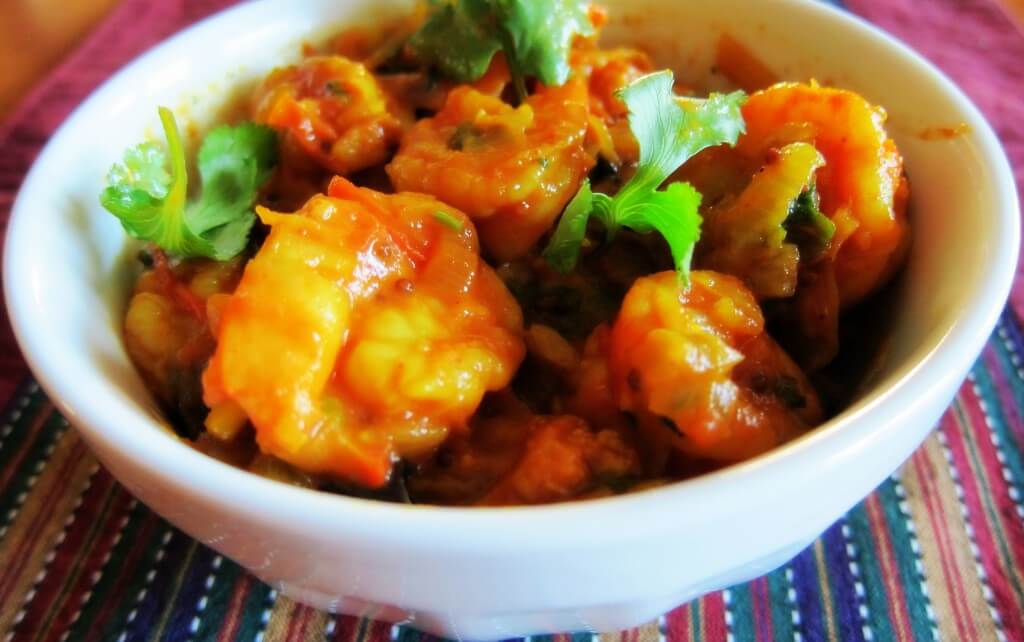 Goa is a state on the southwestern coast of India. It's known for its Portuguese colonial history, lovely beaches, easy-going vibe, and spicy seafood and meat dishes. I am not Goan but I married a Goan – those Goans are a fun bunch. They love to have a good time, and enjoy good food. This is my husband's recipe. He usually makes it when we have friends over for Indian food. It can be made more or less spicy by changing the quantity of cayenne pepper.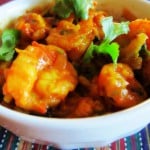 Shrimp Chili Fry
An Indian shrimp stir fry dish from the state of Goa. It's full of flavor and is easy to put together on a weeknight.
Instructions
Heat oil over medium heat in a large skillet.

Add onions and fry until golden brown, but not burned.

Add tomatoes and fry, stirring frequently; Add a tiny bit of water if the mixture starts sticking to the bottom of the pan.

Cook until the oil separates and the mixture becomes paste-like.

Stir in turmeric and cayenne and saute briefly.

Add garlic, ginger and scallions and fry for a minute, stirring constantly.

Add shrimp and stir to coat, frying 1 to 2 minutes or until the shrimp turns pink.

Stir in salt, sugar and vinegar; taste and adjust seasonings to taste.

Garnish with chopped cilantro before serving.
Notes
This tasty Goan dish can be served with rice, naan, or fresh bread (also called pao or pav in Goa).
Thank you for visiting Paint the Kitchen Red. All photos and content are copyright protected. Please don't use any content without prior written permission. If you've made this recipe and would like to share it with your friends, please link back to this recipe. Thank you!