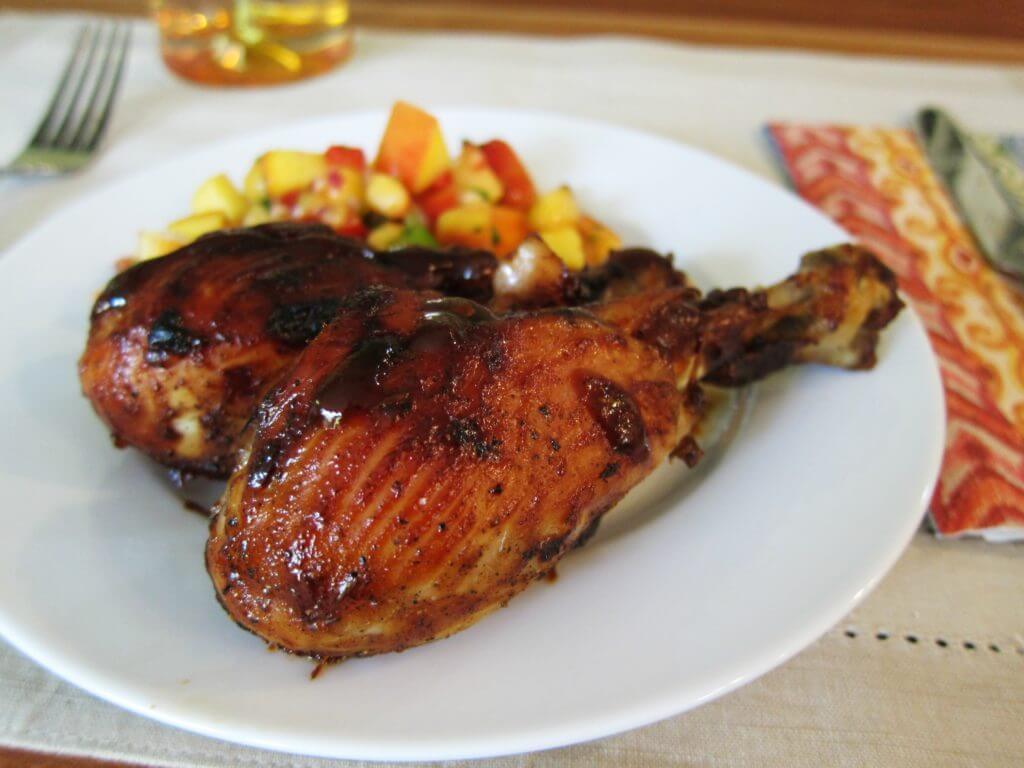 This Jamaican Jerk Chicken recipe is great on the grill or in the oven. We do a lot of grilling in the summer, and I was caught by surprise a few weeks ago when the weather turned bad and I couldn't cook the Jamaican Jerk Chicken on the grill, so I made it in the oven. It was so flavorful and it disappeared within minutes! I've mentioned this on my About page, but I'll say it again: I don't share any recipe with you that my family and I don't absolutely love. If that means I have go longer without publishing a blog post, then so be it. I will never post a recipe just for the sake of posting one. So you can be assured that my recipes are authentic and taste-tested. Okay, on with the recipe! The recipe is very easy to make; most of the recipe time is just for cooking the chicken.
There's something about chicken drumsticks that makes my kids go crazy for them, but you can easily substitute chicken thighs. I generally only use drumsticks or thighs for chicken recipes because they are just so much more flavorful and juicy than chicken breasts, which tend to dry out easily. This recipe uses a few ingredients you might not have in your pantry. The first is Jamaican Jerk Seasoning and the second is Pickapeppa sauce. Both are available in my local grocery store but also online. If you wanted to make your own Jamaican Jerk seasoning or pickapeppa sauce, try searching for copycat recipes for either. I like to serve this chicken with spicy peach salsa, it's a great combination!
Jamaican Jerk Chicken Ingredients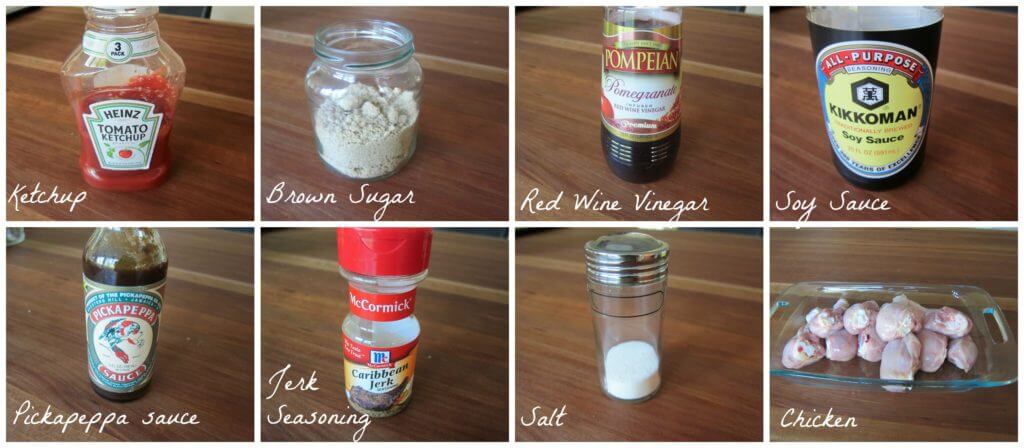 The sauce comes together really easily, and all you need to do is baste and bake!
Jamaican Jerk Chicken Instructions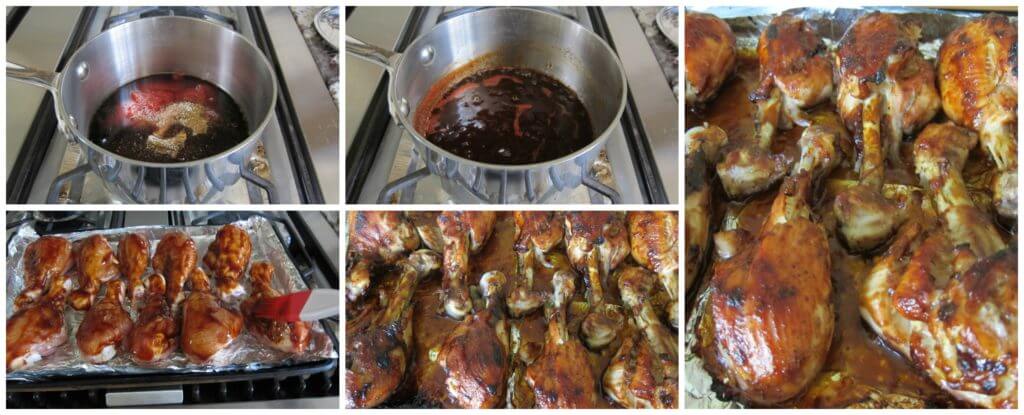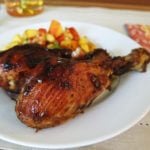 Jamaican Jerk Chicken
Bring some island flavor to your kitchen with this delicious Jamaican Jerk Chicken recipe. The chicken looks beautiful and the flavor is wonderful!
Instructions
Preheat oven to 400 degrees Fahrenheit. Line baking pan with aluminum foil and coat with cooking spray.

Combine ketchup, sugar, vinegar, soy sauce, Pickapeppa sauce, jerk seasoning and salt in a small saucepan.

Heat over medium high heat until bubbling. Lower heat to medium low and simmer for 15 minutes. Take 1/4 to 1/3 cup of the sauce and use to baste, and save the remaining sauce to serve on the side or for later use.

Season chicken drumsticks with salt and pepper and arrange on baking pan.

Brush chicken liberally on top with the sauce and bake for 30 minutes.

Turn over all chicken pieces and brush the tops with more sauce. Bake for 30 more minutes.

Serve chicken with peach salsa and rice with beans.
Notes
Pickapeppa sauce and jerk seasoning are available at grocery stores and online. There are copycat recipes online if you'd like to try and make your own.
Adapted from Cuisine at Home magazine.
Thank you for visiting Paint the Kitchen Red. All photos and content are copyright protected. Please don't use any content without prior written permission. If you've made this recipe and would like to share it with your friends, please link back to this recipe. Thank you!