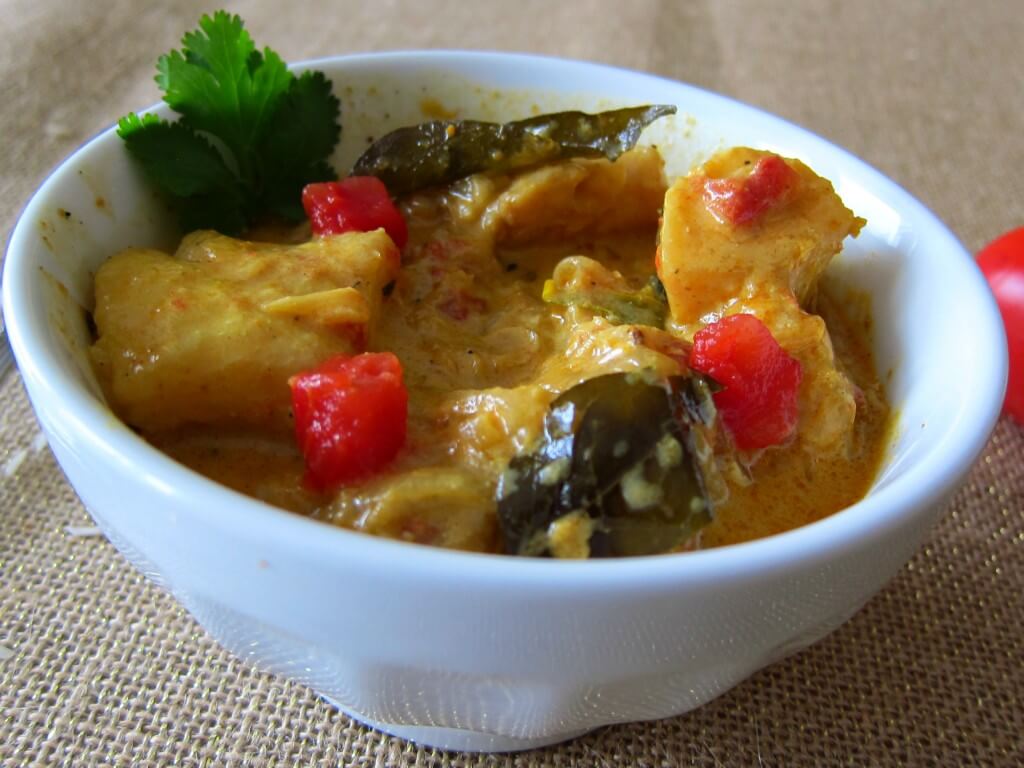 This fish molee is a delicious and simple fish curry from the part of India that I come from: Kerala. Kerala is known for fish dishes and for dishes that include coconut in one form or another: coconut oil, coconut milk, chopped or grated coconut, etc. Fish molee curry has both fish and coconut. It's one of the milder curries, but full of flavor. Ladle it on a mound of white rice and you'll want to lick the bowl clean. Curry leaves should be available from a South Asian grocery store but feel free to omit them if you can't find them.

You can make the curry mild or spicy by adjusting the amount or type of chili pepper you use. Fish Molee is a fairly quick dish to put together for a weeknight, provided you have the ingredients on hand.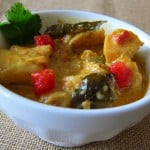 Fish Molee Curry
A mild coconut fish curry that's sure to please.
Instructions
Heat a large frying pan with oil over medium heat and add the cardamoms, cloves and cinnamon. Fry for a few seconds till heated.

Add the onions, garlic, ginger, green chilli and curry leaves (if using) and fry until the onions are translucent.

Add the tomato and fry until the tomato becomes soft and separates from the oil, about 10 minutes.

Add coriander, cumin, turmeric and black pepper and stir for 1 minute.

Push the tomato mixture to the sides and carefully place the fish pieces in a single layer in the middle.

Using a spoon, gently smear the spice paste over the fish.

Combine the coconut milk with water and pour over the fish.

Gently swirl the pan to allow the coconut milk to mix with the fish.

Cover and cook on low heat for 10 minutes or until fish is cooked. (Do not stir the dish, since the fish is very fragile).

Carefully transfer the fish pieces to a serving dish and pour the sauce over the top.

Garnish with tomato slices and cilantro leaves, if using.

Serve over white rice.
Thank you for visiting Paint the Kitchen Red. All photos and content are copyright protected. Please don't use any content without prior written permission. If you've made this recipe and would like to share it with your friends, please link back to this recipe. Thank you!