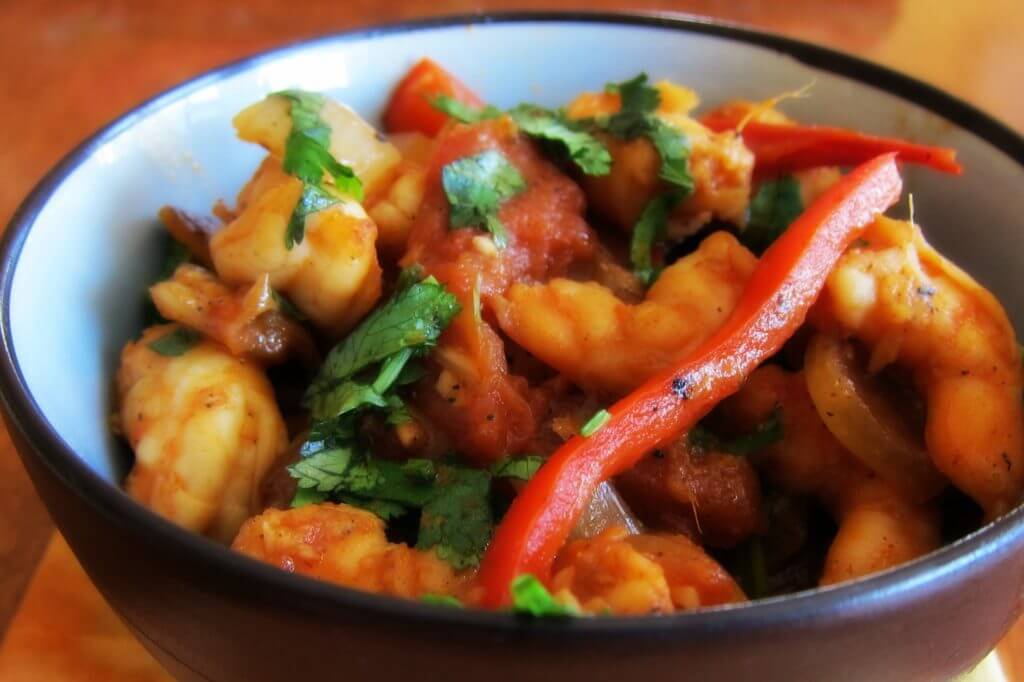 I like this Caribbean stir fry shrimp because it reminds me of Indian Chinese food, which is my favorite kind of Chinese. This is a quick and easy stir-fry. Come to think of it, I think all stir-fries I make are quick and easy. You just have to follow my #1 cooking rule (which I'm guilty of not always following, and that's when the kitchen looks like a grocery bag exploded in it!): be organized. Once you have everything in place, you can whip up this shrimp stir-fry in no time!
This dish is quick enough to prepare on a week-night. I like to keep a bag of shrimp in my freezer at all times. If I forget to thaw ahead of time, I do a quick thaw by placing the shrimp in a sealed plastic bag and submerging in hot water.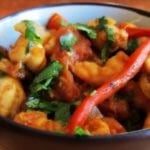 Caribbean Stir Fry Shrimp
Stir fry shrimp with a Caribbean twist. A nice change from traditional stir fry with Island and Asian flavors.
Instructions
Pat the shrimp dry with a paper towel and set aside.

Stir together rum, ketchup, soy sauce and crushed red pepper.

Heat oil in a large skillet over high heat.

Add onion, garlic, ginger, bell pepper and tomatoes, stirring constantly until the onion begins to brown at the edges.

Add the shrimp and stir-fry until they turn pink, 1 to 2 minutes.

Add the sauce mixture and cook, stirring, until the sauce is evenly distributed and heated through.

Sprinkle with cilantro.

Serve with noodles or rice.
Notes
Adapted from Stir-Frying to the Sky's Edge by Grace Young
Thank you for visiting Paint the Kitchen Red. All photos and content are copyright protected. Please don't use any content without prior written permission. If you've made this recipe and would like to share it with your friends, please link back to this recipe. Thank you!