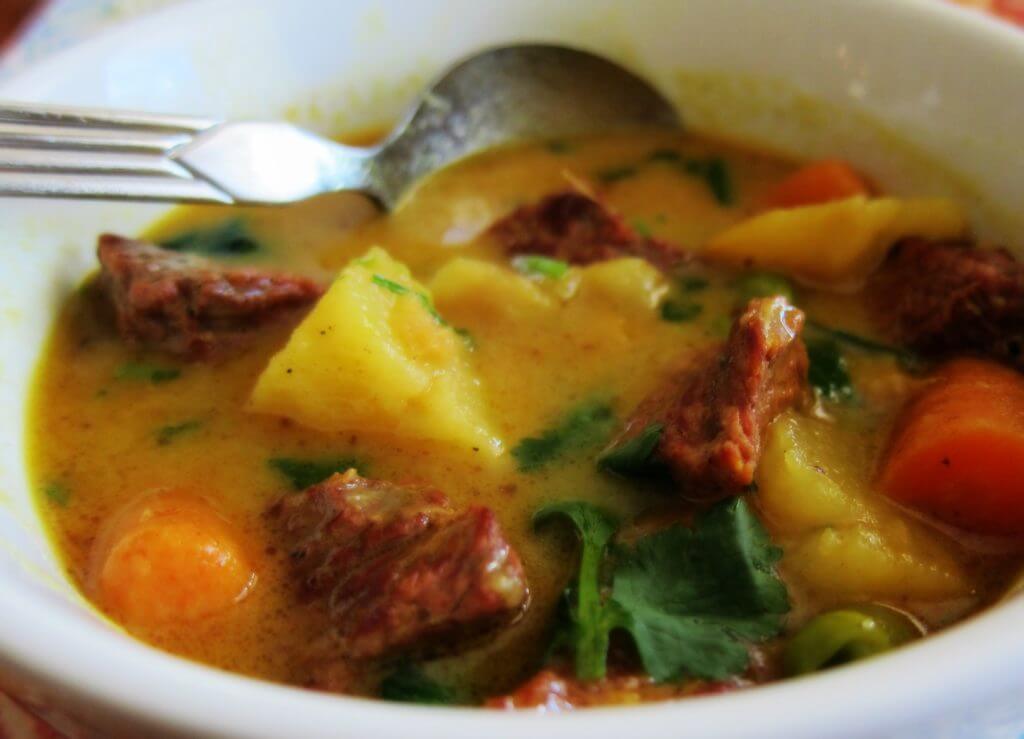 "Beef curry stew, in summer?" you might ask. I know, stew is usually comfort food for winter. But I had a hankering for this stew the other day, and just had to make it. This beef curry stew has never disappointed me. I found this recipe in a Bon Appetit magazine issue a few years ago, and this coconut beef curry stew has become one of my favorite recipes. It has the familiar Indian flavors that I love, and it's quite an easy recipe. I think my family really enjoys this beef curry stew because it's a cross between two cuisines: an Indian beef curry meets a western beef stew. I add A-1 Steak Sauce, but feel free to omit it.
I also use a pressure cooker to cook the beef in no time at all. If you've never used a pressure cooker, you don't know what you're missing – the beef cooks in just 12 minutes; beans and lentils can be cooked in just a few minutes – it's such a time saver in the kitchen. But I digress, you don't need to use a pressure cooker; you can just cook the beef like you normally would for a stew, which is what's reflected in the recipe.
With regards to spiciness, all the spiciness in this recipe comes from the jalapeno pepper. If you like spicy, add the whole jalapeno, and if you don't care for spicy, use a smaller quantity. It is really tasty either way. In our house, we eat this beef curry stew with a loaf of freshly baked French bread, especially useful to soak up the good stuff at the bottom of the bowl! Try this recipe; I think you'll love it!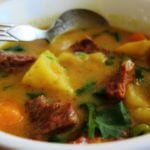 Beef Curry Stew
A creamy, delicious beef stew like you've never had before. Coconut milk adds just the right touch to this delightful combination of Indian beef curry and western beef stew.
Instructions
Heat 2 tbsp oil in a large dutch oven over medium-high.

Season beef with salt and pepper.

Working in batches, sear beef, until browned on all sides, stirring occasionally.

Transfer beef to a plate.

Lower heat to medium-low and using the same oil, stir in garlic, jalapeno, ginger and cook until fragrant, stirring constantly.

Add 1 tsp black pepper and turmeric, stir well for 1 minute.

Add broth to deglaze the pan.

Add reserved beef and steak sauce, cover; Cook until beef is tender, about 1 1/2 hrs. (If you have access to a pressure cooker, cook beef in pressure cooker.)

Add carrots, potatoes, and onions.

Cover and simmer, stirring occasionally, until vegetables are tender, about 15 minutes.

Add in coconut milk and stir.

Remove from heat and serve garnished with cilantro.
Notes
Crunchy French bread goes really well with this hearty stew, especially to soak up the good bits at the bottom of the bowl!
Thank you for visiting Paint the Kitchen Red. All photos and content are copyright protected. Please don't use any content without prior written permission. If you've made this recipe and would like to share it with your friends, please link back to this recipe. Thank you!