Batata harra is a classic Lebanese side dish that combines crispy potatoes with a blend of spices, garlic, red chilies, and cilantro for a delicious and satisfying appetizer or side dish. This Lebanese spicy potatoes recipe is sure to become a family favorite that you'll make again and again!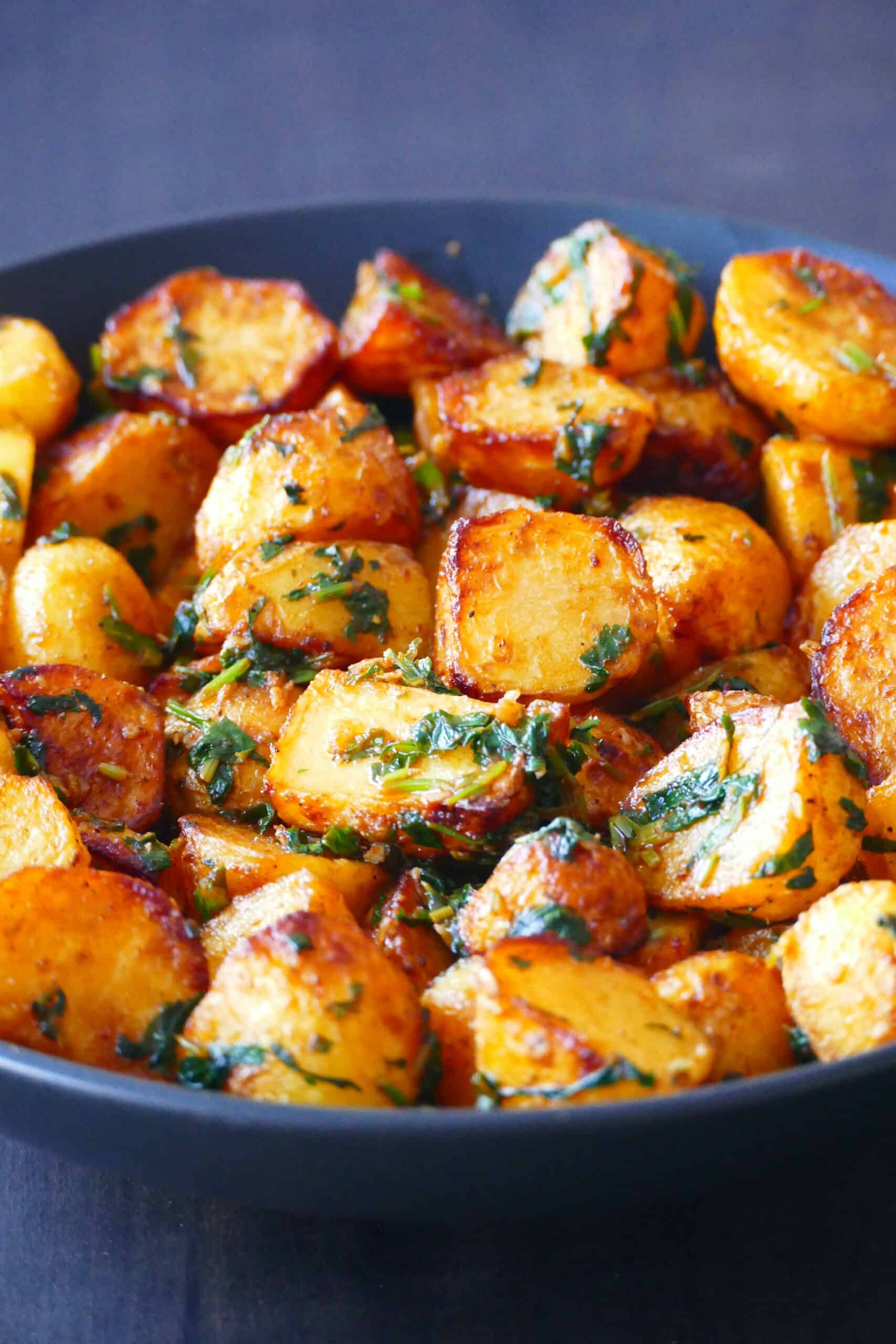 Serve batatas harras (spicy potatoes) with chicken shawarma or peri peri chicken.
This post contains affiliate links. As an Amazon Associate, I earn from qualifying purchases. Please read the disclosure.
What is Batata Harra?
Batata Harra is a Lebanese spicy dish that's popular in the Middle East and also found in Middle Eastern restaurants around the world. It's made with roast potatoes tossed in a spicy garlic and cilantro sauce.
Batata harra in Arabic is translated as "spicy potatoes". It's typically served as a mezze or appetizer, and it's a popular street food in Lebanon and other Middle Eastern countries.
Traditionally, you deep fry the potatoes until they're crispy on the outside and fluffy on the inside. You then toss the potatoes in a spicy sauce made with garlic, fresh cilantro, and chili powder.
I prefer to make this spicy potato dish in the air fryer or in the oven, rather than frying them.
This batata harra recipe is very similar to my air fryer potatoes recipe, but with a tangy, delicious cilantro sauce.
These Middle Eastern spicy potatoes are a delicious accompaniment to any dish. Serve them with other Lebanese recipes such as green beans, shawarma, and falafel as part of a mezze platter.
Tips for Making Spicy Lebanese Potatoes
---
How to Prevent Sticking
Spray vegetable oil in the air fryer basket or baking sheet. This prevents the potatoes from sticking.
For the air fryer basket, you can either spray the oil on or apply it using a paper towel. Don't use a nonstick oil spray in a can. Instead, use a spritzer that you can fill with vegetable oil.
It is also important to make sure that the potatoes are dried really well before applying the spices and oil.
You can take the added precaution of lining the basket with parchment paper rounds or aluminum foil. Poke a few holes in them to allow air to circulate.
Using your hands to apply the oil to the potatoes is the best way to get maximum coverage. Just be sure to wash your hands really well afterward!
---
Type of Potatoes
I prefer to use Yukon gold potatoes or baby potatoes for this recipe. Red potatoes would work well too. I find russet potatoes to be a bit too starchy.
---
Size of Potatoes
The potatoes should be cut into about the same size to ensure even cooking. If they're different sizes, some of the pieces can get undercooked or overcooked. I cut the potatoes into 1-inch cubes.
You can use larger potatoes and cut them into cubes or you can use baby potatoes and cut them in half. If you want to leave the mini potatoes whole, you will probably need to increase the air frying time by a few minutes.
---
Spices
When roasting the potatoes, I usually use the same spices as my air fryer roasted potatoes recipe. Add ¼ teaspoon or more of cayenne pepper to the spice mix to make these Middle Eastern potatoes spicier.
If you like spicy food, you can also add crushed red pepper flakes (red chili flakes), harissa, or chopped chili peppers to the cilantro sauce.
Add a pinch of ground cumin or coriander to the potato spices if you like the taste of cumin and/or coriander. I like to keep things simple for this recipe, so I don't include them.
For a deep garlic flavor, use more garlic cloves.
Some recipes for batata harra have tomato. If you like the flavor of tomatoes, add 1 tablespoon of tomato paste to the cilantro sauce and let it cook for about a minute.
---
FAQS
---
Are these potatoes spicy?
I add a combination of cayenne and paprika to this potatoes harra recipe, which makes it less spicy. If you like spicy foods, omit the paprika and add more cayenne pepper. Omit the cayenne and add more paprika to make it milder.
How is batata harra usually served?
Batata harra is typically served as a hot appetizer or side dish. You can pair it with another traditional Lebanese recipe such as hummus, baba ganoush, or tabbouleh.
Can this recipe be doubled?
You can double the recipe in the oven but if you're using an air fryer you might need to make a second batch, in order not to crowd the basket.
Can this recipe be made ahead?
If you're planning on making the batatas harras ahead of time, cook them slightly less. You can roast the potatoes and make the sauce ahead of time and keep them separate. Reheat the potatoes (for a few minutes at 350 degrees F) to crisp them up, add the sauce to the potatoes and toss to coat.
Is batata harra vegan?
Yes, this spicy Lebanese potato recipe is vegan since it doesn't contain any animal products. It's also gluten-free since it doesn't contain wheat.
Batata Harra – Ingredients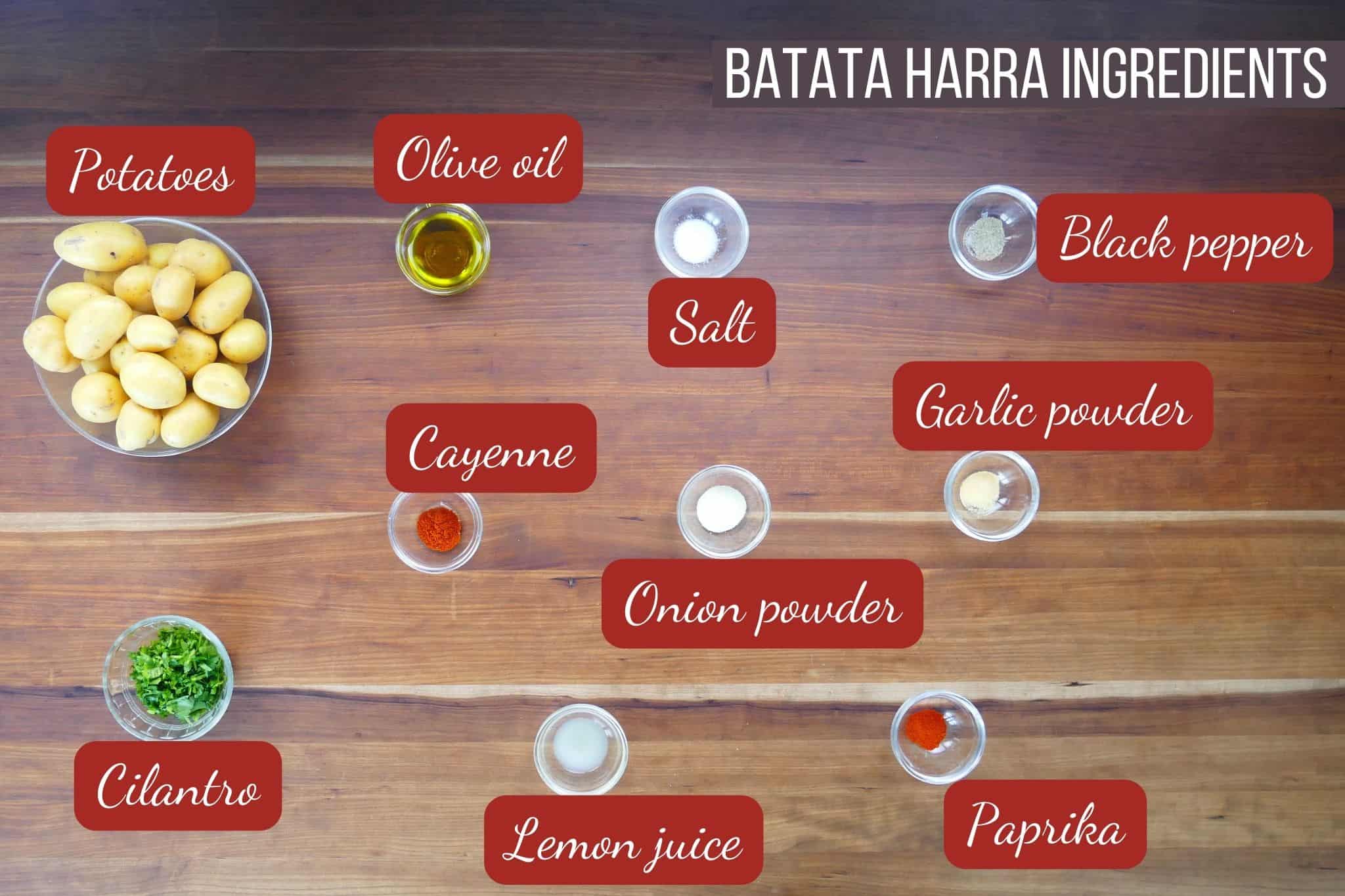 Potatoes
Olive oil
Salt
Black pepper
Cayenne pepper or crushed red pepper
Onion powder
Garlic powder
Fresh coriander (cilantro)
Lemon juice or lime juice
Paprika
More details in the recipe card at the bottom of this post
How to Make Batata Harra in your Air Fryer (Step-by-Step Instructions)
Apply spices and air fryer potatoes

Make the cilantro sauce and mix it with potatoes
Apply Spices and Make Roasted Potatoes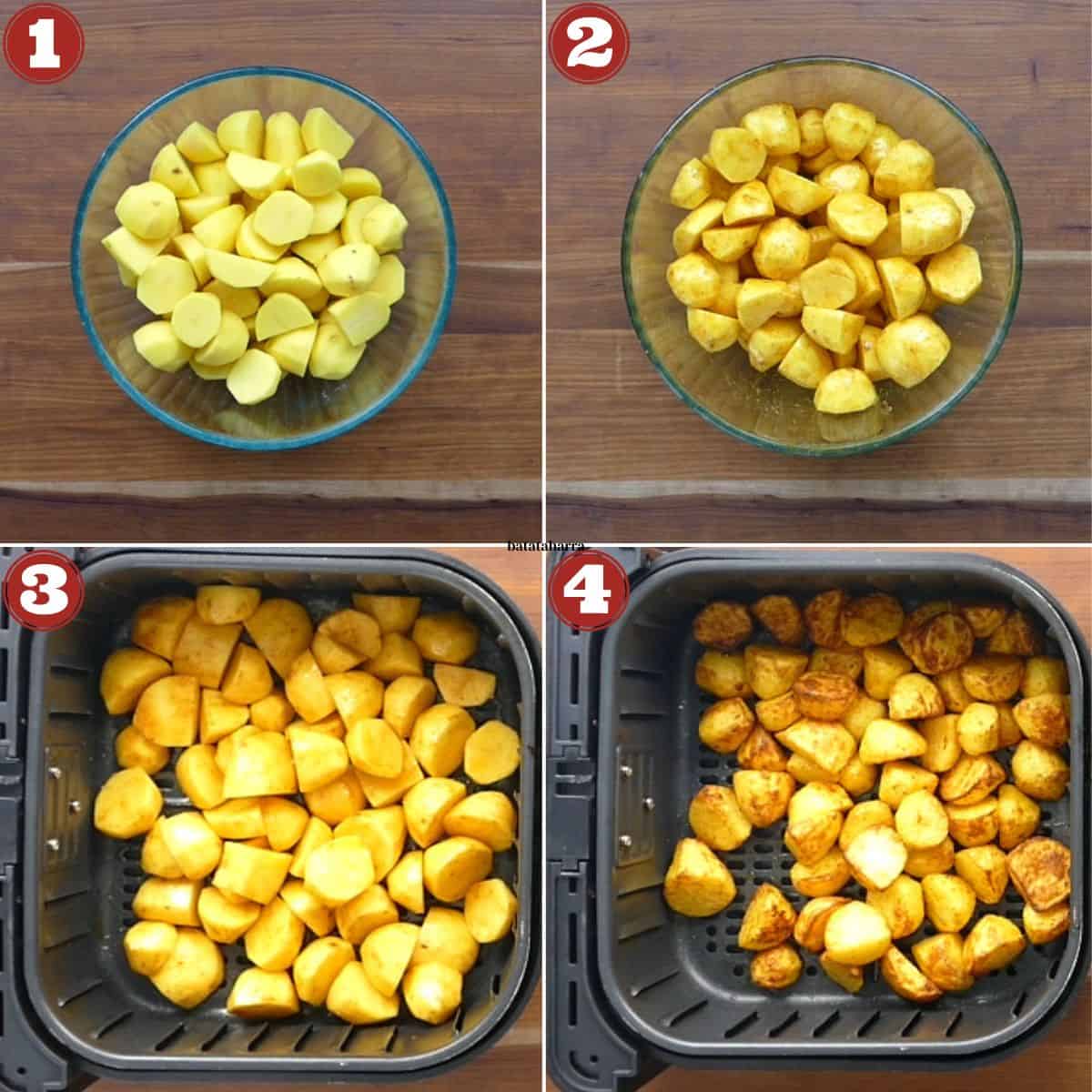 Add potatoes to a mixing bowl.
Mix salt, pepper, onion powder, garlic powder, cayenne pepper, paprika, and olive oil in a small bowl. Mix well with potatoes.
Add the potatoes to the air fryer basket and air fry. Shake basket halfway through cooking process.
Potatoes are done when a toothpick can easily be inserted. Transfer to a serving dish.
Make Cilantro Sauce and Mix with Potatoes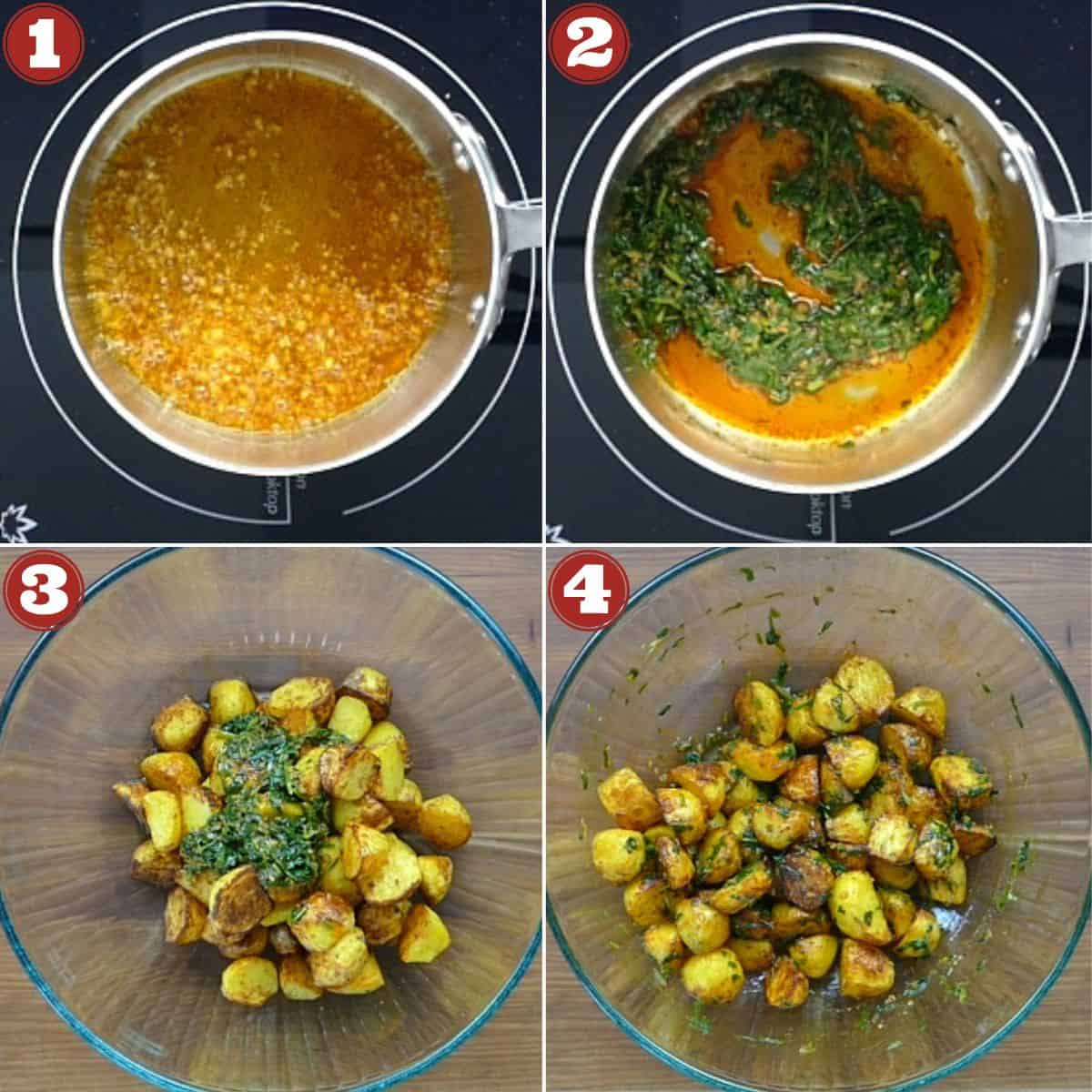 While the potatoes are cooking make the cilantro garlic sauce. In a small saucepan, saute garlic in olive oil over medium heat. Turn down heat and add cayenne pepper and stir briefly.
Stir in cilantro, paprika, and lemon juice or lime juice.
Remove from heat and add garlic sauce to the reserved hot potatoes.
Stir all ingredients together to make a delicious potato side dish.
How to Make Lebanese Batata Harra in Oven
---
Cook Potatoes in the Oven
Season the potatoes with spices and olive oil.
Line a baking sheet with aluminum foil and coat the aluminum foil with oil
Preheat the oven to 425 degrees Fahrenheit.
Spread potatoes on the sheet pan in a single layer.
Bake for 25 to 30 minutes or until the potatoes are crispy, golden brown in color, and cooked through.
Transfer to a serving bowl.
Make Sauce on the Stovetop
In a small saucepan, saute garlic in olive oil over medium heat. Add cayenne pepper and stir briefly.
Turn down the heat and stir in fresh cilantro, paprika, and lemon juice.
Add the garlic sauce to the potatoes.
Toss the potatoes.
Add a squeeze of lemon over the finished dish.
See the recipe card below for detailed instructions.
✅ MY FAVORITE AIR FRYER ACCESSORIES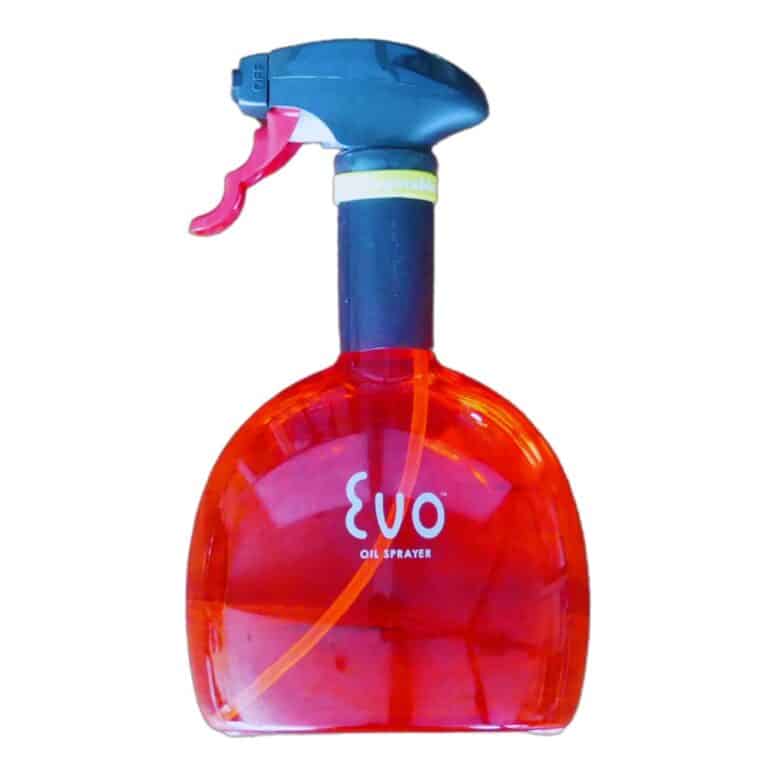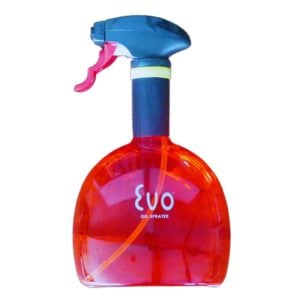 EVO oil sprayer is great for spraying oil on food. This is the best I've tried.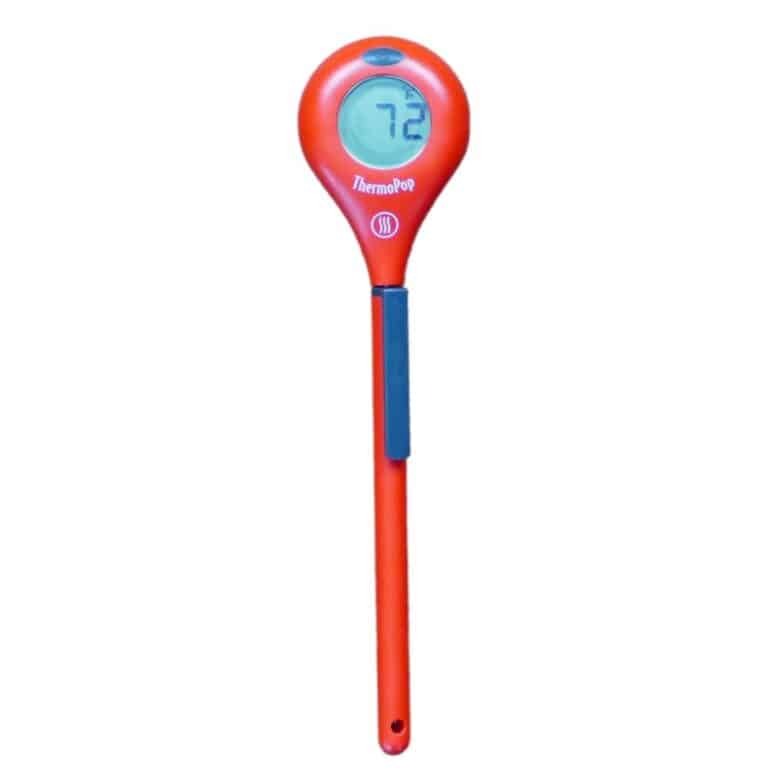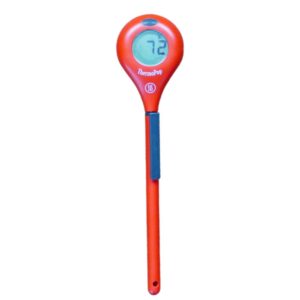 An instant-read thermometer is invaluable when air frying meats or frozen foods.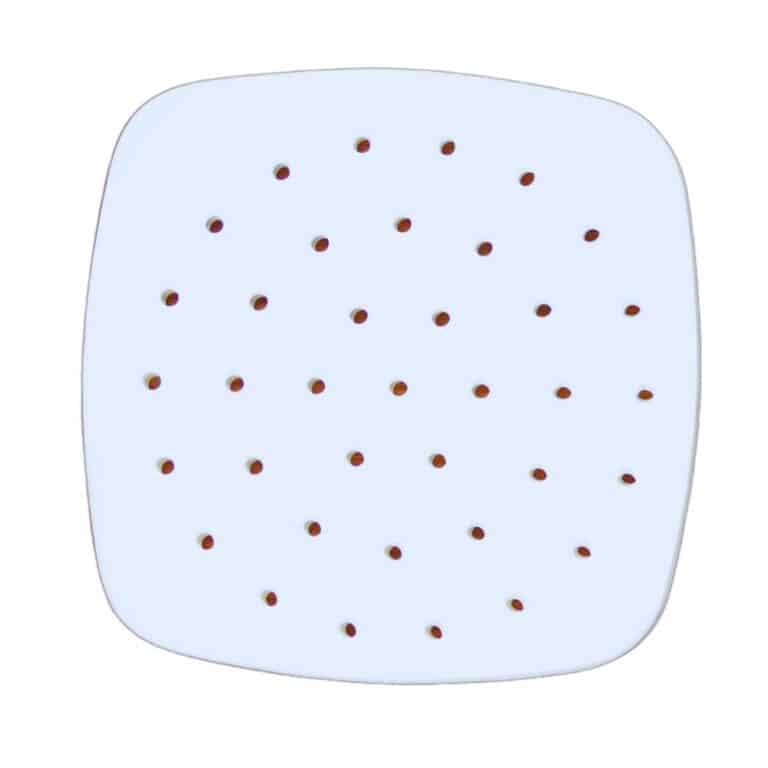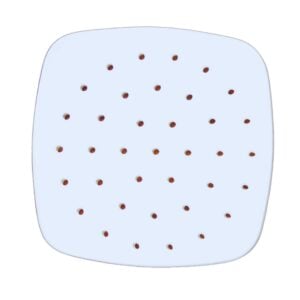 Perforated parchment sheets come in handy when making messy foods.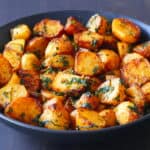 Lebanese Spicy Potatoes – Batata Harra
Batata harra is a popular Middle Eastern dish made with crispy, spicy potatoes, flavored with garlic, chili, and cilantro. This Lebanese dish is perfect as a vegetarian appetizer, a side dish, or as part of a mezze platter. This recipe can be made in the oven or the air fryer.
Instructions
Pat the potatoes dry with paper towels or a clean kitchen towel until they're completely dry. This is an important step.

Mix the onion powder, garlic powder, salt, pepper, and paprika in a medium bowl. Stir in the oil to make a paste.

Add the potatoes to the spice mix and coat evenly until every surface is covered.
Air Fryer Instructions
Place the air fryer basket in the air fryer and coat with oil. You can either use a paper towel soaked with oil or an oil sprayer. Don't use canned aerosol oil as that can harm the coating of the air fryer basket.

Transfer the potatoes to the basket and make sure they're evenly spread out.

Close the lid and air fry for 18 minutes at 400 degrees Fahrenheit.

At the 9 minute mark, shake the basket so the potatoes are tossed well. Close the lid and continue cooking.

When the cooking time is up, check to make sure the potatoes are cooked to your liking. Toss the potatoes again and air fry for another 2 minutes, if desired.

Transfer potatoes to a serving dish.
Oven Instructions
Preheat oven to 425 degrees Fahrenheit.

Line a baking sheet with aluminum foil and coat the foil with oil.

Spread the potatoes in a single layer on a baking sheet.

Bake for 25 to 30 minutes or until the potatoes are cooked through and golden in color. Potatoes are done when a toothpick can be easily inserted into a piece.

Transfer potatoes to a serving dish.
Cilantro Sauce
In a small saucepan, saute garlic in olive oil over medium heat. Be careful not to let the garlic burn.

Turn the heat down to low. Add cayenne pepper and stir briefly. Stir in cilantro, paprika, and lemon juice. Stir to combine and remove from heat.

Add cilantro garlic sauce to the potatoes. Stir all ingredients together and serve immediately as a side dish or appetizer.
Notes
Prep time does not include the time needed to peel and cut the potatoes.
Cooking time can vary based on the air fryer model and the size of the potato cubes. At the 15-minute mark, check the potatoes to see if they're done.
See the blog post for more detailed recipe tips.
Nutrition
Serving:
1
serving
|
Calories:
110
kcal
|
Carbohydrates:
20
g
|
Protein:
2
g
|
Fat:
2
g
|
Polyunsaturated Fat:
2
g
|
Monounsaturated Fat:
1
g
|
Sodium:
201
mg
|
Fiber:
3
g
|
Sugar:
1
g
Thank you for visiting Paint the Kitchen Red. All photos and content are copyright protected. Please don't use any content without prior written permission. If you've made this recipe and would like to share it with your friends, please link back to this recipe. Thank you!
I am not a certified nutritionist. I provide my best estimate of nutritional information merely as a courtesy to my readers. If you depend on nutritional information for dietary or health reasons, I suggest using your favorite online nutrition calculator to confirm the nutritional value of this recipe based on the actual ingredients that you use.
Did you know that the best way to support your favorite bloggers is to comment and rate recipes, and share on social media? If you loved this recipe, please comment and give it a five ⭐ rating in the comment section below. If you're a pinner, pin this post using the Pin buttons at the top and bottom of this post and in the recipe card above. Thank you for your support!
More Spicy Potato Recipes
Instant Pot Air Fryer Potatoes
Air fryer roasted potatoes go with just about anything! These air fryer fried potatoes are crispy on the outside and soft on the inside and they cook in much less time than in the oven. They make a great side dish for dinner or you can serve them as breakfast potatoes! If you don't have an Instant Pot air fryer or air fryer lid, you can use a traditional air fryer or bake them in the oven.
GET RECIPE DETAILS
Instant Pot Chorizo and Potato
Instant Pot Chorizo and Potato is a vibrant recipe that's versatile enough to be served with eggs for breakfast, or accompanied by a side of greens and crusty French bread for dinner. Traditional Spanish Chorizo gets an Asian twist with the warming flavors of Indian spices such as cumin, cloves, turmeric, and red chili pepper. [Stovetop instructions also included.]
GET RECIPE DETAILS
Instant Pot Aloo Gobi | Indian Cauliflower with Potatoes
Instant Pot Aloo Gobi is perfectly seasoned with Indian spices and makes a wonderful vegetarian main dish or side dish for an Indian-themed meal. This Indian Cauliflower with Potatoes recipe is so quick and easy, you can have it on the dinner table within minutes.
GET RECIPE DETAILS