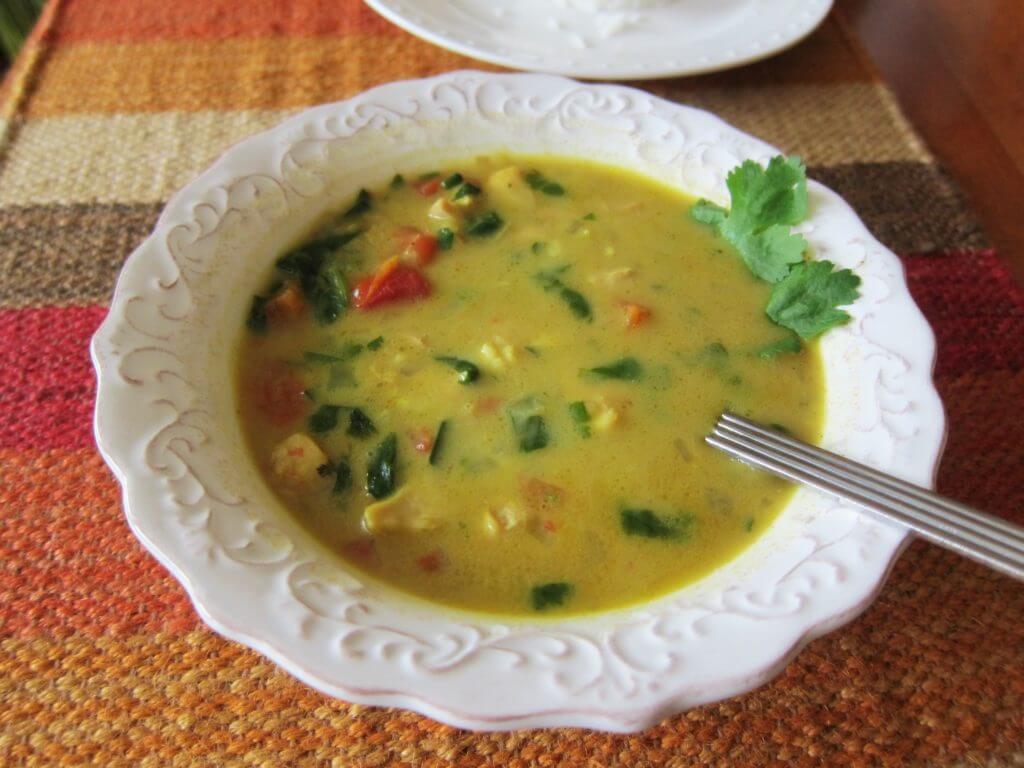 This chicken curry soup is one of my favorite chicken soup recipes – it's chicken soup with an added twist of Indian spices. I have always felt that no self-respecting Indian would use curry powder in their cooking. Well, I suppose I have no self-respect because this chicken curry soup recipe uses curry powder and I'm not embarrassed to admit it, AND it is delicious!
Generally used in Western interpretations of Indian dishes, curry powder is not commonly used within India. Indian cooks use the individual spices of coriander, cumin, turmeric, garam masala, and countless other spices to spice our curries. The spices used also differ based on what part of India you come from. Curry powder was most likely an invention of the British, who when leaving India wanted to take back to England the flavors they had grown to love, and thus they created curry powder.
I hear people say they like curry. To me that's like saying they like casseroles. Many people equate 'curry' with the flavors of curry powder, but to an Indian the word 'curry" actually refers to any dish that is cooked with Indian spices, with or without gravy, and with meat and/or vegetables.
I love the flavors of this soup. It is spicy and tasty, and it's comfort food on a cold fall or winter day (which we are still waiting for here in Salt Lake City – it's been so warm!) Hope you like it! The other soup that I really love is Beef Curry Stew. It is simple yet delicious. So I hope you get to try that one too.
Indian Chicken Curry Soup Stages of Cooking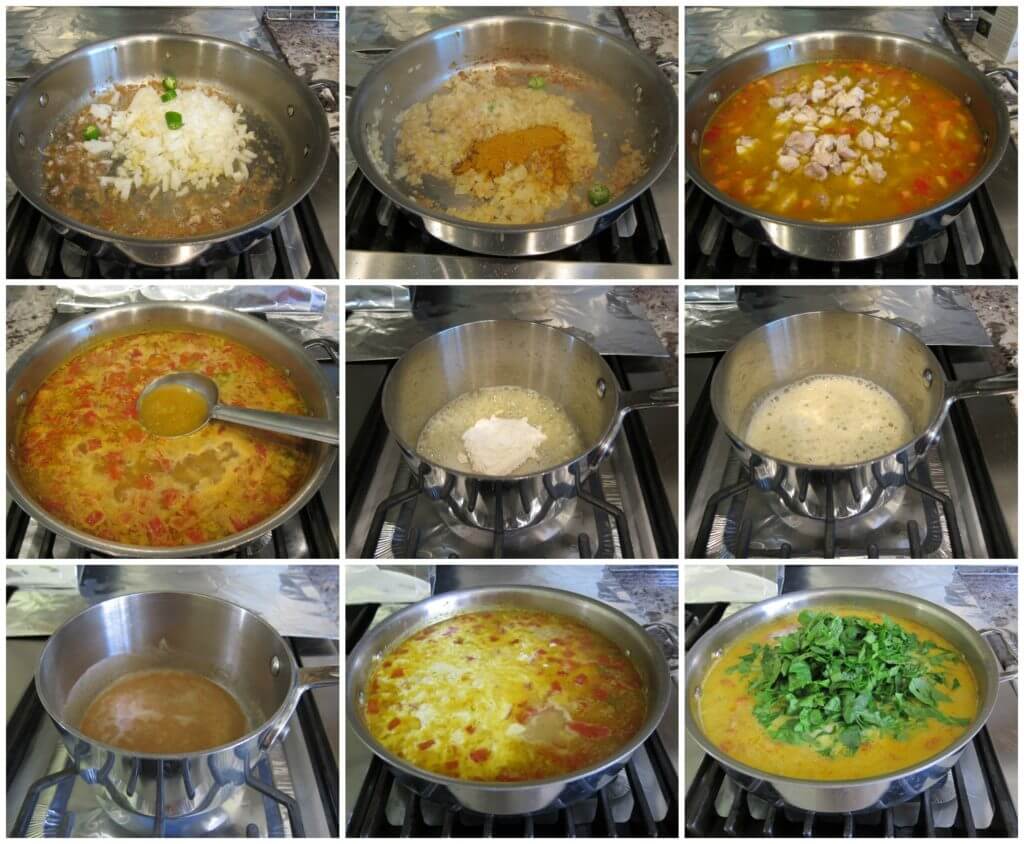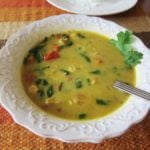 Indian Chicken Curry Soup
The coconut milk in this Indian-spiced Chicken Curry Soup is a perfect complement to the spicy curry powder and jalapeno peppers that flavor this soup.
Instructions
Heat oil in large saucepan. Add onions, garlic, ginger, jalapeno and saute until softened and onions are golden brown, stirring often.

Add curry powder and cook for 30 seconds until fragrant.

Add chicken and stir to coat the chicken with the spices; fry until chicken pieces begin to lose their pink color and start to brown.

Add broth, tomatoes, cilantro and stir. Bring to a boil, lower heat and simmer for 10 minutes.

Using a large ladle, remove about 2 cups of liquid, and strain into a bowl, returning solids back to soup.

Melt butter in a separate small saucepan over medium heat.

Whisk in flour and stir constantly until mixture starts to bubble. Lower heat and stir until aromatic and light brown.

Gradually pour in the strained soup, stirring constantly.

Add the strained soup mixture back into the pot of soup and stir well.

Cook for an additional 5 minutes.

Add spinach and coconut milk. Cook until spinach just starts to wilt.

Serve over rice or with bread.
Thank you for visiting Paint the Kitchen Red. All photos and content are copyright protected. Please don't use any content without prior written permission. If you've made this recipe and would like to share it with your friends, please link back to this recipe. Thank you!