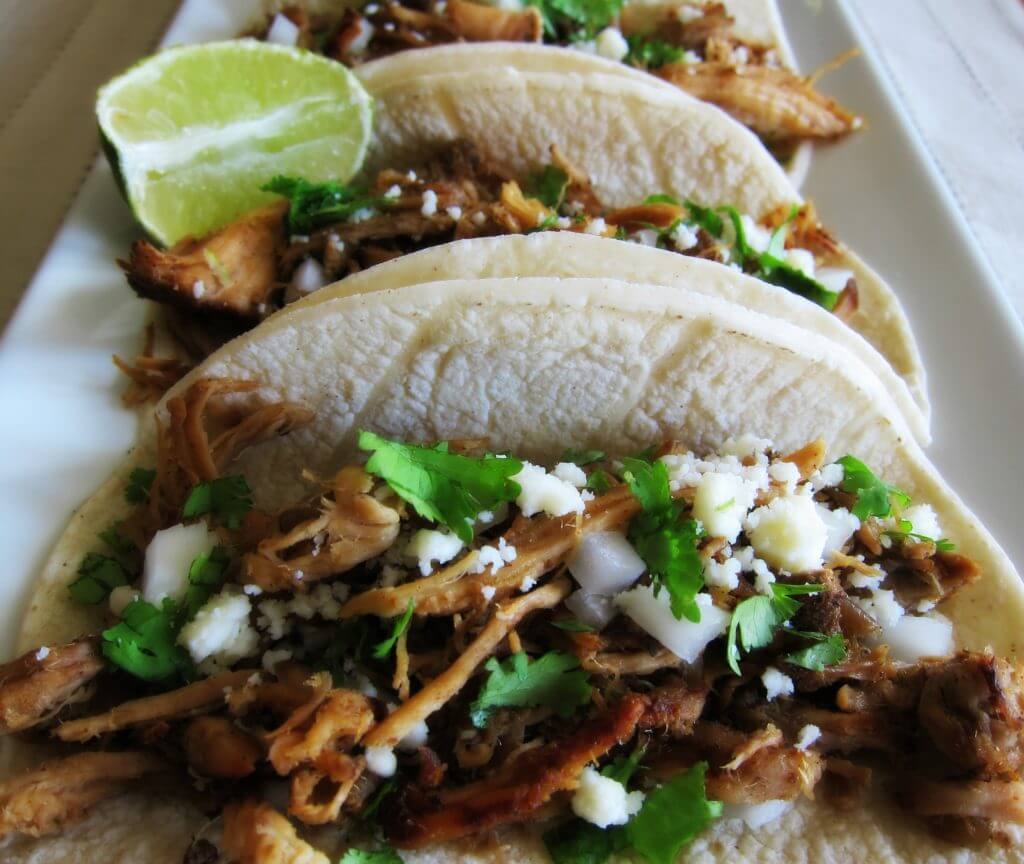 These pork carnitas are terrific and super easy to make because they are made in a slow cooker (crock pot.) And I really like slow cooker recipes that don't require a lot of frying and prep work before putting the food into the slow cooker. That's the whole reason I'm using a slow cooker, folks. Because I don't have time to do the prep work! Sorry, just one of my pet peeves. I also like this recipe because it's great when all my kids are home for dinner. My son especially, has a voracious appetite and there have been occasions when I haven't cooked enough food and I have to ration dinner or make something at the last minute! This recipe yields enough pork carnitas to satisfy everyone's appetite!
So, you place the pork with spice rub, onions, garlic and liquid into the slow cooker and leave it while you go about your day. Once it's done cooking it's just a matter of shredding and crisping up the pork before you put some into a tortilla with your favorite fillings and inhale the taco! You can make the recipe with any liquid such as orange juice, broth, or beer. My favorites are beer or orange juice.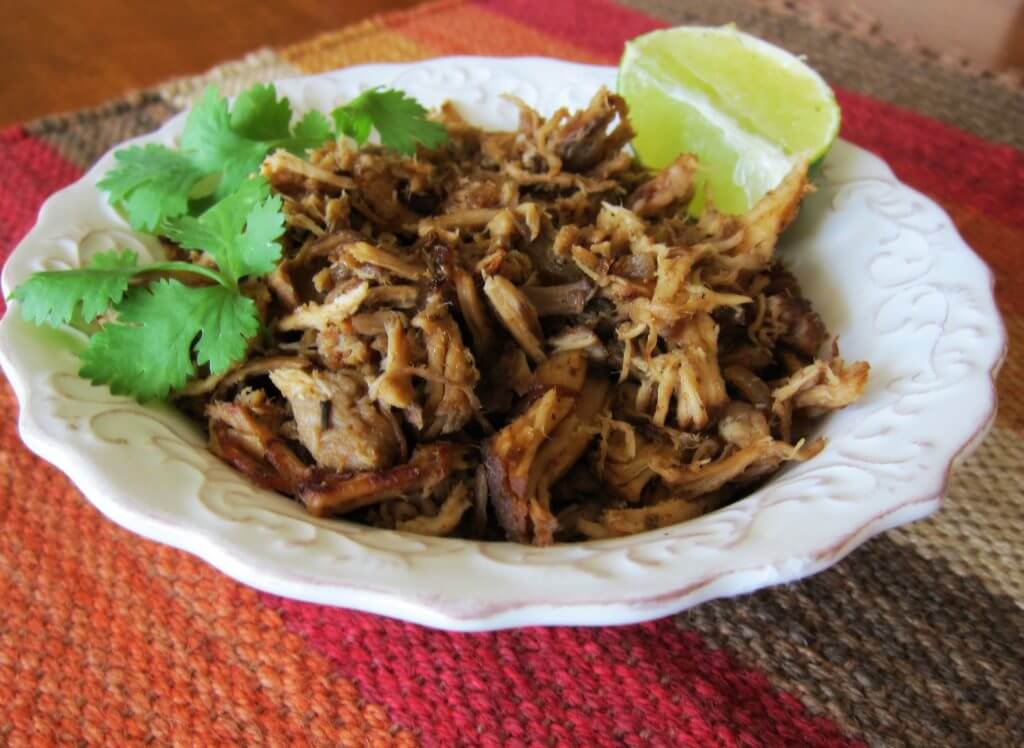 I think these pork carnitas can easily compete with your favorite Mexican restaurant pork carnitas. They're also a great option for when you have company. Just set out the pork and fixings and have your guests put together their own tacos. Give them a try!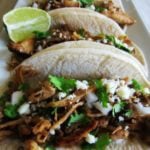 Pork Carnitas in a Slow Cooker
This slow cooker pork carnitas recipe is super easy to make and delicious. Just fill a tortilla with the pork and add your favorite taco fillings. You can use the pork carnitas filling to make other Mexican dishes like burritos or quesadillas.
Instructions
Mix together oregano, cumin, coriander, salt, black pepper and chili powder. Rub spice mix all over pork shoulder and place it in the slow cooker.

Spread onion, garlic and jalapeno (if using) over the pork and pour beer on top.

Cook on low heat for 8 hours or high heat for 4 hours.

Carefully remove pork from slow cooker and place on a large plate or shallow bowl and let cool for a few minutes.

Using two forks, shred the pork. It should be very tender.

Use a large slotted spoon to remove the onion mixture from the liquid in the crock pot and set aside.

Heat oil in a large non-stick frying pan over medium heat.

Place desired amount of shredded pork and reserved onions in the frying pan and press down gently.

Fry the pork mixture until it is crisp on the bottom. Don't flip the meat over, just fry it on one side.

Pour 2 to 3 Tbsp of the juices from the crock pot over the meat to moisten the pork.

To serve, place pork carnitas in a heated corn tortilla and add your choice of fillings.
Notes
Add your choice of fillings: chopped onion, queso fresco (Mexican cheese), shredded cabbage, cilantro, guacamole, salsa, jalapenos.
Thank you for visiting Paint the Kitchen Red. All photos and content are copyright protected. Please don't use any content without prior written permission. If you've made this recipe and would like to share it with your friends, please link back to this recipe. Thank you!