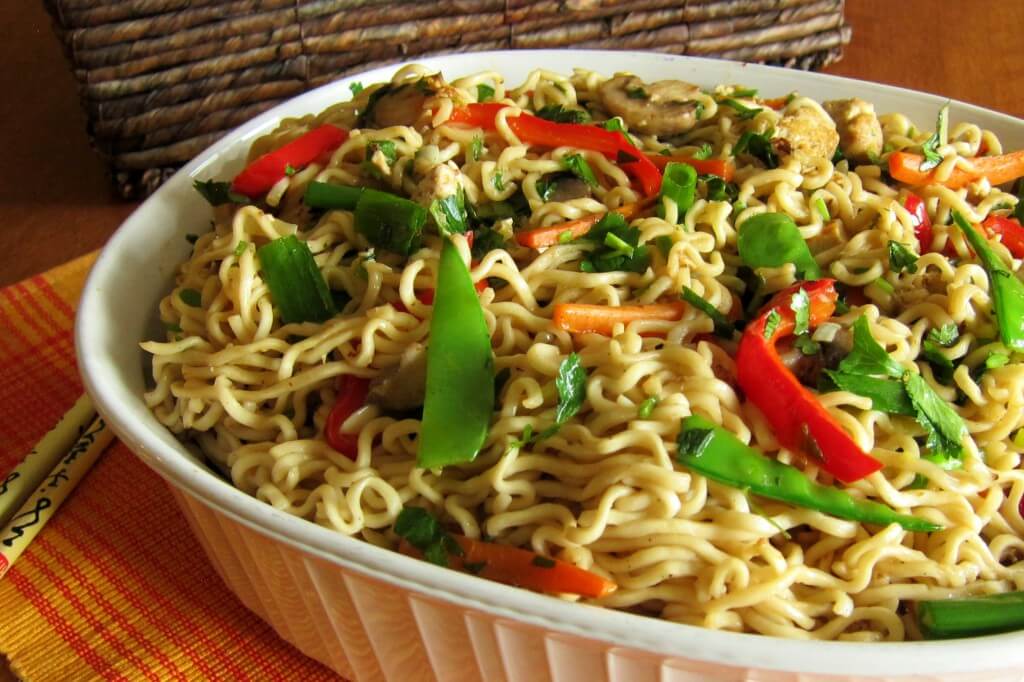 This Chinese Noodles with Tofu dish is a very tasty meal-in-one. Me and Tofu, we've had a rocky relationship. I used to think of Tofu as this squishy tasteless boring thing. But that's before I discovered I could marinate it before frying it. I found that the secret to tofu is that it absorbs the flavors of the sauce it's in. I sometimes roast the marinated tofu in the oven instead of stir frying it – it's crisp on the outside and soft on the inside, with a lot of flavor – delicious!
This is a fairly quick and easy Chinese stir-fry. Most of the prep time is the draining of the tofu. You can use any type of noodles that you like. I really love Udon noodles – they are so plump and chewy – but you have to get the fresh kind, I think that's a must. I get them at my local grocery store, but you could definitely find them at a specialty Asian store. This time I didn't have any on hand, but I had a stash of Ramen noodles, so that's what I used. I have found that it is best to stir-fry each type of vegetable separately, so they don't overcook, and the pan isn't overcrowded. If you have the time, you can marinate your drained tofu with a little soy sauce for about 30 minutes and coat with some corn starch before frying to prevent it from sticking to the wok.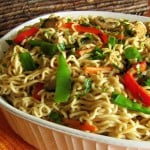 Chinese Noodles with Tofu
Vegetarian stir fry Chinese noodle dish.
Ingredients
2

Tbsp

soy sauce

2

Tbsp

oyster sauce

can be substituted with vegetarian oyster sauce

1

tsp

chili black bean sauce

1

tsp

honey

1

tsp

sesame oil

12

oz

noodles

udon, chow mein, ramen

2

Tbsp

vegetable oil

divided

1

small bell pepper

cut into julienne strips

1

carrot

cut into julienne strips

1

cup

snow peas

cut lengthwise in half

2

stalks celery

cut into julienne strips

1

cup

mushrooms

sliced

5

scallions

sliced thinly, white and green parts separated

1

Tbsp

ginger

minced

1

Tbsp

garlic

minced

1/2

tsp

crushed red pepper

or to taste

2

Tbsp

cilantro

chopped, optional
Instructions
Combine soy, oyster and black bean sauces with honey and sesame oil and set aside.

Place a dish towel on a large plate, folded to the size of the tofu slab, and place the tofu slab over the towel.

Place another folded dish towel over the tofu and cover with something heavy to weigh it down (I usually use a stoneware pan).

Let tofu sit for at least 30 minutes.

Cut tofu into 1/2-inch cubes and set aside.

Cook the noodles according to package directions, drain and rinse with cold water to stop cooking.

Cut noodles to 6 to 8 inches in length using kitchen shears.

Heat a wok or stir-fry pan over high heat.

Add 1 tbsp oil and swirl to coat the sides.

Reduce heat to medium-high and stir-fry the tofu until golden brown; transfer to a plate.

Stir fry each type of vegetable (bell pepper, carrots, snow peas, celery and mushrooms) separately, adding more oil as needed, and transferring each vegetable to a large plate or bowl when tender-crisp.

Add white parts of the scallions, ginger, garlic, and crushed red pepper to pan and stir-fry for 15 seconds

Add back in the vegetables and tofu and stir gently to combine.

Add cooked noodles and sauce mixture, and toss gently to coat, until heated through.

Remove from heat and garnish with green parts of the scallions.
Notes
This is a versatile recipe and you can add any vegetable and/or meat of your choice in place of the ones in the recipe. I happened to have some snow peas on hand, and tossed them in. ** Most of the prep time is from draining the tofu.
Thank you for visiting Paint the Kitchen Red. All photos and content are copyright protected. Please don't use any content without prior written permission. If you've made this recipe and would like to share it with your friends, please link back to this recipe. Thank you!