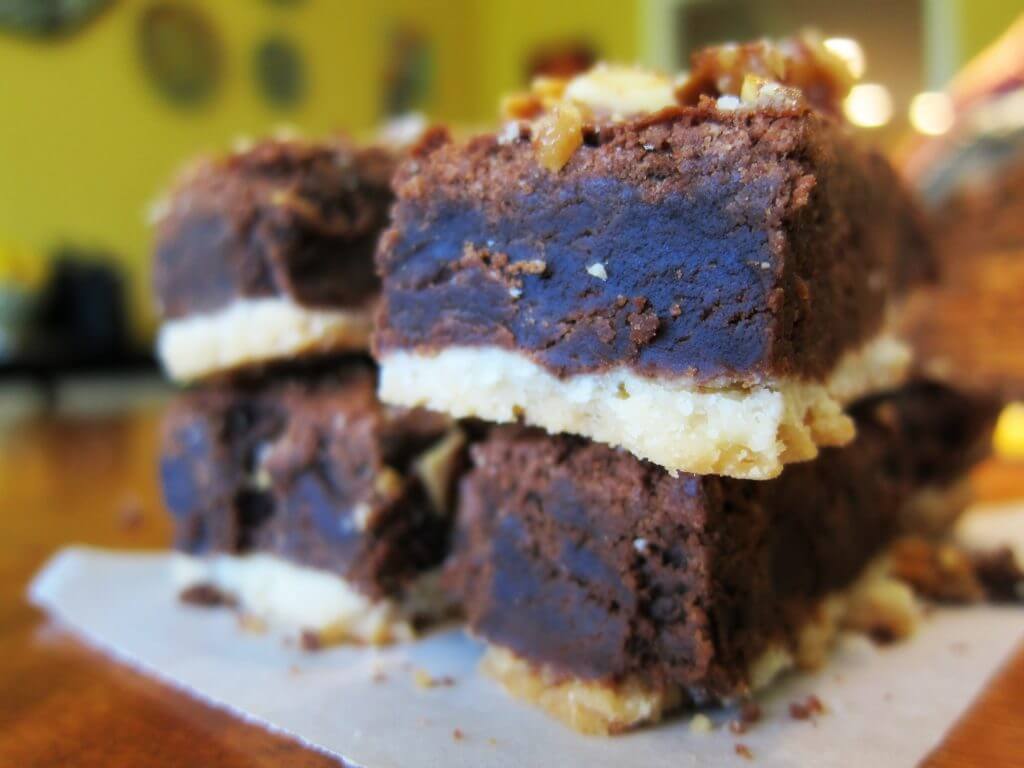 I tried these almond brittle brownies out the other day, and just had to share them with you because I thought they were so scrumptious! They are chocolatey and not overly sweet – just perfect. I love almonds, and the almond brittle adds a nice touch to the top of the brownie. The other unique thing about this brownie is the shortbread crust on the bottom. It too, isn't very sweet.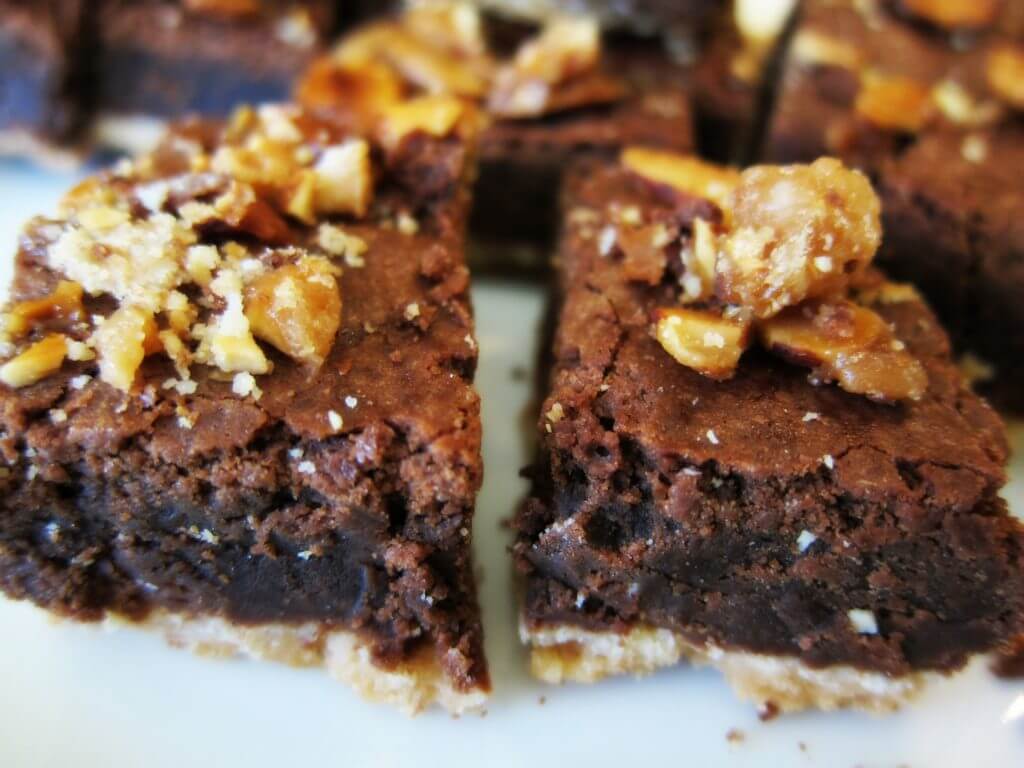 My kids loved these almond brittle brownies too. So, I have a little confession to make. When my kids were little, I'd sometimes tell them "it has nuts in it" and they would steer clear of whatever dessert it was, and then I'd have more for myself. I know, that sounds terrible! Now they've wised up and realize that nuts are just fine, thank you! So my old tricks don't work anymore. I probably don't need to be eating a plateful of brownies anyway. Watch out when making the almond brittle. I had to start over because I overcooked it. As soon as it starts to turn light brown, turn off the heat.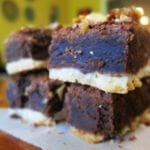 Almond Brittle Brownies
These brownies have a shortbread crust and are topped with almond toffee.
Instructions
Preheat oven to 350 degrees.

Line a baking sheet with foil, grease, and set aside.

Grease and flour a 13 x 9 x 2 inch baking pan and set aside.

ALMOND BRITTLE: In a medium skillet combine almonds, 1/4 cup sugar, and 1 tbsp butter. Cook over medium-high heat until sugar starts to melt, shaking skillet occasionally. Do not stir. When sugar starts to melt, reduce heat to low and cook until sugar is golden brown, stirring as needed with a wooden spoon. Pour onto the prepared baking sheet and cool. Once cool, break up the almond brittle into small pieces and set aside.

CRUST: In a medium bowl combine 1/2 cup butter and 1/2 cup sugar. Beat with an electric mixer on medium speed until smooth. Stir in 1 cup flour until combined. Press mixture into prepared baking pan. Bake for 10 to 15 minutes or until edges are light brown.

While crust is baking, combine 3/4 cup butter and chocolate in a medium saucepan. Cook and stir over low heat until melted. Remove from heat. Stir in 2 cups sugar and vanilla. Add eggs one at a time, stirring after each addition. Stir in 1 1/2 cups flour. Pour batter over hot crust, spreading evenly.

Bake for 15 minutes. Sprinkle with crushed almond brittle and press down lightly.

Bake for additional 12 to 15 minutes or until top is set. Cool in pan on a wire rack. Cut into bars.
Notes
Adapted from Better Homes and Gardens Best-loved Desserts
Thank you for visiting Paint the Kitchen Red. All photos and content are copyright protected. Please don't use any content without prior written permission. If you've made this recipe and would like to share it with your friends, please link back to this recipe. Thank you!