This authentic Instant Pot chicken curry is a delicious family recipe. The Instant Pot pressure cooker makes the chicken so tender and flavorful! Now you can skip the takeout and make this easy Instant Pot Indian chicken curry recipe at home, from scratch, in no time.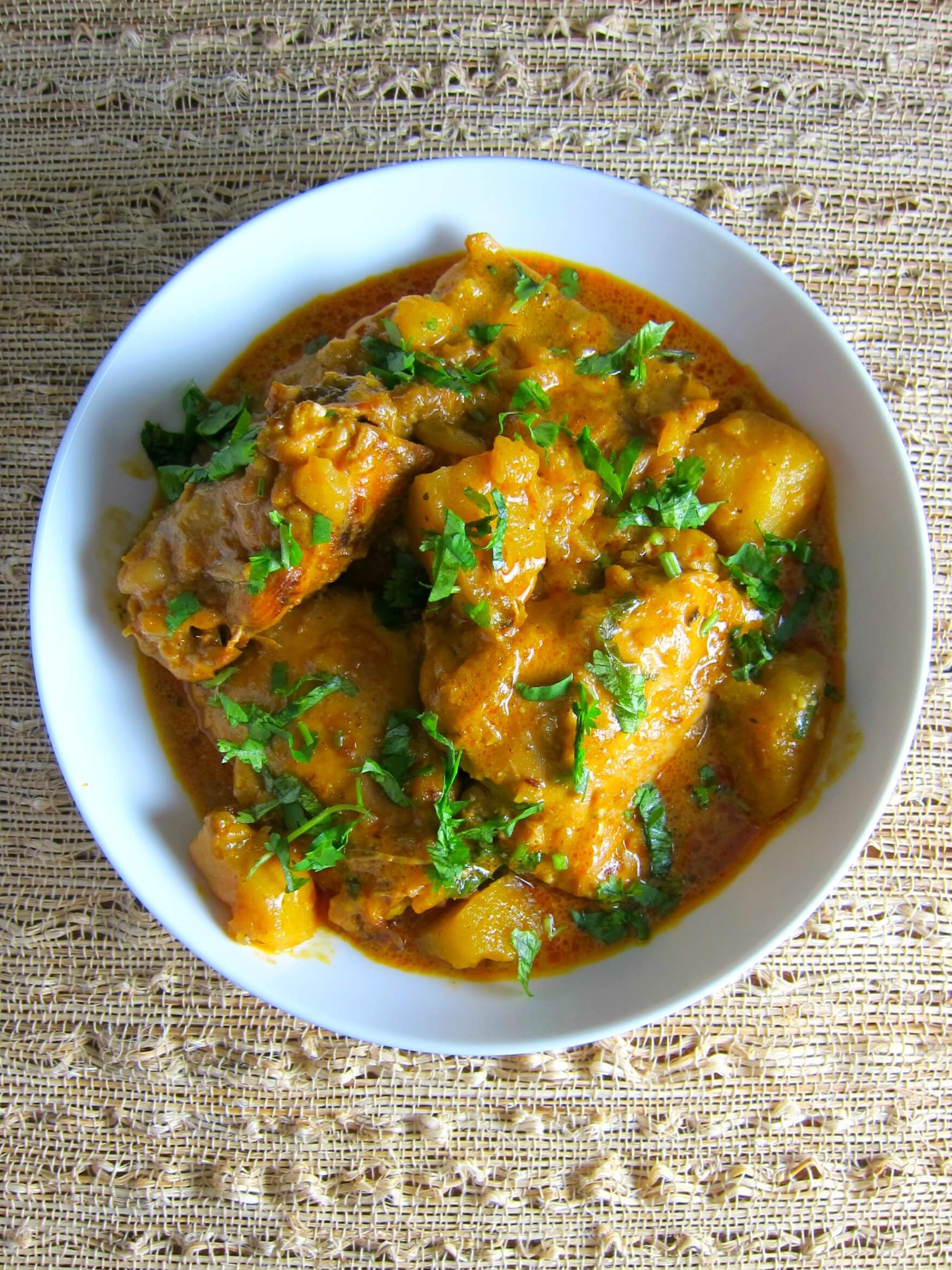 Serve this chicken curry over Instant Pot Jasmine rice, Instant Pot brown basmati rice, and with roasted cauliflower or aloo gobi on the side.
This post contains affiliate links. As an Amazon Associate, I earn from qualifying purchases. Please read the disclosure.
Introduction to Curry Chicken
Chicken curry is a popular dish in many parts of the world, particularly in South Asia and Southeast Asia. Its history can be traced back to India, where curries have been a staple of the cuisine for thousands of years.
Although some people mistakenly believe that curry requires curry powder, authentic Indian food does not use any curry powder.
The word "curry" comes from the South Indian word "kari," which means sauce or gravy. In India, any dish with a sauce or gravy is referred to as a curry.
Authentic chicken curry uses individual spices such as cumin, coriander, and turmeric, and not curry powder. This allows each recipe to have unique and custom flavors.
The first recipe I wanted to make when I got my Instant Pot was my mom's chicken curry. This delicious curry is from the South Indian state of Kerala and it's made with chicken and potatoes.
As much as I love the stovetop version, I love making this chicken curry in the Instant Pot because it's so convenient.
Pressure cooking allows the chicken to cook quickly and retain its moisture, resulting in a flavorful and tender chicken curry dish.
Easy Chicken Curry in Instant Pot- Ingredients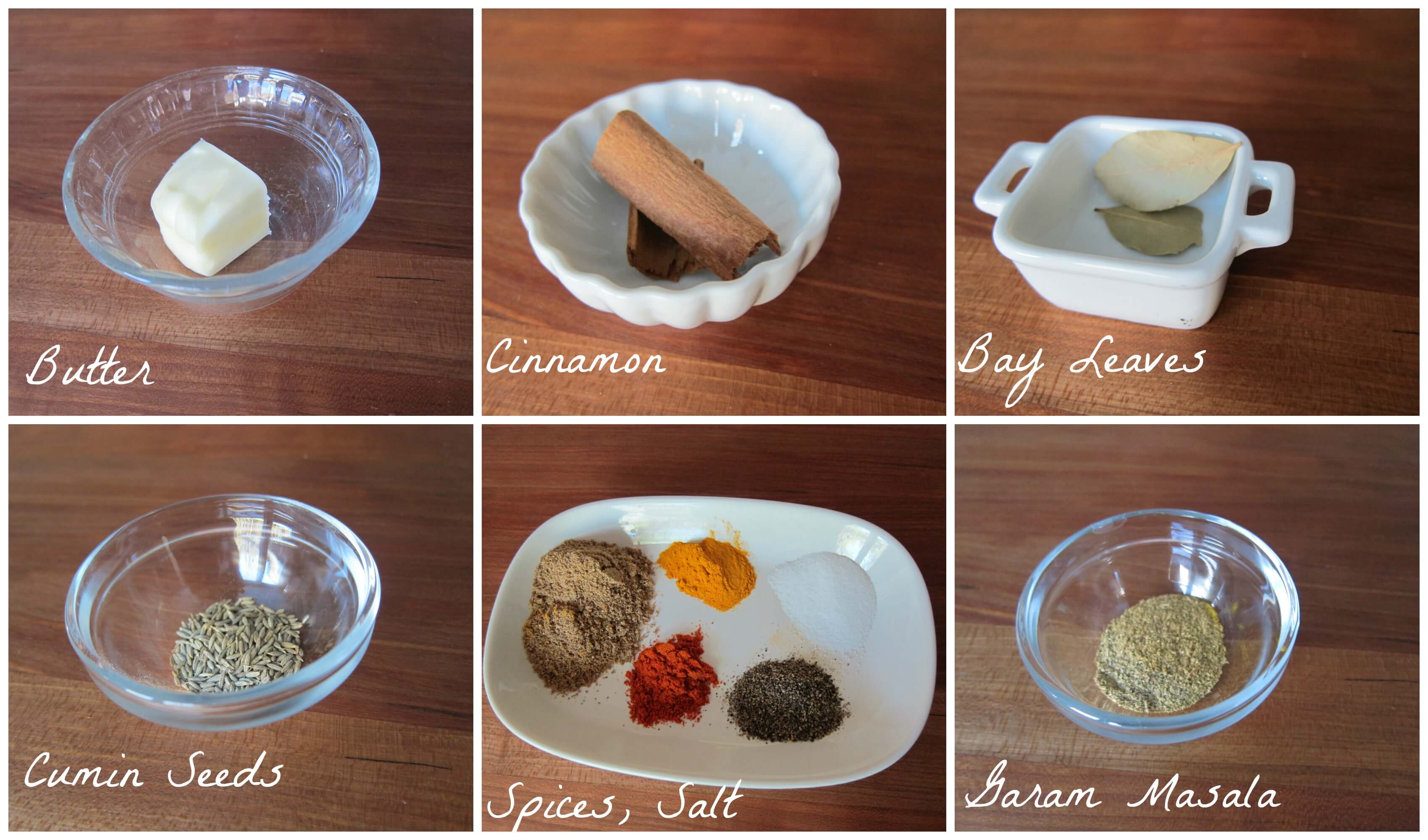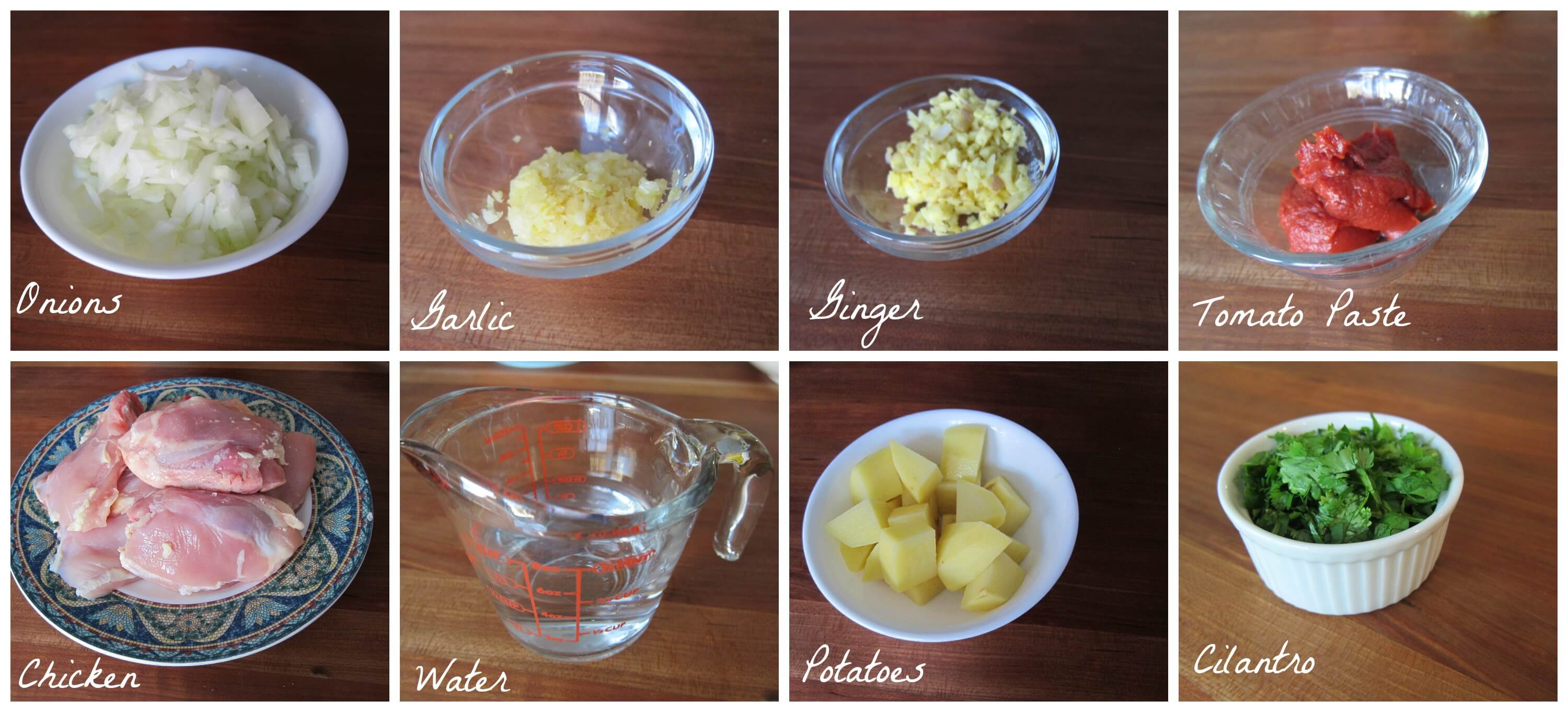 More details in the recipe card at the bottom of this post
How to Make Curry Chicken in the Instant Pot (Step by Step Instructions)
Saute whole spices, onions, and tomatoes.
Saute spices, add chicken and broth.
Pressure cook and release pressure.
Cook potatoes, add cashew butter, and garnish.
Saute Whole Spices, Onions and Tomatoes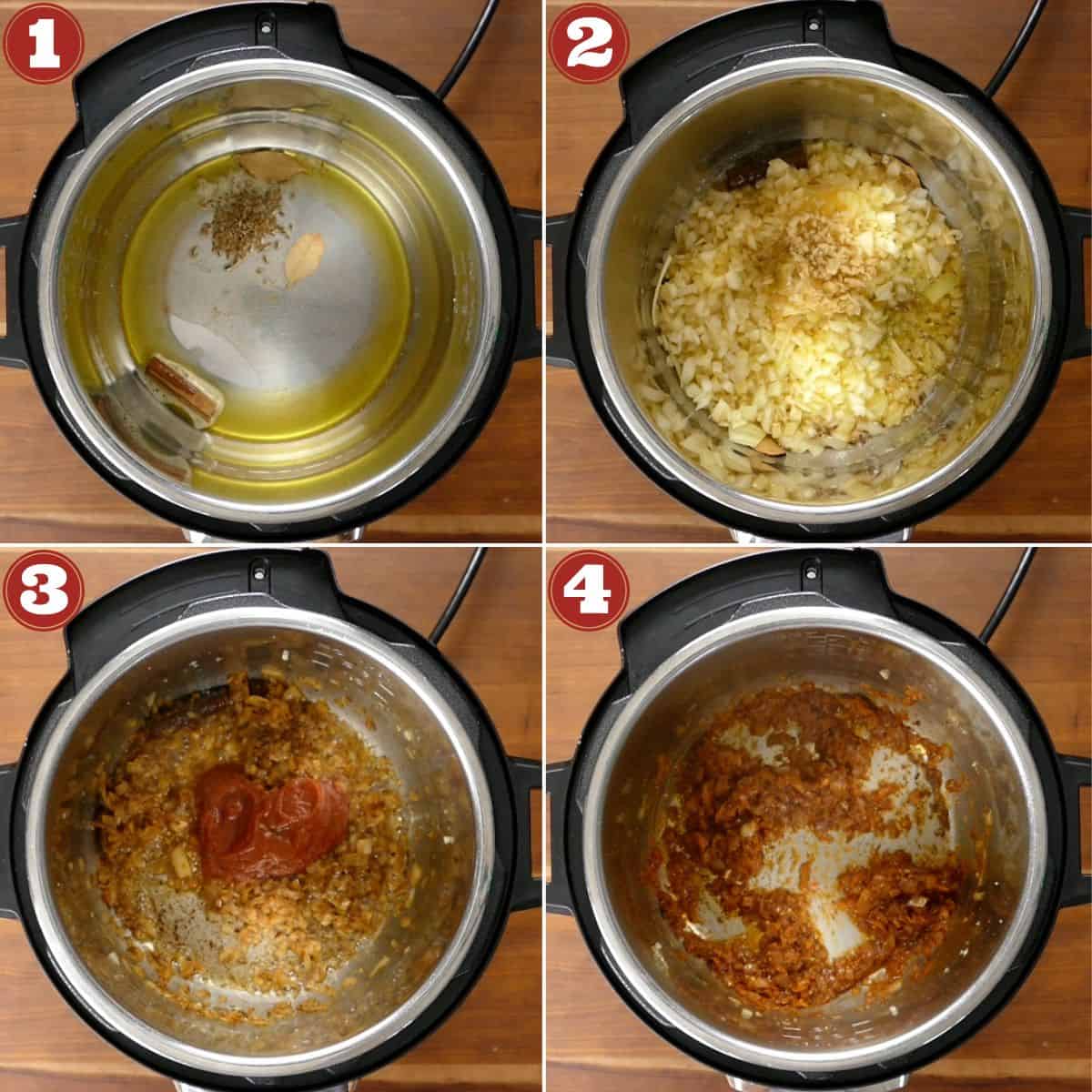 Melt ghee or butter and add cinnamon, cumin seeds, and bay leaves. Stir until fragrant, being careful not to burn, about 30 seconds.
Add the chopped onions, garlic, and ginger. Saute the onion mixture until it's a deep golden brown, about 7 to 10 minutes. If you find the onions sticking to the bottom, deglaze periodically with a couple of teaspoons of broth or water.
Add tomato paste mixed with water to the Instant Pot.
Saute until the tomato is cooked, about 3 minutes. The oil will separate from the tomatoes. If it sticks to the bottom, add a tablespoon of water.
Saute Spice Powders and Add Chicken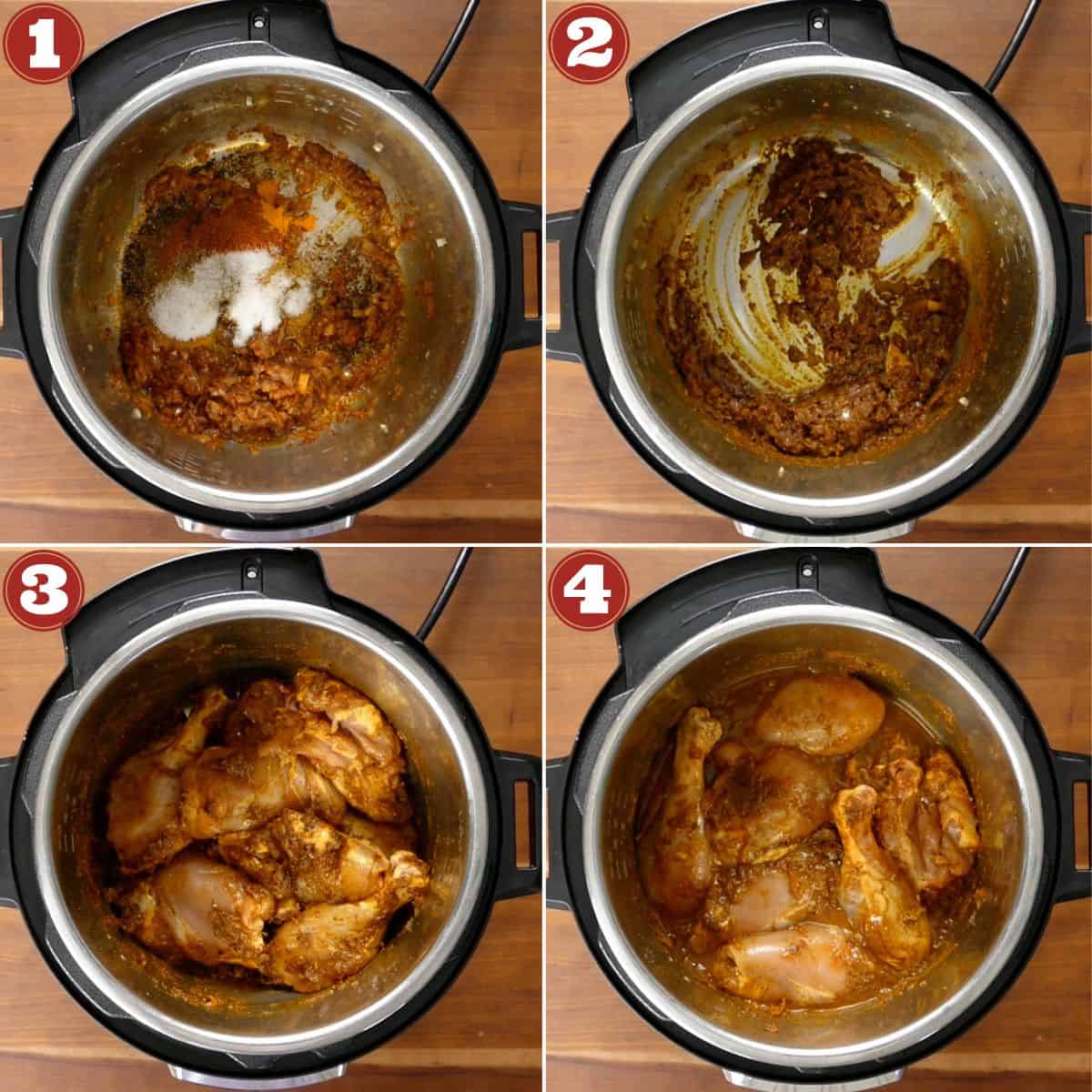 Press Cancel to turn off the Instant Pot. The spices will cook in the residual heat. Add coriander, turmeric, black pepper, chili powder, salt.
Stir spices until fragrant, about 30 seconds. Deglaze the pot with a tablespoon of water or broth so there's nothing stuck to the bottom of the inner pot.
Add the chicken and stir to coat with the spice mixture.
Add broth or water. Make sure the liquid reaches the bottom of the pot, and gets under the chicken. If needed, place the chicken on a trivet.
Program the Instant Pot and release pressure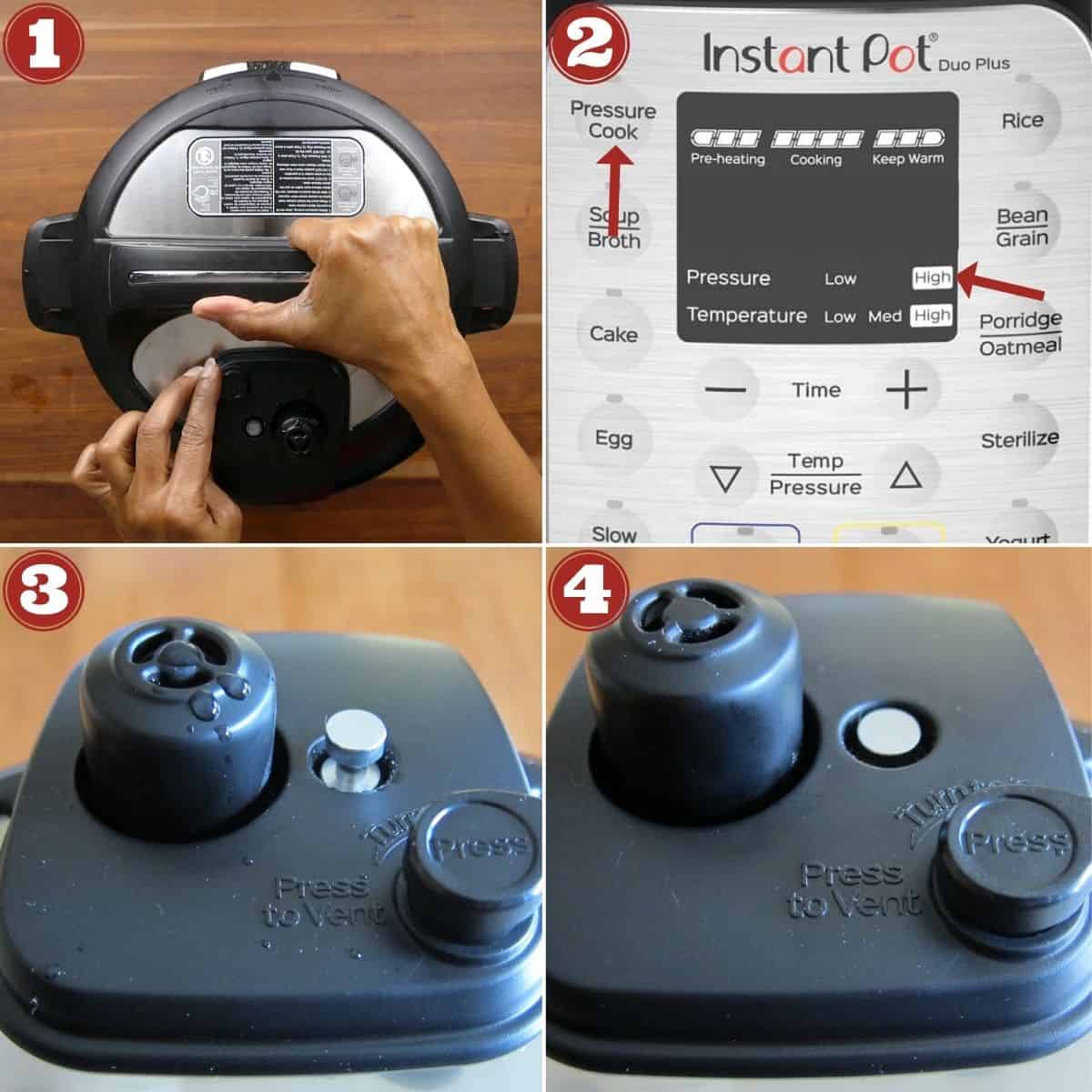 Close the lid.
Program the Instant Pot to pressure cook on high pressure for 9 minutes.
The display will go from On to 9:00. The float valve will go up after a few minutes. The display will count down to 00:00.
Do a quick release of pressure. Once the float valve goes down, the lid can be opened.
Note: If you're using boneless chicken, pressure cooking instructions will be different. See details in tips or recipe card.
Cook Potatoes, Add Cashew Butter, and Garnish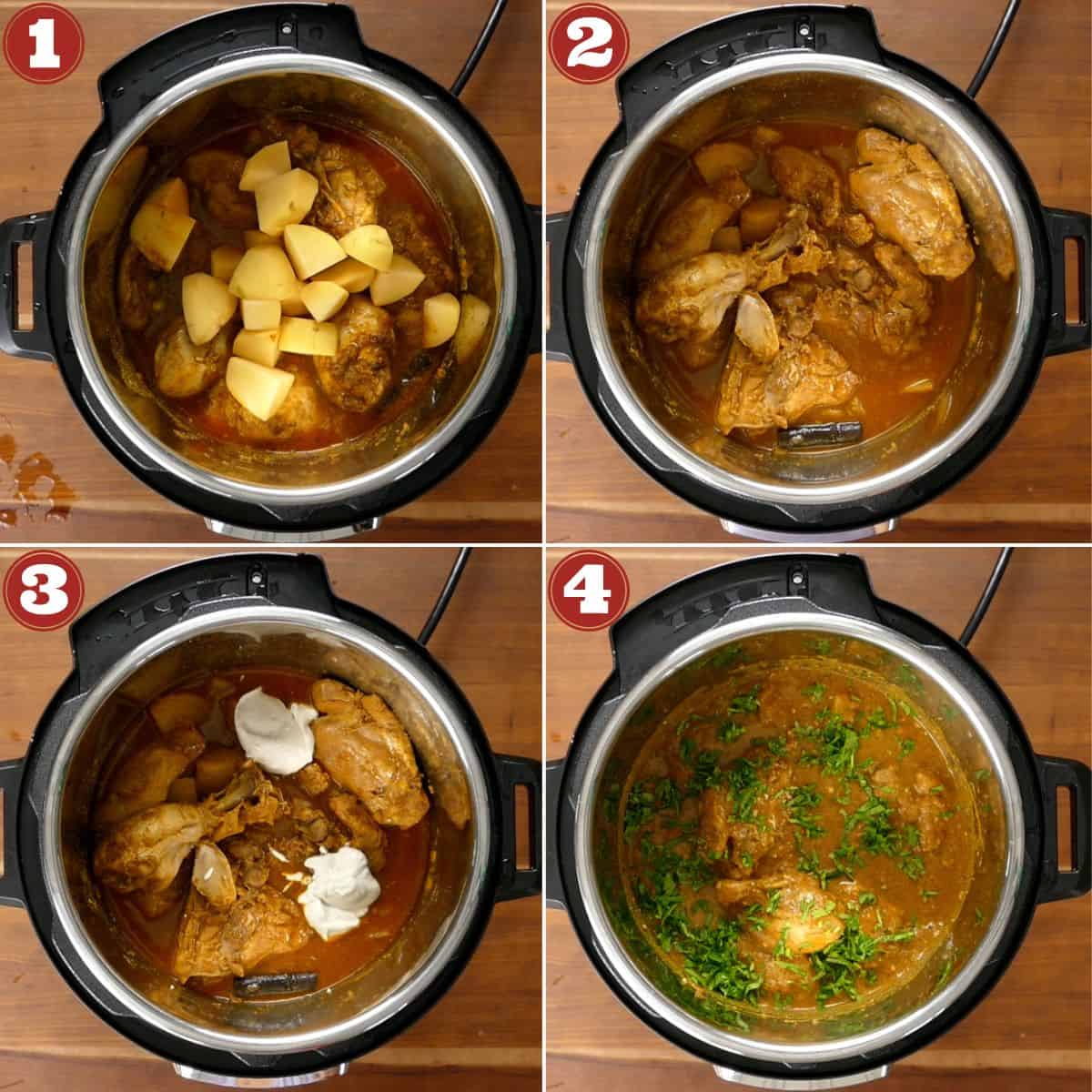 Stir in cubed potatoes and garam masala. Pressure cook for another 6 minutes. If you want the potatoes to be more firm, reduce the cook time to 4 minutes.
Do another quick release of pressure and open the lid.
Carefully stir in cashew paste or cashew butter to make the chicken curry creamy. Cook chicken curry in Saute mode, stirring occasionally, until desired consistency.
Press Cancel and transfer the chicken to a serving dish. Garnish the Instant Pot curry chicken with cilantro. Serve with white rice, brown rice, naan, or cauliflower rice.
More Instant Pot Indian Recipes